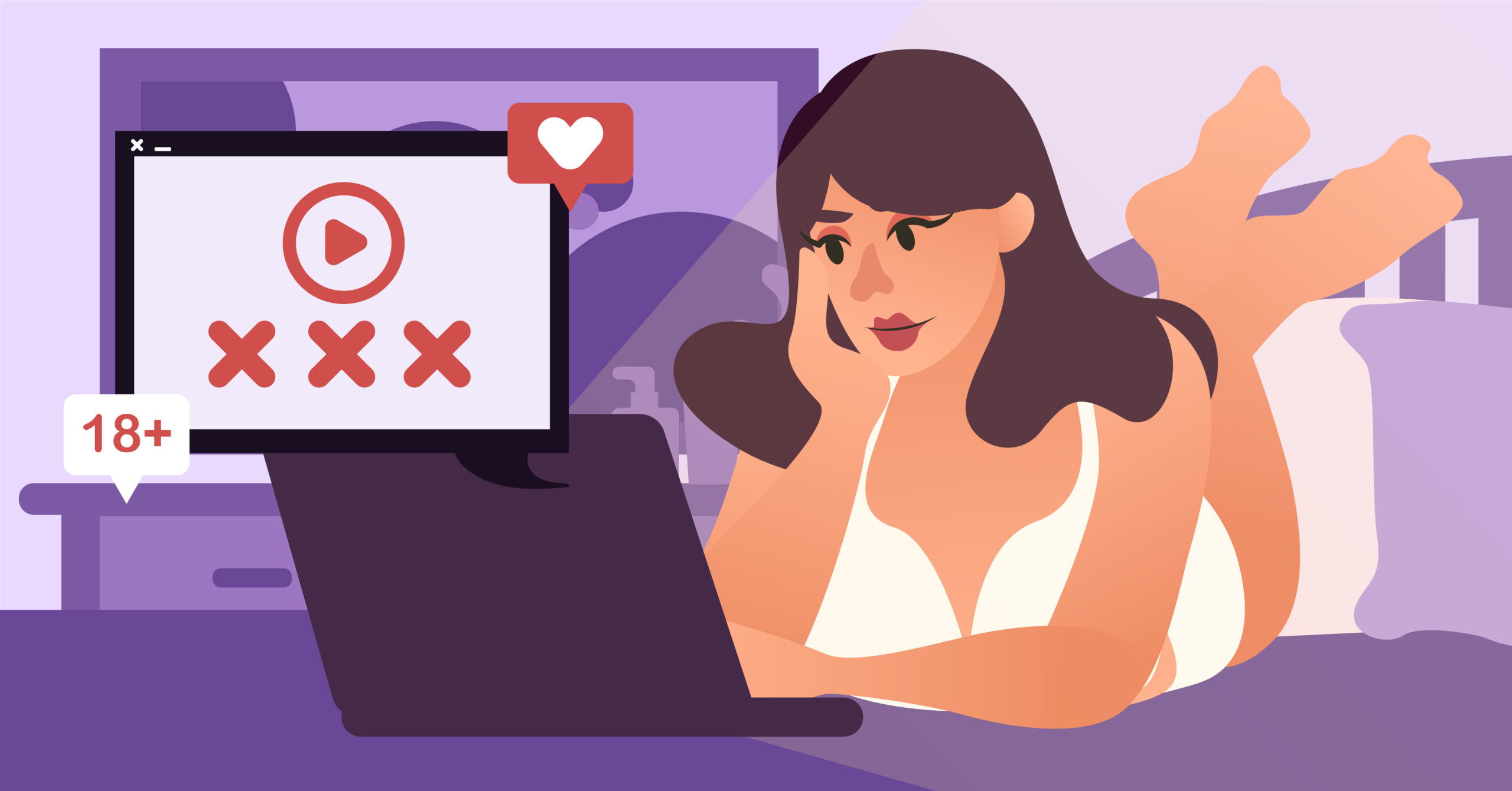 Before, nobody thinks that porn sites for women exist. Why? Because women are supposed to be these "innocent angels" that have no idea about the pleasures of sex.
Thankfully, we're slowly changing that notion. The modern times have opened the doors for women to express their sexuality and satisfy their carnal cravings on their own.
However, since most of the popular pornography platforms such as Pornhub were mainly made by men, their content caters more to their male viewers. Their videos often overlook female pleasure and have themes that objectify women. With this, different erotic sites for women are now emerging, containing well-produced masturbation material for ladies.
If you wanna indulge yourself in amazing content that provides mutually respectful sex and a whole lot of steamy content, we got you, sis! We have here 16 of the hottest porn sites for women. We'll discuss the contents of each site, making sure you'll find the platform that suits your erotic needs.
Porn Sites for Women vs. Regular Porn Sites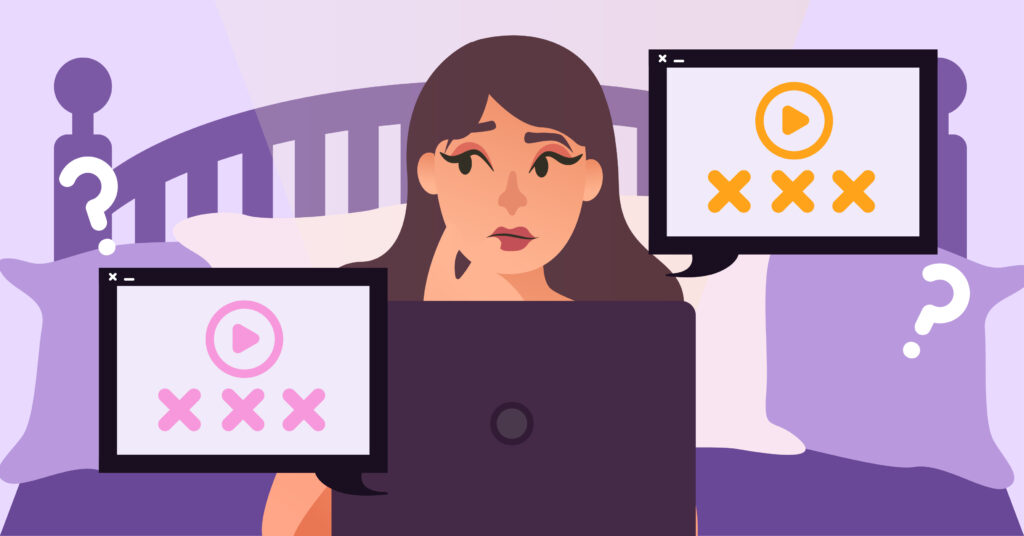 Before we dive into the list, you might be wondering about the difference between porn sites for women versus regular porn sites.
"They're showing sexual acts, why women should have a porn site centered on them?"
Yes, they both have sexual acts on it, but porn sites for women show a more respectful approach compared to traditional porn. Here are the things that differentiate porn for women to mainstream porn.
The female is an equal opponent. With female-friendly porn, they're not victimized in any way.
No matter how rough or soft the act is, there is mutual respect between two parties.
The couples are both experiencing joys from the act.
The content is centered on female pleasure.
Content is usually written and produced by women.
Women are not objectified unless it's part of her fetish.
It's produced under ethical standards.
16 Hottest Porn Sites for Women
Get the difference now, sis? With porn sites for women, you get to access erotic material without feeling objectified. You're gonna peacefully indulge in self-love– isn't that the best thing ever? Now let's go onto the list!
Are you more of a reader? A listener? Into passionate vanilla sex? Prefers the rougher side? A kinkster? Likes animated porn? Want to read sexual fanfics? Whatever your preferences are, we surely have that on this guide.
We also have the Hotness Meter that will help you find the porn sites for women that are more on the subtle and friskier side.
Hotness Meter
🔥: Steamy enough…
🔥🔥: You can feel the fire between your legs.
🔥🔥🔥: Too hot to handle!
We know you're super excited to learn more about these sites, so let's dive right in!
1

Sounds of Pleasure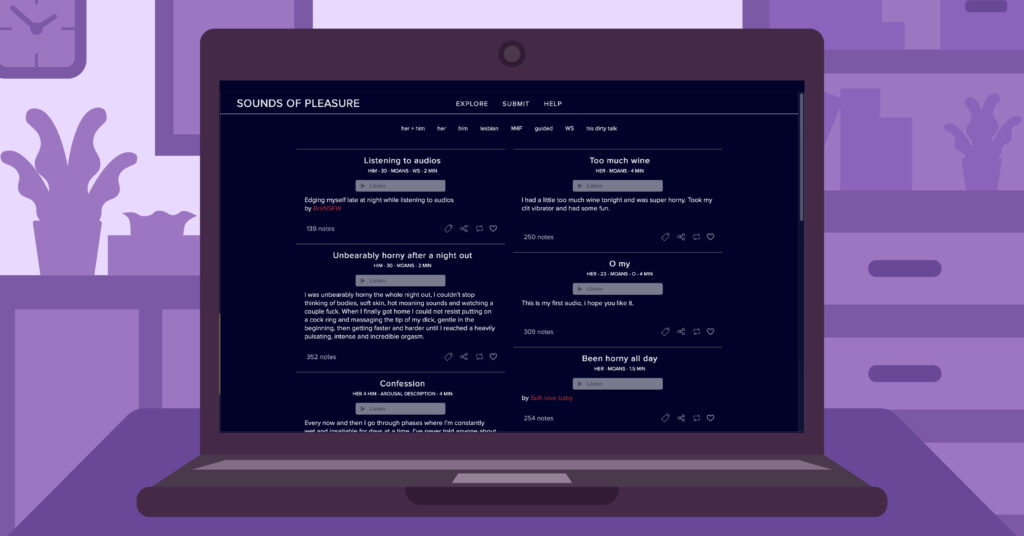 Price: Free
Content: Audio
Hotness Meter: 🔥
Grab your headphones, lay in a comfy spot, and let pleasure take over with this audio blog. Sounds of Pleasure is a Tumblr site containing erotic recordings. Now with 1,000 recordings, this blog's mission is to be "both positive and inclusive, showcasing all languages, accents and gender identities". If you're someone that prefers listening rather than relying on visuals, this is a great blog for you.
2

LustCinema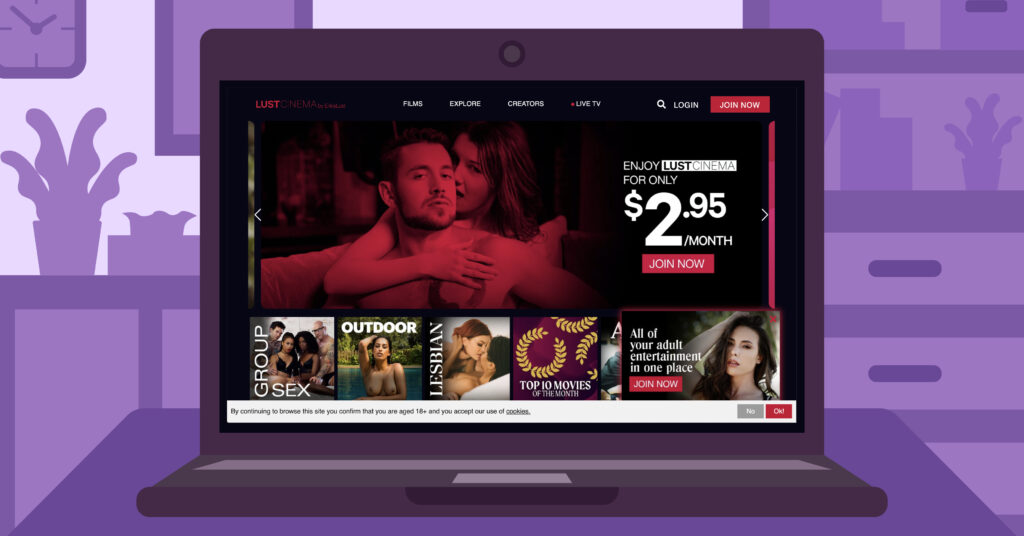 Price: $11.50 – $34.95 per month (see website for full pricing details)
Content: Video
Hotness Meter: 🔥🔥🔥
If you love to have a cinematic feel to your porn, this is the right place for you. LustCinema offers plot-driven series and feature films. What's great about this is that their movies and series are directed by female directors, making it more centered around female pleasure.
3

HotMoviesForHer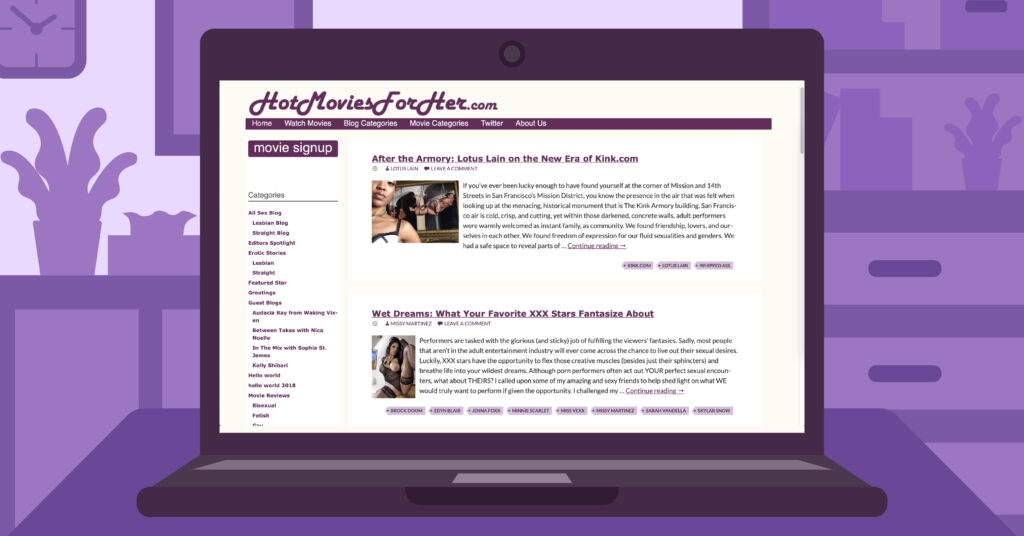 Price: $24.95 per month with a 20-minute trial (see website for full pricing details)
Content: Videos
Hotness Meter: 🔥🔥🔥
HotMoviesForHer is one of the largest porn movie libraries that offer female-friendly content. It contains various types of porn such as instructional guides, plot-oriented videos, solo-male videos, amateur clips, and even animated movies. This site also features a free blog page on which you can read more about the production team behind the videos, movie reviews, as well as other erotic-related topics. If you don't want to subscribe to their content yet, don't worry because they offer a free trial. Get to watch 20 minutes of their steamy content upon sign up!
4

Orgasmic Tips for Girls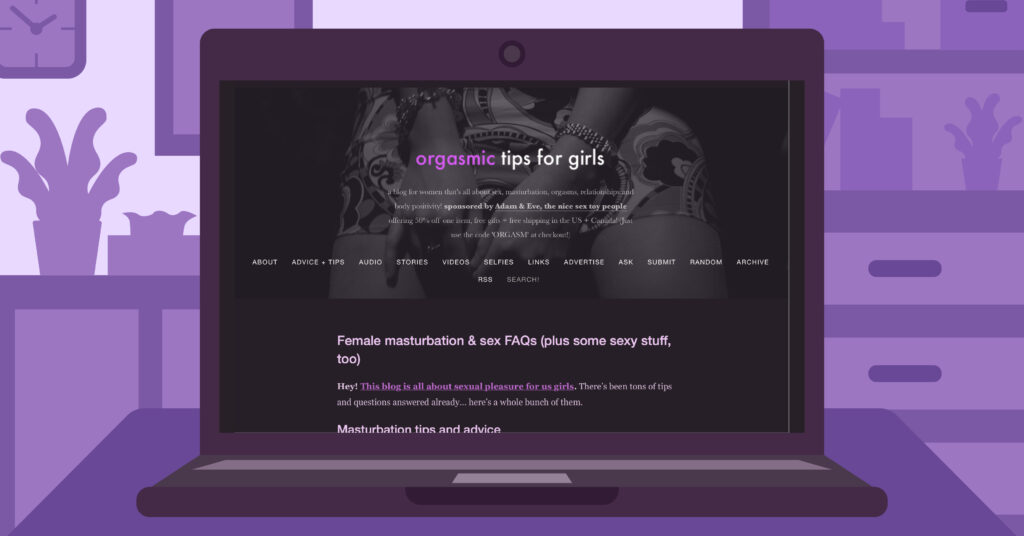 Price: Free
Content: Video, Audio, Stories, Photos
Hotness Meter: 🔥
This site is a beautiful mix of everything. From fiery sex clips up to hilarious memes about sex toys, your body and mind will surely heat up from this Tumblr site. It also has informative posts about relationships and body positivity, discussing sex in a much deeper level.
5

Literotica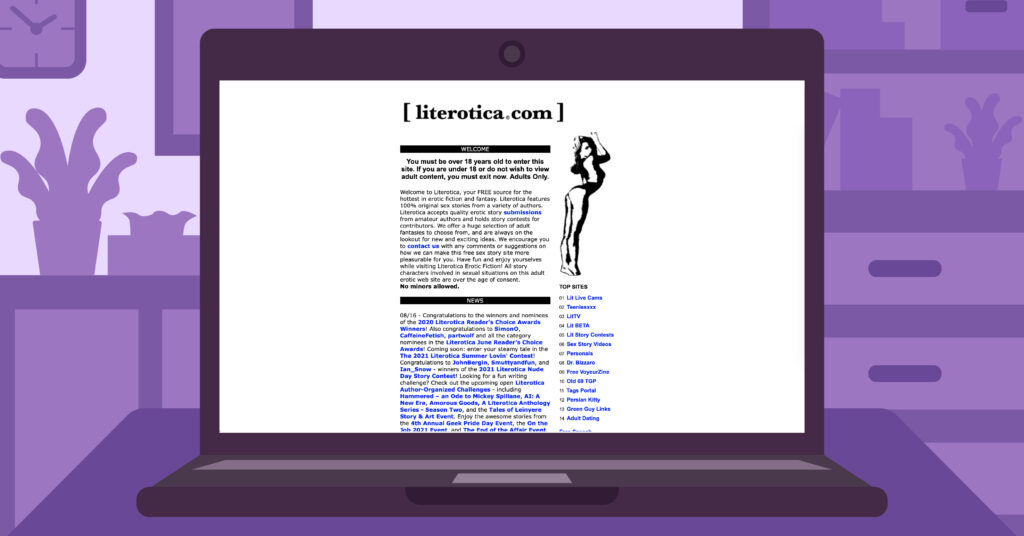 Price: Free
Content: Stories, Audio, Images
Hotness Meter: 🔥🔥
Into erotic stories? Literotica is the perfect porn site for you, boo. Featuring a wide array of erotic stories, it caters to all genders but has specific works solely written for female pleasure. Most works are in written form but audio stories are available too! What's great about this porn site, aside from it being free, is that you can submit your works. So if you're an amateur writer, you might wanna publish your works here or join their writing contests.
6

Slipshine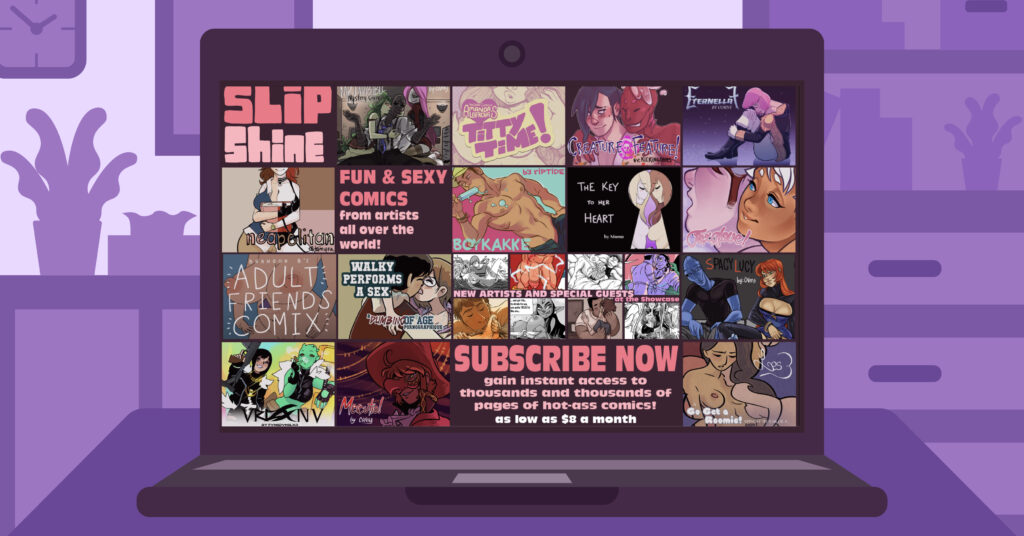 Price: $24.95 for the initial month, $9.95 afterward (see website for full pricing details)
Content: Webcomics
Hotness Meter: 🔥🔥
Art hoes unite! Slipshine is a sex-positive porn site that presents erotic comics for men and women alike. It actively promotes positive representations of various kinks, pairings, and orientations. By subscribing to their platform, you're not just getting a bunch of well-made erotic comics, you're also supporting the awesome erotica artists and their work.
7

Hysterical Literature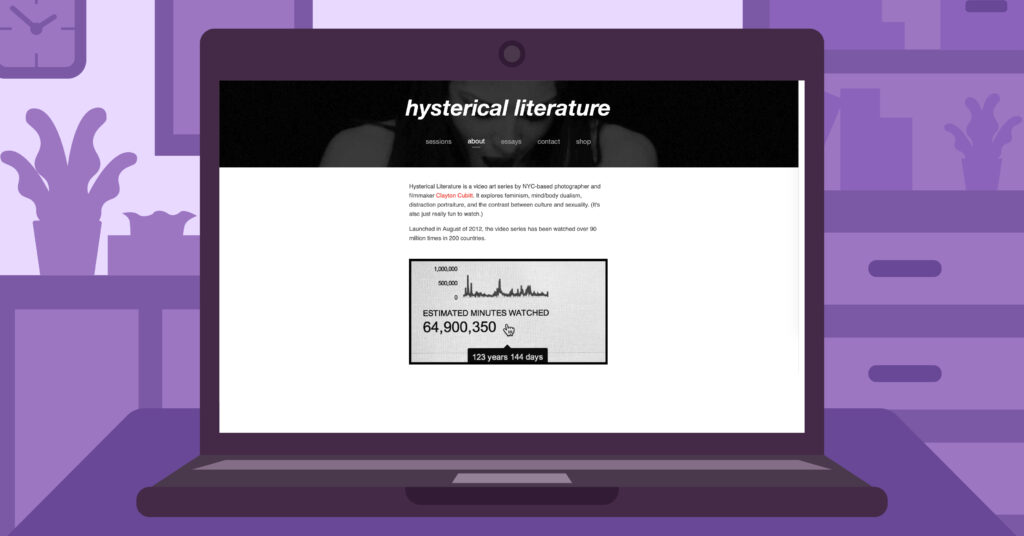 Price: Free
Content: Video
Hotness Meter: 🔥🔥
Something is alluring about the female orgasm, and this website perfectly delves into that. Hysterical Literature us a video art series made by NYC-based photographer and filmmaker Clayton Cubitt. The premise of this series is to have one woman sat in front of a camera and read a book. It doesn't sound so sexy, right? Well, the featured woman isn't just reading a book, she's also being sexually stimulated. This makes her body and mind fight over who will take over her senses. If you're looking for erotic content that's subtle and intimate, this video series is worth watching.
8

XConfessions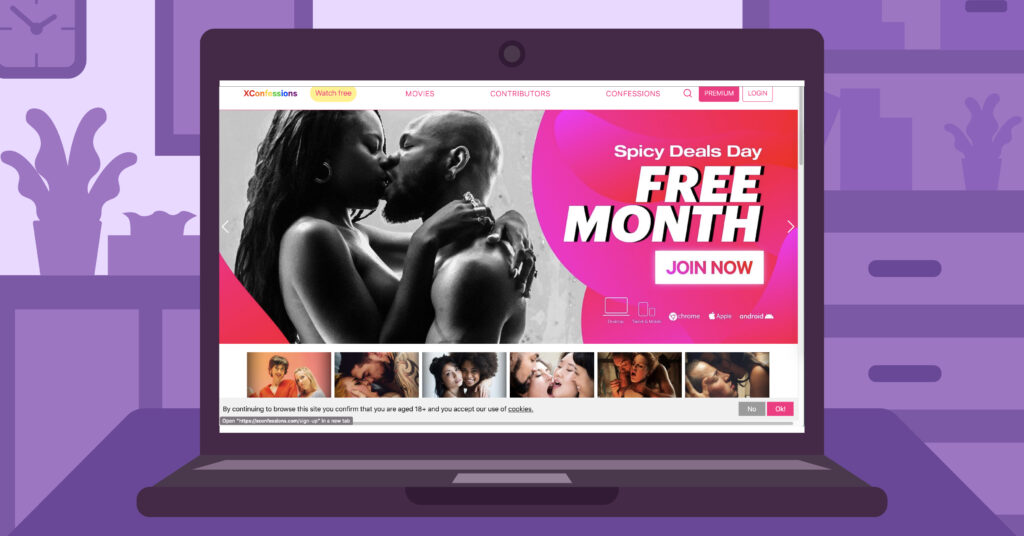 Price: $11.95 – $34.95 per month (see website for full pricing details)
Content: Video
Hotness Meter: 🔥🔥🔥
XConfessions started as an online space for sexual confessions but eventually grown into a global community of people who loves art, sex, and film. This led Erika Lust, the site's creator to make explicit short films based on the anonymous confessions they've received within the years.
If you're looking for porn that has an artistic touch to it, well this is one of the porn sites for women that you should check out. Aside from its high-quality production, Erika Lust also prioritizes female pleasure with their movies. She even had a Ted Talk about wanting to change the rules of pornography, defending the importance of the female gaze and having a woman behind the camera for all key positions.
9

Beautiful Agony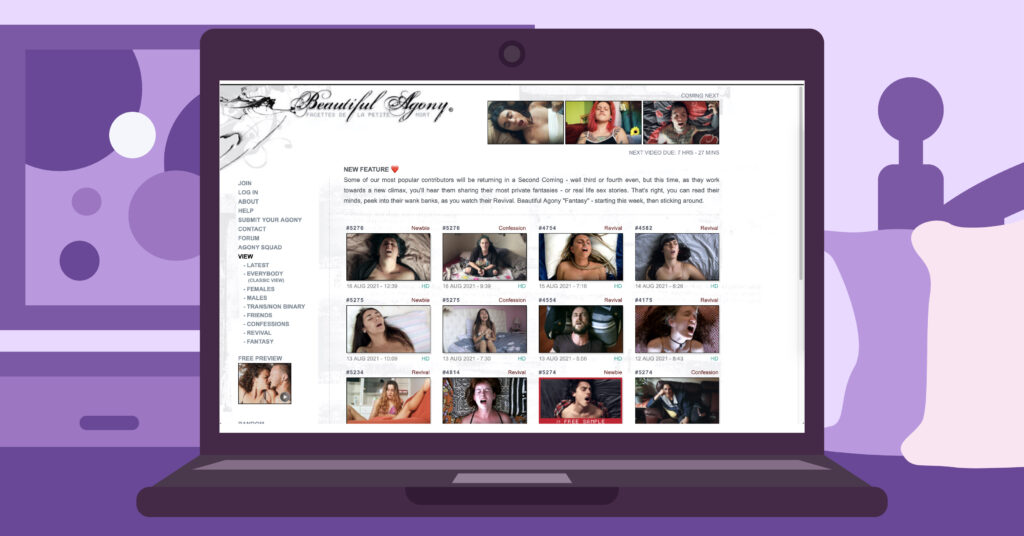 Price: $8 per month but has free previews (see website for full pricing details)
Content: Video
Hotness Meter: 🔥🔥
Seeing someone fully immersing themselves into pleasure is such a turn-on, amiright ladies? This is what Beautiful Agony showcases on their site. Also known as La Petite Mort (the little death), their online platform is dedicated to the beauty of human orgasm. All of their content contains different people simply laying down on their bed, with only their heads visible in the camera.
Similar to the Hysterical Literature, you can't see what or who is stimulating them underneath. That mystery aspect makes it so much hotter to watch. If you're looking for a masturbation material that doesn't involve nudity, you might wanna check this one out.
10

Sssh.com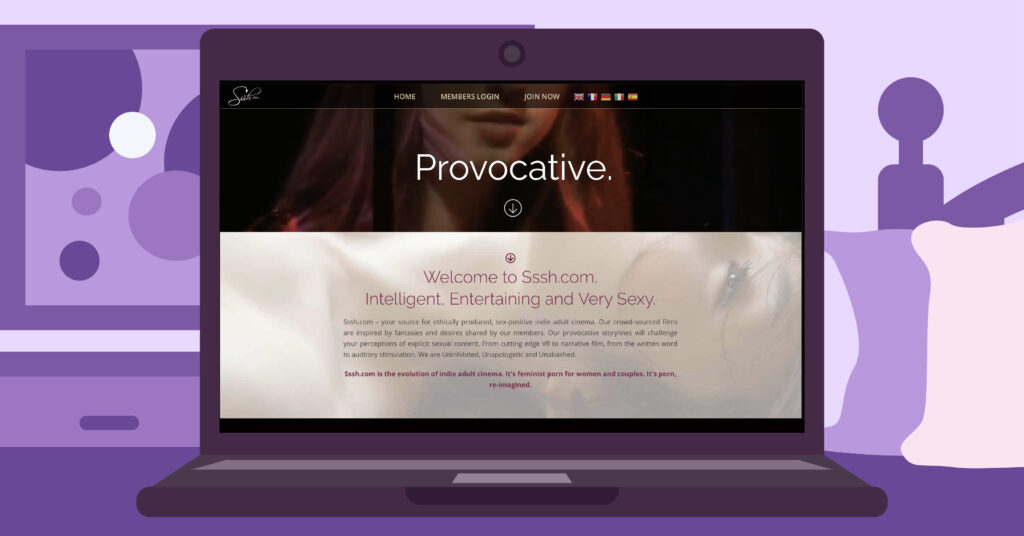 Price: $19.95 per month (see website for full pricing details)
Content: Video
Hotness Meter: 🔥🔥🔥
Similar to LustCinema and XConfessions, this site offers stunning erotic movies based on their member's fantasies and desires. This sex-positive porn site strives to bring the content that doesn't objectify women and has believable storylines. It's also progressive and goes along with technological advancements such as VR (Virtual Reality).
11

Dusk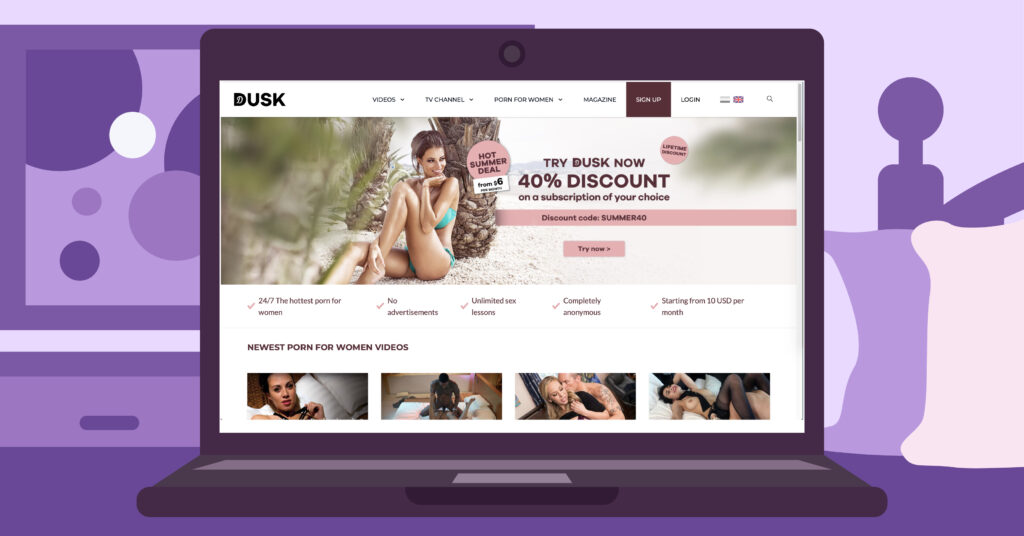 Price: $10-$25 per month (see website for full pricing details)
Content: Video
Hotness Meter: 🔥🔥🔥
Aims to primarily excite female viewers, Dusk offers a wide range of sexy films that mainly cater to womanly needs. Same with other porn sites for women, all of the videos are well-produced and have realistic storylines.
12

Pink Label TV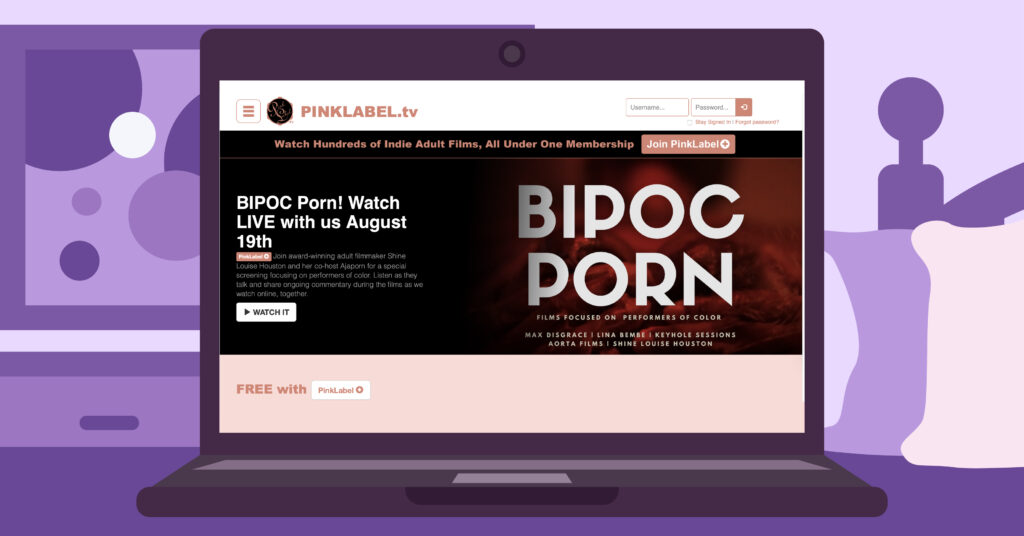 Price: $9.99 – $25 per month (see website for full pricing details)
Content: Video
Hotness Meter: 🔥🔥🔥
Expanding the landscape of erotic cinema, Pink Label TV is a platform for independent adult filmmakers. It aims to shift the paradigm of the porn industry, removing insensitive context and language that is offensive to people of color and on the trans community. They also showcase a wide array of porn movies that cater to not women, queers, trans, people of color, older folks, as well as with people with disabilities.
13

Archive of Our Own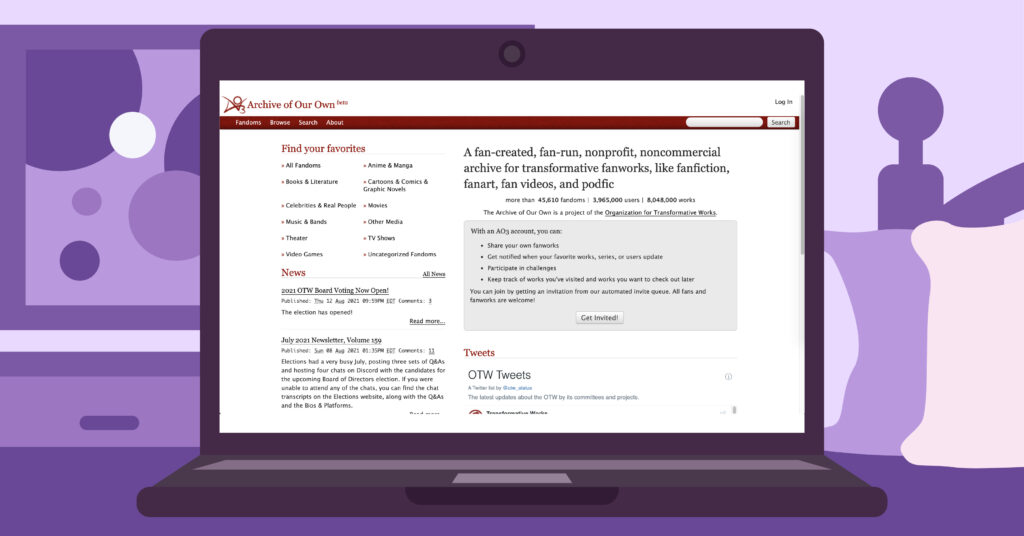 Price: Free
Content: Stories
Hotness Meter: 🔥
For women who are very much into pop culture, you'll surely enjoy checking this site. Archive of Our Own contains about 5.7 million fanfic stories catering to different fandoms. Now, unlike the other porn sites for women mentioned on this list, the content on this website isn't mainly explicit.
If you wanna access some steamy fan fiction about Harry Potter, Marvel Superheroes, Star Wars or Naruto, you need to search for those mature stories yourself. Don't worry though, you're not gonna spend a lot of time searching since the site has an advanced search feature.
14

Dipsea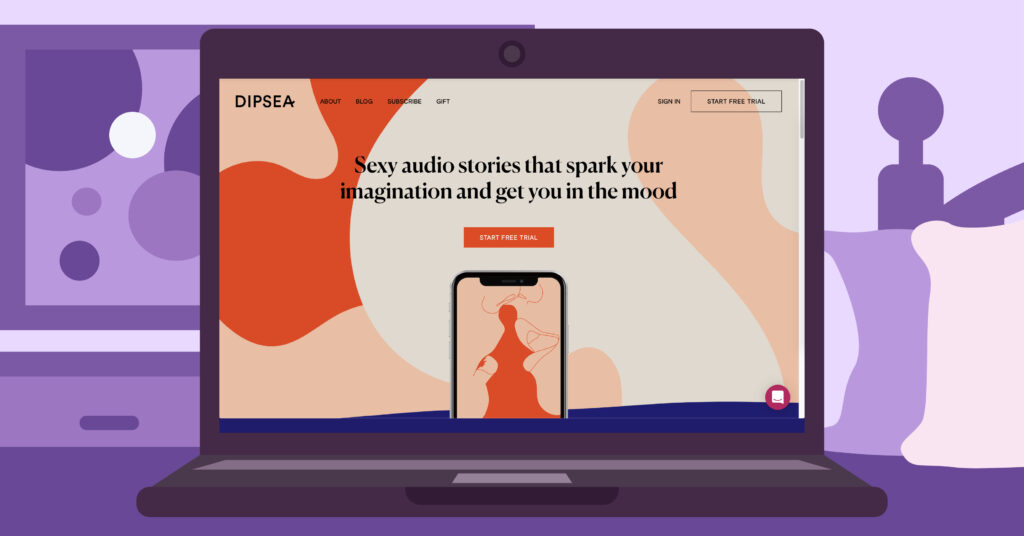 Price: $8.99 per month (see website for full pricing details)
Content: Audio
Hotness Meter: 🔥
If you're looking for steamy audio stories that empower women, Dipsea is one of the best platforms to try out. Their mission is to empower women to tap into their sexuality more easily and on their terms. Their content is also more natural compared to other platforms, giving you an immersive sensual experience.
15

Bright Desire
Price: $22.95 for the initial month, $9.95 thereafter (see website for full pricing details)
Content: Video, Audio
Hotness Meter: 🔥
Establishing themselves as 'Smart Porn for Women and Women', Bright Desire offers feminist porn content that moves beyond the old cliches of traditional porn. It shows the beauty of sex in raw and genuine ways without succumbing to the negative and unethical acts from the typical male-centered pornographic videos. Their content engages not just your libido but your mind and heart as well.
Aside from their highly-produced erotic movies, Bright Desire also presents sexy video clips from real-life couples, showing authentic sexperiences just right at your fingertips.
16

Bellesa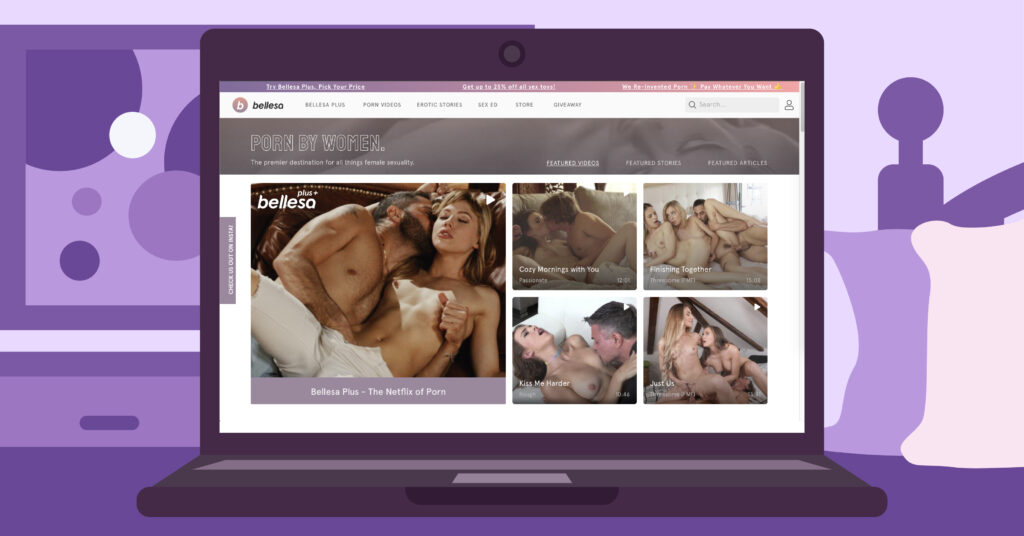 Price: $8.33 – $24.99 per month (see website for full pricing details)
Content: Video, Stories
Hotness Meter: 🔥🔥🔥
Bellesa knows what a woman truly ones as this porn site is run by women. They believe that sexuality on the internet should depict women, not as objects of conquest, but rather subjects for pleasure. All of the films from this platform are fantasies by women that written, directed and produced by women. They offer a wide array of sensual, passionate and rough erotic movies and stories that will surely hit the right spots.
Takeaway
We hope you found your perfect match, siszt! With the hottest porn sites for women that we've presented here, you don't have to settle for mediocre porn videos that objectify women. You no longer have to take a long time searching for porn videos that match your preferences. You no longer have to feel uncomfortable while you look for some masturbation material. With these groundbreaking platforms, you can now feel sexual pleasure in a much respectful way, and your terms.
That's why you shouldn't forget to support these creators. Subscribing to their channels, donating to their projects and buying their merch will go a long way. As long as women keep supporting these erotic websites, female-friendly porn will soon hit the mainstream. Go ahead and check these websites now! Happy flicking~