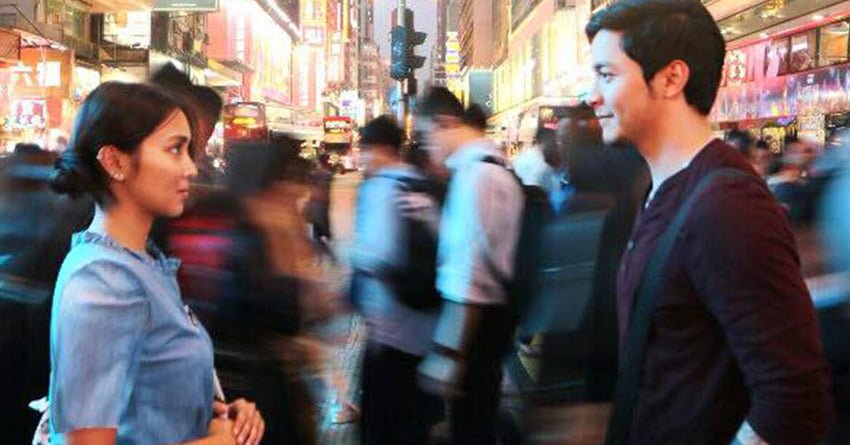 In case you haven't watched the latest Cathy Garcia-Molina film starring Kathryn Bernardo and Alden Richards, you should. Hello, Love, Goodbye is a rare gem in today's "dumbed-down" standard of mainstream Philippine cinema.
The Plot
Photo courtesy by ABS-CBN Film Productions, Inc.- Star Cinema.
The film opens with Joy (Kathryn Bernardo) at the Hong Kong International Airport Terminal. She narrates about how some places are "just mere stopovers." You go there, stay for a while, then leave. In her situation, that's exactly what Hong Kong is, just a stopover on her way to Canada. She was a nurse back in the Philippines. But in Hong Kong, she is a domestic helper to a single mom with a special needs kid and her elderly mother.
To add to her salary, she sells gadgets as a side job even if it's illegal. She's exhausted trying to raise money to pay for her Canadian visa as well as have enough money to support her blind father and younger siblings back home. Working those two jobs is not enough. So when the opportunity of working as a waitress at a bar presents itself, she takes the chance to earn more cash.
That's where she meets Ethan (Alden Richards), a bartender who'll soon be a resident in Hong Kong in 3 years.  At first, Joy wants nothing to do with him as he's a happy-go-lucky guy with no real plan for his life.  They're complete opposites. He's laidback while she's constantly stressed and working. 
Ethan is also a ladies' man, so he's used to getting any girl he wants. But he meets Joy, and she's different from the other girls he has met. His charms don't work on her, and he feels challenged by this. But the more he gets to know Joy, the more he falls for her. Eventually, Joy falls for him, too.
But Joy is determined to move to Canada for a better life. Ethan is set on keeping his promise to his family in Hong Kong. So what will prevail? Love or dreams?

Photo courtesy by ABS-CBN Film Productions, Inc.- Star Cinema.
Strong, Female Characters
Hello, Love, Goodbye showcases strong female characters. Each battling life's challenges in their own way. Joy, who believes she is more and wants to be more despite the constant need to provide for her family.  Sally and Gina (Joy's friends) who want to stay in Hong Kong so that their families in the Philippines won't starve to death. Even Ethan's "heartless" ex, Tanya, who chose her career over love is a strong female character. Each of them made a decision that they believe is for the best. They're all filled with resilience and deep hope for a better future. They're not backing down for anything.
Photo courtesy by ABS-CBN Film Productions, Inc.- Star Cinema.
It's okay to choose yourself.
"It's okay to choose yourself." I believe this is one of the most important messages that this film offers. Hello, Love, Goodbye talked about how women always sacrifice themselves for the sake of their families. They talked about how if women try to push for their own careers, they're already selfish. And this film tells us that it's okay to choose ourselves.
It's okay if you want to push for your dreams or choose career over love. It's a valid option. You are not less of a woman or a bad person if you do that. And I think it's a message that all Filipinas here and abroad should remember.
The beauty of "Hello, Love, Goodbye."
Photo courtesy by ABS-CBN Film Productions, Inc.- Star Cinema.
The film is a beautiful contrast between love and letting go. It's not just a simple romance aimed to give viewers "kilig." The characters are real people whom you can connect with. Joy is the breadwinner who always puts the needs of her family above her own. Ethan is the hopeless romantic guy whose heart got broken, so he became a guy who only likes flings and casual sex.
Even the other characters like Joy's friends (Kakai Bautista and Lovely Abella) and the employer of Joy have personal problems they're facing.It makes you feel for these characters. You know that their problems are realistic portrayals of the situation of our Overseas Filipino Workers (OFWs).
'Hello, Love, Goodbye' doesn't move away from the tragic realities of life. It faces them with bittersweet honesty—confident in its own naked truth.  In fact, I believe that's the appeal of the whole film. You can see typical Filipinos working their asses off in another land just for their families in the Philippines. They're all in search of a better life even if it gets hard and lonely.
The film didn't dumb down the issues it puts forward for the sake of a standard happy ending. It's simply a must-watch.