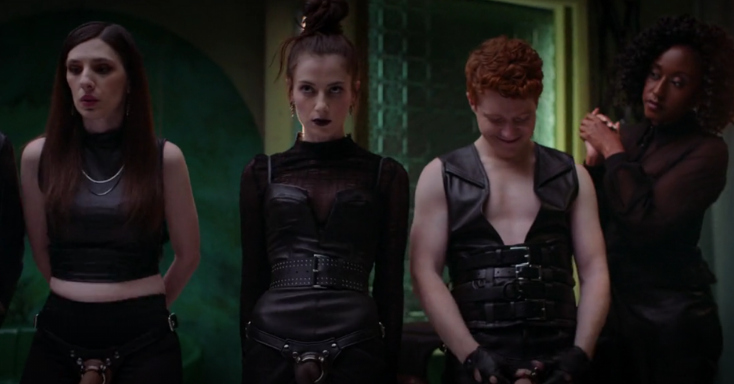 Netflix's Bonding paved the way to show a glimpse of the BDSM scene. In season one, we've been introduced to whips, floggers, girthy dildos, tickling fetishism, and penguin kink. Due to its engaging cast and unique storylines, people have been requesting and waiting for its second season.
However, there is some backlash from the BDSM and sex work community, stating that the show has painted the community in a negative light. Thus, the show's creator Rightor Doyle decided to consult with some of the experts from the BDSM community. These consultants have become part of the writing staff, ensuring that the storyline will reflect the community's real-life scenarios.
This has then resulted in the blossoming of show's second season, which got released on Netflix in January 2021. Here are what has been happening in the said season— minor spoilers ahead!
Netflix Bonding Season 2: Synopsis
Due to a mishap with an abusive client, Tiff (Zoe Levin) and Pete (Brendan Scannell) become banned from all the BDSM dungeons in New York City. They then joined a Domme Class conducted by Mistress Mira, Tiff's former mentor, in hopes of getting back on the scene.
Along with the struggles they've had to endure to get back on their bondage gig, they're also facing some issues with their respective boyfriends. Tiff feels unready to commit to Doug (Micah Stock), but at the same time, feels threatened by the reconnection that he had with his ex-fiance, Gina (Vanessa Rubio). On the other hand, Pete found out that Josh (Theo Stockman) is apparently hiding in the closet.
As for the leads' careers, this season revolves around "taking the next steps" for both of them. Pete is having an exciting career as a comedian but has reservations about taking the "Carter" role for his stand-up routines. Meanwhile, Tiff is deciding if she would continue grad school or become a full-time domme.
What We Like
Now that we've discussed some general plot points of the second season, let's talk about our thoughts on the show. Here are some of the things that we like about this season.
1

They took a more respectful approach about BDSM.

There are fewer offensive BDSM gags on the show. It toned down the humorous vibe when discussing topics about bondage, dominance, and submission. It's also great to see other domme characters on this season and see the discipline outside of Tiff's perspective.

The domme school and Mistress Mira is also an excellent addition to this season. What's great about this is that the audience learns further about the discipline. How it's not just all about spanking, whipping, and wearing BDSM-themed clothing.
2

They've fleshed out the storylines of most of the characters.

They kept most of the cast on the second season, even those we're not expecting to make a reappearance. Remember Chelsea? The leads' high school batchmate that loves to get drunk? Yep, she's here. She even has an unusual request at Tiff in this season. Then there's Fred, the guy who is into humiliation– he has some moments on the series too. And also remember Joe, the penguin-kinkster? Yup, he's making a reappearance too.

Another great thing about this season is that they fleshed out the cast's storylines– and not just on the leads. Just check out Frank's storyline this season. They went beyond his typical quirky-and-lazy character.
What We Didn't Like
Though Netflix Bonding Season 2 fleshed out the characters and introduced BDSM in a more positive light, we thought there are some minor downsides to this season.
1

The charm of the first season is nowhere to be found.

As much as we love the storylines on this season, the jokes doesn't click as much as the compared to the first one. Honestly, they don't need to use kinks and BDSM as gag material. They could've gone for other topics or just poke fun at some minor details, but unfortunately, they didn't.
2

More of Mistress Mira, please!

We wished that they'd shown more of Mistress Mira's Domme School. They used the whole BDSM 101 as a selling point on the Netflix Bonding Season 2 trailer, but the entire class thing only lasted for a few minutes. Fair enough, the show is only 15 minutes long, so they didn't have that much time to showcase the classes thoroughly. But still, there's so much wasted potential on this plotline.
3

There's so much unresolved drama.

There's so much unresolved drama at the end. We get that they just wanted an open ending, same with the first one, but quite frankly, a third season may not happen given the current circumstances. So our hope was to at least get some resolution on the leads' main issues. But who knows, maybe we'll get that third season soon.
Conclusion
The Netflix Bonding Season 2 is more emotional than its first season, giving enough character development on most of the characters. We also commend how they've handled the BDSM topic this time and consulted real experts during the production. Though the first season's charm is no longer there, it's still a fun watch on a Friday night!
If you want to learn more about BDSM, the discipline featured on this show, check out our comprehensive BDSM guides here. You can also check our BDSM shop to get yourself some of the kinky toys shown in this series, such as strap-on dildos, mouth gag, whips, ticklers, collars, handcuffs, and paddles.