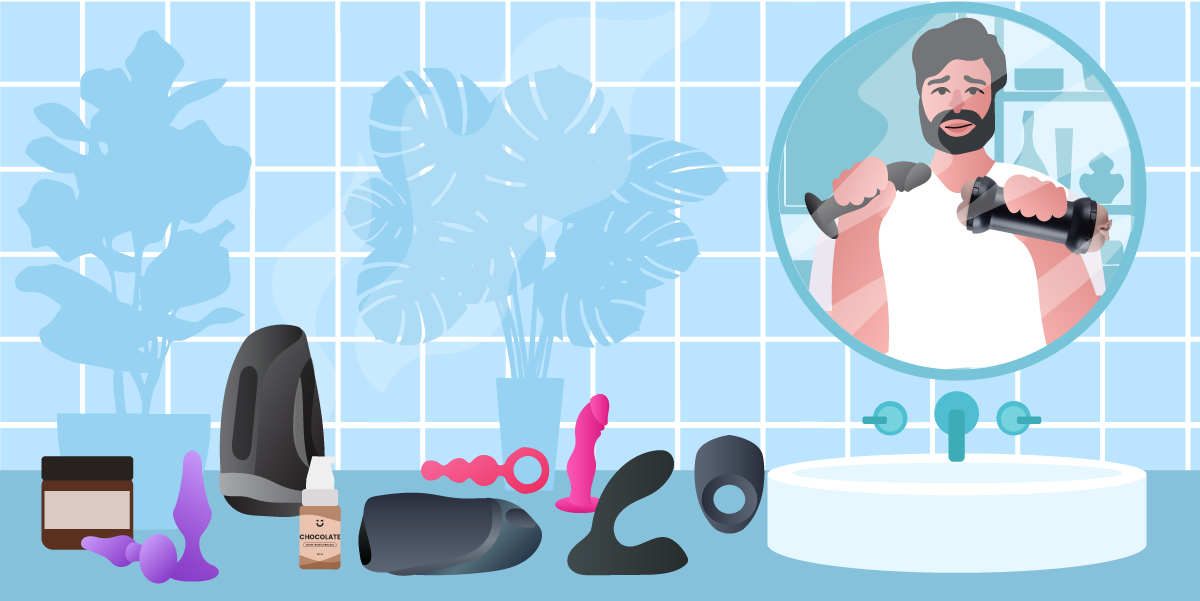 Looking for the best sex toys for beginners? Wanting to try out different male sex toys for your self-pleasure and couple play needs? We're happy to be of service!
But before we proceed with this beginner list, we wanted to clarify that sex toys catered for penis-having folks. There seems to be a common misconception that love toys are only built for women. Whoever spreads that fake news must be angry at the world because that's one harmful piece of misinformation.
Just imagine all the men out there who are missing out on all the fun because they've been led to believe that lie. Once and for all, before we proceed from here, let's get one thing straight. Sex toys are for everyone. They don't judge and certainly don't discriminate.
With that said, we want all of you guys to know that we haven't forgotten about you. We exist to satisfy your, please. That's why we always consider which toys can help spice up the bedroom for all sexes, even if you're just a beginner. Our collection of sex toys is diverse. We don't only have toys for women. We also got some pretty cool toys for all the adventurous guys like you!
For this guide, we will be sharing the best male sex toys for beginners and love toy suggestions. We will also answer some frequently asked questions about these pleasure toys, so make sure to scroll until the end for that. Let's start the best sex toys for beginners list with the crowd favorite!
1

Fleshlights
Who doesn't love jacking off? Whether you do it once a day in the showers or once a week during Sundays, masturbating in itself is a lot of fun. Now, picture this. What if we tell you there's a love toy that can enhance your solo masturbations? Not only does it give your hand a break, but it also makes you feel like you're inside a real vagina or anus. Curious? Get yourself a fleshlight.
Fleshlights are designed to mimic the appearance and texture of a vagina, anus, or mouth. It's covered in a flashlight or tumbler-like casing, making it easy to be carried around during your travels. Some variations also come with suction or warming effects for enhanced sensations. This is one of the best sex toys for beginners, as it gets the job done and is pretty handy to clean and store.
2

Masturbators
Masturbators are pretty similar to fleshlights. Most variations of this male sex toy have vaginal, anal, or mouth appearance and texture. The difference is in its function, as masturbators usually come with vibration, rotation, or thrusting effects.
They also come in discreet casings, so no need to worry when storing these toys. However, most of them may be heavier than fleshlights, especially if they're made with high-quality vibrating or thrusting motors. If you're looking for a fleshlight with extra features, then definitely go for masturbators.
3

Penis Strokers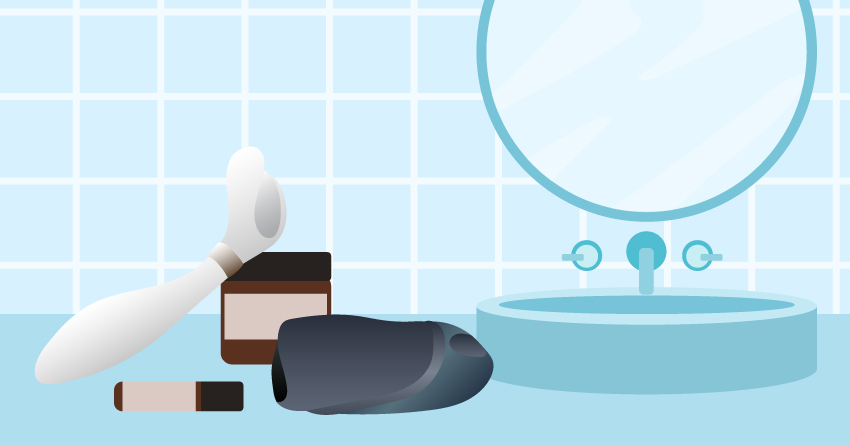 If you're looking for something that serves as an aid for your self-pleasure plays but not necessarily a sex toy that imitates a vagina or anus, then a stroker could do wonders for you. It's designed to be used while you're stroking your penis. It's usually open-ended or covers the tip/half of the shaft.
Unlike masturbators and fleshlights, this love toy doesn't have designs that mimic genitals. It simply comes with a sleek look and textured internal structure. Aside from being one of the best sex toys for beginners, it's also a great love toy for couple play since your partner can still give you a blowjob or handjob while using a stroker.
4

Cock Rings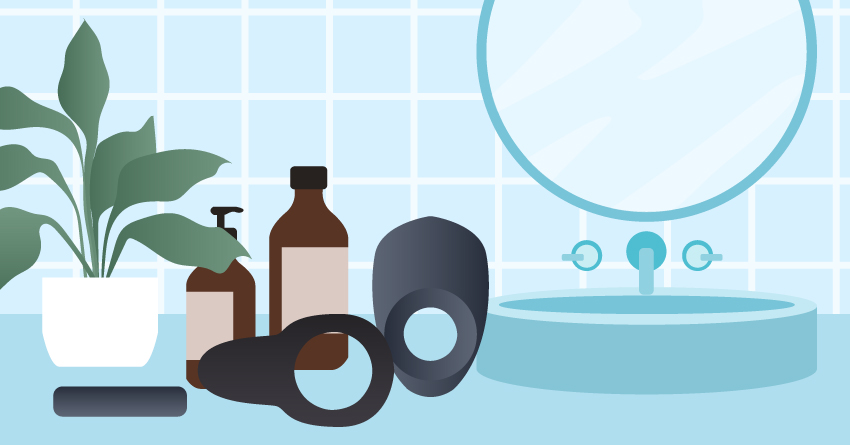 Want stronger orgasms in bed? As a beginner in sex toys, you have to try cock rings. Just as its name suggests, they're rings you wear on your penis. They're convenient love toys that are used to restrict blood flow out of the penis.
Having it snugly fit around you creates a feeling of tightness and pressure on your veins. You're going to enjoy a hard and thick rod and a surmountable amount of pleasurable feelings. And the best part? If you're using it with a partner, it also offers clitoral stimulation, so it's not just you who's having fun but also your partner!
5

Butt Plug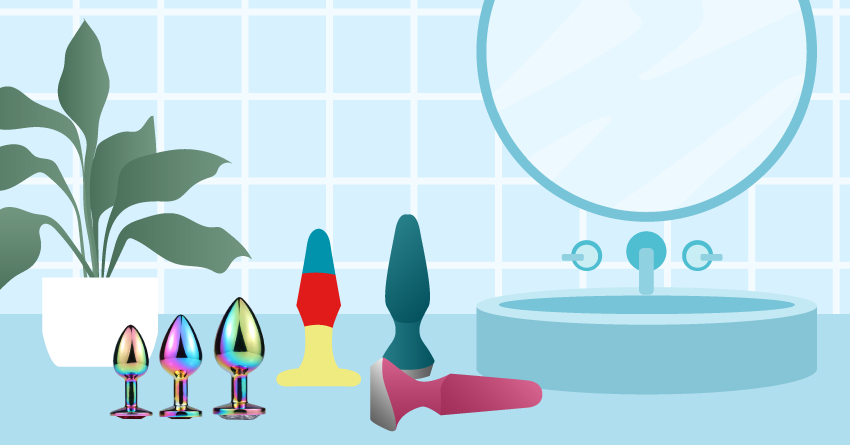 You might be a beginner in sex toys, but you might be interested in some backdoor fun! Now that anal play is losing its bad rep, it's the perfectly good time to explore what's in store for you in your backyard. It's one of the best orgasms you've ever going to feel. This isn't surprising at all since your pleasure spots—the prostate—are found a few inches above your anus. By using anal toys, you can easily reach those hard-to-reach pleasure spots for an exciting twist in your sexual playtime.
One of the best sex toys for beginners to use for anal sexploration is a butt plug. It's an egg-shaped or teardrop-shaped toy with a flared base. As the name suggests, you plug or insert in the anus for pleasurable sensations. Some also enjoy wearing it while having sex as they love the "fuller" feeling on both their penises and bums.
6

Anal Beads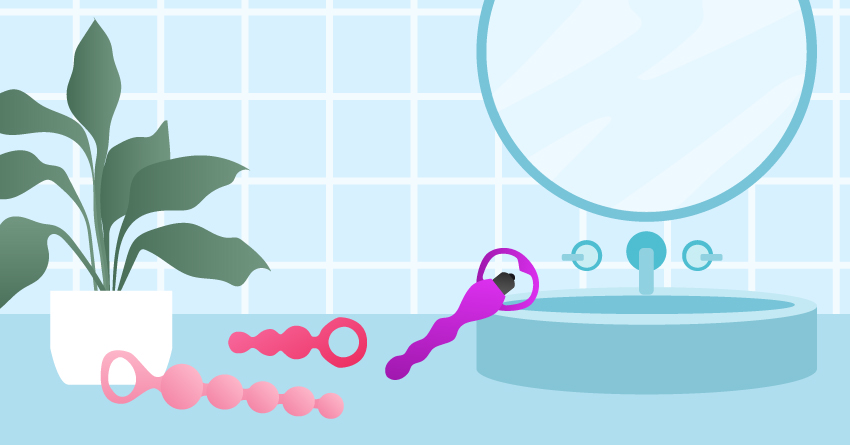 If you're not ready for anal plugs and want something easier to play with, then anal beads might do the trick. Anal beads are pretty much the opposite of butt plugs. If the butt plug is inserted for pleasure, anal beads are inserted and removed; they're not designed to be in place, unlike the butt plug. It's also designed to look like various bulbs attached to a cord with a grip on one end. The bulbs differ in size; the smallest bulb at the tip and the biggest bulb at the base/handle.
What makes anal beads one of the best sex toys for beginners is that it's smaller than butt plugs, and you can gradually insert the bulbs, unlike butt plugs where you need to insert the whole thing. This is also great for peeps who enjoy stimulating the opening of their anus, which is rich in nerve endings.
But if you're interested in anal toys because you want to please your prostate or p-spot, go for the next sex toy on this list.
7

Prostate Massager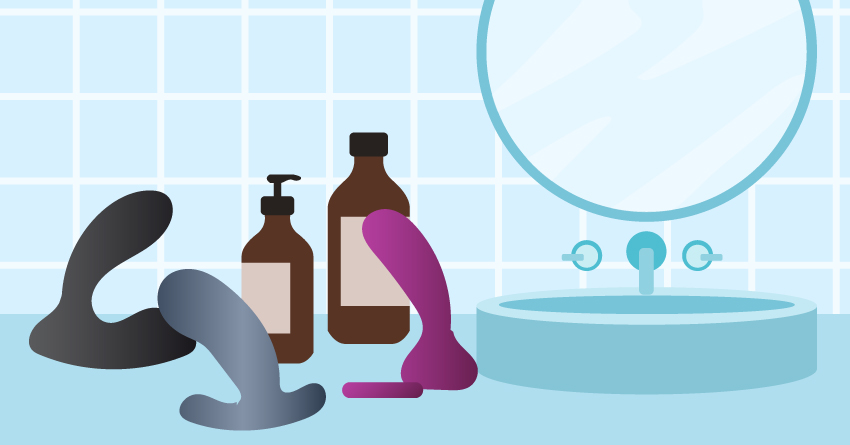 The prostate massager is one of the best sex toys for beginners who are trying anal play. It's specifically designed to stimulate your prostate. They usually have a curved and segmented body to accommodate a man's anatomy. This toy also sends intense vibrations in the area, sending you into a heated frenzy with every use. So for those who want to experience intense prostate orgasms, we highly recommend getting this pleasure toy.
8

Dildos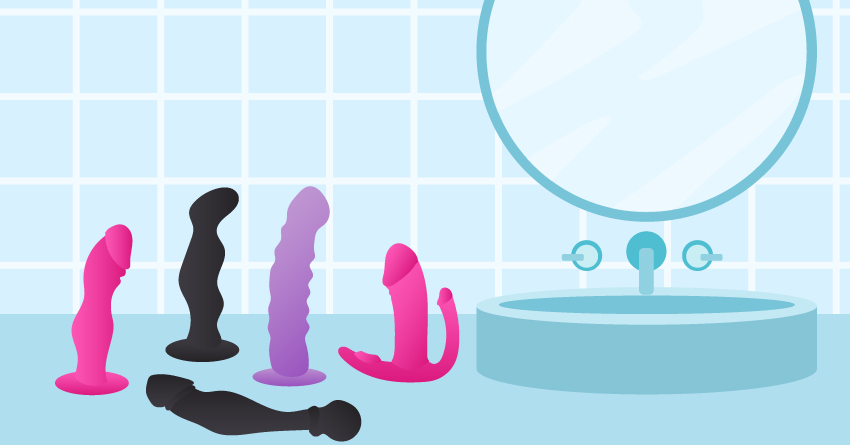 Another way to stimulate your prostate is through dildos! It's designed like a penis and is used for anal penetration. Now, dildos don't seem to fit this best sex toys for beginners list, but that's not actually the case. There are tons of beginner-friendly dildos to choose from— look for dongs with slender shafts and shorter lengths. We also recommend getting a dildo with a suction cup base so you can experiment with different positions.
9

Mini or Lay-On Vibrators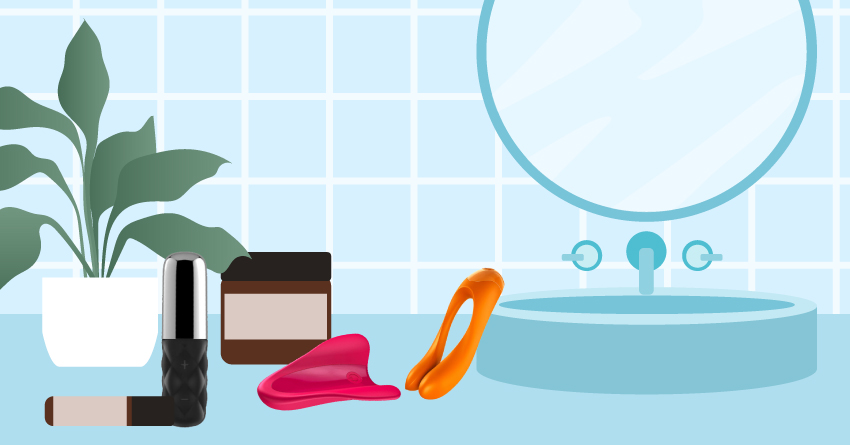 Contrary to popular belief, vibes can be as beneficial for men as it is with women. This is why we've included mini and lay-on vibrators on this best sex toys for beginners list!
Mini vibrators are bullet-shaped, while lay-on vibrators have a flat shape. They're both compact and can send intense vibrations to your erogenous zones. You can use these small vibes while masturbating. You can also run it all over your other pleasure points, such as the nipples, anal opening, inner thighs, and more.
Having a mini or lay-on vibrator can also come in handy on couple play since you can use this during foreplay. So whether you're going solo or not, you can surely count on these trusty vibrators.
10

Wand Massager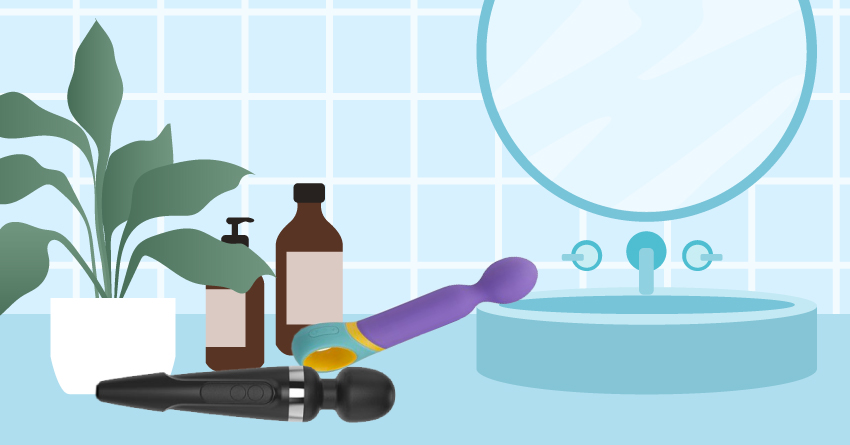 Another female sex toy that can work wonders for male newbies is the magic wand massager! Same with the mini and lay-on vibrators, you can use this ultra-powerful vibe to run all over your erogenous zones, such as the penis, nipples, inner thighs, and other sensitive areas.
What makes this sex toy a must-have is its dual function. Not only can you use this as a vibrator for your self-pleasure plays, but you can also use it as a body massager, sending vibrations to your tensed muscles. This will come in handy when after going to the gym or a long stressful day at work.
Best Beginner Male Sex Toys
Now that you've seen the best sex toys for beginners, we can sense your excitement about trying out some of the love toys on the list. With that said, here's a fun list of male sex toy suggestions for your sexual plays.
Frequently Asked Questions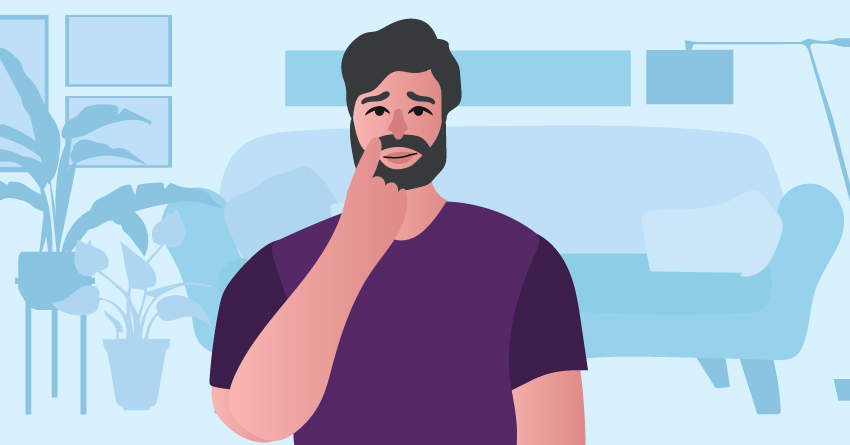 As you've learned the different male sex toys for beginners as well as discovered some love toy recommendations, you're now ready to shop! However, if you still have questions lingering in your mind about love toys, then check out this section. We've answered some of the frequently asked questions about male sex toys.
1

How much are male sex toys for beginners?

The price of male sex toys in the Philippines ranges from Php 300 to Php 9000. Keep in mind that the price varies per type of sex toy and the quality of the toy itself. For example, a standard-quality fleshlight has a lower price compared to a Cyberskin-made fleshlight with heating features.
2

What's the number one tip that I should follow when using sex toys for beginners?

The number one tip that we can give you is to always prepare your personal lubricant. If you're unfamiliar with a lubricant or lube, it's a water-based or silicone-based gel that emulates natural female lubrication. It reduces friction when inserting an anal toy in your bum or inserting your penis inside a masturbator or fleshlight. Some lubes also stimulate scents and flavors, amping up your excitement during solo or couple plays.
3

What's the best type of lubricant to use for fleshlights and masturbators?

Since most masturbators and fleshlights are made with silicone or Cyberskin material, we highly recommend using a water-based lubricant. Don't go for oil-based or silicone-based lubes, as they can damage the surface of your love toy.
4

What's the best type of lube to use for anal toys?

It depends on the material of your dildo, butt plug, or anal beads. If you're using sex toys made with silicone, your best bet is water-based lubricants. If you're using toys made with steel or glass, you can try using silicone-based lubes.
5

What is the most important thing to consider when getting male sex toys for beginners?

It's all about your preferred stimulation. Just assess yourself and figure out if you like to play with your penis, anus, or both regions. If you enjoy touching your penis, then go for fleshlights, strokers, and masturbators. If you like anal play and penetration, go for dildos, butt plugs, anal beads, and prostate massagers.

This doesn't mean that you shouldn't try to experiment with different forms of stimulation. But since you're looking for your first sex toy, we highly recommend getting something that fits your current sensual needs. Once you've got the hang of the sex toys that work well with your preferences, you can start broadening your horizons and gets toys that stimulate the other parts of your body.
6

Does anal sex toys will make me gay?

Your sexual orientation can't be determined by the type of sex toy that you're using. Enjoying anal stimulation doesn't make you gay; dating someone of the same sex makes you gay. So don't worry about wanting to play with your bum; it's normal to prefer it, especially since your anus holds one of the highly sensitive erogenous zones in your body— the prostate gland.
7

Are sex toys serve as a replacement for a partner?

If you've never used love toys before, you probably have a few worries. That's understandable, so we want to address these concerns of yours before we move on. Among the many issues that love toys have is supposedly built to replace a man's role in the bedroom. That is nothing but complete BS.

Love toys can NEVER take your place. They can't compare to your caresses, your heat, and your entire being. Sex toys are just there to enhance your sexual experience with your partner.
8

Does using male sex toys make me perverted?

Another misconception about love toys is that sex toys are just for sad, miserable, perverted low lives who just can't seem to find a willing partner in bed. Again, that's so far away from the truth. If anything, single men and women use love toys because handling your own orgasm gives you a sense of empowerment. Self-love and self-care, in all forms, are never sad and perverted! Remember that.
Takeaway
And that concludes our best male sex toys for beginners guide! See? You'll have plenty of love toys for you to choose from. We can't wait for you to do the jiggy in bed while playing with these toys. It's going to be a life-changing event for you! Also, don't forget prepping before the deed, such as washing your toys and preparing your lube. This ensures a safe, comfortable, and fun sex toy play for you. You're welcome!