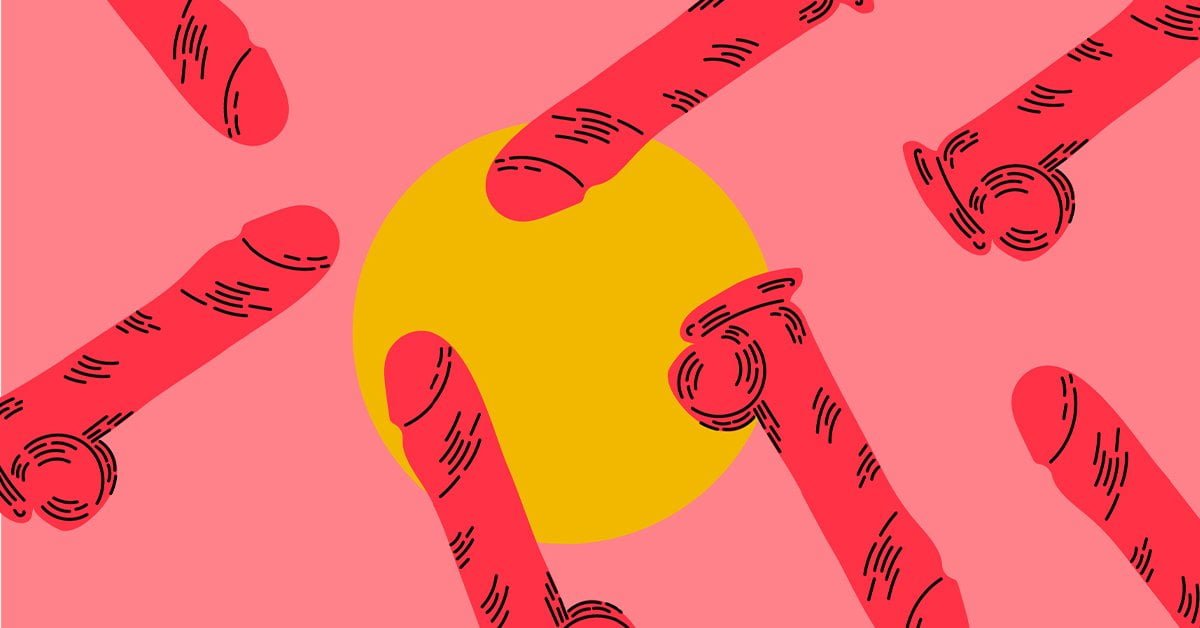 So here you are. You've finally decided to get yourself the toy of your dreams: the suction cup dildo. The one you told yourself you'd buy first if you ever decide to pursue being a porn star. But you didn't pursue doing homemade videos of yourself getting down and dirty.  You're stuck being a goody-two-shoes. But it's okay. You now have your very own suction cup dildo, and with all the positions you can do with it?  It's more than you ever dreamed it would be.
Now, you are a strong independent person who has their own house. Now, you can finally hoe all over the place whenever and wherever you want. And so your dream toy, this fantastic looking suction cup dildo, lay at the palm of your hands, waiting to be mounted somewhere, positioned anywhere, so you can finally orgasm your way to nirvana.
Now, the question is, "where do I mount this so I can finally say 'look ma, no hands!"? Well, you came to the right place. If you're a beginner in suction dildos, there's no better place to learn them than here. We'll teach you the best places to stick them, and how to maximize the pleasure without really needing to do back-breaking acrobatics.
Why Do You Need to Try Using Suction Cup Dildos?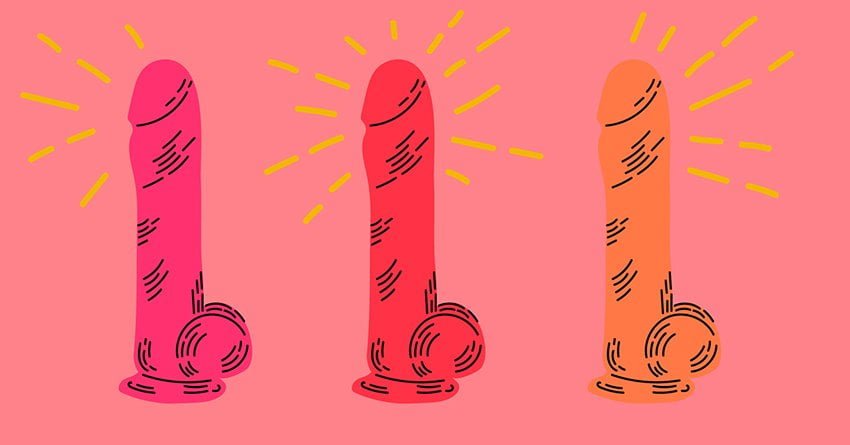 1

It's perfect for lazy people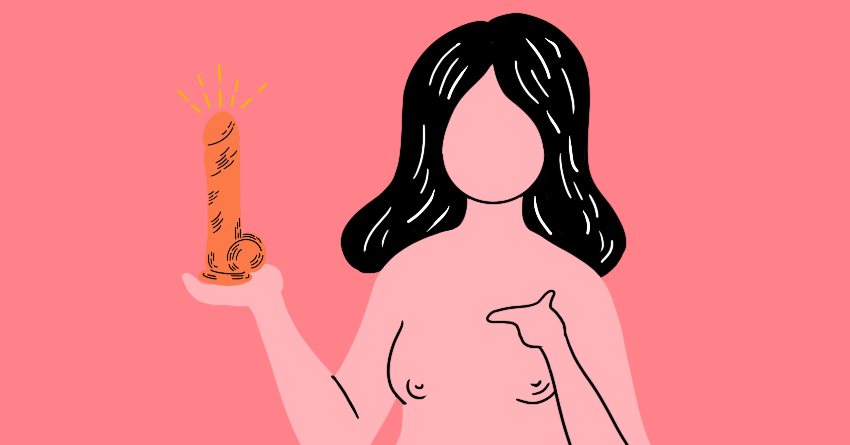 We've all been there. Sometimes, we're just too lazy to do anything. We just wanna be pleased without moving a muscle. I feel you. With suction cup dildos, our fantasies are now a reality. We can get pleased without moving that much. We can just stick 'em and fuck 'em. It's that simple!
2

Hands-free play
With some, if not most, sex toys, you'll need to insert and retract the toy to enjoy it (alone or with a partner.) This is the case with most dildos. You use it for some do-it-yourself fun so you have to insert it, twist and turn it inside to maximize the pleasure. And this is fine. This is a great way to enjoy dildos but sometimes, we just want a little more natural. Something we can use in place of a man's dick without needing to hold it all the time in and out of you. This is where suction cup dildos win our hearts.
We don't need to use hands to enjoy it. We just stick it to any number of surfaces – locked doors, toilet bowls, floors, chairs, seemingly anywhere is a good place to get fucked with a suction cup dildo. You just stick it, jump on it, and then ride it to paradise!
3

You can use it with other toys!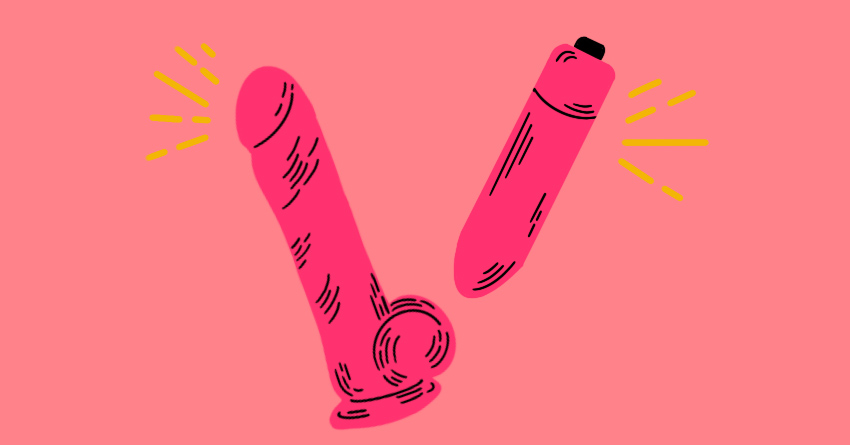 In case you haven't heard, most women don't orgasm from penetration alone. Majority of women need some form of clitoral stimulation to reach their climax. As such, women need a variety or a combination of insertion and clitoral stimulation. With real dicks, that can be hard (lmao did you see what I did there) since they can only do the penetration part. But with suction cup dildos, you're doing some hands-free fun so you can use your free hand to treat your clit for a ride.  With a suction cup dildo, you can just position it on any surface of your choice. Then, you can use your other hands for any additional stimulation you want. Fondle your breasts or use bullet vibes with your dildo. The world is your oyster! You can mix and match everything however you want!
4

Awesome Threesome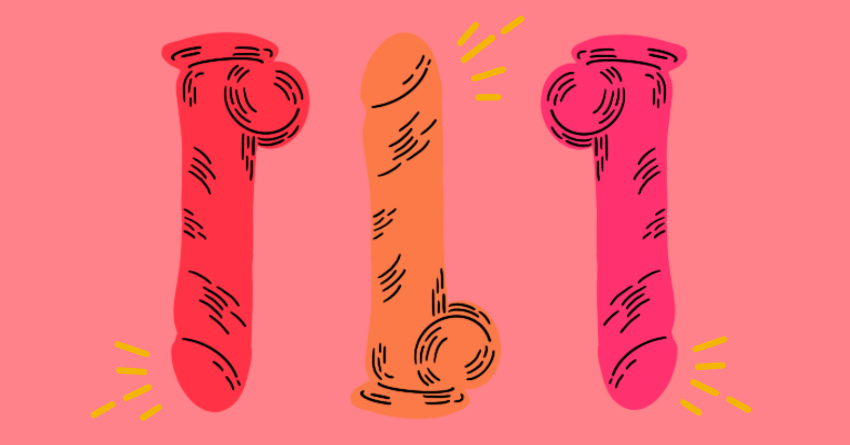 Admit it. You've also had some threesome fantasies in your lifetime. You desire that additional person to fulfill extra pleasures for you. But many couples find it hard to "share" their partners with an extra person. With a suction cup dildo, you won't have to face such a dilemma. You can have experience what it feels to be in a threesome without actually needing any other person than your partner. Imagine all the combinations and possibilities! You can mix vaginal penetration with some oral sex or you can even go for dual penetration. Your options are endless!
5

Realistic feel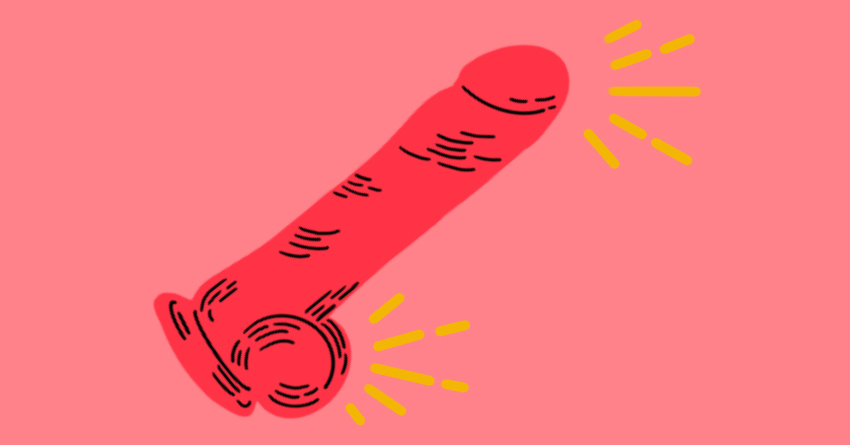 With so many toys available in the market, you can choose what type of feel you want for your toys. That's the case for vibrators and other dildos. But with suction cups, most often than not, they're made from realistic material. They're made to look and feel real to imitate the real thing. Some suction cups are rigid, others are soft but most of them have realistic textures to capture that "authentic" feeling of getting penetrated.

6

Suction cup dildos are the perfect practice partners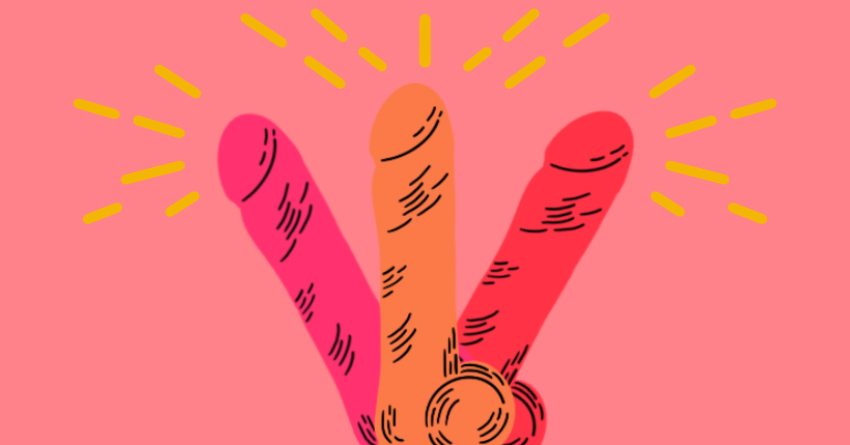 Remember when we were virgins and had no experience when it comes to sex and whatsoever and we'd practice our first kiss on our arms? Yep. Suction cup dildos are like that. We want to be the best lovers that we can be. We want to please our partners until they orgasm. But at the same time, we're also human. We also want to know what pleases us and how we can be pleased the best. With suction cup dildos, you're free to experiment with different moves and thrusts. You can just stick them on any kind of surface and you can ride them whenever and however you want. Not only can you practice, but you'll also enjoy yourself in the process!
Here are the Best Surfaces and Positions for Your Suction Cup Dildo
There actually three ways to position suction cup dildos:
Vertical
Horizontal
Diagonal (yes, you read that right, diagonal!)
Out of three, you have to try horizontal and diagonal. You don't have to try hard to keep your balance with these two. You will be able to easily bend or arch, without toppling over. The vertical is also good but if you're a beginner, you might feel like you'll need a harness to fuck yourself properly. To give you more tips and tricks, here are some ideas:
1
The Standing Doggy / Cowgirl Position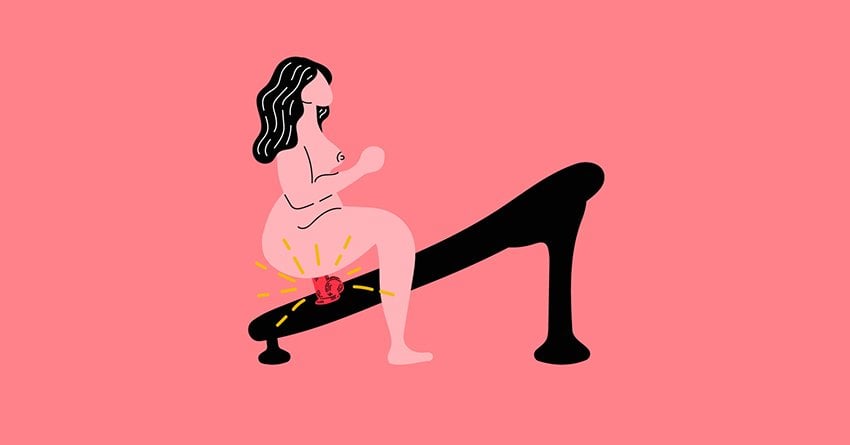 Surface: The Ab Bench
Dildo Position: Diagonal
Position: The Standing Doggy / Cowgirl Position
I'm not sure how many of you have ab benches at home, but if you're like me, an ab perfectionist, as well as just a regular horny girl, this is one of the best surfaces where you can mount the suction cup dildo and fuck yourself comfortably. Simply mount it on a comfortable level where you can squat, and then fuck yourself standing doggy style. You can also try doing a cowgirl position in this one, as there will be no hassle to how you will position your legs on either side.
2
Doggy Style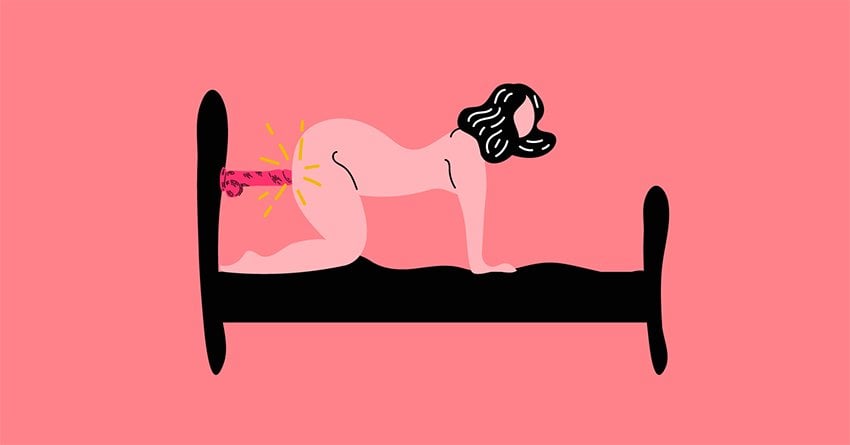 Surface: The Bed Headboard
Dildo Position: Horizontal
Position: Doggy Style
The most common of all, even in masturbation porn. This seems like a pretty easy position until you finally do it yourself. It is a very comfortable position for your palms and knees, but really quite difficult when you're adjusting to your hole's level. My suggestion: stick the suction cup dildo in your vagina or ass first, and then stick it on the board while it's still inside you. This way, it will be on the perfect height once you start humping on your own. Think of it as the "stick the tail to the donkey" kind of game, while trying to find the comfortable height.
Do note, that although it looks really easy on porn, it actually feels really tricky when you're already humping the suction cup dildo. You have to find the right stance in doggy, as well as the right force in humping, or else, you'll find yourself toppling down your bed, as if you got pushed from your ass. Remember Newton's third law: every action has an equal and opposite reaction. So however hard you hump with your butt, that's how hard you'll be pushed forward, too.
3
The Baptism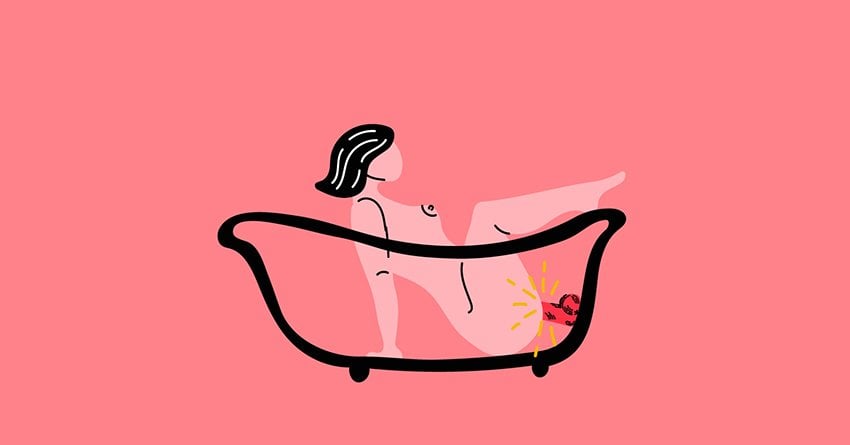 Surface: The Bathtub Side
Dildo Position: Horizontal
Position: The Baptism
This one is fairly easy, as the only thing you'll do is glide. What you do is stick the suction cup dildo on the inside-side of the bathtub, leveling your hole. Once it is mounted, you can finally let it slide its way in and out of you, while you are submerged in warm bath water, and bubbles. This one would probably remind you of all the times you did it with someone in the bathtub or pool. This time though, you're finally going to climax (lol).
4
The 45-degree angle

Surface: Edge of Leather Sofa
Dildo Position: Vertical
Position: The 45-degree angle
Once the suction cup dildo is mounted, kneel one knee on the floor and prop the other on the sofa seat and start fucking. You can do this position and practice your twerking skills. Make sure, like the doggy style, that you find your right balance and force here. While it may give good traction and groove on your genitals, this could also hurt you if you won't be careful. I should give a warning that stretching would be a good thing before trying this position, as it can easily give you cramps, depending on how deep you thrust.
5
The Octopussy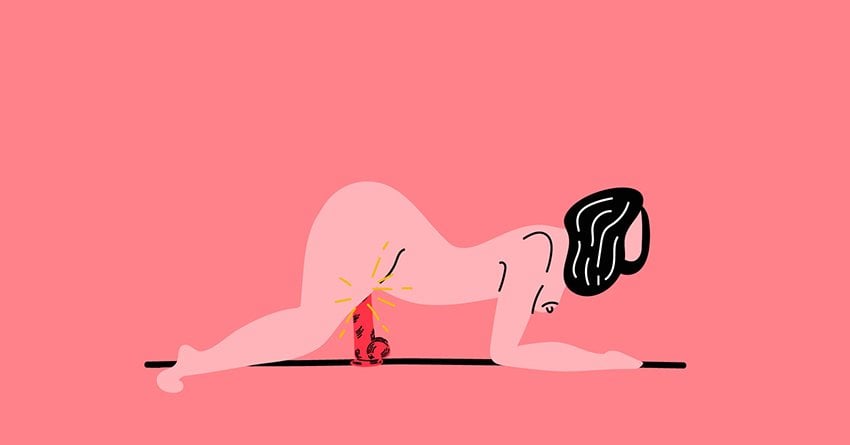 Surface: Floor
Dildo Position: Vertical
Position: The Octopussy
This is probably the most convenient of all. No need for anything except the suction cup dildo itself. Just prop it up the floor and saddle. Support your leg sprawl with your palms and imitate an octopus while thrusting.
Suction Cup Dildos are a must-have!
In case you're still not an owner of any suction cup dildo, now might be the best time to rethink your choices. Suction cup dildos provide the best hands-free experience when it comes to your bedroom play. They look and feel like a real thing. Plus, you can position suction cup dildos anywhere if you're just adventurous enough.  If you don't own one now, you better consider getting one because I'm telling you, you're missing all the fun!