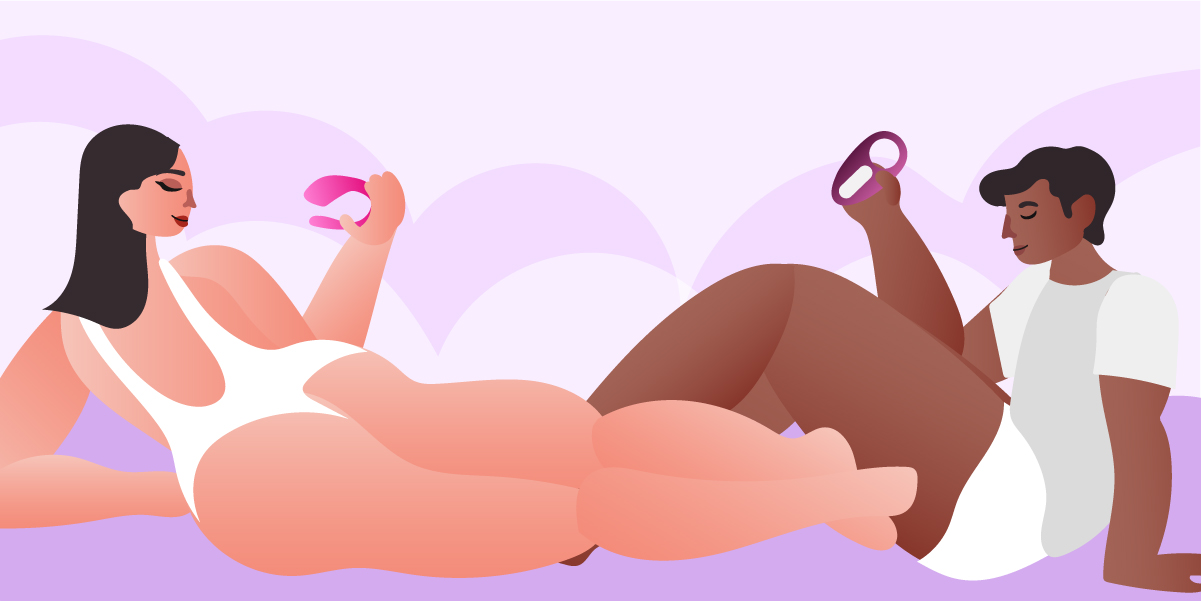 Are you a beginner couple who's ready to join the world of couple sex toys? Perfect timing. We're currently growing our curation of the best beginner sex toys for couples, so playful and experimental couples like you can have something new to switch up your bedroom routine.
There're a few issues concerning the use of sex toys among couples. One of them is that couple sex toys are seen as objects you incorporate in the bedroom because your sex life has become dull. This isn't true at all. Well, that can be the case too, but not always. Sometimes you want to try out something different.
And another thing, contrary to popular belief, couple sex toys aren't a sign of a failing relationship. They can mean that you're on an open and comfortable level with your partner. Deciding to use a sex toy and choosing a sex toy in itself means you're in a good place in your relationship. Browsing through the internet and finding the ones you like require good communication and honesty from both partners. Let's get started!
1

Finger Vibrators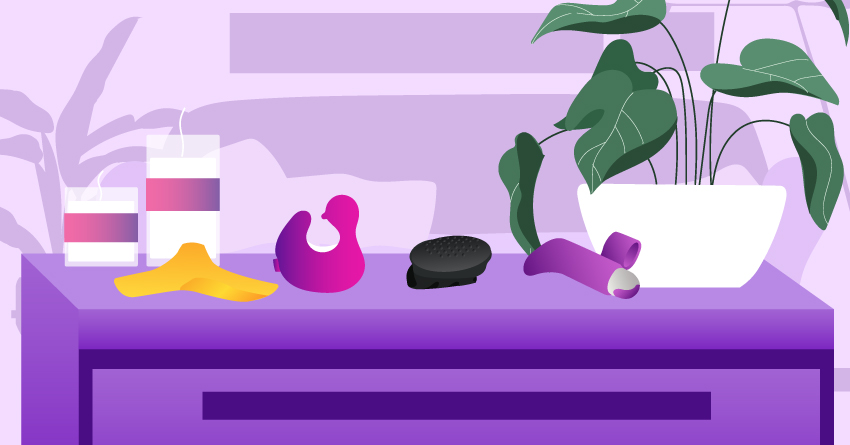 For couples who never tried using sex toys, this is the perfect starting toy. Finger vibrators, as the name implies, are vibrating toys that can be worn around the finger. They're small and usually come in discreet designs, such as this ducky-designed vibrator or tongue-shaped vibe. And since it can be worn like a finger, you can seamlessly incorporate this toy during foreplay. You can run it all over your partner's erogenous zones, such as their nipples, clitoris, glans penis, or inner thighs.
2

Mini Vibrators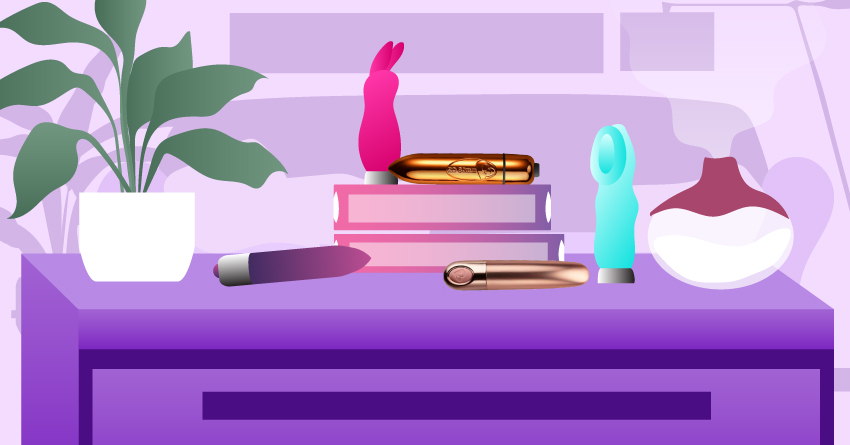 Mini vibrators are one of the best beginner sex toys for couples. It's small and bullet-shaped, similar to the size and shape of lipstick. But don't let the compact size fool you, as it can definitely hit your own and your partner's sweetest spots with its powerful vibrations.
Mini vibrators have stronger vibrations than finger vibes. They also come with curved or slimmer tips for pinpointed stimulation. So if you're looking for something that's still on the small and discreet side but more powerful than finger vibes, then we highly recommend getting this one.
3

Love Eggs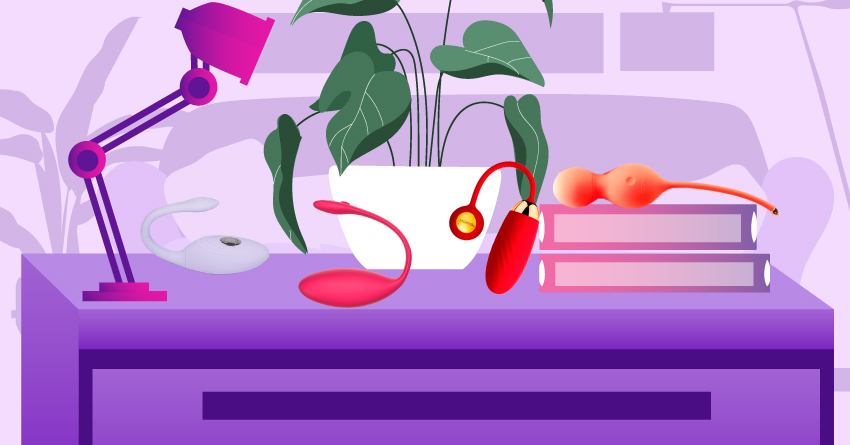 Love eggs, also known as egg vibrators, are shaped like an egg or teardrop. It has a short silicone string at the end for easy removal and comes with remote control. It's designed to be inserted inside the vagina for g-spot stimulation.
What makes this a standout compared to the finger and mini vibrators is its remote control feature, making it a fun sex toy for private and public plays. You can ask your partner to wear the egg and have full control of the vibration modes. It's also a great toy for mutual masturbation since you'll get to be involved with your lover's pleasure while getting busy with your own solo play.
4

App-Controlled Sex Toys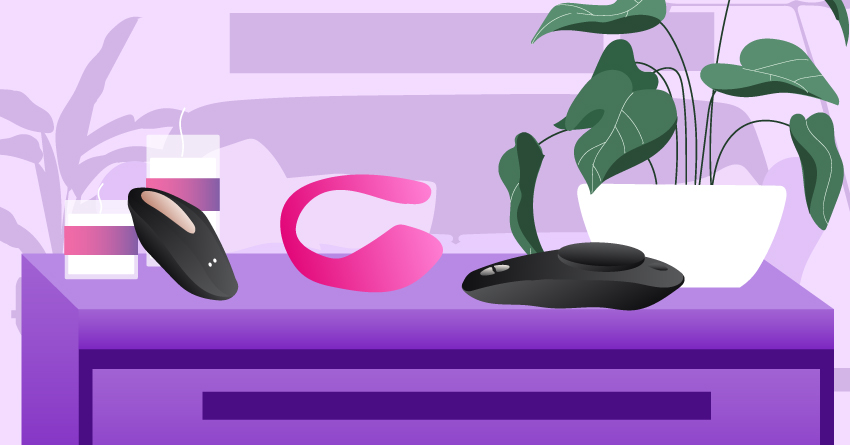 This is one of the best beginner sex toys for couples who are in a long-distance relationship. App-controlled couple sex toys have app-controlled features, which makes them suitable for long-distance control. Just create a private room through the app, give your partner access to your sex toy, and enjoy the unpredictable vibration, suction, thrusting, or rotating effects from your partner. Not only that, but app-controlled toys usually come with other features such as music sync mode, customized vibration modes, and more.
5

Couple Vibrators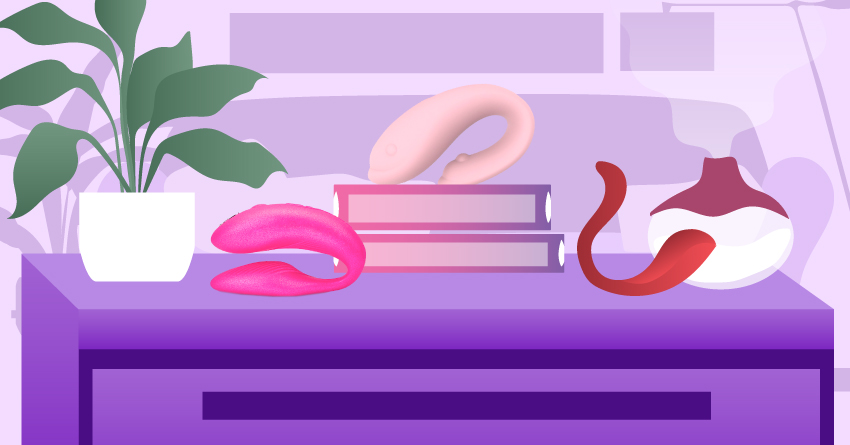 If you're looking for a sex toy that you and your partner can both enjoy, then you should consider getting a couple vibrator. Couple vibrators are designed to have a clitoral stimulator at one end and a slim g-spot stimulator at the other. The g-spot stimulator is inserted while the clit stimulator rests on the clitoral nub. It's pretty flexible, so you can easily adjust it to your anatomy.
To use it, the female partner should wear the vibrator and turn the vibrations on while their partner is penetrating their vagina. It is one of the best beginner sex toys for couples because it can send vibrations simultaneously to the penis, clitoris, and g-spot.
6

Cock Rings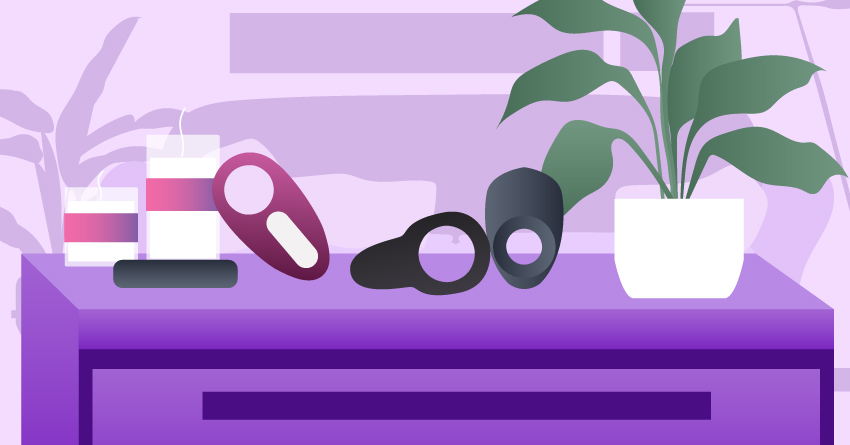 Another great beginner toy for couples is cock rings. They're designed like a ring and are placed around the penis. Now, its main function is to make erection firmer and longer-lasting. However, there are vibrating penis rings that can simultaneously send vibrations to the penis and clitoris. Just slide the cock ring, turn on the vibrations, and go on with the deed. The vibrations effects will surely make your partner more aroused than ever before.
7

Penis Sleeves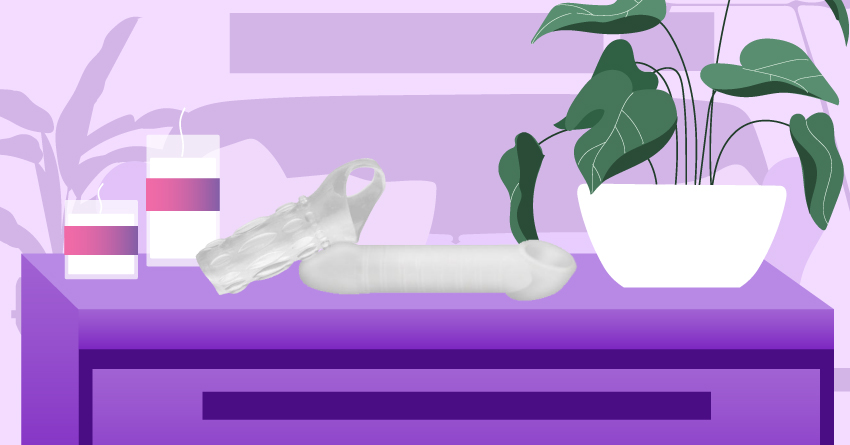 As the name implies, a penis sleeve is worn on the penis. It's usually designed to extend the length of the penis. Still, some variations are made to add nubs or ridges on the shaft, bringing extra pleasurable sensations to your own and your partner's genitals.
8

Anal Plugs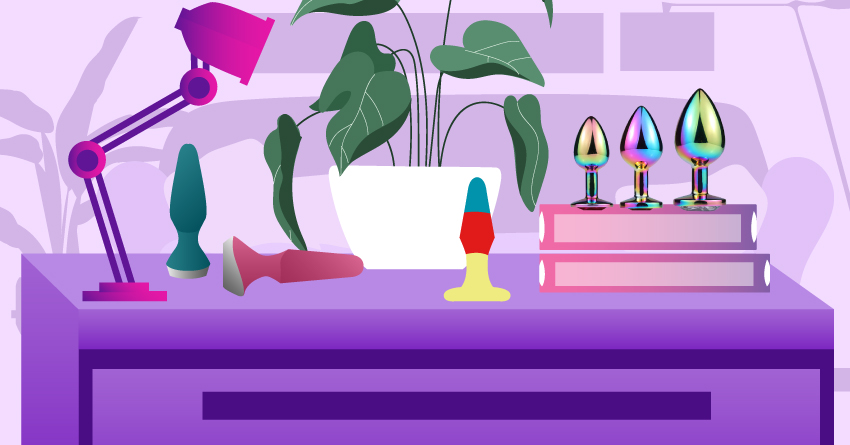 If you're looking for beginner sex toys for couples made for anal play, we recommend getting a beginner-friendly butt plug. It's a spade or teardrop-shaped plug with a slender neck and flared base. You can use it during penetrative sex, just plug it in and experience getting "filled" in both openings. Using butt plugs is also a good starting point for anal sex, should you not yet be ready for full-on penetration.
9

Anal Beads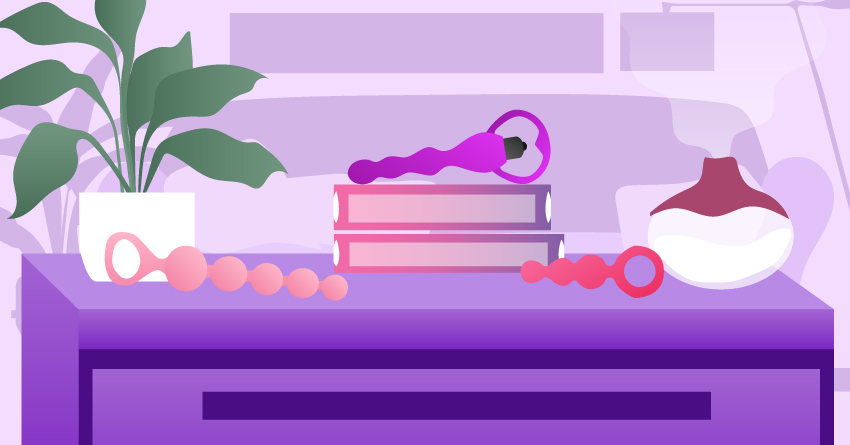 If you're looking for couple toys that can be used for anal play but aren't ready for anal plugs yet, then consider getting anal beads. It features various soft silicone (or stainless steel) beads attached to a slim cord and has a loop-style handle for easy removal. Unlike the butt plug, it's made to be inserted and removed during the deed; pleasurable sensations are produced by the bulbs stimulating the sensitive anal opening.
What makes them a more beginner-friendly option than butt plugs is that the bulbs are smaller than anal plugs. You can also gradually insert the bulbs; start with the first two bulbs, then slowly work your way through the bigger bulbs. This toy is also a great starting toy for anal sex, as you'll get to be familiarized with the feeling of anal penetration.
10

BDSM Beginner Toys
If you're looking for the best beginner sex toys for couples designed for kinky plays, going for a beginner BDSM set is the way to go. BDSM kits usually have the basics, such as cuffs, tickler, eye mask, nipple clamps, and other kinky toys for newbies. It also goes with certain themes, so if you're looking for BDSM equipment with the same color, go for beginner kinky kits!
Suggested Beginner Couple Sex Toys
As you've learned the different beginner sex toys for couples, you've probably figured out the type of love that would work for you and your boo. However, if you're looking for specific sex toy suggestions, no worries, as we've got you covered! Here are some of the bestselling beginner couples toys in our shop. Just click the button below every recommendation for full details.
1

Satisfyer High Fly

The Satisfyer High Fly is made with medical-grade silicone and ABS plastic, gliding smoothly over your skin with every use. It's a versatile finger vibrator designed with a super-strong motor and flexible wings for optimal fit. It also comes with 12 pulsating vibration modes, matching up your preferred pressure in every sesh. Not only that, but this rechargeable finger vibrator is IPX7 waterproof, so using it in the shower, hot tub, or private pool is easy peasy.
2

Satisfyer Double Joy

The Satisfyer Double Joy is ready to take you on a wild ride, featuring an ergonomic u-shape design, high-powered vibrations, and app-enabled features. This waterproof vibe also works for long-distance couples, thanks to the Satisfyer Connect App. Just pair it, invite your partner, and you're good to go! So go ahead, say yes to blissful Os with this couple vibe.
3

We-Vibe Pivot

The We-Vibe Pivot is a silicone-made cock ring that comes with 10 deep and rumbly vibrations, sending the penis and clitoris in a pulsating bliss. It's also app-enabled, allowing you to share control of this penis ring from anywhere. The app also enables tons of hi-tech features such as custom vibration modes.
4

LoveBoxxx I Love You

If you're looking for the best beginner sex toys for couples that are made for BDSM plays, then the LoveBoxxx I Love You will surely be a fun treat for you! It comes with a pack of rose petals, an eye mask, bullet vibrator, tickler, handcuffs, vibrating cock ring, and six dice. These intimate lifestyle toys are made with body-safe materials and can work on different types of sexual plays.
5

SVAKOM Tyler Vibrating Penis Ring

The SVAKOM Tyler Vibrating Penis Ring can prolong a man's stamina and helps in stimulating a woman's clit with its soft vibrating contoured pad. Not only that but it's packed with powerful and deep vibrations, sending both the penis and clitoris in a highly pleasurable state.
6

Satisfyer Twirling Joy

The Satisfyer Twirling Joy is a uniquely designed vibe made for pinpointed stimulation. It features a slender rod above the motor to propel the tip around on an axis. It's also packed with powerful vibrations, specifically 5 vibration intensity levels and 8 vibe patterns. Not only that, but this luscious vibe is app-enabled. You can get long-distance control, custom vibe patterns, ambient sounds, music vibes, and more features by pairing this love toy with the Satisfyer Connect app.
7

Panty Rebel Vibrating Thong

If you're looking for a fun toy that you and your partner can use in public plays, you should definitely check this one. The Panty Rebel Vibrating Thong includes a sexy black thong that can fit up to a large size and is controlled through wireless remote control. It's lightweight and movement-friendly, making it a great addition to your sexcapades.
8

Satisfyer Sexy Secret Panty Vibrator

Here's another love toy that you can use in public plays! The Satisfyer Sexy Secret Panty Vibrator features a sleek shape to optimally fit in the vulva. It also comes with a magnetic clip to securely place this in your undies. With its wearable design, you can simply move around without anyone noticing that you have a sultry vibe. You can also operate this sexual wellness device with the app. Just install the Satisfyer Connect App on your smartphone, connect your vibrator in the app, and send yourself or your partner in a heated frenzy!
9

We-Vibe Chorus

If you're looking for couple vibrators, this is one of the vibes that we highly recommend for you and your boo. The We-Vibe Chorus comes in a sophisticated U-shaped design. Its slim build provides an adjustable fit to your unique body, ensuring that it'll stay in position throughout the deed. It comes with 6 pleasurable vibration modes and has unique touch-sensitive receptors. You can also use this vibe with the included Squeeze Remote, either by pressing the buttons or squeezing it; the tighter the squeeze, the stronger the vibration it gets.
10

Pillow Talk Flirty Mini Massager

If you're looking for the best beginner sex toys for couples that are built with deep and rumbly vibrations, then you can surely count on the Pillow Talk Flirty Mini Massager! It features a luxurious design and rumbly vibrations. As for the controls, all you need to do is press and hold control to increase the intensity.
11

Je Joue MiMi Soft

Here's another mini vibrator on our suggestion list. At first glance, the Je Joue MiMi Soft may look like a chic beauty blender, but it's actually built with strong vibrations. It has a unique shape, delicate surface, and ultra-low frequency vibrations, pleasing your clitoris with deep rumbles. Made from the exquisite silicone material, this pebble-shaped vibe has a squishy tip to help add that firm pressure without discomfort.
12

Fiera BDSM Set

Last but definitely not least is the Fiera BDSM Set! It's one of the best beginner sex toys for couples who are into kinky plays. It consists of handcuffs, ankle cuffs, cotton rope, lace eye mask, ball gag, collar, whip, and nipple clamps, all made with high-quality and body-safe materials. All of the toys also come in a luscious red color, igniting your wild side with every use.
Frequently Asked Questions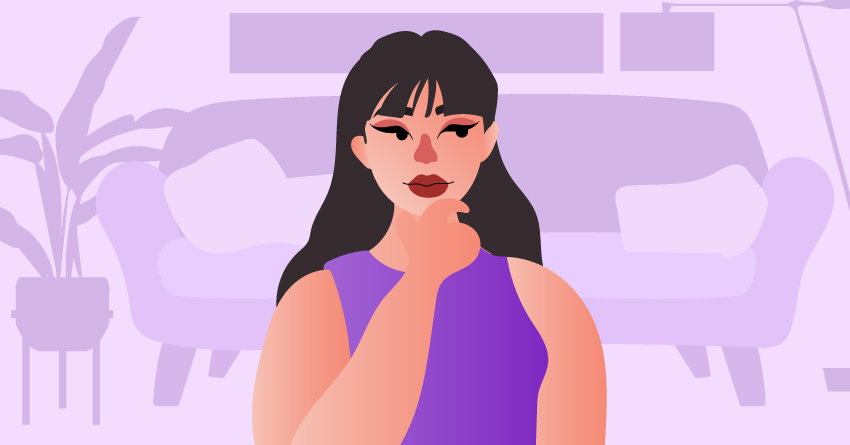 Now that you've learned about the different beginner sex toys for couples, you're now ready to get your first ever couple toy! But if you're still hesitant and have questions lingering in your mind, don't worry, as we've answered the frequently asked questions about beginner sex toys for couples. Read on!
1

What's the best approach in introducing sex toys in the relationship?

It all depends on you and your partner. Couples handle sexual topics differently. If you're comfortable discussing sex and each other's sexual preferences, then talking about sex toys should be easy-peasy compared to couples who aren't as open. If you're new in the relationship and haven't built sexual rapport yet, we recommend slowing things down and building that sexual connection before proceeding to sex toy discussions.
2

Is there a possibility that my partner would like to use a sex toy rather than having sex with me?

One of the biggest misconceptions about sex toys is that they're designed to replace a partner since they're always available, never running out of energy, made to please, etc. This is nothing but a false claim, as love toys are made to be an addition in the deed, not a replacement. Besides, human intimacy isn't something you can't replace with a bunch of pleasure toys. Love toys may give you those body-shaking Os that you've been craving, but it's never gonna give you the loving warmth of human connection.
3

Is it okay to surprise my partner with a sex toy during the deed?

Surprising a partner with a couple toy during sex can be tricky. Some may find it exciting, while others may find it iffy, especially if you've never discussed using sex toys in the first place. It can also lead to conflict as some people think that using sex toys means that they're not good in bed. This is why we recommend communicating first before getting couple toys.
4

My partner got offended when I recommended using sex toys? What should I do?

First things first, relax. Your partner may think of sex toys as a replacement or "someone better" in terms of fulfilling your sexual desires, so they end up getting offended by your suggestion. This is due to the lack of information and stigma surrounding love toys. Instead of getting mad at them or pressuring them into saying yes, explain the benefits of love toys and clarify that they're not meant as a replacement for a partner but a great addition to your sexcapades.
5

What if I'm not okay with using love toys during sex?

If your partner is suggesting sex toys and you're hesitant about it due to the misconceptions you've heard before, try researching more about love toys. Check out sexual health and sexual wellness blogs and see the benefits of using pleasure toys in the relationship. You can also consult a professional to sort out your negative feelings about love toys. If you still feel uncomfortable using one, don't pressure yourself to say yes just because you want your partner to be happy. Don't sacrifice your wellbeing and comfort; use love toys once you're fully ready.
6

What are the things that I should consider before getting my first couple toy?

The first thing to consider is your own and your partner's preference. Are you looking for something to play with during foreplay or something that you can use during penetration? Are you going for something classic or kinky?

Once you've got that figured out, you can then move on setting the budget for the couple sex toy. We recommend going for a standard-priced love toy, but once you've fully enjoyed it, you can then move to a branded one to level up your sexperiences.

You should also take note of the material. Make sure you're going for beginner sex toys for couples made with body-safe materials, such as medical-grade silicone.
7

Is it better if I and my partner shop for sex toys together?

Yes! You'll get to find the toy that you're both going to fully like with this approach. Now, we get that things can get awkward in a brick-and-mortar shop (and given the current situation, it's not advisable to go out for non-essential shopping), so you go for online shopping instead. What's great about this one is that you'll get to discover different adult toy stores and go for the one with fair prices, great customer service, and fast delivery.
8

What are beginner tips that I should follow when using couple sex toys?

First, make sure to clean your toy before using it with a sex toy cleaner or water and mild soap. If it's rechargeable, fully charge it for uninterrupted fun. Don't also forget to use a water-based lubricant when using toys designed for penetration. We recommend wrapping a penetrative sex toy (dildos and classic vibrators) with a condom for easier cleanup.

Even though most beginner sex toys for couples are maintained the same way, specific materials (like Cyberskin) require a different cleaning approach. Make sure to read the full manual of your toy to learn the best way to clean and store them.
9

Will using beginner sex toys for couples improve our relationship?

Sex toys are designed to spice up your sexcapades. Being able to discuss and use it with your partner is a great sign that you're both comfortable with each other and open to discussing sensitive topics. However, if you're having relationship problems, using couple toys wouldn't solve the issue. It's still better to communicate with your partner to resolve the problem rather than distracting them with adventurous sex.
10

Where can I get the best beginner sex toys for couples?

Good news for you! The website you're looking at right now offers a variety of beginner sex toys for couples. Click here to see our wide assortment of mini vibrators, couple vibrators, cock rings, finger vibes, and more.
Takeaway
And that concludes our best beginner sex toys for couples guide! We know you can't wait to get your hands on these love toys! Intensify your bedroom activities and make every moment with your partner an unforgettable experience with these couple sex toys for beginners. They may work great as couple sex toys, but you can also use them for solo plays. So you can have fun even when you're together or far apart.