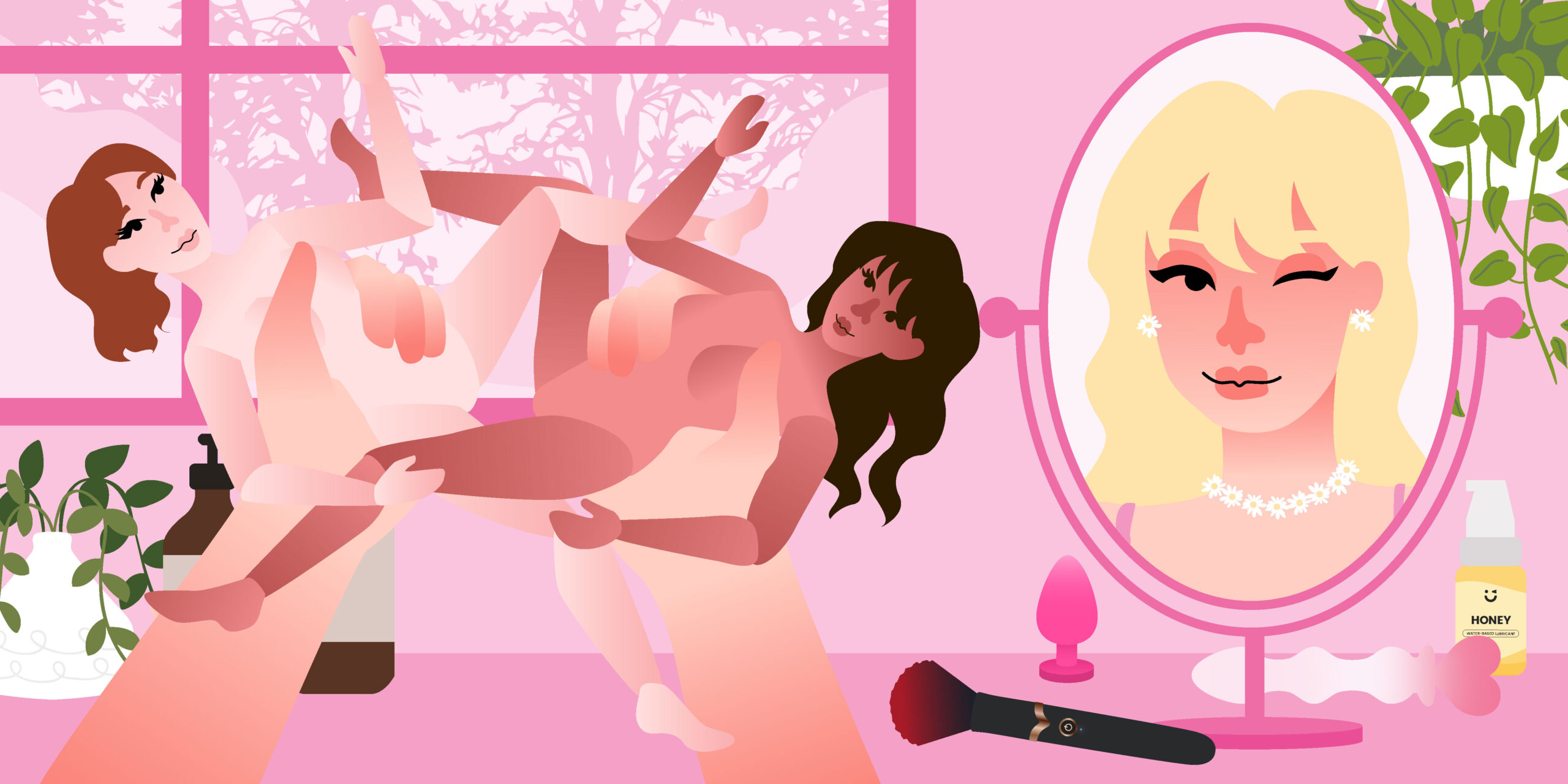 Scissoring is often synonymous with lesbian sex. Go incognito mode, check out a pornographic site, go to the lesbian category, and bam! You'll see a bunch of women doing the exact position— legs intertwine on one another as they pump in and out of each other's bodies.
However, this exotic position can actually work with everyone! So for those who wanna try the scissoring sex position, we're here to help you out. This guide will delve into the scissoring position, featuring a visual guide, tips, and recommended essentials.
What Exactly is Scissoring?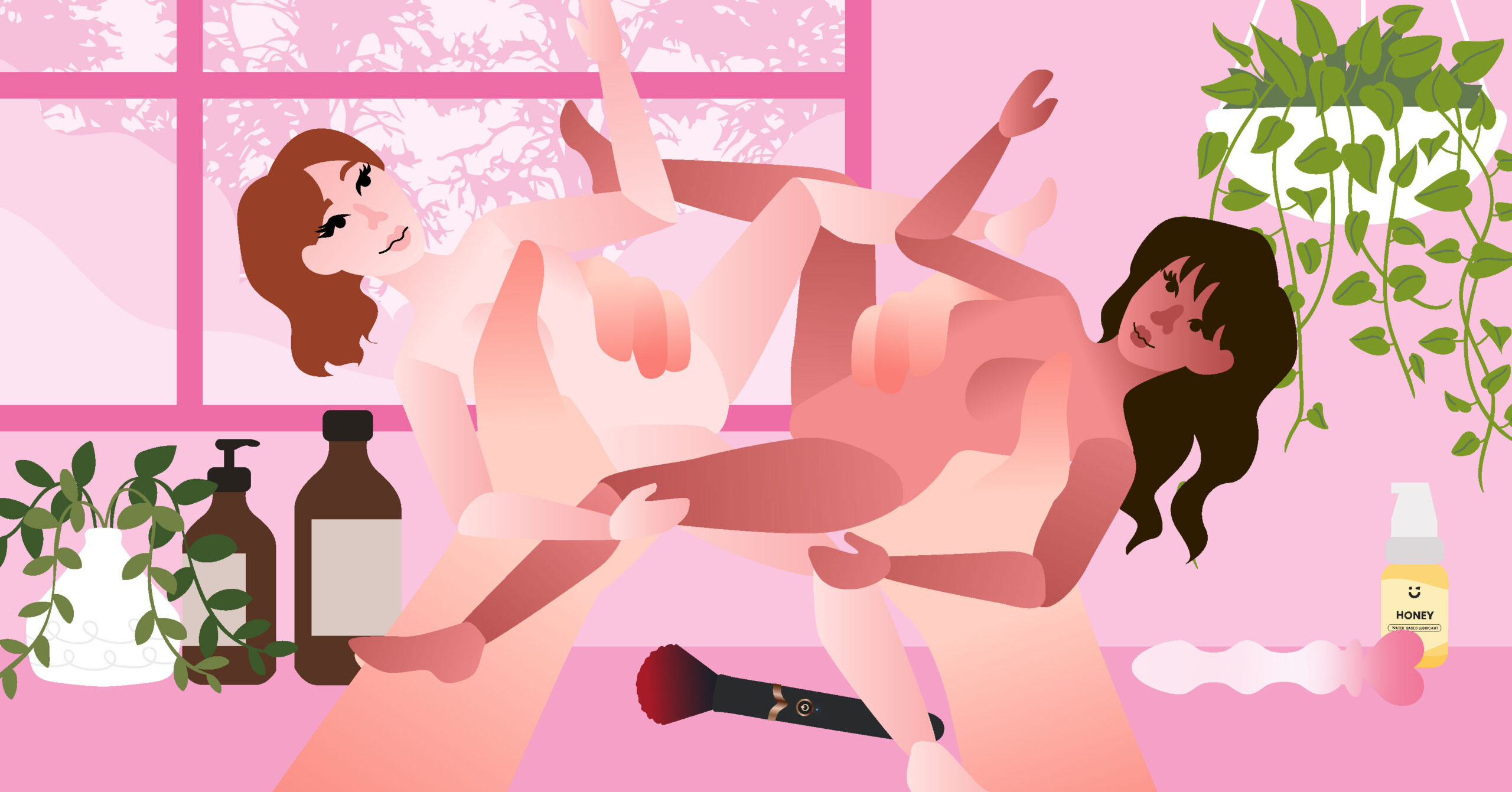 Scissoring is a sex position wherein the couples' legs are intertwined while their genitals are rubbing or penetrating against/into each other. They're also facing each other in this position, so we highly recommend it for couples who wanna have a great view of their partners during the deed.
To do it, the receiver must be lying on the side; one leg is pressed on the bed (lower leg) while the other leg is on top of the other leg (upper leg). After that, the receiver must lift and bend the upper leg slightly.
The giver will then lie on their side, but their head is in the opposite direction, right next to your feet. The giver will then slip their lower leg below your lower leg, then their upper leg should be on top of your abdomen. By this time, your genitals should be pressed against one another. After making a few adjustments, you can then start rubbing each other's genitals or engage in penetrative sex.
Tribbing vs. Scissoring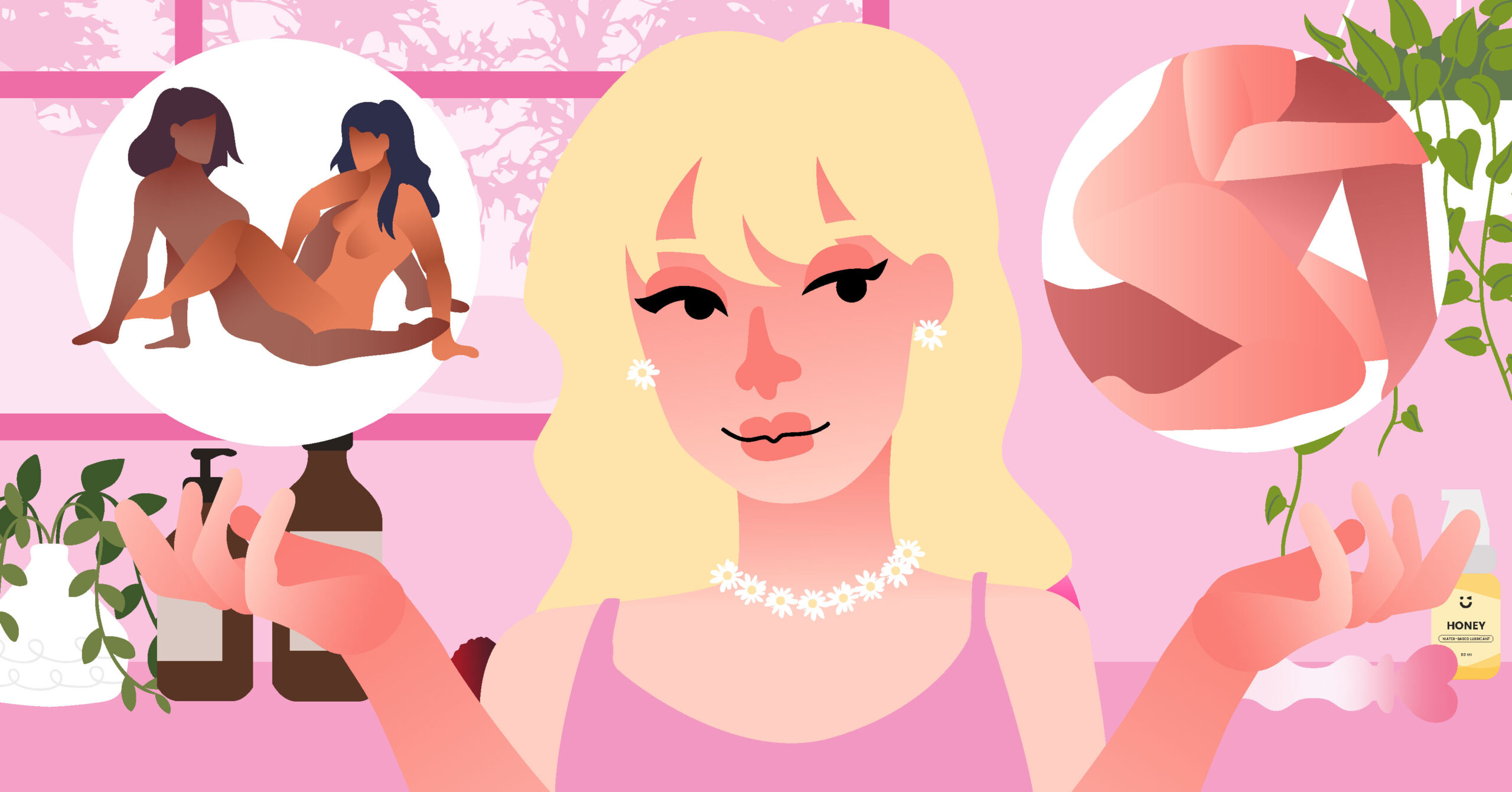 One of the common misconceptions is that scissoring and tribbing or tribadism are the same thing. Both terms involve genital rubbing, but they don't have the same definition.
Tribbing or Tribadism is a sexual act wherein the person rubs their vulva in their partner's body parts; it can be within or outside their genital region. Tribbing can also be done in different sex positions; it can work with missionary, cowgirl, lap dance, and other positions. Meanwhile, scissoring is a sex position that involves tribbing.
Is It Actually Good?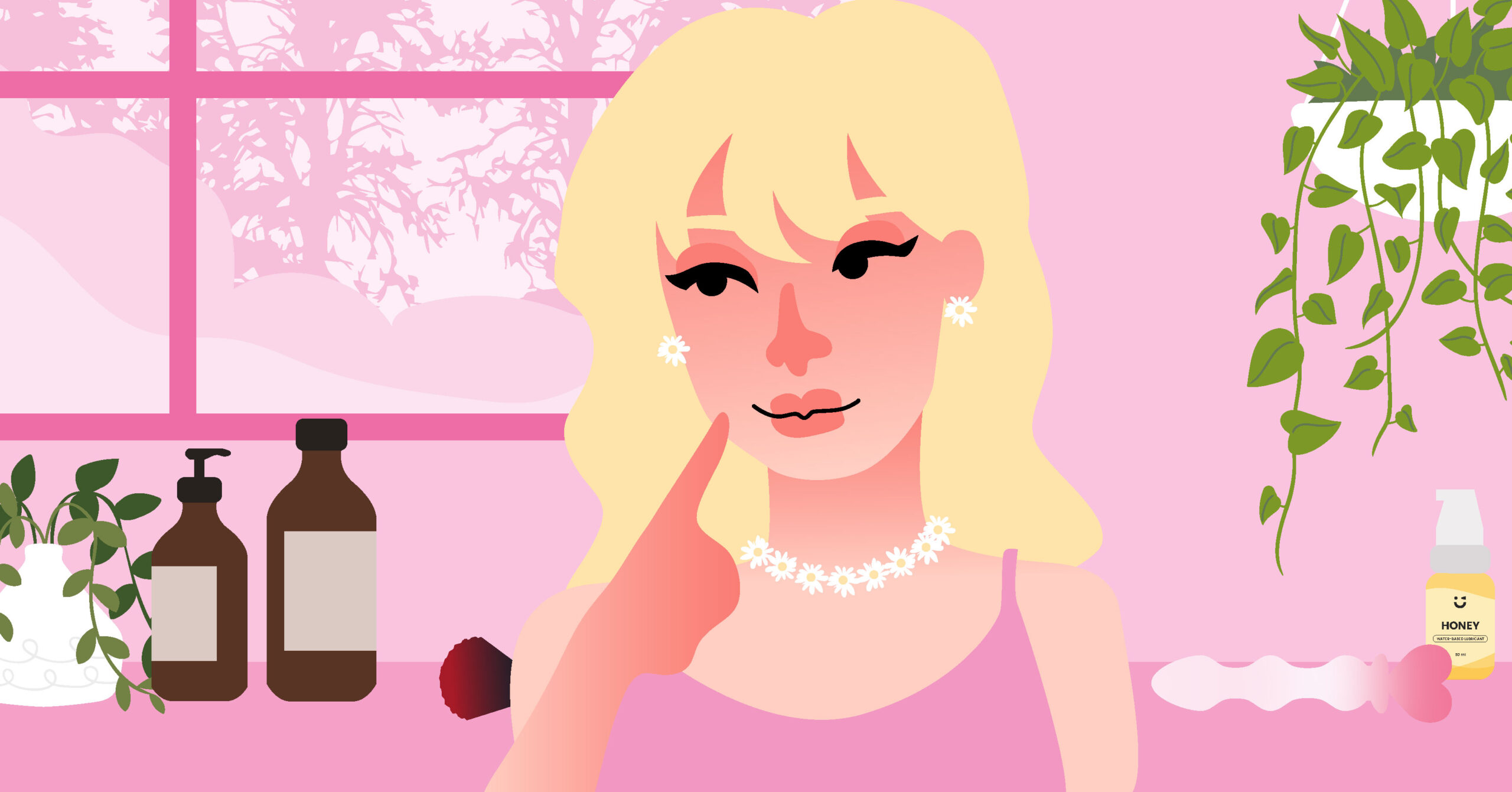 Scissoring looks incredibly good on screen, but is it as fun as it portrays?
The reactions are quite mixed. Some people love it, while others aren't a big fan. Benefits include seeing your partner's body throughout the deed and getting all handsy with your partner since you'll only need one hand each to stabilize the position.
On the other hand, some lesbians say that this position is only made for the "male gaze" since porn is primarily made for men. It's inefficient when it comes to clitoral rubbing, and other tribbing positions work better, but not as sultry on camera. Some say it's not a good position for people with flexibility issues and that you can only have fun with it if you meet a certain body type or stamina.
We suggest trying it out yourself and come up with your own opinion about it. If it's a win, add it to your favorites, but if it's not as comfortable as you would want it to be, there are other sex positions you can try out.
Scissoring Variations
Scissoring didn't work the first time, but do you still wanna give it a shot? You can try some of the variations below. Some of them are adjusted for your comfort, while others are even harder than the standard scissoring— perfect for the adventurous ones!
1

Intersection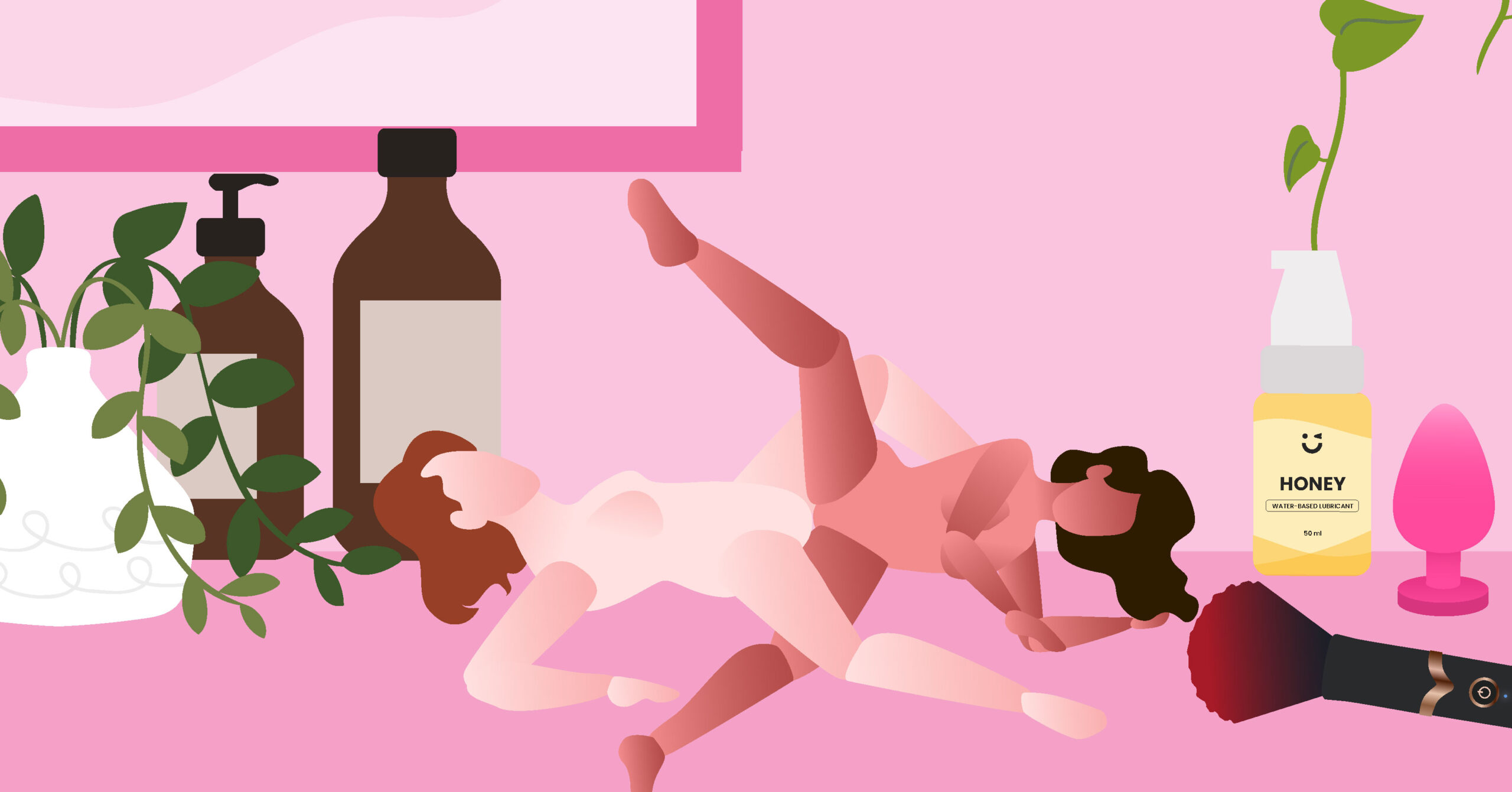 Here's a less complicated variation of scissoring. For this one, the receiver must be lying on their side, lifting their upper leg. At the same time, the giver will lie on their side, but they won't lift their legs and instead push their hips in the middle of the receiver's legs. It should result in a cross-like position.
To do this, the giver and receiver must lie on their sides. The receiver's head must be at the headboard, while their feet are at the end of the bed. Meanwhile, the giver's head is on the side of the bed, while their feet are on the other side. The bodies pretty much form a cross. After that, the receiver would open their legs, while the giver would lie on top of the receiver's lower leg and push their body close to the receiver's genitals. Once positioned, the couple can proceed with vaginal penetration or tribbing.
2

Twisty Scissor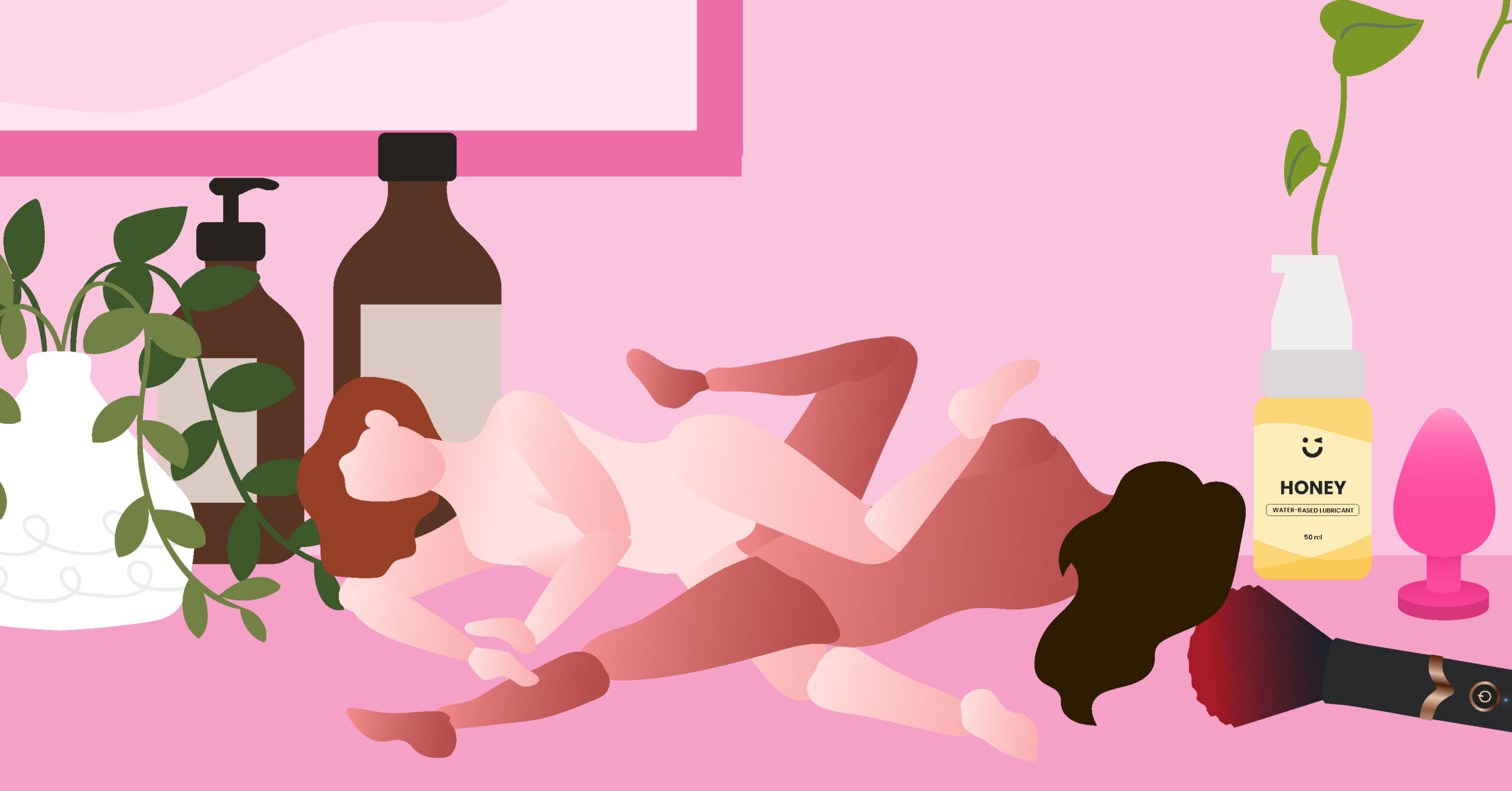 Looking at the illustration above, does it look more complicated than the standard scissoring? It does, as it's made for experienced ones. You'll also need some practice with this position, but it's worth it!
For this sex position, the receiver must lie down on the side. The giver will then lie on the side, facing the opposite direction, and your faces should be close to each other's feet. Both parties should bend their left knees and lift them towards the ceiling; a gap should exist between each other's legs.
After that, the receiver must lean forward, pushing their body to fit in the gap. By doing this, the giver's raised left leg should be positioned above the receiver's waist while their right leg is below it. Once positioned, you can start tribbing, grinding, or having penetrative sex.
3

Socket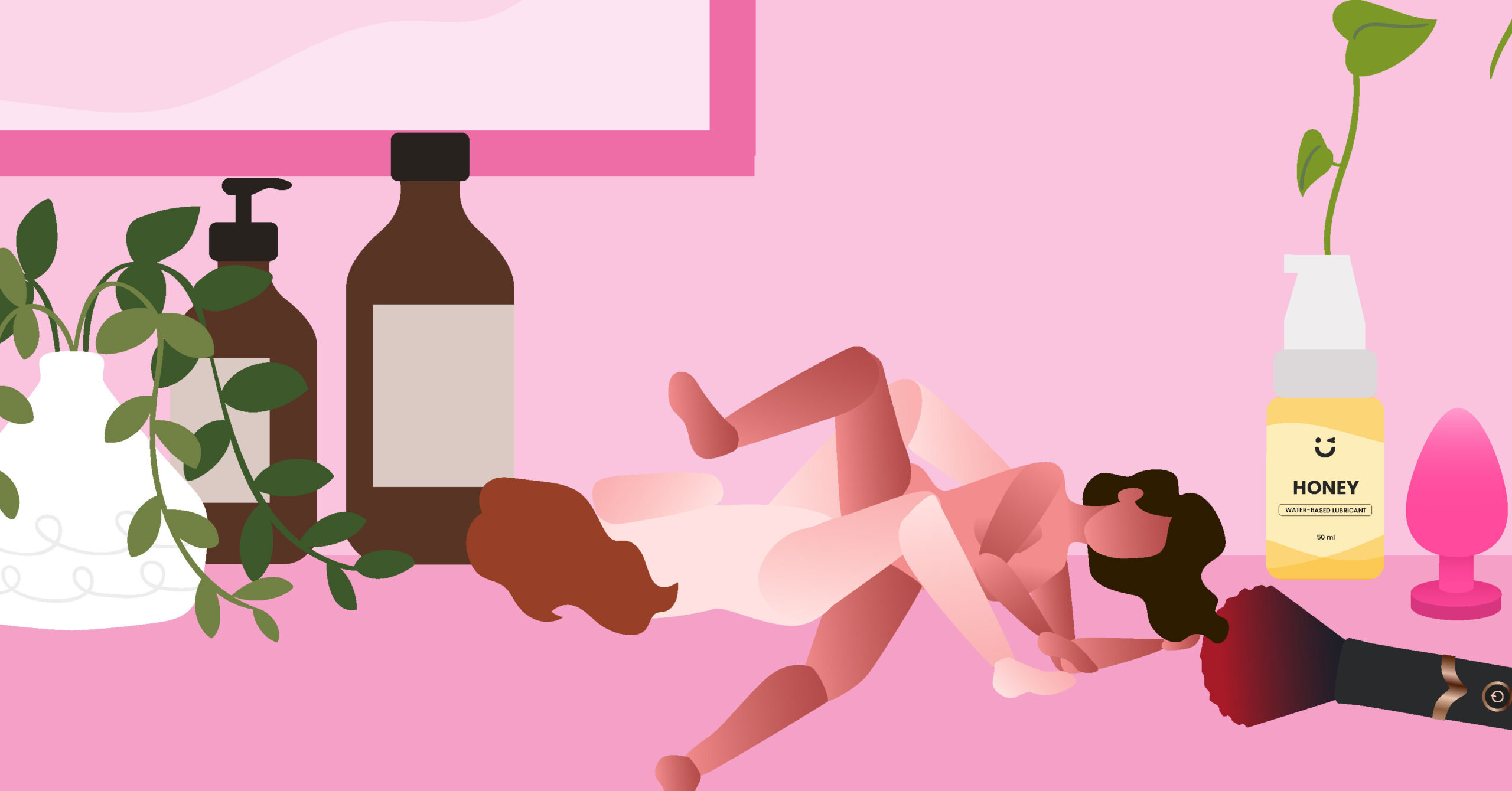 This one is pretty much the same difficulty as the standard scissoring. The only difference with this one is that you're facing the opposite direction, which means you won't be able to gaze at each other. This is good for couples who aren't into eye contact during the deed— some may feel extra conscious or awkward when doing so.
For this one, you can scroll up and see the instructions on the standard scissoring position, but instead of the giver facing their partner, they'll turn the other way.
Scissoring Tips
Let's cut to the chase; below are some tips you should consider when partaking in scissoring. This ensures you and your lover will have a safe and fun time with this sensual act.
1

Get protected with a condom or dental dam.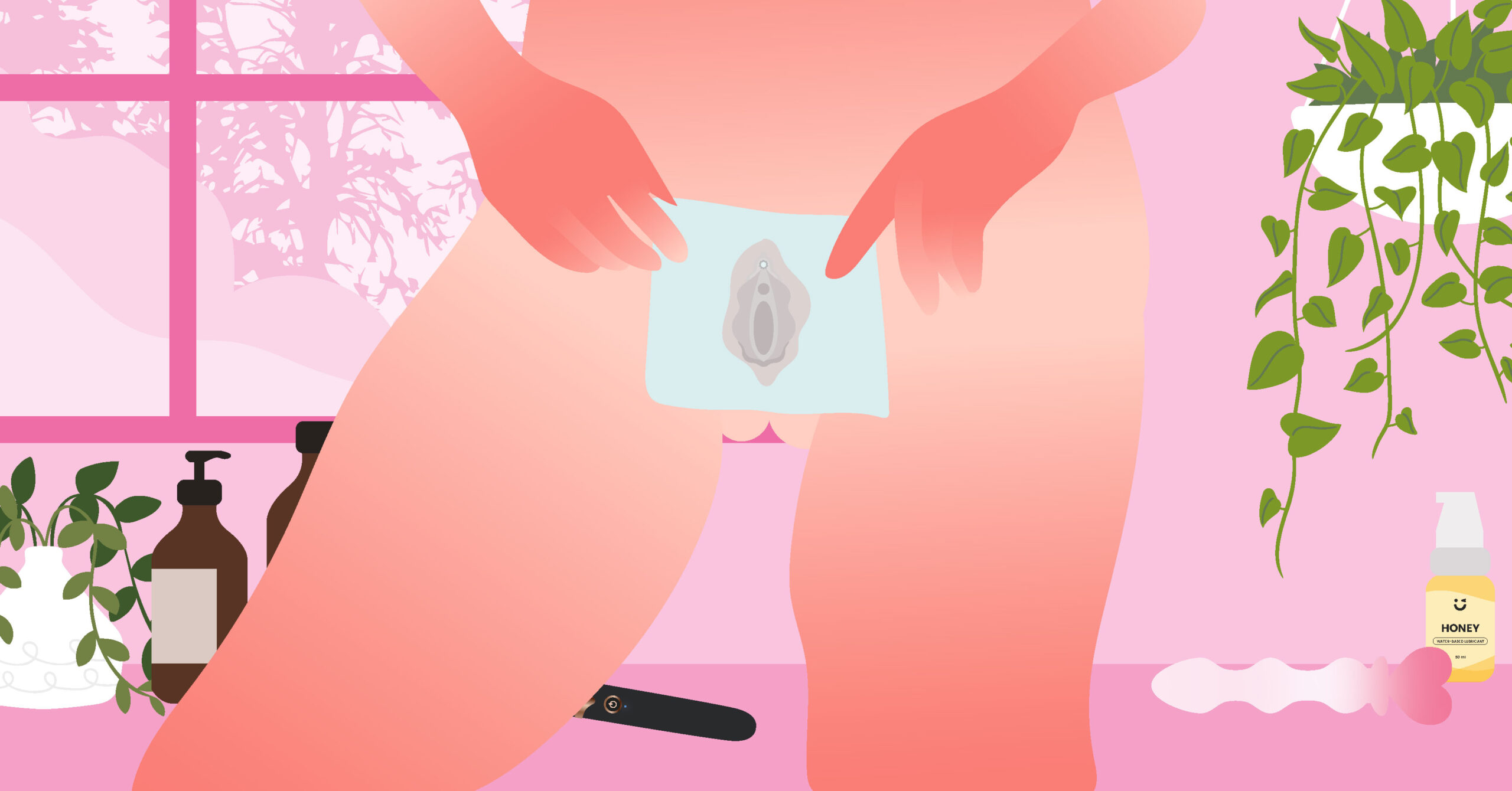 If you're in a monogamous relationship, wherein both parties have taken STI tests before getting sexual, and one person is taking a highly effective birth control method like implants and IUDs, it may be safe to go raw.
On the other hand, if you're gonna be scissoring with someone you barely know, keep yourself safe with a condom or a dental dam. These sexual health products are designed to create a protective barrier between your genitals, minimizing your risks for sexually transmitted infections and unintended pregnancies.
"Well, we're both women, so there's no need for a dental dam or contraceptive…"
Nope, scissoring can still be a getaway for certain STIs, such as syphilis, chlamydia, gonorrhea, genital warts, HPV, and other infections that can be transmitted through genital contact. So, protection like dental dams can help you get full protection from the said infections.
2

Lube is a must.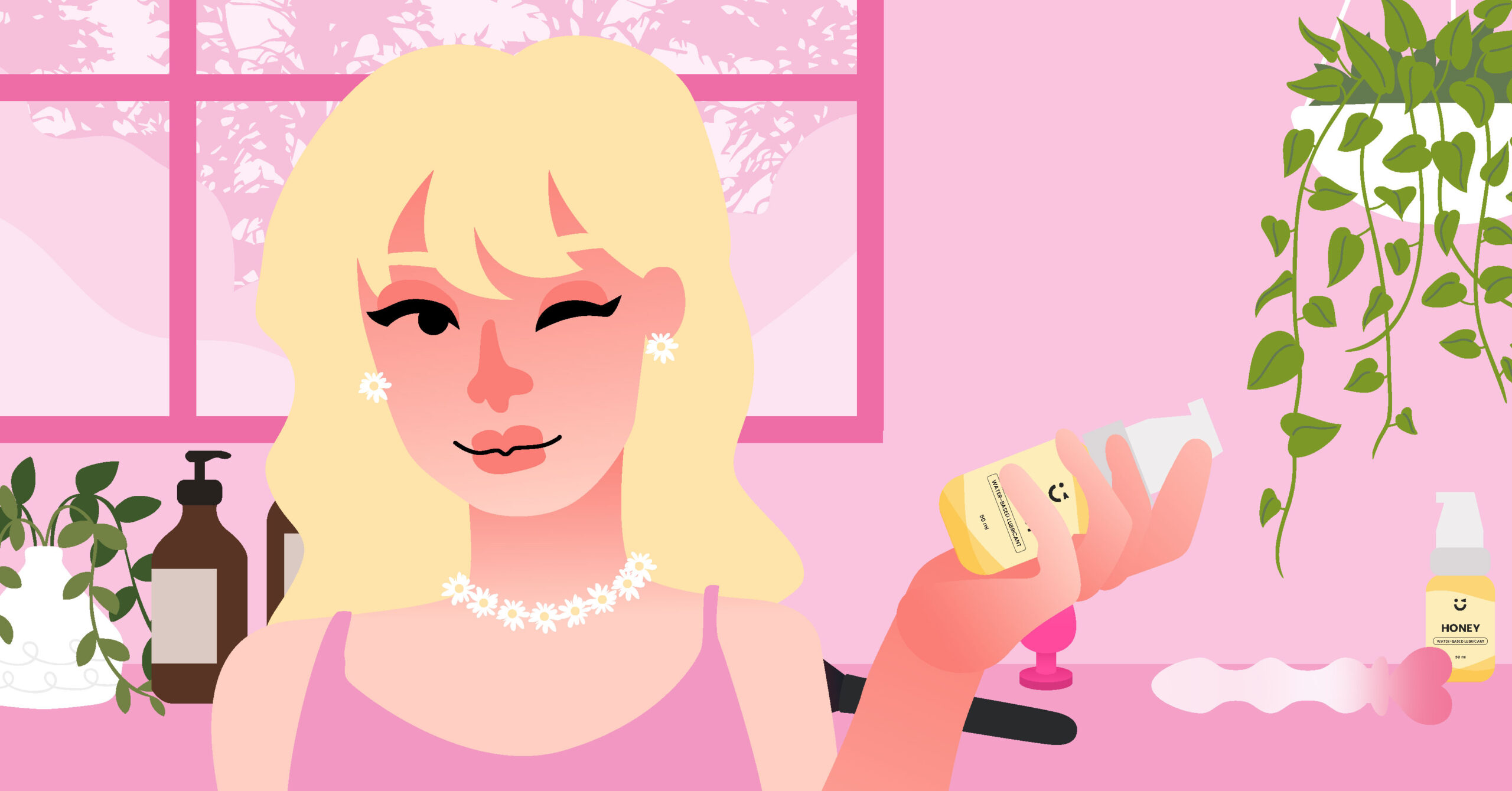 Whether you're doing the scissoring position for penetrative sex or tribbing, using lubricant ensures comfort in the deed. It emulates natural lubrication, minimizing the friction between your genitals.
3

Spice it up with clitoral stimulants.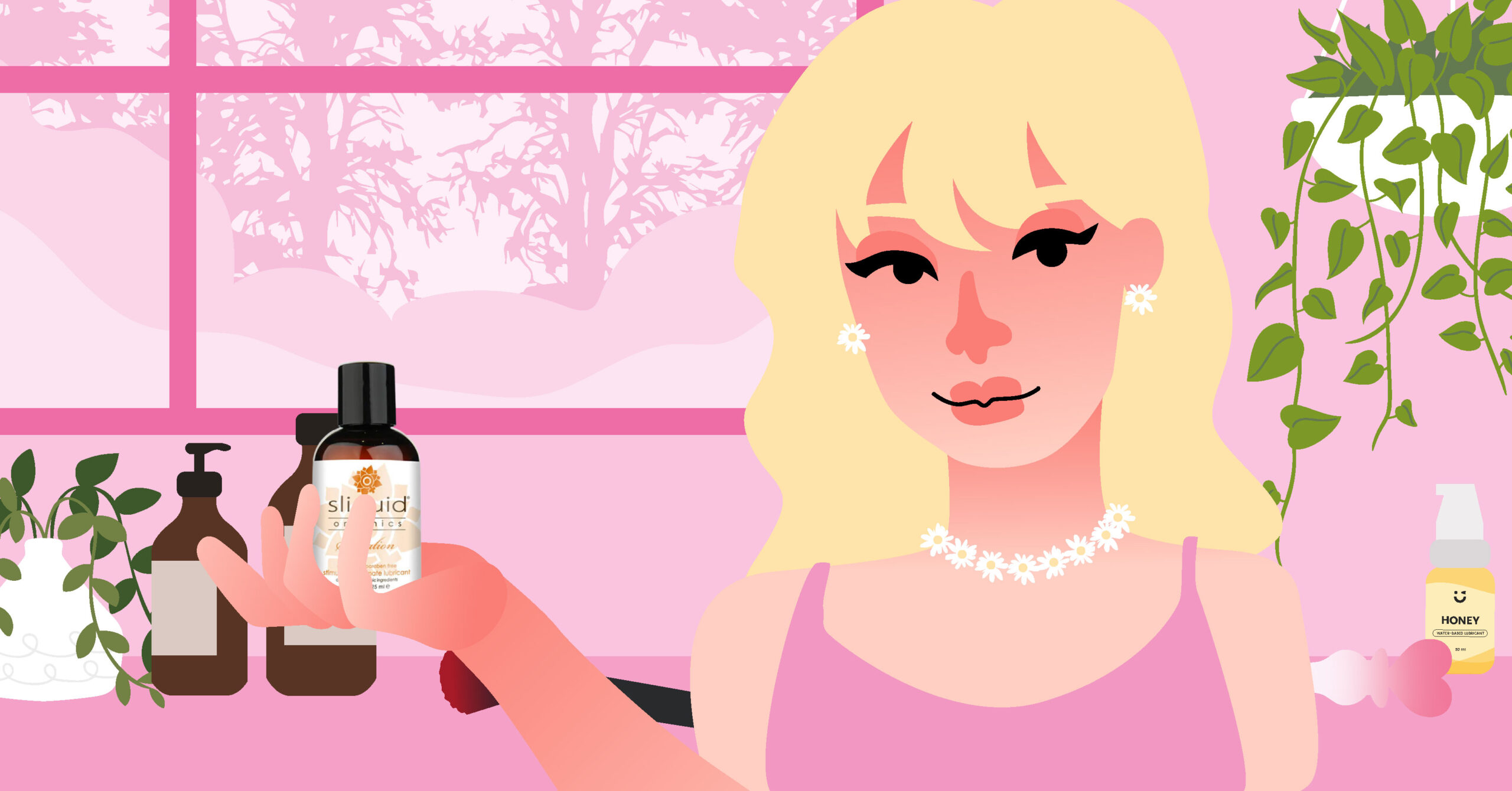 This is for our lovely girlies who are scissoring for tribbing. Did you know that there are gels, creams, and sprays out there that increase the sensitivity in your clit? They're called sexual stimulants and are available in different sex toy shops. Get them from a reputable adult store and do a patch test first to clear you and your partner from allergic reactions.
4

Try it with sex toys.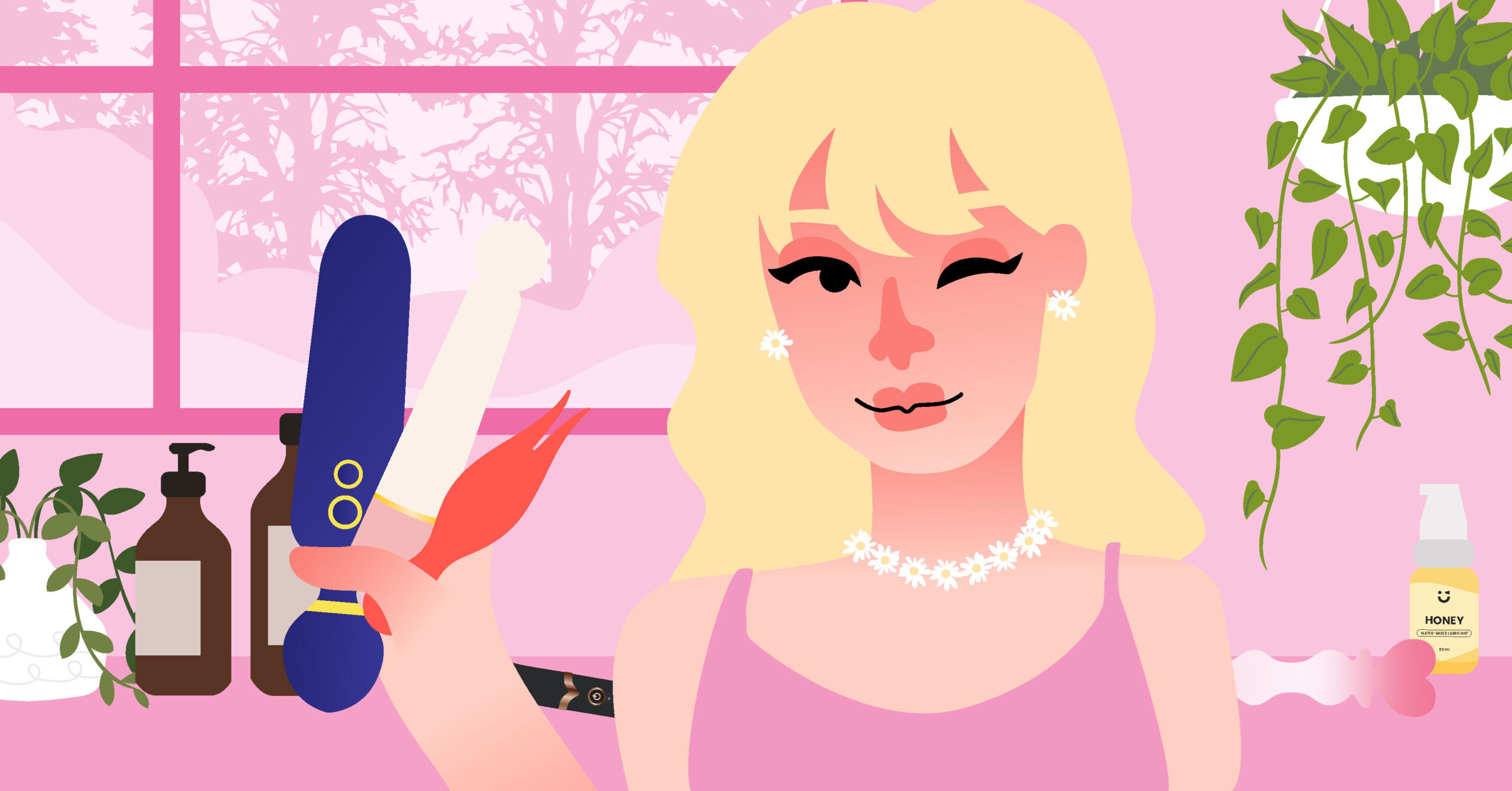 You can also elevate your scissoring plays with small sex toys, like finger, mini, and tip vibrators. You can also try butt plugs if you and your partner are into that kind of stuff. There may also be sex position straps and pillow wedges that could help you stabilize and bring more comfort to the position.
5

It's okay if the first time isn't perfect.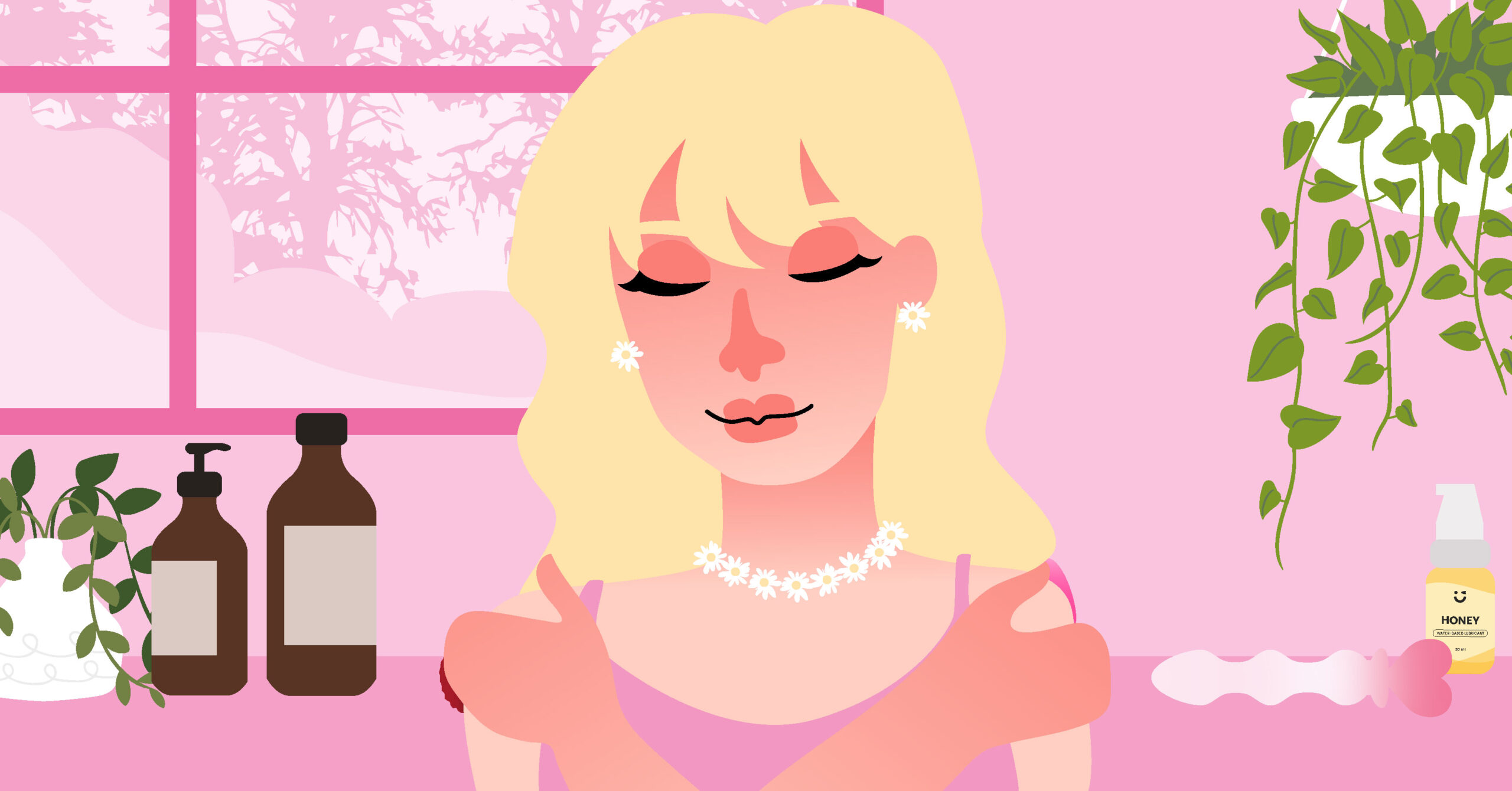 Scissoring is one of those sex positions that's relatively easy once you've got the hang of it. If you and your boo have never tried it, you may need to try it for a few rounds to fully appreciate the position. So, for a final tip, we want to emphasize that first times will always be awkward and silly. Just figure things out along the way instead of pushing for perfection on your first tries. If you realize it's not working for you and your lover, there is no need to keep scissoring, but at least you tried it, right?
Scissoring Essentials
Planning to try scissoring with your partner in the next few days? Ooooh, things are about to get steamy in your bedroom. But before you do the deed, here are some cutting-edge sex toys and reliable sexual wellness products to use during the sesh.
1

Orgie Orgasm Drops Vibe Intimate Gel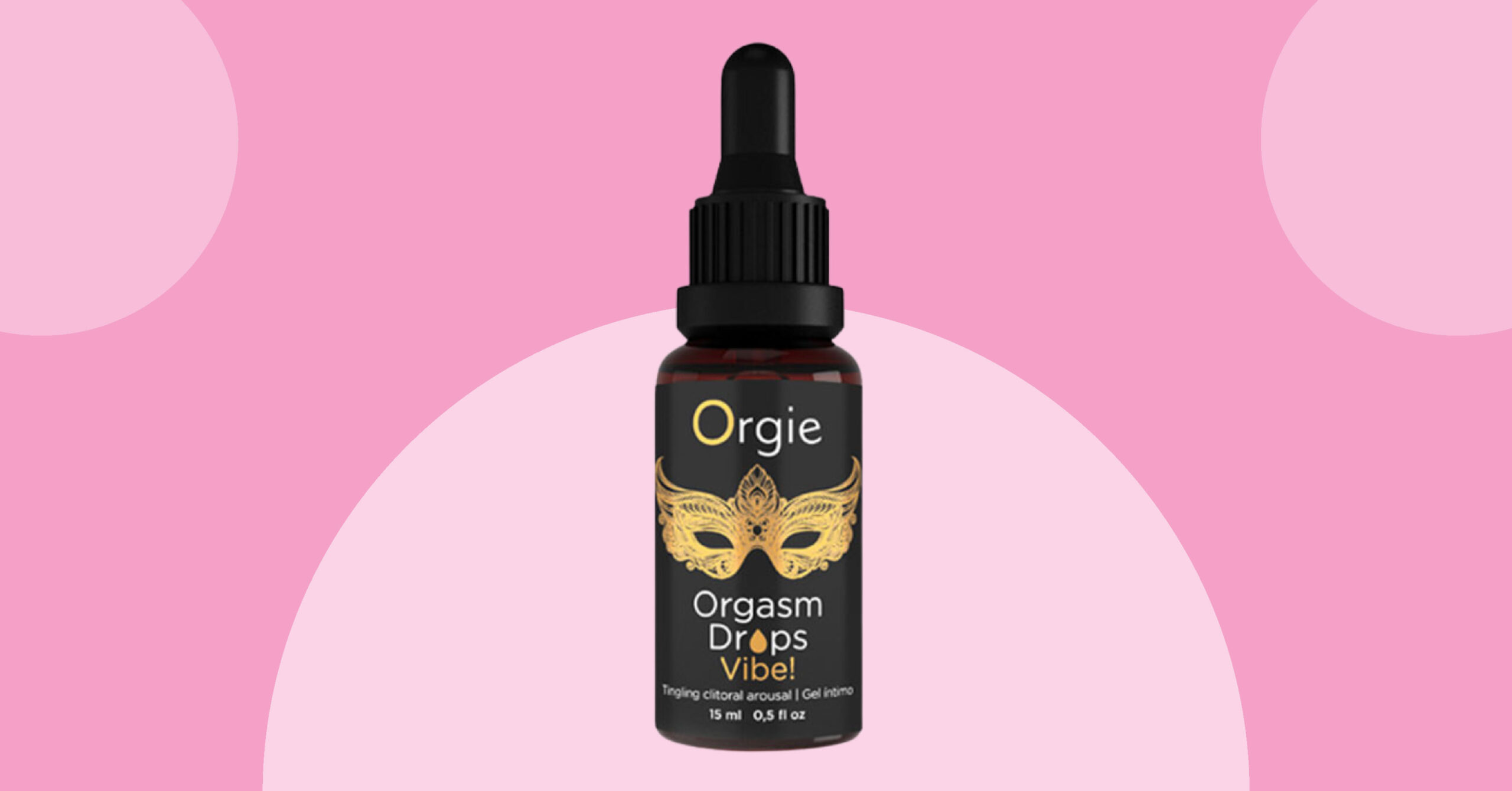 Level up your scissoring sessions with this stimulating gel. It starts with a cooling sensation, following up with a satisfying warmth that sensitizes your clit. It's kissable, so you can use it when performing oral sex with your boo. All you need to do is apply a few drops of the products on the clitoral region, wait for a few seconds, and then enjoy the orgasmic sensations!
2

Sliquid Organics Sensation Lubricant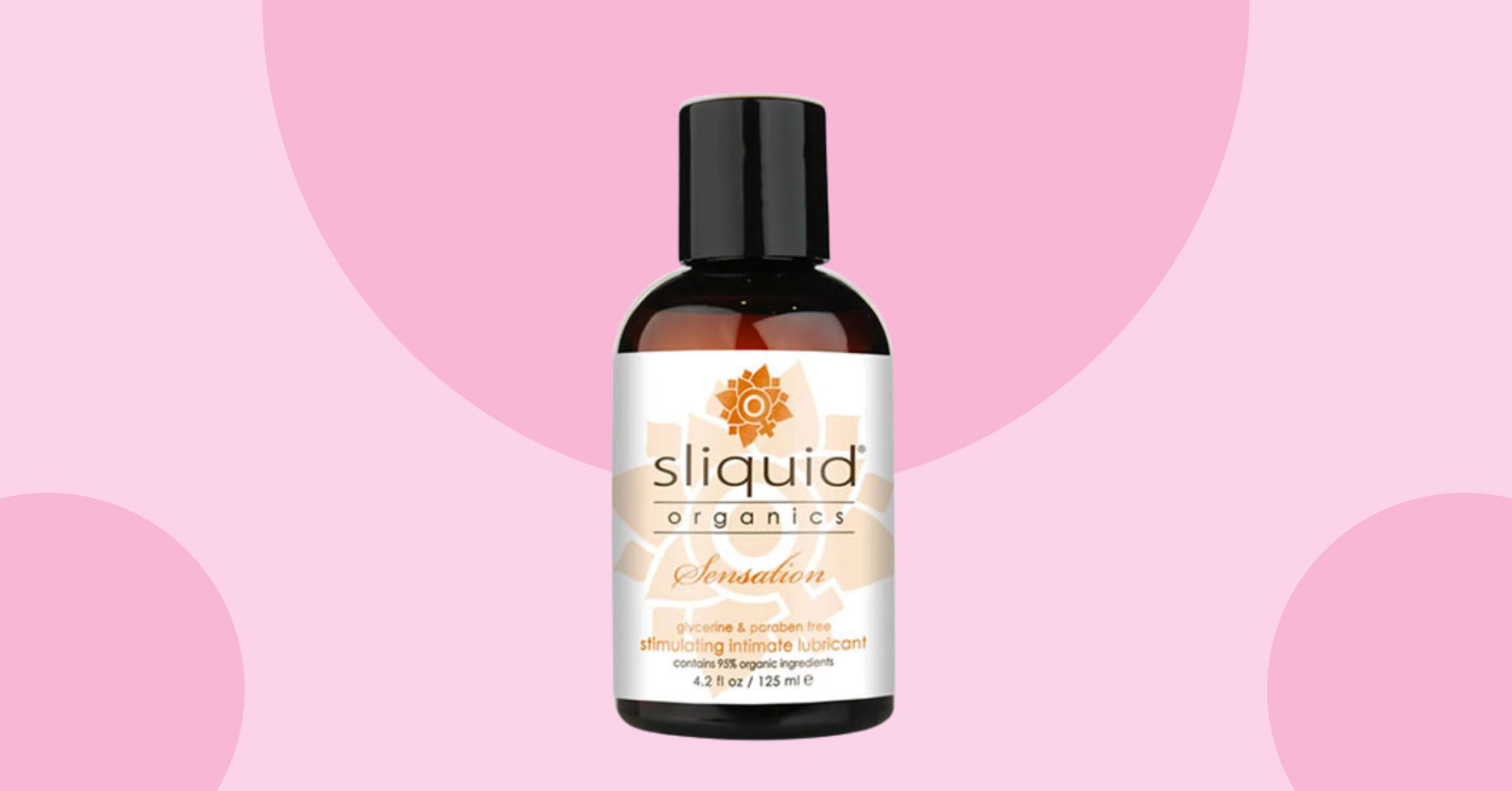 As we mentioned earlier, lube is a must for scissoring plays. That said, we've got a suggested lube from the bestselling brand Sliquid Organics. This one is an aloe-based stimulating lubricant that offers cooling and warming sensations to your genitals. It's made with organic ingredients and is 100% vegan-friendly, so safety is pretty much guaranteed. But like the other lubes and stimulants we'll share in this list, do a patch test first.
3

Satisfyer Endless Joy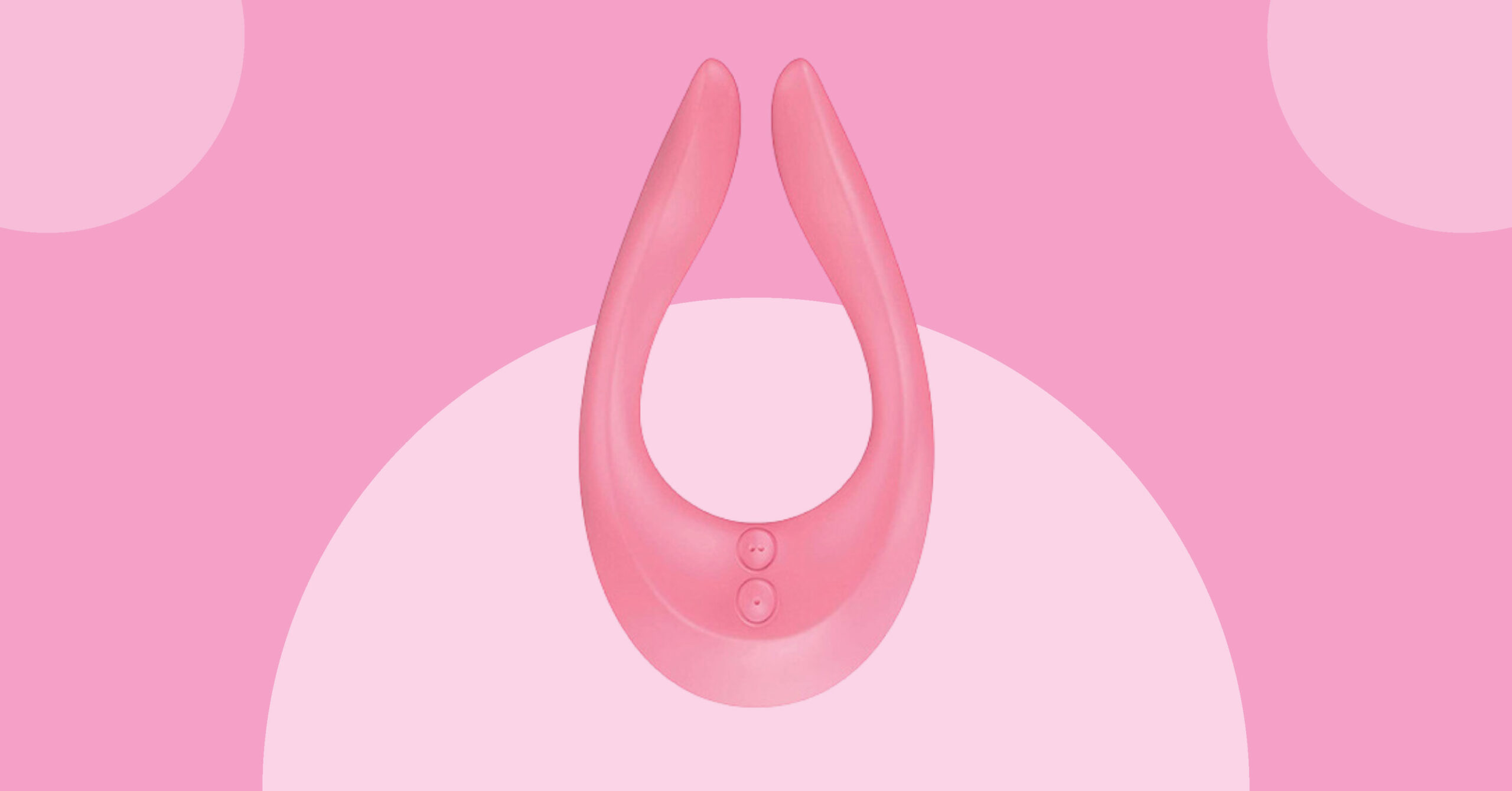 If you're looking for a multifunction vibe to amp up the deed, you must check this one out. This gender-neutral vibrator features a wide vibrating surface area at the base and two vibrating arms on the other end. You can easily send broad or pinpointed vibrations to your own or partner's clitoris, nipples, and other erogenous zones.
4

SVAKOM Nymph Soft Moving Finger Vibrator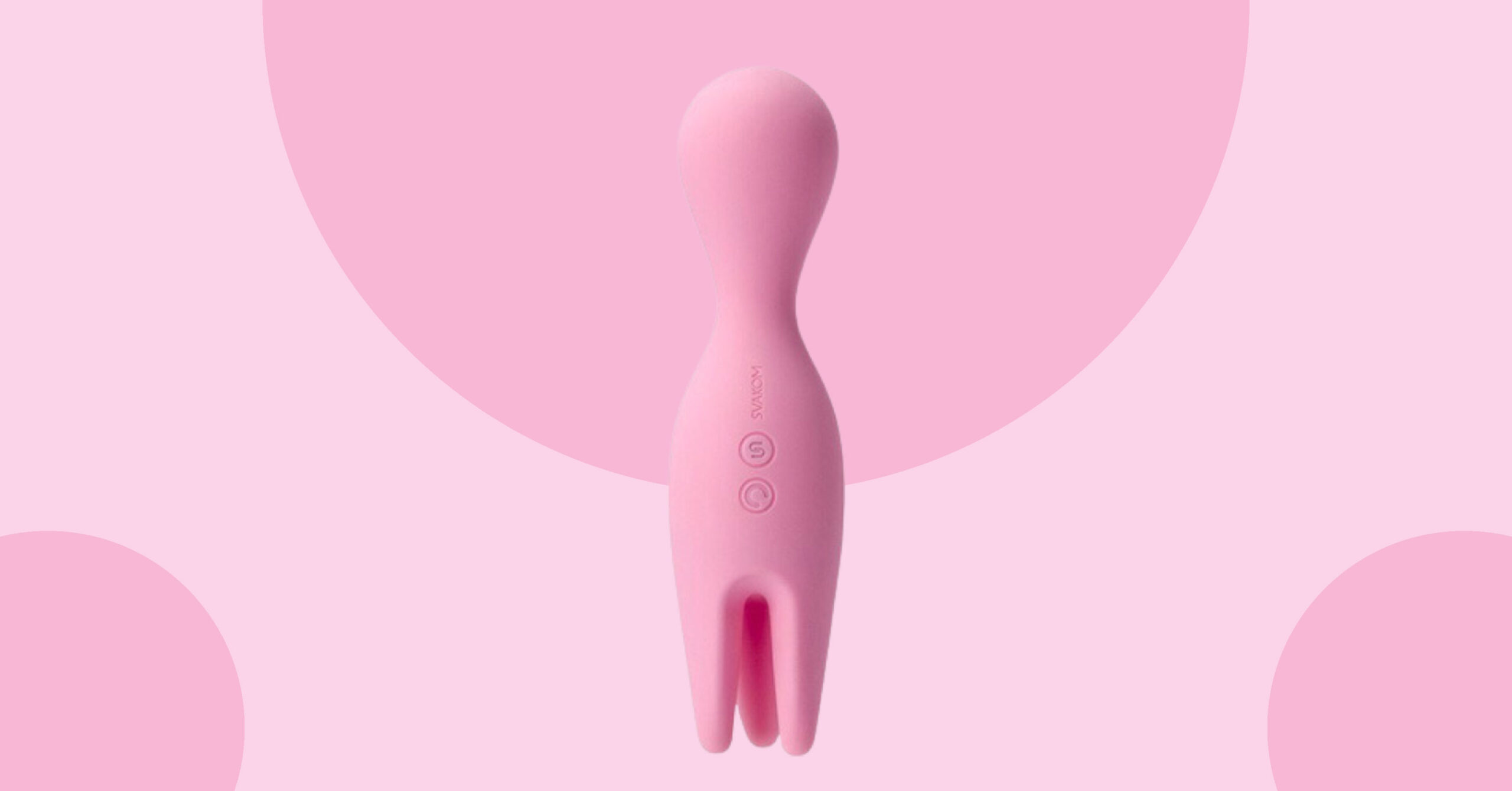 This dainty vibrator has one of the coolest features we've yet to see in a clitoral vibrator. See those three slim tips? They do subtle, finger-like movements to stimulate your external erogenous zones, like the clitoris, nipples, inner thighs, navel, and others. Whether you're scissoring or not, you can rely on this adorable toy to bring wonders to the bedroom.
5

Unflavored Lube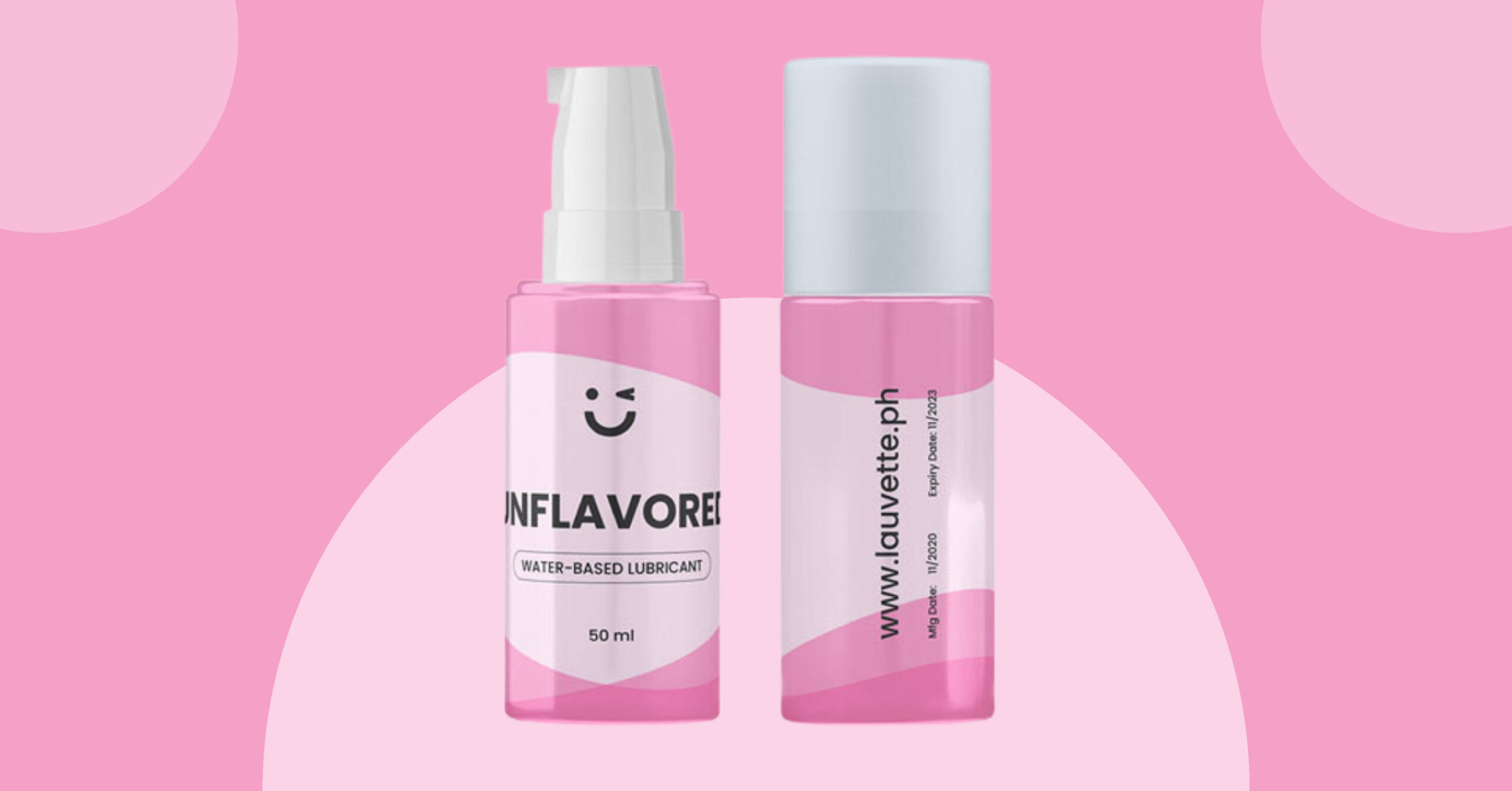 If you want a simple yet reliable lubricant for your tribbing or scissoring plays, this one pretty much fits your needs. This water-based lubricant is edible, has a gel-like consistency, and is safe to use with condoms and sex toys. It's also free from harmful ingredients such as glycerin and paraben, making it a safe and versatile lube for sensual sessions.
6

Satisfyer Bold Lover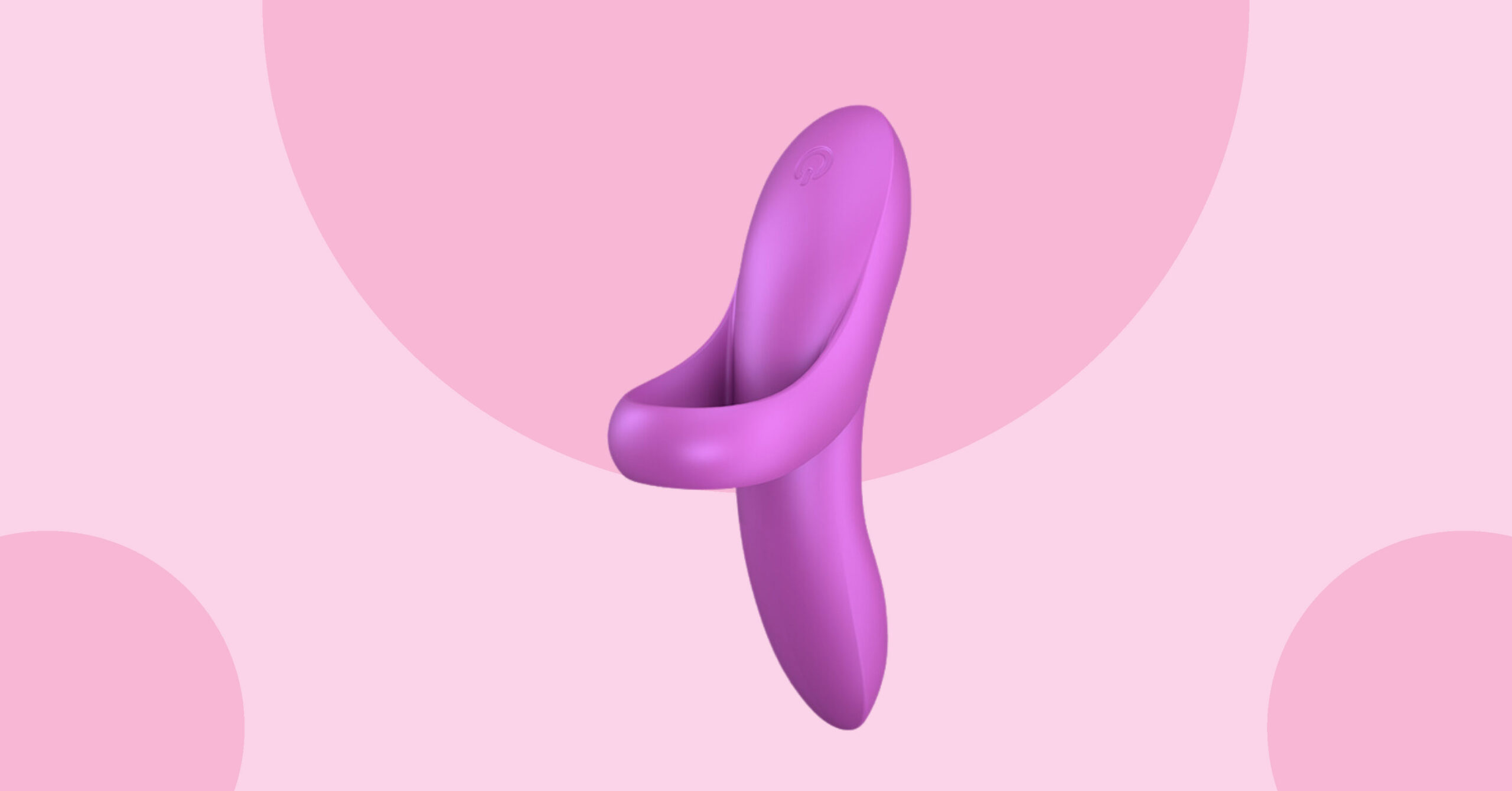 Finger vibrators work well with scissoring, as well as any partnered plays. Because they fit within the ring, you can still use your hands to get touchy with your partner. They also have the right amount of vibrating power, not too much to overwhelm your body, but also strong enough to bring orgasmic sensations to your clitoris, nipples, and other outer pleasure zones.
That said, try out this bestselling finger vibe from Satisfyer. It's gender-neutral, has easy push-button control, and has a curved tip for targeted stimulation. There are also 12 vibration modes to choose from, fitting every mood.
7

Satisfyer Teaser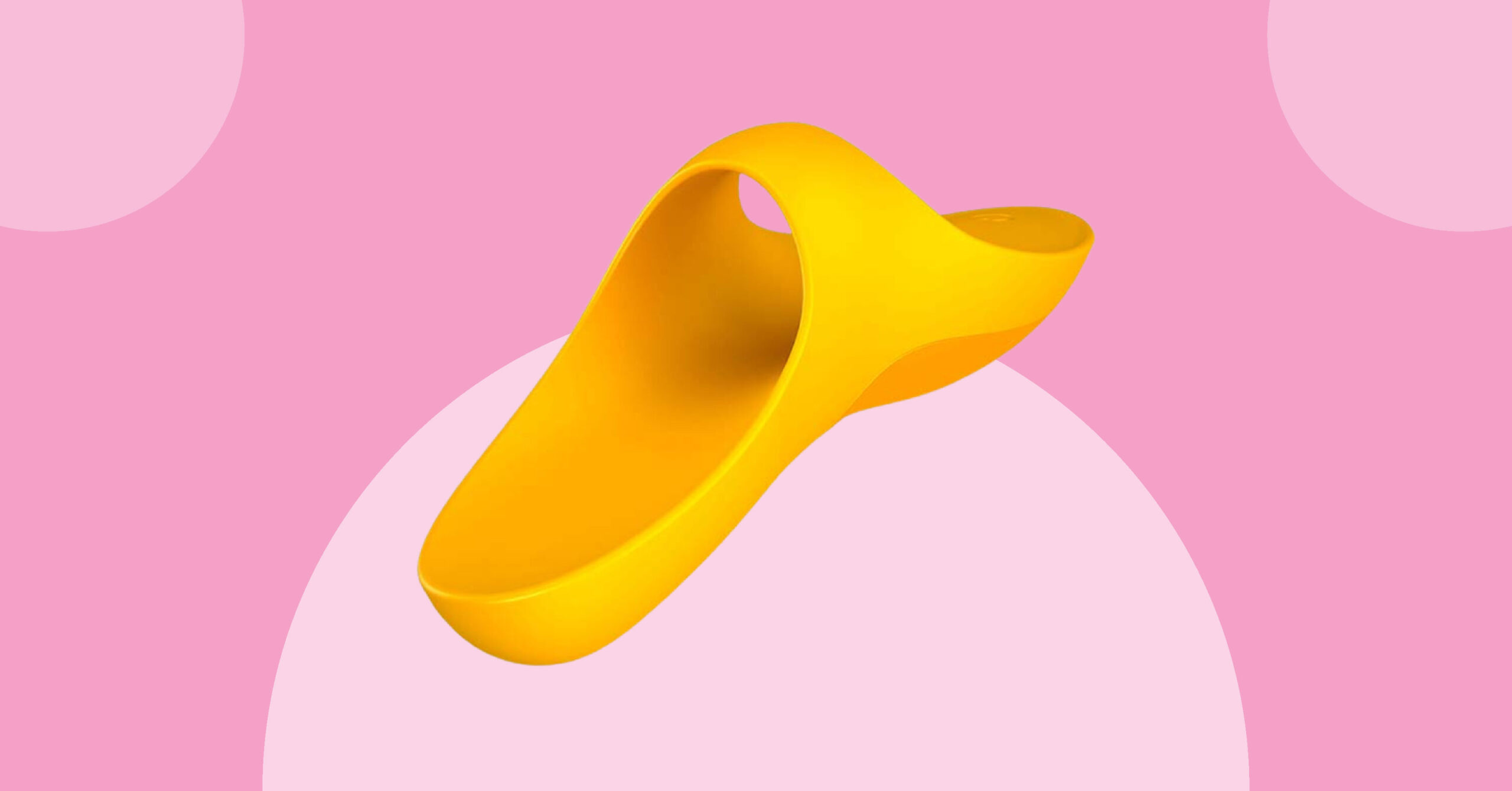 If you're not feeling the Satisfyer Bold Lover, you may wanna check out this other finger vibrator from the same brand. This one has a more flattened design but has the same single-button control and 12 deep vibration modes. It's the perfect love toy to tease your partner with during the deed.
8

Satisfyer Ultra Power Bullet 8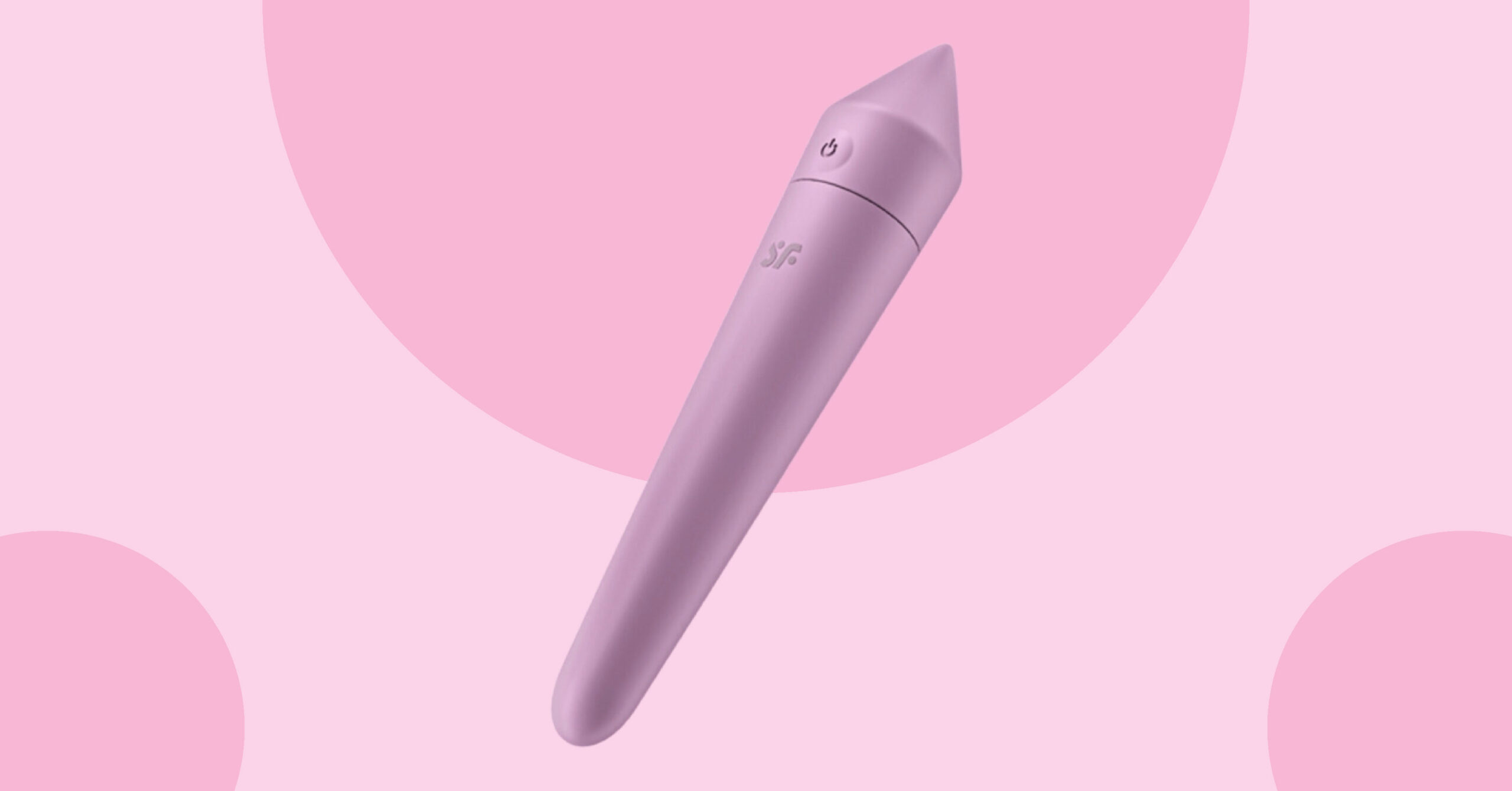 If mini vibrators are your thing, then look at this beauty. The Satisfyer Ultra Power Bullet 8 has a pointed and round tip, sending deep vibrations to delicate genitals. Aside from its compact and sleek design, this toy is also app-controlled. It gives you access to hi-tech features like custom vibration modes, long-distance control, ambiance mode, music sync, and more.
Takeaway
Scissoring, despite being perceived as a lesbian sex position, has now been used by people of different sexual orientations and sexual backgrounds. Contrary to popular belief, everyone can try this sex position if they have the stamina.
As for those who ended up trying but realized that it isn't their cup of tea, no worries— there are tons of other sex positions for you. Good luck, may you have a fun scissoring sesh!