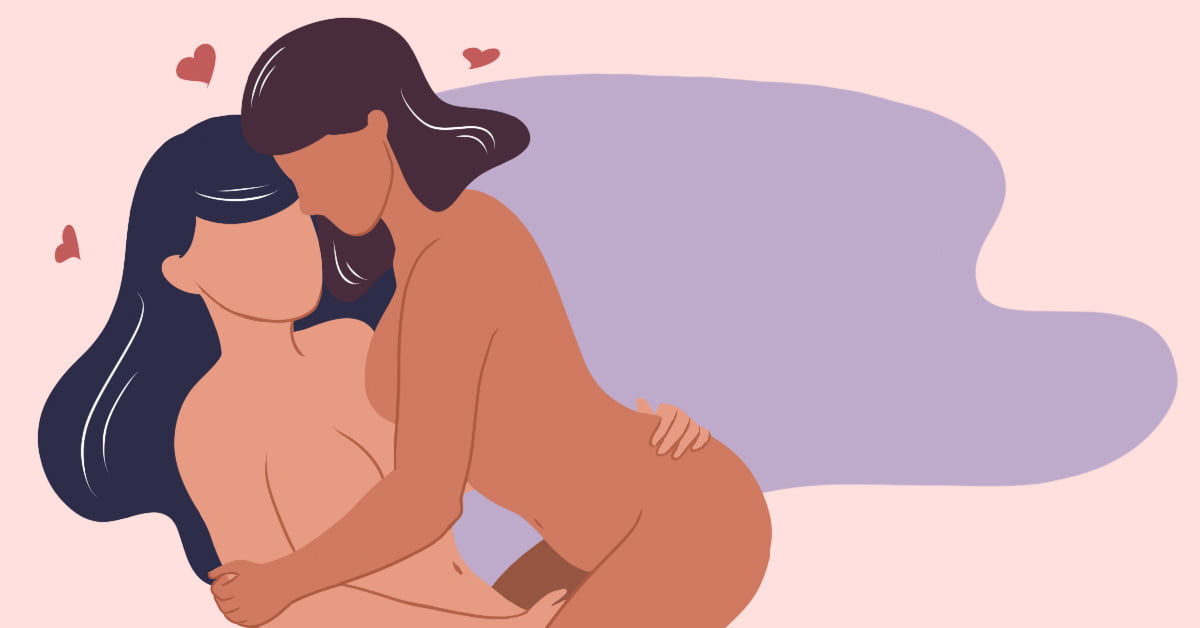 15 Best Lesbian Sex Positions for Female Orgasm (Get those Ohhs!)
Looking for the best lesbian sex positions? You came to the right place.
When people think of sex, they always include penetration as part of the deed. If the vagina isn't filled with a penis, dildo, or a vibrator, then the experience isn't valid nor pleasurable at all. That's why some consider lesbian sex as something that's not pleasurable enough, or just for the "male gaze" since this activity has been heavily fetishized in porn and in other media forms.
But here's the thing: lesbian sex can be hella pleasurable. In fact, lesbians are getting more orgasms than straight women.
Also, don't let porn fool you—lesbian sex is more than just scissoring. There are so many ways and techniques that lesbians can indulge in, and we're here to talk about that.
We got you a simple yet comprehensive guide about lesbian sex positions, categorized by your preferred technique (oral sex, fingering, clitoral stimulation, and strap-on/penetration). We're also going to share some tips when indulging in this frisky act.
Lesbian Sex Positions for Oral Sex
If you want to spoil your babe with irresistible sensations, oral sex or cunnilingus will do the trick. Take note though, make sure your mouth is clean before going down on her or your partner may end up with unnecessary infections. Read on!
1

Diving In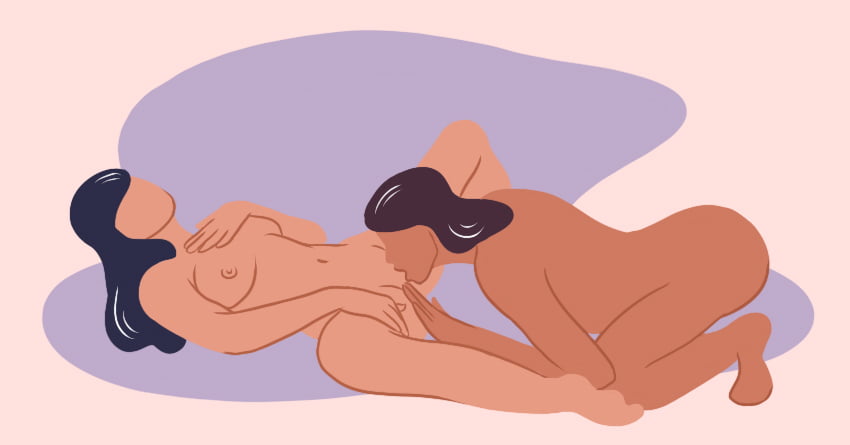 Before trying out the other lesbian sex positions on this list, you should try this basic position first. If you're someone who likes to spoil your partner in bed, you'll definitely love diving into this position.
How to do it: Have your partner lie on her back. You can start kissing and playing with her erogenous parts. Once she's fully turned on, ask her to spread her legs and start eating her out until she orgasms or put her on the edge and stop when she's about to cum—the choice is yours.
2

Queening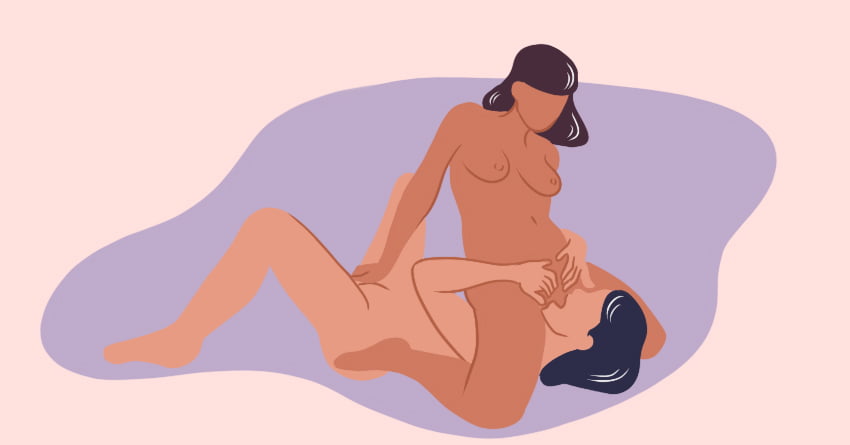 Feel like a queen. With this position, your partner will be able to have an incredible view of your chest area as well with your reactions. You'll also have more control in terms of movement and sensation, whilst feeling sexy and empowered AF.
How to do it: Have your partner lay on their back. After that, start straddling in their face, facing them. Once positioned, your partner can start eating you out. Be careful with this one though as you might end up squishing your partner's face during the deed.
3

69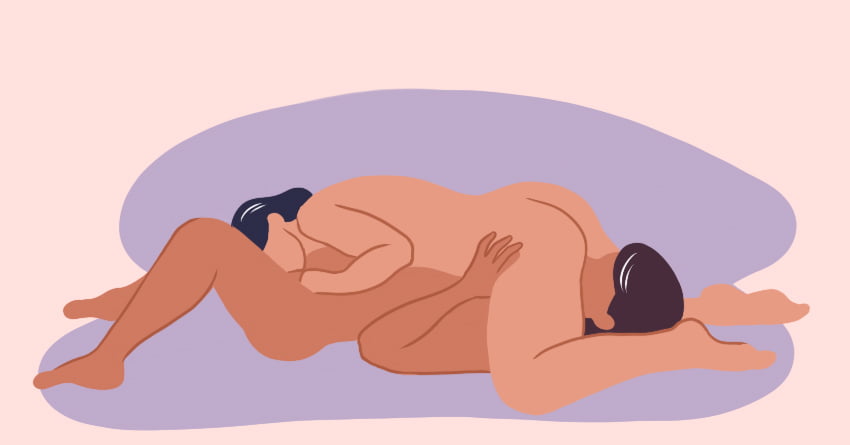 Ah yes, this classic is definitely on the list. The 69 sex position is one of the lesbian sex positions that actually work with every gender. Whether you're bisexual, pansexual, gay, queer, or straight, you'll surely have a fun time with this OG position.
How to do it: You need to lie on your bed on your side and face in the opposite direction to your partner who is lying on his side. Both of you should be facing each other's vulvas. Once positioned, you can both start performing oral sex with each other. You can also incorporate fingering as well as using vibrators with this position for maximum pleasure.
4

Rear Fun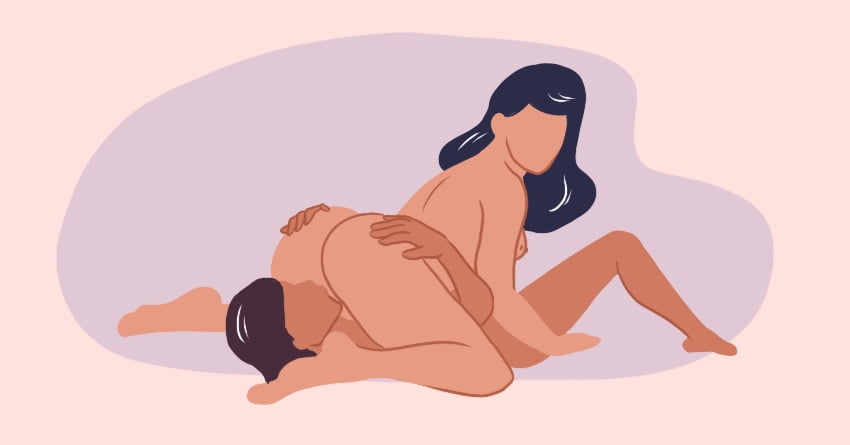 If you like having access to your babe's delectable booty, then you shouldn't miss out on this steamy position. Aside from cunnilingus, the rear fun position also goes well with rimming, so if your partner likes to get her butt licked, you could spoil her through this position.
How to do it: Have your partner get down on her hands and knees, with her legs spread apart. Once positioned, you can then kneel from behind then start licking her vulva or anus.
Lesbian Sex Positions for Fingering
Show your partner the enthralling joys of pleasure through your hands. Though the lesbian sex positions under this category are focused on fingering, you can also use sex toys such as vibrators and dildos when trying these positions below.
5

Cowgirl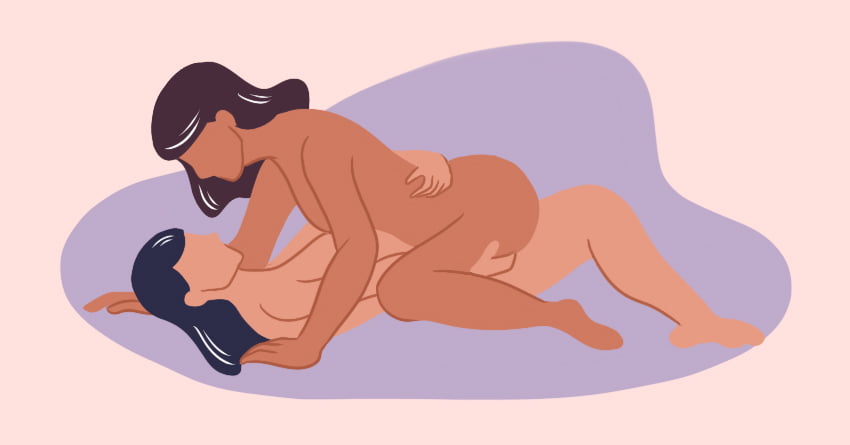 Wanna ride your babe till dawn? Get busy with this classic sex position. Take note though, make sure to communicate properly with your partner when partaking in cowgirl to avoid unnecessary mishaps.
How to do it: Have your partner lie on their back with their dominant hand resting on their lower belly. After that, ask your partner to palm-up the said hand as you straddle their hips. Facing them, start riding your partner's fingers. Observe the pressure though or you might end up hurting your partner.
6

Spooning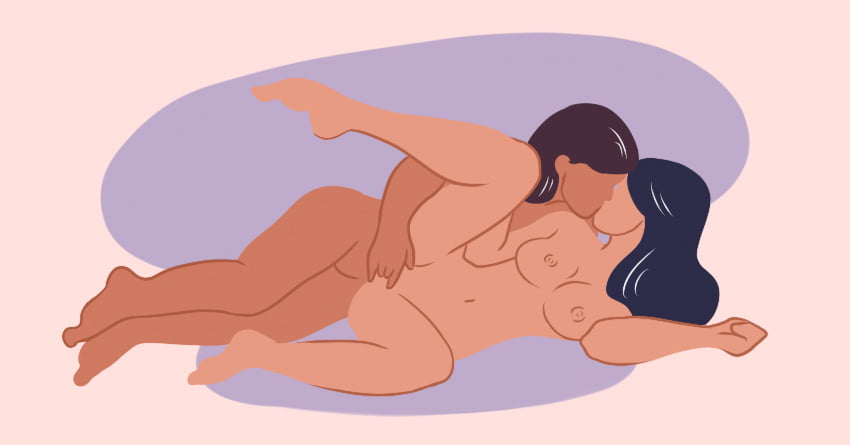 Get all snuggly and cuddly. If you're looking for intimate lesbian sex positions, then this one takes the cake. It's also ideal for those who prefer lazier sexy moments.
How to do it: Both of you must lie on your sides, facing the same direction. If you're behind your partner (the big spoon), you can start by wrapping your arm around her waist and started fingering her clit. You can also steam up the experience by massaging, licking, pinching, and twisting her erogenous zones that are within reach.
7

Side Missionary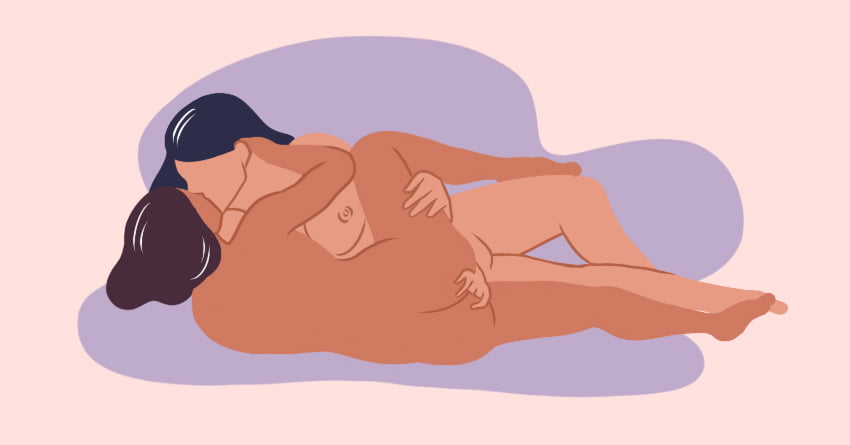 If you and your partner are into mutual fingering, you'll surely enjoy indulging the side missionary position. Just like spooning, this position is great for those who wanna get cuddly and prefer simpler lesbian sex positions.
How to do it: Lie on your sides, facing each other. Start the deed with some steamy kissing. You can also play with each other's erogenous zones while you're at it. As you continue the deed, reach between each other's legs and use fingers to stimulate each other. You can start by gently rubbing the lips or clit. You can also go all-in and slide your fingers in each other's vagina.
8

Mutual Vibin'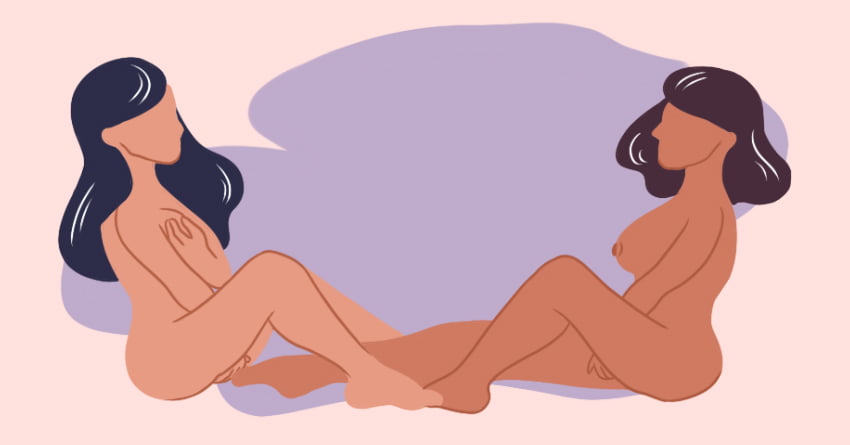 If you're into mutual masturbation, you shouldn't miss out on this position. What's great about Mutual Vibin' is that you can incorporate various solo-play positions, sex toys, and even your kinks such as roleplaying. Just cover your couch with some towels to avoid stains and you're good to go!
How to do it: Sit on the opposite ends of the couch, giving a full view of each other's bodies. Once positioned, you can both start playing with yourselves, either with fingers or toys. Aside from getting aroused from the sizzling view of your partner, take some time to observe too—see how your partner touches herself. This will serve you as a guide when fingering her.
Lesbian Sex Positions for Clitoral Stimulation
If you and your partner enjoy rubbing each other's vulvas, you're in for a treat! For this section. we've listed down the best lesbian sex positions for vulva-on-vulva sex.
9

Scissoring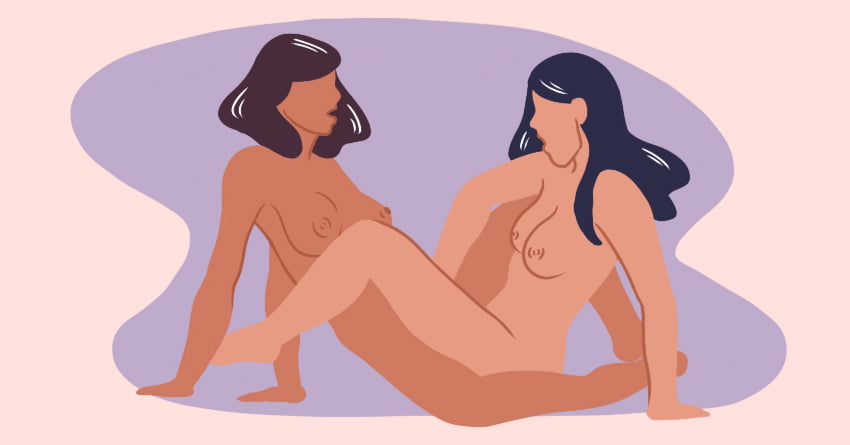 Considered as the holy grail for lesbian porn, scissoring is one of the best ways to get that vulva-on-vulva action. This depends on your height, anatomy, and preference though—some couples may have a difficult time doing this position while some may find it easy-peasy.
With that, you can try customizing this position so that it will fit in with each other's body shape and preferences. But before trying other variants, learn how to do the basic scissoring first.
How to do it: Sit opposite with each other then start interlacing your legs—your thigh will be below their thigh, and your other thigh will be above theirs (see illustration above for reference!) Once positioned, get close to each other's genitals and start rubbing it in! Take note, you don't need to be specifically stimulating the clit just to enjoy this position. Your entire vulvas can be massaged altogether to create all kinds of pleasurable sensations. You can also amp up the experience by putting a bullet vibrator in between.
10

Bump and Grind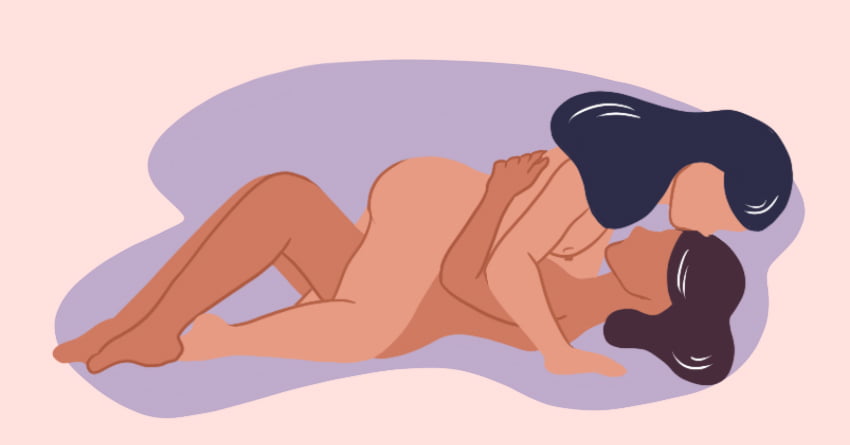 If you're looking for a more intimate vulva-on-vulva position, go for the Bump and Grind. This position lets you get that full-body-contact realness as you can wrap your arms to your partner's body during the deed. It also lets you get face-to-face with your babe, perfect for heavy make-out sessions.
How to do it: Have your partner lie down on her back. Then, start straddling on top of her, facing her. You may start the deed with some kissing, massaging, or even fingering. After that, start crisscrossing each other's legs to get closer to each other's genitals. Once positioned, you can start stimulating each other's vulvas by grinding against each other.
11

Belly Dancing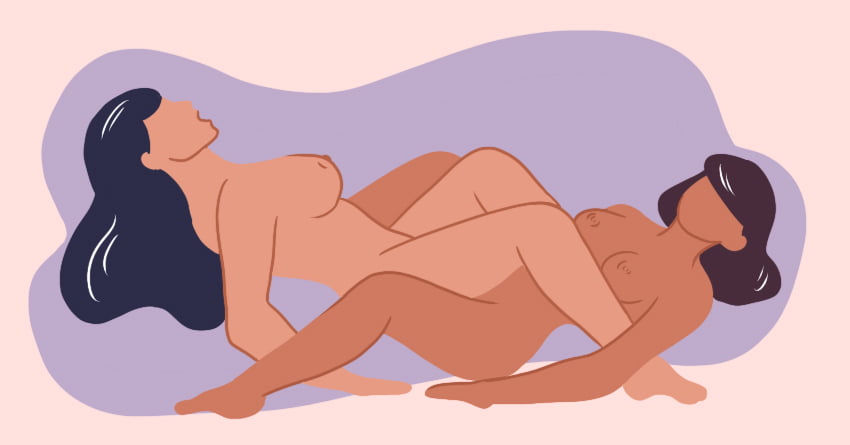 Into challenging positions? You might wanna indulge in this one. This might require some extra stamina and flexibility though, especially for the one who will be grinding on the top.
How to do it: Have your partner lie on their back with her legs spreading out. After that, sit on them so your clits rub together. For support, rest your hands on their upper thighs while you grind against them. Find the perfect rhythm that works best for both of you.
Lesbian Sex Positions Involving Strap-Ons
Want to spice things up? Get a strap-on! For those unfamiliar with this device, it's basically a strap/harness that you wear onto your hips. You can then attach a dildo on the strap/harness and start having sex as if you have your own phallus. Just make sure to have your trusted lube ready so it will glide in easily. Should you be interested in using this alluring toy, here are some of the lesbian sex positions you should definitely try!
12

Missionary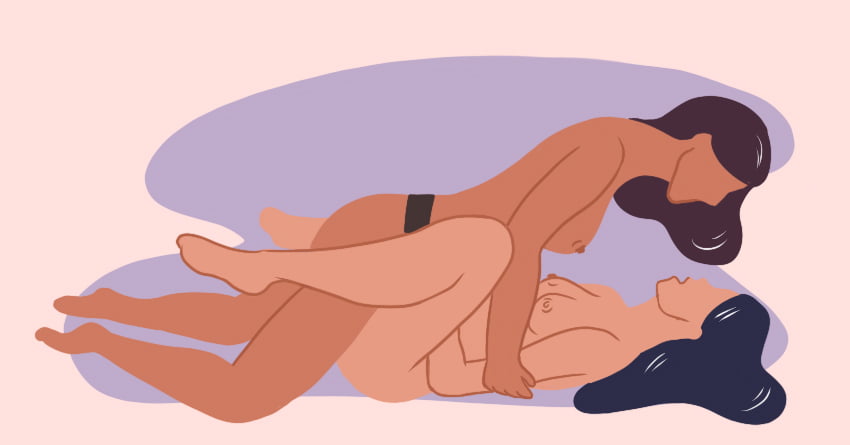 Missionary is a classic position that never goes out of style. If you prefer more intimate lesbian sex positions (face-to-face and more body contact), then this should be included on your sexual to-do list.
How to do it: Have your partner lie on her back with legs spreading out. You, strapped-on, must position on top of her with your legs in between hers. Steady yourself by resting your weight on your elbows as you rest them on either side of her shoulders. Once positioned, you can start thrusting in.
13

Doggy Style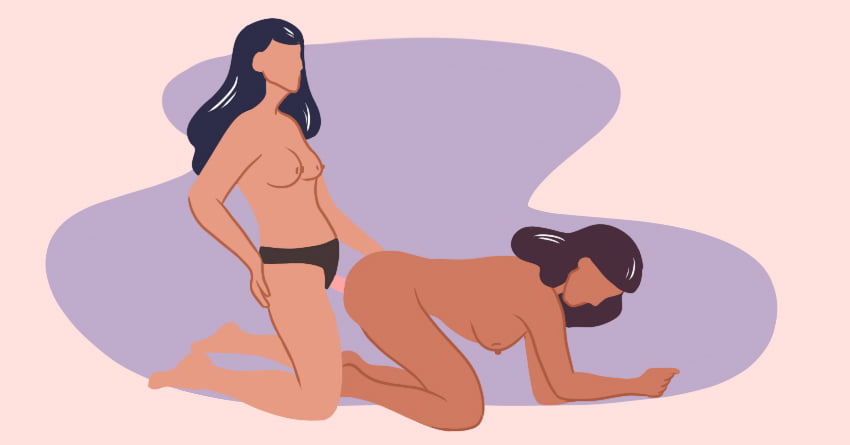 If you want to have raw and raunchy sex, this OG position is definitely worth a try. With this position, you'll get to have a great view of your partner's bum, as well as give more powerful thrusts compared to other lesbian sex positions in this section.
How to do it: Have your partner get down on her hands and knees, with her legs spread apart. Once positioned, you can then kneel from behind then start penetrating. For better support, you may want to use a positioning strap specifically made for doggy-style sex.
14

Rear Entry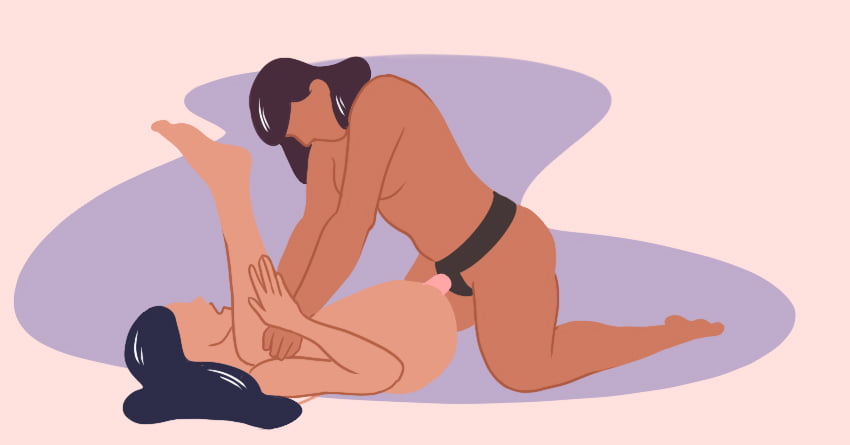 If your babe enjoys backdoor fun, then this position will surely heat things up. Just make sure to prepare a bottle of lube beforehand, since the anus doesn't self-lubricate, unlike the vag. And if you've already dipped the toy on her vagina, make sure to clean that up or slip a condom on to avoid infections.
How to do it: Have your partner lie on her back with her legs on the air. Sit down in front of her, wrap your arms around her legs, and slowly push in the lubricated strapped-on dildo into her anus. Again, emphasis on the 'slowly' part—anal sex is hella pleasurable but can also be painful if the thrusting gets too much.
15

Thigh Tide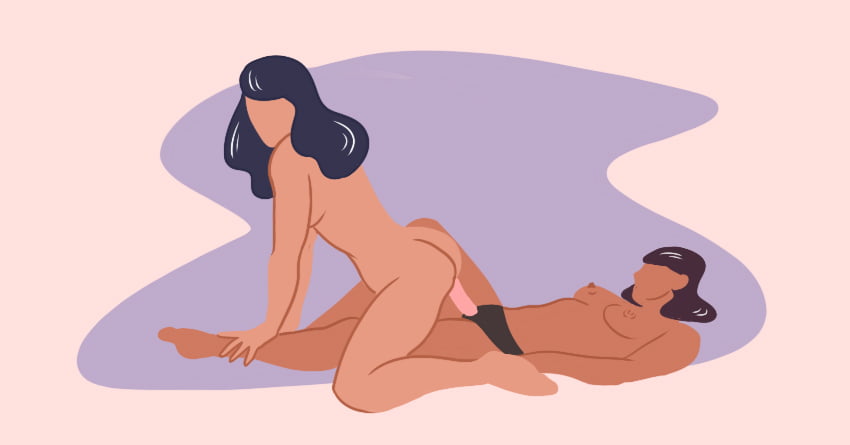 Let her experience waves of pleasure with the Thigh Tide. This position is like Reverse Cowgirl, only with some minor twists. If you want your babe to take over, you should definitely try this sultry position.
How to do it: You need to lie down on your back, with your legs straight and spread slightly apart. Then, raise one of your knees slightly and plant your foot on the bed. After that, your partner must put one knee on either side of your bent leg and sit down on your crotch area, facing away from you. Once positioned, your partner can start to raise herself up and down, sliding in and out of strapped-on cock. For better support, make sure your partner is holding onto your bent leg to steady herself.
Lesbian Sex Tips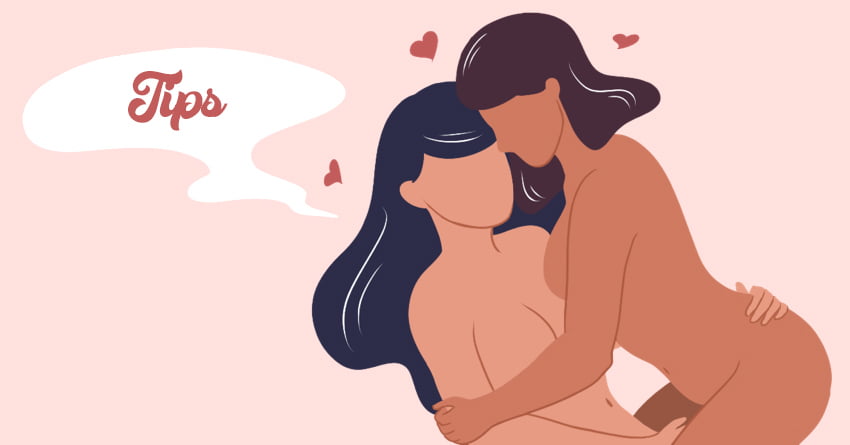 As you learned about the best lesbian sex positions, you're probably chatting your babe right now and asking her to cum~ over. But wait a sec—we still have reminders for you. Here are some lesbian sex tips to ensure a more pleasurable experience for you and your partner. Read away!
1

Don't rely on porn!

Sadly, most lesbian porn in mainstream channels is targeted to men. As lesbian sex is heavily fetishized in mainstream porn, it usually features positions and techniques that are not pleasurable for a woman but is shown just because it's pleasing to the eyes of its male viewers.

With that, don't use porn as your guide! If you want to know what works best for your partner, all you need to do is to actually ask your partner. Also, focus on checking educational sex guides online, such as Lauvette, instead of porn if you need more information about sex.
2

Communicate.

Communication is sexy. Before partaking in any sexual activity, make sure that your partner is 100% on board with it. You can also discuss beforehand your preferences and limits, as well as new techniques that both of you would like to try. If your partner likes clitoral stimulation and doesn't like to get penetrated, respect her preferences and don't just show up with a bunch of dildos before the deed (unless you're the one whose getting penetrated).

You should also communicate during the act. Check-in with your partner and ask her if she's comfortable with what you're doing. As for your end, don't be afraid to tell your partner what you feel.
3

Make sure everything's clean.

Your hands, toys, and other devices that you'll be using during the deed should be cleaned and sanitized. Also, don't forget to cut your nails or you might end up hurting her.

As for dildos, both of you should have your own dildos and vibrators as exchanging toys may lead to infections. You should also avoid double-dipping—if you've inserted a dildo, vibrator, or finger on her vagina, clean it up before putting it in her anus!

As for your tongue, take a few minutes to clean your mouth. Brush your teeth or gargle some mouthwash (unflavored variants only) before diving into your main course.
4

Learn various fingering and cunnilingus techniques.

If you want to keep things fresh every time, you've got to learn some new techniques regularly. Learn how to play with her clit, lips, u-spot, g-spot, and even her anus. The more techniques you know, the better experience for you and your partner.

Fortunately, the internet is filled with articles and even video guides on fingering and cunnilingus. Just prepare a digital or actual notepad and list down the key points as you go through with each technique.
5

Get creative!

To keep things exciting, always try something new. Try new (and challenging) lesbian sex positions, new toys, new sex games, and new lesbian sex techniques. You can also incorporate your kinks, such as BDSM and roleplay, during the deed. For example, instead of just having a heavy making out session as foreplay, indulge in some frisky spanking.
Takeaway
As for our takeaway, be reminded that there are tons of lesbian sex positions out there. Once you're done with this list, take some time to research more about new positions as well as new techniques to satisfy each other's carnal cravings.
Also, we would like to remind you that you can still get STIs from lesbian sex. There's still genital-to-genital contact even if penetration is not involved. With that, we suggest that you and your partner should take sexual health tests before having sex. In that way, you don't have anything to worry about during the deed.