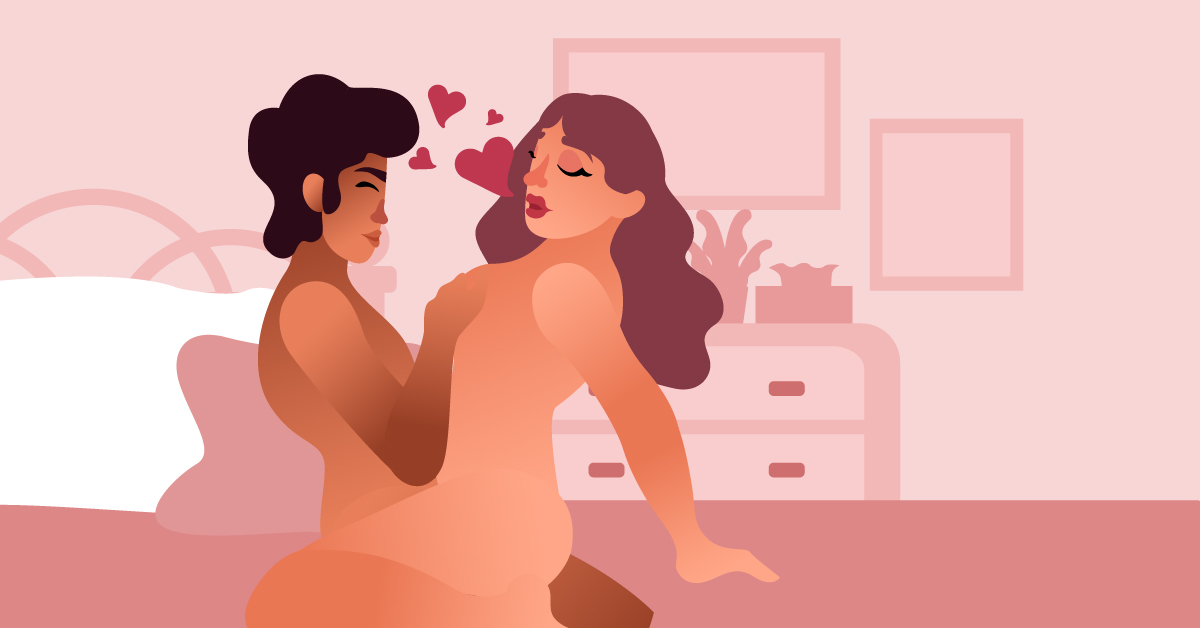 Vaginal orgasms can be the stuff of myth and legend for most people, but things are changing. With vagina-owners being more open to talking about sex, sexual experiences, and things that make them feel good, orgasms are becoming a little less elusive. For those that want to learn more about how to make their partners feel good, new information is more abundant than ever. We learn more about the different ways women can get off and the different types of orgasms that can be experienced.
Can you even believe that we are now at a point where not only are people becoming more proactive about achieving the big O, but we now know that there are different varieties, as well? One of the unicorns of the orgasm world is the blended orgasm. And if you've never heard of it before, don't worry! You're not the only one wondering 'What is a blended orgasm?'. Here's a quick rundown of things you need to know about blended orgasms to take your (self)lovemaking to the next level.
What is a Blended Orgasm?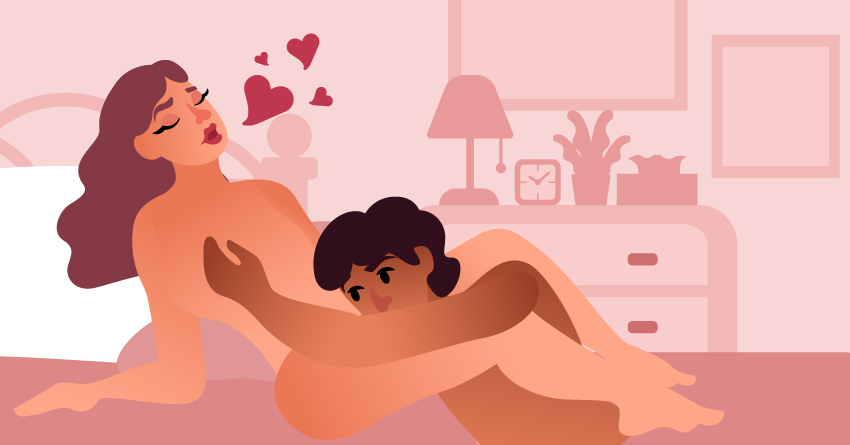 To make it simple, a blended orgasm is when you simultaneously experience multiple kinds of orgasms at once. You can achieve this by stimulating multiple points at the same time. If you did not know, different points of arousal create specific types of orgasms. The areas of concern for orgasms are the combination of any of the following: clitoris, g-spot, anus, cervix, prostate, testicles, and nipples. We hope before jumping into the quest for a blended orgasm, you've figured out how you like to be stimulated. Cumming from targetted stimulation is a bit easier than when you spread out the attention. Knowing what moves, positions, and toys get you going will give you a better idea of what you'll need to prepare for this endeavor. This leads us to the kinds of blended orgasms you could have.
Kinds of Blended Orgasm
There are so many erogenous zones in the body that there are so many different sensual combinations you can explore! Whether you have a penis or a vagina, you'll find a duo that works for you. If you're not sure exactly how to go about getting a blended orgasm, we also have some tips, positions, and recommendations so that you can experience the elusive twin O.
1
Clitoral + G-Spot Orgasm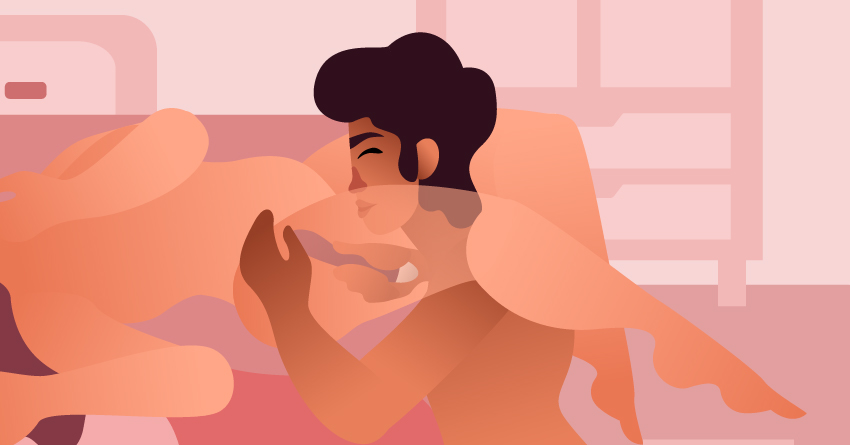 Out of all the possible blended orgasms you can have, this might be the most beginner-friendly for those with vaginas. The clitoris and the g-spot are the most popular erogenous zones, the most talked about, and probably the easiest to reach. While there used to be a belief that the clitoris and the g-spot were separate entities, turns out the clitoris is an internal structure that crosses paths with many different other regions, and the G-spot is part of that. Inserting a finger or two into the vagina and curling them towards the belly button in a "come here" motion will help you or your partner hit that mystical G-spot.
A clitoral orgasm is the vagina-owner's most similar experience to a penis-owner's orgasm. When stimulated, blood rushes to the clitoris causing it to become kind of like an erection, and the orgasm releases all that built-up tension. The clitoris is a pretty dependable source for orgasms because its sole purpose is to give you pleasure.
Your best bet to achieve this blended orgasm combo is oral sex. Keep the mouth focused on the clit and your favorite toys and vibrators to stimulate the G-spot. If oral sex isn't either of your preference, getting down and doggy, or keeping the woman on top can get you there, too. Help each other find the right tempo, depth, and speed to get to that sweet blended orgasm.
2
Clitoral + Anal Orgasm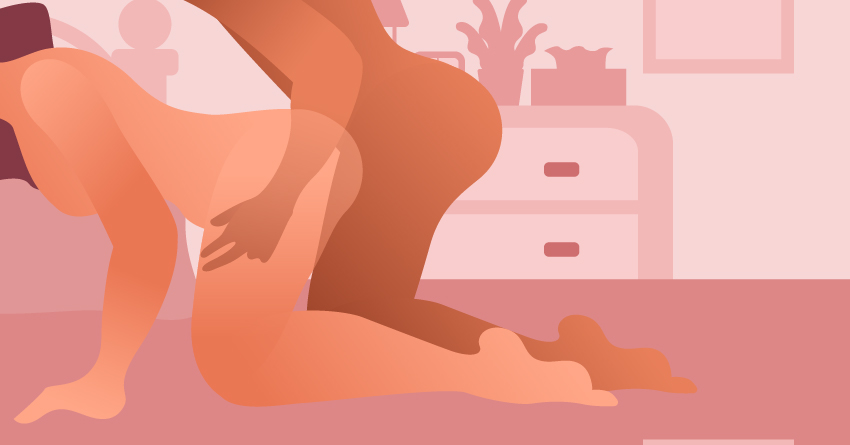 You let them hit it from the front, now let them hit from the back and see if you like it like that. Yes, we are paraphrasing Ray J right now. The thing is, anal isn't just for the pleasure of the penis-equipped party. We've heard that the male counterpart for the g-spot is hidden in the anus, but did you know that women have a sweet spot there too? For women, anal sex stimulates the anterior wall of the vagina, hitting closer to the cervix. Anal orgasms can feel like wave-like contractions.
Anal sex requires a bit more preparation than vaginal sex, so make sure you're all set before sticking it where the sun doesn't shine. It'll require training your butthole with your fingers or butt plugs or beads that slowly increase in size as you become more comfortable! Once you're used to the sensation, that's when you can let your partner begin their own cautious explorations. Make sure that you're both well lubricated and protected! Use a condom and liberal amounts of lube to keep clean and prevent anal tears from too much friction. Go slow and steady, then add clitoral stimulation once you're close, then ride that tide. Also, remember to keep anything that has been in the butthole out of the vaginal holes until it's been properly cleaned.
3
Clitoral + C-Spot Orgasm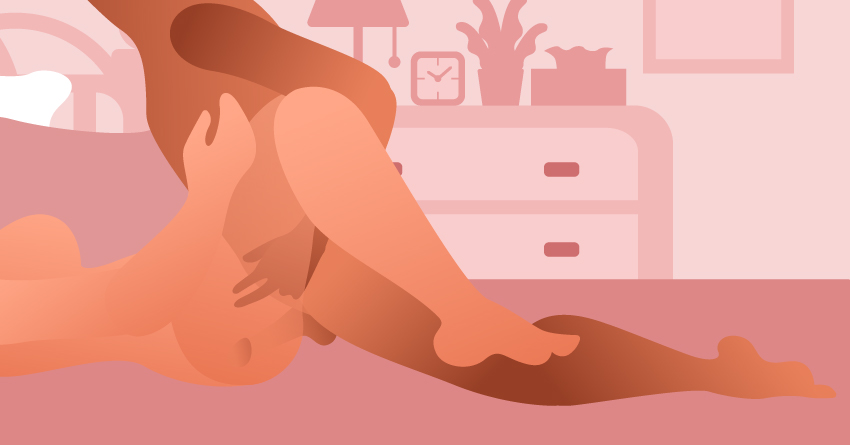 The cervix is where babies come from… and blood during the menstrual cycle. While both giving birth and menses are beautiful things that a woman's body can do, they're often associated with pain. Well, the cervix is laying claim to one of the pleasure thrones as hitting that sweet c-spot offers ecstasy you never knew could be experienced. Hitting the c-spot is not always a pleasurable or possible experience but only because everyone's bodies are built differently and react to stimulation in a variety of ways.
However, different times in the menstrual cycle could change reception to the stimulation. A week before Aunt Flow comes a-knocking and the cervix will be more sensitive to touch. During shark week the cervix is lower and easier to reach. There's also this rumor going around that c-spot orgasms are more common during ovulation. So see if c-spot stimulation works for you or your partner (and when) before trying to achieve this specific blended orgasm duo. But for those who do enjoy getting their c-spot tickled, it is said to be a full-body experience.
The c-spot is located in the back of the vagina, so what's the way to get it to hum? A good reach. If the penetrator is especially gifted in the length department, you're already ahead of the game. While reaching the c-spot with fingers is a possibility, using toys will be way easier and will allow you or your partner to spread the attention around – specifically to the clitoris. You don't have to be hitting that c-spot the whole time, it's actually recommended that you get close to cumming before really honing in on tapping that cervix. It's great because that means the clit can have undivided attention for a little bit.
4
Clitoral + Nipple Orgasm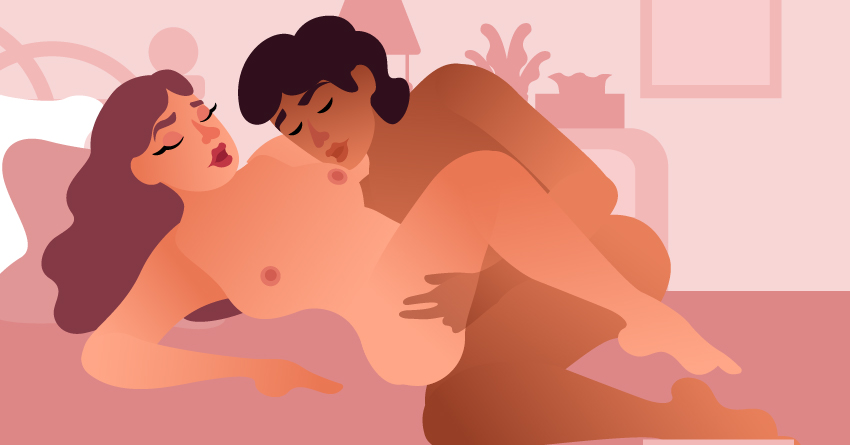 Nipples are an erogenous zone and we should all know this! But it's rare that they get the attention that they deserve. They're usually just a pitstop on the way to Pound Town, and that's a missed opportunity. If we paid a bit more attention to nipples, nipple orgasms would be more common. While men and women can experience nipple orgasms, there are no real statistics on who is more likely to climax from nipple stimulation.
Whether flicking, sucking, pinching, or licking is your favorite type of nipple play, with patience and perseverance, you will get there. The best thing about a clitoral and nipple orgasm when you do it with your partner? They can watch you come apart in their hands, depending on how you like to be touched. Actually, even if you don't hit the blended O with a partner, you can watch yourself experience pleasure in the mirror. The visual stimulation might get you even more aroused.
5
G-Spot + Anal Orgasm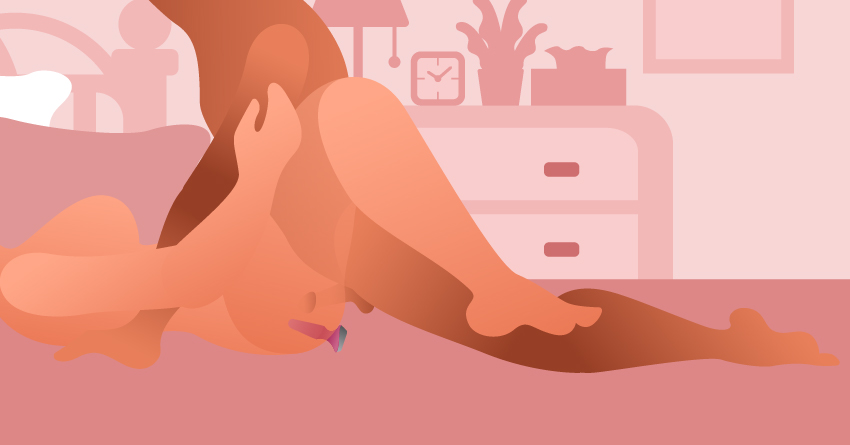 We've mentioned the g-spot and anal orgasms earlier. Now it's time to put them together. They're both triggered by penetration. Whether you prefer fingers, toys, or a penis, finding the right position is key. Also, making sure that both points are properly stimulated is the key to the g-spot/a-spot la petite mort. You or your sex partner can be tempted to shift focus to one or the other and that's totally fine. But because we're talking about a blended orgasm here, neglecting one spot to focus on the other just won't do. Multi-tasking will be your best friend when trying for a blended orgasm. Using dual-penetration toys can take the load off your mind as well so you can just enjoy the sensations.
6
G-Spot + C-Spot Orgasm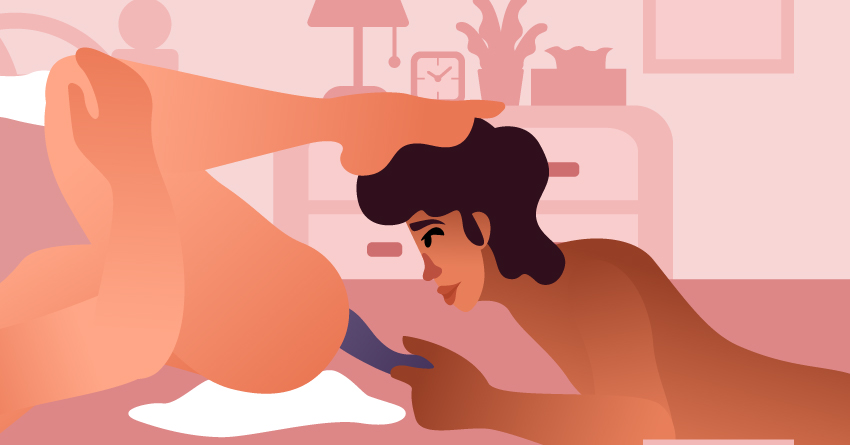 Here's where we focus solely on vaginal arousal. While it may sound easier because there's only one entry-point to zone in on, because they each deserve the limelight, it can get a little tricky. Getting your fingers to morph into shapes that can perfectly hit both spots can cause hands cramps and that'll kill the mood. Penises and realistically-shaped dildos and strap ons aren't really formed to get you to reach a blended orgasm this way. Solution? Getting help from a toy or two. A g-spot vibrator that leaves room for your partner could not just help you get to that blended orgasm, it can make your partner's sexual experience even more enjoyable. Where's the harm in that?
7
G-Spot + Nipple Orgasm
Stimulate the top AND bottom half of the body with this blended orgasm. The g-spot and nipple orgasm offers a full-body experience, not just as your climax travels, but even as you build it up. The g-spot will benefit more from rubbing than flicking, you just have to find that sweet spot. Keeping that pressure consistent allows you to vary the ways you play with the nipples to make for a fun and exciting time in the bedroom. Using nipple clamps that you can tug on or tighten can heighten the experience as you let your partner (or even a stranger) remotely control your g-spot vibrator.
8
Anal + C-Spot Orgasm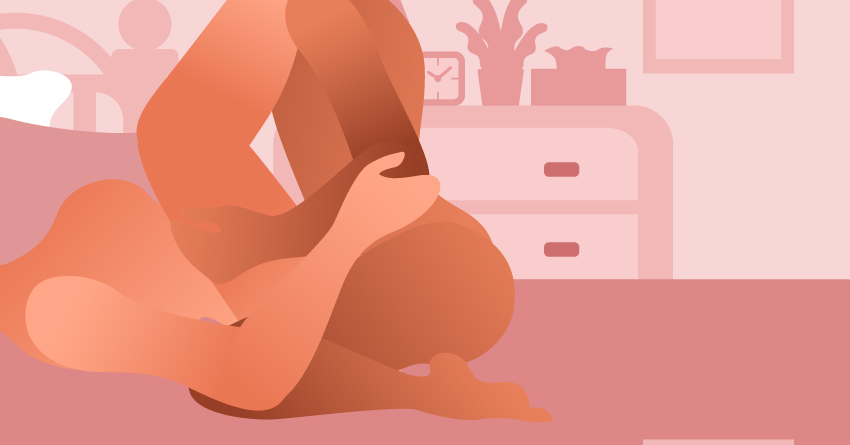 This blended orgasm will require you to dig deep – into the body, that is. We apologize if that made this weird, but both these spots are deeper than you would usually go in either hole. The stretch is worth it, though. Just make sure you use lube as you penetrate both the vaginal and anal canal. The goal of an anal and c-spot blended orgasm is already a spicy endeavor, but you know what will make it even spicier? A threesome. If you and your partner are willing of course. While one of the partners enters from the front, the other from the back. Optimize their 'equipment' whether organic or man-made by making sure the individual with a further reach enters the vagina. If you'd rather keep your activities to a duo, adding toys to the mix will save the day.
9
Anal + Nipple Orgasm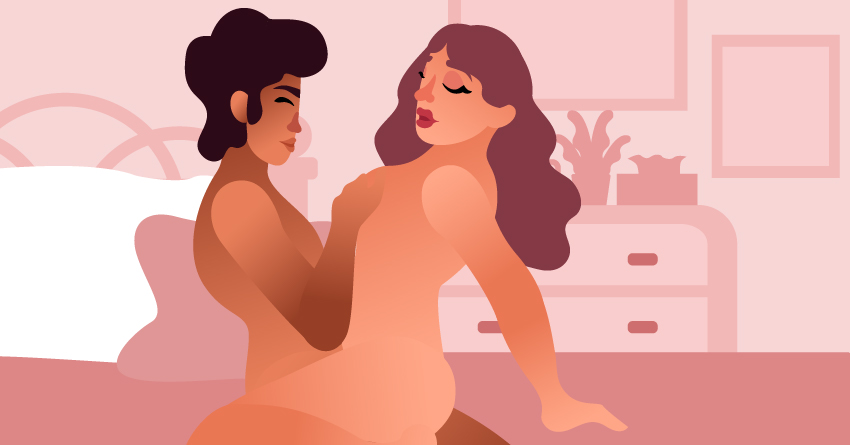 This will be a different experience for sure. Sex and orgasms are generally associated with some sort of vaginal or penile stimulation, so if you opt to steer clear of the standard erogenous zones, this can be a frustrating albeit rewarding experience. By avoiding the familiar pleasures, you'll be able to zone in on the unfamiliar pleasures of the anal and nipple orgasm. Maximize seated sex positions for this. Instead of being vaginal penetration when you're both in the seated position, enter that booty. These positions allow you to control the depth and speed of thrusts while freeing your partner's hands to roam and play with your nipples to the best of their ability.
10

Anal + Penile Orgasm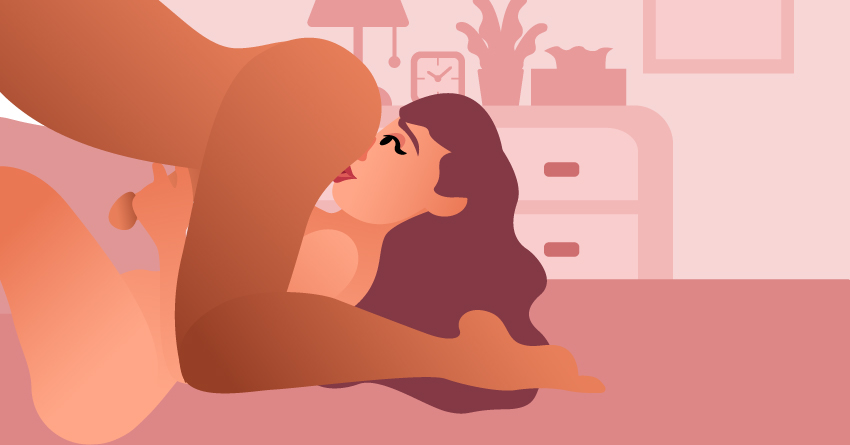 This is the first combo on the list meant exclusively for penis owners, and here's a fun fact: rimming and teasing the puckered skin around the butt hole can cause orgasms. While stroking the shaft, add a little lube to the party and get to rimming. Anal orgasms are achieved more easily with practice. In fact, blended orgasms might actually be the best way to experience an anal orgasm because oftentimes, it does require other sources of simulation which in this case will be the penis! 
11

Anal+ Testicular Orgasm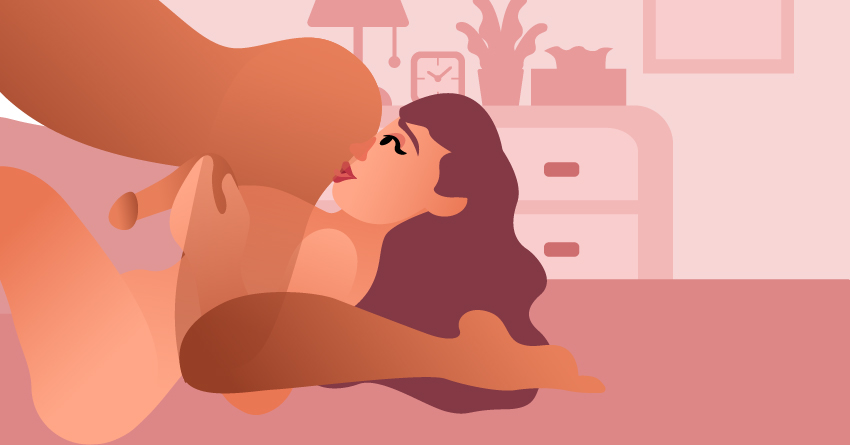 Testicles can be a sensitive topic for their owners. Exploring ball play can be interesting and exciting, especially because the sensations involve delicious pain. While this is appealing to some, it might not be everyone's cup of tea. Trying out different massage techniques to find the touch that works is essential – especially because the anal/testicular blended orgasm can be tricky to trigger, but not impossible. Get to playing and get that twin O.
12

Anal + Prostate Orgasm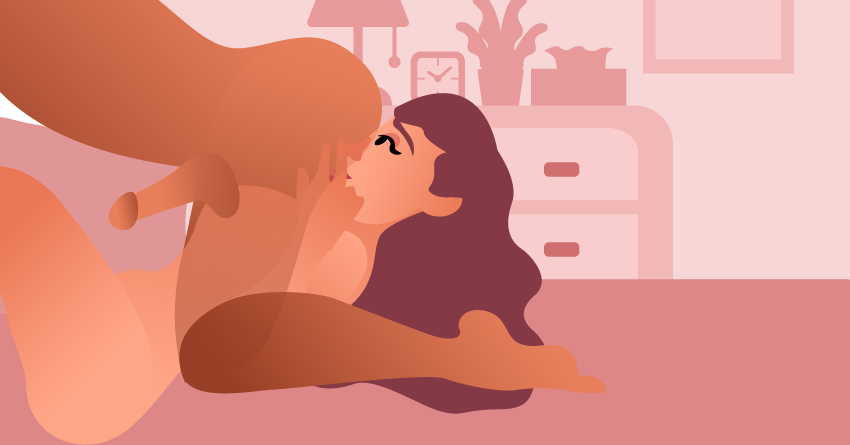 Mindfulness might be all you need. You may have actually experienced this blended orgasm before, but were unaware and attributed it solely to anal. Being aware of where the sensation is coming from can reveal that you've been experiencing simultaneous orgasms. By stimulating the prostate through massaging the taint (the landing strip of skin between the butthole and the ballsack) and the anus through rimming, you can isolate the sources and learn what feels best for each.
13

Penile + Testicular Orgasm

Blowjobs will take you to a whole other level if your partner is actively trying to get you to a blended orgasm. A mix of pleasure and pain is a good thing, especially for the penile/testicular orgasm. They can use their mouth to pleasure your rod and their hands on your family jewels. For a change of pace, have them suck on the sack and use their hands on your boner. 
14

Penile + Prostate Orgasm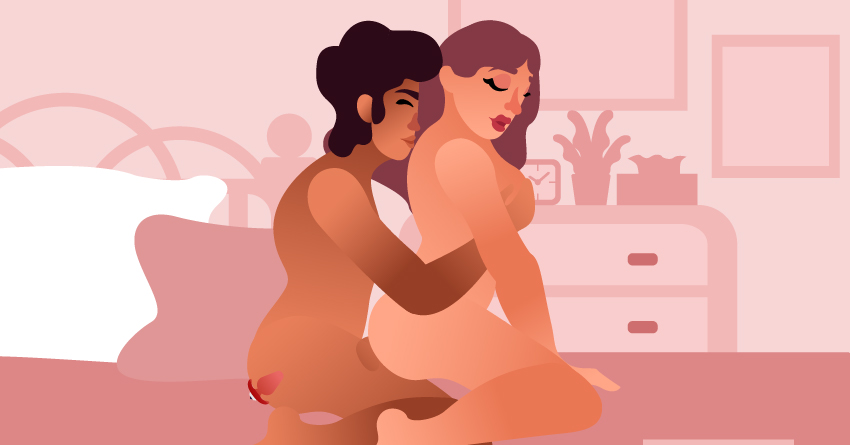 Penetrate and get penetrated. Having a vibrating butt plug can make this experience out of this world. Have your partner position themselves on your lap so your penis can fill their or your desired hole, and have the toy of choice properly secured in your anal cavity. In the seated position, their weight and grinding will allow the toy to rub secret spots that can get you seeing stars as you climax. Or, if you'd rather have a bit more control, have them kneeling instead of fully seated so that you can control the speed of your thrusts, and it will allow for alternate points of contact as you lift thrust upwards – pleasuring the shaft – and land back down – allowing the plug to apply pressure on the prostate.
15

Penile + Nipple Orgasm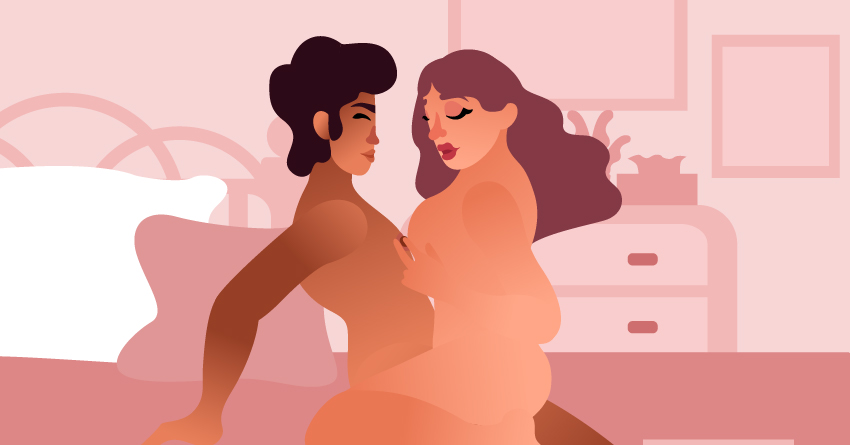 Another blended orgasm that's perfect for partners that love seated sex positions. In a seated position when you're face to face, you can penetrate your partner as they focus on your nipples with their mouths – this is especially easy if your partner is shorter and their head is at chest height. If you get off on a bit of bondage and your partner takes control of your pleasure, having your hands bound as they stroke you while pinching and playing with your nipples might be your cup of tea. Take it up a notch by doing this in front of the mirror as your partner reaches around you giving you both a full view of everything that's going on. The visual and sensual feast will have you cumming before you know it.
16

Testicular + Prostate Orgasm
Some kind of penetration or the simulation of penetration is usually involved in the male orgasm, so take this blended orgasm combo as a challenge. Stimulate the testicles and the prostate without any form of penetration. It'll be a test of knowledge about your body and what stimulates you the best, allowing future orgasms to be even better and more efficient – if that was ever a concern.
17

Testicular + Nipple Orgasm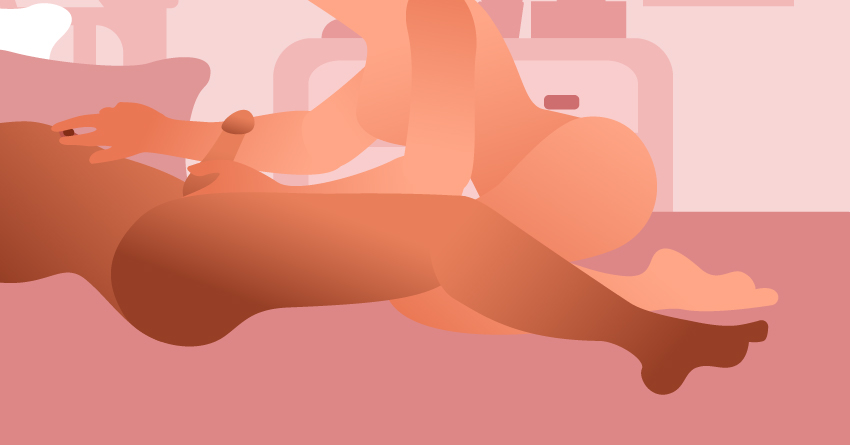 On every body, there is a more and less sensitive side. It would be fun to figure out which is which when trying to achieve the testicular/nipple blended orgasm. Play with the left testicle as you fondle the right nipple, or touch only the same side of both and see if you can climax that way. See which one favors oral stimulation and which one is more receptive to and when you find the x's that hit the spots, get the treasure! You've earned it.
18

Prostate + Nipple Orgasm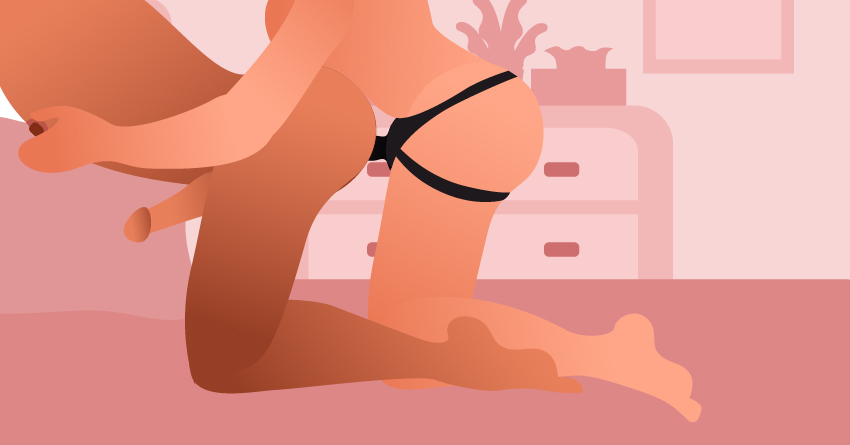 Bend over and allow your partner to top you. In a doggy position, they can penetrate your anus and stimulate your prostate while keeping their hands free to roam your chest, specifically your nipples. A perk of this is they could lay their body across your back allowing for maximum skin contact making the experience much more sensual.
19
C-Spot + Nipple Orgasm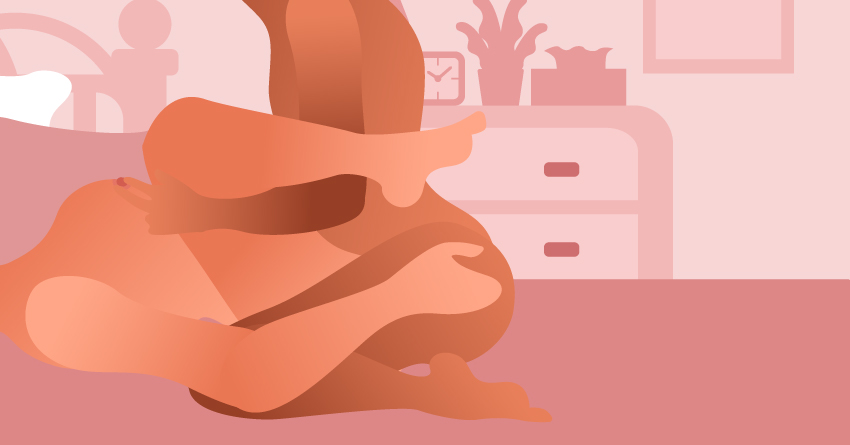 Think of this as the ultimate challenge. For some people, at least. Achieving a c-spot or a nipple orgasm can be difficult, but together? It's definitely one of your favorite games but with the difficulty level turned up. Still fun and worth taking on. It might take a little practice, but you can master the c-spot/nipple blended orgasm. We all believe in you. The combination of different pressures and speeds of machinations on each area can be exciting or overwhelming, so make sure that you are going at your own pace. Make sure that there is just enough attention on the nipples and your cervix is getting stroked perfectly so that the experience is pleasurable for you.
While the minimum number of sources for a blended orgasm is two if you can get a tri-, quad-, or penta-blended orgasm, good for you! But if you can never have a blended orgasm, that's fine too. Orgasms are a perk of sex, but it's not a requirement to know that you enjoyed the experience. As long as intercourse is enjoyable for you and your partner, then we'd call that a smashing success.
How to Achieve Blended Orgasms
Chasing a blended orgasm on your own is a different experience from having a partner helping you along. The best play to start, with any kind of sexual exploration, is to experiment on your own before introducing a partner to the fun. Once you've figured out what works for you, it'll be much easier for you and your partner/s to navigate your body's trigger points. The twin O's are a challenge for everybody, so just remember to be patient. We've compiled a few helpful tips to get you started.
When you're going solo
1

Get familiar with your body.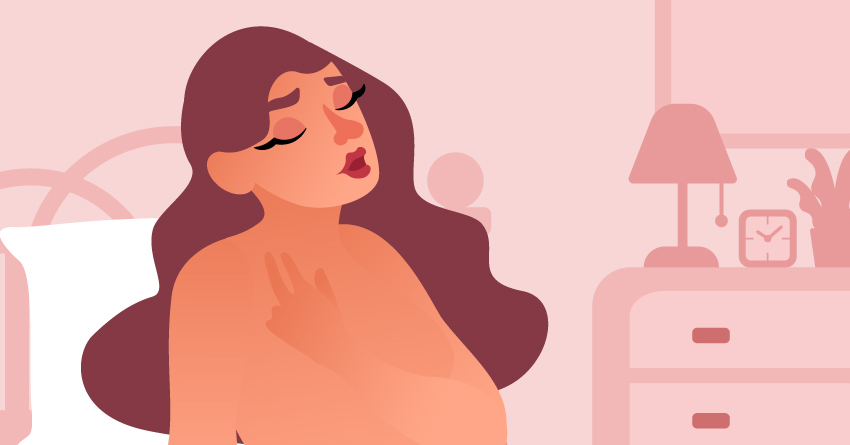 Knowing what parts of your body can elicit orgasmic responses will be key here. Forcing a blended orgasm when you're unsure of what actually tickles your pickle just won't do and might stress you out, making it difficult for you to even get aroused. Clear your mind and focus on the sensations.
2

Relax and be comfortable.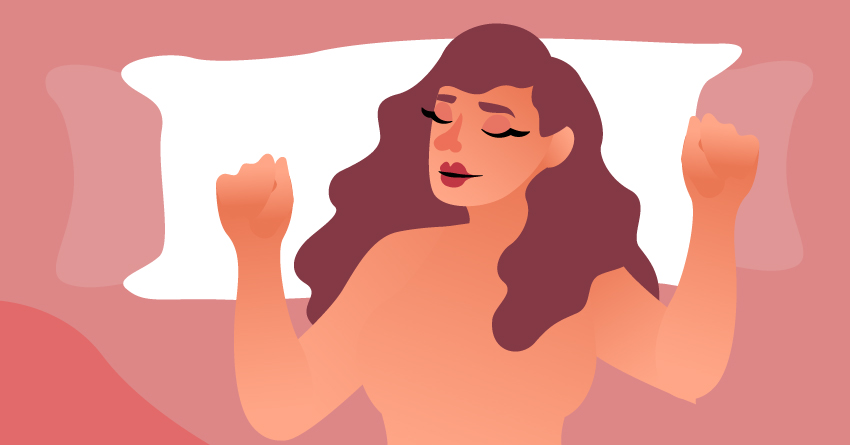 Masturbation is supposed to be a fun personal experience. Set yourself up in a place where you feel safe, comfortable and where you can take your time. Especially if you're trying new things. Surround yourself with pillows if that's what you like, or candles and music to set the mood. Achieving a blended orgasm can take longer than you expect so at no point do you want to feel rushed. Being in a safe space will allow you to let go and give in to all the sensations, so making sure you lock your doors is encouraged. It would be so frustrating if you were on the brink of a blended orgasm and you get rudely interrupted.
3

Toys are your best friend.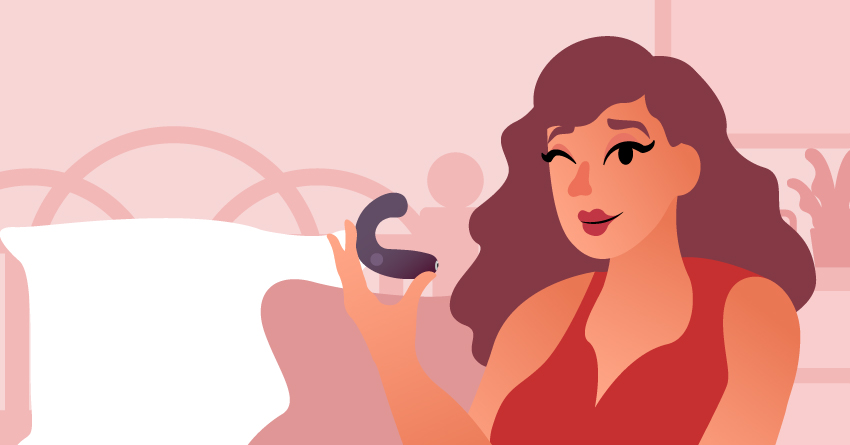 While fingers are all well and good, adding toys to the mix will make this an infinitely more pleasurable experience. Not only do toys allow a deeper reach, but they can also help target multiple points of pleasure. Toys can also help fulfill fantasies or let you stimulate other erogenous zones with your hands. This'll add to your experience, and while you may not climax from all the stimulated areas, it will make your orgasm more intense and a blended orgasm more achievable. Lube just makes sure that everything goes even more smoothly, and there is no unnecessary friction during the sexual experience.
When you're with a partner (or two)
While all the tips we listed when you go solo apply when you try for a blended orgasm with a partner, here are a few more tips that both of you should know about.
1

Communicate your needs.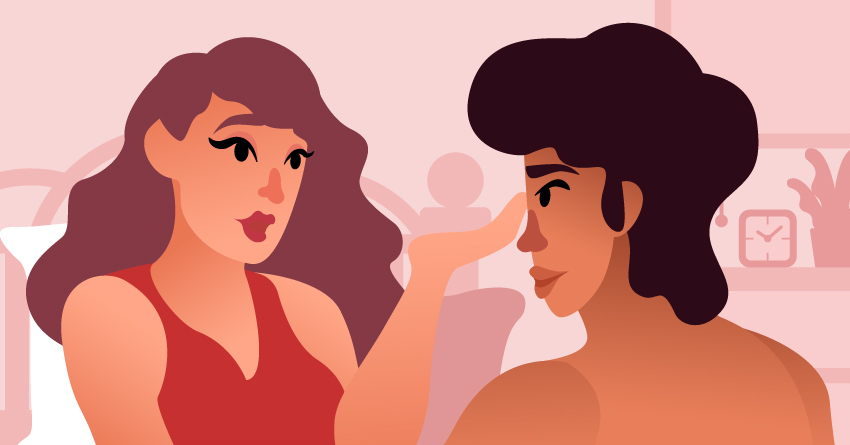 Your body is your own, and you know what feels best. While your partner may or may not know what makes you feel good, telling them what you want and need in the bedroom will always have the best results. Blended orgasms with a partner can be a testament to the way you communicate with each other because success means you were in tune with each other throughout the whole sexual experience.
2

Trust your partner.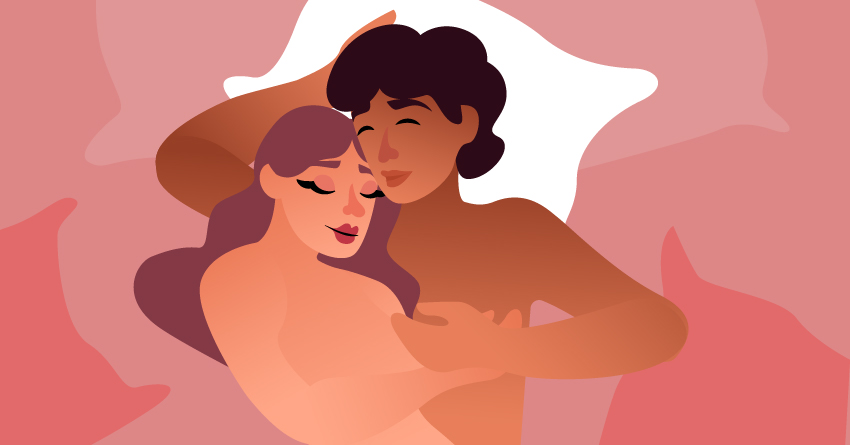 Blended orgasms can be intimidating and overwhelming. Knowing that your partner will respect your needs and wants will help you to relax and reach climax better. The intensity of blended orgasms may cause sensations that make you feel like you need to pee and can keep you from allowing the waves of pleasure to overtake you. If you trust your sexual partner, you'll be more open to the intense pleasure that blended orgasms create.
3

Try a threesome.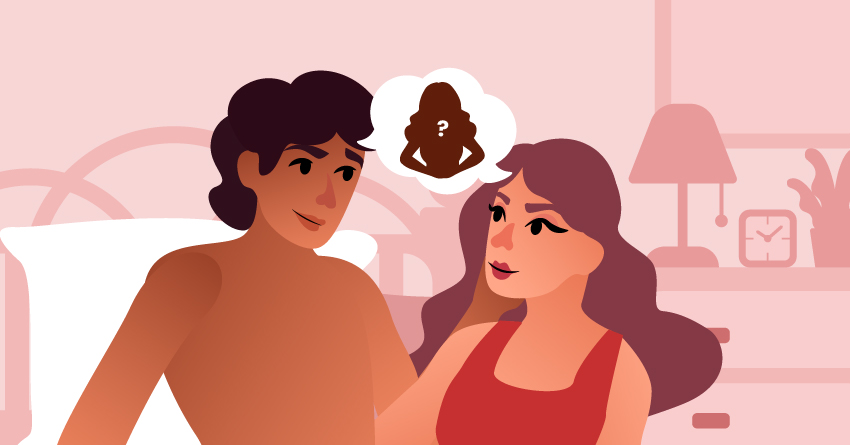 If both you and your partner are into it, adding a third to your sex sessions every now and then can help. Having more hands, and tongues at your disposal mean that there's also more attention to go around. Remember a blended orgasm is when you experience an orgasm from at least two pleasure points. Imagine the possibilities now.
Best Sex Toys for Blended Orgasms
Frequently Asked Questions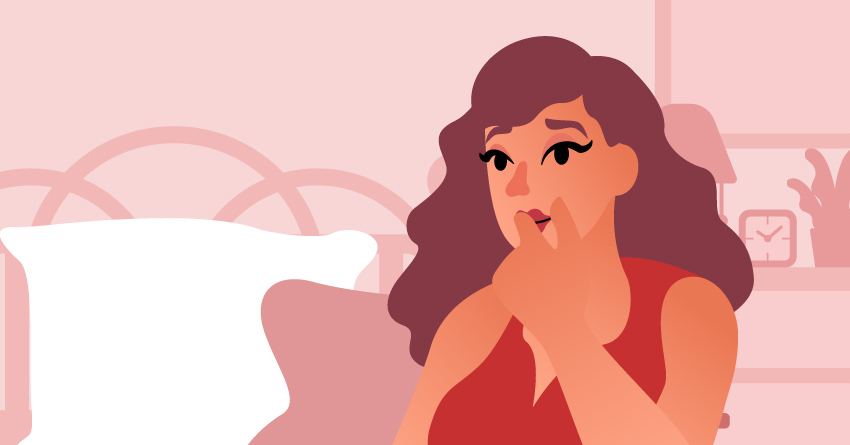 1

Can penis-owners have blended orgasms?

YES! Absolutely. Everybody has multiple erogenous zones on their body, so as long as you find the perfect mix, blended orgasms are achievable for anyone and everyone. Try stimulating their penis and nipples and see how they react. The more experience you have, the more daring you can be. Make sure you're both comfortable with where the fingers and toys end up so that they enjoy the experience.
2

How long do blended orgasms last?

Blended orgasms can last anywhere from 1 to 15minutes. It really all depends on how your or your partner's body responds to all that stimulation and which kind of blended orgasm you achieve. Some erogenous zones may elicit a longer-lasting experience than others. It's all up to you to find out which ones you favor the most.
3

How common are blended orgasms?

It could be both more or less common than you think. A lot of the time, people are unaware that what they are experiencing is a blended orgasm. There have been some people that claim to have exclusively blended orgasms and some people who claim to never have had one at all. There hasn't been a study that conclusively gives us the information, but would the answer matter? Your sexual experiences and pleasures are your own, so as long as you're enjoying sex on your own or with consensual partners, that's all that truly matters.
4

Can I have consecutive blended orgasms?

Yes. It may take a bit more work, but it's possible. Switching up the combination for the blended orgasms can make it a little less overwhelming, though a bit trickier with timing. This is something you'll need to practice a lot to perfect, but if practicing means having a lot of orgasms, are you really going to complain? We didn't think so.
5

I've tried everything and the blended orgasm is still elusive. Is something wrong with me?

No. Absolutely nothing is wrong with you. Maybe what you need is a little more practice, time with yourself. Or maybe it's time you buy a new toy that's up to the job. Explore your body more and you just might discover new angles, speeds, or depths that work better for you. Enjoy the road to discovery and if you can't achieve a blended orgasm, that's totally fine.
Takeaway
Blended orgasms are a great goal for bedroom play, but don't let it distract from the fact that sex should be fun! If on the journey to reach this great pleasure you end up so tense you can't savor the moment, then you're missing the point. Blended orgasms are a reward for connecting with yourself and living in the moment. Now that we have equipped you with the knowledge, it's time to put it to use. We wish you success in your blended orgasm endeavor.