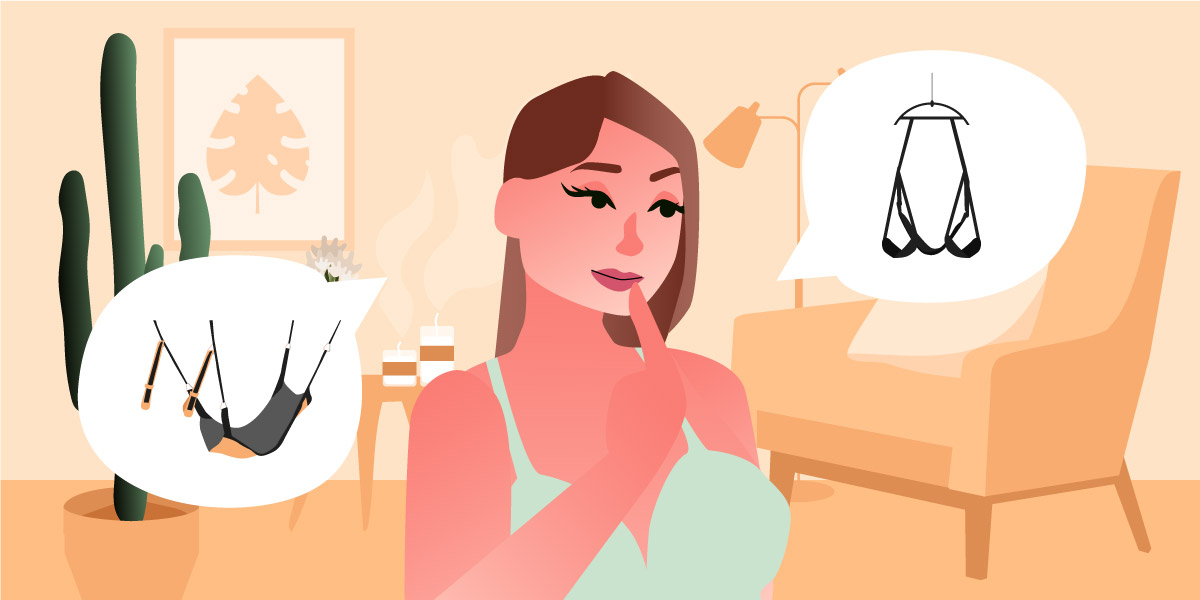 If you're reading this article, congratulations. You're probably thinking of whether or not you want to add a sex swing to your sex life and still need that push. Or maybe you're just intrigued. Either way, you want to learn more about it.
Well, look no further. This is your sign to get one after browsing through this article, where it's a lot more than its intimidating, kinky image set in our society.
What is a Sex Swing?
Think back to your childhood, wherein you've dilly-dallied at a swing by yourself, friends, or maybe a parent pushing you for more momentum. Now minus the major swaying back and forth, you'll do it at a minimum depending on your strength, weight, and height.
WebMD defines a sex swing as:
"A device that lifts and suspends one partner off the ground while the other partner or partners can move around them freely to engage in sex."
Some sex swings can be connected through a bolt in the ceiling or a free-standing frame. Some can be fully or partially reclined on the swinging partner's end.
The main goal of a sex swing is to give variety and mobility to those using the toy in their sexcapades. It allows them to be adventurous and experimental with their bodies while being hoisted in midair, swimming through their interests while ensuring they follow the toy's safety precautions.
What to Look For in a Sex Swing
In every sex toy we buy, it's important that we must do a thorough check on them. That way, we're more certain that we're purchasing the right thing that's in line with our preference and body type (in this specific case). In this section, we'll highlight certain quality factors to look out for when interested in buying your own sex swing.
1
Material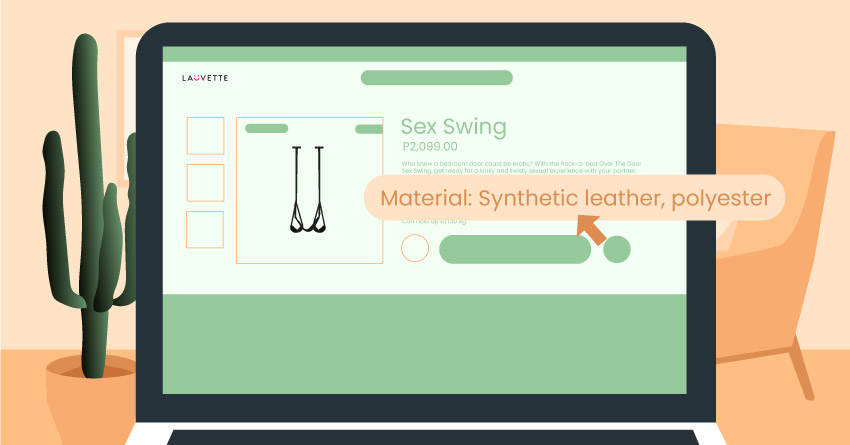 This is what will interact with your skin most of the time. If your skin is sensitive, you must pay clear attention to this one. Most sex swings are made of rope, fiber, and leather. Check each material out and see which one you're the most comfortable with.
2
Weight Capacity 
This factor is crucial with sex swings! Knowing the maximum weight capacity of the toy determines how much weight the swing can safely hold you and your partner. This is also to avoid getting any injury on both ends. As much as possible, it's best to combine your and your partner's weights before inspecting the sex swings available. Get the one with a weight capacity as close as yours or even more. Never go under weight capacity.
3
Installation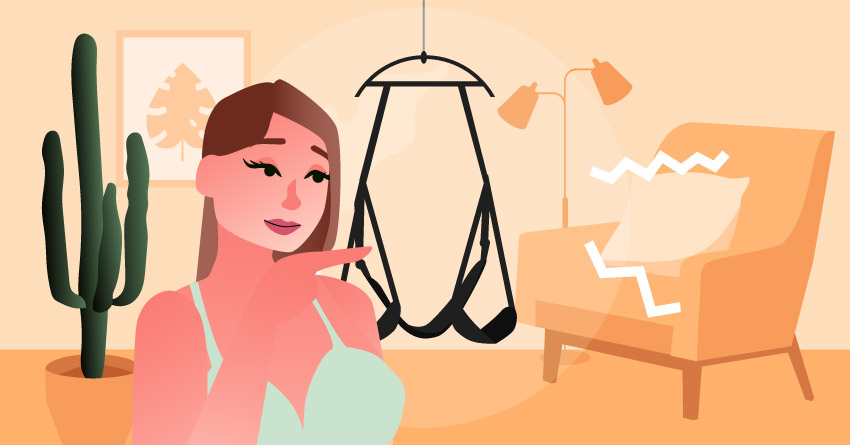 Do you need to drill space in the ceiling? Do you need a wide door? Is your type of surface your partner's body? Or would you need an entire room to build the sex swing? 
We'll expand more on the different types of sex swings in the next section, but there are many ways to install one. It depends on your preference, the space of your home, and your patience. For the latter, you will build the swing from head to toe, so it's up to you how willing you are to wait as you construct and how much time you can devote to installing it overall.
Types of Sex Swings
Did you know there's more to sex swings than having a private room for it as it hangs from the center? It can also take up little space in your home and even be disassembled on the spot. With that being said, keep reading this section to learn more about the various types of sex swings according to WebMD.
1
Body Sex Swings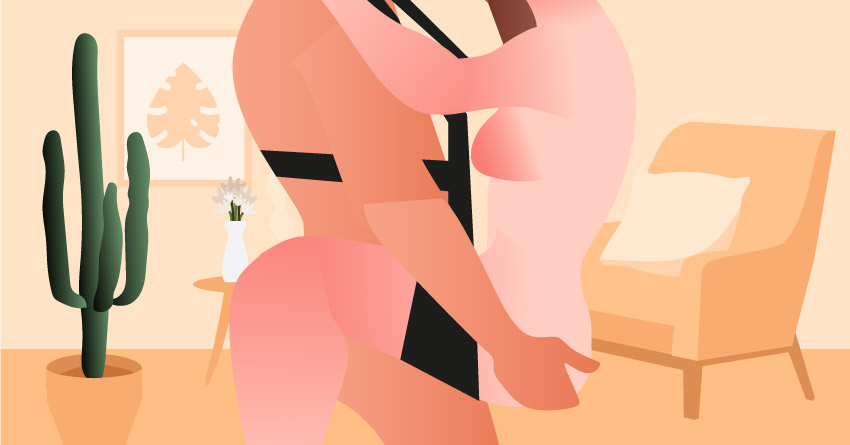 The sex swing is worn by one partner, replicating a life jacket with extra straps that'll support the butt and legs. Their partner on the ground or in the air can utilize the harness as they lace themselves in the handles and extra straps. For the partner wearing the swing, they require to have stability and strength to carry or hold their partner as they carry out their sexcapade.
2
Door Sex Swings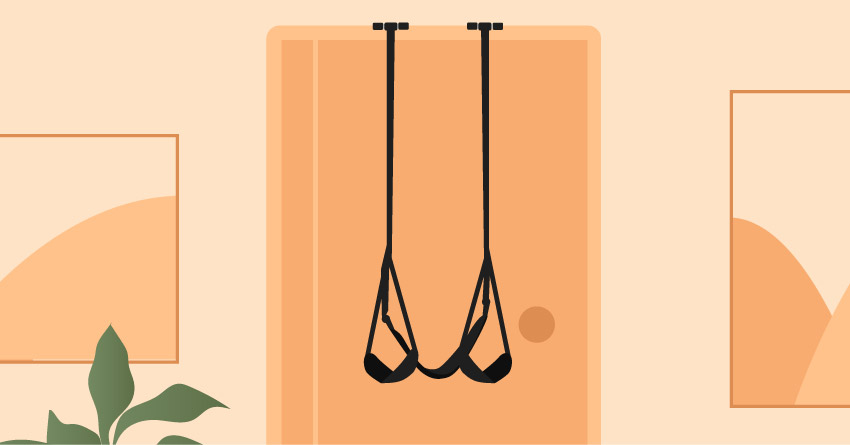 This type of sex swing is set in place over the door and further secured by the door frame. Usually, the support in this swing is through a strap under their butt. Almost like the swing you'd ridden on during your childhood. There are some variants wherein leg and arm straps are included. Despite its limited movement, it's great for those with little space at home yet still want to experiment with the toy.
3
Sex Slings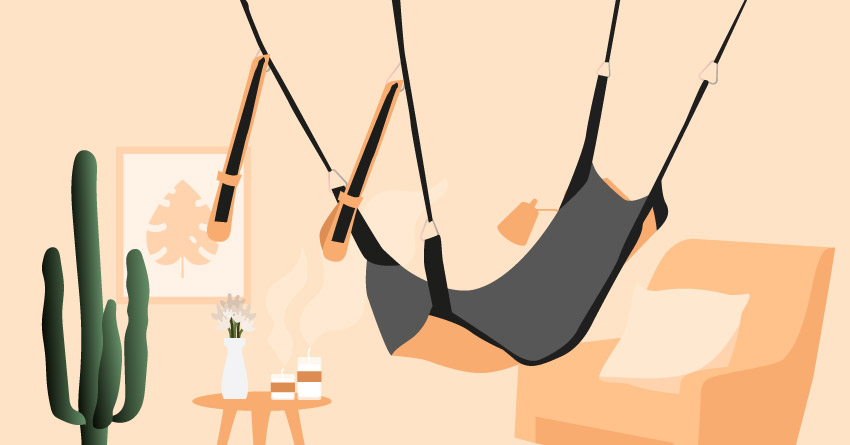 Very similar to a hammock, except we're more focused on channeling our sexy sides than our chill sides. A sex sling comes with a free-standing base for extra support, and instead of sitting down like in the other types, you can lie down. Price-wise, it's more expensive since there are several parts to assemble, and you're physically limited to engaging in various sex positions. However, it comforts the person lying down on the swing.
4
Traditional Sex Swings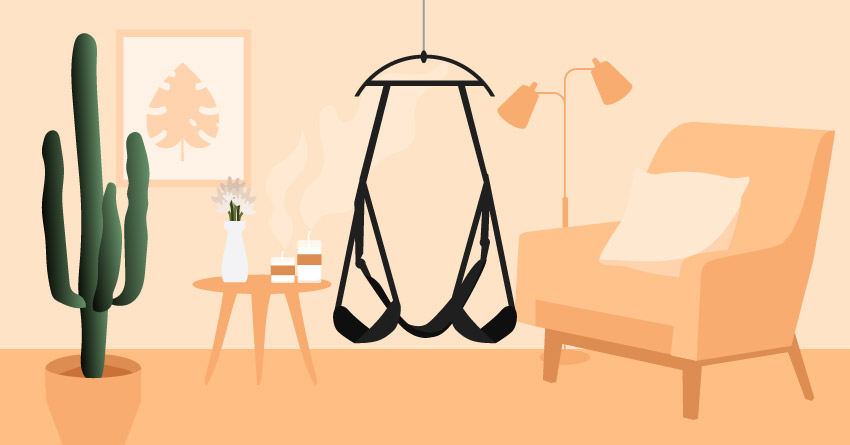 This type of sex swing is the one everyone may have seen at least once in their lives, intentionally or unintentionally. It has a seat, two main straps, and stirrups for support. Handles and headrests can be included depending on the brand or product inclusions themselves. You and your partner have more flexibility and mobility to try various positions. This kind of sex swing can be installed anywhere, through a free-standing base, ceiling hooks, and in between the walls of the hallway or any semi-enclosed space.
Why People Love Using a Sex Swing
The thought of a sex swing is spicy with the endless possibilities you can do with it. But when you try to boldly put in the action, you'd chicken out. And hey, it can happen! If ever you're still hesitant to get your own sex swing, read through this section where we break down our top 5 reasons behind the interest in the game-changing sex toy.
1
It's a way to spice things up.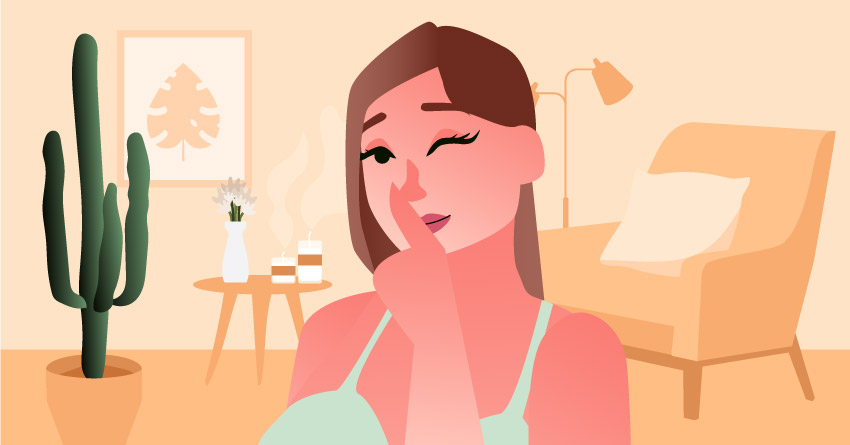 Perhaps based on our media consumption, we're shown the concept that a sex swing is peak kinky or peak BDSM! Although there's more to BDSM than the swing, we automatically associate it as a flavorful addition to one's sex life. Some can be shocked, intimidated, or find it sexy. Just as long as you don't kink-shame, we're good.
Aside from this, if ever your sex life has been in a slump or feels like a routine to you, why not invest in sex toys? More specifically, this one because the thought of buying and installing one already adds so much excitement. Not only that, you and your partner can explore other sexual sides of yourself. You'll learn more about each other, igniting that spark again in sex and wishing that sex slump bye-bye.
2
Their best experiences came from this toy.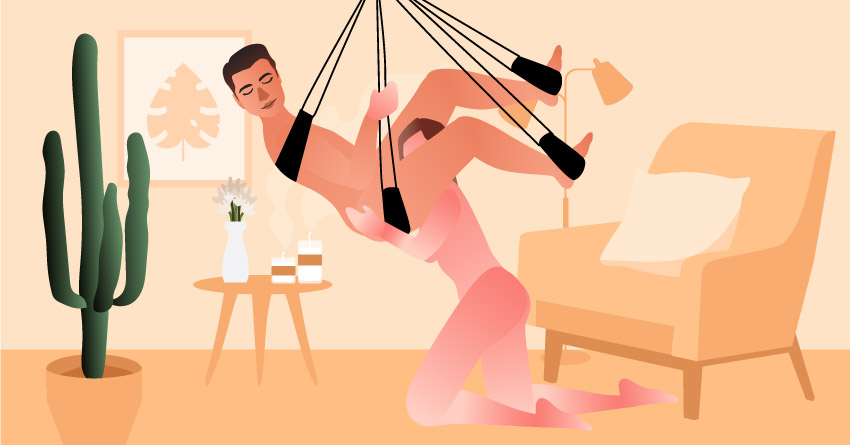 If you had fun the first time, what's gonna stop you from doing it again?
This applies to any love toy that you had a blast with! In this case, if you have a partner and the sex swing helped bring you two closer, then there's no way you'll not have a repeat of it. And this time, you'd add a few more quirks and angles to try it with. As long as there is proper communication, you'd return to whatever makes you happy and switch things up.
3
It offers a lot of support.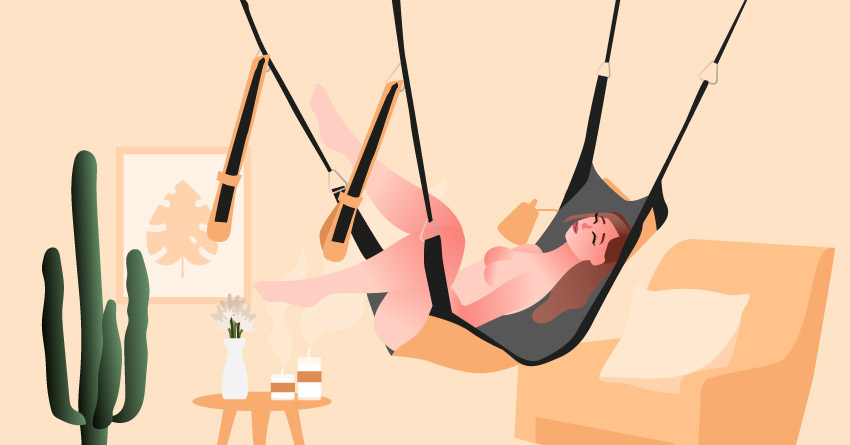 Having fun sexcapades while being hoisted or lifted in the air may sound impossible, but not with the sex swing! With its varying structures, you can tweak the straps and handles to adjust to the alignment that works for you and your partner. Also, there's a seat/sthat holds you up the whole time. It can also have a back to hold your body and lean you back as far as possible. Some swings can even be a cushion for your whole body to rest in.
Standing sex or sex outside the bed can feel stabler and less physically tiring.
This toy is also ideal for people with mobility issues as it easily gives more movement with little to no struggle on their end. With all the features mentioned earlier, sex can become more pleasurable on their end (as it should!). They wouldn't let their physical hindrances interfere with their sexual adventures.
4
It's for anyone.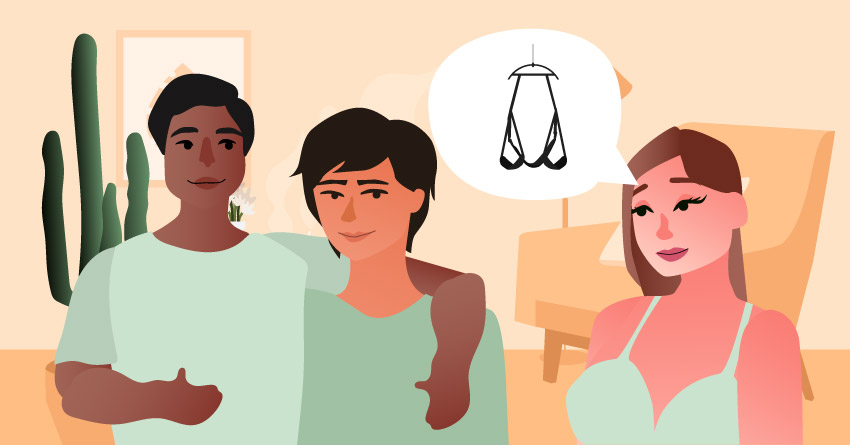 From the kinkiest to the most vanilla, the sex swing can be used by anyone. For the former, you just love to zone into your sexual side and constantly venture through your interests whenever you get the chance. Every sexcapade is feisty when you're around!
Then for those who are on the vanilla side (which is totally normal and okay), the sex swing can pique their curiosity and wonder what it'd be like to give it a try. Being curious about these things is normal, even if you want to engage in them only once. The easiest option for you would be the door swing, and even if you play around with it once, it's always nice to step out of your comfort zone for a bit. Maybe even bring the swing out every once in a while whenever that curiosity comes back.
5
It's versatile.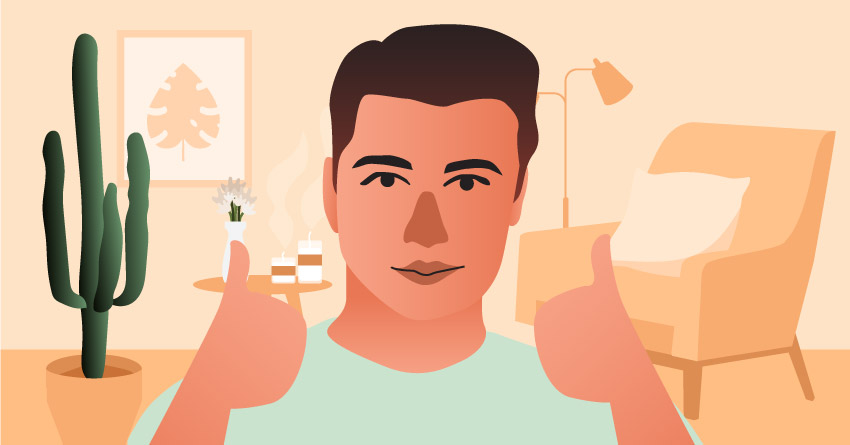 Not only are there various types of sex swings to choose from, but you can opt to install a sex swing in your bedroom or a new space. You can also act out all sorts of sex positions as they are more accessible to people of differing weights and heights thanks to their adjustable straps. You'll always find a way to get closer to your partner with this swing. 
Price-wise, there are good quality ones that are affordable. Then the ones that are bigger and more deluxe can cost higher, but it may depend if you're that invested in having a sex swing as a huge part of your sex life.
Plus, you're bound for enjoyment outside the average bed adventures. Get out of your bed and either lay in mid-air or stand up for a really good time with your partner, all thanks to the majestic sex swing.
Sex Swing Positions to Try
Ah yes, the juicy part! We all love to learn new sex positions in hopes of trying them out in the future. In this case, we'll be highlighting our favorite sex positions to do with the sex swing here in this adventurous section.
1
Queencard
There's nothing more powerful than being on top of your partner, craving for your sweet essence between your legs. Hold on to the straps of your sex swing and lean your butt to the back of the seat. Your thighs are resting on the stirrups. Meanwhile, your partner is on their back on the floor. Lower down to reach their face with open legs. Your partner is gonna need major upper torso strength as they cage your legs and devour you real good.
2
Swinging Cowgirl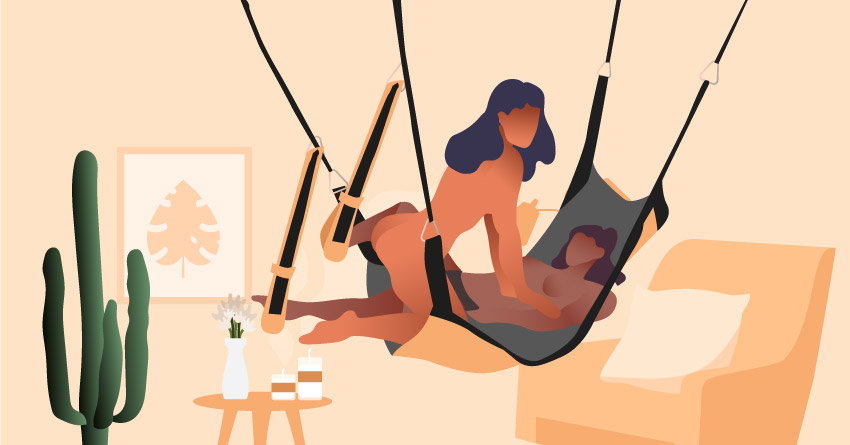 Cowgirl is a classic sex position, and you can take it to the sex swing too! Your partner (or whoever is in charge of penetration) is seated on the swing while your legs straddle theirs. Stabilize yourself with the straps as you bounce open up and down on their dong (real or dildo). Lube up for this one for extra fun. And an extra tip, for the penetrating partner, you have full access to your lover's clitoris. While deeply pleasuring them, rubbing their sensitive nub to get them feeling extra good at the moment.
3
Flightless Doggy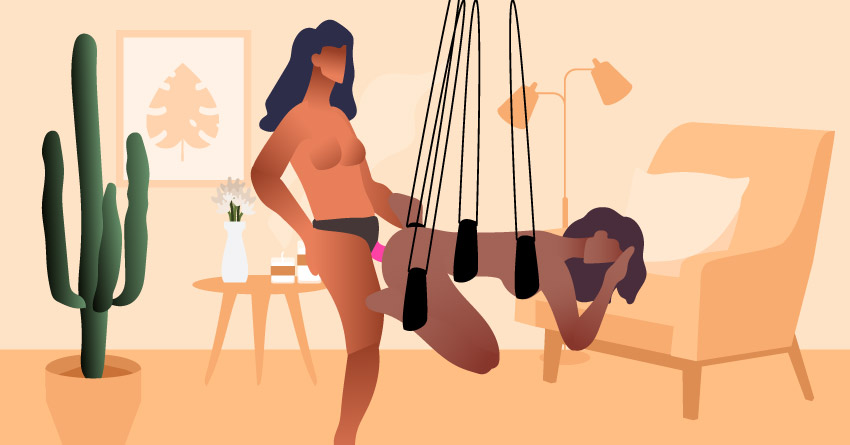 Taking it from the back already is filled with thrill. What more when you're hoisted up in the air? If you have a sex sling, this position is ideal for you.
Place your chest on one strap while your stomach rests on the other. Your ankles are cuffed by the straps on the side. Make sure to find your balance before anything else. You can hold on to your chest or the straps beside you if needed.
Your partner would then proceed to hold you by the hips, waist, or even the sides of the swing to bring you closer as they enter you. Your hands can hold on to the said parts we mentioned, but you can also play around with them by kneading your breasts or rubbing any other sensitive body parts. The choice is yours as you and your partner go animalistic here.
4
Picture Pleasure Perfect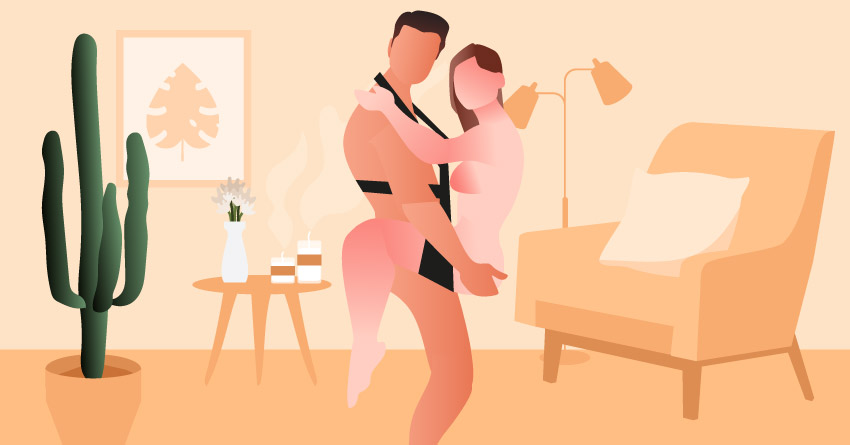 This sex swing position is very similar to a painting you'd see in a museum. Except you and your partner are in the nude, the conservatives wouldn't be pleased. However, maybe those who are more open-minded (like us here at Lauvette) appreciate sex as an art!
In this position, you can use a door swing. Sit down on the swing and place your legs inside their respective straps. Once you're comfortable, your partner shall insert themselves and their sensitive part in between your legs. Give them the reins to penetrate you as you hold on to their back. As for your partner, their hands can further lift your butt up for a deeper experience.
5
Maysturbation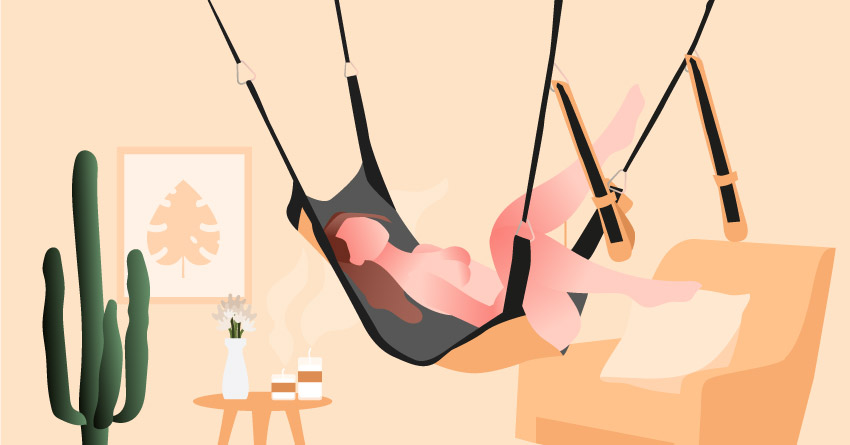 We're currently working on this article in May. It's only right to celebrate our solo plays, right?
Any sex swing can be used here. All you gotta do is sit on it and insert your legs in the proper straps. Spread your legs open and get to touching yourself. Rubbing, bobbing, fingering, you can also touch your other sensitive body parts (breasts, testicles, etc.) in the mix. And oh, an extra sex toy can be used, such as vibrators, clit suckers, or cock rings. We have these toys all up in our store here.
6
Swing and Swallow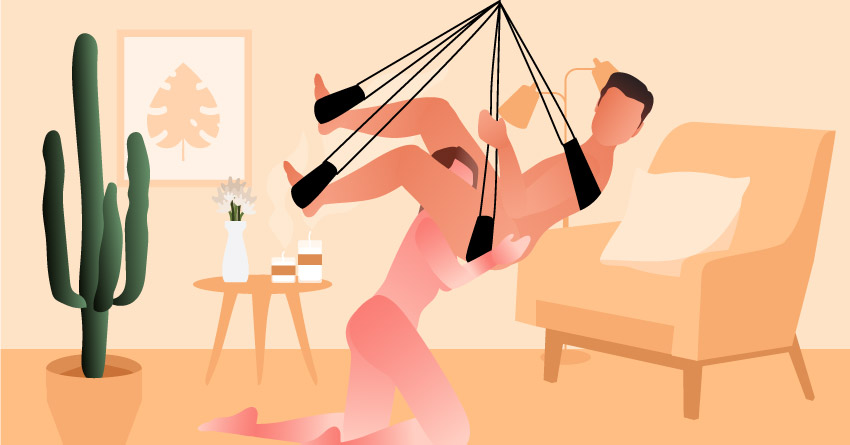 Let's take your blowjob to (a bit) higher heights! 
Rest back at the harness into a half-seated position, spreading your legs after on the straps. You can bend them if it makes you more comfortable. After this, have your partner go down on their knees and crawl in between your legs. Let them tease and kiss your sensitive part for a bit with their tongue or mouth, and then they'll slowly take you in. When you're feeling good, let them know by tugging their hair or maybe instruct them how to use their mouth for maximum pleasure by readjusting their head. They can also use their hands to fondle your testicles while pleasing the heck out of your sensitive part!
7
Swingssionary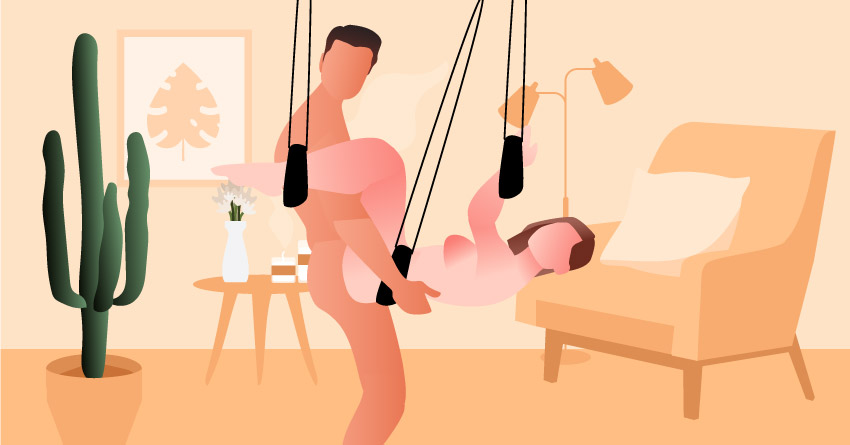 If you're starting out with the sex swing, you can always go for a missionary position. Or rather, swingssionary! This sex position doesn't lack the thrill as you think, especially when you're elevated, and there's more room to explore and go wild!
Lay back on the swing with open legs, and grip on the straps to keep your balance and support. After this, your partner can slide themselves in between your legs and sensitive part. Maybe carry you a little higher through the straps. From there, they can thrust as hard or gently as they want. Either it can be a love-making session or a rough sexcapade. All up to the both of you!
8
69 in the Sky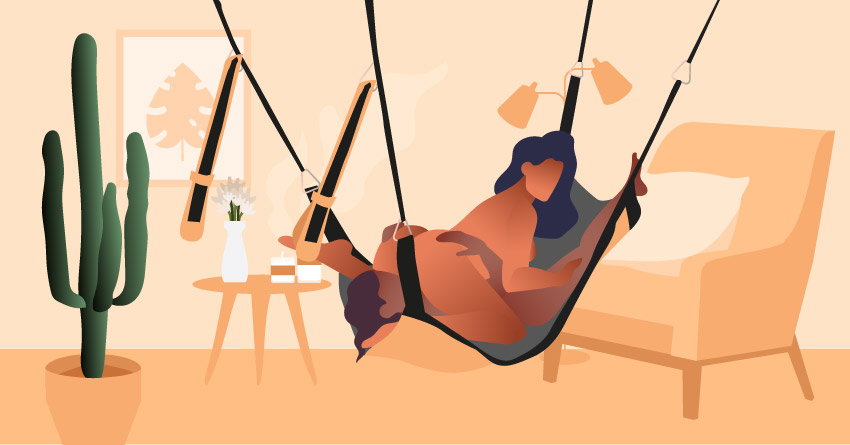 This challenging sex swing position will require both you and your partner to be physically strong and flexible. If you have what it takes, keep reading!
Place your butt down on the swing and lower your back as if you're gonna lie down. Grasp on the straps beside you as your partner hovers their lower half (specifically their private parts) to you. They'll also bend down to satisfy your sensitive part, so take this chance to work your sexual touches on them.
9
Bunny Bounce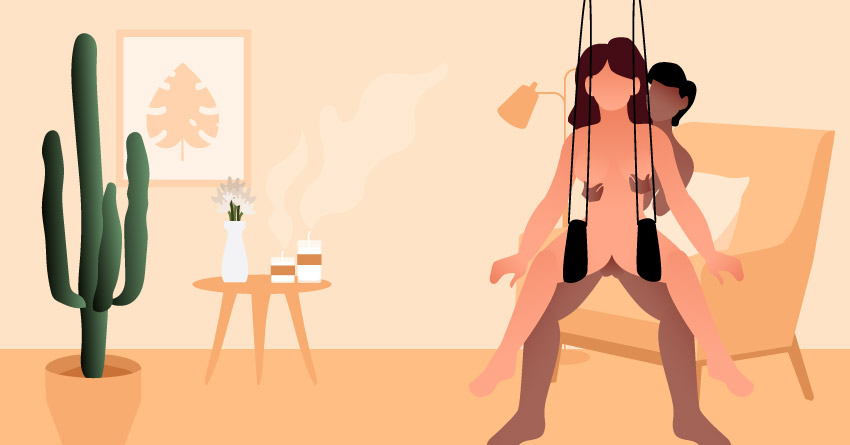 We've all heard the saying "f***ing like bunnies". Well, this sex swing position has its own take on it.
As you settle into your sex swing, you have the gears as you top your partner. As they rest on their back, you decide how deep they enter you. Take your time if needed, and hold on to the straps as you adjust to their size. Squatting is ideal so your legs don't cramp up, and you can even bounce on their private part when you find a suitable pace to ride them.
It also helps to place the stirrups under your thigh for momentum and stability. Your partner can hold on to your knees while you move above them and even surprise you by thrusting upwards. That, for sure, is an eye-roller that electrifies you with so much pleasure.
10
Bent Baby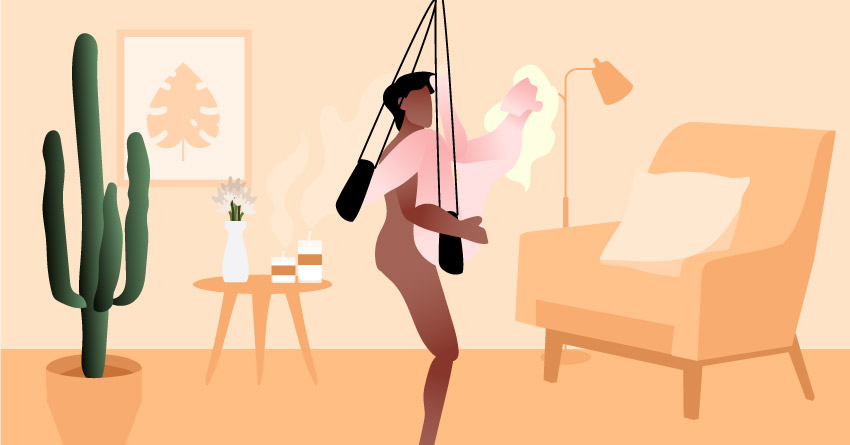 If you're craving for more closeness with your partner in the sex swing, this position just might be the answer to your desire.
Similar to swingssionary, your back leans back even more while your legs end up bent and resting on your partner's chest. Hand placement can be on the straps or their chest to stabilize you as they penetrate you. For them, their hands can go under your butt to pull you in closer, deeper, and stronger.
Tips to Remember Before Trying a Sex Swing
By this time, you're definitely intrigued and determined to get your own sex swing and play around with it! But wait, not so fast. Before getting to the fun part, here are some crucial tips to remember as you go down this flightless path.
1
Discuss your partner about it.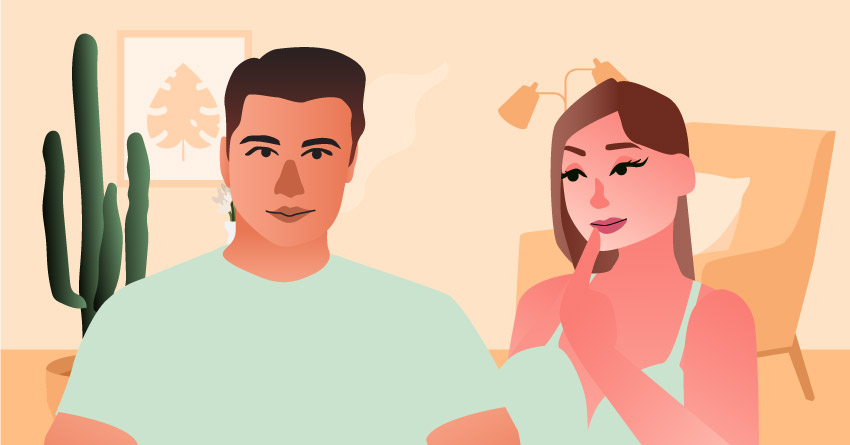 When it comes to anything related to sex, it's always important to discuss them with your partner through and through. So when it involves adding a new sex toy into your dynamic, the more reason you need to bring it up to them. 
Aside from showing this helpful guide on the toy from us, tell them more about why it interests you and how it'll benefit your relationship.
If your partner says yes to trying it out, then great! Let's move on to the next set of questions to ask each other:
What kind of swing do you want to try?

Where to install it?

What's our budget?

How physically strong are we?

Do we take turns using the swing?
These are only a few of those questions, yet important to figure out the ideal swing for your partner.
2
Double-check everything.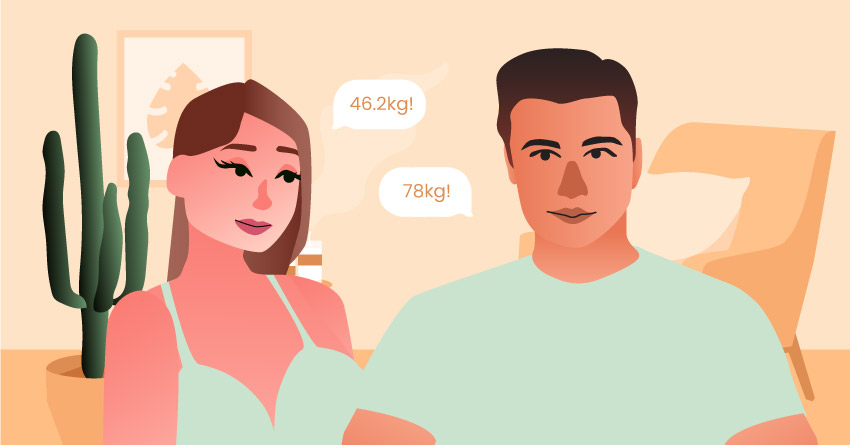 Before checking out any new sex toy from the cart, you must always inspect it from head to toe. See to it that all its properties are aligned with your interest. Weight capacity is especially crucial, especially if you and your partner want to get in the swing together at some point). It must be able to carry both of you to avoid injuries, so as mentioned earlier, combine your weights and see to it that the toy you're eyeing fits this specific criterion.
Once you get the toy and assemble it, double-check again before getting on its seat for use. Don't get too excited that you might miss out on crucial steps of the process. Inspect that its installation is stable and all the extra parts (e.g., straps, handles, etc.) are attached properly. Lay or sit down on the swing and observe if there are any faulty or unbalanced sensations. If there is, tighten or get it fixed. If none, it's ready to be used and played around with your partner.
3
Take your time.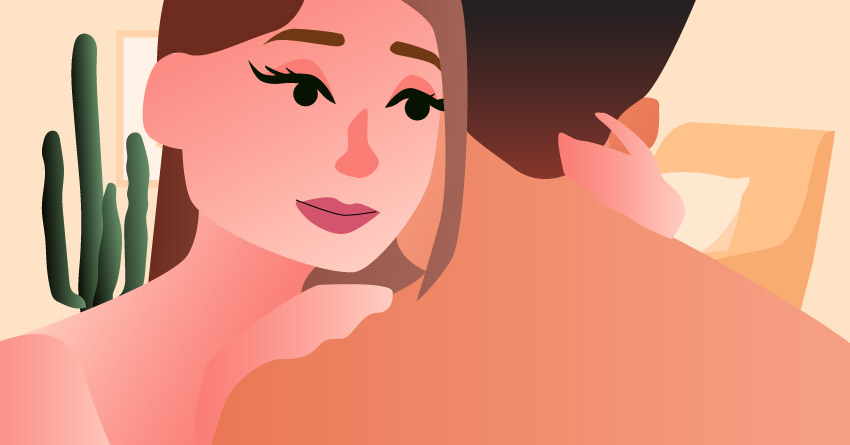 With every new thing that you bring to the bedroom, it takes a while to get the hang out of it. Pun intended. Interest is one thing, but experience is another. Since the sex swing is new territory, understand that it's okay if everything you planned out won't go as planned.
However, celebrate more on whatever went right. Did you hold out in the swing before reaching your o'? Did you mimic the sex position you wanted to try and enjoy with the swing? Were you able to embrace your partner more? Find those small wins in every sexcapade with the sex swing. There's no rush to enjoyment.
4
Use lube.
Not on the sex swing itself, but adding lube to your private parts will add more fluidity to your off-the-air movements. The swing is meant to bring you both closer, physically and intimately, and lube is an extra bridge in making the both of you feel good. There's a variety of lube to choose from, ranging from water-based, oil-based, silicone-based, and more. You can check out our article on lube here and our lube products here.
5
Incorporate other sex toys.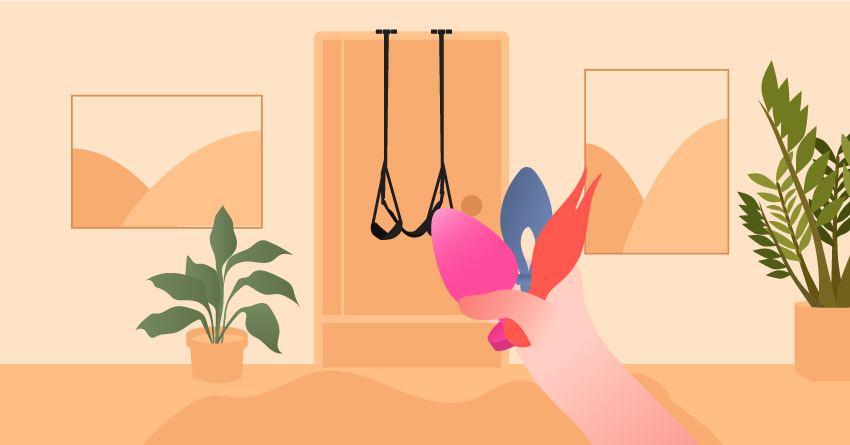 Once you've gotten the hang of your sex swing, it's only a matter of time to heighten the sexcapades. When you're ready to expand your horizons, get digging into your other sex toys. Maybe if you want to venture with sensation play, the one in the swing can wear a blindfold as their partner enters them. Or maybe while doing the deed, a penis owner can be on the swing, and their partner is on top as they wear a couple vibrator. Allow yourselves to get creative here!
Takeaway
Sex swings can be as mild or intense, depending on your preference. As it caters to people who are either kinky or vanilla, there are many variants of it to choose from. Plus, there are many ways to use one with all the sex positions we mentioned. Just don't forget the important tips we shared before getting into all of that weightless action.