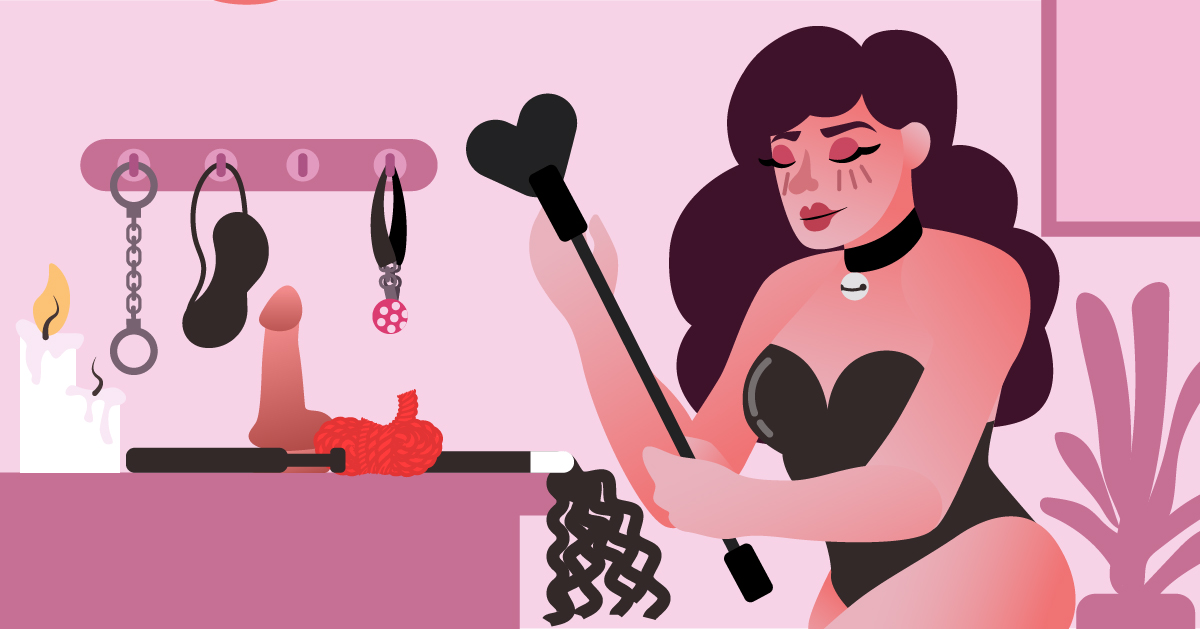 We're gonna keep it real here. We have to admit that since the novel Fifty Shades of Grey came out in 2011, BDSM has been associated with Christian Grey. The books' fanbase was so intense that its film rights were quickly picked up by movie producers.
Come 2015 and BDSM really blew up. It was also when the Fifty Shades movie came out. The trilogy was such a hit that people were googling up "what is BDSM," and kinky sex toys were selling like hot pancakes right after it was released.
During the pre-Fifty Shades era, any mention of a taboo topic like BDSM sends your average Joe running away in the opposite direction. But now, everyone in the block is intrigued about BDSM. And thanks to the sexy image of Christian Grey blessing the big screen, everyone also seems to want to try it out at least once. Which is great. At least people are now more open to trying out new things in bed.
However, true lifestyle BDSM kinksters got a problem with the misconception that E.L. James started the whole BDSM kink. We're willing to concede and give E.L. James credit for taking BDSM out of the dark and bringing it out in the open, but people have actually been getting their rocks off for this kink for a while now.
Throughout history, there have always been fun and adventurous souls who are into kinky sex. And if you're here now, you're probably looking into it, so you have something to spice up your bedroom activities. Even if you aren't, reading up about BDSM is lots of fun in itself. Expand your kinkyclopedia and find out everything you need to know about this sultry kink.
What is BDSM?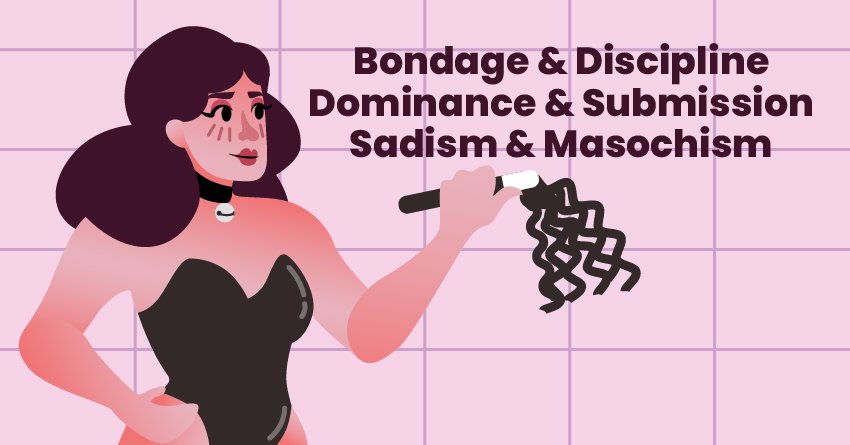 BDSM stands for Bondage and Discipline, Dominance and Submission, Sadism, and Masochism. Quite a mouthful, really. Who has the time to say all of that every freaking time? Let's just stick to its acronym for our own conveniences.
If we can get past its length and actually focus on the meaning of the words, BDSM sounds like some heavy shit is about to go down. It's a kink, so yes, things can get dark (and hot at the same time). BDSM involves bedroom plays with a lot to do with power play and trust between the two parties. It isn't exactly everyone's cup of tea. But the good thing about it is that you can modify it according to the level of intensity you can handle. You can turn it into something crazy and wild or temper it down to something moderate.
What Does BDSM Stand For?
Now that we got the general definition out, let's define each of the themes found in BDSM to really get a sense of what it means.
B is for Bondage & Discipline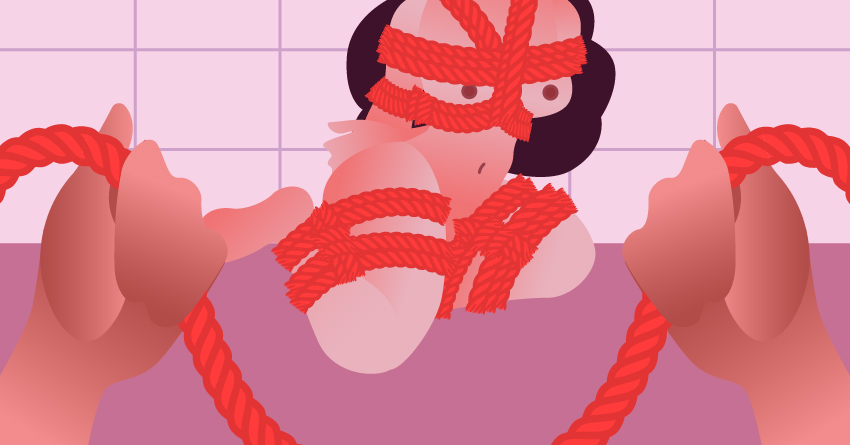 It's all about restraints. When it comes to bondage, you can use anything—from leather ropes to beautifully crafted rope plays by the Shibari—as long as it restricts movements. Most BDSM practitioners agree that bondage has an important role in BDSM plays. It goes back to the fact that BDSM involves power play. And what better way to be in control, or give up control, depending on what role you're playing, than to tie someone up or get tied down yourself.
On the other hand, Discipline in BDSM is a bit like using the carrot and stick method. Basically, you agree to a set of rules, and if you do them right, you get a reward. Defy the rules, and you're in for a punishment. If the mention of punishment scares you a little, don't worry too much about it. They're pre-discussed and agreed upon. You don't have to approve of a punishment you're not comfortable with. With that said, punishments can range from mild to intense. It can include scolding, getting peed on, or spanking. You can be really creative with your punishments just as long as both parties agree to it.
D is for Dominance & Submission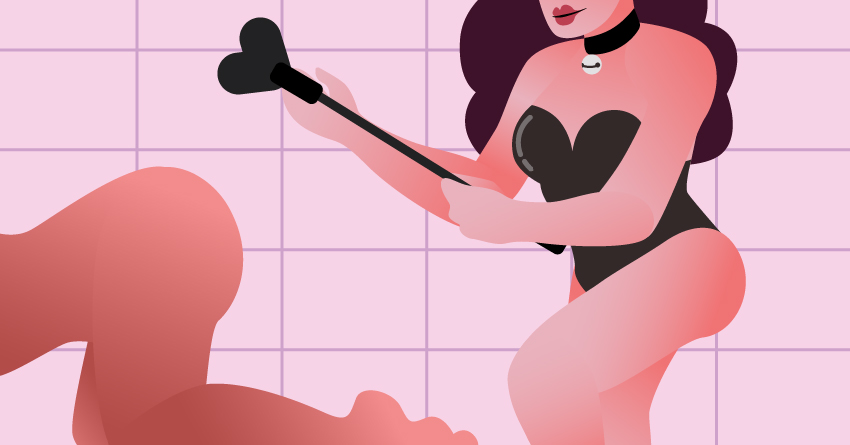 Discipline is the act itself, while dominance and submission are the roles assumed in the act. A sexual dominant is someone who has control over the BDSM activities. They like to be in charge and are the ones giving the punishments and rewards.
On the other hand, submission is all about being the receiving end of the dominant's control. But that doesn't mean that they have zero say over their sexual experience. Subs are only as submissive as they allow themselves to be. They have all the power to put things to an end if they want to. Some people like to keep one role. But it's totally normal to hear of someone who likes to go back and forth between the dom and sub-roles. In the BDSM world, we call them "switch."
SM is for Sadism & Masochism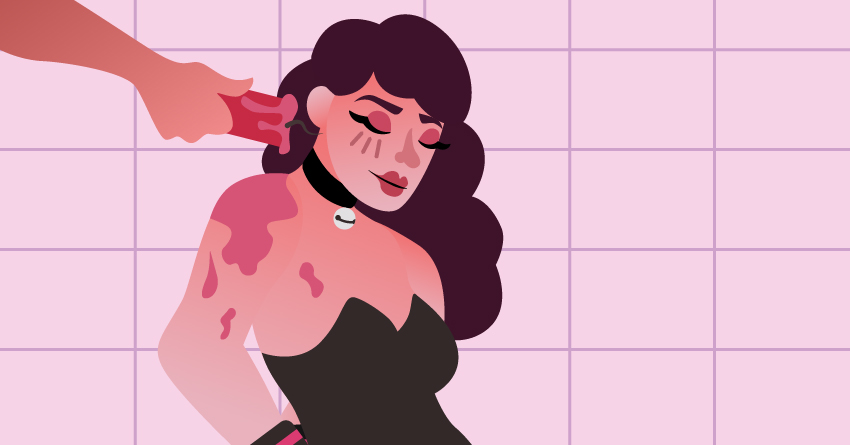 Don't let these two words—sadism and masochism—scare you. If you're with a partner who listens and cares about your well-being, then there's nothing for you to worry about. The sadist in BDSM is the sexual dominant and gets off by seeing their subs in pain. The other side of the spectrum is the masochist who's turned on by the pain the dominant inflicts on them.
And as always, the amount of pain the dominant can inflict on the sub is only as far as the sublets him to. It can be in the form of impact pain by using an object to physically hurt the sub. Electrical play can also be used to send current to a sub's body. It can also be something soft like tickling play to stimulate the sub's sensitive parts. At the end of the day, the goal of this whole receiving and inflicting pain is pleasure. If you're not getting any pleasure from the act, it only makes sense for you to stop immediately. Find other kinky shit to do instead.
History of BDSM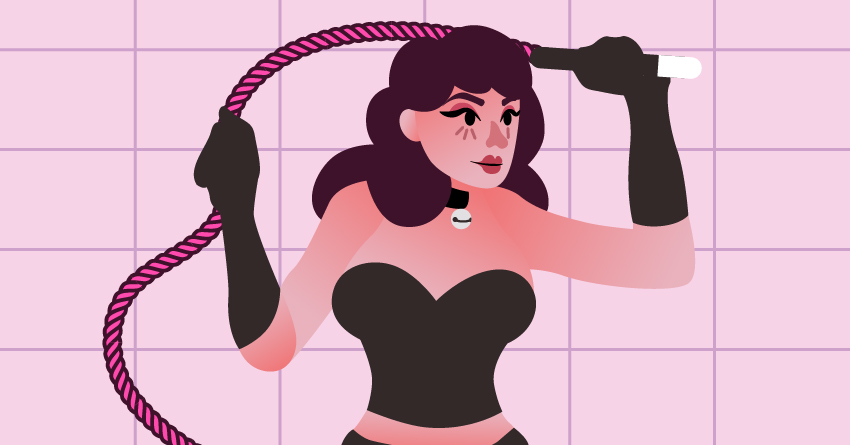 For those that just recently discovered BDSM through a trove of erotic films, you might think that BDSM just popped up in the '90s, as bondage-themed movies such as 9 and ½ weeks came to popularity. However, that's not necessarily the case, as this frisky act has been around ever since ancient times. Learn more about its history here.
Ancient Times
Before it became the sultry theme in films, BDSM has already paved its way in ancient times. It began in Mesopotamia, where monsters and gods were taking control over humankind. One of the notable goddesses at the time is Goddess Inanna. She would adorn her body with jewels, make her followers engage in the dance of sexual frenzy. As the dancing intensifies, the dazzling goddess would whip her followers. Her followers get soooo aroused with her whip that they'll all end up having intercourse. What a wild time to be around, amirite?
Ancient Greece also incorporated BDSM in their activities. They would have ritual flagellation of men and women. They even have a specific room just for that act— The Tomb of Whipping.
16th Century to 19th Century
Erotic literature blossomed during this period, with stories filled with chambermaids whipping their masters and feral servants spanking their mistresses. We get that this might be "tame" for some of you, considering the current themes that we get from erotic books and audio erotica, but mind you, those are extremely sleazy during this period.
But if you think the whipping is already the wildest BDSM-related activity that's ever written during that time… Well, it's just the beginning.
In the late 1700s, Marquis De Sade, a French nobleman, and philosopher published 120 Days of Sodom and Justine. His writing showcases the sexual pleasure of whipping, beating, forced orgasms, group sex, role play, humiliation, and *trigger warning* cutting.
As expected, people went nuts over his work. It's too graphic for some people and even considered sexist by feminist writers. But along with the criticisms, some people considered it revolutionary for the world of BDSM since his works introduced the concept of this kinky act.
20th Century
Though Marquis De Sade introduced BDSM, it wasn't as commonly practiced during that time. Most people were even against it due to its dark nature.
However, the perception of people in this sultry act has changed in the twentieth century. World War I left a generation of men and women who needed a new life. Some of them started liberating themselves, creating clubs, also known as cabarets, to express their kinky selves. However, Fascism destroyed these clubs. The clubs became underground then.
By the 1940s, the contemporary look of BDSM was established by adult magazines. These mags published women in latex dresses, sultry high heels, and alluring corsets. Some pictures even showed them being beaten and are struggling with restraints. Eventually, the concept and aesthetic of BDSM is no longer hidden in the mainstream crowd, as music stars like Nine Inch Nails, Marilyn Manson, and Rammstein incorporated bondage, sadism, and masochism through their songs and their respective music videos.
Misconceptions About BDSM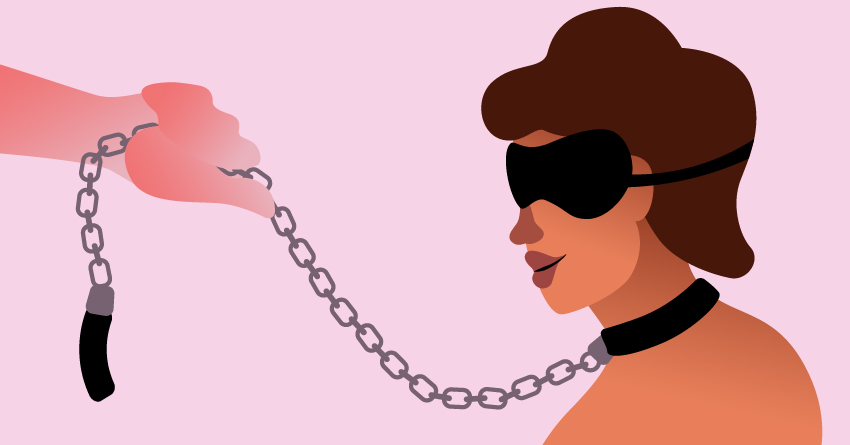 Though BDSM became popular in the mainstream crowd due to the fifty shades trilogy, there's still a stigma around it that makes people hesitant to try it out. Some say that it's not consensual, that it's only for the rich, that people who engage in it are freaks, etc. That's not necessarily the case, though; here are some of the common misconceptions about BDSM debunked.
1

"BDSM is abuse."

As most erotic films only showcase BDSM through whipping, spanking, and gagging, some people tend to see it as abuse. Some even say that BDSM is just an excuse for abusive people to hurt their partners.

Here's the thing, physical abuse and BDSM activities are entirely different. BDSM is fully consensual. All of the kinky activities that are partaking during a BDSM session are agreed upon by both parties. Expectations, desires, and limits were thoroughly discussed beforehand. That's why if a submissive gets hit with a whip during an impact play session, they get a thrilling feeling or sexual release— it's because they like it and have given consent to experience that pain.

Again, consent is the key difference here. If your partner starts engaging in activities that you don't give consent to, such as whipping, saying that it's just a "BDSM thing," get out of that relationship now.
2

"BDSM is all about pain."

Same with the first point, this misconception has happened due to erotic films not exploring the other alluring parts of BDSM. It's always about spanking, whipping, and tying someone up. However, this isn't necessarily the case.

If you and your partner want to engage in this kink, you can do so without the intense whipping. Just plan out the activities that you would want to experience with your partner. You can go for mild impact play, tickle play, temperature play, bondage play, roleplaying— the options are limitless.
3

"Submissive has no say in the deed."

Another misconception about this kink is that only the dominant enjoys this, and the submissive is supposed to obey all the activities from their "master."

As we've mentioned earlier, BDSM is consensual. Before a submissive partake in these activities, a sub must give their informed consent to their dom. Movies may have portrayed it differently; for example, Lee Holloway from Secretary was just spanked one day without consent and somewhat enjoyed it. But in real life, a sub must give their enthusiastic yes before engaging in such kinky acts.
4

"Engaging in BDSM is a mental disorder."

Due to this kink's unique nature, most people assume that BDSM kinksters either have a mental disorder or were physically abused before.

That's not necessarily the case, though. People engaging in BDSM don't need to have a mental disorder or trauma to like this kink. Psychologists revealed that engaging in kinky practices such as this one isn't because of a mental health condition— it's simply a form of intimate diversity.
5

"You need tons of BDSM equipment to get started."

As erotic films and books showcase dominants having huge "playrooms" filled with BDSM toys, people assume that it's the standard for this type of play.

This is nothing but a myth! You can engage in BDSM without breaking the bank. The equipment you'll need depends on the type of play you're interested in. For example, you want to engage in temperature play, just go for beginner restraints, a massage candle, BDSM candle, and an eye mask— yup, that's all you need!

You don't also need a separate room just to partake in this kink; your bedroom will do just fine. But if you're living with someone and don't want them to hear your partner's pleasure-filled moans, you can also opt for motel rooms. There are affordable motels in the Philippines with BDSM-themed rooms, such as this Fifty Shades Suite from Victoria Court.
Beginner Toys for BDSM
Now that you've learned the basics of BDSM, you're probably pumped to try this kink. But before you head out, make sure to check our BDSM guides here, as well as familiarize yourself with the BDSM beginner toys. More on that below.
1

Eye Mask or Blindfold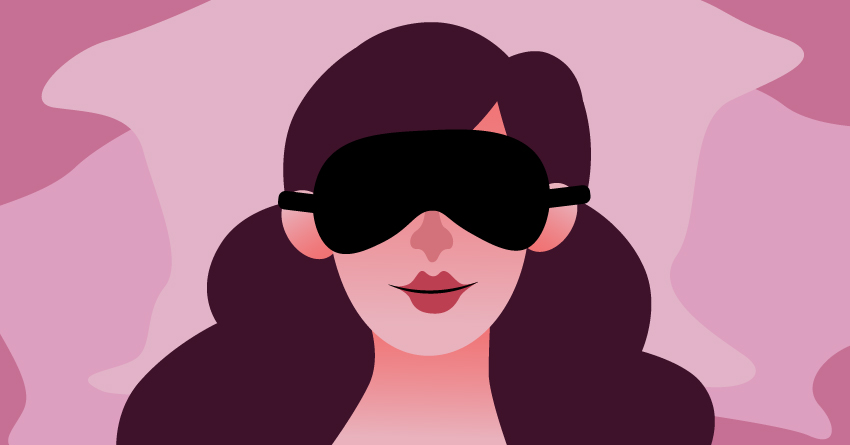 Any piece of fabric that you can tie behind your head and use to cover the eyes is a blindfold. A necktie, handkerchief, or towel usually does the job, but if you're feeling luxurious, you can get the specially-made blindfolds in any of your favorite sex toy shops. They hinder your sense of sight. You get a mixed feeling of excitement and fear as you wait in suspense for the next thing to happen.
2

Handcuffs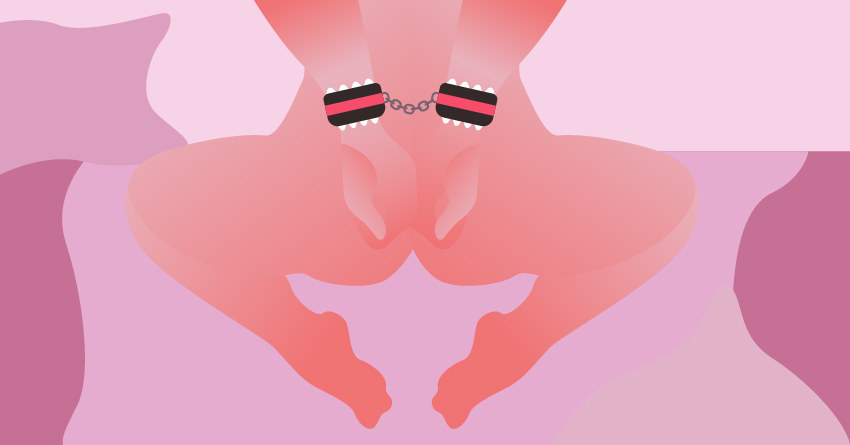 Handcuffs can be made from stainless steel, leather, or fabric. Sometimes they're covered with a softer material to prevent chaffing of the skin. They can also be attached to a chain so that the wearer can only move as far as the chain allows. Tied or worn around the wrists, they're used as restraints and give the wearer a helpless feeling. When wearing stainless-steel handcuffs, you must always know where you hide the key. They can be hard to take off, so keep that in mind.
3

Shackles or Ankle Cuffs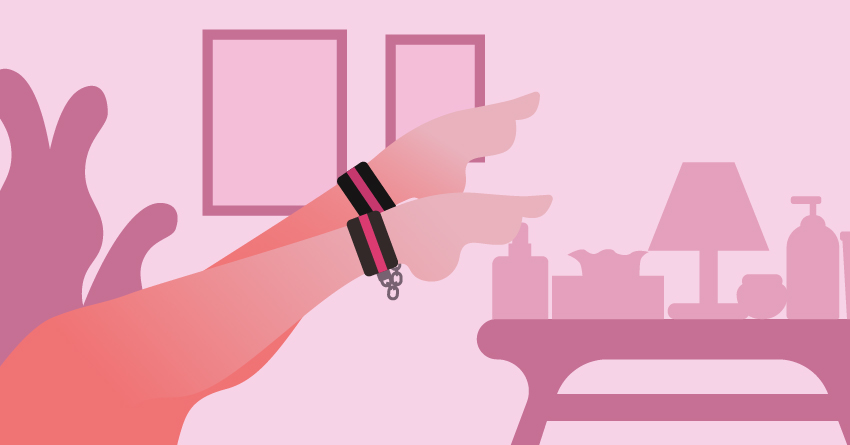 Shackles are usually paired with handcuffs. Made from leather or steel, they're BDSM toys used to restrain the legs. They're worn around the ankles, and just like the handcuffs, some shackles also come with chains. It's tough to get anywhere with these on, so the wearer is completely under the mercy of the dominant.
4

Rope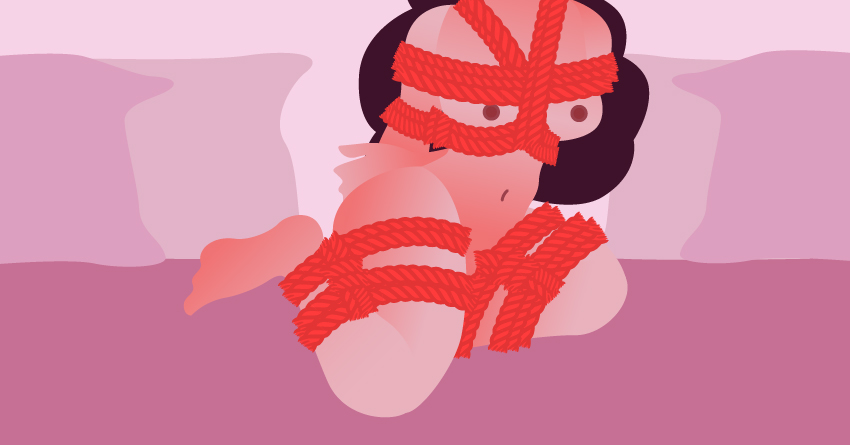 Rope bondage doesn't have to be a simple tying-up practice. For some, it's a form of art. Ropes can be used to tie up the sub's body, making him immobile. You can also use this to suspend him in the air using very elaborate tying techniques. This masterful rope bondage technique is a borrowed skill from the Japanese known as Shibari.
5

Bondage Tape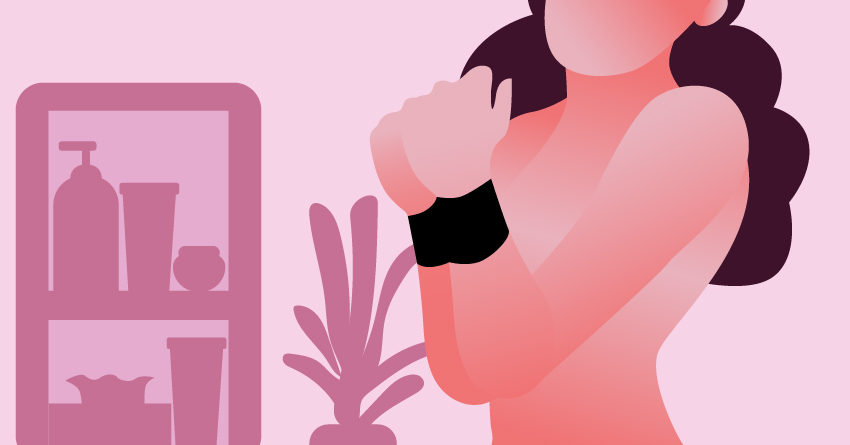 Bondage tapes are specialized tapes that don't stick to anything other than themselves. That way, you don't hurt or irritate the skin or even hair when used. If you're getting a good quality, they're sticky and durable enough to be used as restraints and as a substitute for a mouth gag, handcuffs, and even shackles.
6

Mouth Gag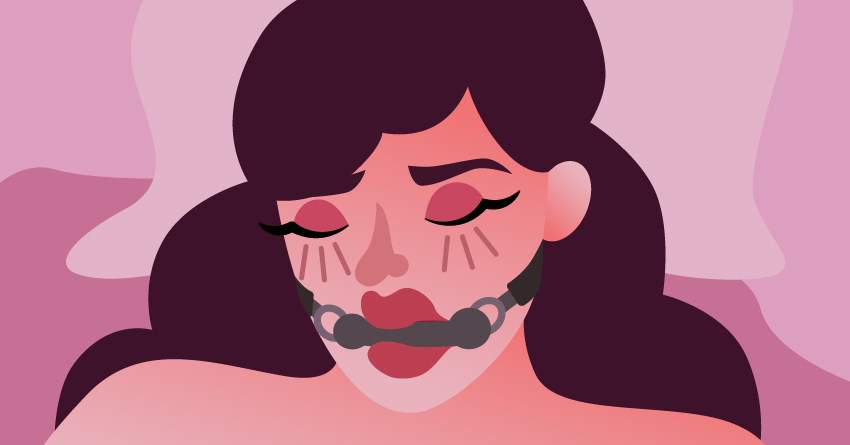 You use a mouth gag to stop the sounds you make when you're getting it hard during a BDSM play scene. With this on, your screams are stifled. Your moans are whimpers, and your saliva is dripping. Since you can't talk properly if you're wearing a mouth gag, it's best to come up with other ways to communicate your safe word. This is to make sure that everything's fine and the sound you're making is a cry of pleasure and pain and not of agony.
7

Collar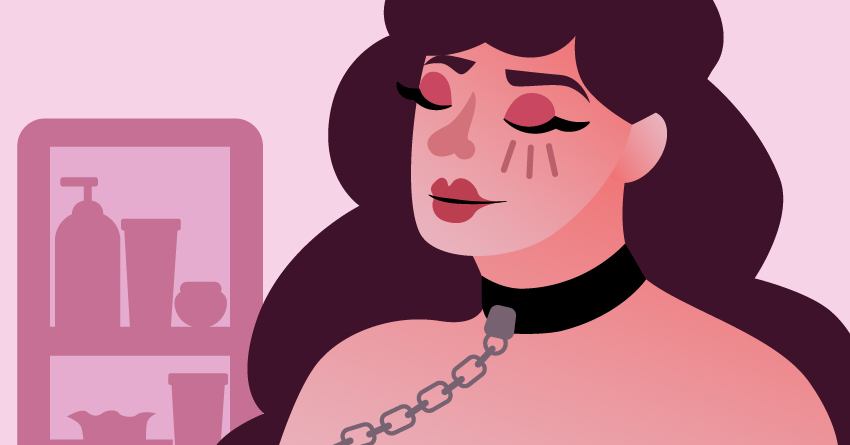 A collar a piece of kinky jewelry that subs wear around the neck as a necklace or a choker. They can be made from thick leather or PVC, are tightly worn, and may also come with a lock. It can symbolize the "ownership" of the "dominance" of the dom over the sub. In BDSM play scenes, the submissive isn't allowed to take off the collar without the dominant's permission. It also looks sexy as fuck too when worn, so that's a plus.
8

Tickler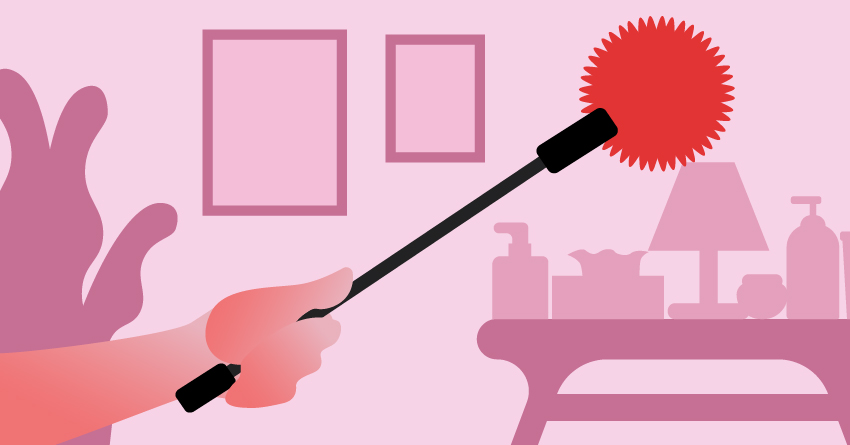 If you and your partner are just starting out with this kink, we suggest getting this first instead of paddles or whips. What's great about this a tickler is that it still provides that punishing feel without inflicting pain to your sub— you're just going to torture them with jolting tickles! You can also use this tool to give intense stings to your love slave, particularly the ticklers with a long handle.
9

Paddle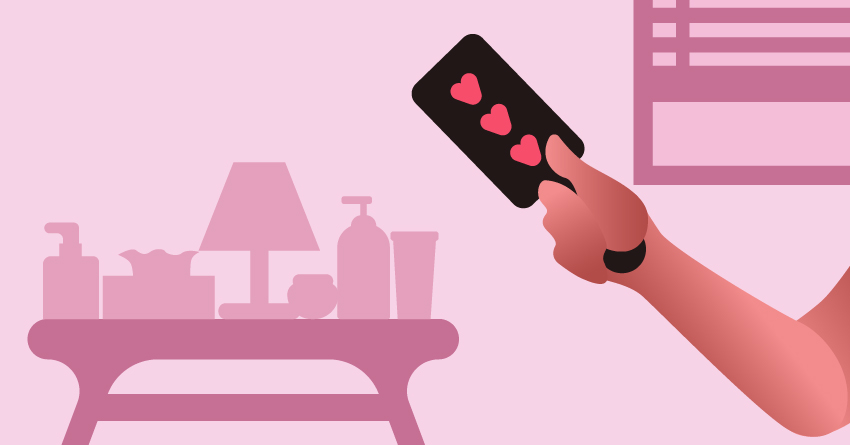 Paddles have flat surfaces that are usually made from leather or wood. It's used for impact play in BDSM. They're great as discipline tools. A dom can punish the sub for "misbehaving" with a light or heavy spanking, depending on whatever intensity they're into. Watch out for the areas you hit, though. Make sure they're safe zones. You might damage nerves that can cause injuries, worse, paralysis, if you're not careful enough. The butt cheeks and thighs are usually considered safe places to hit.
10

Whip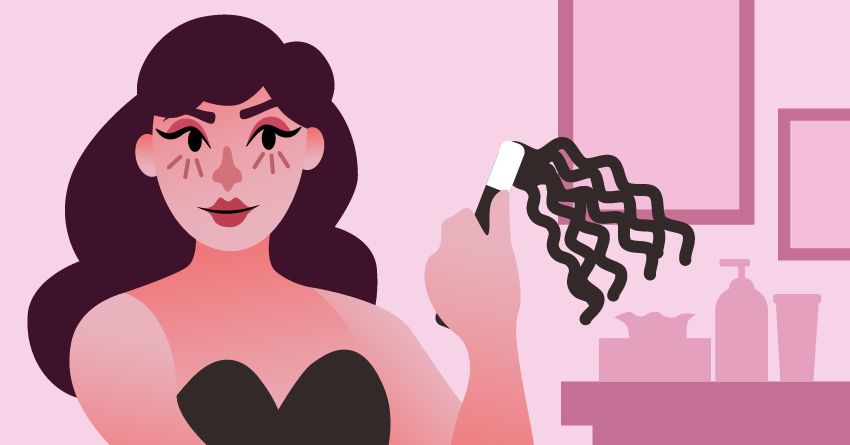 A whip is like a cousin to paddles. It's used to inflict pain and pleasure on the submissive, but unlike paddles, whips are thinner and used in a quick and sure motion. A dom worth his salt knows that if you hit just the right way, it can leave a sting that can excite the nerves in the targeted area. It has a flexible end that whips the exposed skin. Like the paddle, make sure you're only hitting the spots that are protected by layers of fat and muscle.
Frequently Asked Questions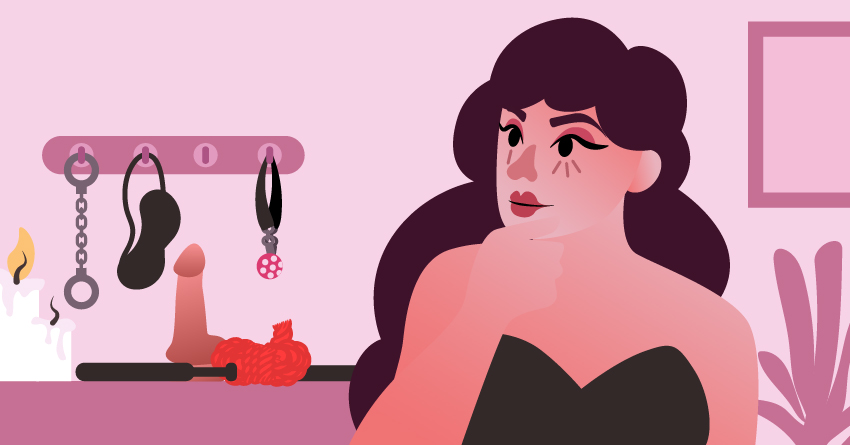 You've learned its true meaning. The misconceptions have been clarified. You've even learned about the basic toys. By this time, you're already equipped with the vital details about this kink.
But if there are still many questions lingering in your mind about BDSM, don't worry, as we will answer some of the frequently asked questions below. You can also send our Dr. Sex a message if your questions about BDSM aren't answered in this section. Read away!
1

What is Consent?

Just like with any healthy kinky activities, consent is needed in BDSM. Things can get out of hand quickly, so it's best to establish that there's an informed, mutual, uncoerced, and revocable permission from both parties involved. Take note of the word revocable, meaning it's totally okay to back out of it if you ever change your mind.

You can do it in Fifty Shades of Grey fashion by signing a contract, or you can do it less formally by way of a verbal agreement. What's important is that the decision made came from a sound, educated, and aware individual.

Consent doesn't just end at the beginning of the act. Active consent is also something to keep in mind. Even when you're in the middle of the BDSM play, you're supposed to ask your partner first before attempting any sexual act. Always listen to your partner, so you know whether they're feeling pleasure or put in serious harm.
2

What is Safeword, and why do we need that?

You can be as wild as you want with your BDSM play scenes, but it's always important to practice safety. Establish a safe word that you can use to communicate if there's any trouble in paradise and you need to stop whatever it is that you're doing. Wear condoms if there's going to be sex involved.

Any physical or psychological pain has to be within the set limits. Always try to minimize the risks of possible unwanted injuries. Avoid any activity that can cause long-term physical and psychological trauma. If you're going to use BDSM toys, do your research and learn how to properly use them.
3

Does BDSM involve sex all the time?

No, BDSM doesn't have to involve sex all the time. It can, but it's not always part of the equation. Here's a fun fact for you. A professional dominatrix—someone who's so good at playing the role of dom and actually gets paid to do it—DOES NOT have sex with the clients, like EVER.

As we've mentioned before, the whole dynamics of BDSM is about control and power play. You don't necessarily have to reach an orgasm to put that into action. Despite it sounding like it's an explosive activity, BDSM can have a therapeutic effect on the person. It's one way to let go of this society's pressure to act a certain way. It lets you explore your limits and realizes your fantasies. And you get to do it in a really erotic way.
4

How do I safely try BDSM?

Always do your own research. While Fifty Shades of Grey may have opened up minds and conversations, it shouldn't be the end-all-be-all of your BDSM information. Read articles on the internet, and join credible forums. If you have a partner, read and talk about what you are both interested in trying in the bedroom, and study up on that. Don't take a dive into the deep end when it comes to BDSM, taking things slow and starting with the simplest kinky activities will protect you and your partner from any potential harm. You can also find people that teach and educate you about BDSM to help you become more familiar with the lifestyle.

Not being in a relationship also is not a hindrance to trying out BDSM. There are clubs and groups that can acquaint you with the lifestyle, just make sure that you are engaging with people that can be trusted. You do not need to engage in anything you do not feel safe doing – that is one of the most important things to remember.
5

My partner is unwilling to try BDSM with me, how can I convince them?

First of all, remember that consent and communication are very important when you engage in sex and sexual activities. If your partner says 'no' to trying BDSM, but you really want to try it out, you can try explaining why you want to explore this sexual kink. Also, ask them why they're uninterested. It may turn out that they aren't unwilling to try because of disinterest, but more because they are scared to hurt you or themselves, or they may have been exposed to a part of BDSM that they do not like. If they still say 'no', then that's really the end of it. Respecting each other's limits is important in the bedroom – and if you can't do that, maybe you and BDSM aren't a good match since knowing and respecting limitations is important in BDSM.
Takeaway
Now that you know what BDSM is all about, it can be a lot to take in. We're giving you time to process all of that. And in case you do decide it's the kink you want to test out, there's no shame in feeling that way. We're all kinky deep inside anyway. Some are just better at hiding it. And if it's not your thing, that's fine too. It's perfectly fine to stay with your vanilla world, and there's no need for you to try out every kink that becomes mainstream.