Massage candles are like that shy, stoic people that have a wild side underneath. At first, they seem unsuspicious, looking just like any regular candle on the décor aisle. But once you light it up, that's when the real magic happens.
Now, some of you might be thinking: what the heck is a massage candle? As the name suggests, a massage candle is a nice addition to foreplay – something you can use to give sensuous massages or teasing drips to your partner. It's light, so you can bring it anywhere for your out-of-town sexcapades. It also comes with different designs and scents that fit with various tastes. Whether you're a full-pledge kinkster, a bondage beginner, or a vanilla baby, you'll surely enjoy using this alluring toy.
Just from that brief glimpse of this toy, we feel that it has sparked your curiosity. Who would have thought that a candle could spice up the bedroom?
Well, every day is a new chance to learn something new, and for today, you will learn about massage candles. With our comprehensive guide, you'll discover the benefits of massage candles, how to use massage candles, as well the essential tips when using it.
But first, let's talk about what a massage candle is and what's special about it.
What is a massage candle?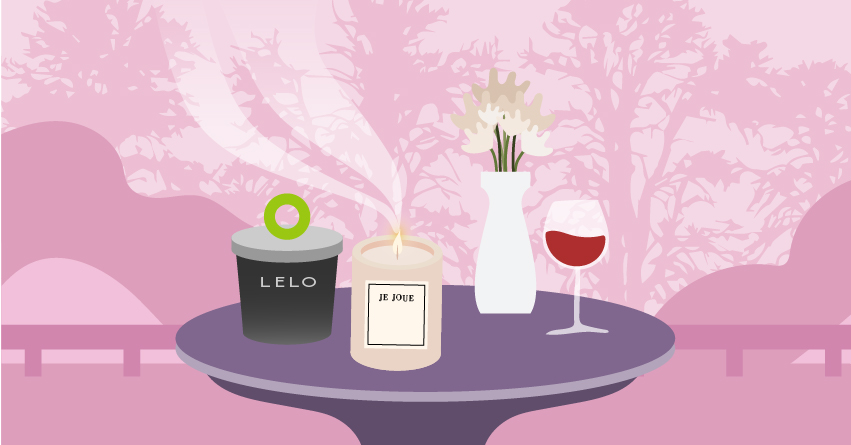 Before explaining what a massage candle is, you need to know about wax play first.
For those who are not familiar with it, this activity involves pouring melted wax on yourself or your partner for sexual pleasure. Seems like a simple kinky act right? However, the effects of this activity back then weren't sexy at all.
Back in the day, doing wax play can bring a lot of mishaps. There are reports of people getting second-degree burns and skin irritations from pouring melted wax onto their skin. As for the others, some have struggled with taking off the wax, injuring their skins in the process.
Thankfully, someone created a solution to combat these risks. An alternative to a regular candle was made for kinky couples – so they wouldn't get burns nor irritations when doing this kinky act. They created wax-play candles and massage candles.
A massage candle is usually made out of soy or shea butter. When you light it up, the candle doesn't turn into a scalding-hot wax, but a warm, heavenly oil that you can pour all over your body. It also has a low melting point and is infused with various aphrodisiac fragrances such as amber, cedar leaf, and lemongrass.
Now that you've learned about what a massage candle is, you're either stoked to try this out or confused as to why would anyone find hot oil sexy. As for the latter, here are some of the benefits one can have when using massage candles.
1

It increases relaxation.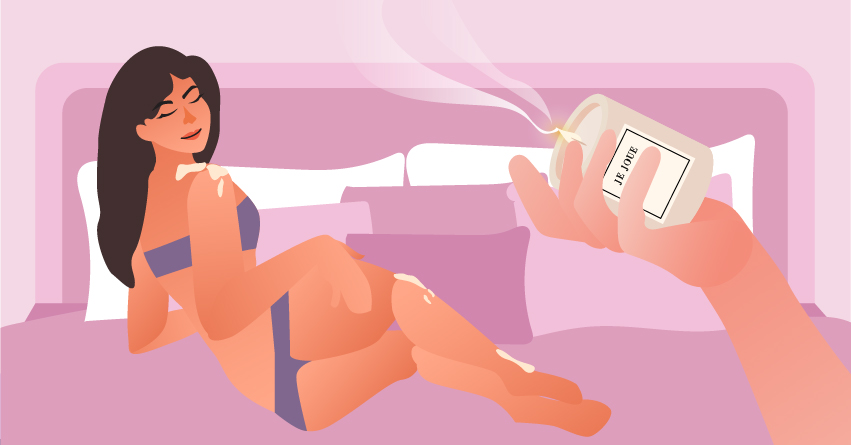 Most massage candles are infused with aromatic scents that can help you ease out the tension. It makes you more relaxed and lets you enjoy the act. The warm oil from the melted candle can also soothes your muscles.
2

Adds another level of sensuality and enjoyment.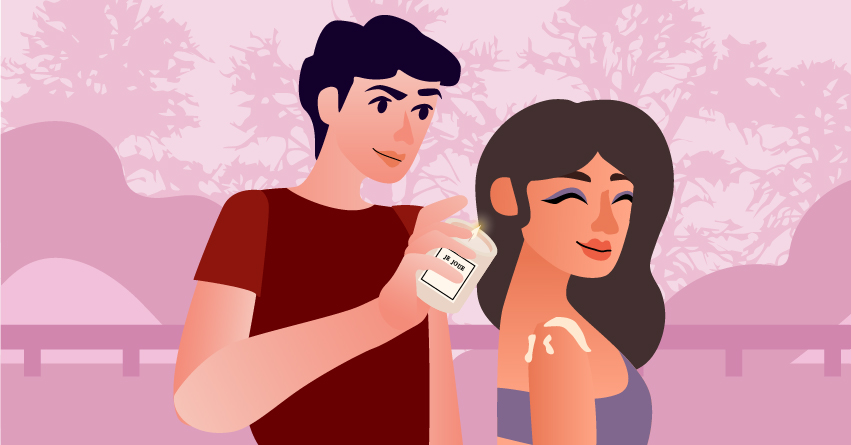 As we've mentioned in our brief storytime above, wax play and temperature play do exist. It makes the act more enticing, especially if you're into other BDSM activities such as bondage play.
3

Engages most of your senses.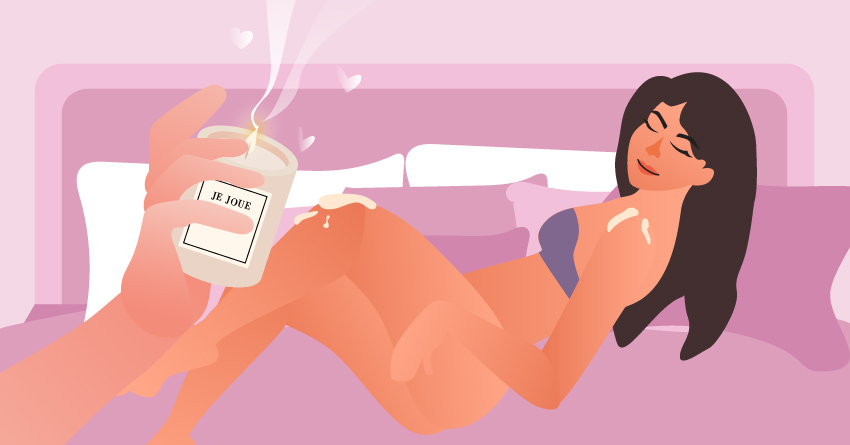 Aside from adding another level of sensuality to your sexytime, using a massage candle teasingly plays with most of your senses. You're enticed just by seeing the enthralling flame. You get relaxed with its heavenly fragrance. Then you feel an arousing sting coming from the hot oil.
4

Features seductive scents that boost arousal.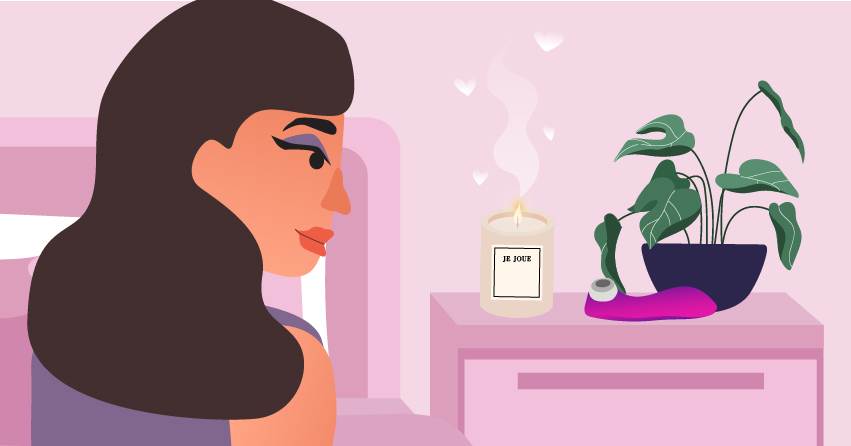 As we mentioned above, most massage candles are infused with various aphrodisiac fragrances, making you and your partner hornier.
5

Hydrates your skin with its rejuvenating ingredients.
For those who are very into #skincare, you're in for a treat! Aside from the oils being gentle on skin, most massage candles have ingredients, such as Vitamin E, that can nourish your skin. What an amazing bonus, amirite?
How to Use Massage Candles
Now that you know the benefits of massage candles, we can sense your excitement. Looks like someone's gonna lit up the bed tonight!
But as you look for massage candles on your local or online sex toy shop, you need to learn how to properly use it first. Knowing how to use massage candles properly is a must to ensure a safe and fun experience. With that, check our quick step-by-step guide below!
1

Prepare the space.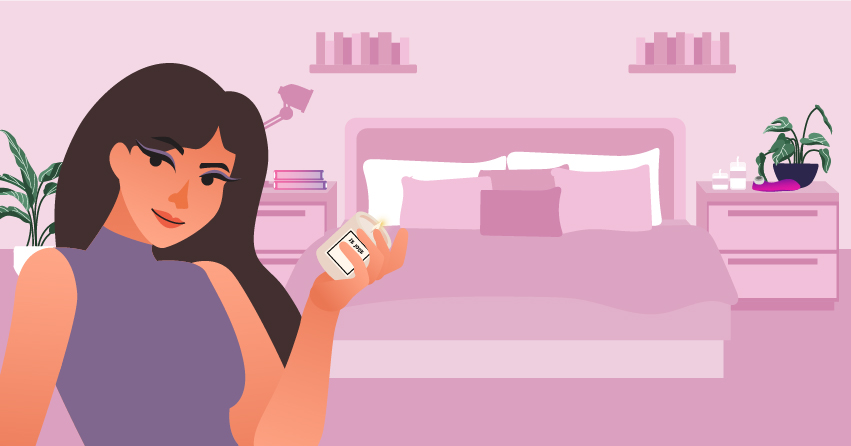 Check your bedroom first. If you have flammable materials around your bedside table or wherever you're going to place the candle on, make sure to clear the stuff up. Remember, you want a steamy and sensual experience—not a fire accident. Also, place it on a stable surface to avoid other unnecessary mishaps.
2

Let the candle burn evenly.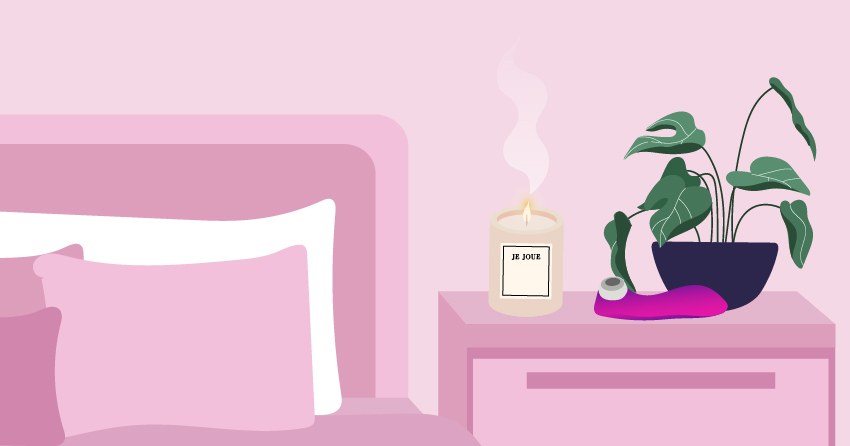 Now that the space is clear, you can start playing. Light it up then let it sit for 20-30 minutes. Yeah, that's quite a long waiting time but by doing this, the wax will evenly melt the edges of the candle's container. Doing this step ensures that the candle will remain usable after the first session.
While you're waiting, you can do some sizzling foreplay. Have a passionate makeout session, engage in enthralling oral sex, or even go kinky with some roleplaying—the possibilities are endless.
3

Blow the flame off before using it.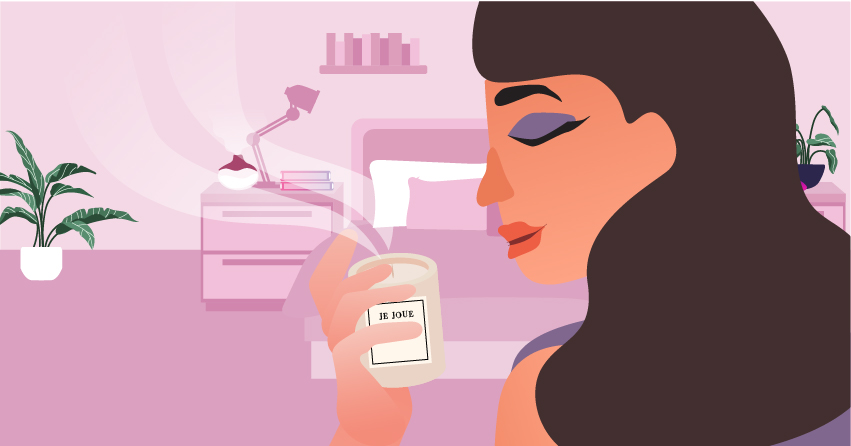 This common-sense okay, but we'll still clarify this: blow the light off before pouring the oil. If you're worried that suddenly the candle will return in its solid form in just a few seconds, don't fret, sweetie. The wax on massage oils will stay liquefied for about 30 minutes.
4

Gently pour it over your partner.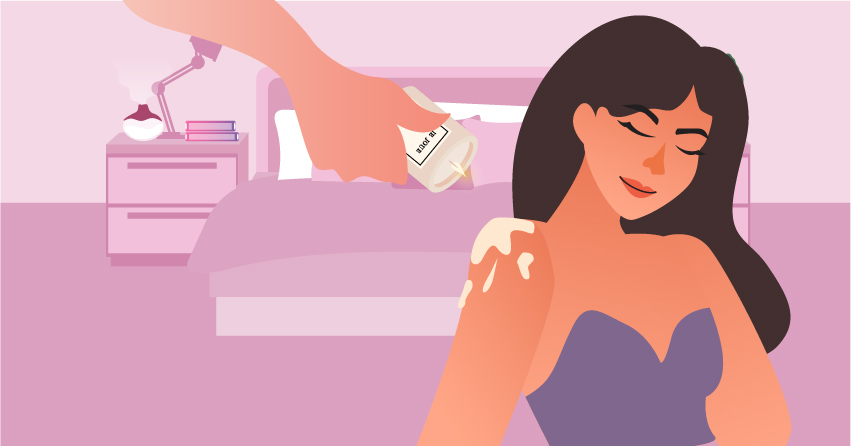 Before pouring the oil to your boo, make sure to test the temperature first for safety. After that, pour it in the ideal spots such as the neck and shoulders. You can also pour it on your partner's back, feet, butt, thighs, legs, and arms. After the teasing drips, you can then proceed on giving your partner some sensuous massages for a steamier experience.
5

Clean up after!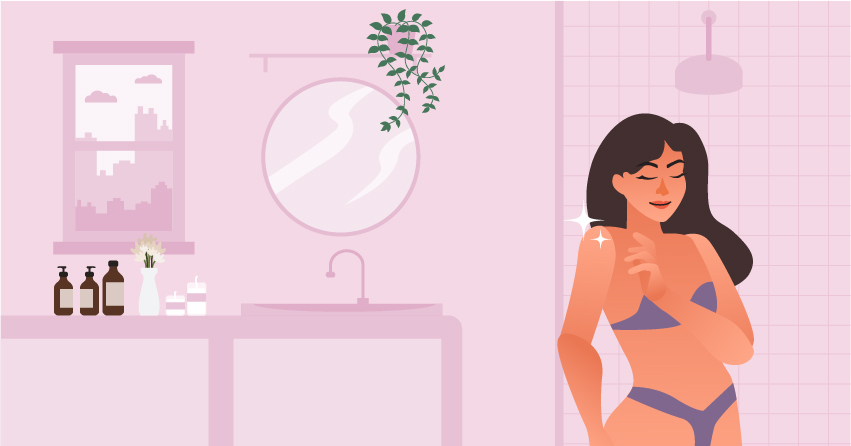 After having a long and heavenly wax play, you can stay oiled up for a few minutes. By doing this, you'll rejuvenate your skin with rich vitamins from the melted massage oil. Then, proceed with washing off the oils with water and some body wash.
Tips Before Using Massage Candles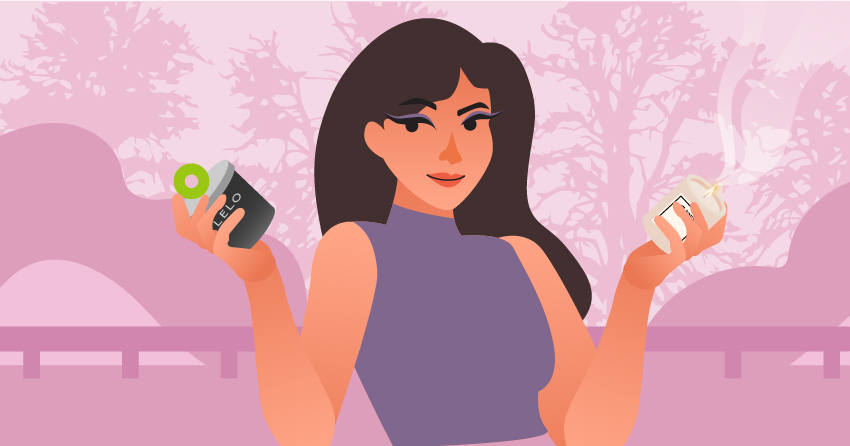 By the time you're reading this part, we feel that you're hella thrilled about this. You've probably messaged your boo about this, or maybe you're already searching online shops for some top-notch massage candles. Whatever your next steps are, chill for a sec!
Before heading out to the nearest sex toy shop or clicking that checkout from your trusted online love toy store, know these tips first.
Don't forget to get your partner's consent. Communication is sexy.
Use a blindfold. Level up your play and add an element of surprise.
Try it with other sex toys! A massage candle will surely go along with BDSM toys, such as restrainers.
Don't use it as a lubricant. Nope. You will only put infections on your genitals by doing so.
Clean, clean, clean! Clean your body before and after the play, then wash your stained sheets afterward.
Frequently Asked Questions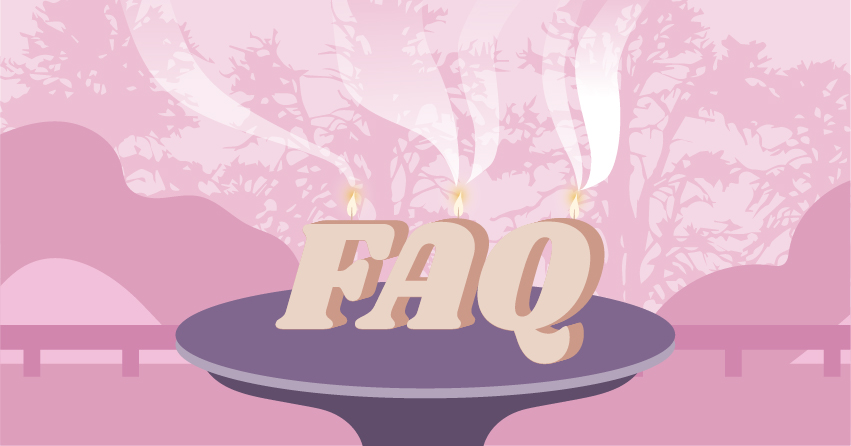 Before we let you go, we know that there are questions that still lingers on your mind. With that, we've answered some of the frequently asked questions about this exquisite love toy.
1

Are bondage candles the same with massage candles?

Since massage candles are used for wax play, most of you are probably thinking that they're the same with bondage candles—but they're not. Bondage candles are made with skin-friendly wax that does turn into melted wax, not oil. This type of candle has a higher melting point and is used for advanced BDSM wax plays. Also, bondage candles are used primarily for wax play and cannot be used for massages.
2

Can I use regular candles for wax play?

Honey, as I've mentioned above, using regular candles will burn and irritate your skin. Don't. Do. It.
3

Should I shave my pubic hair before using massage candles?

Since the melted candle turns into body oils, it's not challenging to get it off from your hair, just a quick shower will do—so no, you don't have to shave. But for the love of your genitals, we highly suggest you don't put the melted oil anywhere near your pussy or penis. #NotALubricant
4

Can I just use a massage candle this as a regular candle?

Yep! Since most massage candles have stunning designs on them, you can use it as a living room décor. You can also light it up to fill the room with soothing fragrances.Just use it as a regular scented candle if you want!
5

Where can I get massage candles?

You can buy it online from trusted love toy shops such as Lauvette. Check out our featured massage candle here.
Light it, Drip It!
Massage candles are beginner-friendly sex toys that will surely heat up the bedroom. They're not as light as ticklers nor as intense as whips—just a well-balanced toy for someone who wants to experience both pain and pleasure.
Now, off you go! As long as you remember our guidelines above, you're all set to send someone in a heated frenzy. Happy dripping!