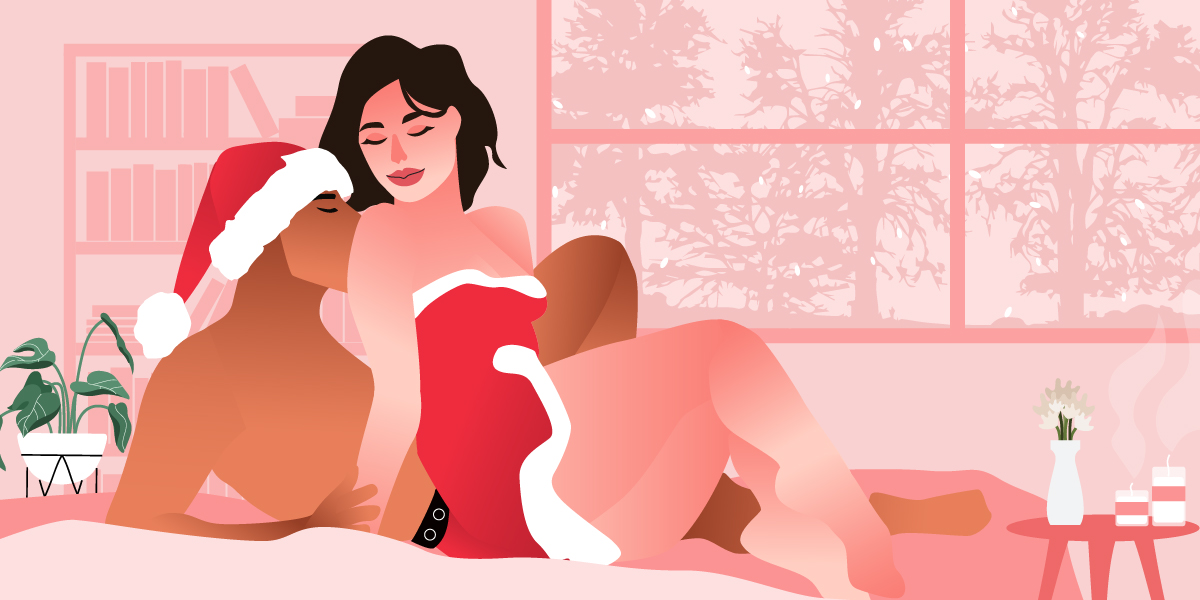 December's right around the corner. This means it's time to unwrap some presents… and your clothes! Keep yourself and your partner in a festive mood with these Christmas sex positions.
These holiday-inspired positions are pretty simple to achieve. All you need is some of your finest lube, a willing partner, and some sex toys in case you want to spice it up. Let's dive right in!
1

Santa's Lap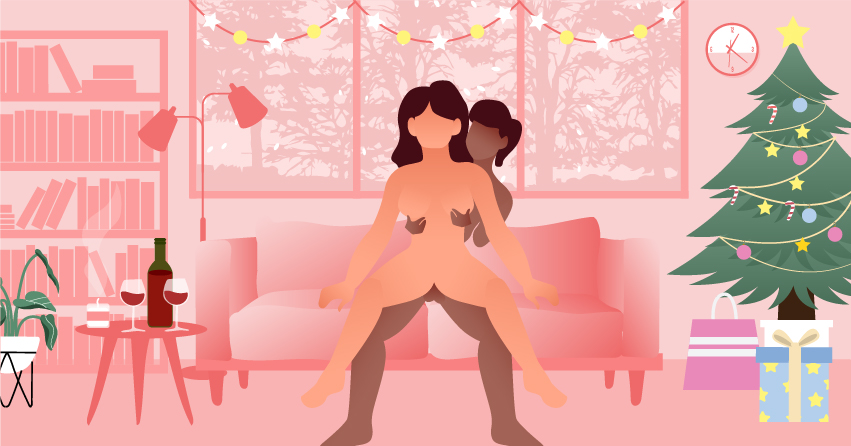 Santa's cumming to town… and so should you. First on the list is the Santa's Lap position, a Christmas-inspired sex position that involves sitting down on your partner's lap– just how would you do with Santa Claus! Whisper your *dirty* wishes to them as they thrust up and down on your body.
How to do it: Have your partner sit down on a comfy sofa or on the bed. Have their legs wide open as you sit on their lap. Guide their penis/strap-on into your vagina/anus and slowly grind onto them while they're still inside you. You can also bounce up and down, just hold on to their thighs or arms for extra support. Now, while doing this, you can look back over your shoulder and see your partner in pure ecstasy, or whisper kinky things to spice things up.
2

Frisky Rudolph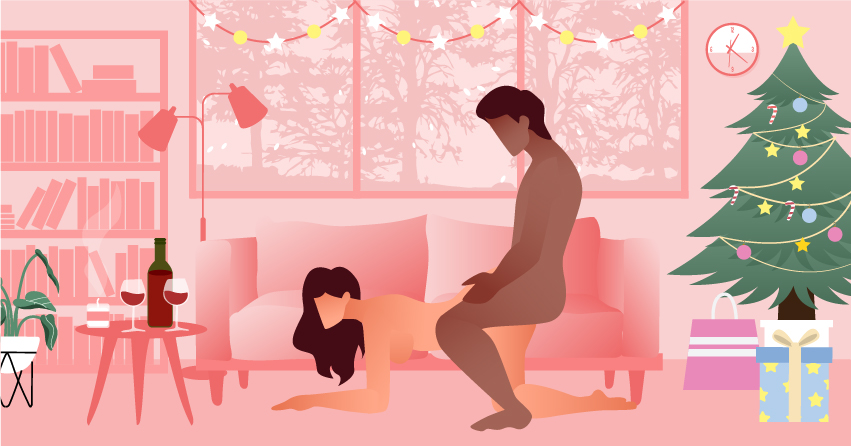 This is one of the easiest Christmas sex positions on the list, as this position is similar to the good 'ol Doggy Style. Now, if you haven't tried to do the doggy, you can also check out this guide first or get yourself a positioning strap for extra support. This also works best if you have some reindeer accessories.
How to do it: Start on all fours position. After that, bring your legs together. Your partner must then position themselves behind you in a slight squatting position. They then must place their feet outside of your legs, then put their hands on your waist or shoulders for support. Once positioned, they can start thrusting in and out of your body.
3

Jingle Balls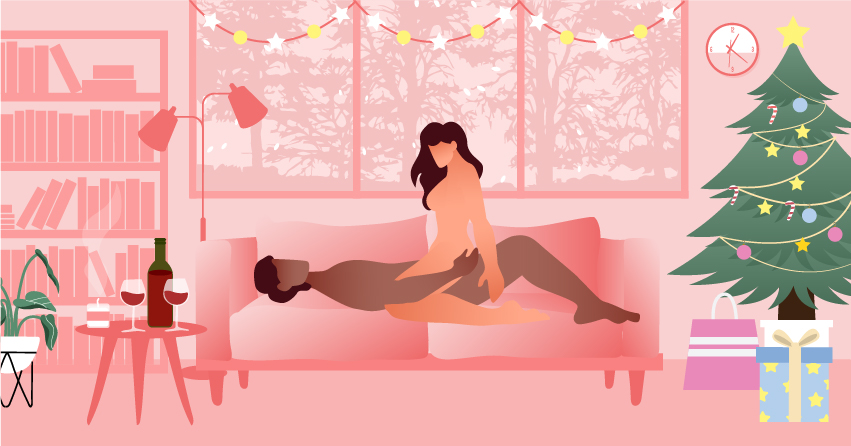 Time to get it all the waaay. This is also one of the Christmas sex positions that's easy to achieve since it's similar to the classic cowgirl. It just comes with a slight variation. Hint: it involves your man's balls!
How to do it: Start by doing the cowgirl position– you basically ask your man to lie on his back while you straddle him on top of him. Guide his penis to your vagina and insert it in. As you bounce up and down to his schlong, put some water-based lube on your hand, and gently massage his balls. You can also use a mini vibrator and run the buzzing vibe on the area for some extra fun.
4

Xxxmas Feast
If you're looking for unconventional Christmas sex positions, you've got to try this one. You only need a sturdy dining table to enjoy your holiday "feast".
How to do it: For starters, face the table and lay your stomach over it while keeping your feet on the ground. Once positioned, your partner can then penetrate you from behind. Enjoy the delicious sensations!
5

Santa's Little Helper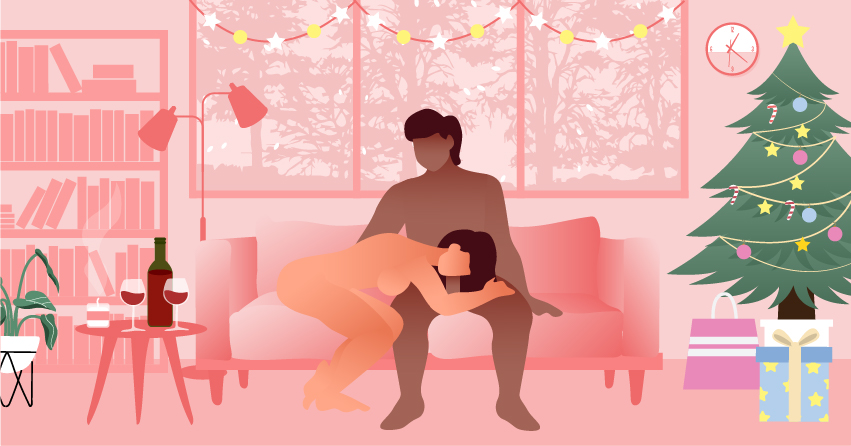 Looking for a blowjob position on this list? You'll surely love Santa's Little Helper. For this position, you will basically imagine you and your Santa is on the sleigh and getting ready to deliver the gifts. And as you go through the ride, you're giving him the best blowjob of his life.
How to do it: This is similar to the Cinema Blow Position. For starters, sit side by side with your man. Massage his crotch from the outside to tease him. Once he's all turned up, unzip his pants and gently pull out his throbbing schlong. After that, give him a slow and sloppy blowjob.
6

Snow Angel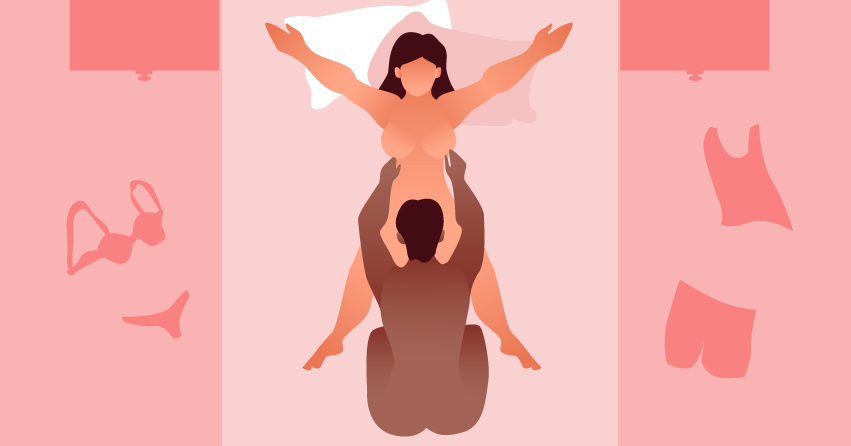 If you're looking for Christmas sex positions that are on the chill side, you'll surely like this one. Unlike the other positions, you're just going to lie down throughout this position.
How to do it: Lie down on the bed with arms and legs stretched. Your partner will then go down on you. To spice things up, your partner can use a dildo, vibrator, clit sucking vibe, or a butt plug.
7

The Stocking Stuffer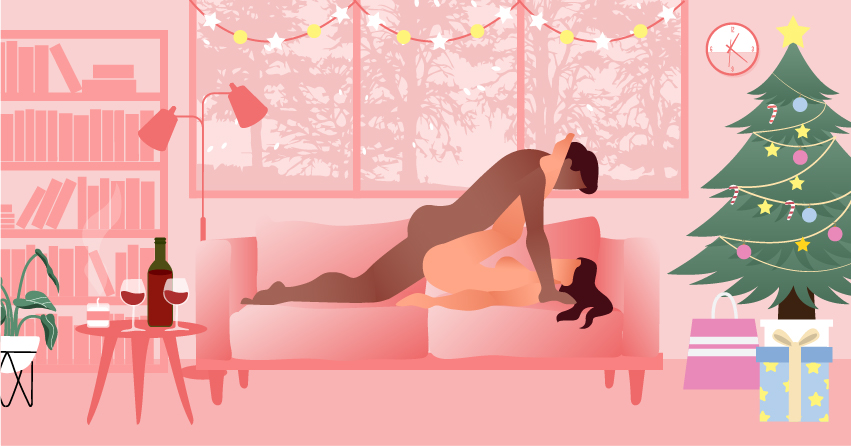 Want to get all filled up this Christmas? Don't miss out on the fun and try this with your boo. It's pretty much the missionary position with a twist. If you also enjoy stimulating your G-Spot, you're in luck as this position can accurately hit that sweet spot.
How to do it: Start by lying on your back. Put your legs together and pull them close to your chest. Your partner will then position themselves on top of you, with his hands resting on either side of your face. After that, rest your calves/ankles on his shoulders, as he penetrates in and out of your body.
8

Secret Kinky Santa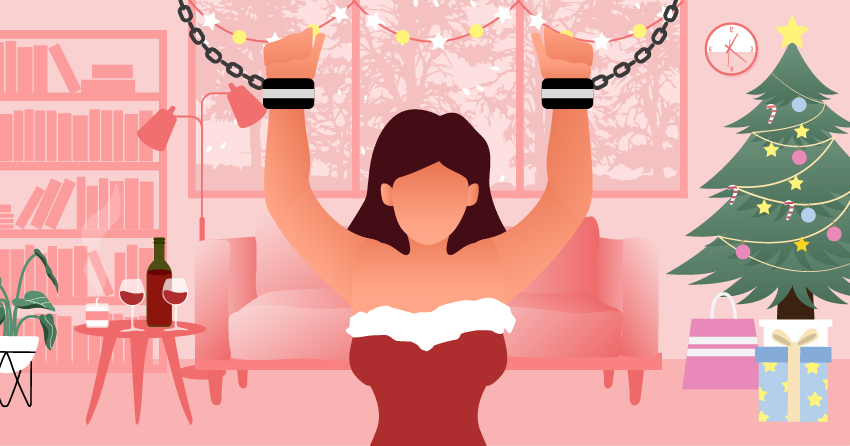 If you're looking for Christmas sex positions with a kinky twist, you'll surely enjoy this position. For starters, you'll need an eye mask and bed restraints. You can also include other types of BDSM toys such as ticklers, whips, paddles, and floggers. We also suggest dressing up for the part (red latex or lace lingerie will do wonders) when doing this position to get the kinky vibe going.
How to do it: Before the play, make sure to establish your boundaries, preferences, and a safe word. You also need to discuss who will be the sub and the dom on the play. Once the terms are agreed upon, you can start doing this position. The submissive must lie down on the bed and have the dominant secure their wrists and ankles on the four corners of the bed.
Once everything's set, the dom must put a blindfold/eye mask on the sub. It's up to the dom on how to tease and pleasure their sub. For starters, the dom can tickle their sub, put some hot or cold items on their body, or spank them with a kinky paddle. They can also use a vibe and run it through all over the sub's body.
9

The Nutcracker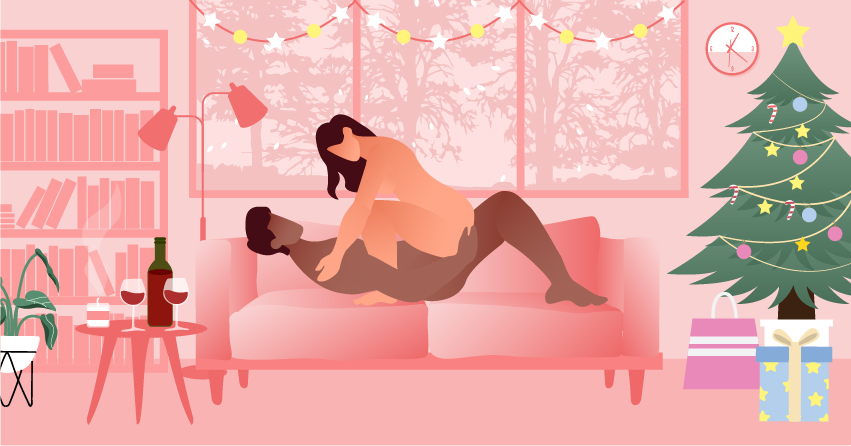 This position will surely make your man nuts. For this one, you only need to vigorously bounce up and down to your man's body. Sounds fun isn't it? Well, only if your partner also likes to do it rough. That's why before doing this position, it's best to ask them if they're into rough sex or if they want a more gentle approach– communication is the key!
How to do it: Have your man lie down on his back, bending his knees and planting his feet on the ground. After that, position yourself on top of him and guide his penis into your vagina. Lean forward, resting your hands on either side of his shoulders.
Once everything's set, start bouncing in and out of his penis. Start with a slow bounce then steadily increase the speed– so fast that your partner can feel his balls jingling. Now, if you can't cum with penetration alone, we suggest using a couple vibrator or a vibrating cock ring– this will stimulate your clit during the deed.
10

Mistletoe Rodeo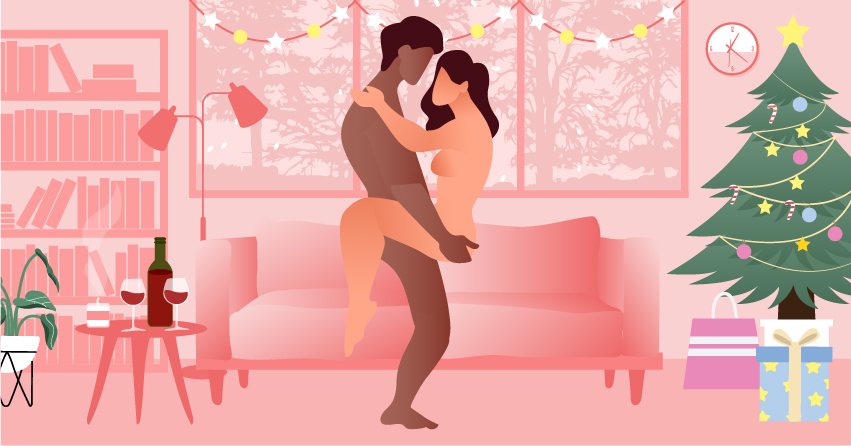 Looking for challenging Christmas sex positions? This is probably the one you're looking for. For this position, instead of kissing under the mistletoe, you're fucking under it. Take note though, this is a standing sex position, so be careful!
How to do it: Start by lying down on your back on a sofa while your partner is standing in front of you. Your partner will then lean over you, put your arms around their neck, and wrap your legs around their waist. They will then hold your waist and slowly lift you up from the couch. Once positioned, they can start thrusting in and out of your body. For easier play, you can use an over the door sex swing for extra support.
11

Sleigh Ride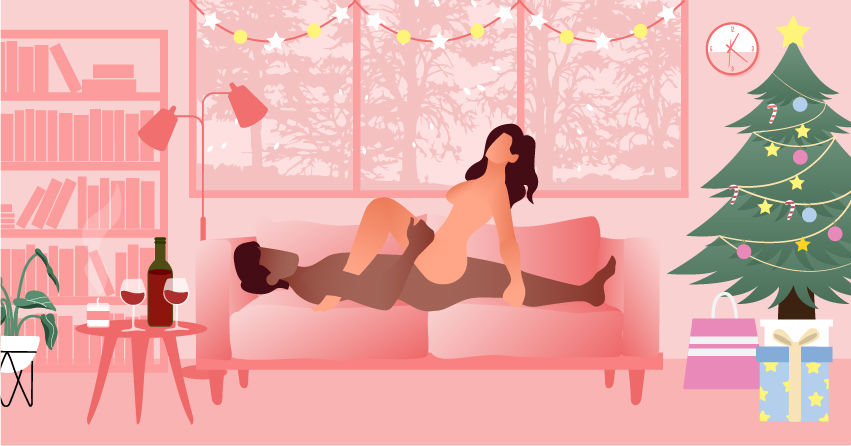 Have yourself a "white" christmas with this sultry position. Now, though this looks pretty easy just by looking at the illustration, there are some extra considerations in this position. You need to ensure that your man has enough penile flexibility as you're going to slightly bend his schlong throughout the deed.
How to do it: For starters, have your partner lie on their back, keeping their legs together. Position yourself on top of him, spread your legs wide, and lean right onto them. Stretch your hands out behind you for support. On the other hand, your partner can hold your knees for extra support. Once you're all set, start grinding and bouncing on his cock.
12

Gift-Wrapped Spooning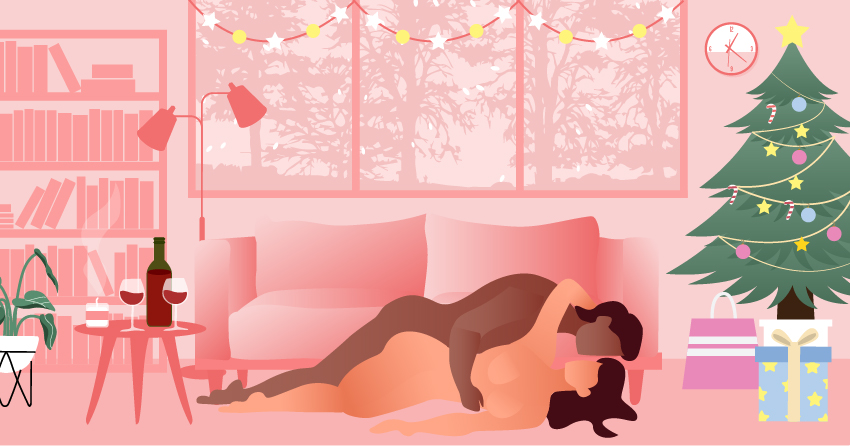 Sometimes, all you want is to snuggle up in your partner's body while watching some Christmas movies. If that's all you want this holiday, then you'll surely love this position. All you need is some blankets, some hot chocolate, and you're good to go!
How to do it: Ask your partner to lie on the bed or sofa, with their body firmly pressed on the backrest/headboard. You then will lie down facing the same direction. Wrap each other with blankets and start getting frisky underneath it. You can cuddle or have sex– your partner only needs to thrust it in from behind.
Takeaway
Get those ho-ho-ho-hooohhhs with these Christmas sex positions. Now, same with any other type of sex positions, make sure to prioritize your safety. Before trying the challenging positions on the list, assess if you and your partner are both capable of doing it. Again, a trip to the ER on Christmas ain't fun.
As for the simpler positions, we highly suggest using sex toys such as vibrators, anal beads, dildos, and nipple clamps to keep the fun going. We also suggest dressing up in holiday-themed costumes– but it's all up to you and your boo. Happy holidays!