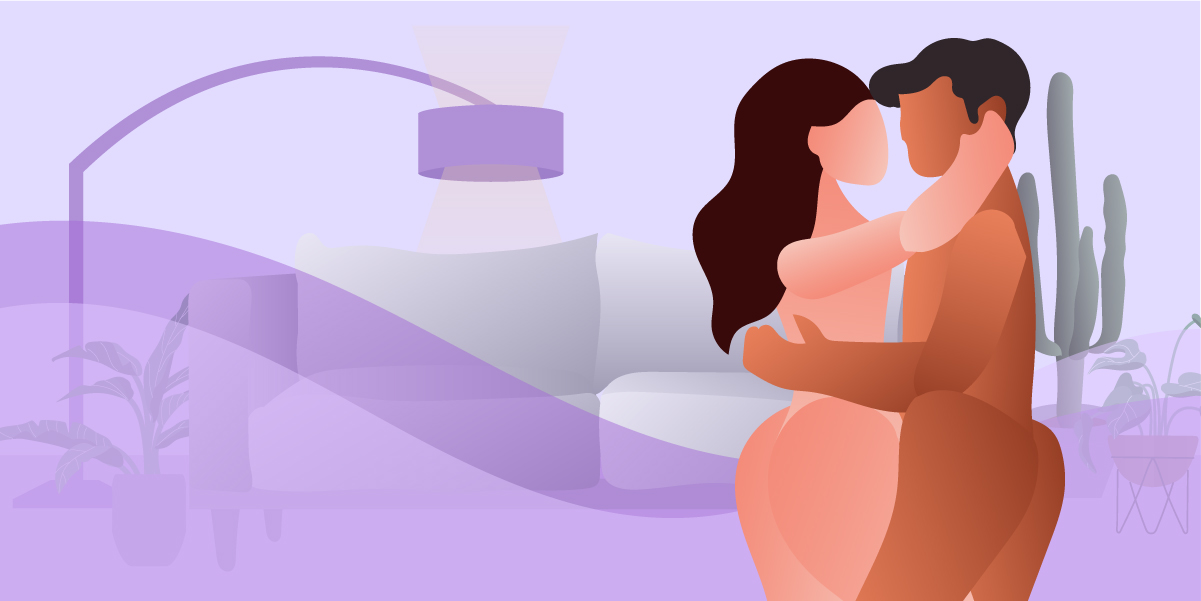 Doing standing sex positions have always been considered as an advanced move. No one's recommending it as much because of various factors– you can easily get tired with it, you're more at risk of injuries, and there's a lot of things to prepare for.
But come on peeps. Sometimes, doing something challenging in the bedroom is worth the shot! Trying various sex positions can benefit your relationship and sex life—you get to spice up your usual routines and connect with your partner on a deeper level (since challenging sexual activities requires full trust).
Also, not all standing sex positions are created equal. There are some positions that you can do even if you don't have some acrobatic capabilities. If you know those positions and how to do them properly, you're all set!
With that, here's a guide on the best 15 standing sex positions to try out with your partner. Just keep some notes as we go along, and you're good to go.
15 Standing Sex Positions
Standing sex positions can be quite tricky, but they are certainly doable! In this list, we'll be detailing the different positions to try and help you get that blissful standing O-vation you and your boo always wanted!
Standing Sex Positions for Oral Sex
Looking for a way to spice up your foreplay? Interested in trying the deed while standing but not ready to do it with penetrative sex? We got you covered. Here are the different standing sex positions when performing or receiving oral sex.
1

Blow & Bounce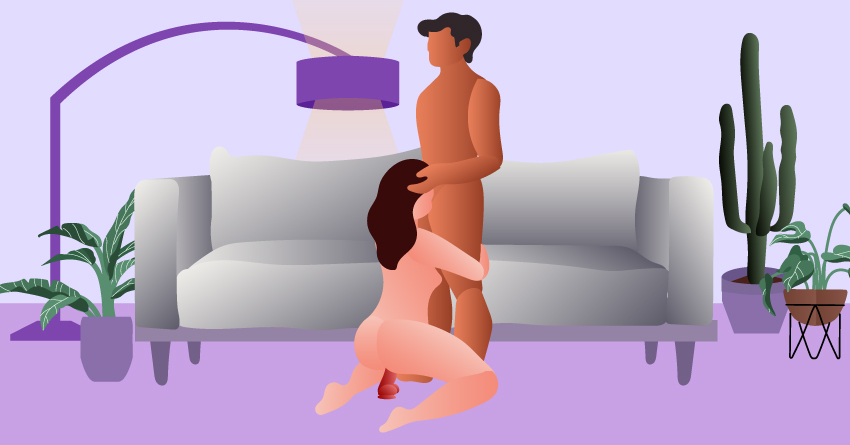 Want to give your man the hottest blowjob ever, but still wanna get pleasured at the same time? Try this position, sweetie. You only need some lube and your favorite suction cup dildo to do this position.
To do this position, start by sticking the suction cup dildo on the floor. Make sure you're putting it on the right surface or else it wouldn't stick that much. Once the dildo is positioned, have your man standing straight, while you kneel in front of him, facing his dick. Make sure the dildo is placed exactly right above your vagina/anus. Once positioned, start sucking the life out of him and thrust yourself in and out of the lubed-up dildo.
2

Backdoor Buffet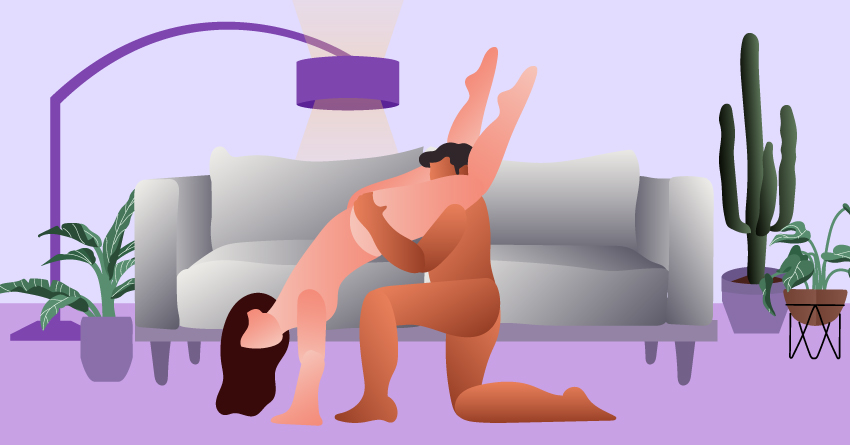 Satisfy your carnal desires with this simple yet alluring position. For the Backdoor buffet, go for the doggy position first. Your partner will then position at the back, standing on one knee and facing her back. After that, have your partner lift you up and put your hips on their shoulders. Once positioned, your partner can start eating you out while your legs are still up in the air.
This is one of the standing sex positions that work best for oral sex since your partner can really put up more pressure while eating you out. However, make sure to practice getting in this position first, as one wrong move can really mess things up—safety should be your priority!
3

Standing 69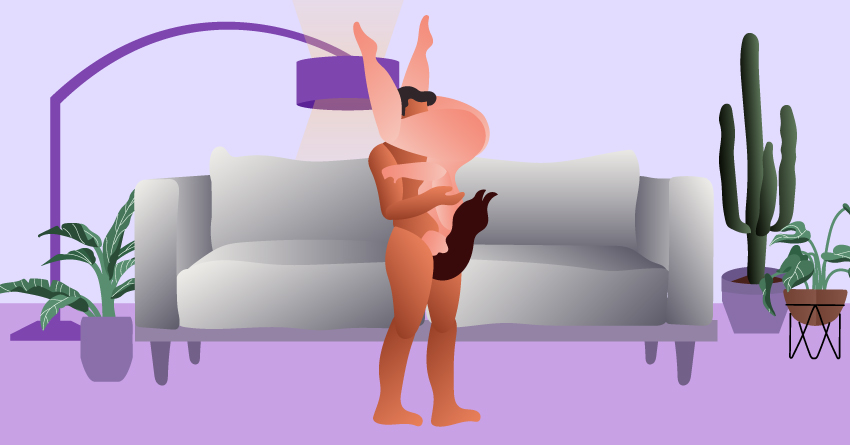 This is one of the most challenging standing sex positions on this list. If you're gonna try this out, make sure to follow the steps to ensure a fuss-free experience. Now, for those who are not so familiar with this position, Standing 69 involves lifting your partner while performing oral sex on each other.
To do this position, have your man like on the side of the bed with his feet on the floor. You then must crawl on top of him, going for the classic 69 position. Once positioned, your man should slowly sit up while grabbing your body. Make sure to place your palms on either side of his thighs and wrap your legs around his head. Your man then needs to wrap his arms around your back, and slowly stand up, lifting you in the process. Once you're in the position, simply grab his thigh (or ass~) and start sucking each other up.
Now, before attempting this position, make sure that you and your man are fit enough to do this acrobatic position. The lifter must have strong core muscles or else, you might be setting yourself up to a disaster.
Standing Sex Positions for Anal/Vaginal Sex
Ready to have penetrative sex while standing up? Spice up your sexy times with these 7 standing sex positions. Take note though that these sex positions are great for novelty and not necessarily for deeper penetration and stimulation. If you want positions that can stimulate you better, we suggest checking out our G-Spot Sex Positions guide.
1

Stand & Carry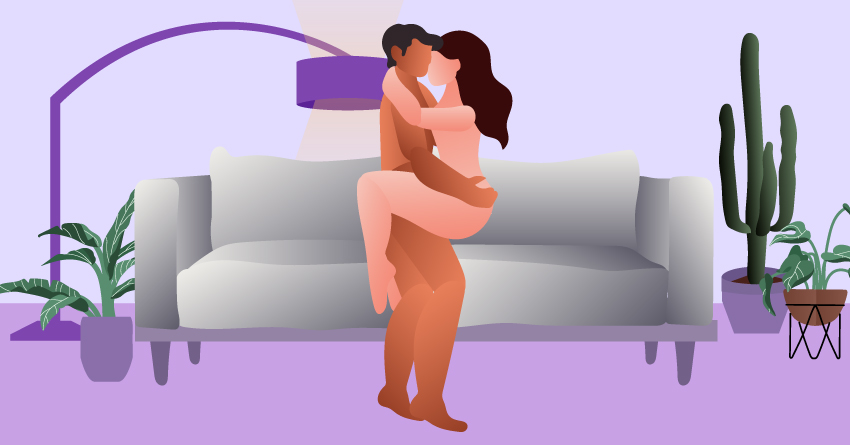 Considered as the OG of standing sex positions, the Stand & Carry involves being penetrated and being lifted at the same time.
To do this position, start by lying down on your back. After that, have your partner lean over you. You then must wrap your arms around the back of their neck and wrap your legs around their waist. Your partner must then put their arms around your waist or butt. After that, your partner must carefully lift you up from the bed.
Once positioned, start thrusting in and out of each other. You can also have a passionate making out sesh during the deed since you're facing each other.
2

The Ballerina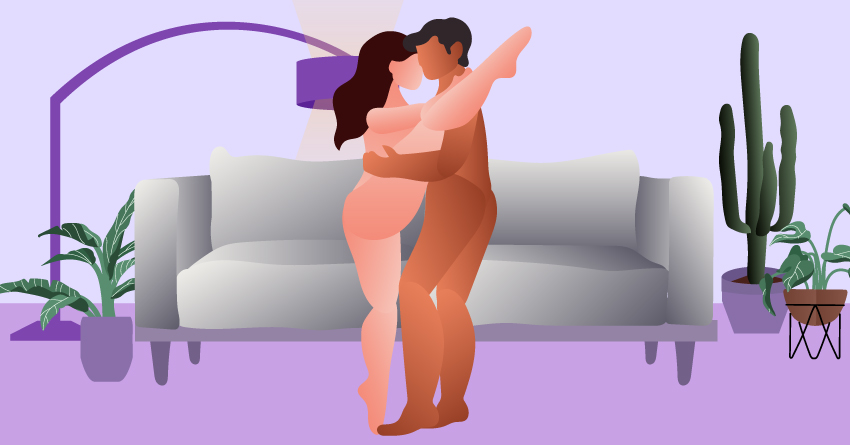 This is one of the standing sex positions that require extra flexibility on your end. Make sure to assess first if you can pull this off. No need to pressure yourself, dear, as there are tons of standing sex positions that you can try on this list.
To do this alluring position, start by facing each other while standing. You then lean closer to your partner and raise your one leg upwards until you are resting it on your partner's shoulder. Use your other leg as support and to balance yourself. Once positioned, let your partner take the reins, grabbing your waist/butt as he thrusts in and out of your body.
3

Slow Dance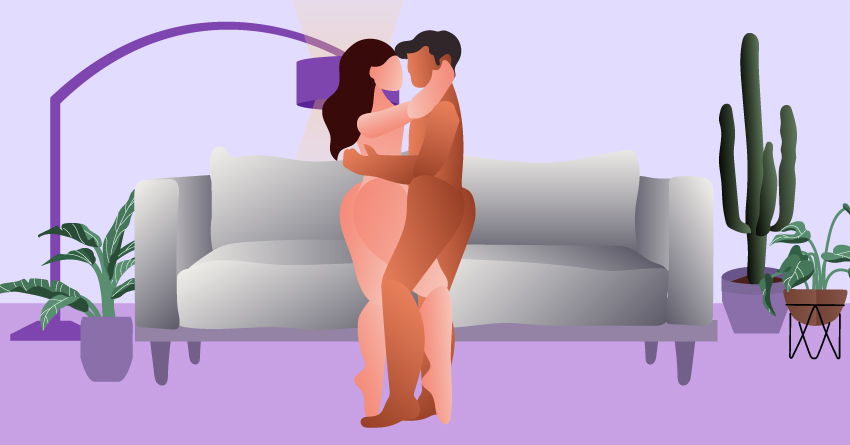 Sensual and romantic—this is what best describes the Slow Dance position. It's one of the easiest standing sex positions on the list. However, it requires some considerations as you can't successfully pull this off if there's a big height difference between you and your partner.
To do this position, start by facing each other while standing. Depending on your partner's height, they need to bend their knees and get a little lower to enter you. Open your legs a bit to ease your partner's entry. Wrap your arms around each other as your partner thrusts in and out of your body.
4

Dancing Queen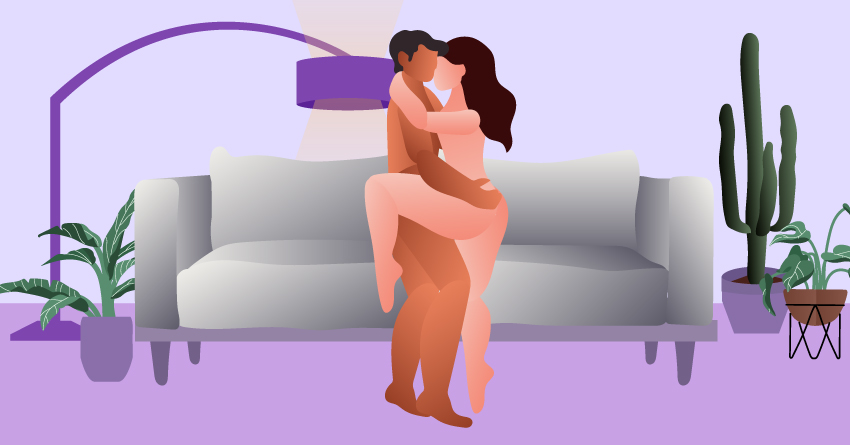 For those who wanted to try out the Ballerina position but aren't flexible enough, fret no more. The Dancing Queen is an easier version of the Ballerina. It's also one of the easiest standing sex positions on the list, so make sure to add this on your sexy to-do list.
For this position, start by facing each other while standing. Lift one of your legs and have your partner hold it as their side. Let your partner take the reins and thrusts in and out of your body. For extra support, make sure to wrap your arms around his neck or shoulders.
5

Bend Over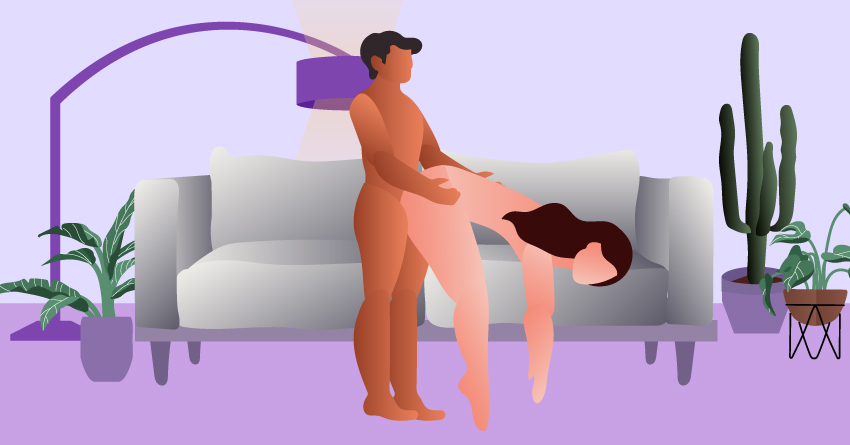 Become your partner's willing captive with this doggy-inspired position. It's also one of the easiest standing sex positions on this guide, so make sure to try this one out, hun.
To perform this position, start by standing together, facing away from each other, with your partner behind you. After that, bend over, touching the ground with your hands or your knees. Once positioned, your partner can then grab your booty and enter you from behind. To make this more thrilling, we suggest putting restraints on your hands. You can also use a doggy-style position strap for extra support.
6

Standing Missionary
This position is one of the hardest standing sex positions on the list, so be extra careful with this one. To perform the Standing Missionary, take note that the lifter should be strong enough to hold on to this position for a few minutes. We also suggest doing this position on the side of your bed, so there's a cushion to fall over if things get messy.
Start by lying on your back, with your butt on the edge of the bed. Your partner should then lean over and put your legs on their shoulders. After that, grab your partner's shoulders while your partner grabs your butt. Your partner will then carefully lift you up and start thrusting in.
7

The Titanic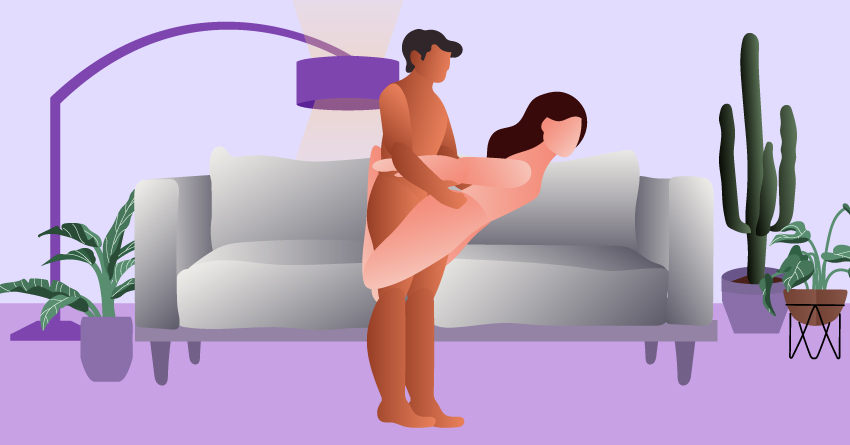 If you and your partner are both athletic enough, maybe you can pull this position off. For this fun standing position, start by lying on your stomach, with your butt on the edge of the bed. Your partner must then grab your waist and carefully lift you up. Bend and wrap your legs around his bum, then grab his waist for extra support. Once positioned, you can then start playing ala Jack & Rose.
8

Wheelbarrow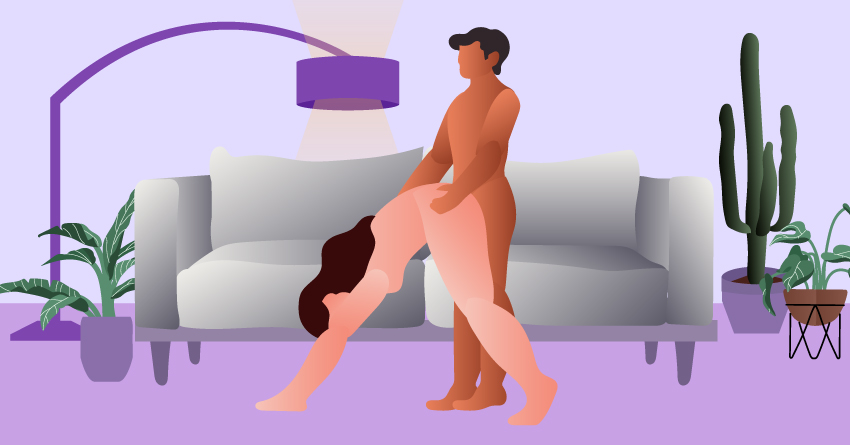 This position allows for highly deep penetration that's favorable to your G-spot, plus it allows you to get an arm work out as you receive some deep pumping from your lover. This angle allows for super-deep penetration in a way that's favorable to your G-spot.
9

Standing Doggy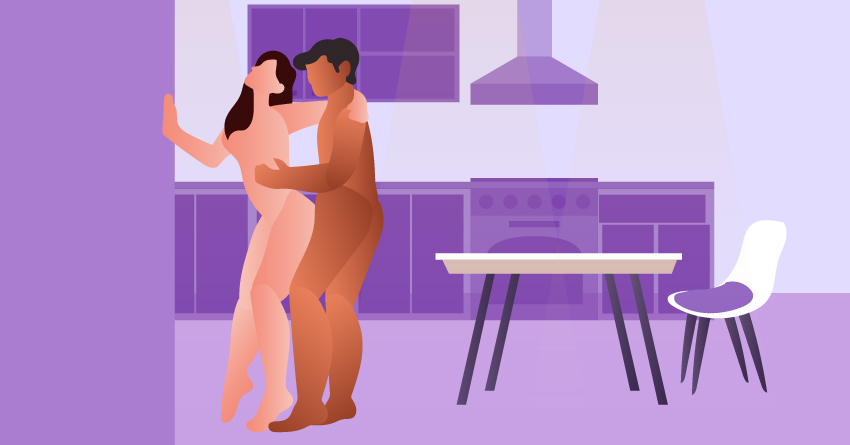 Similar to bending over, this standing position isn't as intimidating as others. It's the wall that makes an absolute difference, so you want to incorporate it and make it your complete support system. As you face the wall, and use it for support, have your partner, who's facing in the same direction, penetrate you from behind.
10

Couch Surfer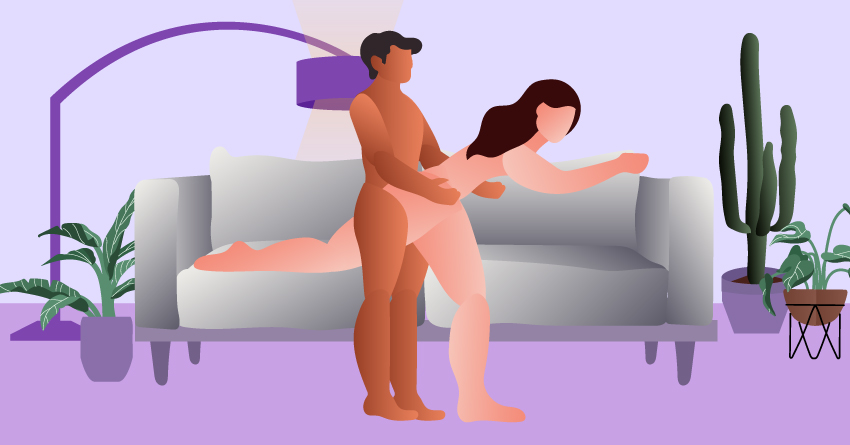 With the bottom's behind raised by the couch's armrest, their butt is comfortably tilted upward, allowing deeper penetration. It's similar to using a sex pillow or another piece of sex furniture, except you don't have to buy anything. The couch can be a great way to make you both comfortable and not exert much effort in balancing.
11

Apex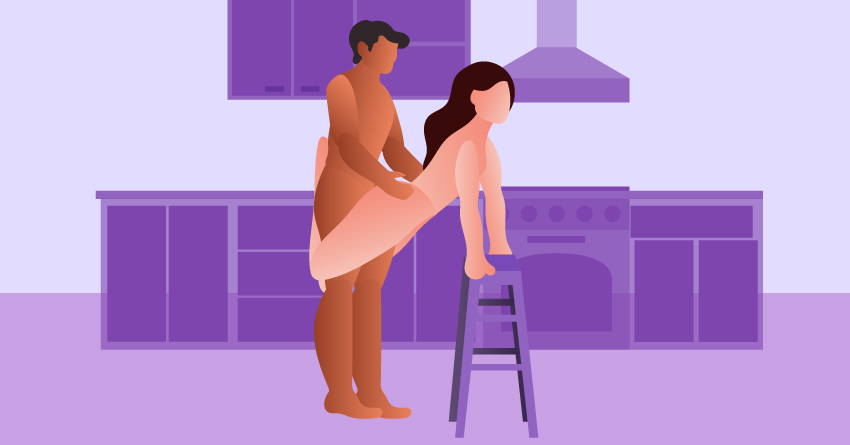 A position like this can encourage a couple to be naughtier, perhaps even tapping new sensations that aren't always explored. To do the Apex position, you will need a ladder, stool, or any other stable furniture to put your hands on. You, the receiver, will place your hands in front of the stool. You outstretch your arms and place the palms on its seat to support yourself. Your partner stands behind you, and he takes you by the pelvis with his hands and lifts you to the same level as his penis. You wrap his hips with your legs, and you press your feet against his buttocks. He slightly bends his legs at the knees and drives them apart.
12

Wild Pony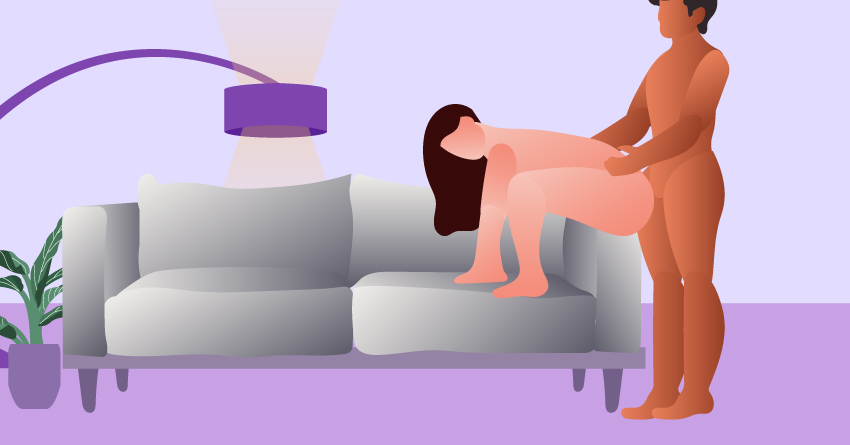 Unleash the wild animal inside you with this position! In doing the wild pony, you, the woman, stand at the edge of the table, outstretching your arms. You place your palms on the tabletop to stabilize your body and throw one of your legs bent at the knee on the table. Your second leg is on the floor, slightly lifted on the toes. Your partner stands behind you, spreading his legs wide apart, puts his hands on your bum, and leans his upper body back, and enters you from behind.
Tips When Doing Standing Sex Positions
Now that you've learned the best standing sex positions in the sexverse, we can feel the excitement radiating through the screen. But before asking your partner to try these positions, we suggest checking the following tips below to ensure a safe and fun experience.
1

Assess yourself before trying standing sex positions.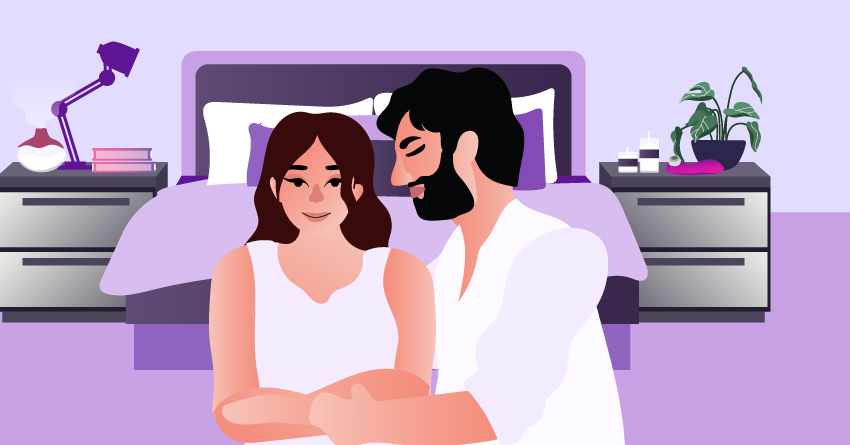 Before trying any standing sex position on this list, make sure to check if you can do it. Certain factors such as body weight, height, stamina, and flexibility play a huge role. To ensure each other's safety, pick the easiest positions first before trying out the advanced ones.
2

Try standing foreplay.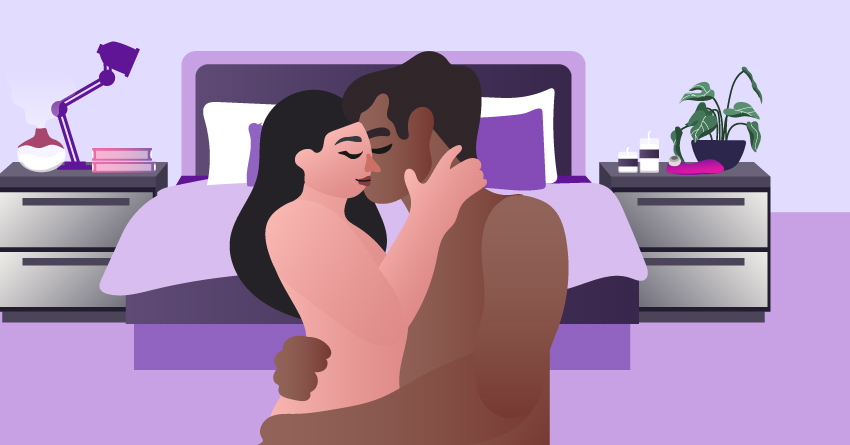 Remember that penetration doesn't have to be the main event during sex. If both of you are not in quickie mode, slow the action down a bit so that you can milk the amped-up intimacy that comes with being face to face. Explore your partner's body with your hands and mouth. While your partner stands, use your hands to caress their hips, shoulders, face, belly, and genital areas.
3

Try beginner-friendly positions first.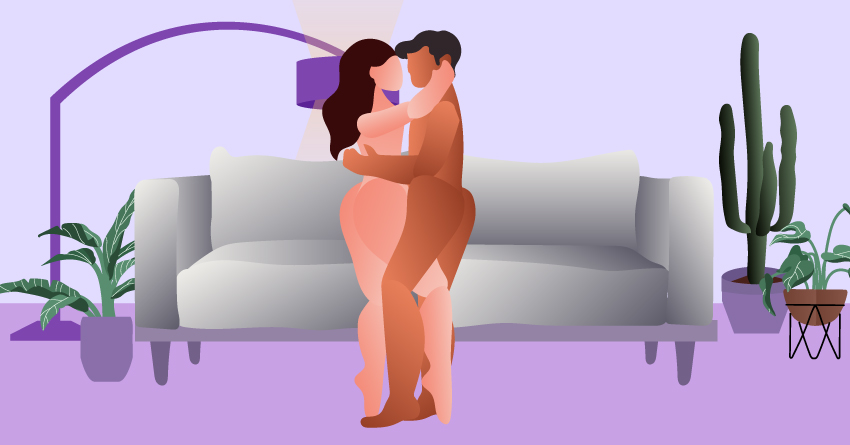 Try a position that doesn't require mega balance and strength. One option: Get into positions that let you lean on a sturdy surface like the standing doggy and let your partner enter you from behind. This position doesn't give you the eye contact of real standing sex, but it will surely help you adjust to getting frisky off the bed.
From simple leaning positions like that, you can work up to propping your elbows on the edge of the bed (facing toward your partner or away, for doggy style). Once you've adjusted your body, you can advance to more complex moves such as standing with one knee with your partner behind or in front of you.
4

Maximize the area.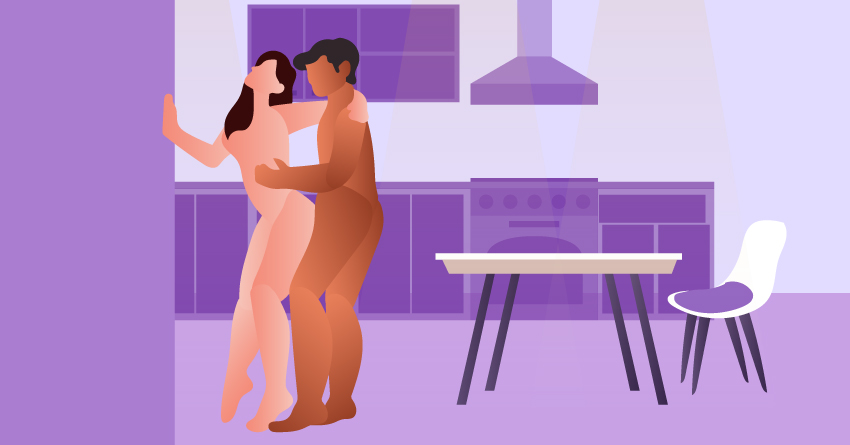 If you have tables and counters in your room, use it to your advantage. You can use these spots for support, just lean over the spot and rest your booty in there. Walls can also be your best friend when doing these standing sex positions as they are perfect for leaning on during front-to-back or face-to-face sex.
5

Take it slow.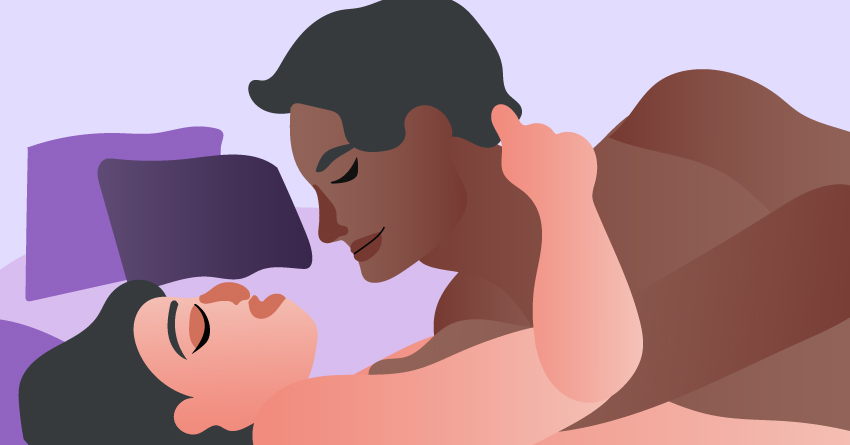 Ultimately, the best sex isn't just about getting that climactic O but also about getting more intimate with your partner. Take the time to arouse each other and make sure you're well lubricated before doing any penetration. If you find yourself getting dry in the middle of foreplay or sex, apply water-based lube to help you get a better groove. As awkward as slowing down may seem in the moment, there's no better way to do that than by having a few flops in the bedroom. Plus, aside from some intimate memories, they'll also lead to some extra-hot do-overs. Who wouldn't want to stand up for that?
6

Try sex swings!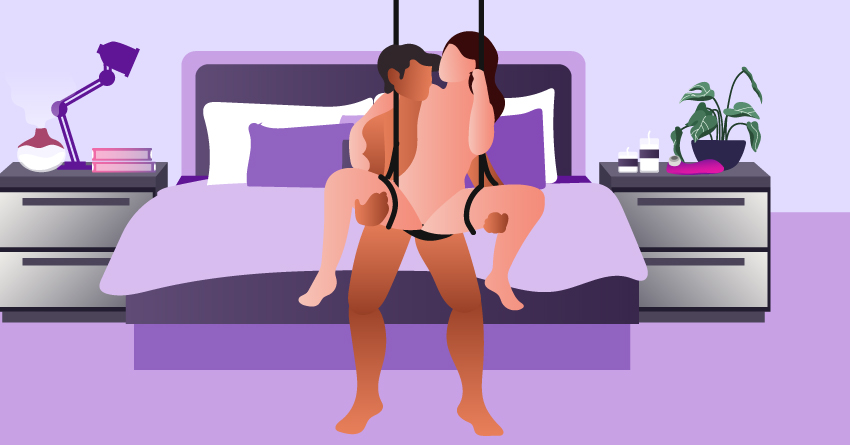 If you want to try these standing sex positions without getting tired for just 3 minutes, this is a must! A sex swing is a device that can elevate you and/or your partner from the ground. It usually comes in various forms—some are attached to doors, some are attached to the ceilings, and some variants come with its own stand.
7

Make up for height gaps if there are any.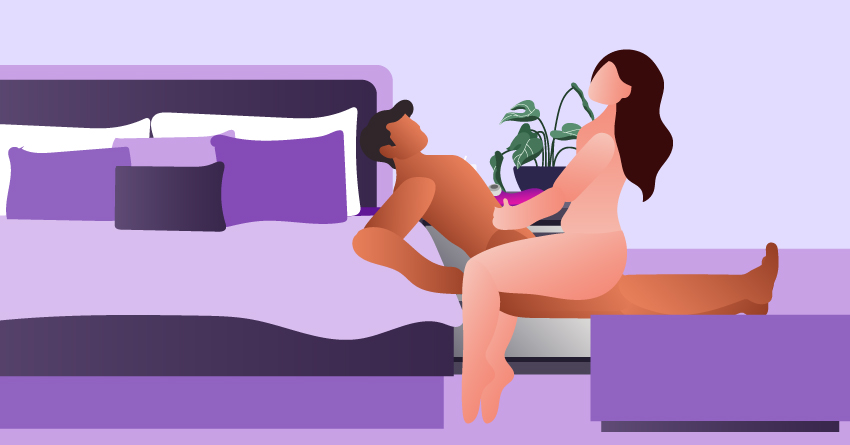 Find simple ways to make up for it if there is a height difference between you two that makes things more challenging. Try standing on a step of a staircase or prop a sturdy ottoman up against a wall that you can lean on. We also suggest you try sitting on top of a table or desk that puts your pelvis at the same height as your partner's and pretzel your legs around their hips. Whenever either of you needs a break from fighting gravity, slide back to rest onto the furniture, and repeat.
8

Shift your weight for better stability.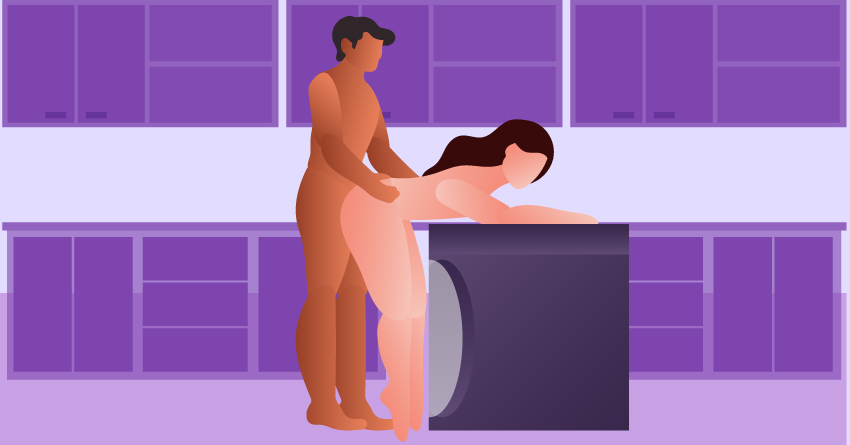 During the deed, make sure to leverage your body weight. Don't push all your weight on your partner—that's just a recipe for a disaster. Even if you're the one being lifted, you need to lift yourself up by leaning your body against a counter or wall.
9

Try standing sex in the shower.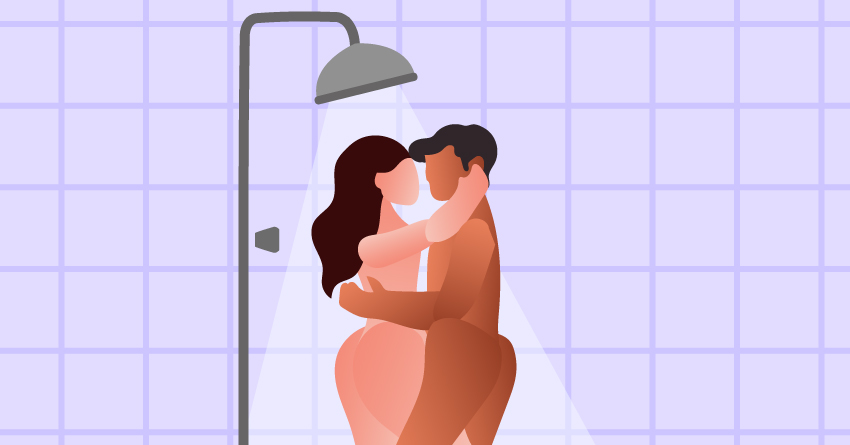 Shower sex can be excellent for standing sex since you're surrounded by things you can grasp onto if needed, but it can also be a bit dangerous, especially if you're drunk or just not fully aware of your surroundings. So, stay sharp when trying standing sex in the shower to be fully present at the moment and avoid accidents.
Experiment with moves like bending over and leaning on the wall, which offers some stability. Bend forward and hold onto one of the shower rails while your partner penetrates you from behind. Place your one foot on something like a suction footrest to deepen the sensation. Your partner can grip the wall or, ooh, your body.
10

Finish the deed in a comfier position.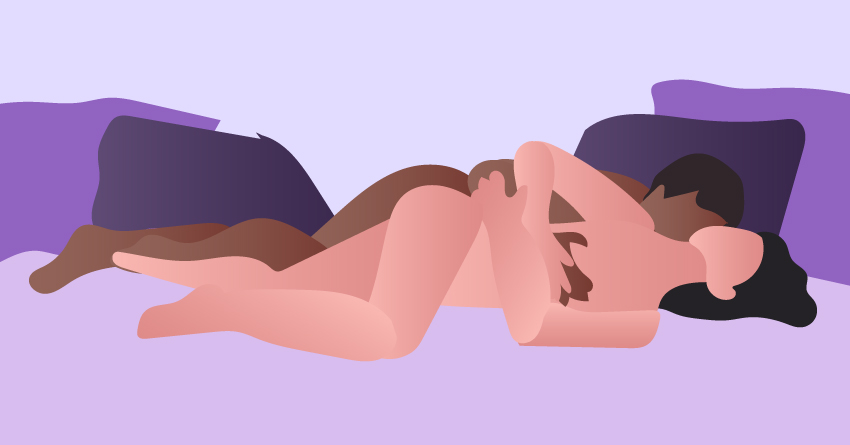 As we've mentioned above, standing sex positions are more of a novelty. We suggest going for standing positions for a few minutes, then move to comfier positions for better stimulation. Pleasure and comfort should be your focus when having sex, so don't feel pressured to finish the deed while standing up.
Takeaway
If you want to spice the bedroom, thinking outside of the box is a must. You shouldn't be confined to the basic positions and try out the challenging ones too, such as the standing sex positions on this list. Just make sure to communicate properly with your partner, practice out the positions, and prepare all the needed props (such as sex swings and position straps). Good luck!