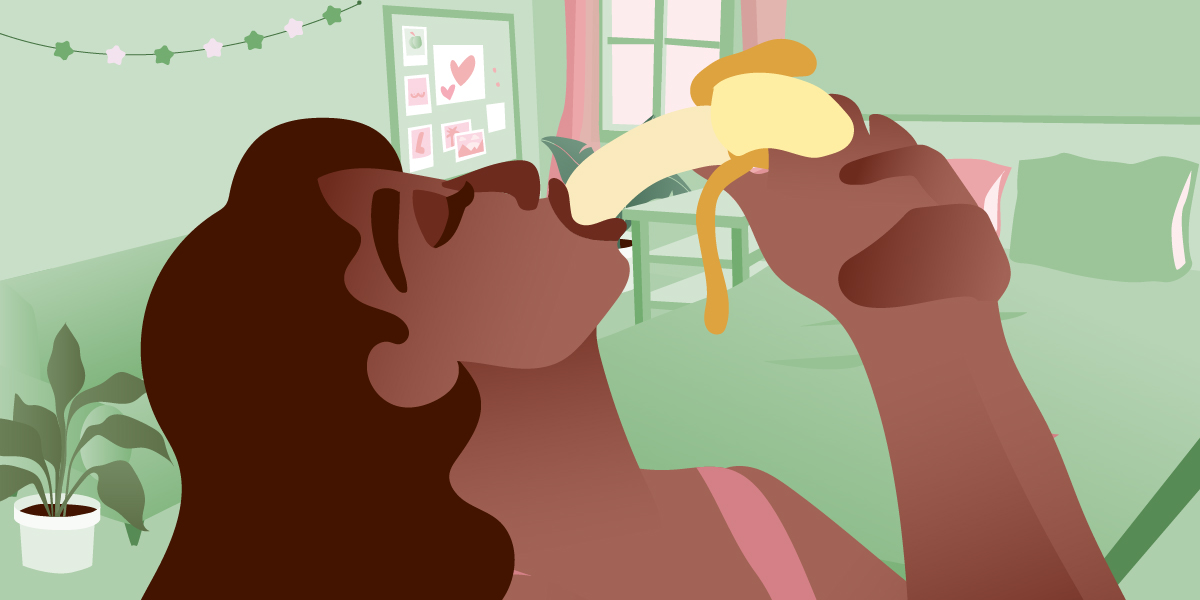 If you think you're now in the stage of wanting to learn how to deep throat and level up your fellatio skills, then this article might be for you. Surprise your man with a brand new skill and enter the world of deep throating.
Deep throat – what is it really?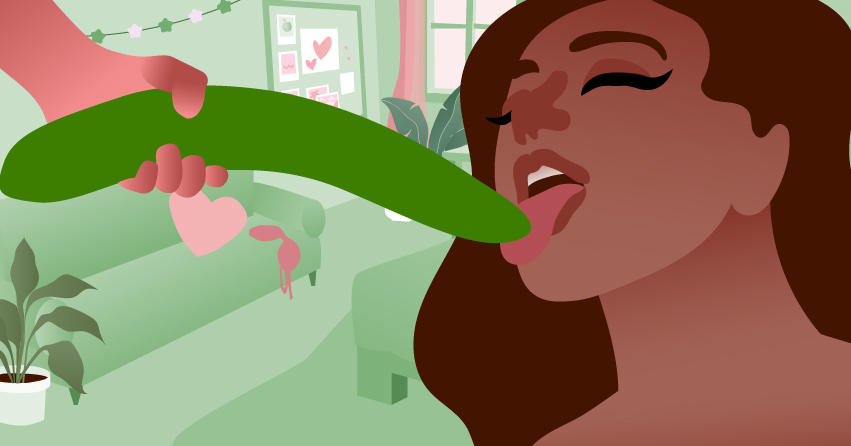 A deep throat is an oral sex position where you take blowjobs into a whole new level. This is because you will let the penis enter your mouth then down your throat and then start sucking back and forth to mimic the act of penetration using your throat. Yes, that's why they call it throat-fuck too. You might think that this is a hardcore oral sex position, but to be honest, it's a skill to be obtained. When we say it's a skill, it is because people who know how to do this properly learned how to deep throat through time and practice.
Oral sex is all fun and games until you have to open your mouth and let the penis go all the way down your throat. Some people don't like it because they are not comfortable gagging when performing oral sex. But if you're more on the adventurous side, we bet that giving blow jobs won't be complete without deep throating your partner. We can already hear you whisper "The sloppier, the better" because really it is!
What's the difference between deep throat and blowjob?
Deep throat and blowjobs are mostly the same thing. Both are oral sex performed to a man to reach an orgasm. This act is commonly used as foreplay as it stimulates or replicates the sensation of a vaginal or anal penetration.
The only thing that makes them different from each other is that a blowjob is done by taking the penis into the mouth and sucking it in and out smoothly while deep throat is letting the penis slide inside the mouth down to the throat. In other words, deepthroat is an additional trick you can add to spice up a blowjob.
FUN FACT: Did you know that during the ancient Egyptian times (around 3100-332BC), Egyptian women color their lips to imply that they are open to give oral sex. No wonder red lips give such a sexy vibe!
Why do some people enjoy it?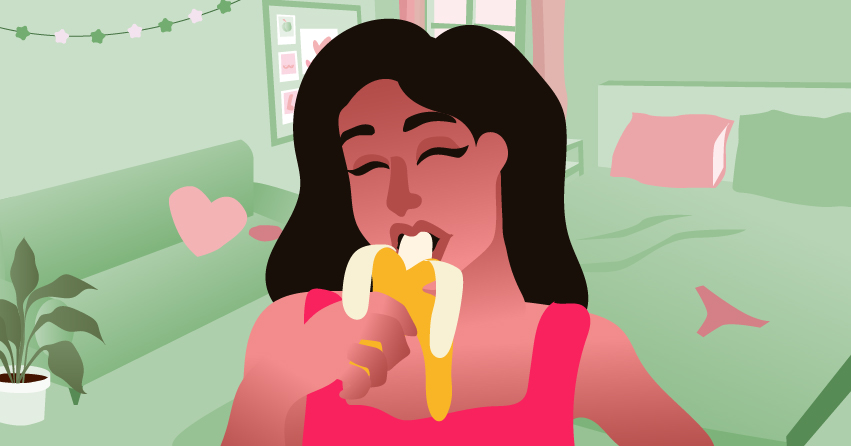 If you know people who love doing deep throat, this is because most probably they are into a kink called breathplay or choking. This is a fetish where they feel intense pleasure by putting obstruction in their airway without passing out. It may sound a little bit intense, but if it is done right, it can give powerful pleasure for both the giver and the receiver. The art of breathplay, choking, or deep throating is not to make the receiver (the one to get deep throated) to pass out. It is getting that buzz or rush of blood flow in their head that they feel after clearing out the obstruction in their airway.
If you still don't get it, try putting your fingers around your neck. Try squeezing your neck with your fingers and not put the pressure on your palms. You just want to feel that you can't breathe and not feel that your throat is being crushed by force. After holding it for a few seconds, release your fingers and try to feel the buzz in your head.
REMINDER: Do not try this if you faint easily. If you're with your partner say your safe word or tell them immediately when to release your neck. Again, the purpose of doing this is to feel the buzz, not to make you pass out.
Now if you're someone who wants to know how to deep throat, then you're definitely on the right article. Here are some tips on how to please and finish off your man with a mind-blowing oral sex trick.
Basic tips and techniques how to deep throat
1

Make sure everything is clean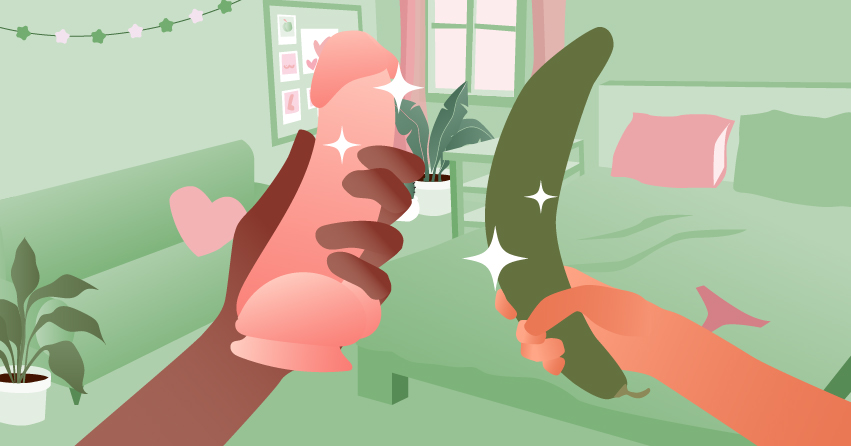 If you are still practicing to deep throat using a dildo or a cucumber, whatever you choose to practice on, make sure you clean them first. You will be putting that in your mouth and that will also reach your throat. It is important to keep your hygiene your top priority since our tonsil is quite sensitive and could get infected easily.
2

Practice makes perfect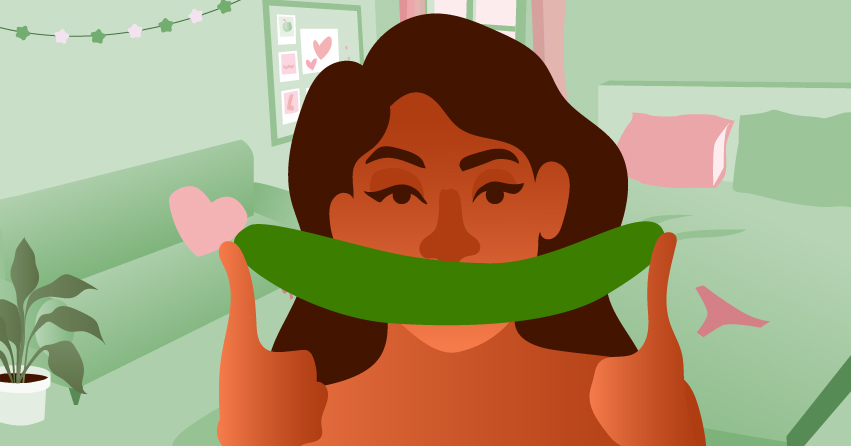 During your first oral sex, you might have experienced gagging every time the tip of the penis touches your throat. That is because your brain signals you that you might be pushing down something harmful for you. Well, how can you say it's harmful when he's all under your control. Writhing in pleasure and moaning your name are more signals of good stuff rather than harmful, right? But if you're just really having so much trouble with your gag reflex, you might want to practice a little.
To suppress your gag reflex, you can try using a suction cup dildo to practice on. Place the dildo on your tongue and push it in until you feel your gag is acting up. Repeat this until you don't feel the urge to gag anymore. Once your throat is already accustomed to the stimulation, you can start pushing it back even further.
It's okay if you keep on gagging. Remove the dildo if you already reached your limit.
3

Try to control your gag reflex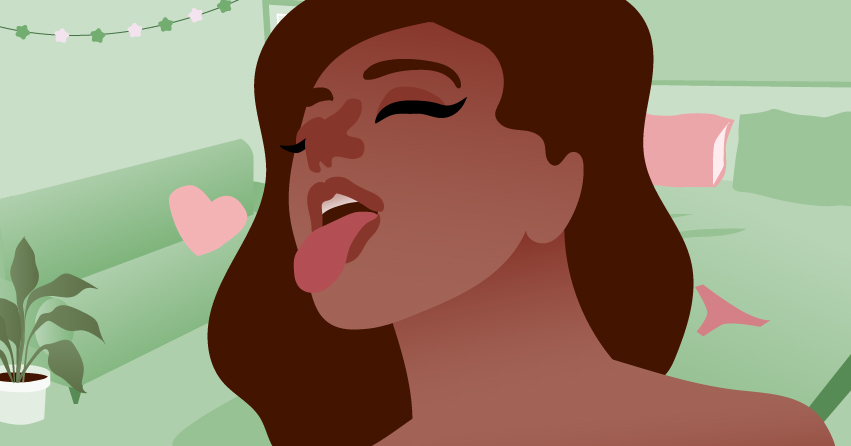 One common trick in controlling gag reflex is to place pressure on the muscle between the thumb and index finger. As you press down with more pressure, you will start to feel that your gag reflex subsides. If that doesn't work, my dentist taught me this trick of making a fist with the left hand while squeezing the thumb. This will distract you from the uncomfortable feeling in your mouth. This is actually backed by research as this is a form of acupressure, which is basically a therapy of targeting pressure points to prevent pain or stress in the body.
You can train your gag reflex by using a toothbrush too! After brushing your teeth, you can start brushing your tongue and try to reach the end where it meets your throat. You can try to brush the middle of your tongue and start reaching back little by little. If you feel gagging, you move back half an inch and then work your way up again until you reach the farthest point of your tongue. Repeat the process until you no longer feel to gag.
Just try to practice 2-3x a week and you will notice that your gag reflex will get accustomed to the stimulation that's going down your throat.
4

Don't forget to breathe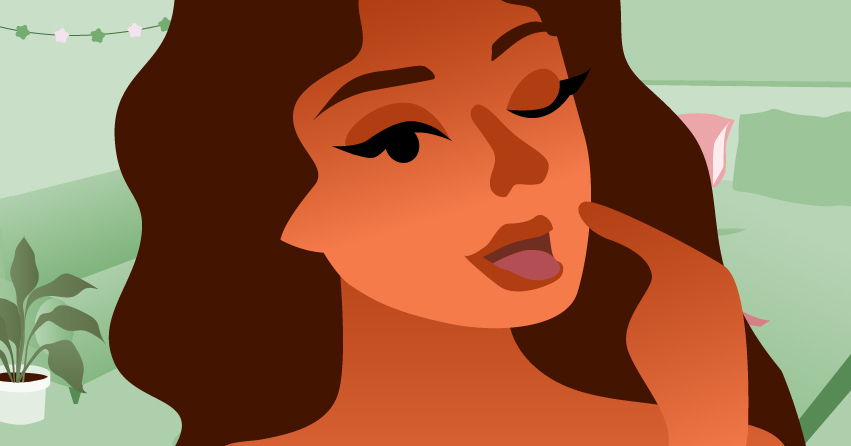 When putting something in your mouth, you will notice that you automatically stop breathing. Practice your technique by trying to breathe in before you put back the dildo in your throat and then breathe out when pulling it out. Do this repeatedly until there's muscle memory and breathing properly is easier for you.
Experiment on different positions where he can angle his penis and slide it easily down your throat. Commonly, you can lie down on your back and place your head at the edge of the bed. You can also tilt your head to make your mouth align your throat. Then you inhale either before or during a penis slide down your throat. Make sure that your tongue is sticking out because the gap will help you breathe in.
If you want a simpler version, just kneel facing upward. Have your man stand in front of you so that he can align his penis to your mouth. This is a great position to help your man if he is limited to move around when fully erect.
5

Open your mouth properly
When you open your mouth, you should consider allowing enough space for a penis to reach your throat. You can try to fit 2 or 3 fingers in your mouth. This will give you an idea how open your mouth should be. Unlike giving blowjobs, you have to close your mouth to suck, in giving deep throats you have to keep your mouth open. This is to help you take the penis in easily and let you breathe every time the penis slides out. Once you know how wide and fast you can take it, this trick will be a lot easier for you.
6

Rest your jaw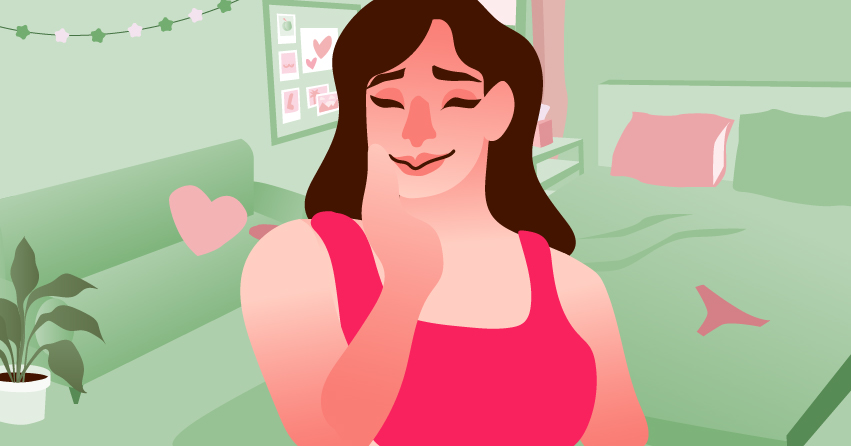 Remember to stop when your jaw feels strained too. Rest your jaw since this will allow you to be more relaxed and avoid biting down the penis accidentally. If you feel that your gag reflex is already too active and you can't control it, I suggest you take a break or hold the base of the penis while you suck on the tip. Do this if you want to rest and then try deep throating again when you're ready.
7

Hydrate and lubricate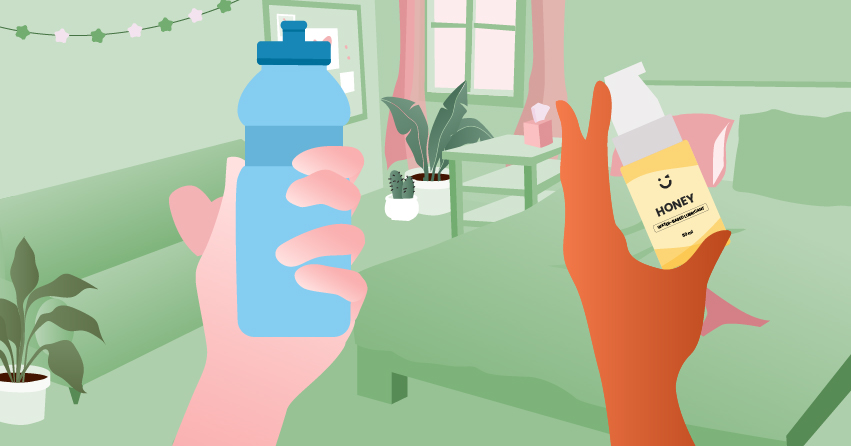 The best way to ensure that you won't hurt your throat is to make sure it isn't dry. Usually, when you give blowjobs, you will notice that your mouth keeps on producing saliva. The good thing is that your saliva is a good lubricant. It can make your blowjobs sloppy and more enjoyable.
If you're not one to produce enough saliva, then I suggest you drink water first. This will prevent you from having a dry mouth and you can easily produce spit for lubrication. Deliberately spit saliva to wet the whole penis and your mouth.
8

Ease your way in with a blowjob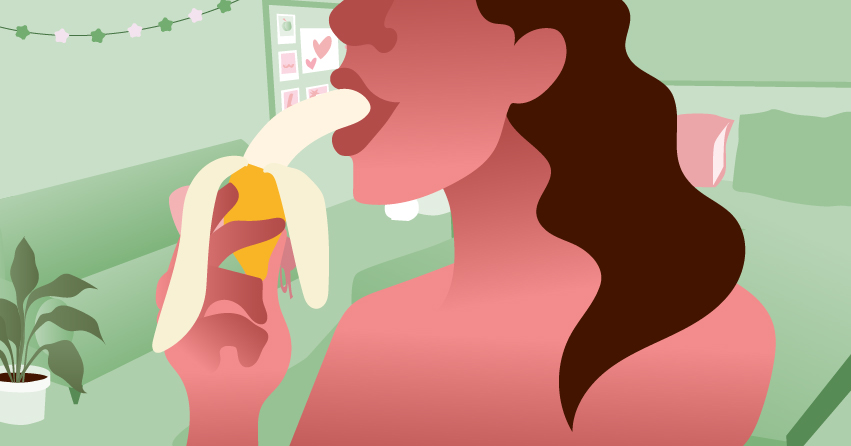 Your heart may be pounding at this point, but just relax and have your partner stand in front of you. Kneel between his legs, and hold the base of his penis. Tease him by looking at him straight in the eye and put small kisses on the tip. Go slowly by licking the shaft kittenishly. You may want to put your hands around his legs or bum for support, and then without breaking eye contact, put his penis inside your mouth.
9

Perform a deep throat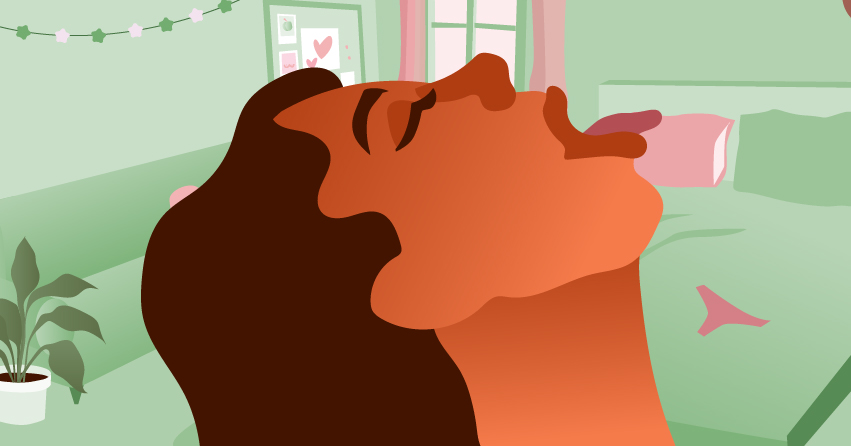 After a few sucking and slight thrusting, your man might want to immediately push his penis down. This is actually dangerous because he might put too much friction and pressure to the muscles of your throat. Make a quick reminder that he should still let you take control. You can give him physical signs such as tapping his legs or pinching him slighty as your safeword or signal that it's too much for you and you want him to stop. Since you can't really talk while doing this. You should stand your ground and show him the pace you are comfortable with.
Once you are ready, carefully slide or push his penis down your throat. You can do this by lowering your head down until you feel that his penis passes your tonsil. At this point you will feel like you want to gag, but breathe in and then push a little bit further and let the penis go down.
You want to try to tighten the muscles of your throat and try to give that sensation of locking the penis and mimic a penetration using your mouth and throat.
10

Finish him off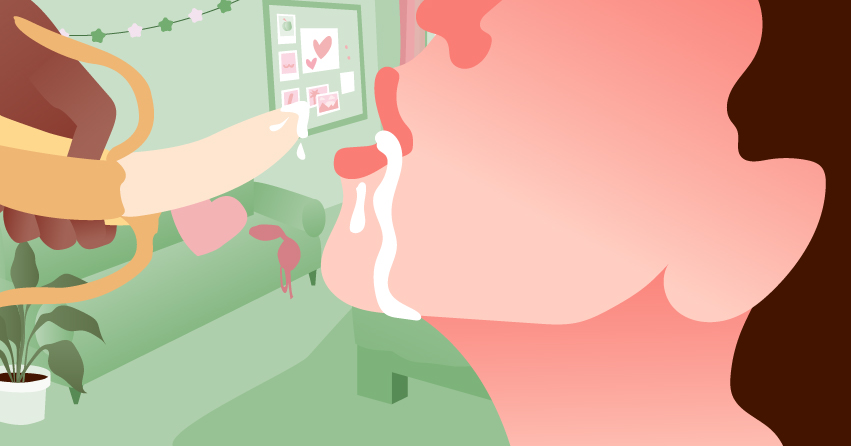 Okay, so you've mastered our first 9 tips and techniques, now we finally put our last card on the table– finish off your man. During oral sex, communicate with him how he wants it done. He may want you to put more attention on the tip or he may want you to suck more on the shaft. Even if it is not asked, don't forget that those balls need some loving too!
While deep throating you man, you will notice when he's near climax. You might hear that his breathing is heavier, his pace is starting to get faster, or the most give away– he's holding your head as he thrust down your throat. If you feel he's close, try doing tip number 2. Open your mouth widely again to give you more space to breathe, this will also tighten slightly your throat and give a better sensation to your man and push him to the edge.
Do you want to know how you can spice things up? I'll give you a few more tricks that you can put under your sleeve to surprise your man.
Advanced deep throating techniques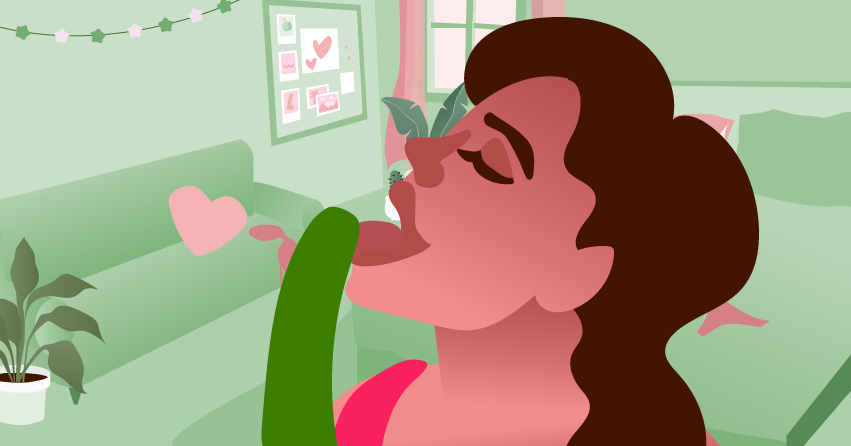 Now that we've tackled the basic tips and techniques on how to deep throat, we will now give you a few bonus tricks to take your deep throating skills a notch higher.
First, we know your movement is limited because you are literally "occupied". Surprise your man by swallowing while his penis is in your throat. Your man will worship you for being so generous. Your throat is already tight so just imagine the sensation of a tighter throat.
Second, this will require a lot of trust because you will let him slowly force it down on you. If you trust your man enough, then let him lead the way! If you're hesitant, then we suggest that you don't do it because it might injure or hurt you instead. But if you're hardcore and can actually take it, then what's stopping you? Place your hands around his legs to lock him in.
Well, there goes all my tricks for you to try! If you have any more questions, you can always ask Dr. Sex about your concern. If you think there are still questions we have not yet answered, then we'll tackle a few frequently asked questions on how to deep throat.
Frequently asked questions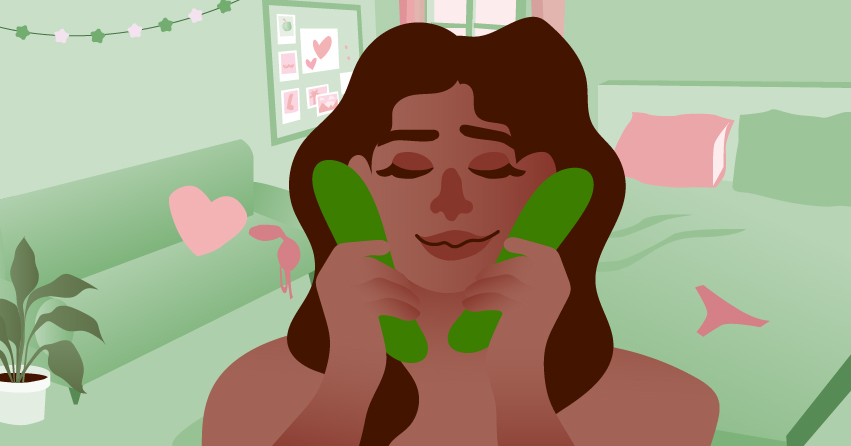 Don't feel guilty that you want to read these FAQs on how to deep throat. we stan a proactive individual. If you managed to read the article all the way here, then we know for a fact you are eager to learn how to deep throat and please your man. So go ahead, get a pen and paper, and make sure you jot down notes in case you will need them in the future. It's okay! We know you're a beginner. Everybody sucks at first, right?
1

Am I required to deep throat my man?

The answer is no. If you are not comfortable performing this oral sex position, communicate to your partner what you feel. Your partner should not pressure you into performing this and should respect your limitations.
2

What if I accidentally bite him while trying to deep throat?

Yes that can happen but it's no big deal – c'mon the whole penis is occupying the whole of your mouth! If you happen to bite him, just relax your mouth and immediately take the penis out of your mouth as you might need to caress the penis to lessen the pain. He'd understand that what you're doing down there isn't easy and that was unintentional. You guys just laugh it off and carefully continue with your tricks down there. BUT if he does not do that and get angry instead, RUN! He does not deserve a hardworking lady like you.
3

I'm scared. I might throw up on him. What if he'll find it as a turnoff?

Knowing your limits is an essential tool in controlling your gag reflex. If you feel you're about to throw up, then stop immediately. You partner should understand that you're still new with this and you should not feel pressured and/or obligated to finish something you're not comfortable with. I don't think he will even think of it as a turn off because if he cares for your well being, then he would want to make you feel comfortable.
4

Is there a minimum or maximum penis length on how I can deep throat?

In order to do a deep throat, a penis should touch and reach your throat. There's no standard length, as long as it can reach your tonsil then down your throat then you can always perform this trick. As for the maximum length, there is none. This would largely depend on how you want to do it.
5

Is it normal that my throat hurts when I try to deep throat my man?

Actually it is not since a looooot of saliva is actually involved during deep throating. However, there will of course be times when our throat and mouth just feel particularly dry due to the room temperature or dehydration. If that's the case, then it will definitely hurt like a sore throat. If this happens, just grab a glass of water before doing the act and try to deliberately spit saliva on the penis just enough to make the deed smooth and pleasurable for the both of you.
6

Am I required to swallow when he cums during deep throat?

Remember that you are the boss of your own body so you should prioritize your health and always remember to wear protection. Swallowing semen is not for everyone and it is not recommended because you can contract STDs. Did you know that you can get infected with HIV and AIDS through semen? Don't risk one night of pleasure for numerous nights in the hospital. An apple a day to keep a doctor away will be too late if you won't start being responsible a (sexual) partner.

But if both of you got tested and the result is clean, then I think that's the time you can decide whether or not you should swallow. Again, you should not feel pressured and/or obligated to do any sexual act if you are not comfortable with it. Set your limitations and be firm about it. If it's your thing and you are 100% sure that both of you are clean, then feel free to do it.

But if you're hesitant about his status, ask him to wear a condom before you take in his penis and deep throat him. If you want to get tested, you can check out our partner clinic LoveYourself PH and schedule an appointment to the clinic near you. Getting this service is actually free and you can get the result within the next 2-3 hours with a post test-counselling session.
7

Will it hurt him if I have braces?

Having braces should not stop you from giving your partner a sweet taste of your mouth! Just be careful if you have loose brackets or bands because you might accidentally swallow them or they might scratch the penis. If you have broken wires that are piercing the insides of your mouth, get them fixed first to avoid hurting yourself or your partner.
8

Will I get throat cancer when I deep throat?

No, oral sex such as deep throating does not directly cause throat cancer. However, without protection, oral sex may spread Human Papillomavrius or HPV, a sexually transmitted infection. If a guy has HPV and has unprotected oral sex, then the virus may spread to the person doing the deep throat. The HPV causes pre-cancerous changes in cells and that's when throat cancer will likely to develop. Such risk will also increase with smoking and alcohol consumption.
9

If I don't deep throat my man, would he not enjoy blowjob as much anymore?

Of course not! As we said, those two are different things and do not always go together. Your man should consider himself lucky everytime you give him this treat. As they say, it is a privilege not a right. After all, blowjobs come first before deep throat so don't beat yourself up to it. Your man will love your blowjob with or without the deep throat technique.
10

My man is uncircumcised. Do you have other advice for me on how to deep throat him?

As you know, during blowjob, you carefully slide the foreskin back and forth to bring sensation to the top of the penis that's covered by said foreskin. It is the same with deep throat. However, keep in mind that the tip of the penis for uncircumcised guys is extra sensitive because it is most of the time hidden under the foreskin. You will have to push it back just a tiny bit – maybe half an inch – and definitely less than how far you push the skin back during blowjobs. Pushing the skin too far back will just cause pain at the tip and the sides of the penis.

So there you go! You now have all our cards from how to deep throat up to the frequently asked questions on the subject. We hope we covered everything for you. If you finally decide to try it, we suggest trying it step by step and do it slowly. There's nothing wrong with doing things gently. Once you know your way around, start adding more and experiment until you reach what you want. If have any more questions, you can always ask Dr. Sex. Just slide into our dms and we'll schedule your appointment. Happy deep throating!