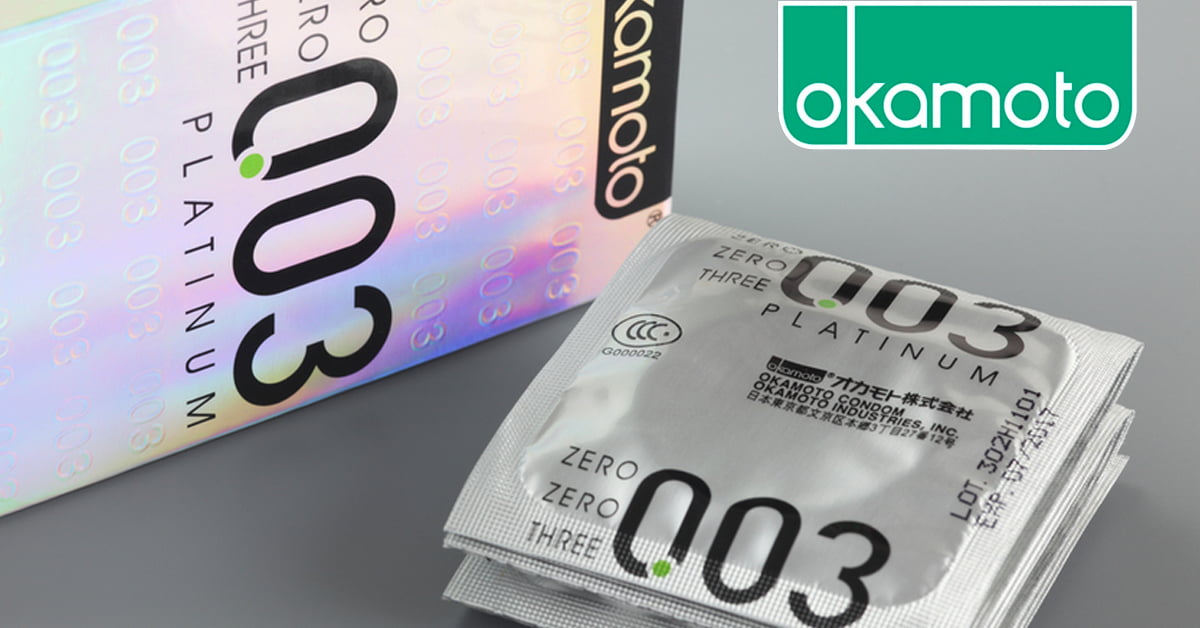 Looking for a condom that has supreme thinness and reliable durability? Go for Okamoto Condoms.
Launched in 1934, the Japanese brand started out by finding the perfect material. They wanted to produce condoms that are thin enough for a natural feel but sturdy enough to get through the roughest thrusts.
After their comprehensive research, they've then formulated a material called Sheerlon.
This material can produce thinner and stronger condoms. Aside from its thinness, it also has natural silky texture and natural smell. Unlike other condom brands, you can't find any rubbery latex smell on Okamoto condoms.
FYI: Most Okamoto condoms has a standard thickness of 0.03mm– half the thickness of a normal condom, which is around 0.06mm.
Since then, Okamoto has become a significant name in the condom industry. Until now, they remain the number one selling condom in Japan. They've also penetrated the international market and are now available to various specialty shops such as Lauvette.
Okamoto Condoms: Lauvette's Top Picks
Now that the Okamoto brand is finally on Lauvette, we're going to share with you our top picks! Though most variants fit on most men, some variants fulfill specific preferences. Let's dive right in!
1

Okamoto 0.03 Platinum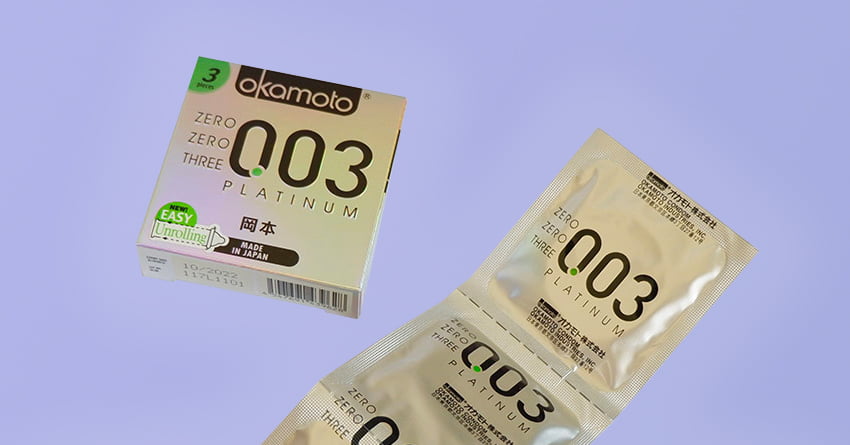 You'll never be disappointed when you go platinum.
For those who are just starting to use this brand, this is the best variant to start with. There are no tints, patterns, nor textures—just the Okamoto condom in its natural glory. Made with the Sheerlon material, this variant assures a safe and pleasurable experience. It also has no latex smell and is easy to unroll to compared to other variants on this list.
Perfect for: Men who prefer the standard, no-fluff condoms.
2

Okamoto Big Boy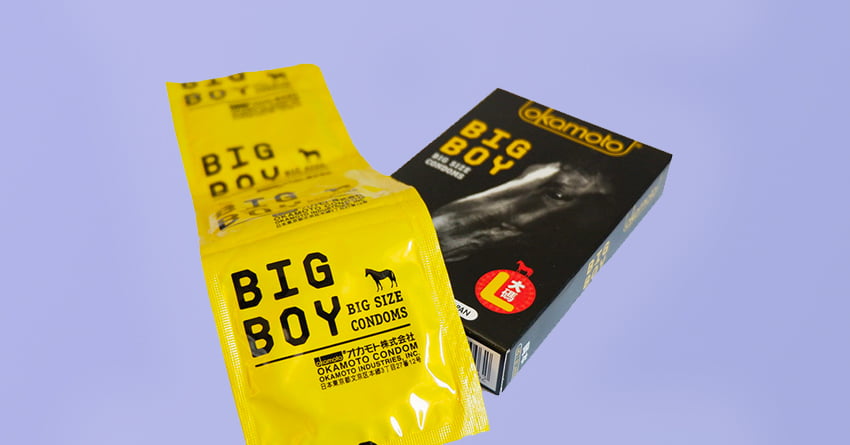 Have a bigger package? We got you covered.
The Big Boy is 5mm larger in diameter, giving a more comfortable fit for the well-endowed guys. Thanks to the specialized material, it's one of the thinnest and strongest condoms in the market. It also doesn't have any rubber smell to it compared to other condoms.
Perfect for: Men with above-average penis size.
3

Okamoto Roman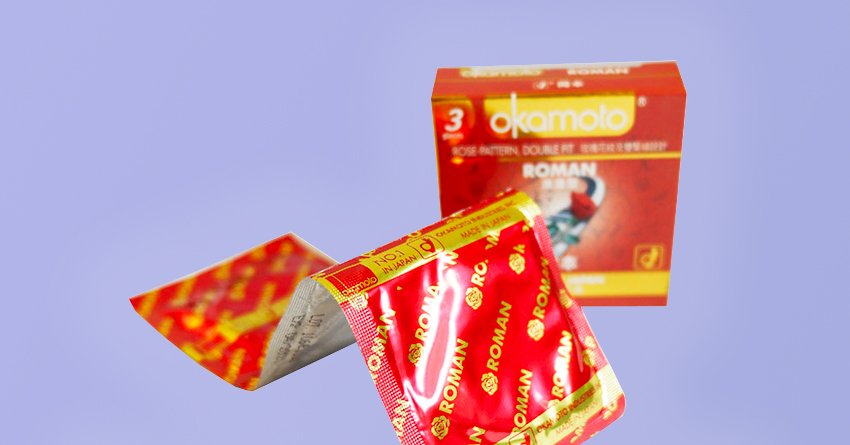 Experience pleasure in full bloom. 
Let your passion flourish with Okamoto Roman Condoms. Designed with elegance in mind, it's embossed with rose patterns from shaft to tip. It also has a double fitting shape for maximum pleasure.
Perfect for: Men who prefer textured condoms.
4

Okamoto Crown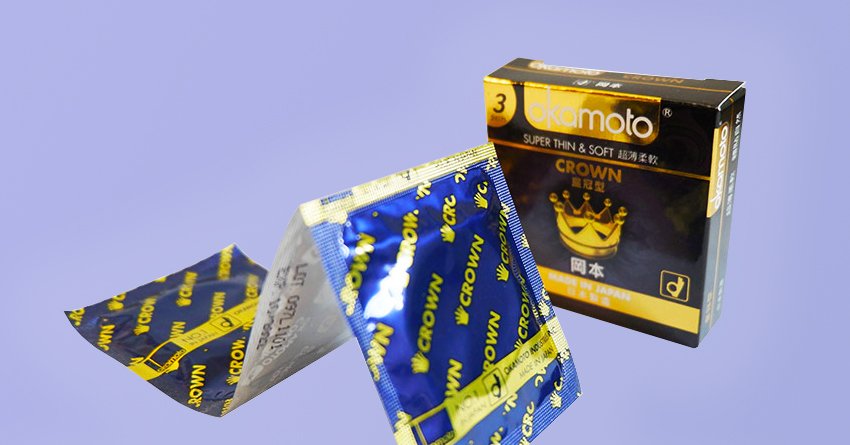 Feel like a king.
Hailed as "World's Best Condom" in the condom market for 10 years, you'll feel like a royalty when using this variant. Thanks to its specialized Sheerlon material, this pink-tinted variant will never let you down.
Perfect for: Men who prefer the standard, no-fluff condoms.
5

Okamoto 0.03 Real Fit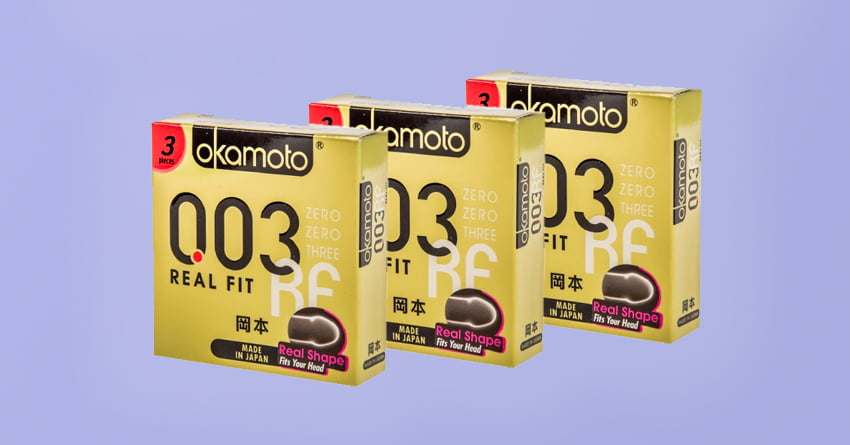 Go for a more realistic fit. 
This variant provides both a natural feel and fit to the wearer. Compared to other variants on this list, the 'Real Fit' doesn't have a reservoir tip. It also features a more realistic phallic shape, hugging your curves in the most natural way possible.
Perfect for: Men who prefer condoms without a reservoir tip.
6

Okamoto 0.03 Aloe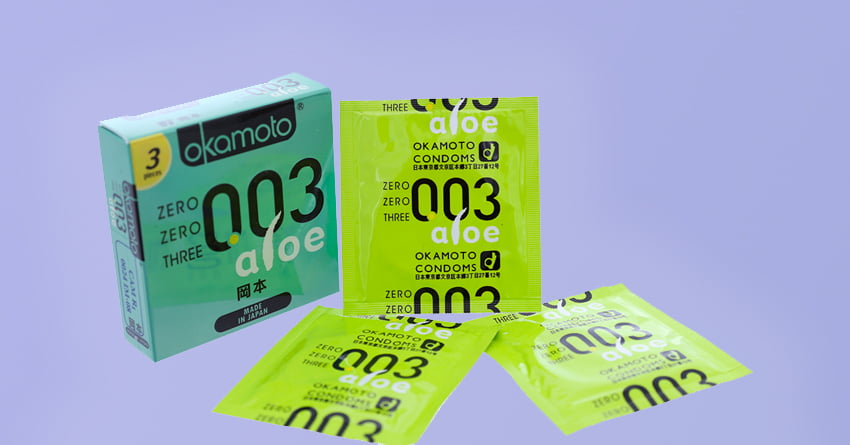 Enriched with a water-based lubricant and aloe essence.
Okamoto Aloe takes the notion of smoothness on another level. This variant is moistened with a water-based lubricant and Aloe essence. This then prevents irritation and keeps your schlong silky wet throughout the night. Same with other 0.03 variants, it's also made with the Sheerlon material and doesn't have a rubbery latex smell.
Perfect for: Men with extra-sensitive skin.
7

Okamoto Harmony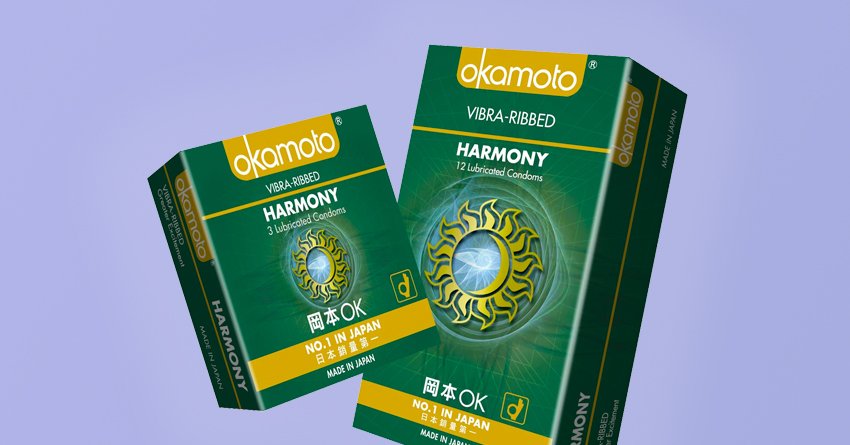 Has a stimulating Vibra-ribbed texture for maximum pleasure.
If you want to feel extra pleasurable sensations, the Okamoto Harmony is a great pick! It's designed with unique rows of stimulating ribs, doubling the friction for maximum intensity.
Perfect for: Men who prefer textured condoms.
8

Okamoto Orchid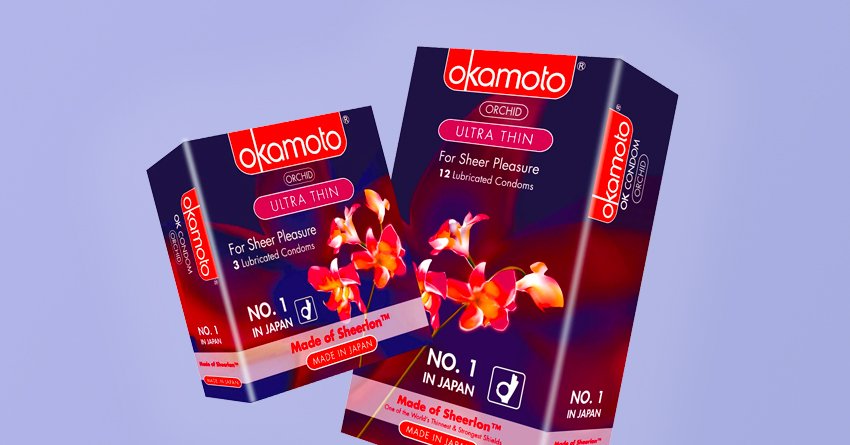 Designed to be ultra-thin for a light and natural feeling.
Bring yourself and your partner in a heated frenzy without distractions. The Okamoto orchid is a perfect variant for those that are looking for a thin, fuss-free variant. It's also made with Sheerlon, giving you a more natural sensation with every thrust.
Perfect for: Men who prefer the standard, no-fluff condoms.
Takeaway
With their innovative ways, you can surely rely on Okamoto condoms. They aim for uncompromising quality– allowing you fully let go and truly enjoy sex.
If you want to try this respected brand yourself, look no further! We carry some of the bestselling Okamoto Condoms here. Check this page for more details.