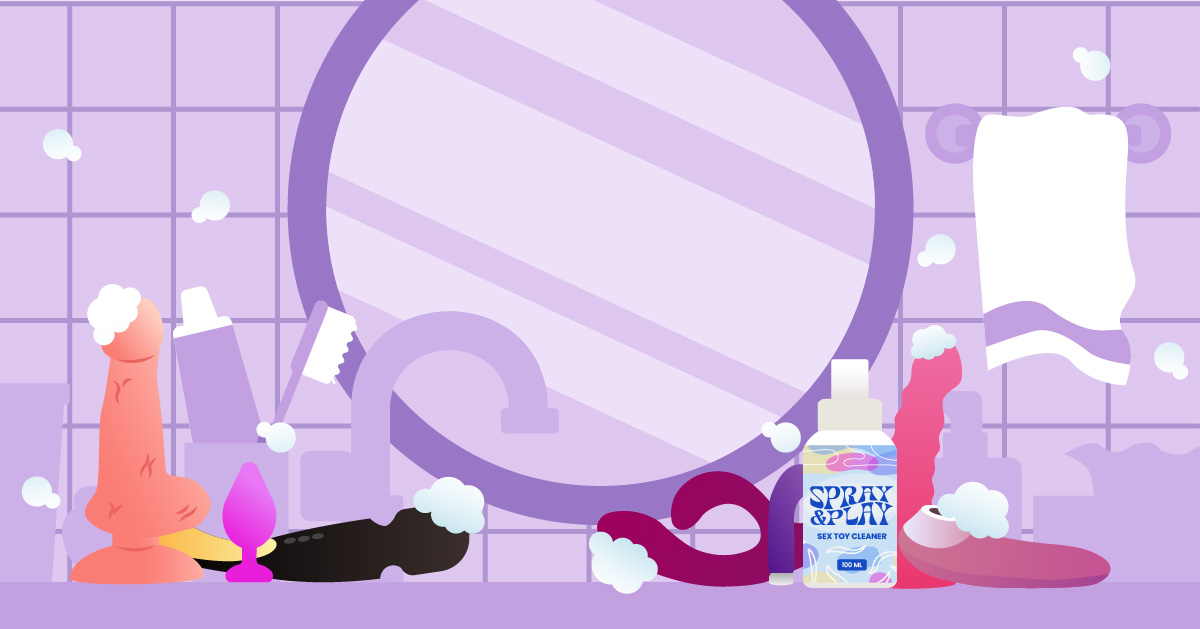 You probably don't think about cleaning your love toys as you bask in the afterglow of a satisfying climax. And while it's okay to stay for a few minutes in the bed after orgasming, this doesn't mean it's okay to neglect your love toys from proper care. With that being said, we will discuss how to clean your sex toys and keep them in tiptop shape.
But before we proceed with the steps, find out below why washing your pleasure toys is a must.
Why Cleaning Your Sex Toy is Important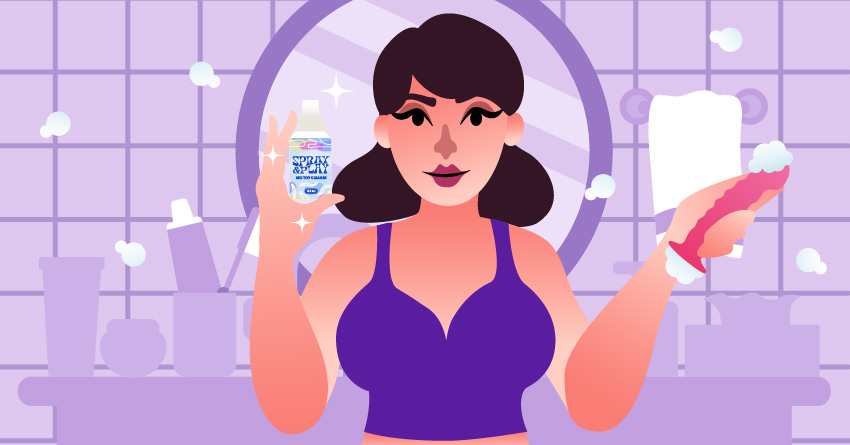 Your genitals are sensitive, which is why utmost care is a must. You're setting up your body for a disaster if you are using an unwashed sex toy, as you're introducing dirt, secretions, dust, and other harmful debris that shouldn't be in your private parts. You'll be at risk for bacterial infections.
Is Your Sex Toy's Material Porous Or Nonporous?
When buying yourself or your partner a sex toy, always check the material and see if it's porous or non-porous. This ensures that you're getting a sex toy that you can fully clean and is 100% safe to use in the body. Below is the difference between the two terms and the type of material you should look for for a pleasure device.
1

Porous Material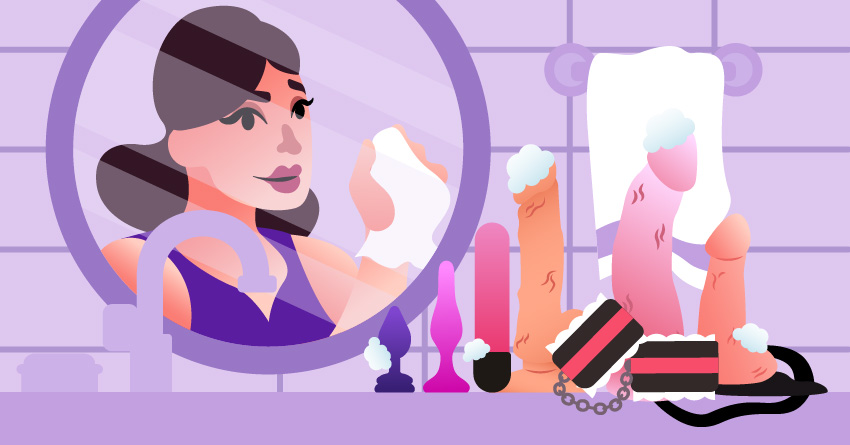 Porous toys are made with materials that can't be sterilized properly. Upon usage, the surface of a porous toy will end up with micro holes; you can't see it with a naked eye. And once the holes have popped up, the bacteria will start thriving on your love toy. Even if you regularly wash your sex toy, it wouldn't fully wash off the bacteria.
And you're probably wondering… "If this is bad for my body, why are porous toys still available?" Well, they're a lot cheaper compared to non-porous sex toys. Some porous toys also offer flesh-like surfaces that people enjoy playing with but have difficulty washing.
If you were one of the people who bought a porous toy, use a condom when using this kind of toy. Don't also double-dip; if you've inserted a porous dildo in your vagina, just use it in your vagina only,
And to save you from the trouble, we also highly suggest ditching that toy and just go for ones with non-porous materials. Below are some of the porous materials commonly used in adult toys.
Cyberskin
Jelly Rubber
Vinyl
PVC
Latex
Elastomer
2

Nonporous Material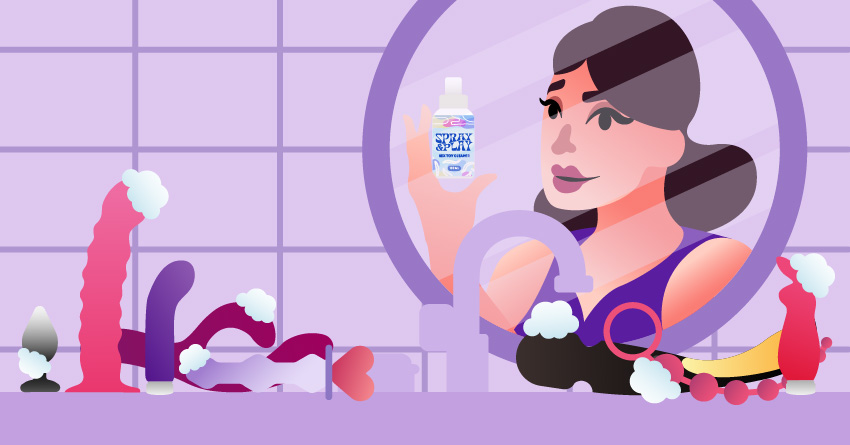 On the other hand, non-porous toys don't have micro holes or cracks on their surface. The bacteria will be washed off when you clean the sex toy since there's no space to stick into. This is why sexperts recommend only getting sex toys made with non-porous materials. Below are some of the non-porous materials commonly used in pleasure devices.
ABS plastic
Crystal and Stone
Pyrex Glass
Silicone
Stainless Steel
Are You Using the Correct Lubricant for Your Sex Toy?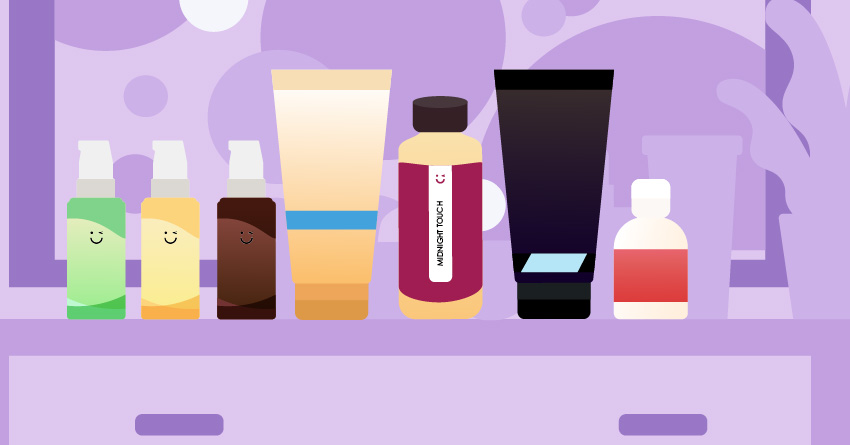 Aside from getting sex toys with the right type of material, you should also know what kind of lubricant that'll work with your sex toy. This ensures the device's longevity as certain types of lubes can actually damage the surface of some sex toys. For example, silicone-based lubricants interact negatively with silicone-made toys, resulting in a damaged sex toy.
Below are the different types of lubricants and the sex toy materials that you can safely use with them.
Water-based lubricants are your safest bet when it comes to sex toy play. You can safely use it on any material. It can also work for penetrative sex, masturbation, and other sexy festivities. The only issue with this one is that you may need to reapply it often as it dries up quicker than the other types.
Silicone-based lubricants are a no-no to silicone sex toys as the lubricant can break down the toy's surface. On the other hand, you can safely use this lube on non-porous materials such as hard plastic, glass, and steel.
Oil-based lubricants are a lot slicker than other types of lube and are perfect for foreplay activities, such as sensual massages. However, you can't use this type of lube on any sex toy; it'll degrade the material of non-porous toys, while it can exacerbate the porous toys' microscopic holes.
Aside from knowing the type of lube that would work for your sex toys and accessories, you should also keep in mind harmful ingredients often included in cheaper lubricants. If any of the ingredients below is written on a lube's packaging, steer away:
glycerin
nonoxynol-9
petroleum
propylene glycol
chlorhexidine gluconate
10 Tips To Clean And Care For Your Sex Toys
So we've tackled the key terms when cleaning sex toys and now, we will get into the tips on how to clean and care for your sex toys. So, with all that being said, let's get into it.
1

Read the user manual for cleaning instructions.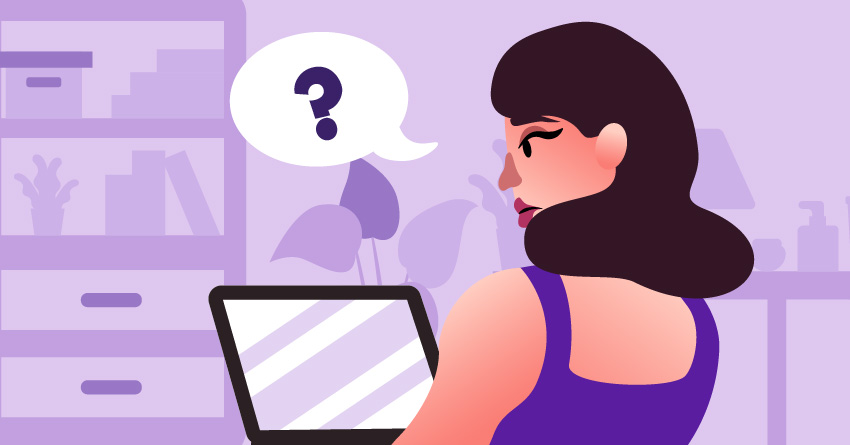 Once you've received your sex toy, the first thing you need to do is check the manual. We know you're excited to play, but knowing how to clean will help you prep the necessary cleaning agents (if needed) and other important deets about the toy (charging, storage, preferred lubricant, etc.) If you received a sex toy without an included manual, you could contact the store you've bought the toy. You can also check out the standard cleaning instructions for specific materials below.
PVC and Vinyl: For safe use, cover the toy with a condom every time you're playing it. Wash this with warm water and a soapy washcloth. Wipe with a dry towel to dry. Store in a lint-free satin pouch and place in a cool, dry area.
Leather: This material is usually used for BDSM toys, such as whips and collars. First, just clean the visible stains with a damp and soapy cloth. You can also use a sex toy cleaner to wipe off stains and secretions. Don't submerge in water. Store the toy in a satin pouch, away from direct sunlight.
Jelly rubber, Elastomer, Latex, and Cyberskin: Please check with the manufacturer if soap is allowed when washing these materials. If not, use a sex toy cleaner to wash the stains and fluids off. This is a porous material, so wrap it in thick condoms when using it.
ABS plastic: You could wash this with water and mild soap or a sex toy cleaner. Dry it well, then store it individually in a satin pouch.
Crystal and Stone: Wash this material in warm water and soap. Then dry with a clean towel and store in a clean pouch.
Pyrex Glass, Silicone, Stainless steel: Wash the toy with a sex toy cleaner or lukewarm water and mild soap. Dry the excess water.
If the sex toy is motorized, check if the toy is IPX7 waterproof before submerging it in water.
2
Remove the batteries or unplug your sex toys before cleaning.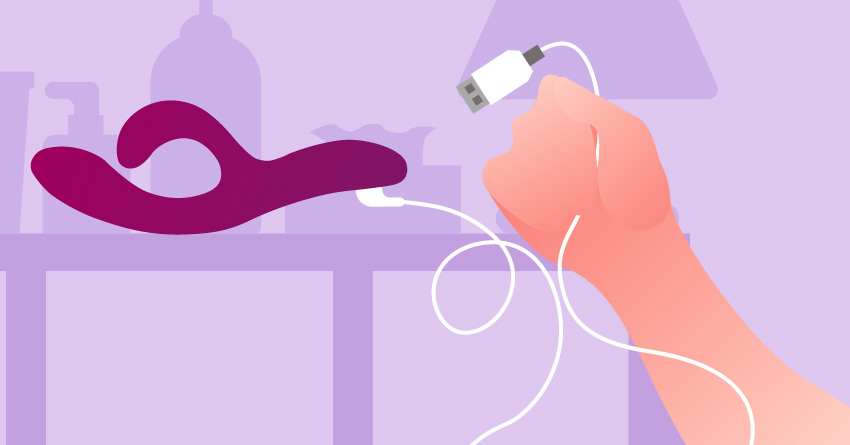 To avoid damaging your toy and other mishaps, ensure that it is not charged while cleaning it. And even if the toy is labeled "waterproof," we still recommend taking out the batteries when washing the sex toy to prevent corrosion.
3
Wash before and after each use.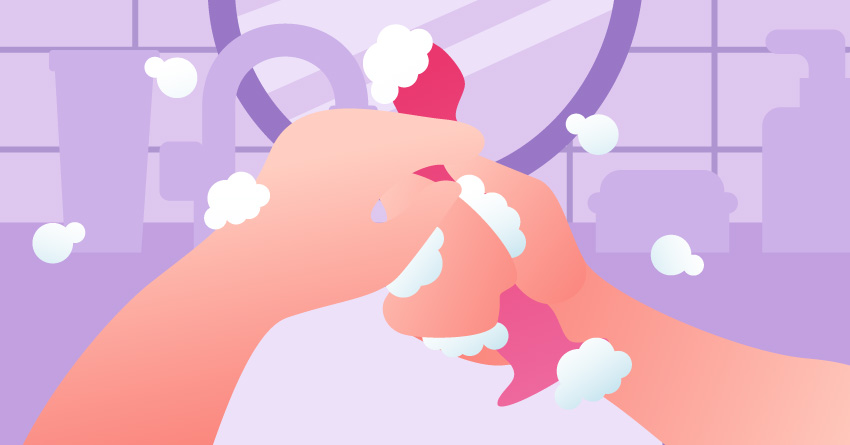 It's a must to clean your sex toys before and after use. This ensures that the toy is safe to use. If you've already washed the toy before but haven't used it for a long time, we recommend still cleaning it with a sex toy cleaner.
4
Dry your toy well.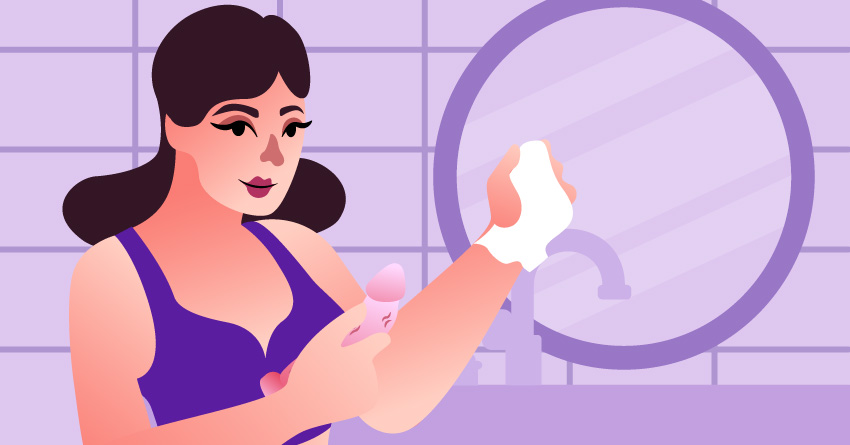 Don't use or store your sex toy right away after washing it. Make sure it's all dried up. Use a towel or facial towel to wipe the excess water; don't use thin or 1-ply tissues, as the tissue residues may stick on the toy's surface.
5
Consider using condoms on your sex toy (especially if you're sharing toys).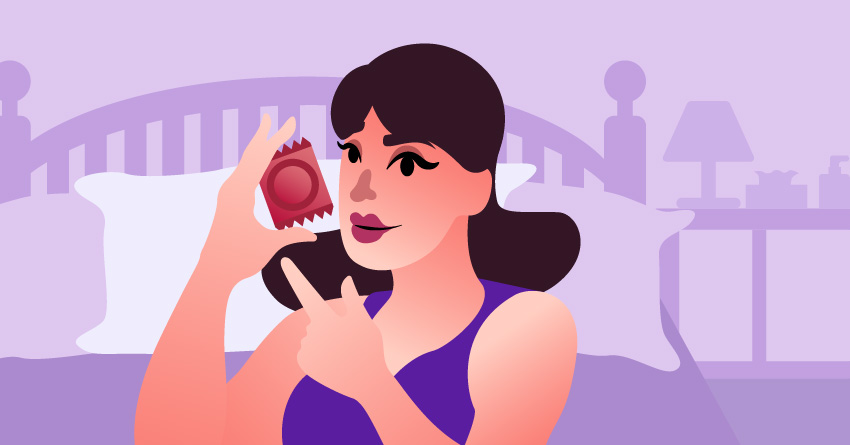 As we've mentioned earlier, if you end up buying a sex toy that's porous-made (cannot get properly sterilized) and you don't want to throw it right away, you can still use it. Just make sure to wrap it in a thick condom.
6
Use sex toy cleaners.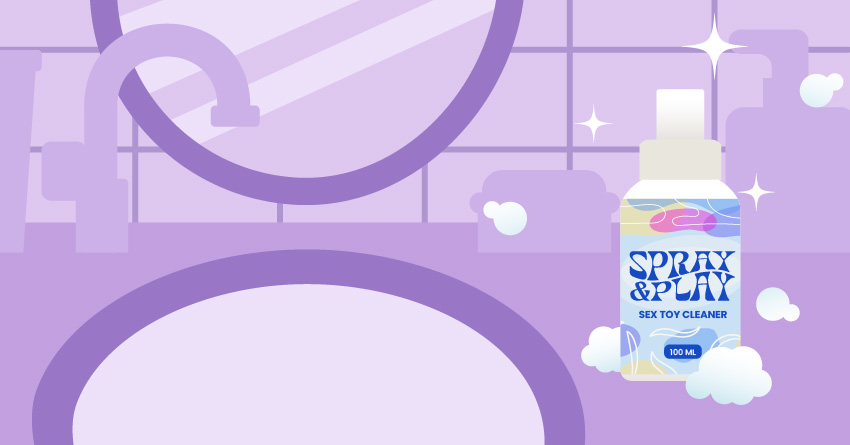 Want a quick and effective way to clean your sex toys? Go for a sex toy cleaner! It can work on multiple materials, and you'll only need a few seconds to clean your toys with it. It also works for those traveling who don't have time to wash their toys; just spray, wait, and wipe the cleaner off.
7
If you're on a tight budget, use mild soap and water.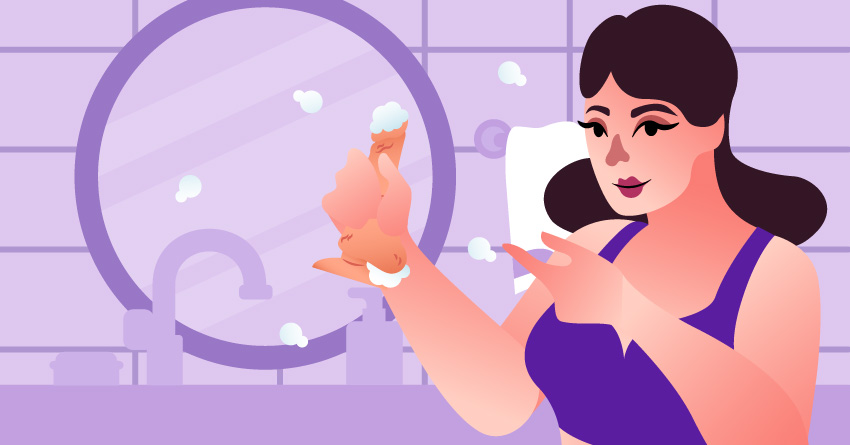 If you don't have the budget for a sex toy cleaner yet, you can always opt for the good 'ol mild soap and water. Just wet the toy, lather up the soap, massage it in the toy/apply liquid soap, then rinse it off with water.
8
Consider getting toys from credible brands.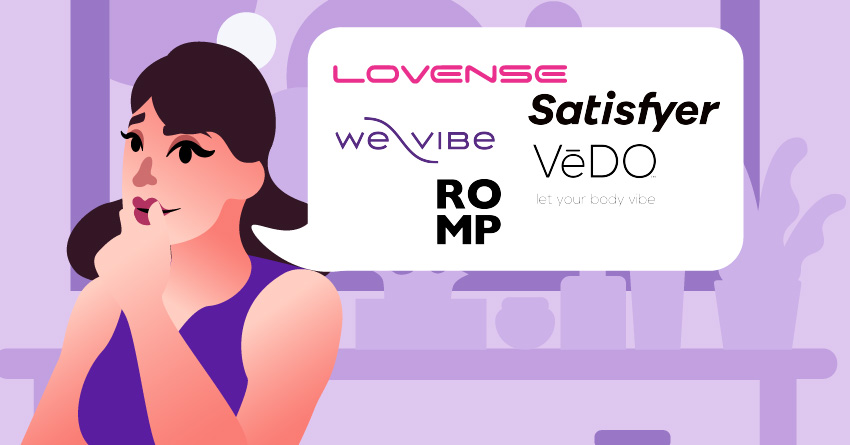 Wanna make sure that you're getting non-porous sex toys? Go for reputable brands, such as Lovense, Satisfyer, SVAKOM, Vibease, Womanizer, We-Vibe, VeDO, and ROMP. You can assure that their toys are made with premium and easy-to-clean materials, such as silicone and ABS.
9
Use sex toys as intended.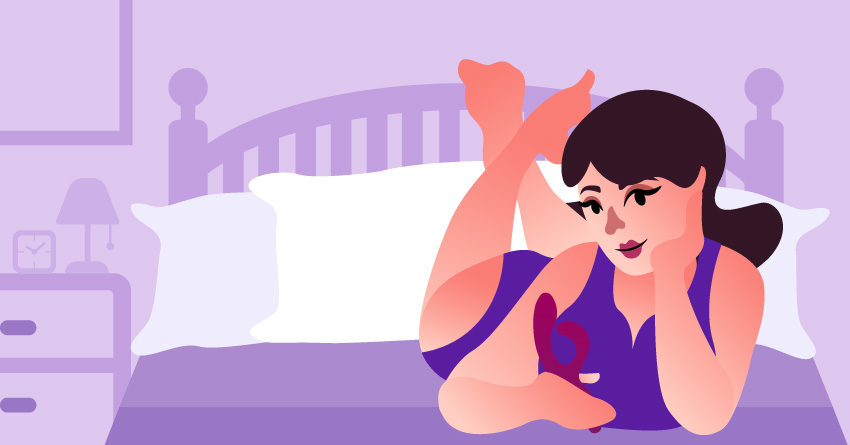 If you want to make sure that your sex toys are in tiptop shape, use the toys as they should be. For instance, if a mini vibrator is not waterproof and isn't designed for internal stimulation, don't insert it in your vagina or use it in the shower. It'll deteriorate real fast if you're not using it as intended. Don't also forget to read the instructions thoroughly.
10
Keep your sex toys in clean storage.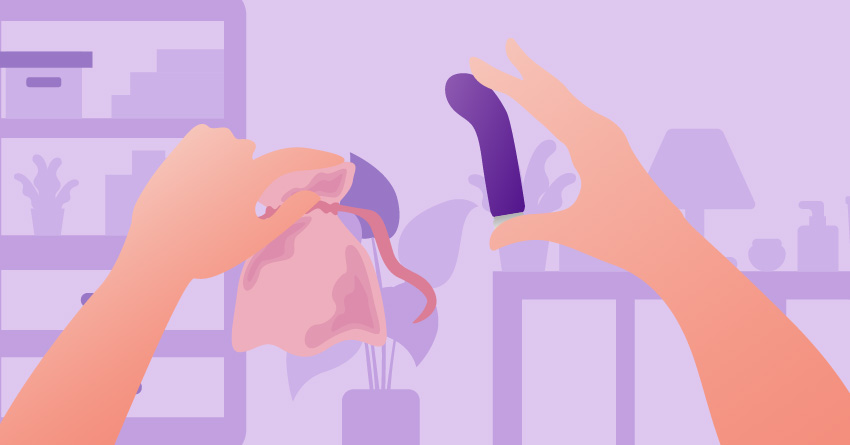 After you clean the sex toys, make sure to store them in a satin pouch. It protects your toys from prying eyes and minimizes exposure to dust. Don't also put the sex toys in one pouch to avoid cross-contamination.
Frequently Asked Questions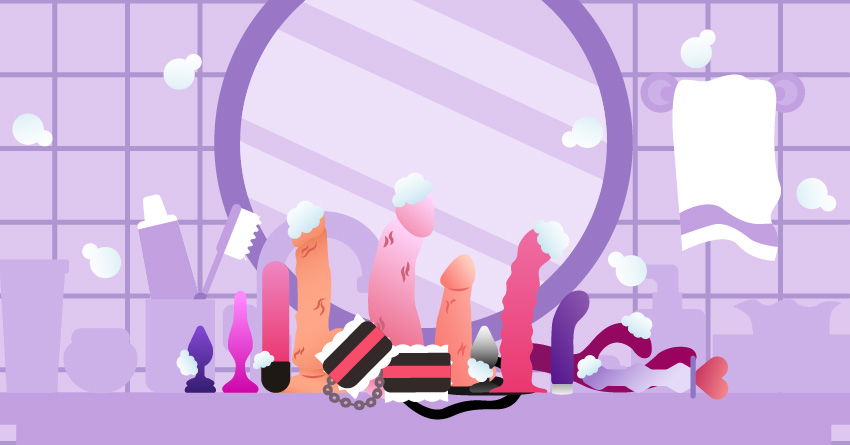 Cleaning your sex toys may seem like a simple process, but there is a lot to learn when you want to ensure cleanliness on the items that help you achieve a blissful climax. So if you still have more questions, we understand! We have an FAQ below for further sex toy cleaning queries.
1
Can I use the sex toy with my partner?
Yes, but you need to be careful to avoid mishaps. Clean the sex toy if the other partner will use it. If possible, wrap the toy in condoms for easier cleanup. Also, use the toys in the same erogenous zones and don't switch them up. For example, if you used a dildo in your anus, don't let your partner use it in their vagina since it hadn't been under deep cleaning (sterilization or thorough washing with soap and water).
2
What is the best way to clean a sex toy?
If you want to find out how to clean your sex toys efficiently, you need to find the material and clean it based on it. Most of the time, there are also included instructions on the toy's packaging, so don't forget to check that one out.
3
Can I use the sex toy right out of the box? 
We know you're excited to try your sex toys, but clean them before playing them.
4
How do I determine the material of my toy?
It should be included already in the packaging. You can also call the sex toy shop and inquire about the toy's material if it's not included in the manual or box. We don't recommend guessing the material as you will never be sure about the toy's components. Yes, it might look like medical-grade silicone, but it could actually be food-grade silicone, rubber jelly, etc.
5
Which sex toy materials are best?
Always go for non-porous toys, such as medical-grade silicone, ABS plastic, crystal and stone, pyrex glass, and stainless steel. Even though porous materials, such as Cyberskin, offer a more realistic flesh-like texture (which works best in masturbators or fleshlights), they're a hassle to clean.
6

Can I use the original packaging of my sex toy for storage?
Nope! Don't use the box for storage, as it's not designed to keep your sex toy protected from dust and dirt. In fact, there may have been dust and dirt inside the box as sex toys are usually kept in their packaging for months.
7
How do I know which toy is waterproof?
There is some confusion around this one because some toys say they are "waterproof" when what they mean is "splash proof." If your toy has a motor, it usually cannot be completely submerged in water. Moreover, if your sex toy can be submerged in water, it will say "water submersible" in the directions. If you're still unsure, you could ask the shop you bought it from and for sure, they'll know the answer to your query.
8
What kind of lube should I get to ensure my toy's longevity?
Water-based, always. They're the most versatile type of lubricant. You can still use silicone-based lubes, but it's not good for silicone toys, which are the main material for most sex toys.
9
Can I boil my sex toy to clean it? 
You can only do it to sex toys made with Pyrex glass, silicone, or stainless steel. If the toy has an in-built vibrating motor, check the manual first or call someone from the adult shop. If the vibrator is detachable, remove the vibrator and submerge the casing in hot water.
10
Why should I even clean my sex toys?
If you don't clean your sex toys, you're putting yourself at risk for bacterial infections. Just think of it as a small price to pay to have orgasmic fun.
Takeaway
Putting in a little effort to clean your sex toys properly helps keep you and your partner safe. Also, doing these tips will help your sex toys stay in tiptop shape. 
Stick with high-quality toys, and if you're in doubt, you can throw over a condom before use. So, with all these tips, we hope you learned a lot about sex toy cleaning and apply it in your daily hygiene!