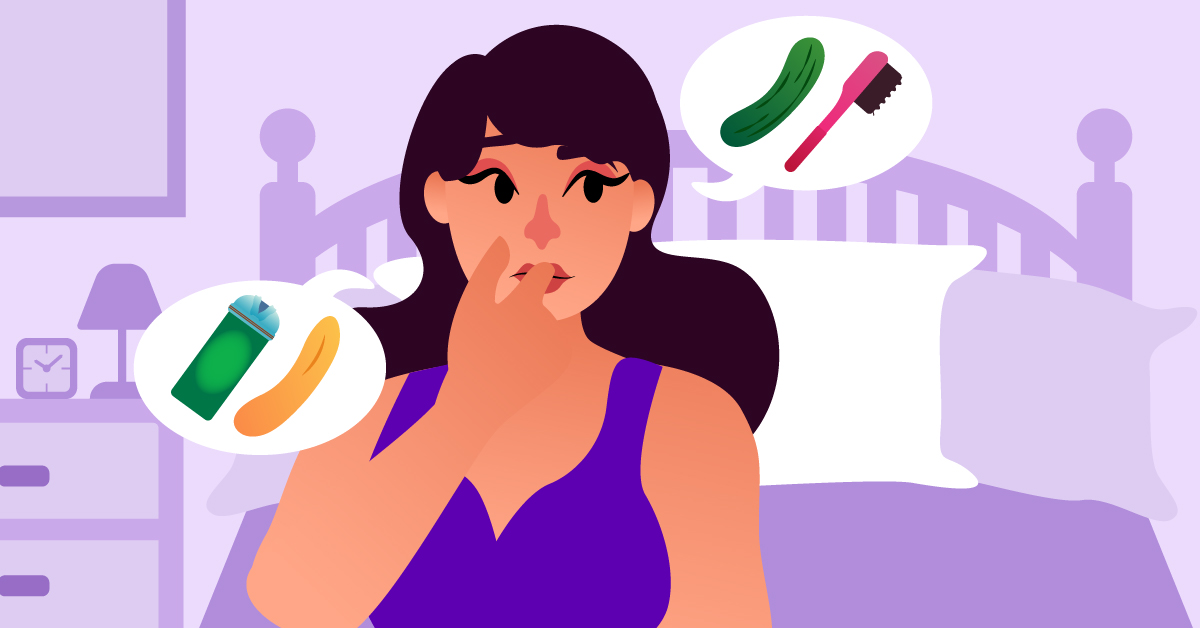 Note: Before doing any of the suggested DIY sex toy ideas listed on this guide, make sure to research more about the process of creating the love toy and have adequate tools to make it safe and usable for solo or couple plays. Enjoy reading!
Most of us have experienced being extremely aroused— so aroused that our hands may not suffice for the sensual stimulation that we're craving. However, you don't have a sex toy yet because pleasure toy shops aren't readily available in your area or that you can't afford to have one yet. So you're just lying in there, feeling of erotic itch that you just can't satisfy. It feels so frustrating, right?
It doesn't have to be this way, though. There's still a way to stimulate your erogenous zones without getting actual love toys. You can just do these toys yourself!
Yep, you read that right. As long as you have enough creativity, you can make a regular household item as a love toy that'll send orgasmic sensations to your erogenous zones!
If you're unsure of what household items can work as a love toy, we've got the ultimate list of DIY sex toy ideas for you!
For this guide, we will be sharing the best regular items that can be sex toys for men, women, and couples. But before we jump to the list of household items, let's discuss the pros and cons of using DIY sex toys.
Pros & Cons of Using Household Items as Sex Toys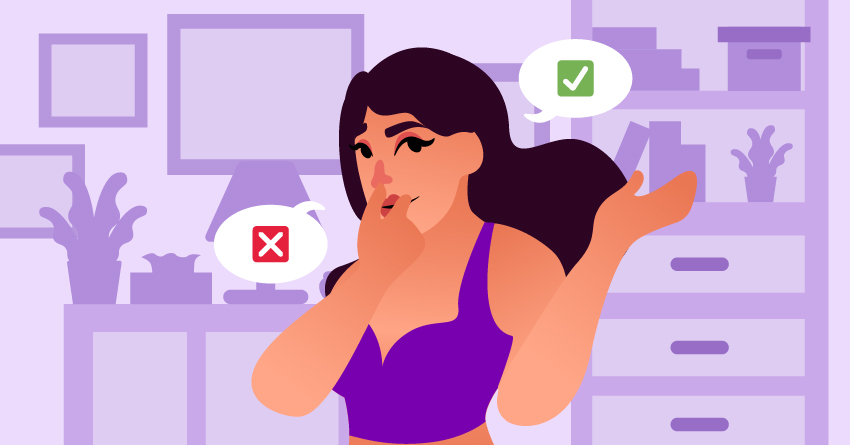 Before using your household items as sex toys, here are some of the pros and cons that you should consider.
Pros:
They're cheaper than love toys. High-quality sex toys are made with body-safe and premium materials, making them expensive. By having a DIY sex toy, you'll spend less than buying an actual love toy.
They're readily available. Unless you're purchasing a sex toy from shops that have same-day delivery like Lauvette, then you might have to wait for days or weeks to get your love toy. Meanwhile, a DIY sex toy is readily available as most of the materials for the love toy are already stored at your home.
You can customize it depending on your preference. Depending on your needs and desires, you can mix and match things up.
Cons:
They're not as effective as sex toys. Love toys are specially designed to stimulate your erogenous zones. As much as a regular item can vibrate or be used for penetration, the sensations you'll get from a DIY sex toy may not be as pleasurable as the one you'll get from a love toy.
They're not as durable. Since regular household items aren't made for sexual activities, they may break eventually.
It's risky. The main con of using household items as sex toys is that you'll be more at risk of injuries and infections. As we've mentioned, regular items aren't designed to be used for genital stimulation, so make sure to be careful when using your DIY sex toys.
DIY Sex Toy Ideas
Now that you've learned about the advantages and disadvantages of using homemade love toys let's proceed with the list. We've divided this section into three parts— DIY sex toy ideas for men, women, and couples. Just go to the section that suits your needs and discover the different regular items you can play with as pleasure toys. Let's get started!
DIY Sex Toy Ideas for Women
Looking for DIY sex toy ideas that'll stimulate your vag and clit? We're here to help you out! Find out the items at your home that can turn into a makeshift love toy.
1

Massage Roller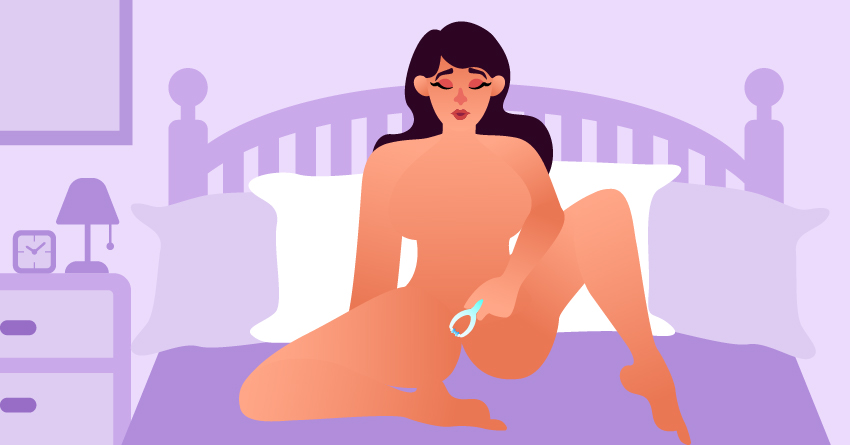 Do you have manual hand massage rollers at home? You can use that as a sex toy! Just apply a water-based lubricant on the roller or tip of the massager, then gently rub it on your clitoris. This will definitely send new sensations to your clit, especially if the massage roller is textured.
2

Pearl Necklace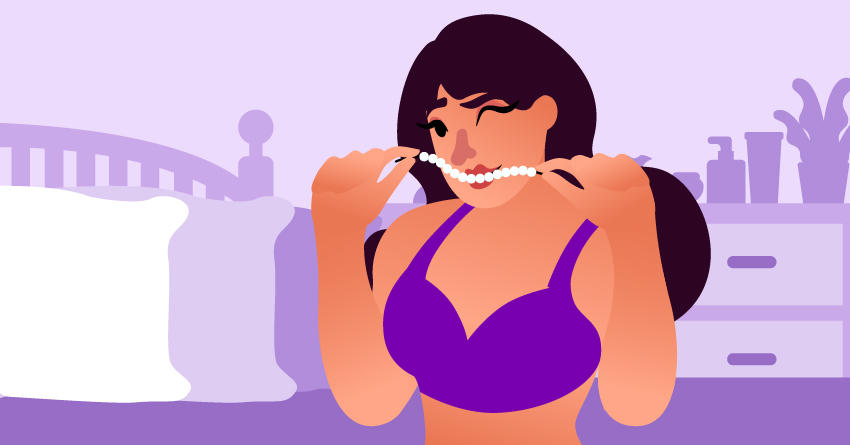 Another item that could work as a DIY sex toy is a pearl necklace or any beaded necklace that you can unclasp.
First, you'll need to stand up or kneel down and spread your legs for a bit. Then, unclasp the necklace and apply lube to the beads. Hold one end of the pearl necklace in front of you while holding the other end at the back. After that, slowly pull the necklace forward and backward. The beads would then rub your vaginal opening, labia, and clitoris, sending pulsating pleasure to your body.
3

Pillow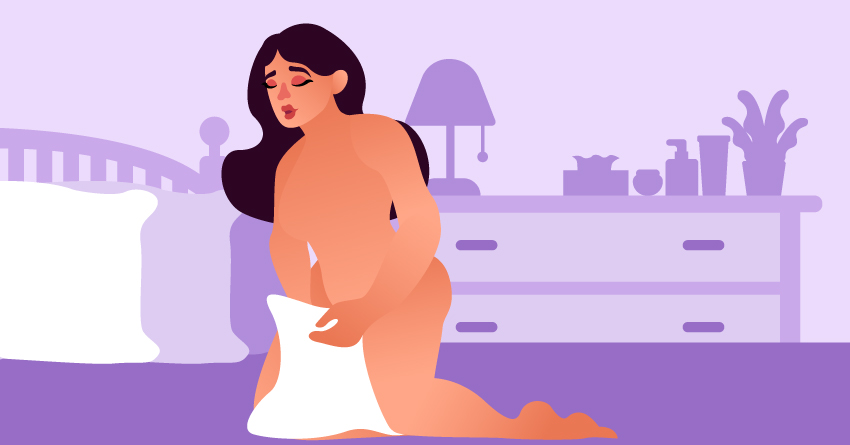 Looking for a DIY sex toy that's already in your bedroom? You can surely count on pillows! It's mainly used to be humped on, giving indirect stimulation to the clitoris; some of you probably tried humping it before for pleasure.
Aside from humping the sides and corners of your pillow, you can also use this item for syntribation, a form of masturbation that involves squeezing your thighs. Just put a throw pillow in the middle of your legs, with the pillow corner right on your clitoris, then squeeze your thighs.
4

Handheld Showerhead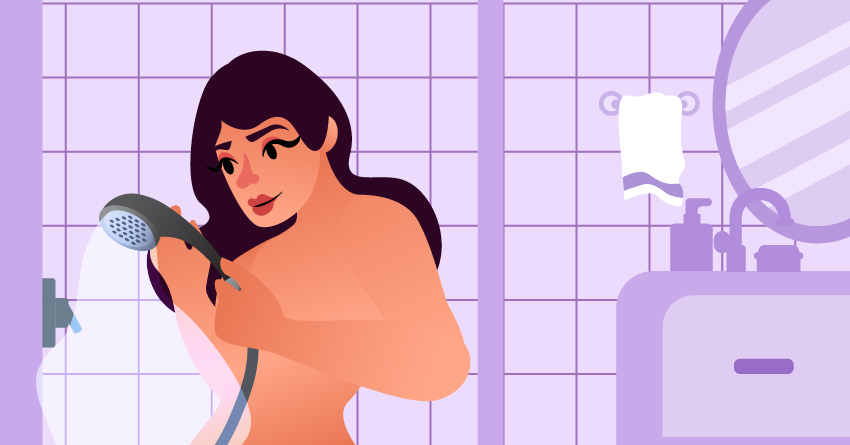 Another classic DIY sex toy is the handheld showerhead. If you're in the bathtub, just lie down and spread your legs, turn on the shower, and place the flow of water right on your clitoris.
If you don't have a bathtub, you can stand, squat, or sit down on the floor, then do the same step as mentioned above; just place the showerhead nozzle right on your clitoris. Move the showerhead away from your genitals and vice versa to increase the pressure.
What's great about using the handheld showerhead as a DIY sex toy is that it creates a blended sensation due to the water's pressure, movement, and temperature. Some even say that having showerhead masturbation feels like receiving oral sex; the water feels like a big, flicky tongue that doesn't stop.
It's also great for peeps who have a lot of housemates and want to discreetly satisfy their sexual urges. Since you're in the shower, nobody wouldn't suspect you're masturbating. You can also let out some soft moans as the sound would just be drowned by the sound of the shower. The only downside on this one is your water bill may increase, especially if you regularly have intimate plays with your showerhead.
5

Cucumber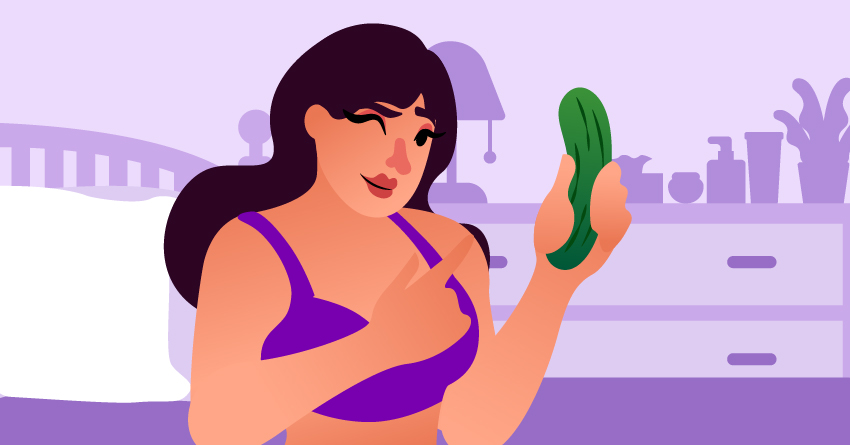 If you're craving some vaginal action, consider using a cucumber as an alternative for a dildo. It usually comes with a size similar to a regular dildo and has a smooth texture; just wrap it up with a condom, and you're good to go! Take note, though, don't use the cucumber for your dishes afterward.
6

Carrot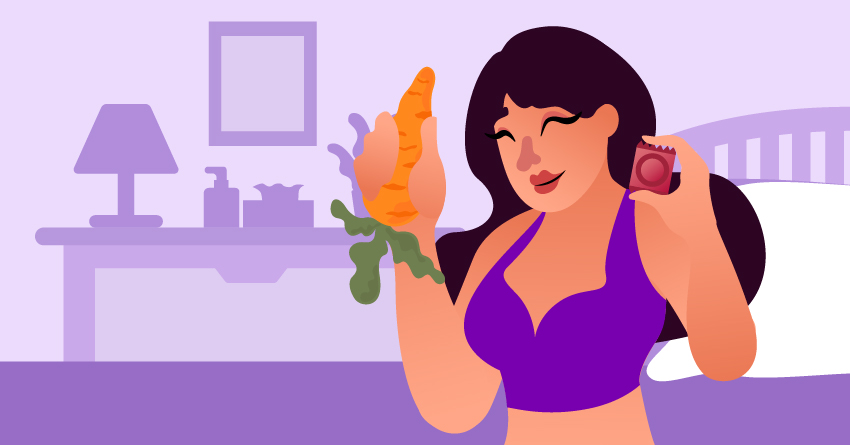 Another great alternative for a dildo is a carrot. Same with the cucumber, you'll just wrap the vegetable in a pre-lubricated condom, then gently thrust it in and out of your vagina. Don't also forget to throw it off once you're done playing it— nope, you can't include that in the dish you're cooking, hun.
7

Hairbrush Handle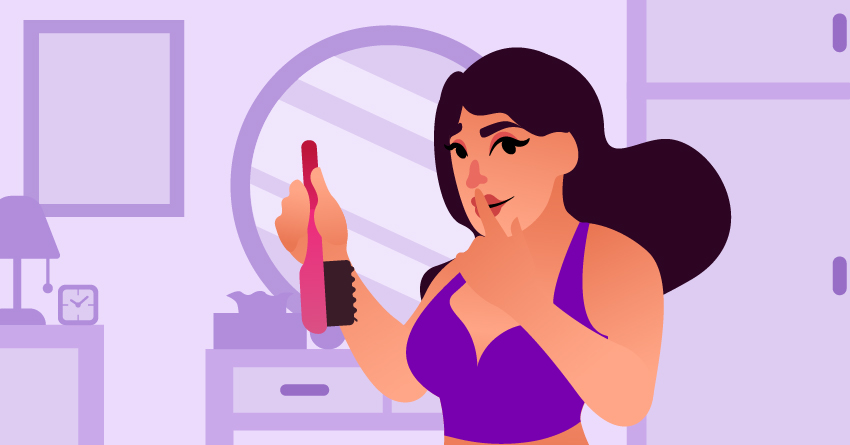 If the idea of using vegetables as a homemade dildo is iffy to you, consider using other items such as the handle of a hairbrush. What's great about this one is that it's a personal item, so if you're living with someone, they're not gonna question you bringing a hairbrush in the bedroom, compared to bringing a cucumber or carrot. Just wrap a condom around the handle and gently insert it in your vagina.
8

Face Roller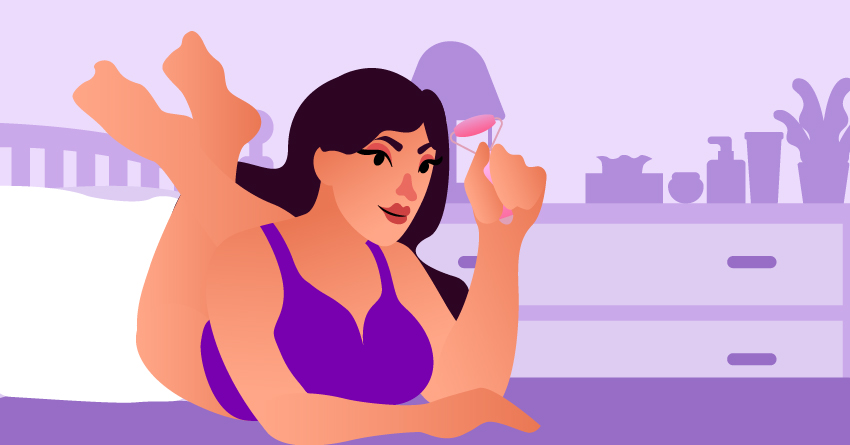 If you're not familiar with a face roller, it's a small beauty gadget commonly made from jade, rose quartz, or amethyst. It looks like a tiny rolling pin and usually has two rollers on each end. To use it, you have to roll it in your face, preferably with skin serums and creams. Users believed that regularly using it could become beneficial for the skin.
Aside from helping your skin glow, a face roller can also work as a clitoral sex toy. Same with the body massage roller, you can apply some lube on the roller, then rub it in your clitoris.
9

Electric Toothbrush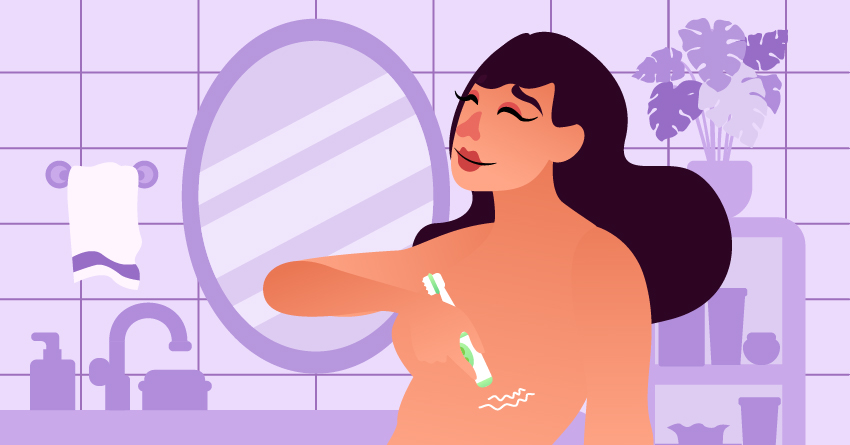 If you're looking for DIY sex toy ideas that can work as an alternative for a vibrator, then get this one. Not only you'll get to clean your teeth more efficiently, but you can also use the handle of this device as a mini vibrator. Just wrap the handle with a condom, turn it on, then proceed on stimulating it in your external erogenous zones, such as your nipples or clitoris. Don't insert this in your vagina.
10

Flute
As the popular saying goes, "anything can be a dildo if you're brave enough." So if you have a flute just chilling in your closet, you might want to consider using that and creating moans instead of music. Just wrap the condom on the tip and gently insert it in your vagina.
11

Smartphone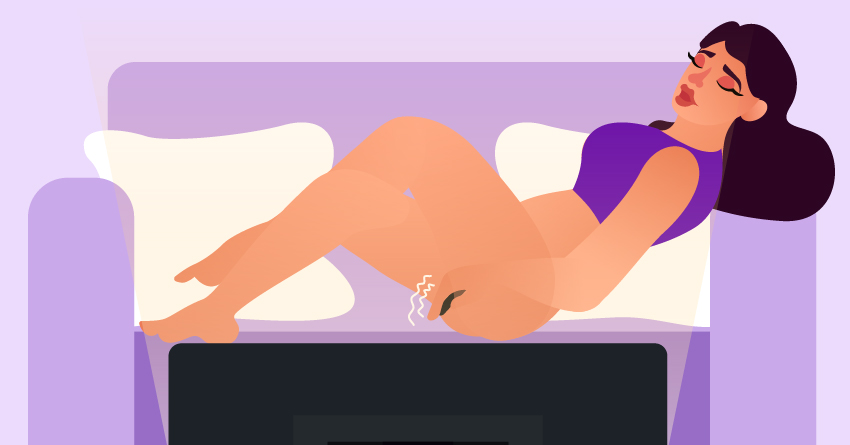 Aside from being a reliable device to watch sensual videos and get you in the mood, a smartphone can also work as an alternative for a vibrator! Just install a vibration or massager app on your smartphone, open it, and just let it vibrate. You can then rub the corner edge of your phone in your external erogenous zones, such as your nipples and clitoris.
Remember that your smartphone is one of the dirtiest everyday items. So if you're planning to use it as an alternative to a vibrator, make sure that you've cleaned it properly.
12

Washing Machine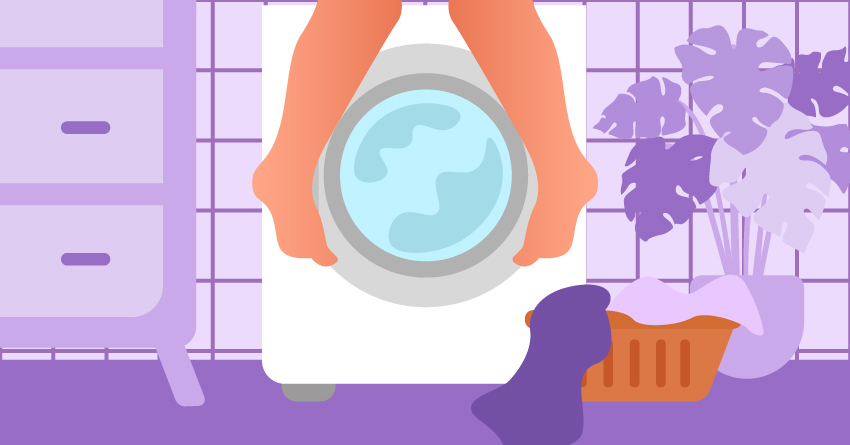 A washing machine usually vibrates when doing its job. This is why some women experience their sexual awakening while sitting down on a washing machine since it indirectly stimulates the clitoris with pulsating vibrations.
So for those who are feeling a bit horny but don't have an available vibrator at the moment, grab your dirty clothes, put them on the washing machine, turn it on and let it do its own thing, then sit down as it vibrates. You can also spread your legs for a bit to amp up the sensations or press your pubic mound on the edge of the washing machine (only do this if the corner edge isn't sharp).
DIY Sex Toy Ideas for Men
Do you want to spice up your jerk-off sessions but can't have a proper fleshlight or masturbator? No worries, as some of your household items can actually be used as a male sex toy! Find out about these items below.
13

Socks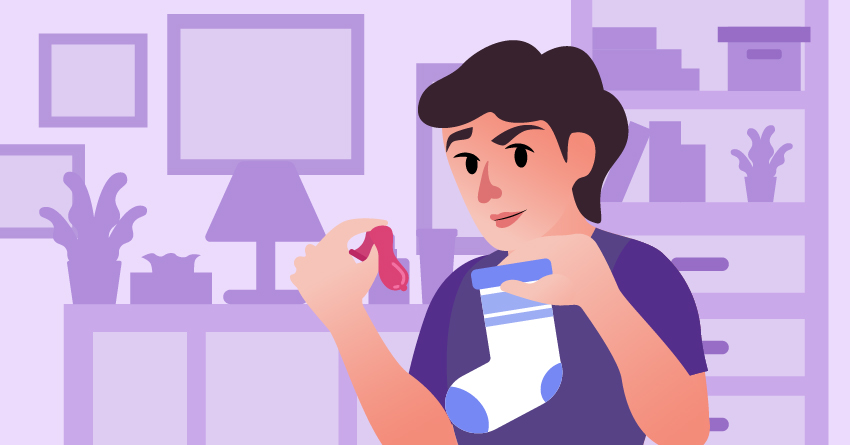 First on the list is one of the classic DIY sex toy ideas. Socks can work as an alternative to a masturbator or stroker. Just put a condom inside the sock, fill the condom with lubricant, insert your hard-on, and masturbate away! What's great about using a sock is that you can adjust the tightness of your homemade masturbator; simply tighten or loosen up your grip.
14

Sandwich Bag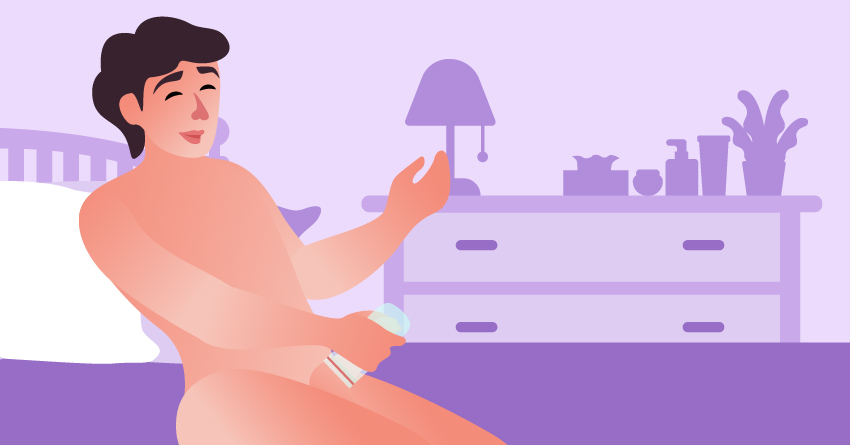 Another masturbator or stroker alternative is a sandwich bag. This is pretty similar to socks, but you don't necessarily need a condom in this one. Just apply lubricant inside the sandwich bag, put your penis inside, and stroke your penis with it! Same with the sock masturbator, you can also adjust the tightness of the homemade toy with your grip.
15

Scrunchie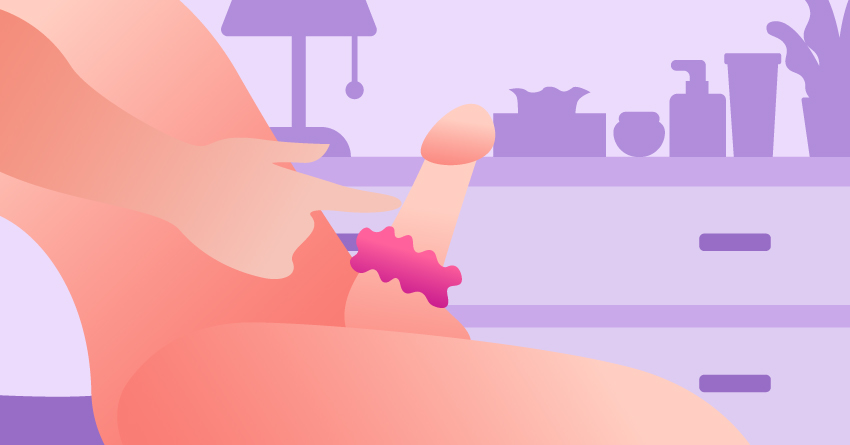 Planning to use a cock ring during the deed but forgot to bring it? Consider using a scrunchie as an alternative. Just wrap in the base of your penis with enough tightness, then proceed on the sensual sesh. Same with using regular penis rings, don't keep it too long (more than 20 minutes) on your penis.
16

Pringles Canister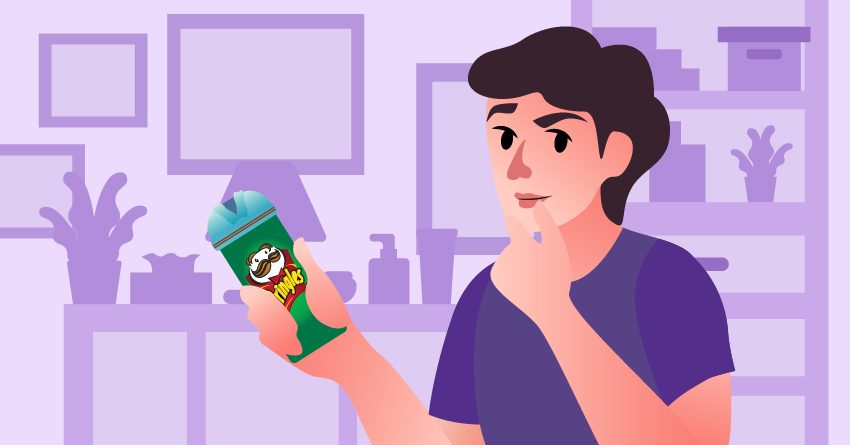 Want to create an actual DIY masturbator? Get yourself an empty pringles canister, rubber glove, rubber bands, and sponges. Put the sponges (or other soft materials) inside the Pringles canister; don't just push it in but wrap the sides of the canister. After that, wrap the inside of the canister with the medical rubber glove.
Make sure to leave some space on the open end of the glove, roll it up around the opening of the canister then secure it with rubber bands. It should look like a fleshlight once you're done creating it. After that, apply lubricant inside the DIY fleshlight and start playing with it.
17

Tumbler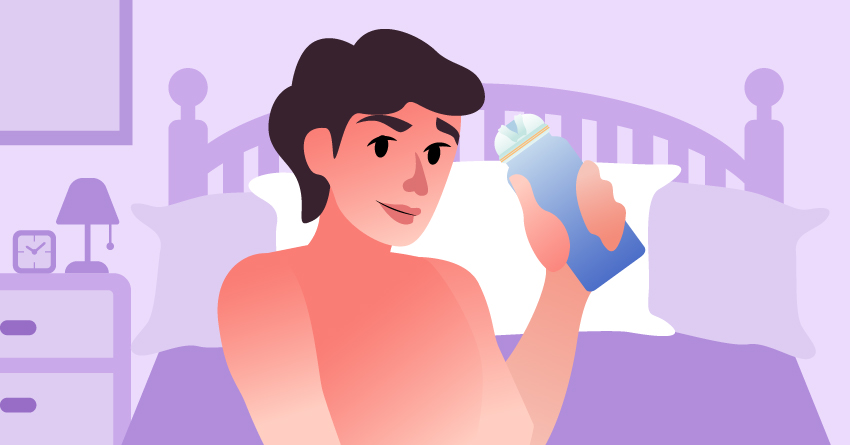 If you don't have a pringles canister lying around your home, you can use a tumbler instead. Same with the previous DIY sex toy, you'll need a rubber glove, rubber bands, and some soft materials such as sponges, cotton, towel, or rugs.
Put the soft materials inside the tumbler; make sure all the sides are covered up with the soft material. After that, wrap the inside of the tumbler with the glove. Leave some space on the open end of the glove, as you'll need to securely place it with a rubber band. Once you're done creating your makeshift sex toy, you can apply lubricant inside it and start playing.
18

Ice Plastic Packs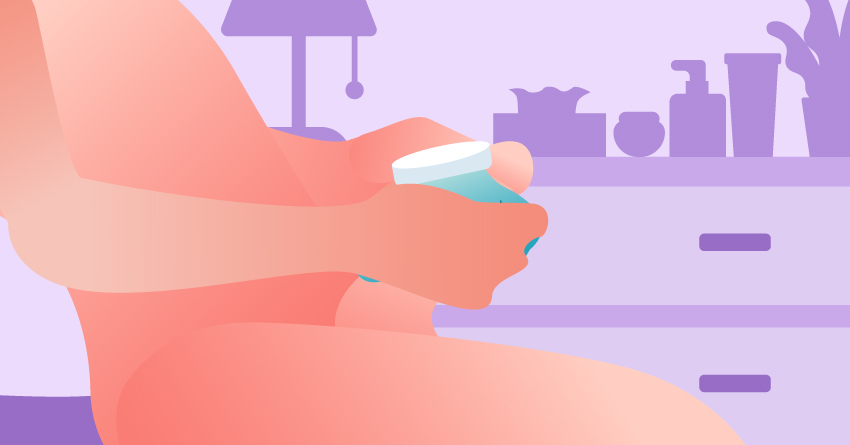 If you want a fast and easy way to create a makeshift masturbator/stroker, then this one is a must-try. This is one of the DIY sex toy ideas for men that don't necessarily need a lot of materials. All you need are two small ice plastics or ice packs and any tape that you can find in your home. What you would do is inflate the plastics, put them next to each other, then wrap them with tape. And that's it!
To play with this makeshift love toy, you'll just apply water-based lubricant on your penis, then slide it in the tight gap between the two inflated ice packs.
19

Pillow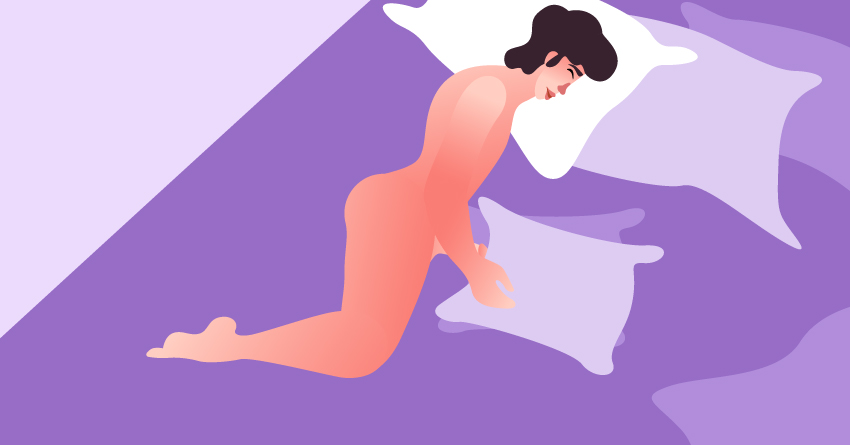 Another household item that could be used for male self-pleasure is the good 'ol pillow. Stack two or three pillows in front of you, get into the position you would do during a missionary position, and hump the pillow. You can also cut a hole in your extra pillow and gently thrust your penis with it. Now, if you don't want to ruin your pillow but still want that penetration action, just stack 2 pillows in front of you, get into a missionary position, and gently insert your penis in between the stacked pillows.
20

Sofa Cushion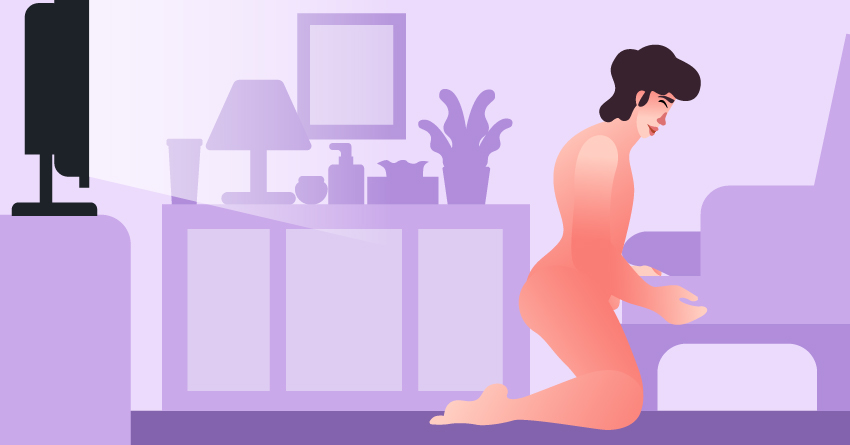 If you own a couch, chances are there's a gap in between the sofa cushions. If you're feeling a bit naughty, you can use that cushion gap in your solo plays. Gently push and pull your hard-on in the gap; wear a condom to ensure a mess-free play. You can also kneel down and hump the sofa cushions— just imagine you're thrusting someone from the back!
21

Soap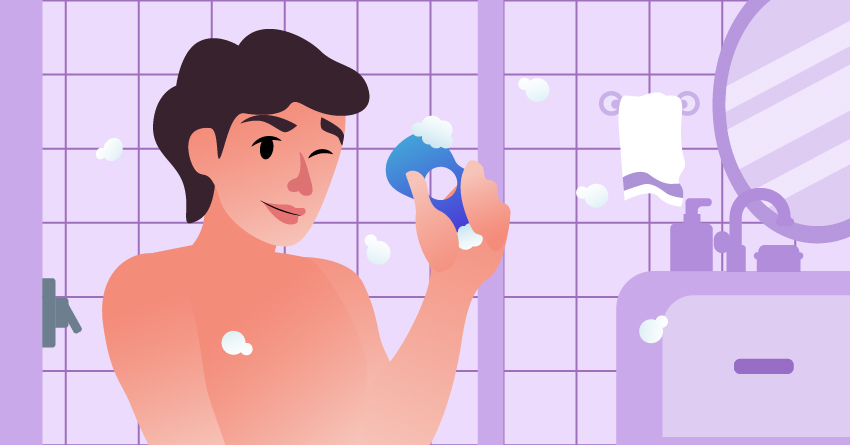 If you want a DIY sex toy that you can casually use in the shower, then go for this unconventional yet effective alternative for a stroker or open-ended masturbator. Buy a new soap and just create a hole (same diameter as your penis), then just slide the soap into your hard-on. You can then just move the soap in and out of your penis.
Take note, though, don't just casually lie your soap masturbator in the bathroom, or you might run into an awkward situation with your visitors.
22

PVC Pipe
If you're the type that would go for risqué plays, then you might want to consider using a PVC pipe as a DIY sex toy. Just grab a PVC pipe insulation with a diameter similar to your penis. You should then cut the pipe down to a length similar to your hard-on. After that, apply an ample amount of lubricant to your penis and the PVC pipe. Gently insert your schlong and move the pipe up and down.
23

Gel Ice Packs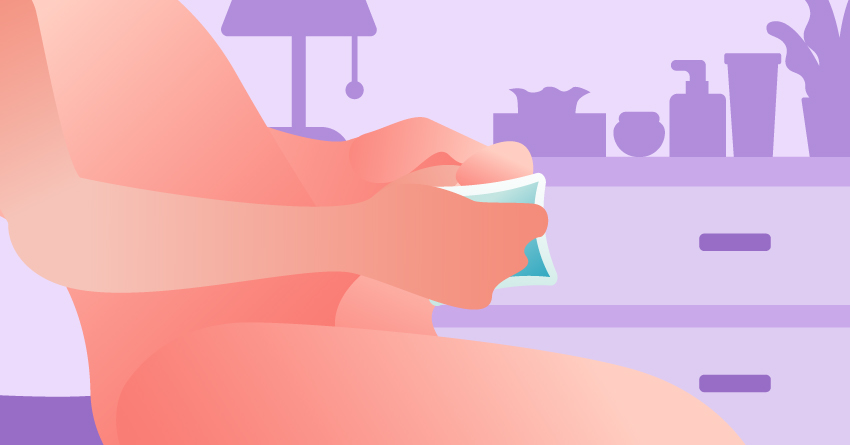 Creating a DIY sex toy for this material is similar to the ice plastic packs. Just stack the gel ice packs, bind them with tape, chill it in the refrigerator, put it out, apply lube on your penis, and gently insert your erection on the small gap in the middle of the gel packs. What's great about this one, though, is it comes with a cooling sensation.
24

Banana Peel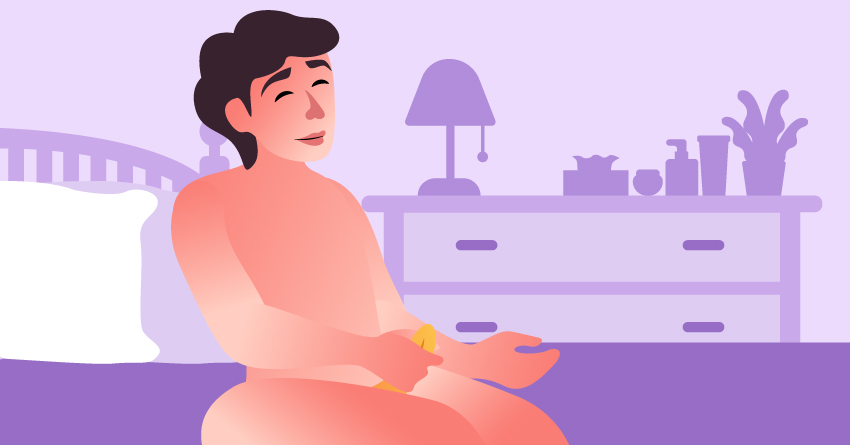 Got some bananas in your pantry? Consider doing this self-pleasure trick!
First, cut the tip of the banana's stem. After that, squeeze the contents; don't squeeze too hard, or you might damage the banana. Once you're done removing the contents, flush the insides with water to wash off the remaining banana bits. You can chill it in the refrigerator or put it in the microwave for a few seconds to warm it up.
After that, apply lube on your penis and insert your schlong on the banana peel; wear it like a condom. Once the peel is in your erection, proceed to masturbate until you reach that blissful O!
25

Watermelon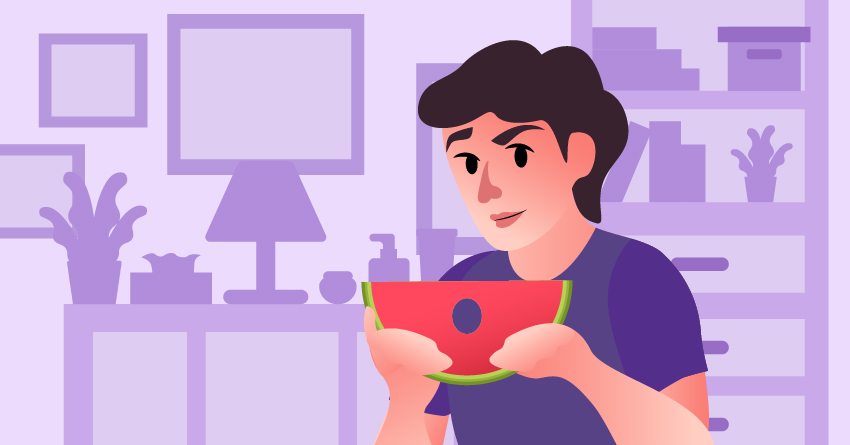 Another food item you can use as a DIY sex toy is a watermelon. It's watery, so you don't have to use lube when playing with this fruit. It also has a pulpy texture that gives a similar feeling to vaginal penetration.
To create your own watermelon wanker, all you need is half of a watermelon. Once you've got that, carve a slit in the middle, then scoop out the contents. Make sure the depth of the hole matches the length of your erection. After that, just insert your penis and start having sultry fun! Take note, though, the end result is gonna be messy.
DIY Sex Toy Ideas for Couples
Yes, couples can also create makeshift love toys for their passionate and kinky plays! Whether you're curious to make your own pleasure device or you both can't afford to have your own toys yet, you can surely count on these household items as sex toys.
26

Pantyhose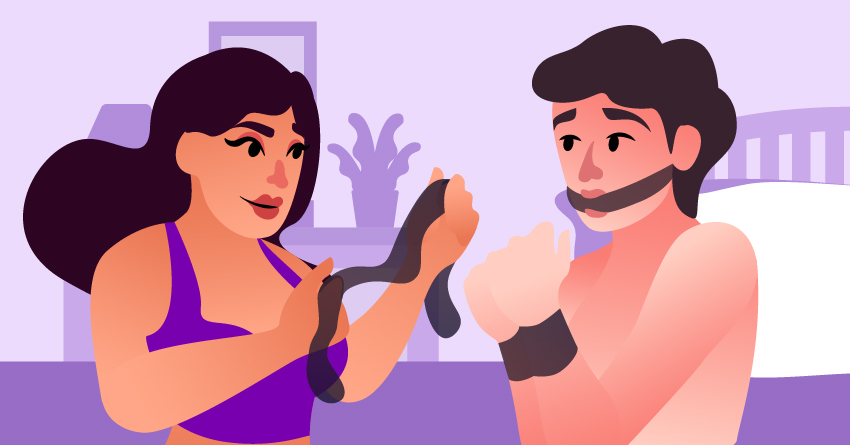 If you're feeling a bit kinky but haven't prepped your BDSM toys, you can use your own or your partner's clothing as a mouth gag, such as a pantyhose. Just remove it from your own or partner's legs, and tie it all up on their mouth. Not only it's readily available, but using one's clothing as a sex toy can be incredibly hot.
27

Underwear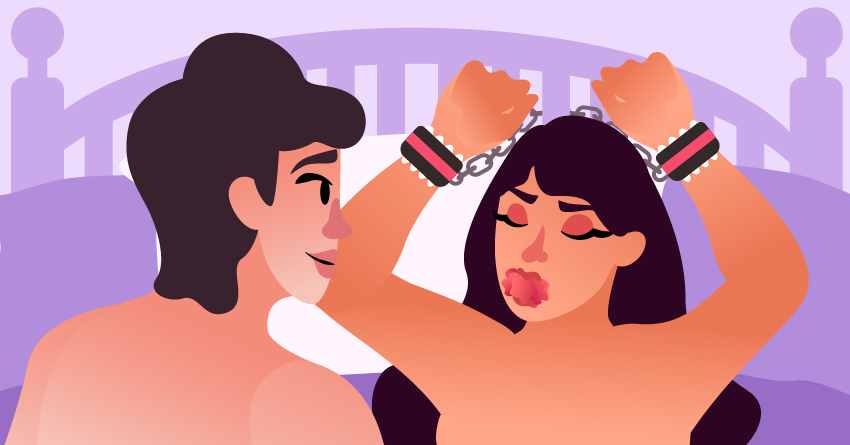 Another piece of clothing that could work as a restraint, blindfold, or mouth gag is your own or your partner's undies. Same with the pantyhose, gently remove your partner's underwear and tie it up on your chosen body part.
28

Belt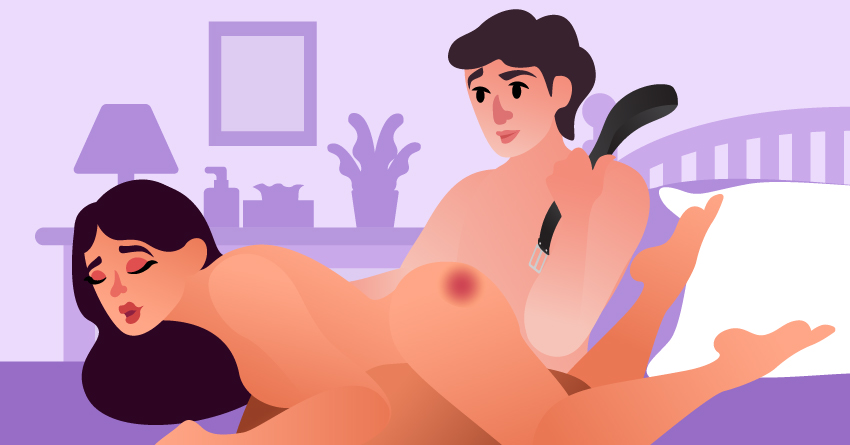 Is your partner requesting sultry spanking, but you don't have a whip in your sex toy stash? Don't worry, as you can use something in your closet as a BDSM whip alternative— a belt! Just hold and wrap the base in your hands, then start spanking your partner with it. Make sure to only spank on the safe zones, such as the butt and thighs.
29

Sleep Mask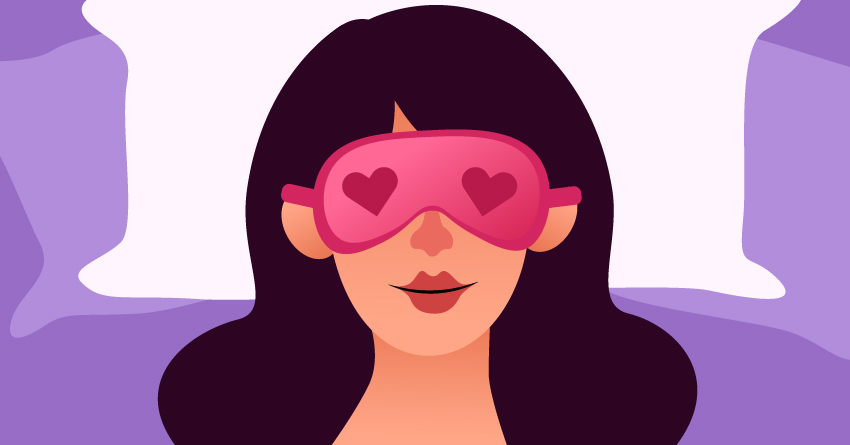 Trying BDSM or sensory deprivation on the deed but haven't bought a blindfold yet? If you or your partner have a sleep mask, use that instead! It may ruin the BDSM vibe for some peeps (especially if the mask comes with a silly design), but it'll still get the job done.
30

Ice Cubes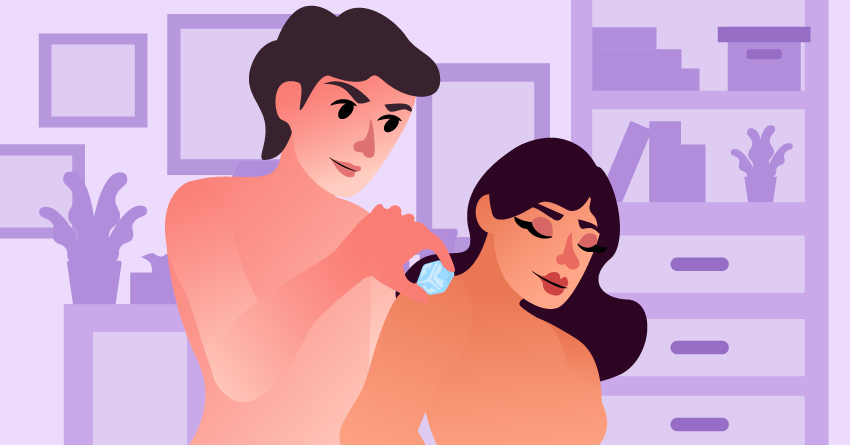 Temperature play is one of the best and underrated pre-game activities in the bedroom. Experiencing unpredictable cold or hot sensations while blindfolded can heighten up your arousal and, at times, make you cum.
If you're interested in trying this sensual play, you don't have to invest in expensive stimulants, and warming lubes just yet. Start with something simple, such as ice cubes! Ask your partner to lie down, blindfolded. Give him warm kisses while also running the ice over their body. Watch your partner release those soft moans.
31

Paper Clips
Looking for makeshift nipple clamps for your BDSM plays? You can make some minor adjustments on regular paper clips and use that to squeeze your nips.
Now, this can be a good alternative for nipple clamps, but we highly recommend getting nipple clamps once you've got the opportunity to do so. Remember that your nipples are highly sensitive, and regularly using paper clips on your nips may cause harm in the long run.
32

Rubber Bands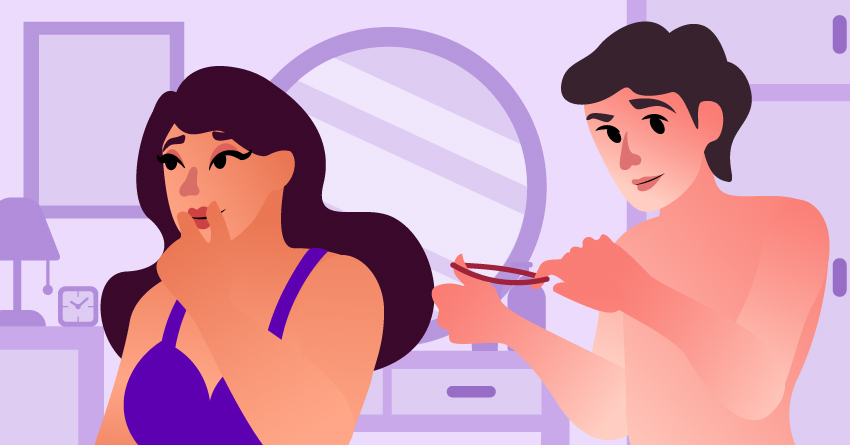 If you don't have a flogger or crop whip to send stingy whips to your naughty sub, you can use rubber bands in the meantime. This is one of the DIY sex toy ideas that don't require any additional material— all you need is two or three pieces of the rubber band.
Just stretch the rubber band right in front of your partner's sensitive spot, then release the end of the rubber band closest to your chest. The released end will flick on your partner's body, sending soft stings to their body.
33

Mint Mouthwash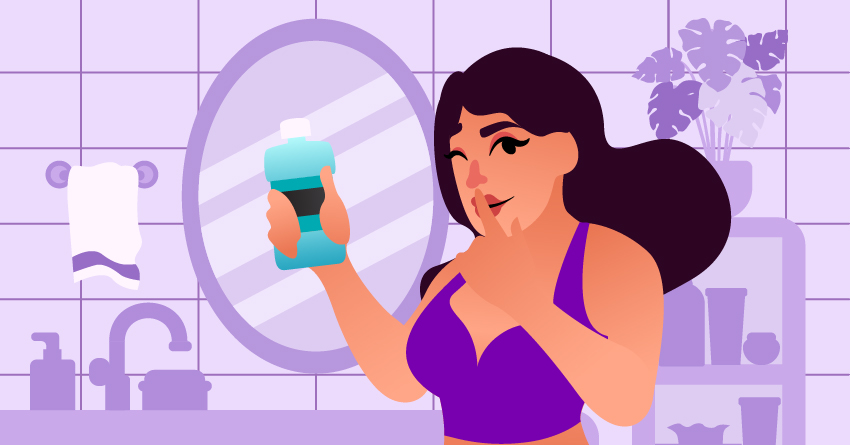 Edible cooling lubricants can surely level up your oral sex game, but they're also made with specialized ingredients, making them pretty expensive. So for those who want to surprise their partner with a chilly blowjob or cunnilingus, you can use a mint-flavored mouthwash instead. Just rinse it off your mouth a few minutes before the deed.
34

Mint-Flavored Candy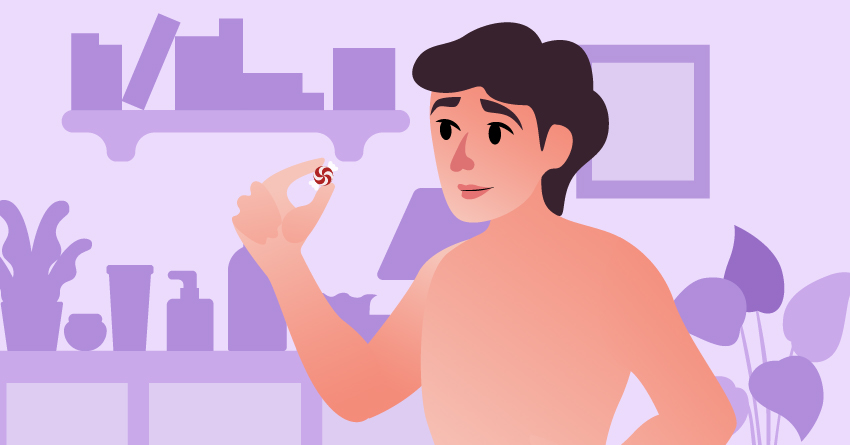 Another great alternative for cooling lubricants is a mint-flavored candy. Just put them in your mouth for a few minutes, take them off, then start performing oral sex to your boo. You can also amp it up by actually keeping the candy inside your mouth while licking your partner's pleasure spots; just be careful when doing this tip, as you might get choked by the candy.
35

Wooden Spoon or Spatula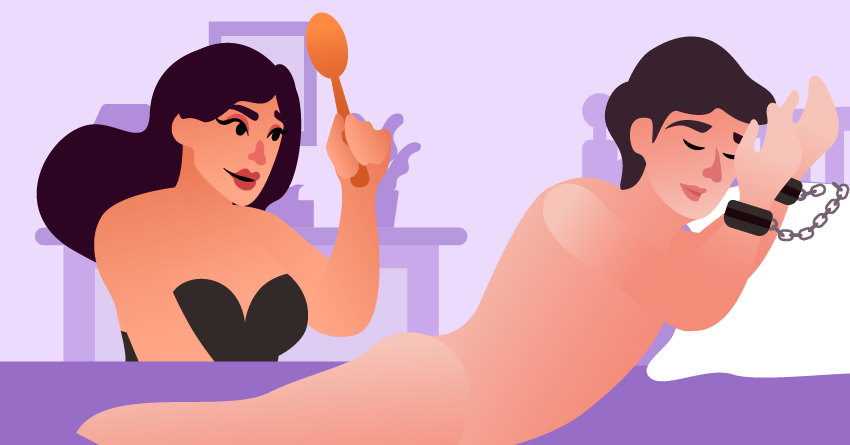 In the mood for kinky spanking, but you don't own a paddle yet? Grab a wooden spoon or spatula from your kitchen! It's a great alternative for wooden paddles. Just clean it properly before using it and only slap your partner's safe zones, such as their thighs and buttcheeks.
36

Silicone Spatula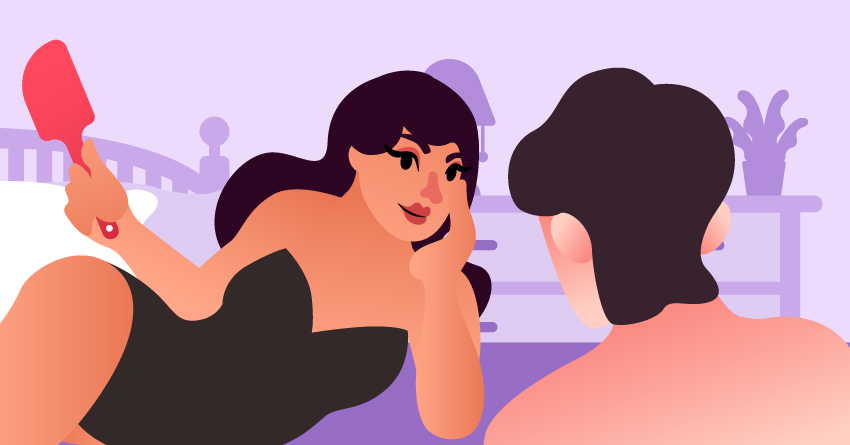 Consider getting a silicone spatula if you want a DIY sex paddle that can send harder hits. It's more flexible than a wooden spatula, giving a flicking motion that increases the pain and pressure on the spanked area.
37

Clothespins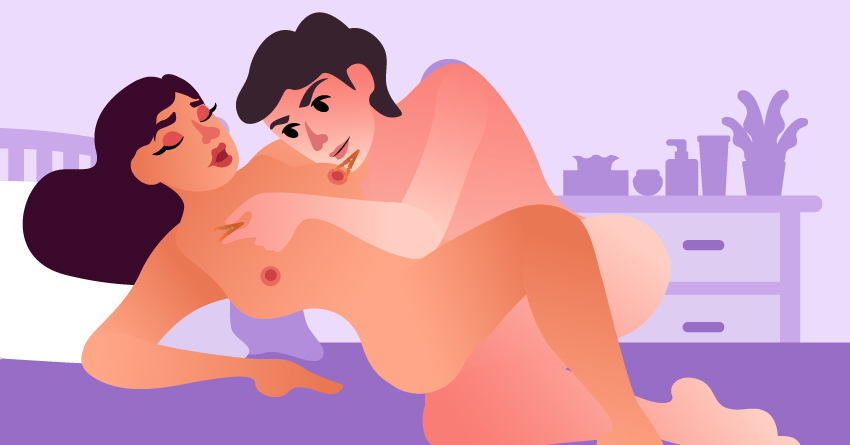 If you're looking for an alternative to advanced types of nipple clamps, such as butterfly clamps, consider using clothespins. They apply more pressure on the nipples compared to paper clips. However, it also provides more pain to the wearer, and it's not adjustable, so make sure to have adequate experience wearing nipple clamps before using the clothespins alternative.
38

Necktie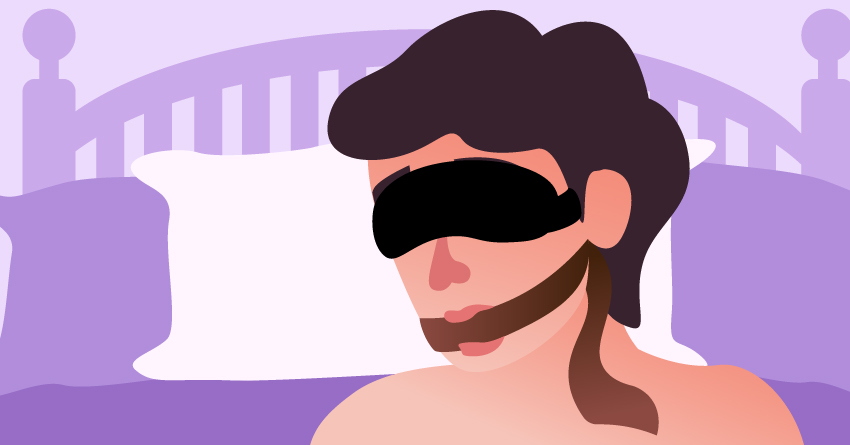 Another great DIY sex toy for your kinky BDSM plays is the good 'ol necktie. You can use it as a blindfold, mouth gag, or restraint. It's also pretty much available in every male closet. So if you or your partner wants to tie you up/get you tied, then just grab this item in the closet, and you're good to go!
39

Inflatable Pool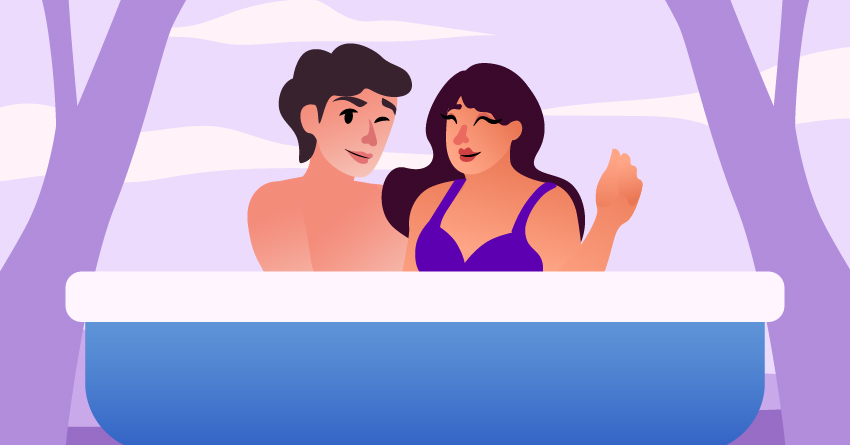 Pool sex can be incredibly hot. The water dripping on each other's bodies, the swishing sound of the water as you thrust in and out of your partner's vagina/anus, the thrilling feeling of possibly getting caught— doing this activity will surely excite your sensual senses.
However, not everyone has access to a private pool or tub; get an inflatable pool instead. Set it up in your backyard, and fill it with water. Once the nighttime kicks in, you can sneakily go to the pool and have sultry fun!
40

Dice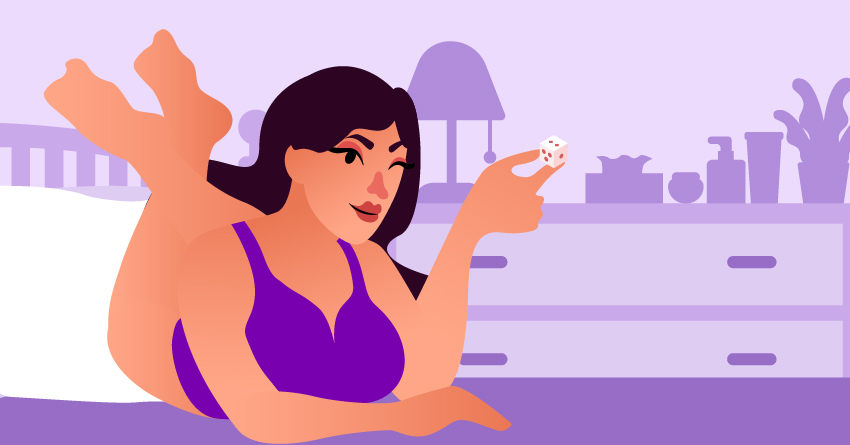 If you have two dice lying around in your house, consider using that and have fun sex games with your partner! For instance, you can use dice to determine what kind of sex position you'll try that night. Just list down 12 sex positions on your actual or virtual notepad, roll the dice, then follow what the dice says!
You can also assign a body part on another dice (for example, one would be ears, two would be nipples, three would be inner thighs, and so on.) In contrast, the other dice tell you what to do with that body region (for example, one would be licking, two would be kissing, three would be sucking, and so forth.)
41

Masking Tape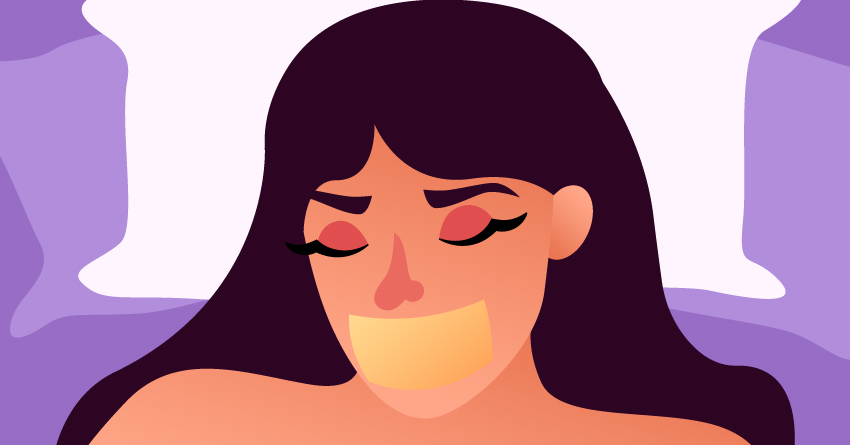 If you're looking for a mouth gag alternative, you can go for a masking tape. We only recommend this if there's no appropriate clothing available to be used as a mouth gag, as a masking tape can be uncomfortable (but also highly erotic for a masochist).
42

Baby Oil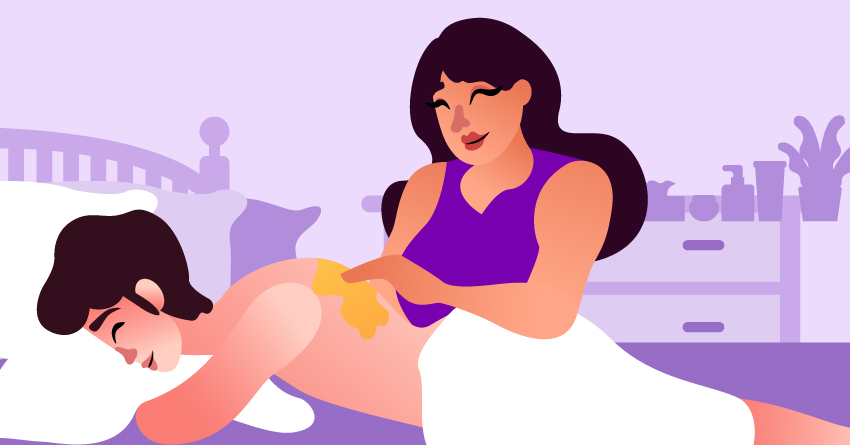 Want to give your partner a slow and sensual massage, but your favorite massage oil or candle is out of stock? Go for baby oil instead. It's not as fragrant as a massage oil would be, but it still gets the job done. Take note, though, baby oil is not a lubricant alternative. It's not safe to use as lube and is only good for sensual massages.
43

Feather Duster
Are you looking for a DIY sex toy alternative for a BDSM tickler? If you have a feather duster just sitting in your cleaning closet, you're in luck! Just wash it thoroughly, dry it up, and then you can use it now to tease your partner's erogenous zones.
44

Grapefruit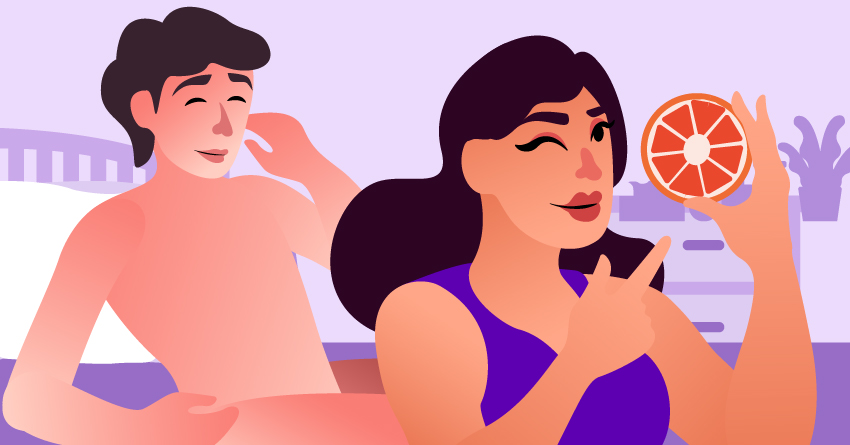 If you're looking for a DIY sex toy idea that involves food, here's something worth checking out. Did you know that there's a sexual practice called grapefruiting or grapefruit blowjob? For this BJ method, you'll basically get an unpeeled grapefruit, roll it on a hard surface for a minute, slice the navel-ends off, then cut a hole in the fleshly middle of the fruit (diameter is as same as the diameter of your partner's penis).
Once the grapefruit DIY sex toy stroker is done, you can lead your partner to the shower, blindfold him, and give him the regular blowjob. Slowly slide the grapefruit into his hard-on, then start moving the grapefruit in up-and-down and twisting motions. Your mouth should be on the head during this time, licking and sucking their sensitive tip.
Tips When Using Household Items as Sex Toys
As you've reached this part of this DIY sex toy guide, you probably listed the items you're interested in. But before you start playing the suggested items, make sure to follow these steps to ensure comfortable and safe sexual plays.
1

Cover your homemade love toys with a condom.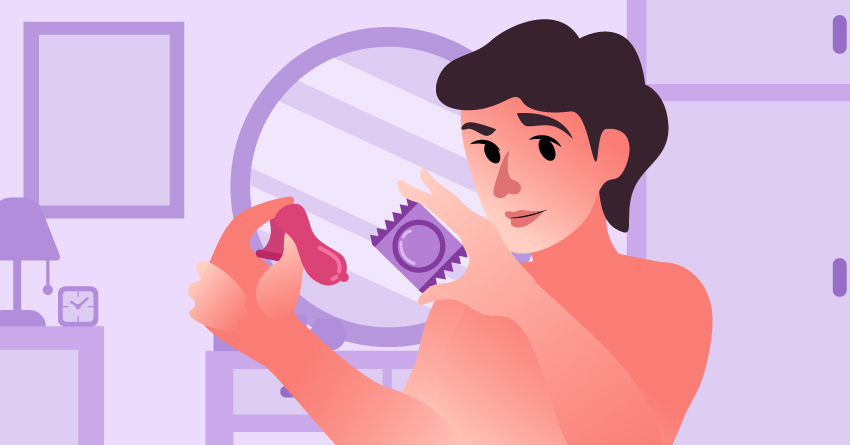 If you're trying to penetrate or get penetrated by a DIY sex toy, make sure to wrap the toy or your penis with a condom. This will avoid bacteria contacting your genitals. It also smoothens the insertion/penetration since most condoms are pre-lubricated.
2

Never use items with sharp edges or pointy tips as a sex toy.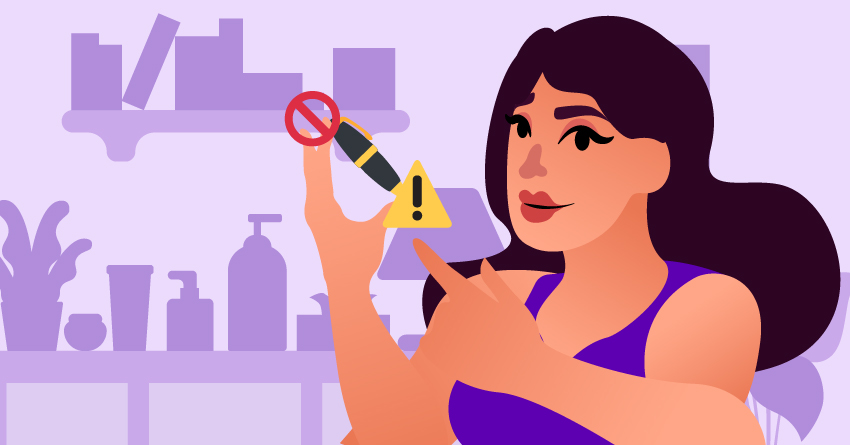 Your erogenous zones are extremely sensitive, so don't ever try using items such as knives, forks, pointy ball pens, and other items that have sharp edges and tips in them. Don't make your self-pleasure sesh into an injury.
3

Electrical items must only be used for external stimulation.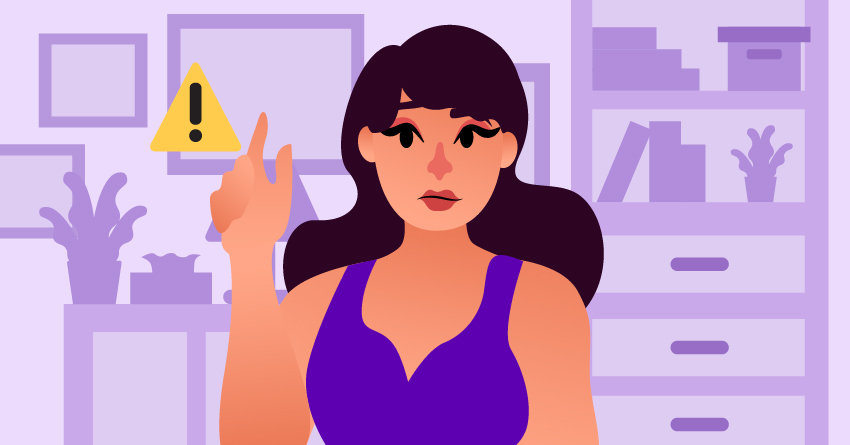 If you're using vibrating items to rub in your pleasure spots, such as an electric toothbrush, make sure that you only use it externally. Don't ever try inserting electrical items in your vagina or anus. Remember, these items aren't designed for vaginal or anal penetration. Keep your body safe by only rubbing them on your clitoris, labia, nipples, anal opening, buttcheeks, glans penis, and scrotum.
4

Clean your DIY sex toys before and after!
This is an important tip, and you should never forget this one. Whenever you use a DIY sex toy, make sure to clean the item thoroughly before and after. This ensures that you're safe to rub or penetrate the item in your genitals and ensure that the item is usable once you're done using it in your masturbation session.
5

Invest in actual sex toys once you've got the budget for it.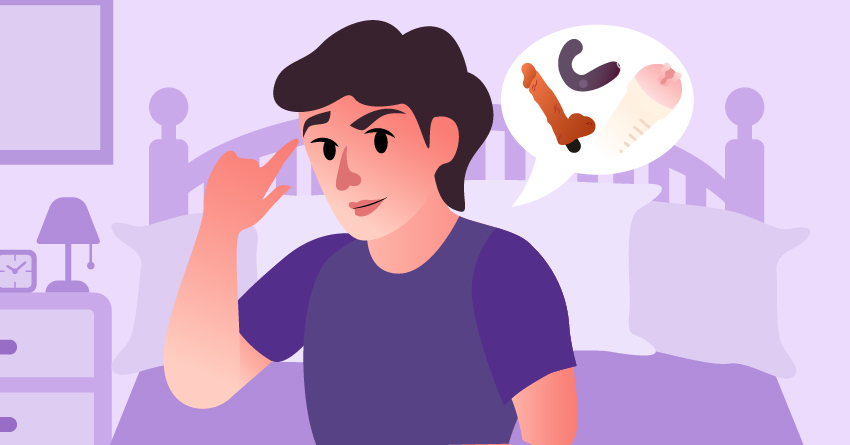 Homemade sex toys are more accessible and affordable, but remember that these items aren't necessarily designed for sexual stimulation. If you're going to use DIY sex toys regularly, it might cause issues in the long run.
This is why you investing in actual sex toys is a must. Pleasure devices are specifically designed for your pleasure and are made with body-safe materials. Not only that, but quality sex toys are non-porous, which means that the bacteria can't hide on the surface of the pleasure device.
Takeaway
With enough materials and creativity, you can create your own makeshift sex toy. However, after trying these DIY sex toy ideas, we highly suggest temporarily using homemade pleasure toys. Once you've got the budget to shop for actual love toys, go for it! Remember that masturbation is part of one's self-care routine. Never settle for anything less when it comes to your health and wellness.