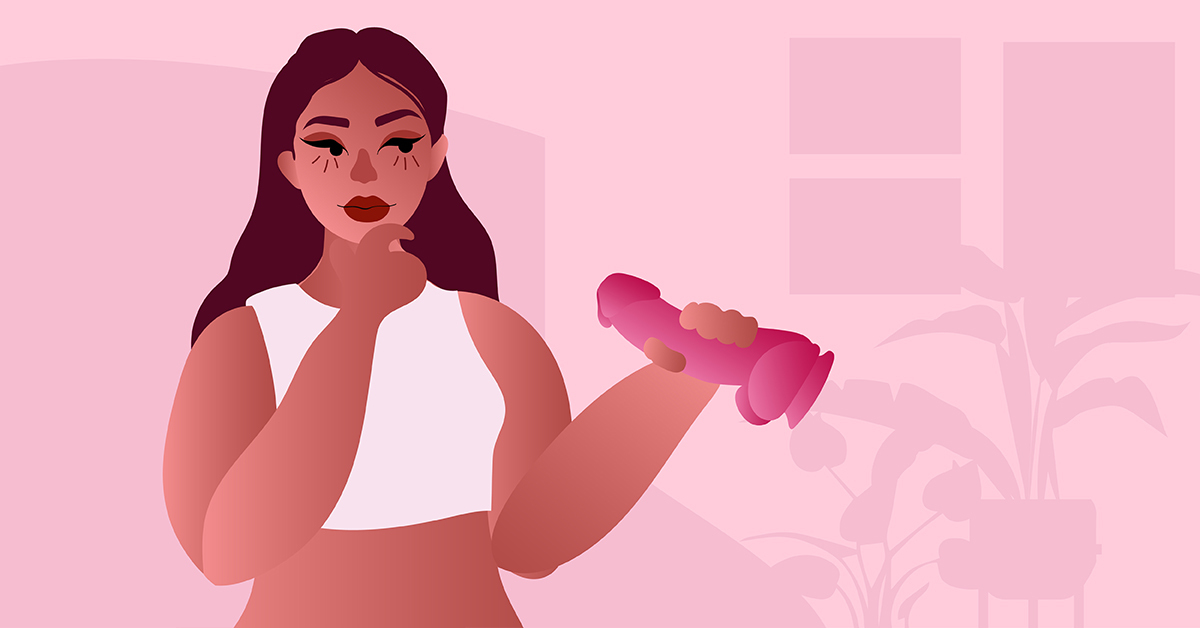 When you use a dildo, it's pretty self-explanatory. You don't necessarily need a 10-page instructional manual on how to use one. Just by glancing at the toy, you already know its purpose. It looks and feels like a penis, so it's used to penetrate your vagina or anus, amirite?
However, there are still some important pointers to take when using this popular toy. By knowing the best techniques and positions when using a dildo, you'll have a safer and more pleasurable experience. With that being said, let's take on a closer look at dildos and how to use them effectively!
What is a Dildo?
Before diving into the step-by-step guide on how to use a dildo, let's have a quick refresher.
A dildo is a sex toy that is intended to look like an erect penis. It comes with different materials, shapes, designs, sizes, colors, and textures. You can use it during masturbation or couple play and works best for vaginal/anal penetration. You can also use it as a practice toy to level up your blowjob and handjob skills.
As for its history, did you know that dildos have been existing as early as the Old Stone Age? During that period, dildos were made with wood, tar, bone, limestone, and ivory. As time went on, people have invented new materials for dildos, such as silicone and Pyrex glass, ensuring your comfortability and safety.
Moving from its origin, dildos are a must in your sex toy stash. It's easy-to-use, doesn't require charging (except for the vibrating variants), and simply gets the job done. And due to its simplicity, you can be creative with it! You can use it for temperature play, roleplaying, BDSM, and other kinks that you have in your sleeve.
Types of Dildo
As we've explained what a dildo is, we can sense the desire to try this bad boy out. But before heading to your favorite online sex toy shop, we suggest learning about the types of dildos first. By doing this, you'll be able to find the dildo that perfectly suits your needs.
Realistic Dildos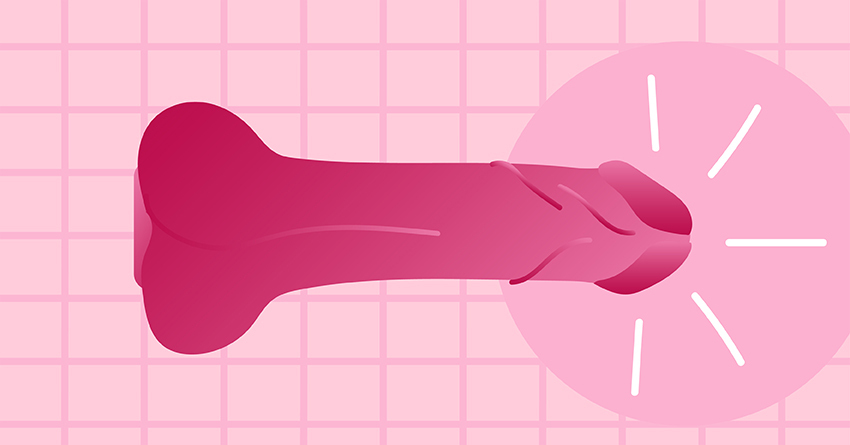 They're meant to look exactly like a real schlong. They're typically made of silicone, making them soft and gentle to touch. The only downside for this one is that you can't lie to your mom or roommate if they ever stumble upon this toy.
Glass Dildos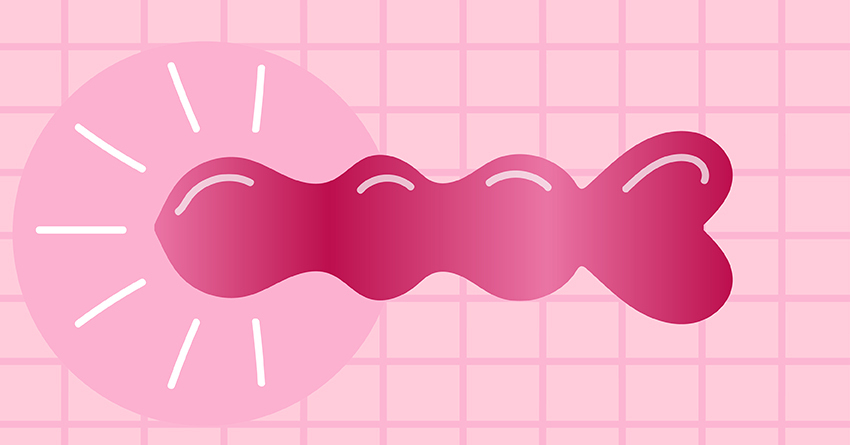 If looks are everything to you, go for glass dildos. Made from Pyrex or other types of borosilicate glass, most variants under this type can be heated or chilled—perfect for temperature play. It also comes in different shapes and intricate designs that will surely suit your aesthetic.
Suction Cup Dildos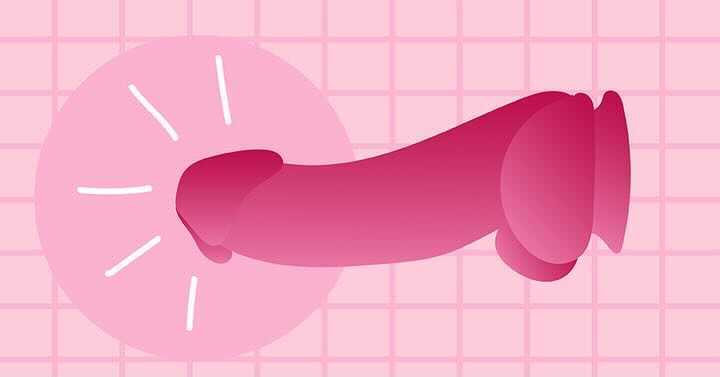 Going solo? Indulge in suction cup dildos. This type of dildo has a suction cup on the bottom part on which you stick on a solid surface. Once you stick it in, you can start thrusting in and out of the dildo as if you're riding your beau. You can try various sex positions with this type of dildo—just make sure to stick it on the right surface.
Vibrating Dildos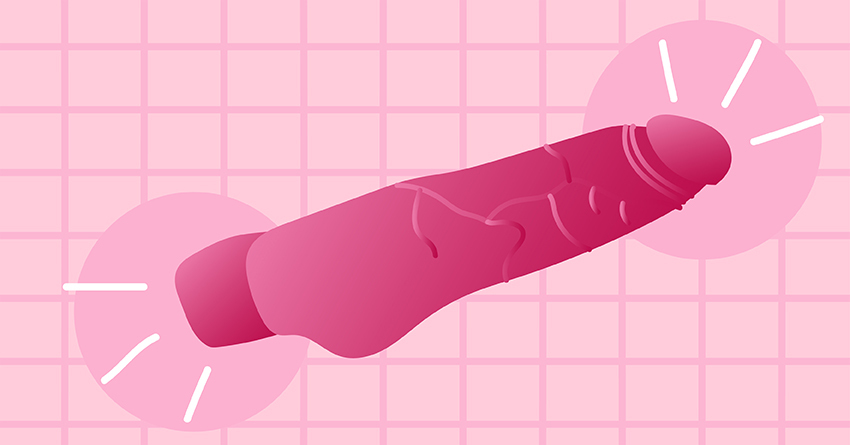 It's a vibrator and a dildo in one, giving a new level of sensation when playing this toy. You can use it for anal or vaginal penetration, as well as in clitoral stimulation. If you're looking for a practical option, go for this type!
Fisters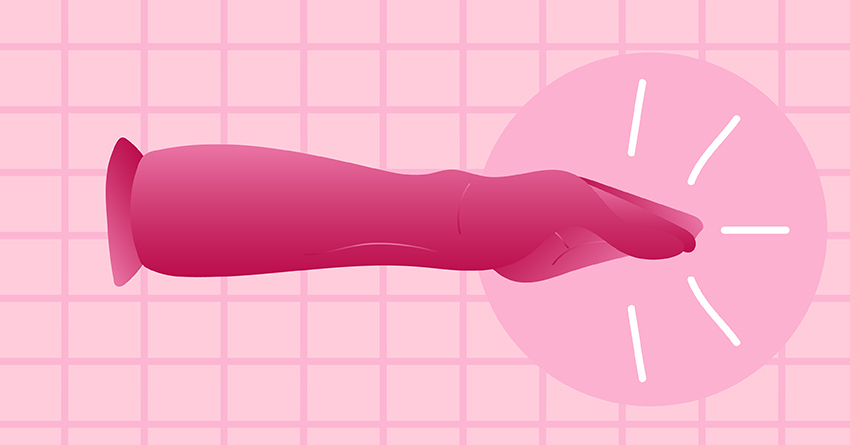 As the name suggests, it's intended for fisting—the act of vaginally penetrating someone with an entire hand. If you're someone who enjoys the sensation of fisting but wants to give your hands a break, get this dildo. Just be careful though, as you may experience more pain than pleasure if you use this dildo recklessly. Make sure to take some time to warm up your vagina, start slow, and use a generous amount of lube.
Double-Ended Dildos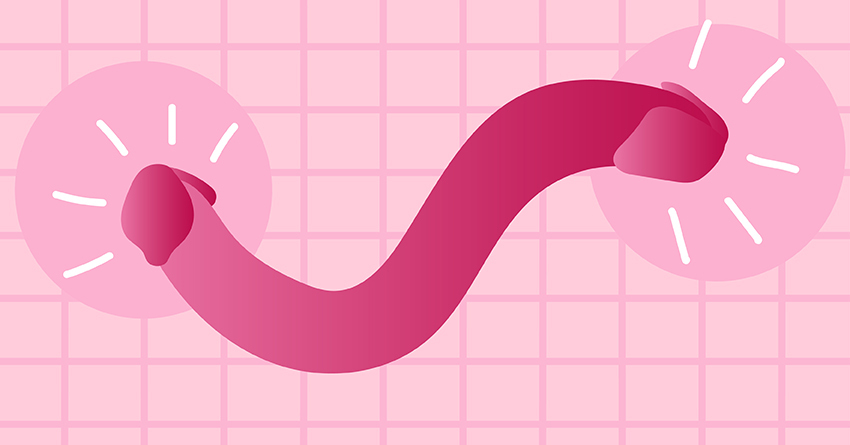 If you're looking for a type of dildo that's specifically for couples, look no further. This type has penis heads on each end for simultaneous penetration. Most variants are flexible yet firm so you and your boo can experiment with different positions with this sultry toy.
Strap-On Dildos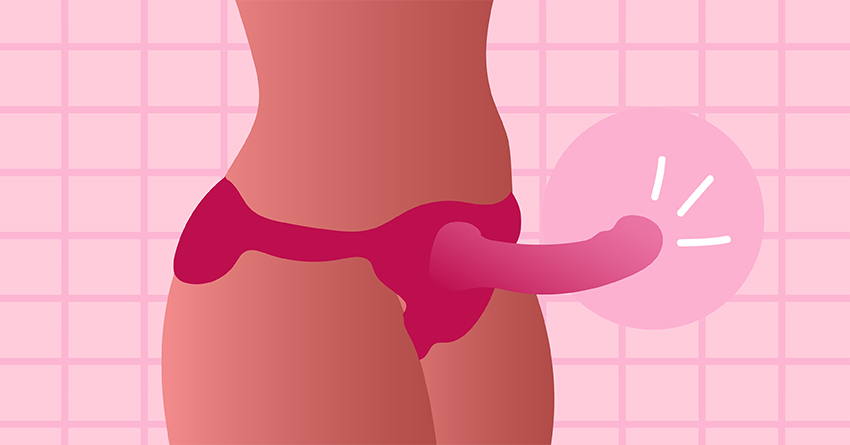 This is another type of dildo that's specifically for couple play. For this one though, there's a harness that you need to wear to attach the dildo in. Once you've attached the dildo, you can then vaginally or anally penetrate your partner with it. Though this type is more popular in the lesbian community, people of all genders and orientations can use this fun toy.
Double Dildos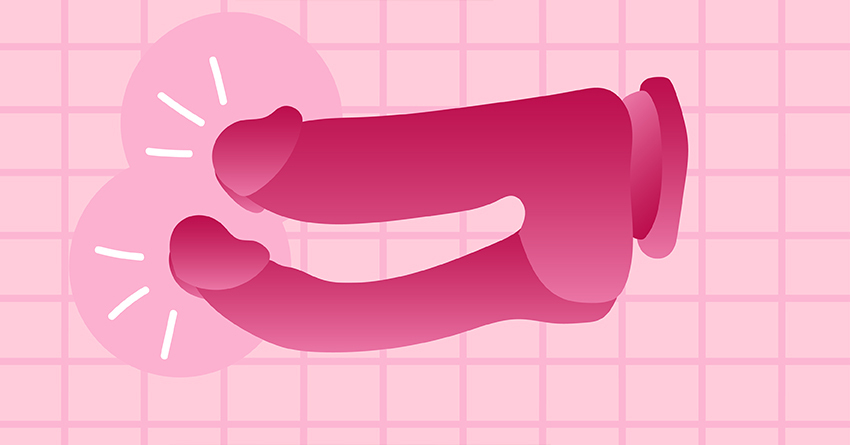 Double dildos, as the name suggests, are two dildos connected in one base. It's firm and flexible, and usually has a suction on the bottom part. However, there's a limited number of positions that you can try with this type. This toy can either work on solo play or couple play—it's up to you on how to use this dildo.
How to Choose the Right Dildo
This is an essential step in how to use a dildo. If the dildo you're buying doesn't fit your preferences, you'll most likely be unsatisfied with the experience. That's why before adding dildos in your online shopping cart, here are the factors you should consider when choosing the right dildo:
Consider the size.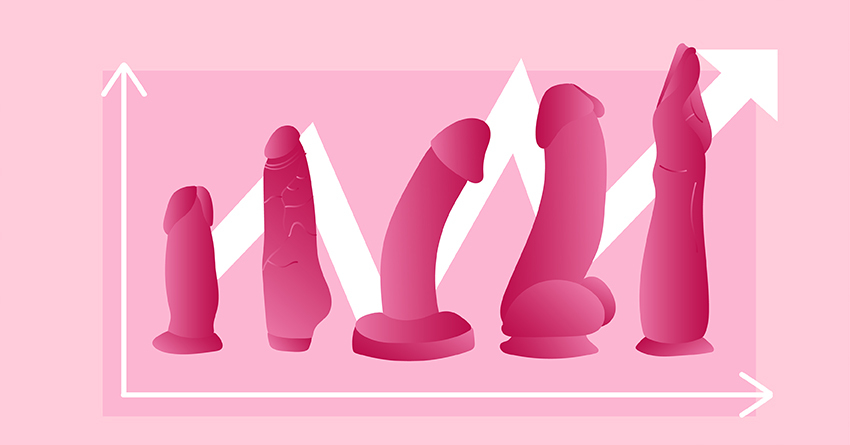 Are you a shy newbie or an experienced queen? If you've never tried a dildo before, we suggest getting a small dildo first. This type would generally being around 5 inches or less in length. Once you're used to the smaller variants, you can get a longer one. You also need to consider if you're going for anal or vaginal penetration—go for smaller sizes if you're gonna do some back door entry.
Check the material.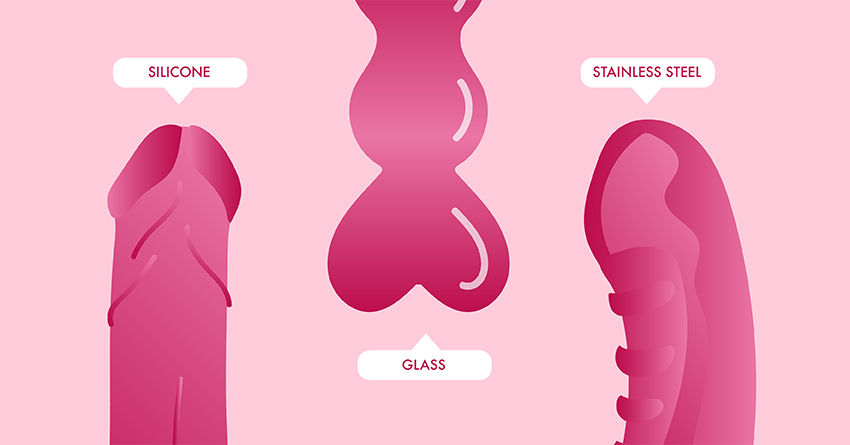 This determines the firmness, texture, design, maintenance level, and price of the dildo. If you're looking for something firm and practical, we suggest going for dildos made with medical-grade silicone. If you want it hard and rough, you may go for wooden or stainless steel variants.
Now, if the aesthetic is your thing, you may want to check out glass dildos— don't worry it's not that fragile as it's made with a specially reinforced glass. You can also heat and chill them up which is ideal if you're into temperature play. On the other hand, steer away from dildos made with jelly rubber and PVC because they're not safe for your vagina.
Pick your preferred shape.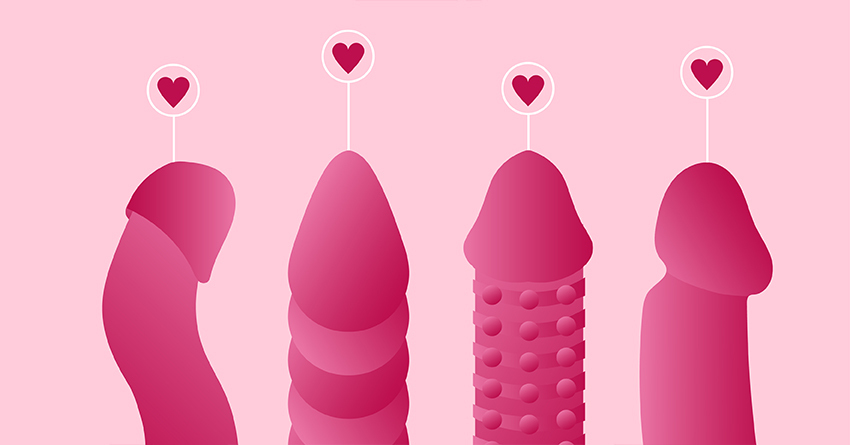 Even though dildos are meant to look like erect penises, there are variants that have more of an abstract shape. If you want to keep it lowkey, then you can go for the abstract ones. On the other hand, if you would like to keep it realistic, there are flesh-like dildos that look and feels like a penis. There are also shapes that incorporate certain fetishes and kinks, such as alien-like dildos and animal dildos.
Take a closer look to the design.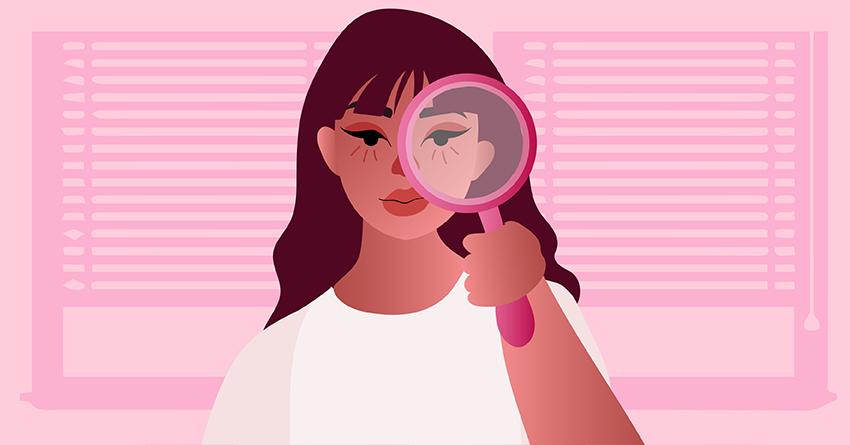 Design determines on how you would use the toy and the sensations you will get from it. Some dildos are designed to enhance your pleasure, lets you be in various sex positions, and helps you stimulate certain hotspots. There are dildos that are designed exclusively for couple plays, so make sure to take that into consideration when buying one.
Dildo-Playing Techniques
Aside from the steady thrusting, there are actually several ways to use a dildo. If you get tired with the in-and-out motion and want to get the most of your dildo, here are some techniques that you should try:
Short & Rapid Strokes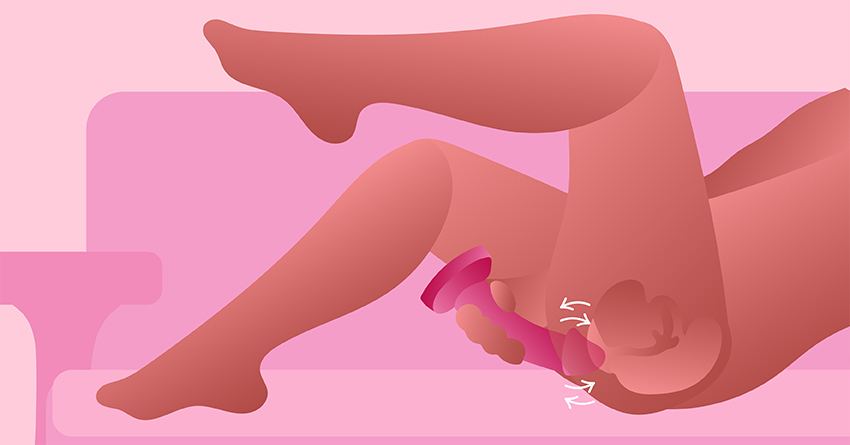 When you use your dildo with this technique, you're giving short and shallow thrusts into your vagina or anus. Instead of inserting the whole dildo, you're just putting about 1/3 of the toy inside. Since the nerve endings are located on just about 2-3 inches in your vagina, and just right about your anal opening, you're not going to miss out by going for deep thrusts.
Deep Thrusting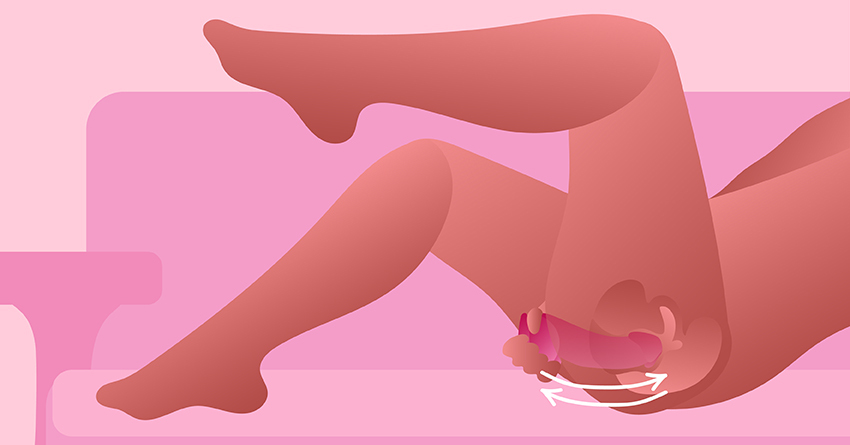 If you're someone who prefers getting filled up all the way, this is the best technique for you. For this method, simply thrust the dildo along the entire length of your vagina for intense stimulation. Just a protip, keep tons of lube ready, and go for a dildo that is firm enough and doesn't bend, such as glass dildos. Go for sleeker dildos too—heavily ridged ones can be overwhelming to use when doing this technique.
Rocking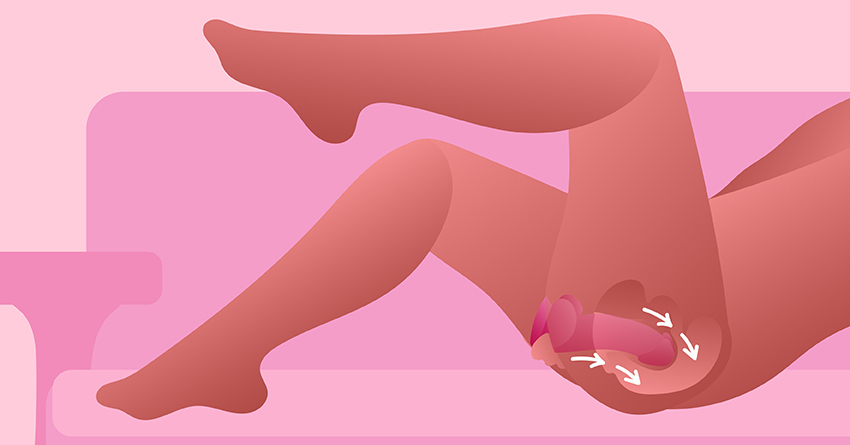 For this technique, your dildo is angled downwards. When you push it in, the tip of your dildo is to apply pressure to the bottom part of your vagina (posterior wall). With this, you'll still get a sensation similar to thrusting, but you'll have extra stimulation on your clit and around your vaginal opening. As for those who are planning to have anal penetration, we don't suggest doing this method. Go for simpler anal penetration techniques.
Swirling Around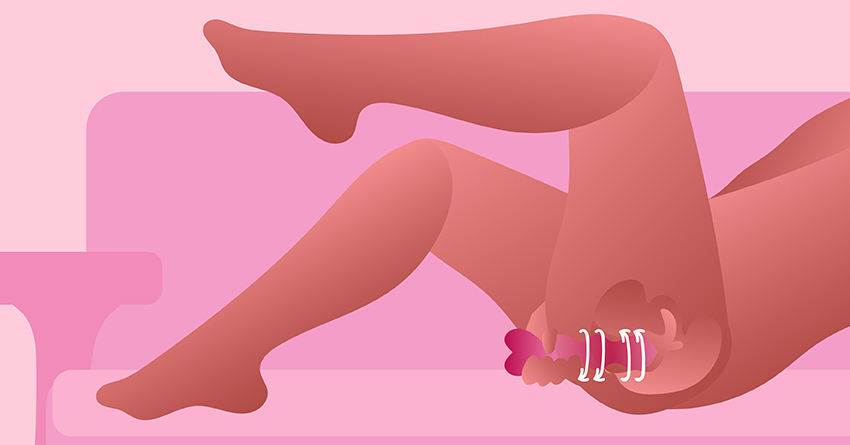 For this method, you're going to insert the dildo in your vagina/anus, then you turn them around after being inserted. Some prefer to use their dildo with this technique, while some opt for thrusting. If you want to try this out, just make sure to go for a dildo that doesn't have a sharp angle on the tip.
G-Spot Stimulation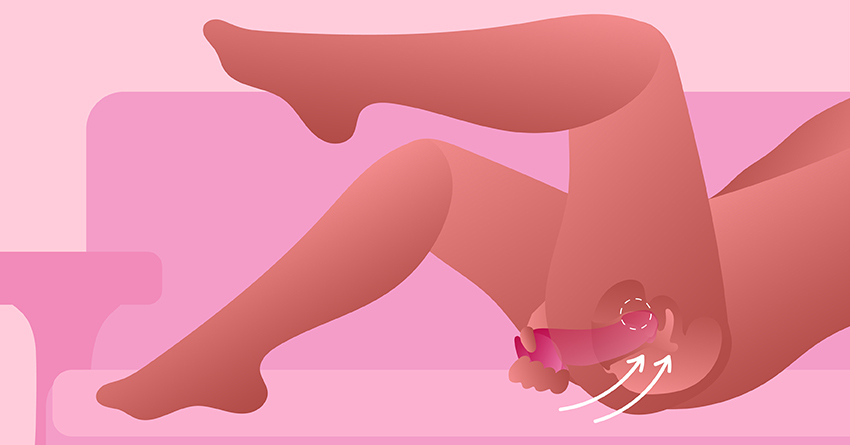 It's the reverse of the rocking technique. For this one, you're going to put more pressure on the upper part of your vagina on which the G-Spot resides. Push the dildo against the upper part of your vaginal wall (anterior wall) then drag the tip of your dildo across the G-Spot as you pull outward. Keep on doing the motion until you reach the climax. We also suggest doing this method when anally penetrating a guy as you can stimulate your man's prostate with this technique.
Glowing Inside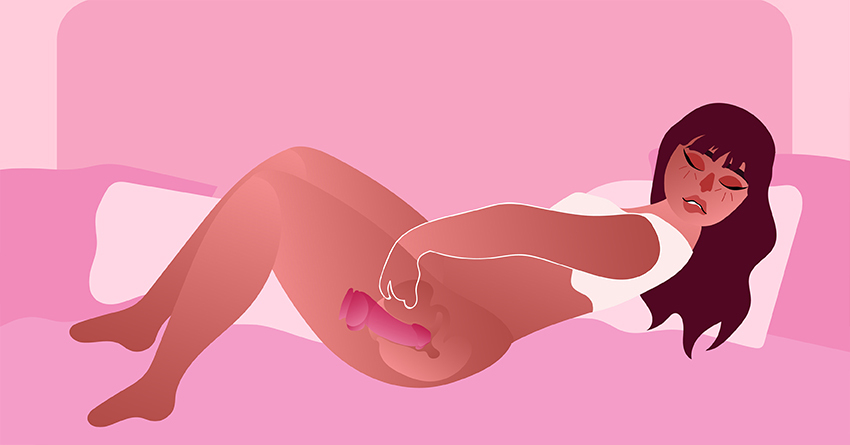 For this method, you're simply going to use the dildo to fill in your vagina. Once you've inserted the toy in your vag or anus, you won't do any motion. Instead, you're going to stimulate your clitoris until you cum.
Double D
This is a fun method to try out with your man. For this technique, you'll be inserting a dildo in your vagina and a butt plug on your anus. Just ensure that a bottle of water-based lube is within reach. Also never insert your used butt plug in your vagina and vice versa to prevent infections.
Dildo Sex Positions
With the techniques above, you'll surely get the most out of your dildo. But aside from dildo-playing methods, you also need to switch up your position from time to time. Playing the dildo with the same position can get you easily bored on the deed. Here are some of the best sex positions while you use your dildo.
Solo Missionary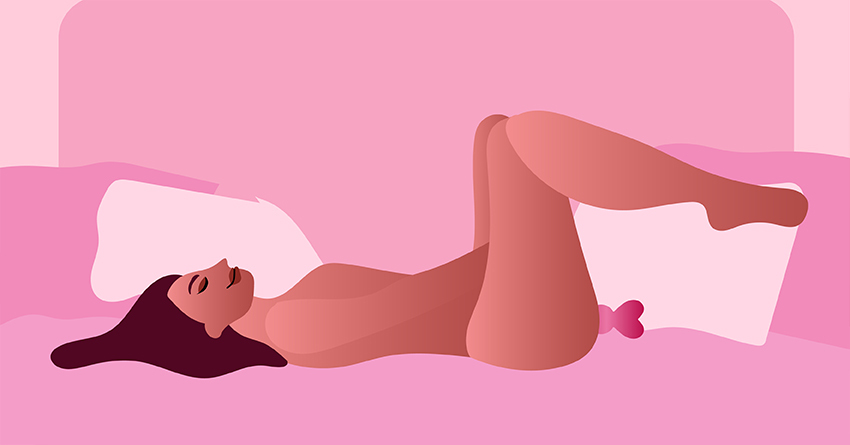 For this position, lie back on the couch or bed, just like what would you do in a missionary sex position. You can either lift your bent legs or just spread it widely in the bed. Take some time to warm up your body and once you're ready, gently insert the dildo into your vagina and anus. It's up to you on what technique to use, but this comfy position will surely help you reach the orgasmic heavens in no time.
Hot
Queening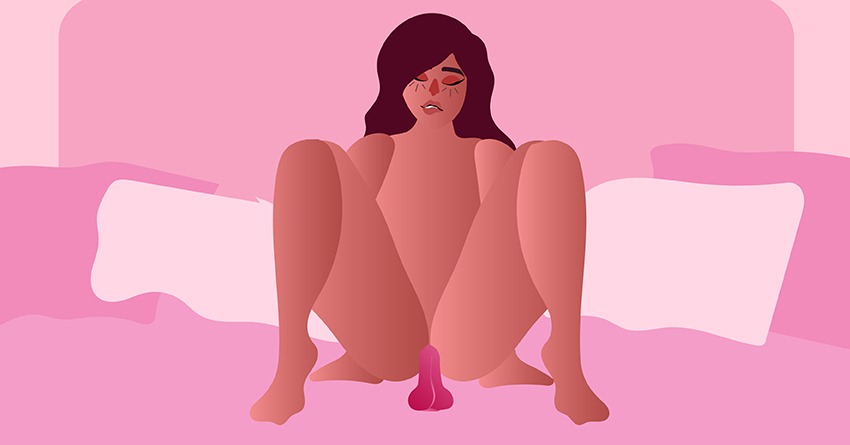 For this sexy position, you need to use a dildo with a suction cup. Put the dildo on a solid surface then get on a squatting position. Start by rubbing the tip of the dildo in your clit then gently thrust the toy in. Go for a pace and depth that works for you. Let go of all inhibitions and ride the dildo as if it's your partner's cock. Keep on thrusting in your sultry throne until you reach orgasm.
The Doggy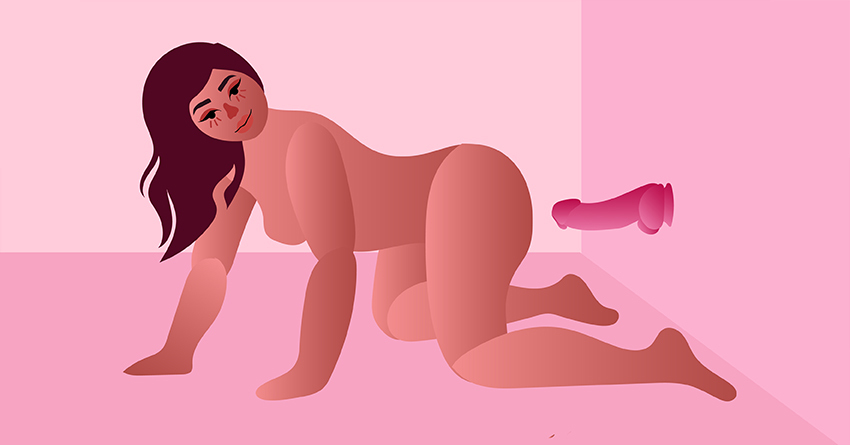 This is another position that requires a suction cup dildo. For this one, you'll be sticking the suction cup dildo on your bedroom or bathroom wall. You will then put yourself in a doggy style position (on your knees, bending over). Once you're positioned, you can start penetrating the dildo from behind.
Blow & Bounce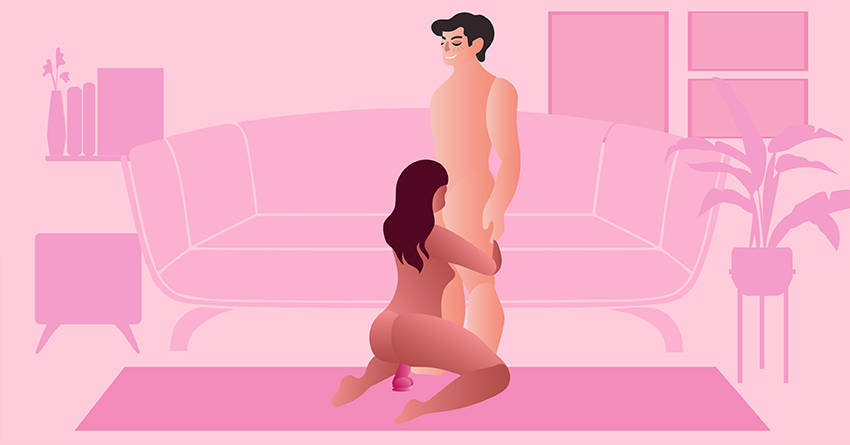 Get pleasured while blowing your man. For this position, you will be in a kneeling blowjob position, but with a suction cup dildo just right below your vagina. Once you start sucking your man's penis, you can also then start thrusting in and out of the dildo, giving yourself intense sensations while spoiling your partner.
Twin Riders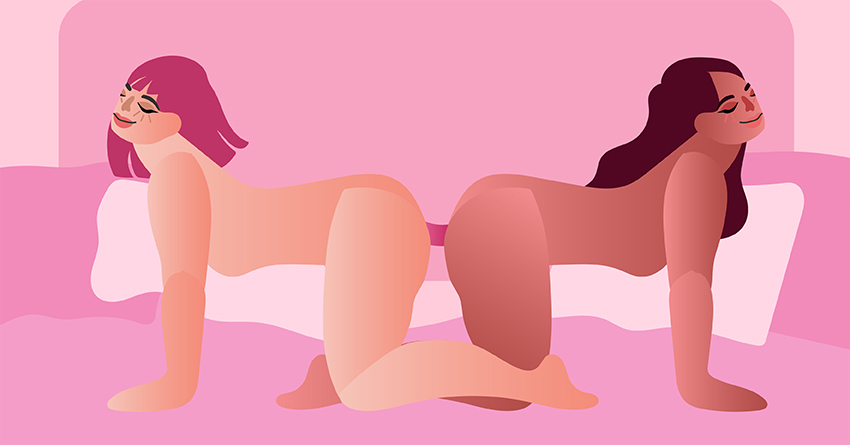 For this position, you need to have a double-ended dildo and a willing partner. Both of you will get on your hands and knees– butt to butt. With the dildo's ends placed on your anal/vaginal openings, start rocking back onto it. It's best if both of you have the same pace and depth. You can also use a vibrator to stimulate your clit for a more pleasurable sexperience.
Additional Tips
Now that you've learned about dildos, let's move on to some additional tips. By following the tips below, we can assure you that you'll have more fun using this sultry toy—minus the mishaps!
Don't forget to prepare the toy first.
Once you've taken the dildo out of the packaging, take some time to read the manual (if there's any). If you're going to use it, clean it up with warm water and mild soap—the soap that you use for your skin, not in your laundry. For waterproof and splash-proof dildos, you can lightly submerge the toy in a tub of soapy water, then wipe it with a towel afterward. Now, if you're using a vibrating type, don't forget to charge or insert the batteries before using the dildo.
Set the mood.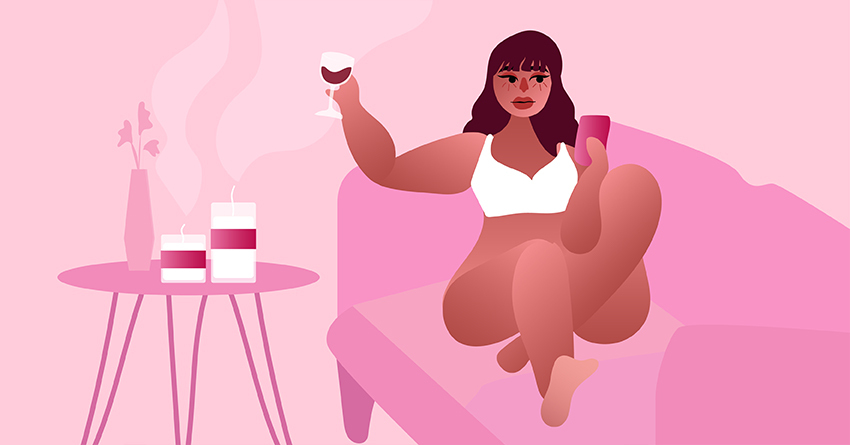 The toy's ready—now it's time for you to get ready. For starters, tease your mind. You'll have a better solo play or couple play experience if you're fully turned on. To get fully aroused, we suggest setting the mood. Here's how you can do it:
Remove all distractions. Lock the doors and put your phone on airplane mode.
Dim the lights and play some sexy tunes.
Make your room smell good. Put scent oil in your humidifier or light up some scented candles.
Have a passionate sexting or phone sex with someone first.
Enjoy a glass of wine.
Unleash those wild imaginations. If imaginations can't suffice, you can turn to erotica, audio erotica, and porn videos.
Warm-up your body.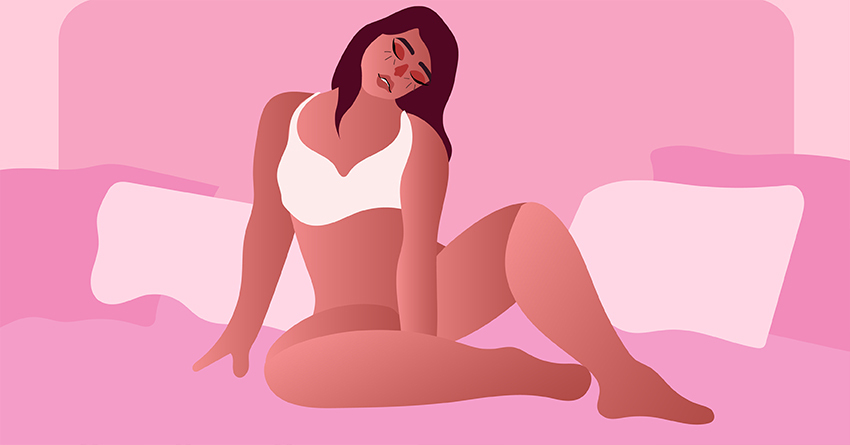 It's essential for your body to be warmed up before putting things inside of it. If you start thrusting the dido when your body is not even close to wanting it, you'll most likely feel discomfort rather than pleasure.
With the being said, take some time to tease your body. Spread some massage oil and start massaging your body with it. Play with your erogenous zones, such as your scalp, ears, neck, stomach, thighs, and so on. If you own a vibrator or the dildo has a vibrating feature on it, turn it on and run it through those said zones. You may also your eyes to heighten up your senses—making each erogenous zone more sensitive than ever.
Lube is a must.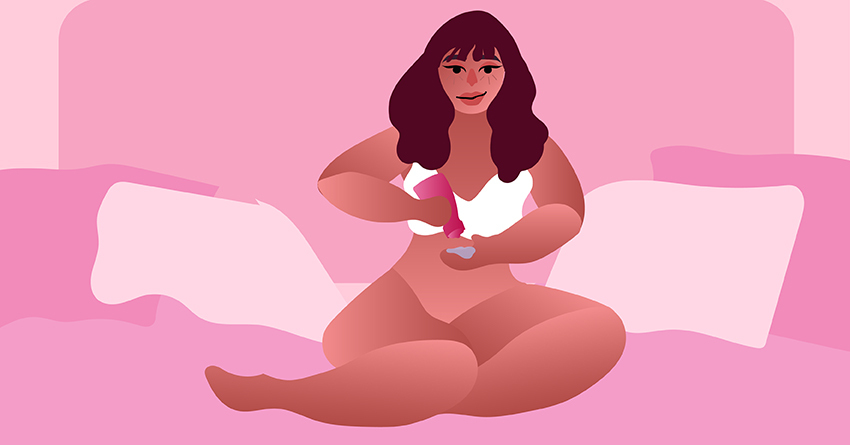 Once you feel that your body and mind are ready for some thrusting, grab your dildo and lube. If the dildo that you're using isn't made from silicone, going for silicone-based lube could be your best bet since it doesn't require that much reapplying. However, if your dildo is made from silicone, you should avoid using silicone-based lubricants as it can ruin the surface of your toy. Go for water-based lube instead. Spread an ample amount of lube around the dildo and on your vaginal/anal opening.
Start slow.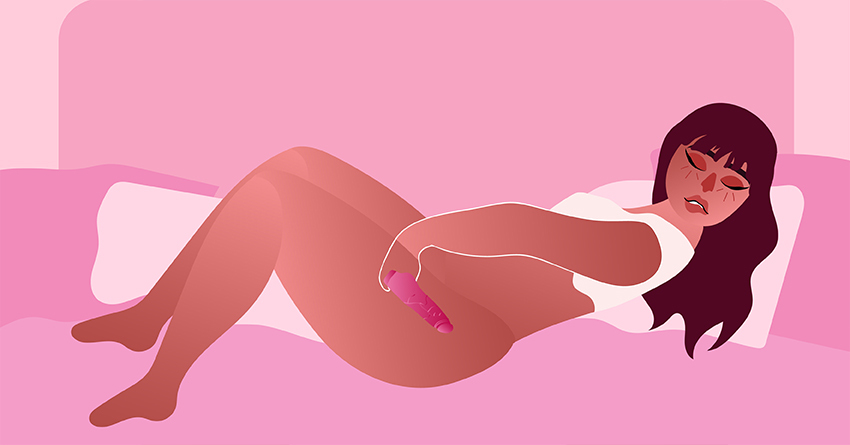 Start by fingering yourself or rubbing your clitoris with your lubed-up fingers. Once your vagina/anus is more relaxed, you can gently insert the dildo in. No need to put the entire shaft inside if you're not comfortable enough. Slowly thrust the dildo in and out of your vagina/anus. Figure out your pace and rhythm and keep doing it until you cum. Now, if you can't pinpoint your preferred technique, we got you some dildo-playing techniques in the next section.
Clean everything up after the deed.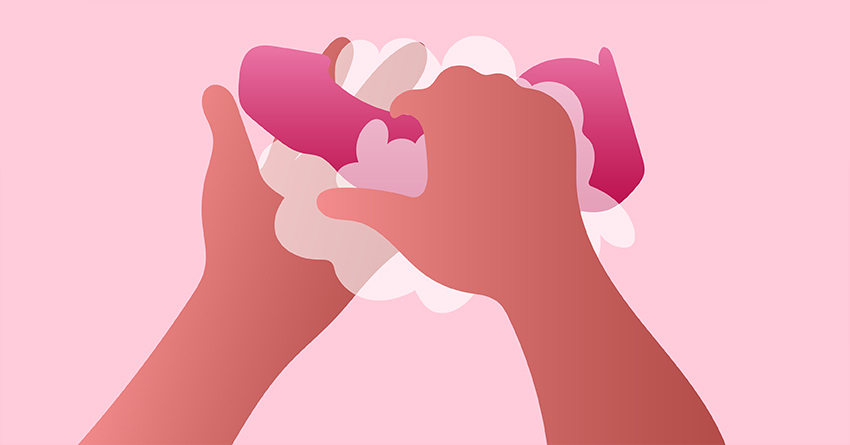 Once the playtime is over, make sure to clean up everything. As for dildos, cleaning is pretty simple. For the non-vibrating ones, submerging it in warm soapy water and air drying it will suffice. As for the vibrating ones, you can use a damp towel with mild soap in it. Gently wipe out the secretions from the toy, avoiding the battery compartment and buttons area at all costs. Now, if you've wrapped a condom around the dildo, the cleanup is pretty much the same, just dispose of the condom as soon as possible.
Experiment!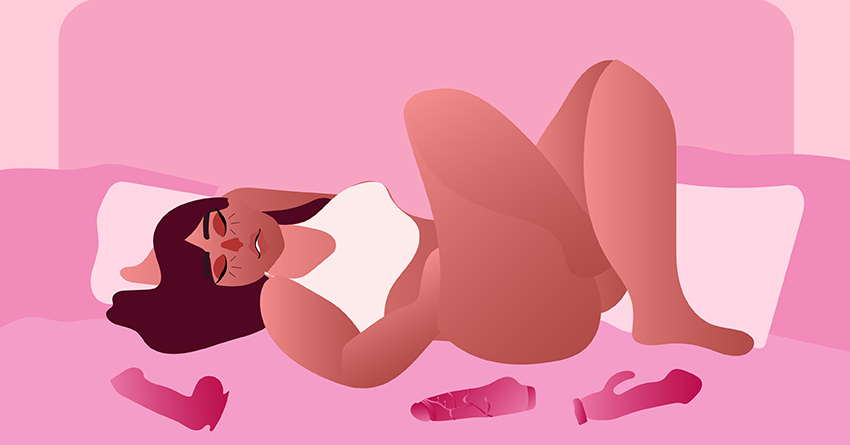 Now that you're fully knowledgeable on how to effectively use a dildo, you can then start experimenting. Try various positions and techniques. Incorporate your kinks and fetishes while using dildos. Play your dildo in different parts of your house—even in other places if feeling a bit frisky. You can also try to add some other sex toys in the mix, such as vibrators, nipple clamps, clit suckers, and butt plugs. It's up to you on how to spice up your dildo play, what matters is that you're comfortable and having fun with it.
Frequently Asked Questions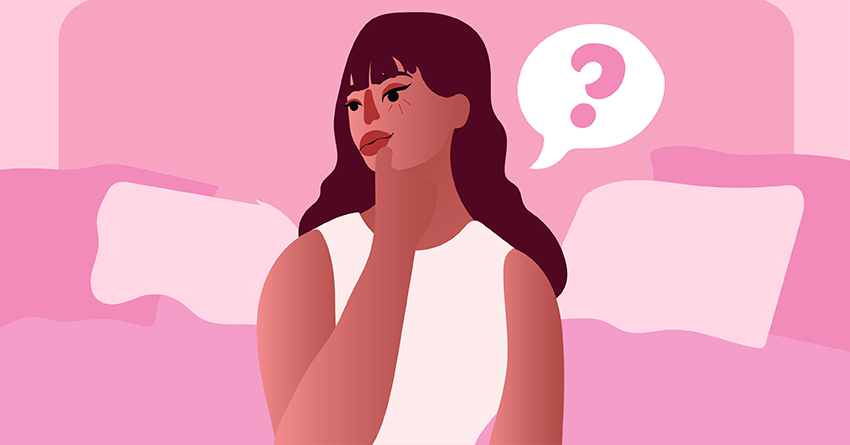 As you've learned about dildos and how it can spice up your sex life, you're most likely pumped to use this exquisite toy. But before you close this guide and use your dildo, we've answered some of the frequently asked questions.
Is it necessary to slip a condom on a dildo?
If you're planning to use the same dildo for vaginal and anal play, it's best to slip a condom first! Once you're done thrusting the toy into your vagina, you can remove the condom, put a new one, then insert it in your anus. You also need to put a condom on the dildo during couple play to prevent infections. Now, if you're using a dildo exclusively and you only put it in your vagina, there's no need for a condom. Just make sure that it's clean before and after use.
Can I use a dildo with a partner?
Yes! Using dildos can spice up the bedroom, as long as you've communicated it properly with your partner. Some men might find dildos intimidating as they think their dicks are not enough to satisfy their partners. With that, it's best to reassure your partner that using dildos is just for a fun way to amp your sexperiences. Also, there are dildos that are designed for couples, so you might want to check that out.
Can I create my own dildo with household items?
If you're craving for the D but the shipping of your dildo is still on the way, you can unleash your creative side and use household items. Just be careful though! Check if the item can cause infection or injuries and if the toy can break off during the play. You also need to rinse the toys in water and put a condom on it before the deed. Here are some suggestions:
Toothbrush handle
Mascara bottles
Cucumber
Zucchini
Small eggplants
TV Remote
Makeup brush (handle)
I don't like how it feels. What should I do?
If a certain technique isn't working for you, don't stress about it. Remember, different strokes for different folks. Even if various blogs about how to use a dildo suggest deep thrusting, it's okay to not like it and try a different method. Just take some time to learn your own body and see what works best for you when playing a dildo. Also, if your partner doesn't like to use a dildo, don't pressure them on liking it. Let them discover the joys of using this sultry toy on their own and just use other sex toys instead.
They said that it's so un-ladylike to own a dildo. Is that true?
No, and will never be. Your femininity shouldn't be based on the clothes that you wear, on your sexual life, as well your use of sex toys such as dildos. Enjoying a healthy and positive sex life isn't unladylike and is nothing to be ashamed of. Don't let other people project their sexual insecurities to you—proudly use that dildo, sis!
Takeaway
Dildos are one of the toys that improve your sex life and enhances your masturbation techniques. They are the so-called "rock stars of the adult toy world" and rightfully so. They're easy-to-use, practical, and get the job done without a hitch. As long as you use the dildo that perfectly fits within your needs, have lube within reach, and have a wild imagination to back up your arousal, you'll reach the orgasmic heavens in no time.