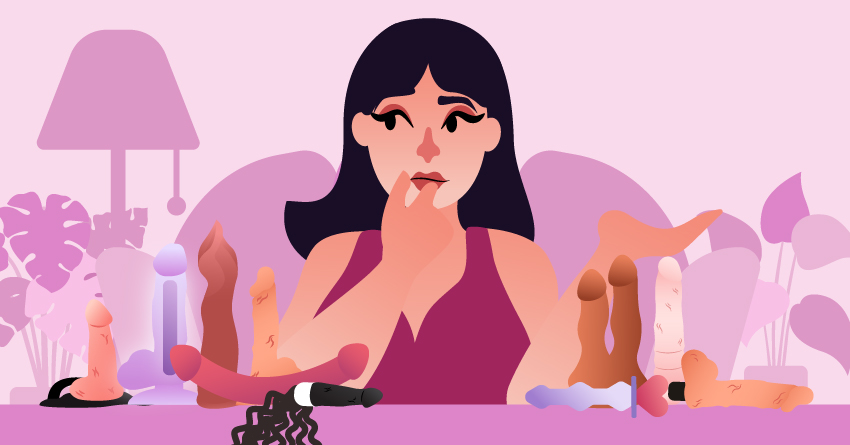 Dildos are interesting and fun sex toys to play with. Believe it or not, they may even be one of the oldest sex toys mankind has ever invented. There have been a few alterations as time went by, but they're still the same good old dildo that we love. However, as these variations were introduced, it gets confusing, which is which. These days, the market is riddled with all sorts of dildos, from glass to silicone to god knows what. Either way, it gets harder and harder to choose which dildo will suit your needs. Fear not, today we will discuss the different types of dildos!
Difference Between Dildos & Vibrators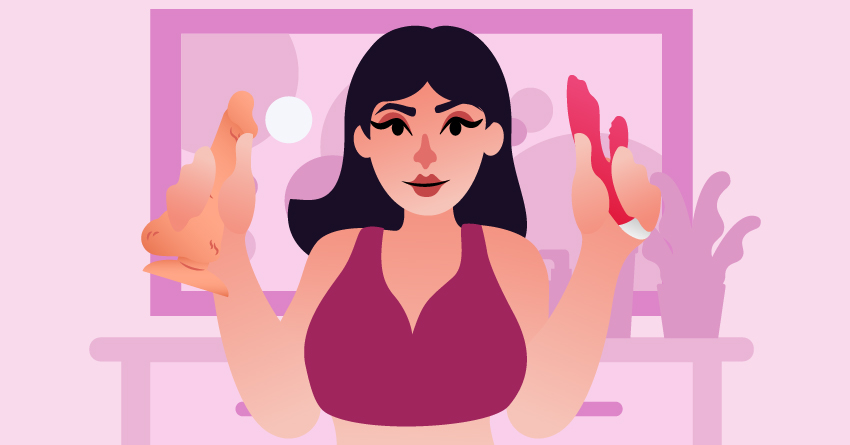 Dildos, which generally do not vibrate on their own, are most often used for sexual penetration of the vagina, anus, or mouth. However, they can be used in an array of ways—everything from general arousal to lesbian strap-on play to pegging. Dildos also can serve as both a prosthetic and/or extension. The majority of dildos are phallic-shaped but not all are. In fact, recent trends show an incredible sense of erotic imagination, with everything from dragon dildos and horse dildos to ice cream dildos you can put in the refrigerator for temperature play. Double dildos are also popular, providing an opportunity for dual penetration either for one person or single penetration for two people.
While vibrators, by definition, vibrate! They were first invented in the late 1880s as a medical device. In fact, vibration technology was considered a "cure-all" for everything from headaches to weight loss. These claims would of course later be exposed as false—but at the turn of the 20th century, vibrators were culturally very mainstream and could be found in the Sears Roebuck catalog.
While dildos and vibrators are different in their origins and functions, both play crucial roles in the history and future of human sexuality. Whether it was carving stones into phallic shapes or inventing high powered vibrators, most technological advancements in human society have been predicated by sex—film, VHS, and the internet—to name a few.
Different Types of Dildos
Dildos are often considered as the boring cousin of the vibrators because they do little other than penetrate the body. However, even if penetration is the main purpose, dildos come in different shapes, sizes, colors, and functions. There are a lot of different variations that can be used in all kinds of sexy kinky play whether you're just masturbating or getting it on with your partner.
1

Classic Dildo

A classic dildo is its most basic form. It resembles a penis, but it isn't trying to fully emulate the look and feel of a penis. It doesn't come with balls, veiny textures, suction cups, and the like. There may be exceptions, but that depends on the manufacturer. The only thing consistent with classic dildos is all of them come in a phallic shape and tapered tip.

What's great about this type is its simplicity, making it a go-to option for many beginners. However, most classic dildos can't be used without holding it, unlike suction cup dongs. You also can't connect it with strap-on harnesses.

How to use it: Hold the base and apply water-based lubricant to the dildo's tip. Get into a comfortable position, and gently push it into your vagina. Move it back and forth, or try your preferred techniques.
2

Realistic Dildo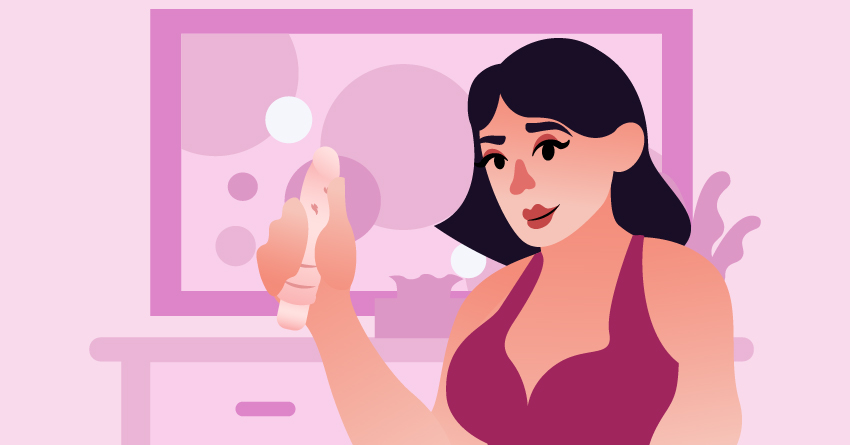 Want to have a dick inside you without burdening or risking yourself for casual encounters? A realistic dildo is your perfect match.
A realistic dildo is the upgraded version of the classic dong. It comes with a more intricate design, crafted with attention to realism. With a realistic dildo, you can see pronounced veins, textured surfaces, and testicles or balls.
In some models, it has a dual-skin or dual-texture feature. It's a premium feature wherein the shaft is constructed using two distinct layers or materials. The inner layer is typically denser and firmer, providing stability and structural support to the dildo. On the other hand, the outer layer is softer and more flexible, mimicking the texture and feel of real skin. This feature creates a more immersive and pleasurable experience, enhancing the overall sensation during penetration.
How to use it: Start caressing the dildo to turn yourself on. Gently stroke it and rub the tip on your clitoris to build anticipation. Once you're ready, apply the water-based lubricant to the shaft. Get into your preferred position and gently push the dildo into your vagina or anus. Move it back and forth, rotate it, or do your preferred technique. If the realistic dildo has a suction base, stick it on a tiled surface for hands-free fun.
3

Dragon Dildo

Want to fulfill your wild fantasies? A dragon dildo may just do the trick. It's a type of dildo that draws inspiration from mythical dragons, adding an element of adventure to your intimate experiences. Its base shape is pretty much similar to a human penis, but its design often features creative twists that reflect the awe-inspiring beauty of dragons.

You can see edgy textures, scales, unconventional colors, and other dragon-like details. The textures not only mimic the seductive allure of dragons but also provide additional sensations during the deed.

How to Use It: A dragon dildo is similar to other types. Apply water-based or hybrid-based lube, then insert it in your vagina or anus. But since a fantasy dong comes with unconventional designs, be careful with inserting it the first time. We also recommend being generous with lube, especially if the dong has edgy textures.
4

Glow-in-the-Dark Dildo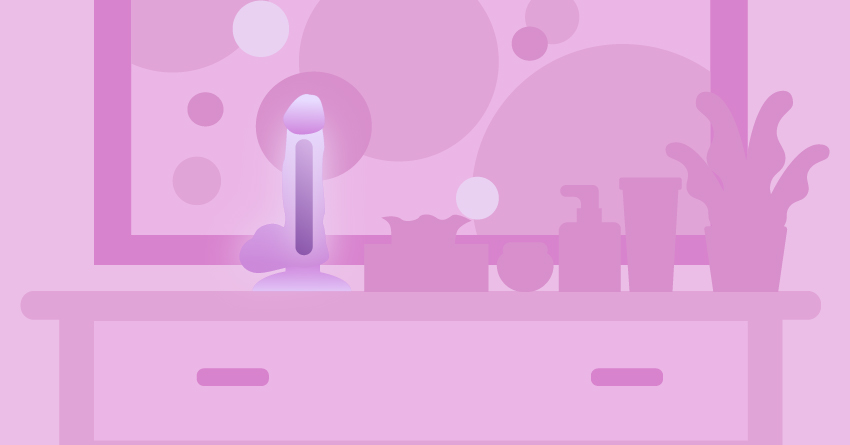 As the name implies, this dildo emits a soft light in the dark or under UV light. When exposed to natural or artificial light, the shaft absorbs the photons or 'particles' of light from the source. Once the lights are off, the stored light energy unleashes an enchanting glow. So for those who prefer lights off, you've got to add this to your dong collection.
How to Use It: You use it like any other regularly-designed dildo. Apply lubricant, push it in your vagina or anus, or ride it out if it has a suction base. We highly recommend using this while the lights are off to experience the glowing effect.
5

Fantasy Dildo

Do you want your wildest desires to come to life? A fantasy dildo might be the one you're looking for. It comes in various unconventional designs, often inspired by mythical creatures and animals. For instance, if you have a thing for aliens, there are alien dildos that come with unique shapes and intricate textures. There are also tentacle dildos for our tentacle-loving folks. At the same time, there are mermaid tail or unicorn tail dildos for peeps who want to bring something magical to the bedroom.

How to Use It: Same with the dragon dildo, please be careful when inserting this toy in your genitals. You also need a generous amount of lubricant for toys with edgy or jaggy textures. Like the other dildos in this list, you only need to apply the lube, get into a comfy position, and insert the toy in your vagina and anus. Spice it up by wearing a sexy costume related to your fantasy dong.
6

Vibrating Dildo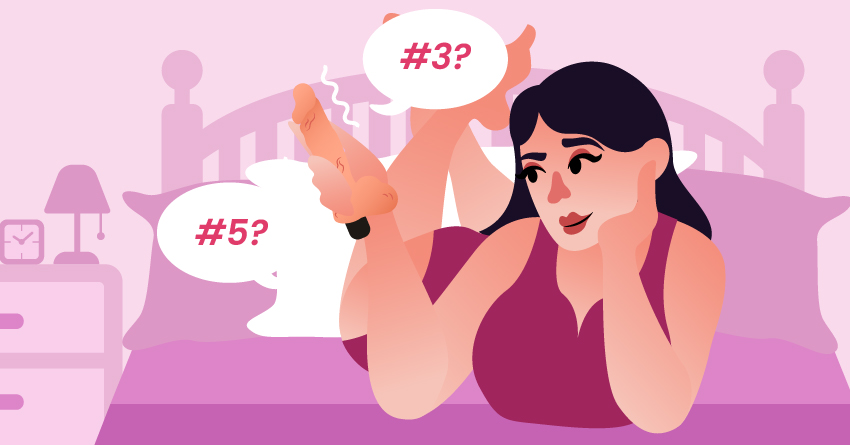 A vibrating dildo is pretty much like a classic or realistic dong but with a buzzing twist! They have a motor embedded within the shaft or base, which generates vibrations that can be felt throughout the device.
As most vibrating dongs have multiple modes and patterns, you can freely experiment to find the perfect combination that brings you the most pleasure. Not only that, but this dildo type works best for g-spot stimulation, as the vibrations further stimulate this sensitive spot.
How to Use It: There are two ways to use this toy. First, you can use vaginal stimulation. Start with applying water-based or hybrid-based lube to the dildo's shaft. Get into a comfortable position and gently insert the vibrating dildo into your vagina or anus. Turn on the vibrations, then you can keep it steady, move it back and forth, point the tip in your g-spot or rotate it. You can also use this toy to stimulate your external erogenous zones, such as clitoris and nipples. Press the vibrating tip on your chosen pleasure regions, and let the vibrations work for you!
Learn more about vibrating dildos in this guide.
7

Glass Dildo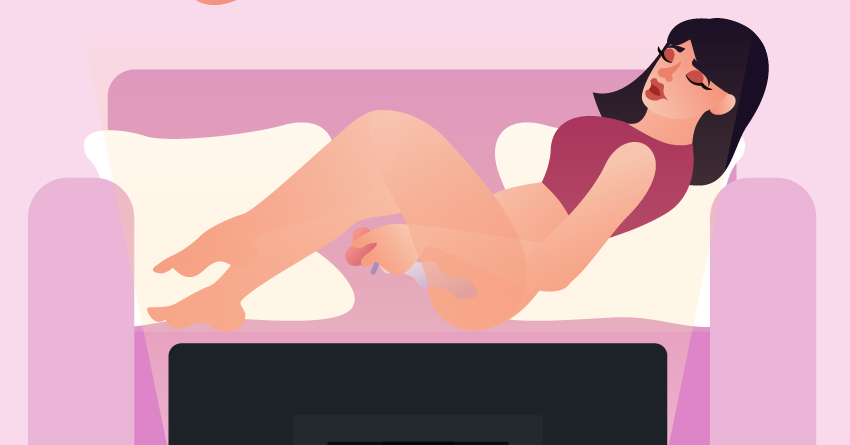 Silicone dildos are already firm enough, but if you want something harder, you've got to check out glass dildos. This type is crafted from specially selected borosilicate glass, known for its durability, smoothness, and thermal properties. Borosilicate glass can withstand high and low temperatures, so glass dongs are used for temperature play; the toy is submerged in hot or cold water before insertion for enhanced sensations.
Aside from being suitable for temperature play, most glass dildos come with stunning designs. You might even think a glass dildo is an artwork at first glance!
How to Use It: Apply silicone, water, or hybrid-base lubricant to the toy, get into your preferred position to access the vagina, then gently insert the toy into your genitals. You can also warm or cool it off by putting it in a bowl of hot or cold water a few minutes before insertion.
Learn more about glass dildos in this guide.
8

Strap-On Dildo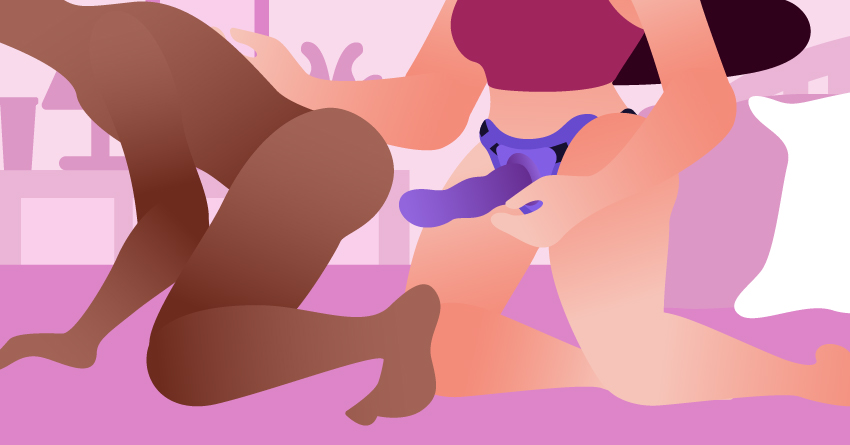 If you're planning to try pegging or strap-on play, wherein one person (usually a woman) penetrates their male or female partner with a dildo, you've got to add this one to your shopping list.
A strap-on dildo is a type of dildo that you can attach to strap-on harnesses or has a built-in harness. It allows the wearer to penetrate their partner vaginally or anally. As for appearance, a strap-on dildo can look like anything. It can be a realistic dildo or even have unconventional designs like a fantasy dildo.
How to Use It: Start by attaching the dildo with a compatible harness. Once it's fully secured, wear the harness as intended. Ask your partner to get into their preferred sex position. Apply water-based lubricant to the dildo, then gently push the toy into your partner's vagina or anus. Keep it moving back and forth while doing some grinding action for better stimulation. It's also best to check in with your partner occasionally and see if they are comfortable with the pace and depth of insertion.
Learn more about strap-on dildos in this guide.
9

Double Dildo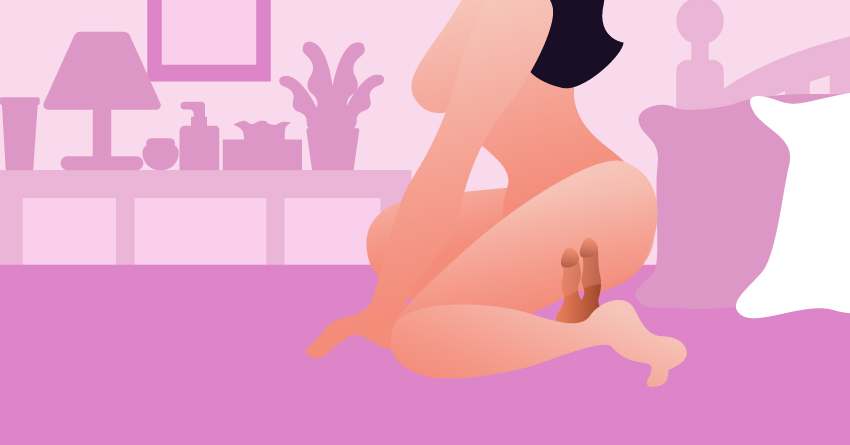 If you're looking for a dildo to share with your boo, go with a double dildo. Its single base has two dildos attached to it. In most models, the dildos have the same size and appearance, while some have different shafts. You can either share this with a partner or go for the double d— one dildo goes to your vagina, while the other one is in your anus. Double the dildo, double the fun!
How to Use It: Apply water-based lubricant on both dildos. Get into a comfortable position and place each dildo head in your vagina and anus. If the two dildos have different sizes, the smaller dildo should be inserted in the anus, while the bigger one is in the vagina. Once you're ready, gently push both dildos into your body. Start with a slow pace, then gradually increase it. You can also use this dildo with a partner; please check the linked guide below for more information.
Learn more about double dildos in this guide.
10

Double-Ended Dildo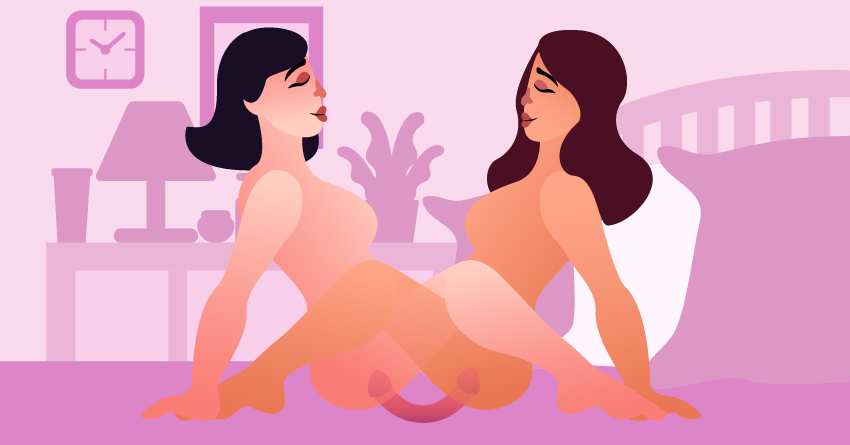 As the saying goes, two heads are better than one! A double-ended or double-headed dildo features two insertable ends, allowing both partners to be penetrated simultaneously. It's a fantastic option for couples to explore mutual stimulation. Whether you're engaging in vaginal-to-vaginal, vaginal-to-anal, or anal-to-anal play, you can count on this type.
If the dildo is flexible enough, you can also use this for double penetration. Bend the dong, and insert the other end in your vagina while the other is in your anus.
How to Use It: There are two ways to use this toy. First, you can use them for solo play, using the two dildo ends on the vagina and anus. As for partnered play, your partner will use the other dildo head while you will be using the other one. Get into a position you and your partner are comfortable with, then start thrusting the dong into your genitals.
Learn more about double-ended dildos in this guide.
11

Whip Dildo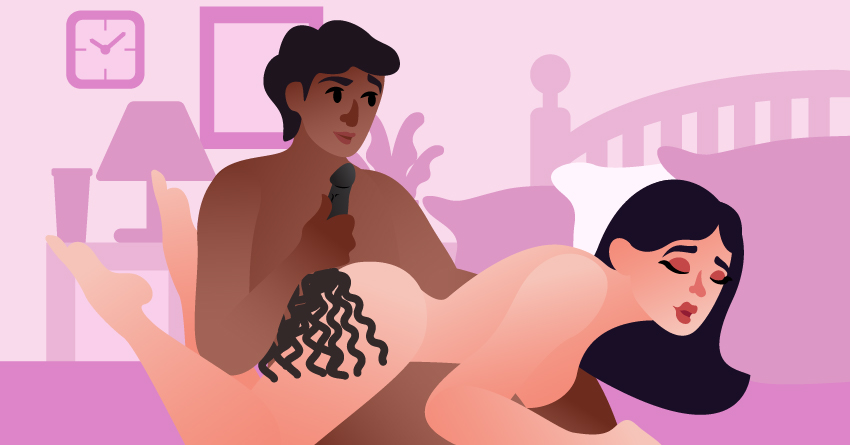 As for our BDSM enthusiasts, a whip dildo is something you would want to add to your collection. It's a dildo that comes with a whip at the handle. What's great about this type is you get two entirely different toys for the price of one.
How to Use It: For this one, you'll be using the dildo as you would do with a regular dildo. Apply water-based lube on the tip, then gently insert it into your or your partner's genitals. Meanwhile, the other end is meant to be used as a spanking or impact play tool for the submissive.
12

Fister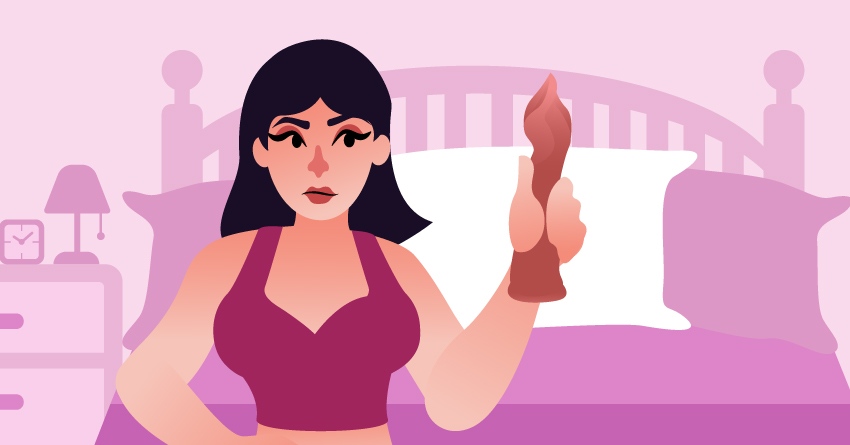 Oh yeah. Are you surprised too? It may sound weird to some, but there really are fister dildos. This type of dildo exists. Amazing, huh? But we get that fisting isn't for everyone. It must be done with the utmost care, patience, and lots and lots of lube. But if you're into this kind of dildo, then read on.
Fister dildos will greatly help give your real hands a break. Like how you fist with your real hands, don't just push this dildo in your partner's vagina or anus. Spend enough time warming your partner with arousal or lube. Just use a few fingers at a time and stop if pain or bleeding occurs.
How to Use It: Fisters are incredibly chunkier compared to regular dildos, so it's important to be very careful when inserting them into the vagina and, most especially, to your anus. It would be best if you were experienced enough with regular dongs before trying this out. Apply water-based lubricant on the toy, get into your preferred position, and gently push the dildo into your vagina or anus.
13

Thrusting Dildo

Unli Os are coming your way! A thrusting dildo combines vibration and thrusting motion to mimic vaginal or anal sex.

Unlike traditional dildos that require manual manipulation, a thrusting dildo is motorized and can move in and out of the body on its own. It's perfect for those who prefer hands-free fun. You can also use this for couple plays, especially for those people who want to experience double penetration without having another person in the room.

How to Use It: This one's quick and easy to use. Get into your comfortable position, apply lubricant on the dildo, then press the tip on the vaginal or anal opening. Please don't push it inside just yet. After that, turn on the device to activate the thrusting feature. Move the dildo if needed. Enjoy the pulsating pleasure!
14

Dildo Machine

If a thrusting dildo ain't enough, there's another thrusting dildo that could satisfy your erotic cravings! A dildo machine, also known as a f*cking machine, is a device where you can mount any dildo and turn it into a thrusting one.

The machine may have adjustable speed settings, allowing the user to customize the intensity and rhythm of the thrusting action. In some machines, you can even ride it, amplifying your solo experience! The only downside with this pleasure device is its size. This type is the biggest one on this list, so bringing it while vacationing or moving to a new place may be difficult (and daunting, imagine a mover or your friend asking you about it).

How to Use It: Every dildo machine is unique. We recommend checking the user manual to navigate your pleasure device. We also suggest that only experienced users should get this one.
15

Squirting Dildo

As the name suggests, a squirting dildo is a type of dong that releases liquid the same way a penis does. The squirting effect adds an extra element of realism, bringing more fun to your solo sexcapades.

Also known as a cumming dildo or ejaculating dildo, this type often comes with a reservoir inside the shaft plus a ball pump to trigger the release. To amp up your experience, we recommend using semen-like lubricants. As for the cons, cleaning a squirting dong is more tedious than regular dildos, but don't sweat it; the cumming effect is definitely worth the extra cleaning time.

How to Use It: First, fill the reservoir with your chosen lube. We recommend looking for semen-like lubricants for a more realistic experience. Don't insert anything unsafe for your genitals. Once you're done doing that, you can start playing with this toy. Like any other dildo, apply water or hybrid-based lube to the tip. Gently push the toy and move it back and forth. If the dildo is to ejaculate, press the designated ball pump or button to squirt the liquid.
16

Suction Cup Dildo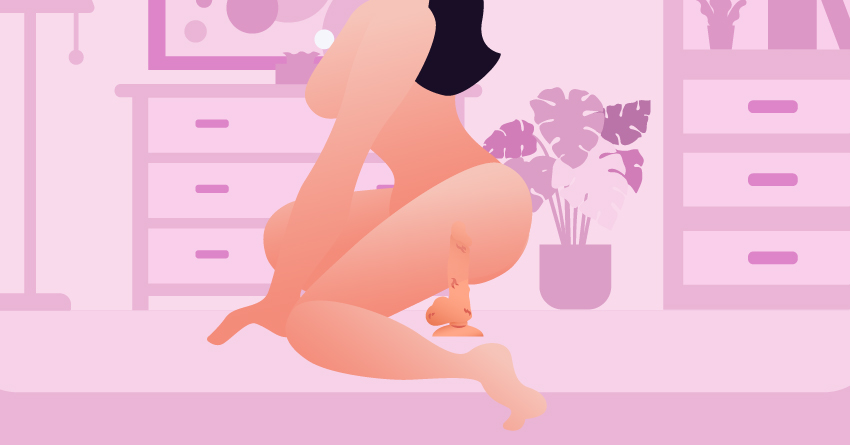 When you're in for some solo play, dildos with suction cups are the one for you. They come in varying shapes, sizes, and colors. You can fuck yourself in the shower or on the floor, or wherever you want. So, you might never need a real dick with this type of dildo.
On the right surface, these dildos will stay in place until you're done playing with them. This means you can try many different positions before you tire of playing with yourself.
How to Use It: Stick the dildo on a tiled surface, then apply water-based lubricant all over its tip. Get into the appropriate position based on where you've stuck the dildo, then push your hips to insert the toy in your vagina or anus. Move your hips back and forth until you reach the big O or are ready for another position. You can also use this toy by holding it.
Check out the best suction cup dildo positions here. 
17

Inflatable Dildo

With an inflatable dildo, you can manually adjust its size and girth. It has a stretchable shaft and pump or bulb to inflate the device. It's good for people who want to experience getting penetrated with different penis sizes. Some peeps also want to experience a dildo growing inside of them.

How to Use It: To inflate the dildo, use the designated manual or automatic pump. Inflate it up to your preferred girth. You can either insert the dildo first before inflating or insert it while it's already inflated outside. Just don't forget to use lubricant! Also note that if it doesn't have a flared base or the instructions state that it's not for anal use, don't insert it in your bum.
Things You Should Know About Dildos
Before we head on over to the different types of dildos, here are just some of the things you should know about these amazing sex toy staples:
1

Dildos can be enjoyed by anyone!
There's a misconception that dildos are only used by cisgender lesbians. That isn't the case at all. Dildos can be worn, received, and enjoyed by folks of all genders and sexual orientations. Using a certain sex toy or enjoying certain sex acts doesn't change your sexual orientation or gender identity.
2

Dildos don't always "need" to have veins or balls.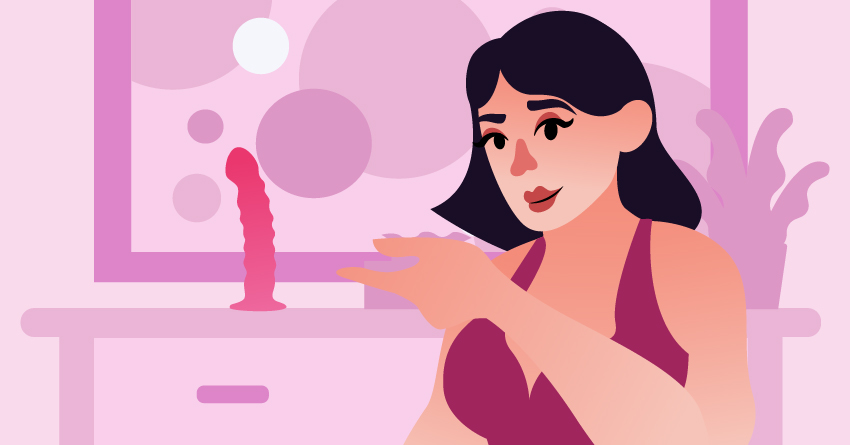 A dildo is a phallic-shaped toy intended for insertion. It does *not* need to have veins, a pronounced head, or balls. There are endless options that aren't shaped to look like a biological penis.
3

They make penetration possible when it otherwise wouldn't.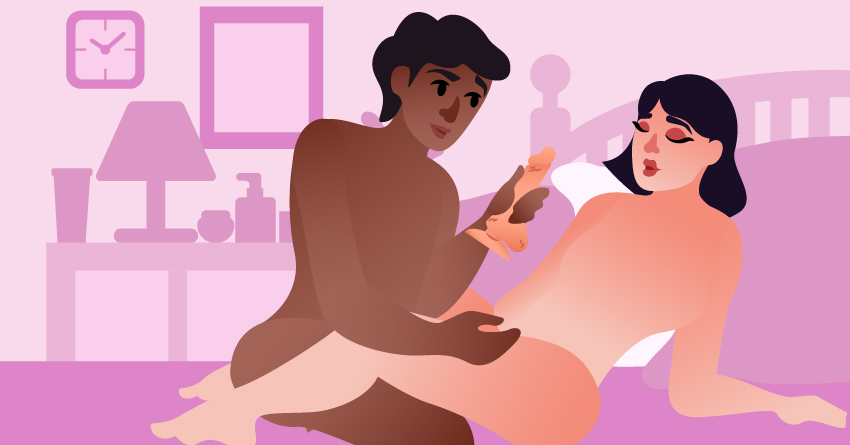 A dildo can be used to make penetration possible when it otherwise wouldn't be due to partner genitalia, erectile dysfunction, relationship status, or partner availability. And a dildo can be a great accessory to spice up anyone's sexcapade!
4

It helps to know what type of stimulation you prefer.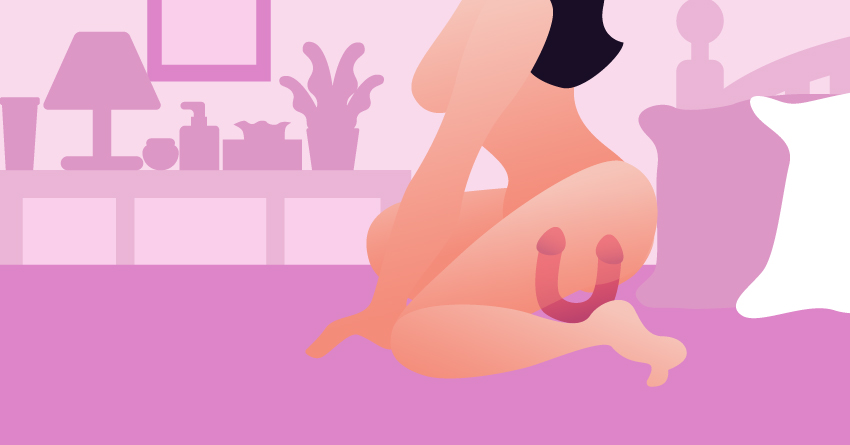 For some people, a penis is an incredibly erotic symbol. And there are others for whom wearing or being penetrated by a realistic dildo is incredibly affirming for their gender identity or sexual orientation. Know if you enjoy vibrations or feeling penetration with a realistic dildo. And know the texture you prefer as well, do you like the sleek hard feeling of glass, or the flesh-like feeling of silicone? You'll get to learn more about dildo textures further below!
5

Starting small is your safest bet.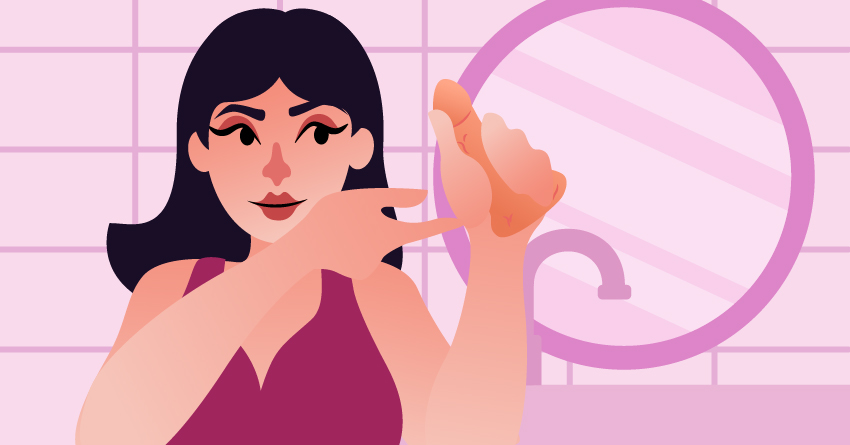 This especially if you're new to vaginal and anal penetration. No matter how small it looks online, in your hand, or on the store shelf, it's going to feel bigger. If you're new to anal or vaginal penetration, we suggest starting with something that's no more than 1-inch around at its thickest insertable point.
6

Dildos can be attached to strap.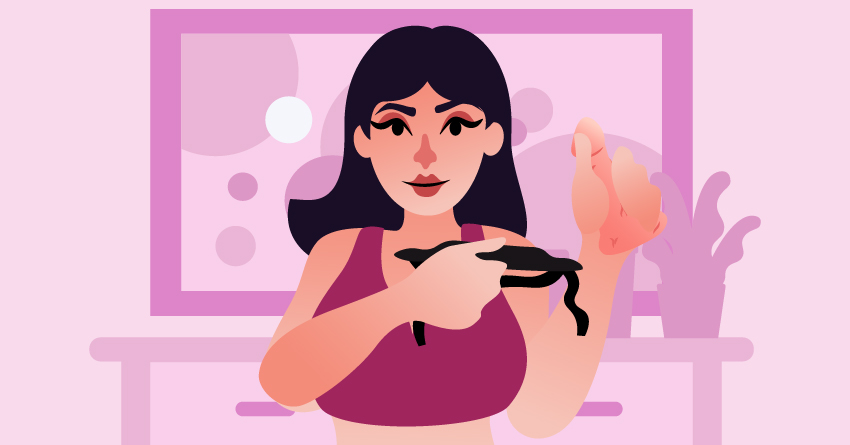 Strap-on dildos usually come with a comfy harness and soft dildo, making it a great staple for your raunchy plays. Some  dildo sets come with an adjustable harness and a soft silicone-made dildo, making it ideal for beginners. Some sets come in vibrant colors, Whether you would like some pegging or lesbian sex, this raunchy toy can help you experience orgasmic paradise.
7

There are materials to look for if you want a high-quality dildo.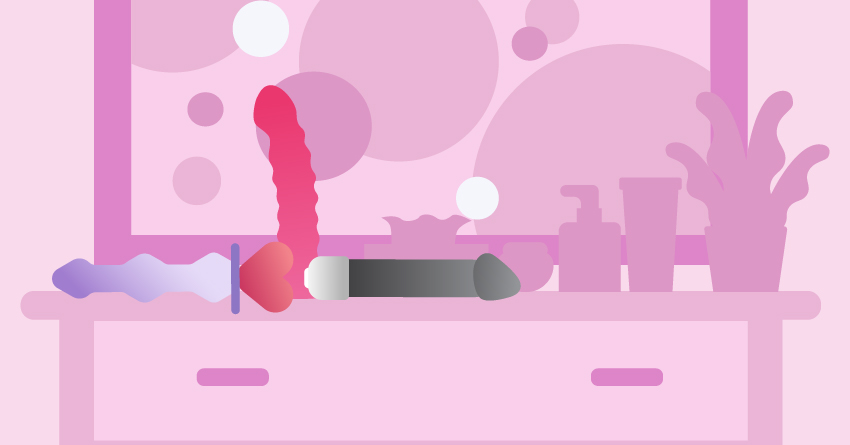 Here are some of the safest materials that you should consider if you're getting a dildo:
Silicone: Silicone is commonly used to make sex toys more bendy and realistic. It is more expensive than materials made with dangerous chemicals because it is more durable.
Stainless steel: This sexy material is not only nice to look at but easy to clean since it isn't porous. Just stick it in the dishwasher, in some bleach, or in boiling water.
Borosilicate glass: This material is perfect for sex toys because it is neither porous nor toxic, and it doesn't change form in high temperatures. To clean, just stick it in the dishwasher next to your stainless-steel sex toy.
8

There are sex toy materials to avoid too.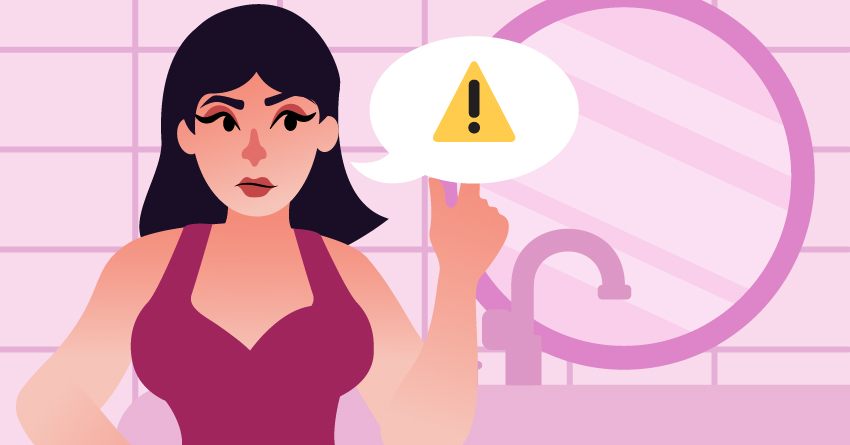 If there are good materials, there are also bad ones. Here the sex toy materials to avoid in the dildo you're getting:
Jelly: An affordable material used to make sex toys feel somewhat realistic. Jellies contain phthalates.
Rubber: This latex material is commonly used to make dildos. It has a pungent odor and can cause allergic reactions. If you buy a rubber sex toy, be sure to use it with a condom because it is porous.
PVC and vinyl: These are both cheap materials that contain phthalates. They are commonly used in sex toys to make them soft and more affordable.
9

It's ideal to use water-based lube with your silicone dildos.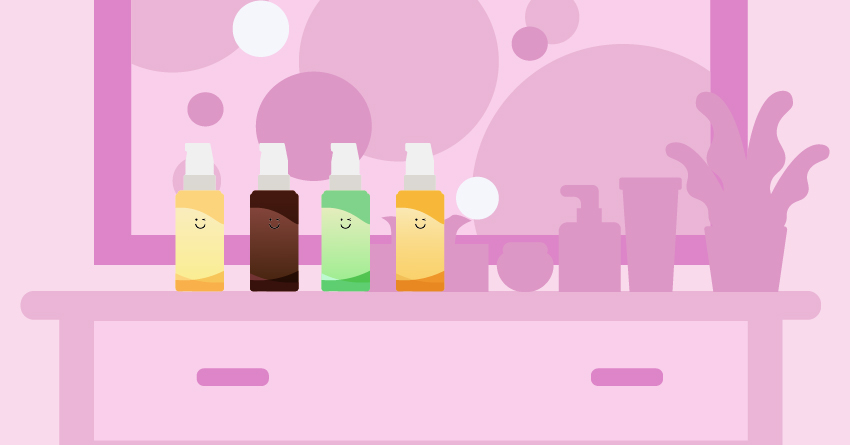 As most dildos are made of silicone, it's ideal to use water-based lube with your silicone toys. This is because water-based lube will not ruin the silicone material rather than silicone-based lube. You may also refer to the manual included with the toy to learn further instructions on your toy's material.
10

You should also consider hygiene when getting a dildo.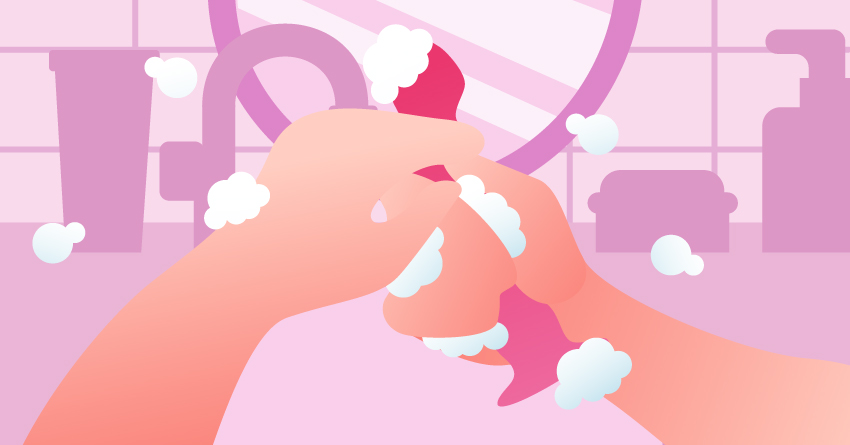 Certain materials require a different way of cleaning. For example, if your dildo is made from Cyberskin, you can't use soap when cleaning; just use warm water to wash it off. As for dildos made with glass, silicone, or metal, it's okay to clean them with warm water and mild soap. You can also use a sex toy cleaner.
Once you're done washing and drying out your love toy, store your dildo in a satin or velvet pouch. This will minimize exposure to dust and dirt, as well as prevent contamination with other sex toys. You can then put this in your closet or anywhere that's cool, dry, and secure.
Frequently Asked Questions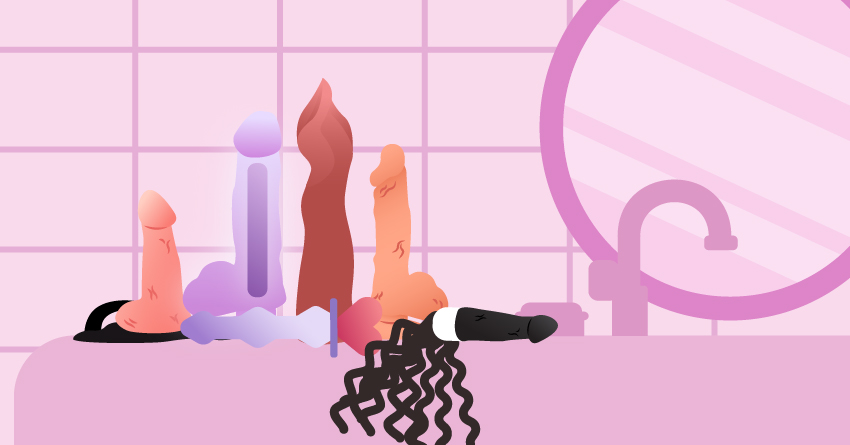 Now that you've learned about the different types of dildos, you're probably picked out your favorites. But if you still have questions about these frisky toys, we've answered some of them down below!
1

What are the best types of dildos for beginners?

There's no particular type of dildos that are meant for beginners, but we highly suggest to start small. Start small especially if you're not used to bigger schlongs. If you're still a bit shy and wanted to keep it low-key, go for dildos that have discreet designs.
2

What are the best types of dildos for coupled plays?

If you're planning to use dildos with your partner, you can opt for double-ended, double dildos, or strap-ons. Now, this depends on the type of play that you're having so we suggest discussing it with your partner first before purchasing.
3

What are the best types of dildos for anal play?

Again, there's no particular type of dildo for anal play. Any types of dildos can work on your butt, as long as your body is ready for the play. However, we suggest using the shorter and smaller dildos instead of the bigger ones, especially if you're just starting out with anal play– or just get a butt plug!
4

What are the things I should consider before getting a dildo?

There are two essential things to consider when purchasing a dildo.

First, your preferences. Are you getting a dildo for masturbation or partnered sex? Do you like something realistic or have a discreet design to it? Would you like a dildo that vibrates? Those are some of the things you need to ask yourself before getting that D.

Second is the material. Dildos are for internal stimulation aka you're inserting it in your genitals. That's why you need to ensure that the material of the dildo is body-safe and non-porous. Examples of non-porous materials are glass, metal, and silicone. Now, if the dildo you're planning to get has jelly plastic material on it– close that asap. It's a porous material– meaning that bacteria can hide on the nooks and crooks of the toy.
5

What is the best way to clean a dildo?

This depends on the types of dildos that you're using. If you're using a dildo that isn't vibrating, it's most likely waterproof. And if it's waterproof, you can wash the toy in running water and mild soap. Now, certain materials prohibit the use of mild soap so make sure to check the cleaning instructions on the packaging before cleaning it.
What's Your Decision?
With so many types of dildos to choose from, the decision can be tough to make. So it will all depend on what you need it for and your preferences. Just remember to take it slow and ease your way into this dildo business. Just because they don't pulsate like their cousin, the vibrator, doesn't mean they're boring. Dildos are fun because you get to decide how hard or how fast you want to take it. Dildos provide a do-it-yourself kind of experience, and it's customizable by you and only you!