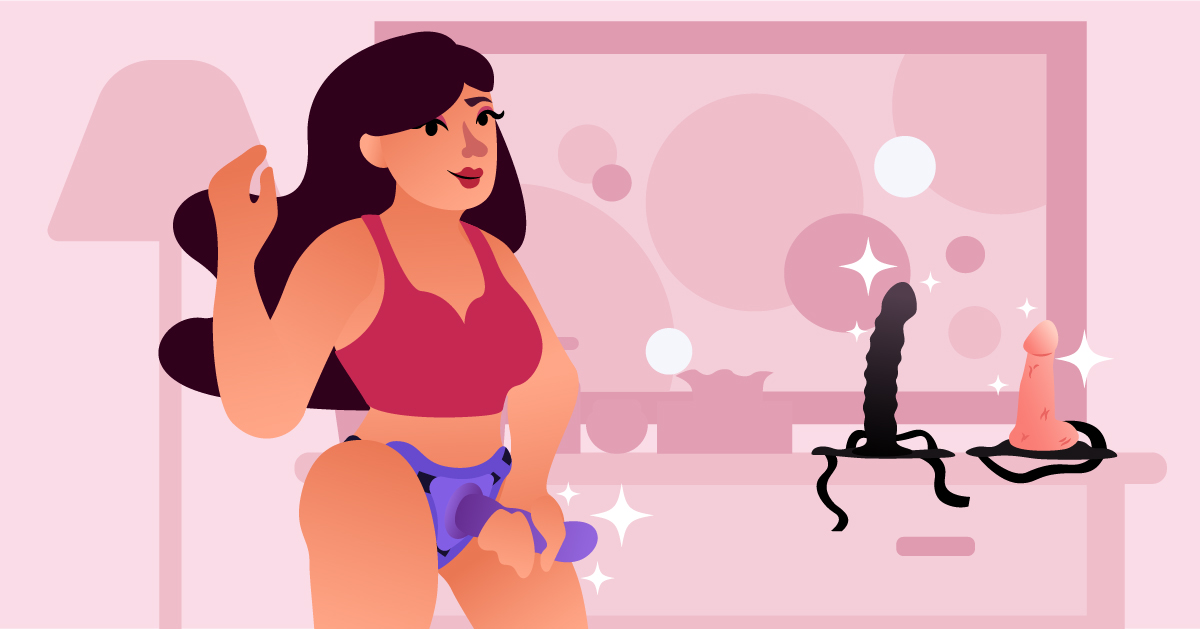 If you think about strap-on dildos, the first thing that will probably enter your mind is lesbian porn. There's the actress wearing the harness and enjoying her pretend penis in penetrating the other girl. It's hot and totally arousing to watch! But even outside porn, there are many lesbians who enjoy using strap-ons for their sex play.  In fact, even if you're completely straight but are interested in trying it out, you will enjoy yourself. Strap-on play can be fun for anyone, lesbian or not. Strap-ons add a certain kink as well as a new level of intimacy between the couple. You learn something about each other, and you can spice up your bedroom play with strap-ons.
What's a Strap-on?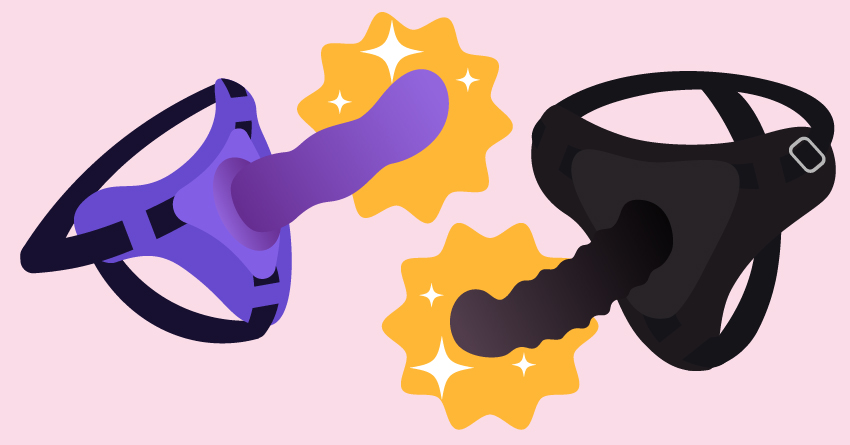 First, if you're new to this, what's a strap on? So a strap on is a sex toy ensemble that includes a harness and a special dildo that fits into it. The harness can be worn around the waist or hips. Strap-ons give women "fake penises" right where one should hang. They use it to add variety aside from tongues and fingers. These toys also give men an extra penis, one that may be firmer and more cooperative than their real one. Also, one that doesn't cum easily.
Different Styles of Strap-ons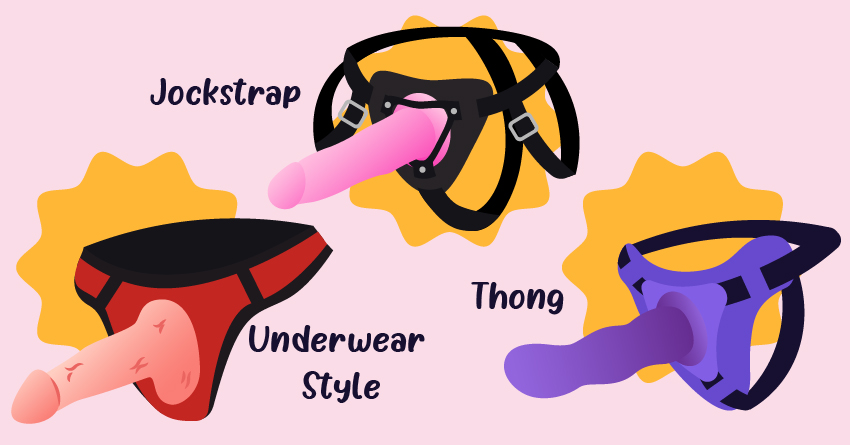 Strap-ons are created to mimic the look and feel of having a penis. As what we've said, the basic strap-on setup includes a harness and a dildo. The dildo has a flared base to prevent it from slipping through. And the harness typically has an O-ring where the dildo goes in and gets fitted. The combination of the flared base and the O-ring holds the dildo in place against the wearer's pelvis.
Harnesses typically come in one of three styles:
Jockstrap:  This version looks like a classic jockstrap. This means that it has straps around the waist and over each butt cheek.
Thong: You know what a thong looks like, right? It has a strap around the waist and a strap that goes between the legs and between the butt cheeks.
Underwear-style: It just looks like you're wearing a panty or boxers. You can use them for wearing a dildo all day, or during sex.
As for the dildos, they come in every size, shape, material, and color you can possibly imagine. You can get ones that look very realistic, or you can get ones that have swirling textures or even made of glass!
How to use a Strap-on Dildo?
1

Select the right strap-on dildo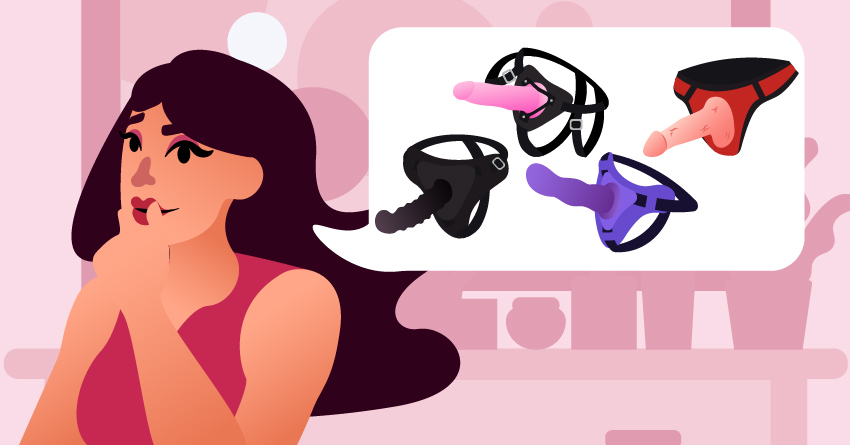 When selecting the correct dildo for you and your partner's needs, size matters as well as the type of dildo you want to use. If you're not the one getting penetrated, it's important to ask your partner what they prefer. Maybe they prefer a huge dildo, or they prefer a dildo that's out of their wildest imagination. Check in on them what they like.
2

Get used to the strap-on dildo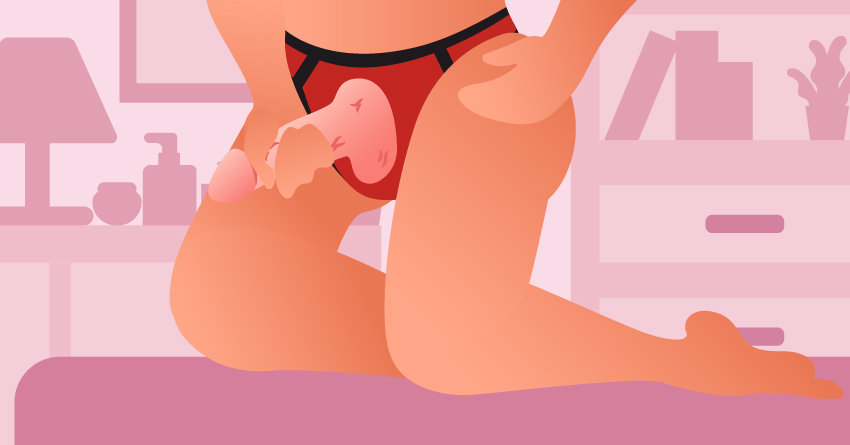 When you're new to the whole strap-on biz, wearing a harness and dildo can feel weird. It's a whole extra appendage. It will take some time to get used to the whole "new body part." So, first, wear your strap-on alone for a while. Wear them around the house as you do your normal, non-sexual activities. Wash the dishes while wearing your strap-on. Watch TV while wearing your strap-on. Give yourself some time to get used to it, and get a sense of how the thing works with your body. The more comfortable you are with it on your own, the easier it will be to use it with a partner.
3

Start slow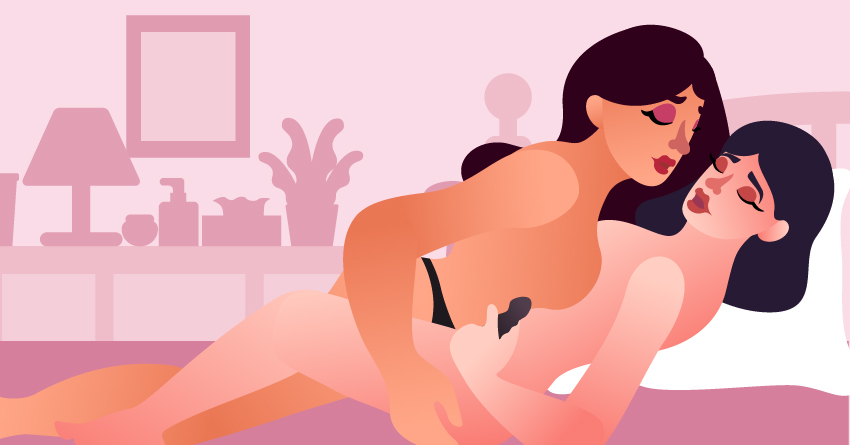 Once you've gotten comfortable with your gear, you may feel ready to start using it with your partner.  But before you go down to business, start slow. If you've let yourself ease up to the toy, you should also let your partner do the same. Wear your strap-on dildo as you and your partner make out. Let them touch the dildo in an act similar to a handjob. Include the toy in your kinky activities as if it's a real penis.
4

Lube lube lube your strap-on dildo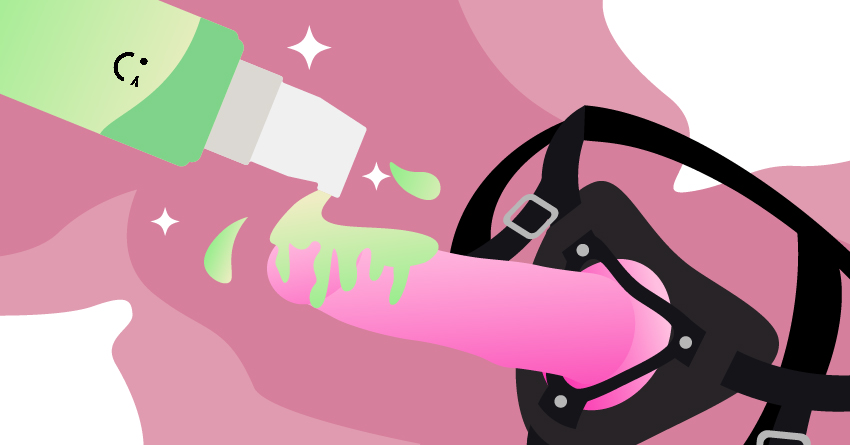 If you want to use your strap-on dildo for penetration, use lots of lube. This ensures that your partner won't get hurt when you're thrusting inside. Also, make sure your partner knows to tell you anytime they need you to stop and apply more lube. For easier cleaning process, use a condom. A condom is lubricated as well, so you won't have to apply more lube, and it's easier to clean after.
5

Communicate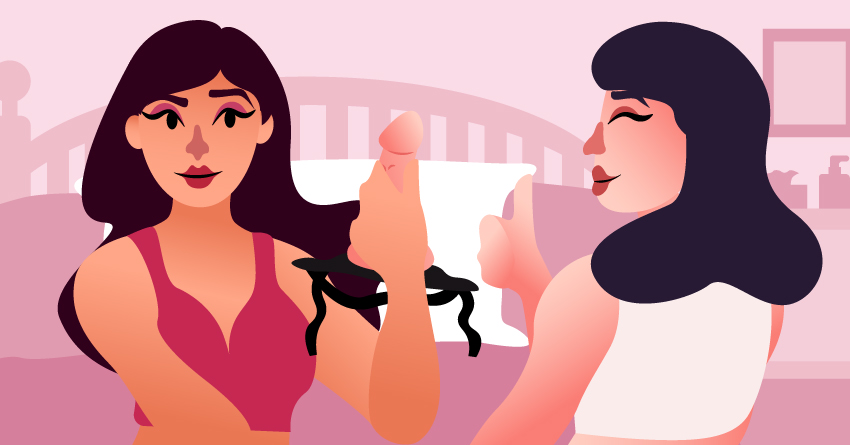 Ask your partner for feedback on angles and depth. As with any sexual activity, talk about what feels good and what doesn't. Ask your partner how they want it. Do they want it deeper, faster, or slower? Listen and pay attention to what they say. Angle your dildo upwards, not back towards her spine. More than this, let your partner guide you to how they want to take it.
6

Try different positions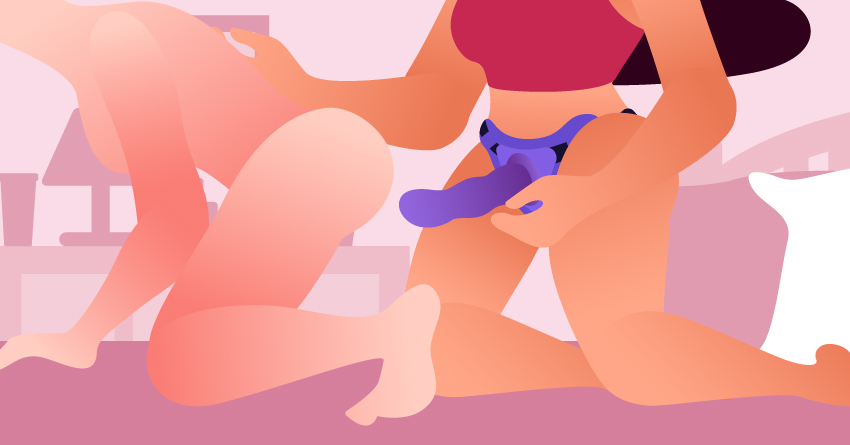 Missionary might be boring for you, but it allows for face-to-face intimacy between the two of you. But to spice it up, try different positions. You have an extra or fake dick, so you might as well use it to your advantage. Doggy style is easy to do, and it gives further penetration. It is a great beginner's position, and it tends to be easiest for thrusting newbies,
7

Don't forget the aftercare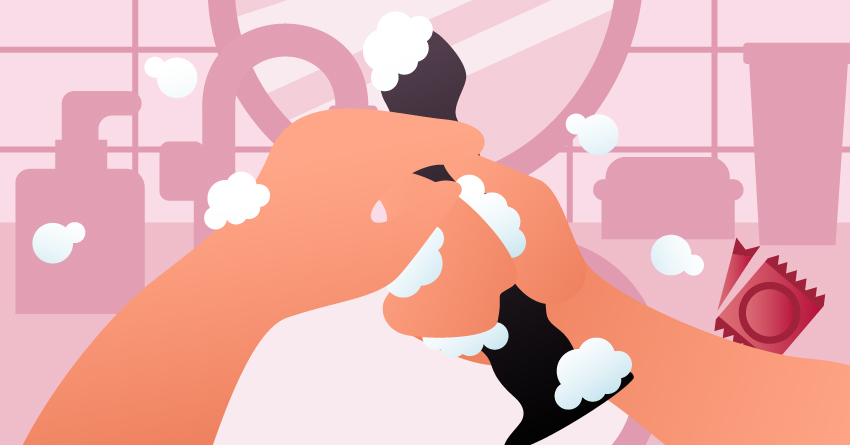 Make sure to clean your gear as soon as possible. Follow the manufacturer's instructions for the best method. Use a condom to prevent STDs and other infections. Also, as we've said, it's easier to clean when you use a condom together with it.
Before you begin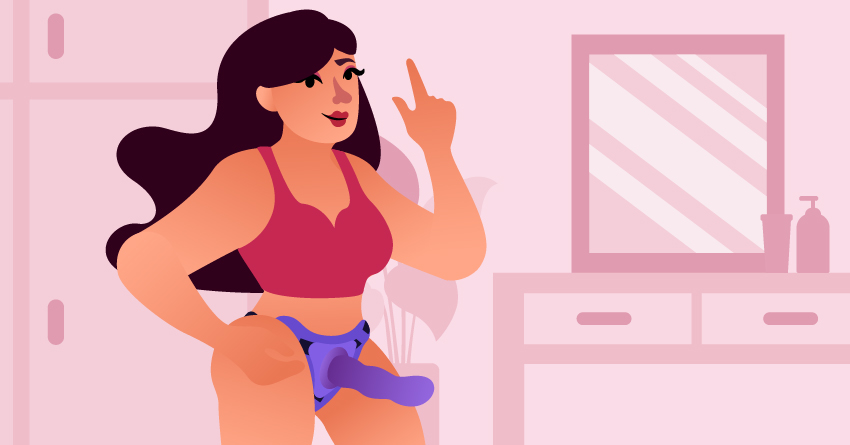 It will be difficult to dive immediately into some unfamiliar territory. You have to make sure you've done the necessary preparation before the actual deed is done.
1

Consent is important

Whether it's you who's getting pegged or your partner, consent is important to establish boundaries and mutual trust in both parties involved. Ask your partner first if they're okay with using a strap on dildo for your bedroom play. It's important that nobody is forced or guilt-tripped into doing anything they don't want to do.
2

Get used to the dildo

As we've said, strut around your house in your new strap on dildo. It will take some time to get used to it so it's important that you take the time to practice with it. When you practice wearing it, you will figure out how tight it should be to be comfortable enough for you. You will also learn how to control the extra appendage and in time, master it.
3

Some cleaning down there

If it's a guy who's getting pegged, a little extra shaving in your anus won't be harmful. Men tend to have more hair in that area. This could get tangled and cause unwanted pain. This is not a requirement, but just to be safe, it's recommended to do this. If he's not that hairy in that area, then a quick shower and some wet wipes should be fine.
4

Consider douching

For the couple who wants to feel squeaky clean, you can try douching. This will help clean and prepare your anus for penetration. Again, this isn't a requirement but just an extra step to make things more hygienic.
Strap On Positions
A strap on is technically another penis so any penetrative sex position that involves a penis can work with strap on dildos. Don't be afraid of exploring and experimenting with different positions to make the most out of your strap on dildo experience.
1

The Classic Missionary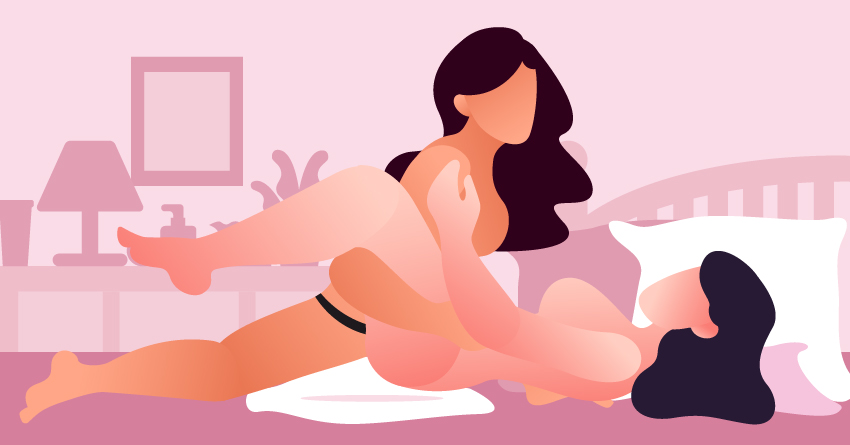 One of the most basic and easiest positions to try for strap on sex. If you're a beginner, you might as well go for the basics first before you move to the more advanced levels. In this position, the one wearing the strap on dildo (giver) can sit or kneel comfortably in-between their partner's (receiver) legs. It would also be easier to see and access whichever hole (vagina or anus) from this position. Add a twist by adding a pillow beneath the bum of the receiver. This will make the penetration more pleasurable as this allows for a deeper reach for the dildo.
2

Ride 'em like a Cowboy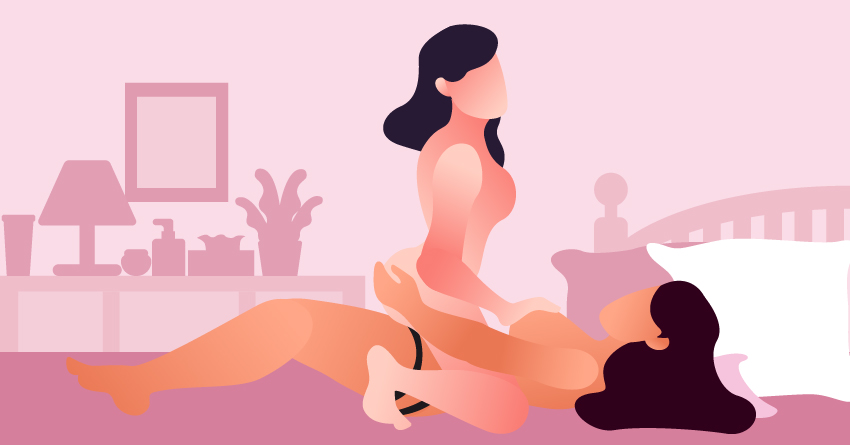 It's time to put the girls on top! This is a fun position that allows the giver to be in the driver's seat on the way to pleasure town.  If you've always been curious how it feels to be the one in control, now's the perfect time to try this. It might give you a different sense of pleasure and arousal!
3

Leapfrog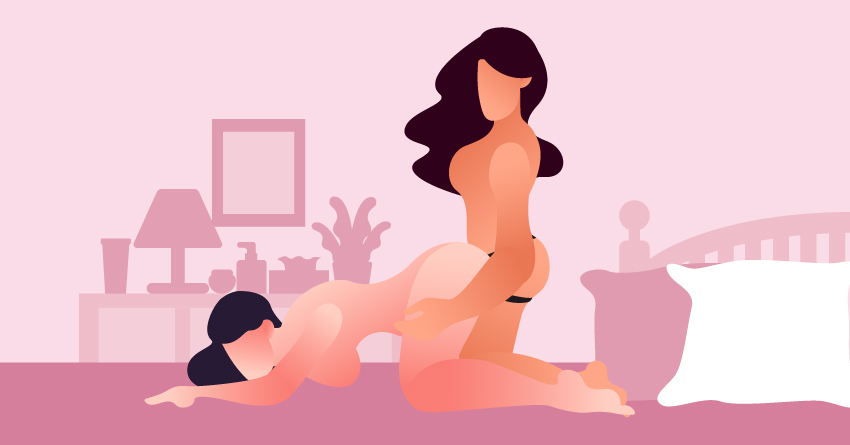 Leapfrog is where your shoulders and breasts dip down to the bed. To do this, the receiver must arch her bum highly. The giver will then hold the lower back and thrust the dildo into the receiver. This will help remove the strain from your arms and shoulders. The giver will be able to thrust into the receiver slowly but surely. You'll feel every inch of your strap on dildo.
4

Spooning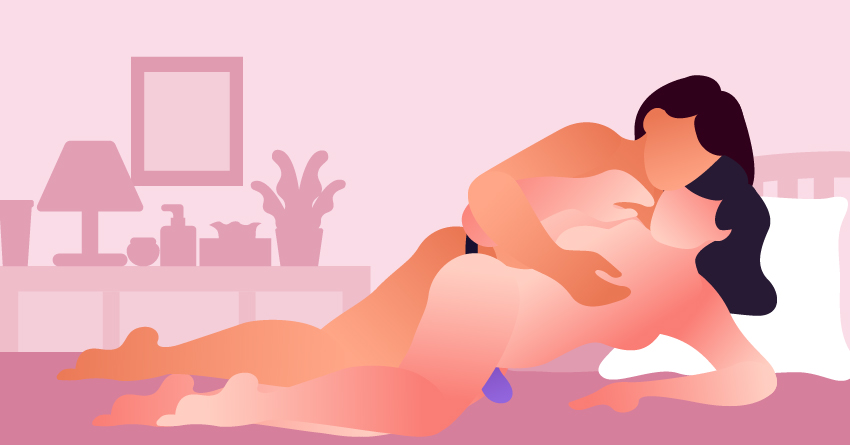 You can never go wrong with this intimate sex position. In this position, you'll have skin-to-skin contact with your partner. Spooning works wonders for couples of different shapes and heights.  To enjoy strap on sex in this position, the dildo must be longer. Otherwise, penetration will just be shallow and it might not reach the right spot.
5

 Teach me how to doggy!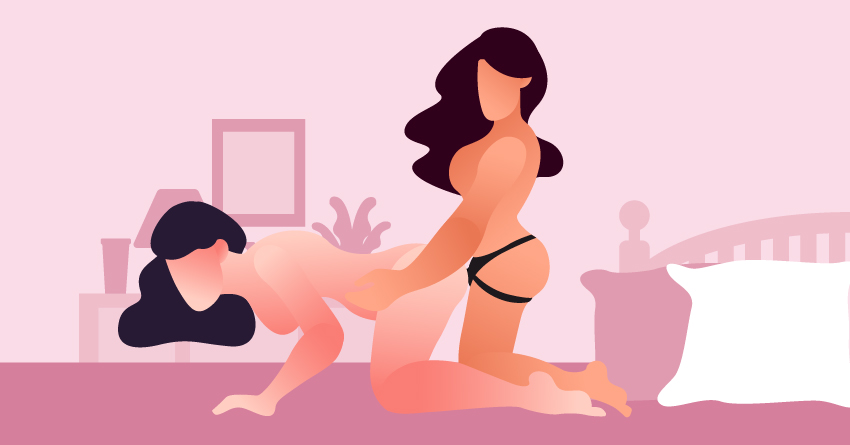 This one is another easy-to-do position for beginners in using dildos for strap on sex. This position will allow for easy penetration and thrusting. The giver will easily be able to locate the hole (vagina or anus) and will be able to enter it without much hassle. It will also be easier to stimulate the clit or penis in this position. You can also incorporate some soft BDSM by spanking the bum of the receiver as you're letting loose on the play.
6

Lean over
Don't get too traditional and boring by using the bed only. You can go wild with a strap on dildo on the house! Lean over the bed, the sofa, the table, even the washer! As long as it's workable, mix things up and don't be afraid to explore! In this position, your partner can take you from behind as you're leaning over something. You can even do this on the hood of a car! This position is a bit of a hassle if you and your partner have a big height difference. It can also be uncomfortable against your hips and stomach so try placing a pillow between you and the furniture.
Frequently Asked Questions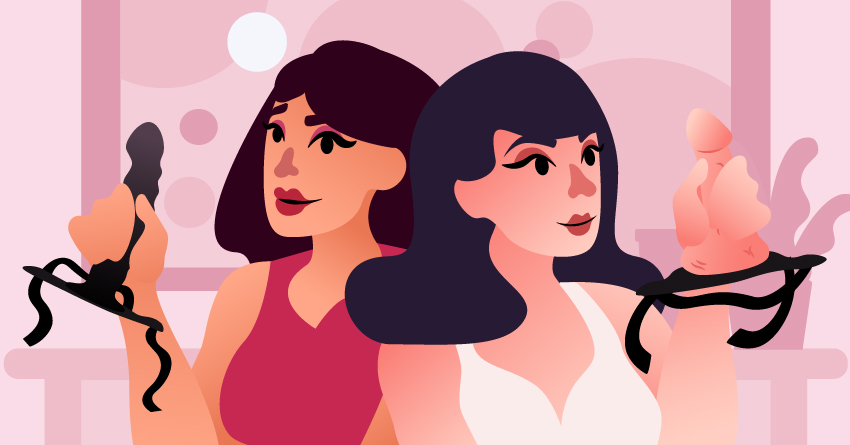 As you've learned the benefits and ways on how to use a strap-on dildo, you're most likely ready to dive in the strap-on fun. However, if you still have questions about strap-on dildos, we got covered. We've answered some of the frequently asked questions about straps-on and pegging.
1

Is it comfortable to wear a strap-on harness?

Yes, it's comfortable to wear a strap-on harness, as long as you're choosing your preferred style. There are two main types of the harness to choose from—the underwear style and the strap-on style. The underwear type looks like your regular undies, just with an opening in the middle, while the strap-on type has adjustable straps.

Now, if you want to ensure comfort, we suggest trying the strap-on type since it's adjustable.
2

What are the factors to consider when getting a strap-on harness?

When purchasing your strap-on harness, you need to consider the material. Go for a material that's easy to clean—something that's machine-washable. Also, consider if it works with most dildo types, so you'll be able to maximize the use of your strap-on.
3

What are the factors to consider when buying a strap-on dildo?

If you already have a strap-on harness, you need to find a dildo that's compatible with that.

Also, consider the material of the dildo. Since you're inserting this adult toy in your own or your partner's genitals, you need to choose non-porous materials, such as silicone, glass, stainless steel, pyrex, or ABS plastics. This will ensure that bacteria wouldn't be trapped inside the toy.
4

How should I talk to my partner in terms of pegging?

Every individual has a different communication style. Some prefer to not be direct, while others prefer the blunt approach. Just be honest with your partner and explain why you would like to try strap-ons. Now, if they're hesitant to try it, just give them some time to learn about it. Don't pressure them on saying yes.
5

We tried doing it and did not enjoy it as much. What should we do?

Practice makes perfect, sweetie. It's normal if you don't like it for the first time since you're just adjusting with the toy and the whole shebang around it. What we suggest is to try it again, and if it isn't you're cup of tea, just indulge in other sexual activities.
Final Reminders
Sometimes strap-on sex can be an emotional experience for both partners. You might feel vulnerable wearing a strap-on dildo, or your partner might feel scared trying it out for the first time. If anything does come up for you, let it come up. The most important thing as with other sexual activities is communication. Keep checking in with each other throughout, and talk about it afterward. Strap-on play is fun. You just have to take courage and try it out for yourselves.