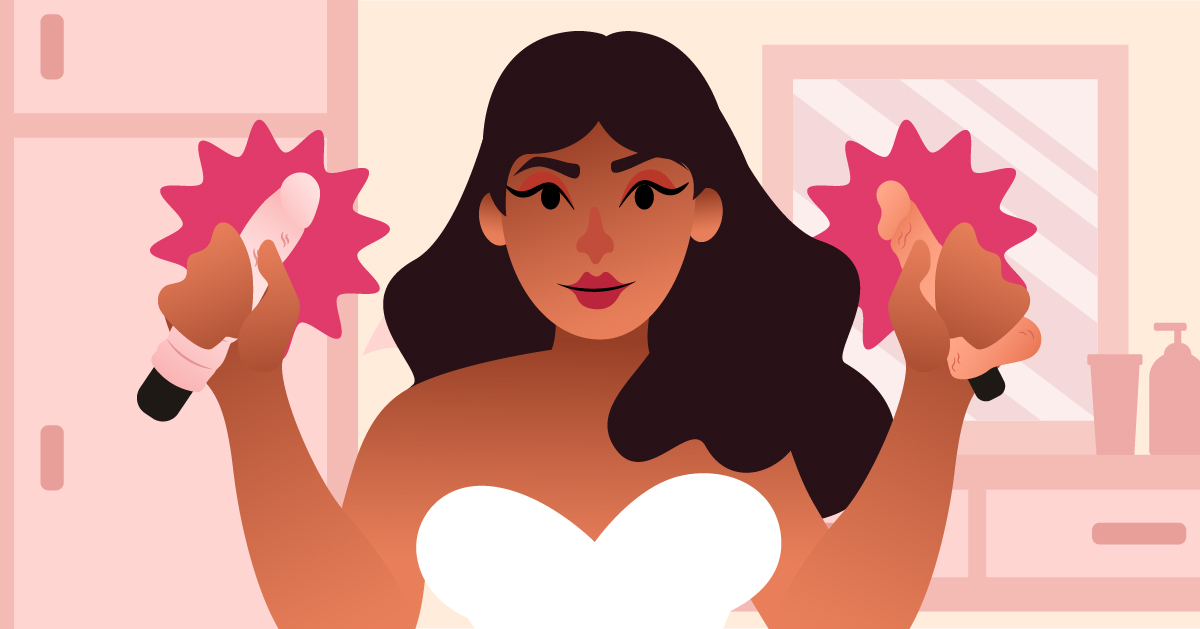 Bought a vibrating dildo and wondered how to use it? Well, you're in luck, sweetie! For today's guide, we will be discussing the ins and outs of this luscious vibe. But before we start enumerating the steps for using a vibrating dildo, let's have a quick discussion about adult toys, particularly sex toys for women.
You see, quality sex toys can be expensive. If you want to use sex toys without risking yourself for bacterial infections, it's best to go for more expensive variants since these types of toys use medical-grade and non-porous materials.
If you're on a budget, we suggest being smart with your sex toy purchases, such as getting multipurpose toys like vibrating dildos.
What is a Vibrating Dildo?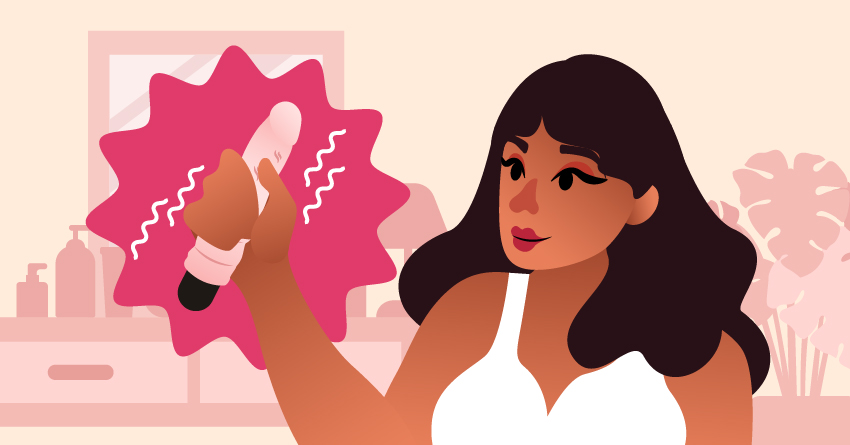 A vibrating dildo is a dildo that vibrates. It pretty much looks like a real penis– complete with veins, a bendable shaft, and a tapered tip. Some are even designed with balls in them.
Usually made from Cyberskin or silicone material, vibrating dildos work well for women who like the feel of a real penis. Some also find it more arousing than abstract designs of other vibrators.
It also works for women on a budget since they can get two toys in one. Not only you'll get to the vibrator to stimulate your clitoris, nipples, and other erogenous zones. You'll also get a dildo that you can use to play with your g-spot and vagina; turn off the vibrations, and voila, it's a classic dildo now! This is why if you love vaginal and clitoral stimulation, this love toy will work best for you.
Aside from its realistic look and flexible function, another benefit that you can get from vibrating dildos is that its tapered end and bendable (depending on the variant) body helps you stimulate your G-spot, making it one of the best types of vibrators out there.
It comes in different variations, such as the following:
Classic – The standard. It's basically a dildo with vibrations in it.
Thrusting – The shaft or tip automatically moves up and down.
Warming – This vibrating dildo warms up for added sensations.
Double-Ended Dildo – This one comes with two vibrating heads; meant for couple of plays.
How to Use a Vibrating Dildo
Now that you've learned about vibrating dildos, you're sure to try this goodie yourself. With that, here's a quick guide on how to use a vibrating dildo properly. By following our steps below, you will have a safe and pleasurable experience with this bad boy. Read on!
1

Use it for vaginal or anal play.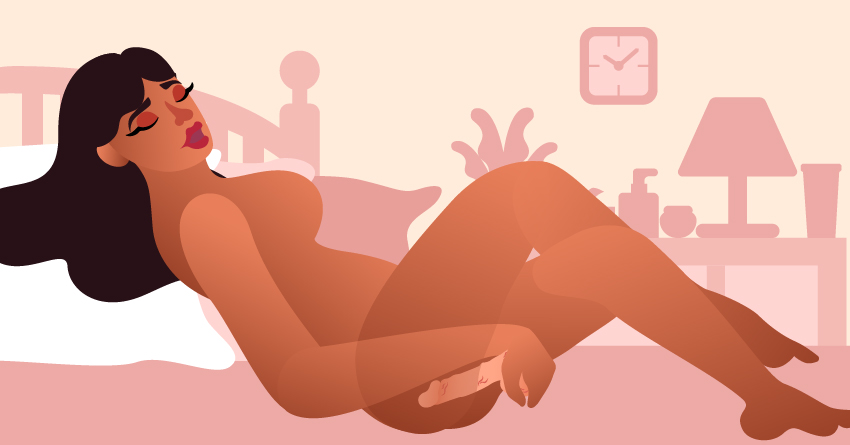 Vibrating dildos are commonly used for penetrative plays, in which the person inserts a toy in their vagina or anus for pleasure. But unlike a classic dildo, where you need to do many movements to experience climax-inducing sensations, you can insert this toy in your vagina or anus, turn on the pulsating vibrations, and let it do the work for you.
Some vibrating dongs have a curved shaft or tapered tip for g-spot or p-spot stimulation. If you haven't been aware of what a g-spot is, it's a distinct spot inside the vagina that produces orgasmic sensations when touched. On the other hand, the p-spot or prostate gland is a walnut-sized organ located inside the anus. Known as the male g-spot, it's known that stimulating it can cause intense, full-body orgasms.
Basic Steps
Here are the basic steps you can do when using this toy for internal stimulation:
Locate your g-spot or p-spot. Use your fingers in this process. The g-spot is in the upper vaginal wall, about 2-3 inches deep. Meanwhile, the prostate gland is situated just below the bladder and in front of the rectum.
Warm your body up. Use the vibrating component of this toy to please your erogenous zones, such as your inner thighs, clitoris, nipples, and others.
Get into a comfortable position where you can easily access your genitals. For starters, we recommend lying on your back.
Apply water-based lubricant on the shaft. This step is necessary if you're inserting the dildo in your anus. If possible, use a lubricant with a thicker consistency in your anus so you won't have to reapply often.
Gently insert the dildo into your vagina or anus. Adjust accordingly.
Turn on the vibrator. Don't overwhelm yourself with strong vibration; keep it in the lowest setting for a few minutes. Most vibrators have at least 5-20 modes– try various modes and be creative with them. If you like edging, we suggest trying the patterned vibrations. On the other hand, if you're going for a quickie, rapidly increase the intensity levels.
Move the toy back and forth, rotate it inside, and make other motions for different sensations.
2

Use it to stimulate your outer erogenous zones.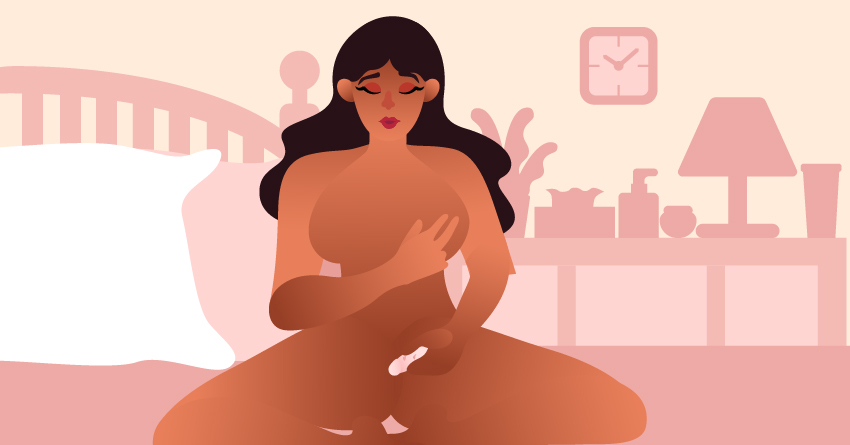 Aside from internal stimulation, you can also use a vibrating dong for external play. Apply water-based lubricant on the toy's tip, then rub it all over those sensitive areas. Below are some of the spots that you can stimulate:
Clitoris, labia, and other parts of the vulva
Nipples
Inner thighs
Perineum
Anal opening and butt cheeks
3

Use it with your partner.

If your partner is open to using a vibrating dildo in the bedroom, we highly recommend doing this step! It'll take your sexual plays to greater heights. Here are some of the sexual activities where you can easily incorporate this toy:
Foreplay – Tease your partner's outer erogenous zones, such as the glans, penis, nipples, inner thighs, clitoris, etc.
Double Penetration – Depending on what you've agreed upon with your boo, you can use the dildo for one opening. At the same time, your partner penetrates the other opening. For instance, your vagina gets penetrated by a penis while the toy is in your anus.
Clit Play During Penetration – As most women don't cum from vaginal penetration, stimulating the clitoris (which is known to be the female pleasure center) with a vibrating toy during intercourse can do wonders. You may need to make some adjustments to the positioning, though.
4

Use it while pillow humping.

Do you use cushion humping for your self-pleasure sessions? The good news is as a vibrating dildo can amplify your pillow plays. Place the vibrating dildo between the pillow and your body. You can also use two pillows that are stacked on one another while the vibrating dildo is in the middle. Get on top of the pillow and hump away! Adjust your position and vibration intensity to your liking. The pressure from the pillow and the added vibrations can create unique and orgasmic sensations.
5

Does a vibrating dildo come with a suction base? Explore different positions!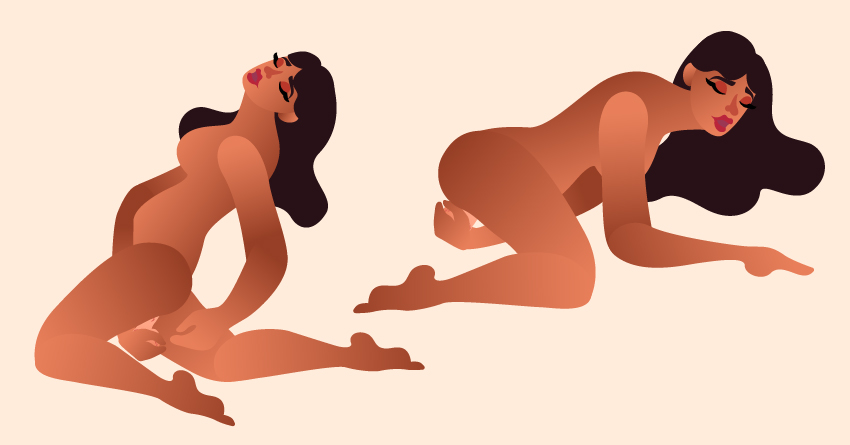 Now, you don't have to be in a lying position when using this sex toy. If your vibrating dildo is designed with a suction cup, we highly suggest maximizing your use and trying various solo positions with it; try queening or doggy-style!
You can also try various positions with a partner. Just ask them to wear this dildo with a strap-on or hold it up as you try new positions. For more dildo positions, check out our trusty guide below.
Safety Tips
Aside from learning how to use a vibrating dildo, it's also important to know the safety measure when using this toy. Below are some of the things to take note of before you start the dildo deed.
1

Get vibrating dildos from trusted adult toy stores.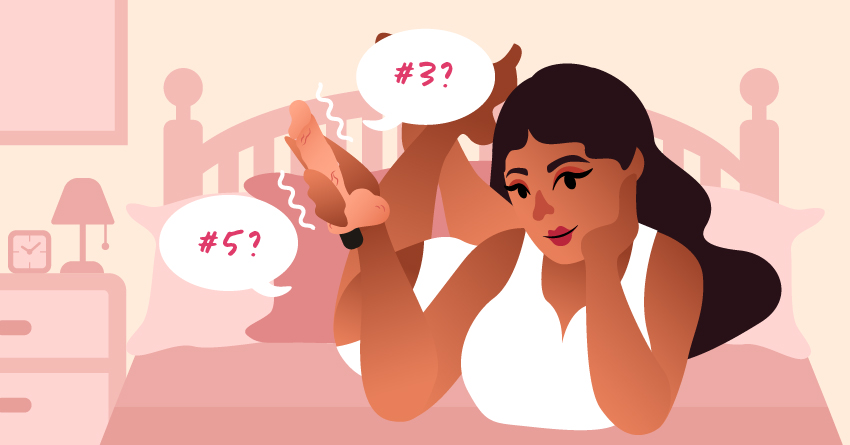 Remember that you're inserting this toy in your vagina or anus. You shouldn't settle for cheap dildos with sketchy labels and undisclosed materials.
Go with well-established adult toys, as you can ensure they get their products from the world's finest sex toy manufacturers and suppliers. These stores also often have knowledgeable staff who can guide you through the different options and help you find the perfect vibrating dildo that suits your desires.
If you need clarification on whether a store is reputable, you can always check its customer reviews and publications from media sites.
2

Always start with a warm-up.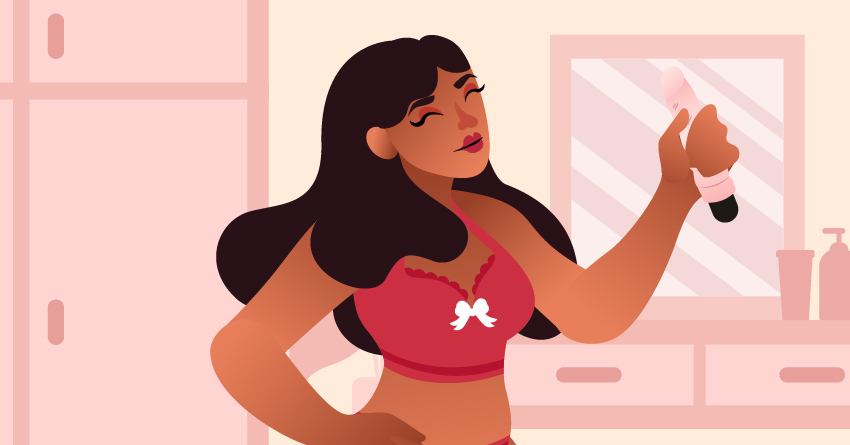 Just like any sexual activity, you need to make sure that your mind and body are ready for some steamy action. Remove all distractions. Put your sexy undies on. Read erotic fiction. Do whatever makes you all heated up.
Do you know what's great with a vibrating dildo? You can get turned on just by looking at it. With that, we suggest using the vibrating dildo during the warm-up. Run the vibrating toy in your erogenous zones. Kiss it or suck it up– just like what you would do if your man were in there.
3

Use lube!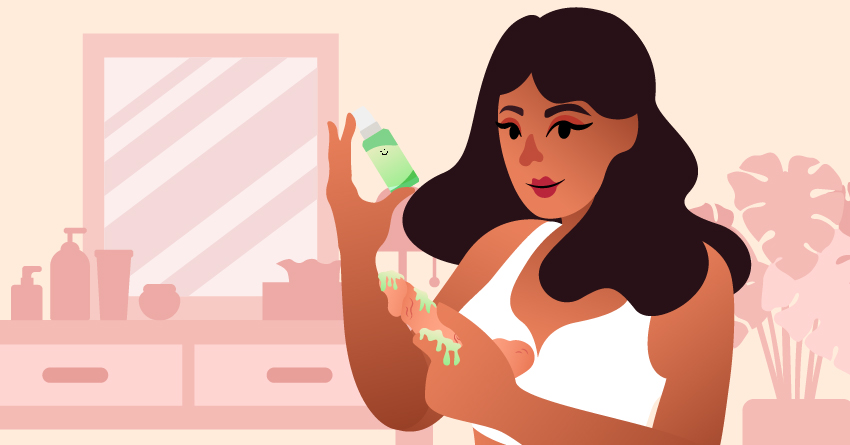 Whether you're thrusting it in or just playing it on the clit, using a sexual lubricant can amp up the experience. Ensure you're using a water-based, hybrid-based, or silicone-based lubricant.
If the vibrating dildo is made with silicone, it may have adverse reactions to silicone lube unless it's stated in the manual that you can safely use it. Avoid oil-based lubricants as well, as you can't easily wash them off, and they often have components that can cause irritation down there.
4

Sharing it with your boo? Use condoms.

If you're planning to share the excitement of using a vibrating dildo with your boo, wrap it with condoms, then switch to a fresh one if the other person is using it. Not only does it provide an extra layer of protection from bacterial infections and STIs, but it also makes cleanup a breeze.
5

Clean before and after use.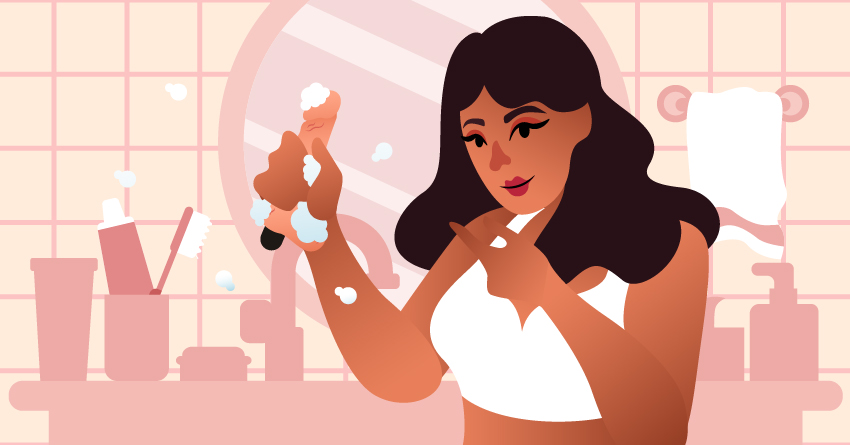 After the deed, we suggest cleaning up the toy immediately. Check your toy's manual to see if it's waterproof or splashproof. If it says waterproof, see if the rating is IPX7. If it does, use a gentle cleanser to lightly submerge the toy while cleaning it. If it's IPX6 and below, it's best to rinse soap with running water; avoid putting water on the battery compartment or charging port.
If you want a no-fluff cleaning, go with a sex toy cleaner. Spray the product all over the dildo, wait 10 seconds, then wipe it with a towel.
Lauvette's Top Vibrating Dildo Picks
As you've learned the ins and outs of vibrating dildos, you probably order one for yourself. That said, below are some of the best-vibrating dongs you should try.
Frequently Asked Questions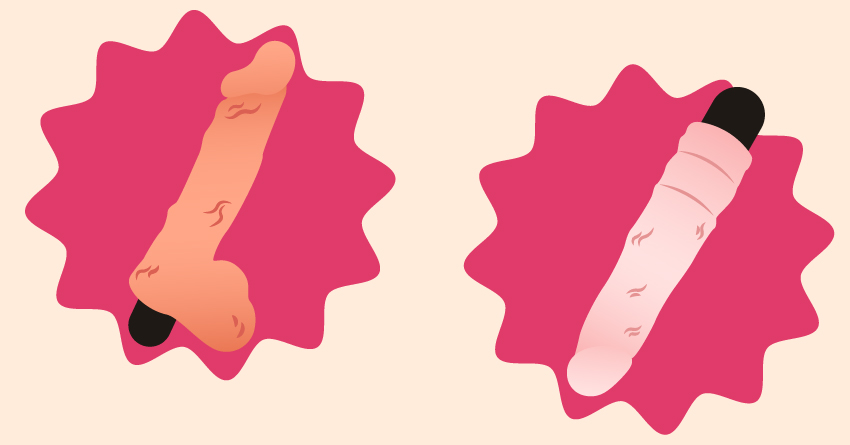 As you've learned the step-by-step process of using a vibrating dildo, we're confident that you're ready to spice up your sexy times with this gem. However, if there are questions that are still lingering on your mind, check our FAQ below for more deets!
1

What are the pros and cons of a vibrating dildo versus a regular vibrator?

It's all about the lewk. The realistic design of a vibrating dildo can be very arousing for some. It also features a tapered end which isn't usually featured in classic vibrators.

As for the cons, you need to be very careful when storing vibrating dildos at home– once your mom has seen your vibrating, there's no way to make an alibi for that. On the other hand, abstract-designed vibrators can be pretty discreet– you can just put it on your nightstand and no one would bat an eye.
2

What are the pros and cons of a vibrating dildo versus a regular dildo?

Functionality is one of the main pros of a vibrating dildo compared to a regular dildo. It serves two functions since it vibrates. As for the cons, regular dildos can be more flexible and bendable than a vibrating dildo. There are no motors on regular dildos, so you can twist and turn it as much as you like.
3

Can I use the vibrating dildo with a partner?

Yes, but we suggest discussing it with your partner first. As people say, different strokes for different folks. Your partner might get uncomfortable and insecure about bringing a vibrating dildo during the deed. So make sure to talk about it first!
4

What are the things I should consider when choosing a vibrating dildo?

It's all about the material, sweetie. Don't get fooled with the glistening designs– some aesthetic vibrators may contain materials that are bad for your sensitive vulva. Avoid vibrators (and sex toys in general) that have phthalates and jelly rubber in it.

Another thing, check if the material of the toy (particularly the skin/surface) is non-porous. If the toy is non-porous, bacteria may stay in there, no matter how many times you've cleaned it.
5

What sex toys can I play with a vibrating dildo?

The sky's the limit! It all boils down to your preferences. You can use anal toys, BDSM toys, and even couple toys when playing with this gem. Just make sure to plan things out for a fuss-free and safer experience!
Takeaway
If you want to experience the best of both worlds, using a vibrating dildo is your best bet. As long as you've chosen the right variant and are using it properly, you'll surely have a blast using this toy.
Interested in trying this bad boy out? Lucky you, as we have some of the finest vibrating dildos in the market. Just check this out and get yourself this type of vibe. Get those Os!