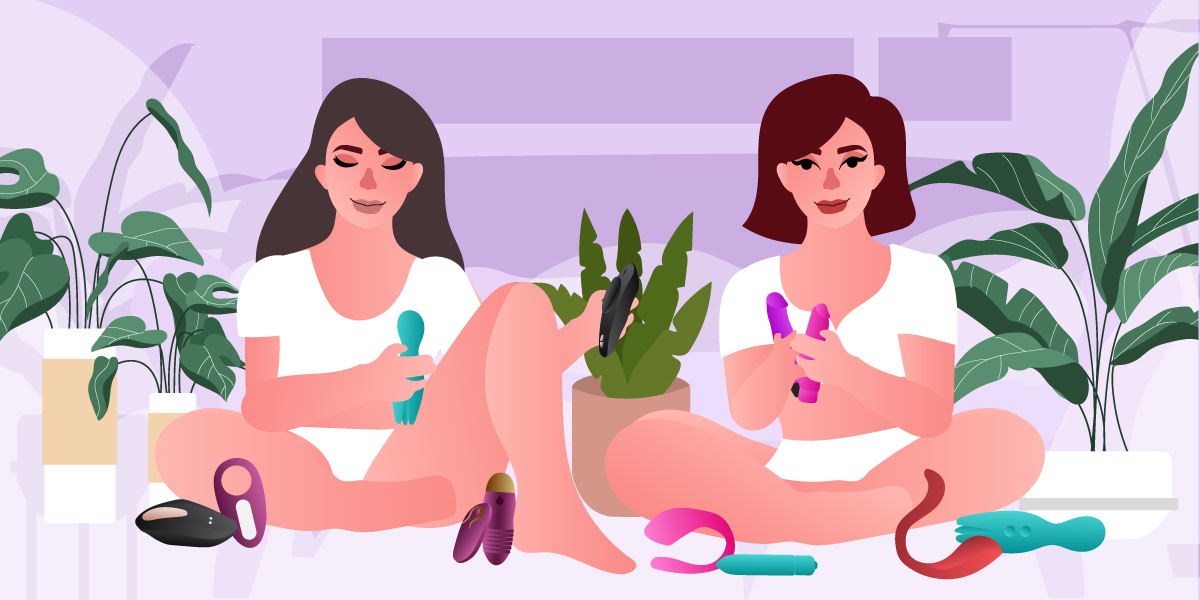 It's not much of a shocker that in the world of adult toys, the vibrators are up there among the most popular love toys for women.
To keep up with these demands, love toy manufacturers have to constantly upgrade and innovate their vibrators (which, by the way, we're all in support of). The result of this ongoing innovation is the emergence of different types of vibrators out in the market. That's totally a good thing. We strongly believe that when it comes to vibrators, the more choices, the better.
But when you're a total beginner with adult toys, it can get a bit confusing which types of vibrators will work best for you. And if you've been enjoying the perks of owning a vibrator, you may have reached a point where you're considering getting out of your comfort zone by trying a different type of vibrator but not really sure what to get.
Types of Vibrator
When shopping for a vibrator, it all depends on your needs. To save you the headache, we compiled a list of vibrator types and their functions currently available in the market.
They are divided into three categories: Internal, External, and Multi-Function. Check out what they can offer you to find out if they can complement your lifestyle.
Internal Vibrators
Internal vibrators are meant for penetration, specifically targeting the g-spot or a-spot. They usually come up with a long and curvy shaft, as well as a flexible tip. You can also use them for clitoral stimulation. However, don't expect them to provide pinpointed stimulation on the said area, as most internal vibes often give broad vibrations.
1

Classic Vibrator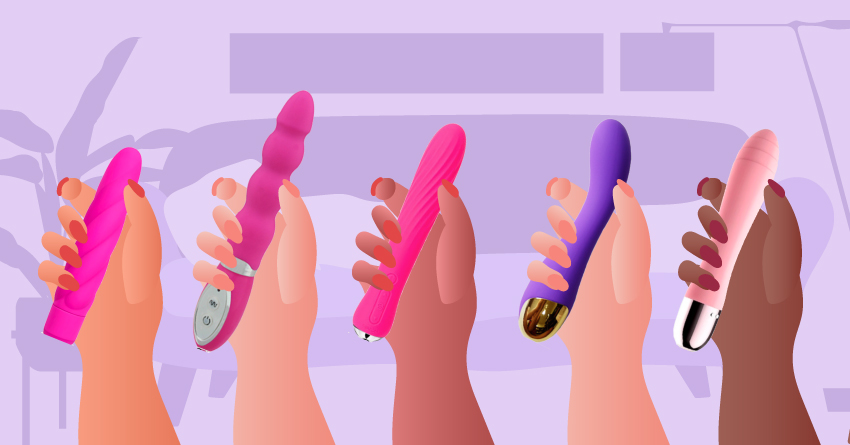 They're real OG's in vibrator town. One look at this bad boy, and you know it can pack a punch. Classic vibrators have a classic structure—straight and sleek—with tips that are usually rounded and tapered. Some have been enhanced and may now come with textured and ribbed surfaces. They can be made from silicon that often creates a unique combination of sturdy and soft.
Pros & Cons
Pros: Because of its straightforward and effective functions and non-intimidating design, classic vibes are the type of vibrators that are great for those who are only beginning to discover the joys of vibrators. Classic vibes may sound slightly on the simple side, but they're vibes that are undoubtedly versatile. They can be used for both external and internal stimulation.
Cons: If you're an experienced vibrator user, classic vibrators may be a little unsophisticated for you. It also doesn't have special features for your clit or G-Spot, which can be a bummer for some. You also have to use it with one hand, so if you're looking for hands-free fun, this ain't the vibrator for you, boo.
Bonus tip: Press this OG vibrator on your erogenous zones, such as the nipples, inner thighs, neck, and buttocks. This will make you more aroused and more pleasured during the actual play.
Learn more about classic vibrators in this guide.
2

Egg Vibrator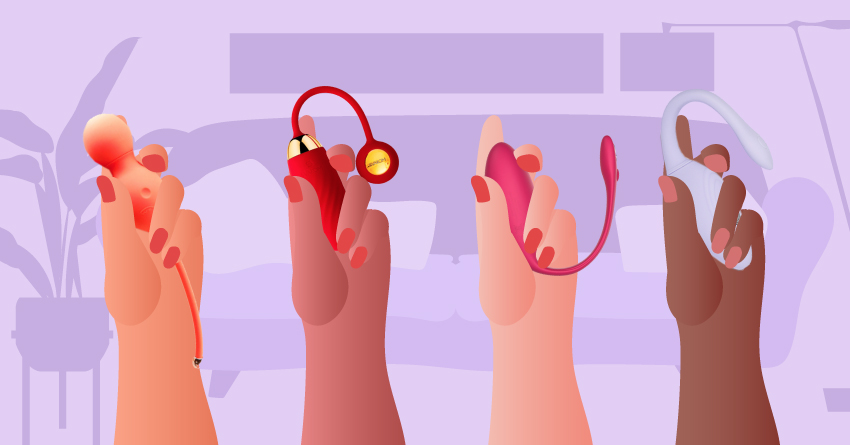 It's one of the cutest types of vibrators out there. It has the shape of an egg-like its namesake. Sometimes, it comes in the shape of a teardrop. They're usually smooth devices that you can insert in your intimate parts for a hands-free orgasm.
Pros & Cons
Pros: Since they're small, egg vibrators are the types of vibrators that are great for traveling and can be used discreetly. And for as long as you have the remote, you can even play with it in public. They also have more focused vibrations that can straight-up hit your vaginal muscles and G-spot.
Cons: The downside to egg vibrators is that their small size doesn't exactly have the same strength as the bigger vibrators. If you want a powerhouse of a vibrator, you either invest in a high-end egg vibrator or get yourself a wand massager.
Bonus Tip: If you have a wireless egg vibrator, why don't you try getting frisky and risqué in public? Pop the egg vibrator in your undies and give the remote to your partner. As you go on your date, let him take control over your pleasure and play with the remote. You'll surely love the thrill and the pulsating sensations.
Learn more about egg vibrators in this guide.
3

Realistic Vibrator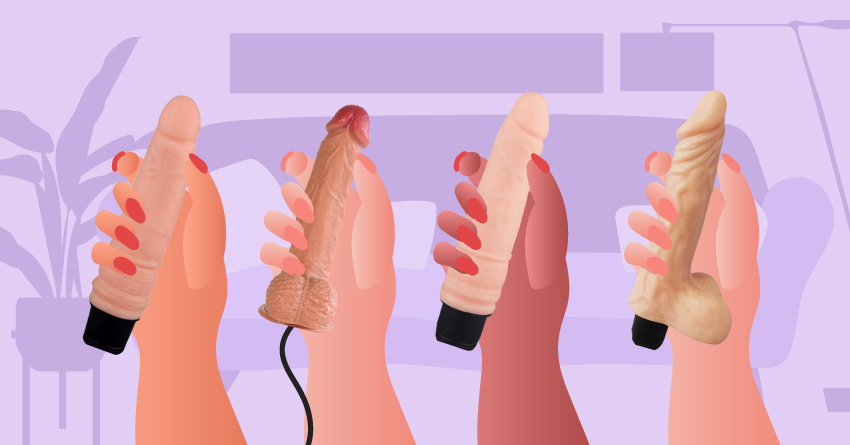 Many women may like the smooth and cylindrical design of the usual vibrators, but some say there's nothing like the real thing. And maybe they're right. The Realistic vibrators are a type of vibrators that look like a real penis—complete with veins, a slightly bent shaft, and a tapered end. Some even have balls attached to them. They can be modeled after some famous porn stars.
Made from Cyberskin or silicone, it doesn't only look like a penis but also feels like one. Their sizes have a wide range, so it's totally up to you. With these love toys in your collection, you always have an erect vibrating penis at hand.
Pros & Cons
Pros: If you enjoy the feel of a real penis inside you, but with vibrations for an extra kick, the Realistic Vibrators are your perfect match. You can also choose your preferred size and girth, giving you a chance to create your own convenient, always erect penis. There's really nothing like the sensation of being pounded balls deep by a penis-like vibrator. And if you're not in the mood for vibrations, you can always just use the Realistic Vibrator as a dildo.
Cons: The downside with Realistic vibes is that they're not the most discrete of love toys. You may get weird looks if you ever take them out in public. They're also bulky and not exactly built for traveling.
Bonus Tip: Lube is your friend! If you're using bigger and bulkier toys, such as realistic vibrators, we suggest spreading lube on this bad boy first before putting it in your vagina. We get that your vag can self-lubricate but putting extra lube brings smoother and painless insertion down there.
Learn more about vibrating dildos/realistic vibrators in this guide.
4

G-Spot Vibrator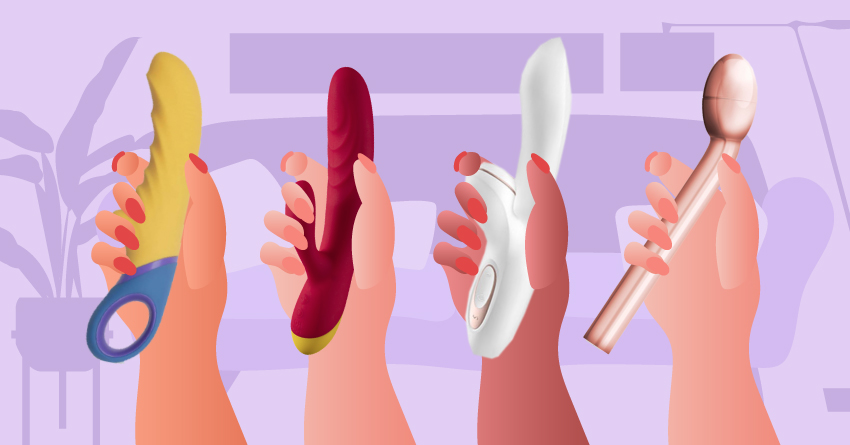 It's easy to spot a G-spot vibrator. All G-spot vibrators have a curved tip which makes them stand out, as other vibrators usually have a round or tapered end. Your G-spot can be hard to find as you need to be well aroused just to find that area. Stimulating that delicious nub of nerve endings may also take some time and consistency—which can be tough if you're only using fingers.
Luckily, there's a way to get around this dilemma. The bent shape of G-spot vibrators isn't there by coincidence. It's purposely built that way so it can effectively reach and stimulate your G-spot with ease.
Pros & Cons
Pros: If you're one of the ladies who have no freaking clue how to navigate her vagina to find that elusive G-spot, the G-spot vibrator is the type of vibrator that can do the job for you. You can kick back and relax as the G-spot with its curved end rubs your G-spot with so much ease it may actually shock you. Since G-spot vibrators let you stimulate the G-spot, there's a higher chance of you experiencing female ejaculation, also known as squirting.
Cons: G-spot vibes are usually big, making it difficult to bring on your travels.
Bonus Tip: Ever heard of the A-Spot? It's located on the anterior wall just by the cervix, a few inches deeper than the G-Spot. It's packed with enthralling nerves that could make you reach the heavens in just a few minutes. Now, one of the perks of a G-Spot vibrator is that you can use it to stimulate that certain spot, as long as your G-Spot vibe is long enough. Stimulate that area if you can.
Learn more about the g-spot in this guide.
5

Anal Vibrator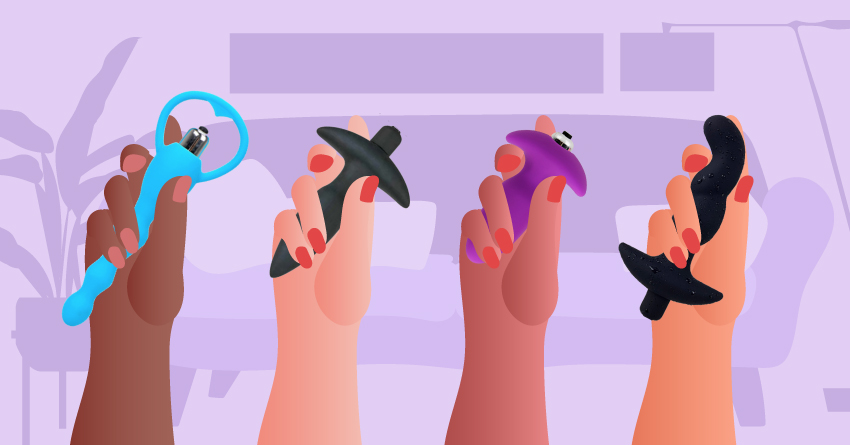 Any vibrator that's built for backdoor use can be called an anal vibrator. These types of vibrators are designed shorter and thinner than your regular vibrators. Their structure usually has segments and has a grip at the end for easy insertion and removal.
Generally, anal vibes measure 4 to 6 inches long with a girth that varies from .75 inches to 1.25 inches. Some anal vibrators are made for prostate stimulation. These prostate anal vibes have a large tip that curves.
Pros & Cons
Pros: Beginners to anal sex can have plenty of fun with anal vibrators. Most anal vibes have smaller segmented bodies that you can use to get yourself to slowly open up, then you can move on to anal vibes with bigger segments once you're used to it. They can be used for stimulating the prostate, so that's a plus for men.
Cons: Anal vibes aren't versatile love toys. They're only used specifically for anal and prostate stimulation.
Bonus Tip: When doing any type of butt play, lube is a must! As for the type, we highly suggest using water-based lube as it doesn't ruin the toy nor risk your bum area with infections.
Learn more about the anal play in this guide.
6

Prostate Vibrator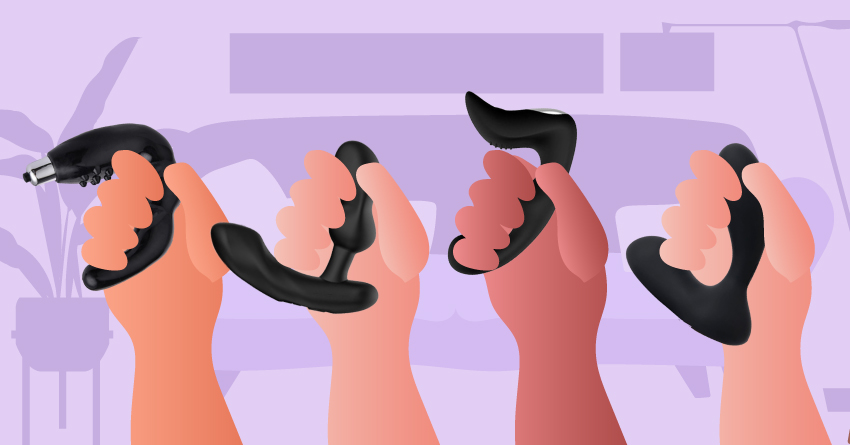 Prostate vibrators tap on the usually forgotten pleasure spot of men. Just insert them in the anus to hit the prostate. It's a super erotic and sensual experience for your bud of a walnut-sized organ. It's great for playful butt stuff games in the bedroom.
Pros & Cons
Pros: Prostate vibes are for adventurous men who aren't afraid of exploring their backdoor. They can give your P-spot a good stimulation which results in a better orgasm.
Cons: They're not exactly the most flexible of love toys. They can only be used on your anus, and they're usually too complicated to use anywhere else.
Bonus Tip: Spice up your solo or couple plays with edging! This sexual act involves withholding your orgasm so that you'll be able to have a more intense orgasm later on. To do this, you only need to stop using the toy once you feel like cumming. After calming your senses, you start it repeatedly and stop once you get to the edge. Keep on doing that at least 2 times, then enjoy the blissful orgasm in the end.
Learn more about prostate massagers in this guide.
External Vibrators
If internal vibrators focus on penetration, external vibes focus on the clitoral, labia, and even nipple stimulation. What's great about this type is they're usually compact and lightweight, making them travel-friendly. They're also designed to provide pinpointed vibrations to the clitoris, labia, anal opening, nipples, and other external erogenous zones.
7

Bullet Vibrator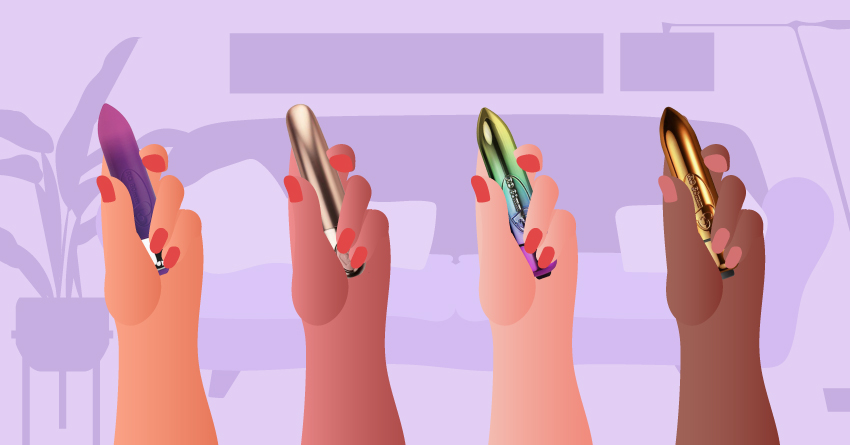 It's one of the original vibrators that hit the adult toy market. Bullet vibrators are probably the easiest vibrators to use. Their operations are pretty simple—usually, just an on and off button—and have motors powered by 2 AA batteries that are small but powerful.
Measuring at 3-5 inches, they are often called mini-vibrators because of their relatively smaller size than the other types of vibrators. The latest models of bullet vibrators now come with a wired remote control that has a built-in selection of different speeds and patterns. Design-wise, their shape is like their namesake. They look like bullets—slim, long, and mini.
Pros & Cons
Pros: Because of their small size, the Bullet vibrators are perfect for those ladies who enjoy traveling and love to have a fun time wherever their next destination may be. The style itself of bullet vibrators is also more discreet, so it doesn't stand out all with the rest of your stuff. You can even keep it inside your makeup kit.
Same as the classic vibrators, Bullet vibrators have the basic design and shape, which make them great for beginners. They are versatile vibrators used for precise targeting on your clitoris or vulva. You can also insert them inside your vagina to stimulate your G-spot.
Cons: Just like the Classic vibrators, they can be too simple and basic for people who have experience with love toys. Bullet vibrators may offer precise targeting of your sensual spots, but it's still not as powerful as the larger types of vibrators.
Bonus Tip: Want your man to get extra sensations? Use a bullet vibrator to amp it up. Just place this vibrating toy on their perineum or their balls as you give him a slow, sensual, and sloppy blowjob.
Learn more about bullet vibrators in this guide.
8

Finger Vibrator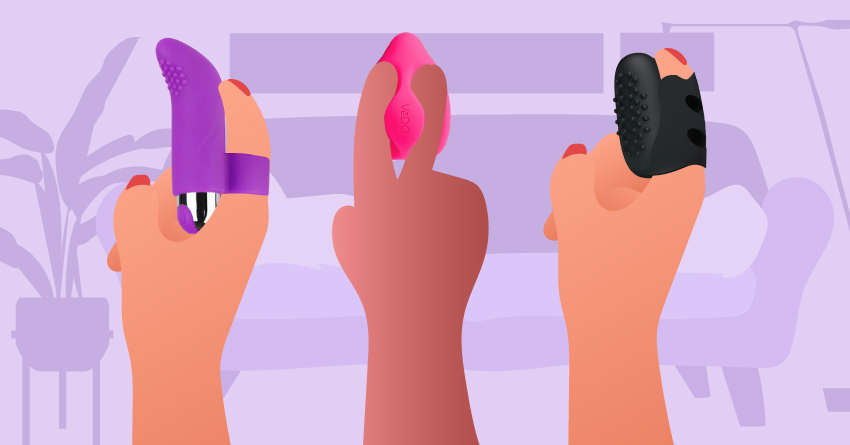 Finger vibrators can give your fingers that added magic. You can wear them like a ring, and you can be sure that your every caress can send an exciting jolt to your partner or any part of your body. Finger vibrators are powerful sex toys that, once you experience the joys of using them, you're not going to want to get your hands off of you.
Typically, they are powered by a small battery inside the vibe itself. There are more advanced designs that have separate controls that you can wear around your wrist.
Pros & Cons
Pros: Don't let its small size fool you. Good things come in small packages, and finger vibes are the type of vibrators that can prove that. They're small, so it makes them discreet love toys that you can easily carry around in your purse or luggage and take along with you wherever you go. Since you wear them around your fingers, it gives you plenty of room for flexibility. You can move your fingers just as easily and maintain your rhythm, but with that boost of vibrations from a finger vibe.
Cons: While Finger vibes may offer you flexibility, they are, however, mostly used for external stimulation. Their motors are also usually smaller and not as powerful as the bigger vibrators.
Bonus Tip: Finger vibes are great for nipple play! If possible, get 2 finger vibes and play in your breasts and nipples. With enough practice and experimentation, you can possibly hit the nipple orgasm in no time.
Learn more about finger vibrators in this guide.
9

Wand Massagers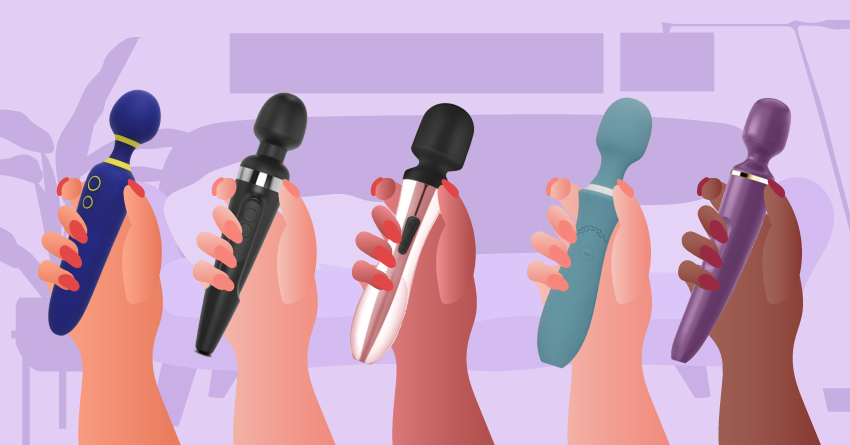 It's hard to beat wand massagers in terms of raw power. They have heavy-duty motors with vibrations that can send powerful external stimulations on your sensitive spots. They're shaped like ice-cream cones and consist of a rod with a soft and large, almost flexible head at the tip.
The most distinguishing characteristic that separates it from all other vibrators is that the only part that vibrates with Wand massagers is the head. The earliest versions of the Wand massagers were electric-powered, but they now include rechargeable batteries to make them more portable.
Pros & Cons
Pros: Wand massagers have focused vibrations on its head, which delivers maximum pleasure on your clitoris. Design-wise, they can pass as just another bathroom appliance, so you can totally store them in your sink along with your hairdryer and curler. If you're not in the mood for sexual plays, you can always just use your Wand massager as an actual massager for sore muscles on your back, neck, and shoulders.
Cons: They're almost perfect except for a few downsides. Wand massagers can only be used for external stimulation and can only work on one erogenous zone at a time. They're also not recommended for beginners because of their strong power. Also, they're pretty big and aren't travel-friendly at all.
Bonus Tip: Whether you're going solo, duo, or even trio, dressing for the deed is essential! Slip in your laced undergarments or even wear a sexy costume. The sexier you feel, the more pleasure you'll experience.
Learn more about magic wand massagers in this guide.
10

Clitoral Sucker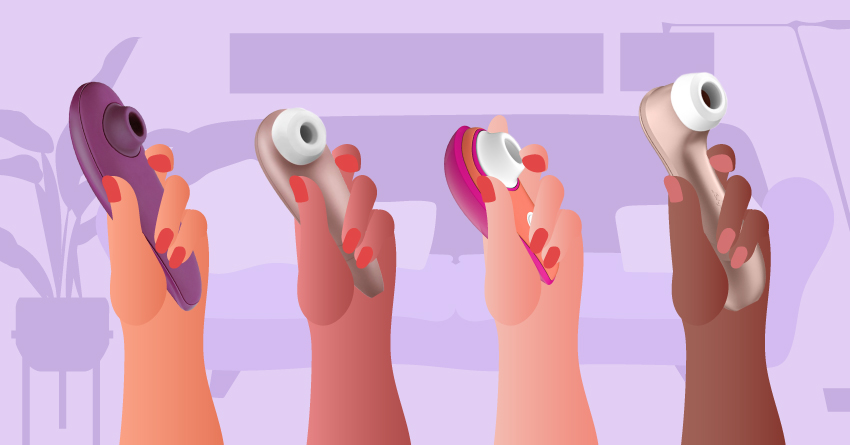 If you're looking to diversify the sensations and experience the world beyond vibration, clit suckers are for you. They combine vibration with a different sensation or do away with vibration altogether in favor of things like suction, pulsation, and sonic-wave massage.
Pros & Cons
Pros: They provide variety in your solo or couple play. It mimics the act of oral sex, so it's extremely pleasurable. They're also helpful to folks who experience numbness brought about by vibrators.
Cons: Depending on the quality of the clit sucker you use, it can easily deteriorate. Unlike vibrating, the sucking feature can be hard to maintain, so make sure you buy good-quality clit suckers.
Bonus Tip: Most variants of this toy have openings that can fit in your nipples. Use that to your advantage and use your clit sucking vibrator to play with your nips. It'll surely level up your nipple play game!
Learn more about clit suckers in this guide.
Multi-function Vibrators
If you want something that can give you the best of both worlds or blended vibrations, go for this one! The multi-function vibrators usually come with dual stimulation, specifically for the clitoral and g-spot. Most multi-function vibes also go well for couple play.
11

Rabbit Vibrators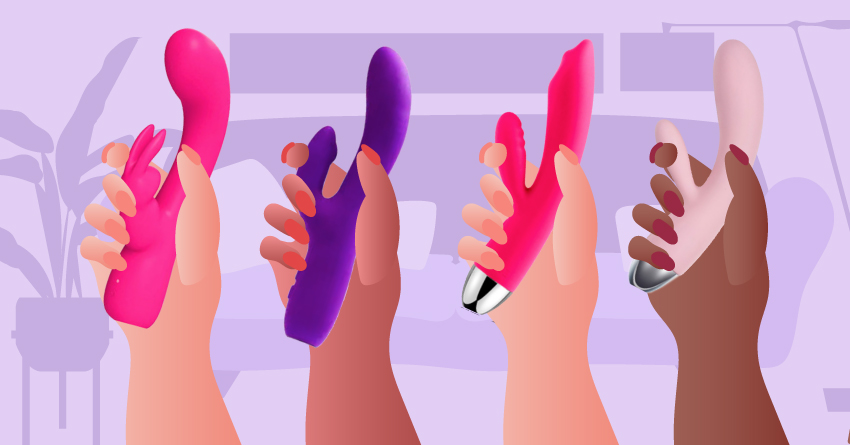 Rabbit vibes are the rockstars in the vibe world; its design is iconic because of its unique rabbit head. All rabbit vibrators are dual-action sex toys that have two vibrating heads. One is located in the curved shaft, while the other is in the rabbit head.
Some rabbit vibrators have shafts that can rotate. They may also include rotating beads inside to serve as additional sensations. The latest rabbit vibrators don't even have rabbit ears anymore. Their style changed a little.
Now, rabbit vibrators can be any two-pronged vibrators with a long end for internal stimulation, a shorter end for the external stimulation, and a special function to operate both ends.
Pros & Cons
Pros: Rabbit vibrators get a lot of buzz for the obvious reason that they can pleasure both of your biggest sensual points. If you're the type of girl who gets off by stimulating both the clit and the G-spot, it's just the right type of vibrator for you. The rabbit ears can perfectly hit your clit while the shaft enters you from inside and reaches your G-spot. They do a fine job if you're using them for solo masturbation. They usually have strong and targeted vibrations that can turn your knees into jelly.
Cons: If couple vibrators are made for couples, rabbit vibrators are designed for solo play, particularly for women. They're not convenient in a couple plays as compared to other types. They're also not as versatile nor flexible since they have a specific design for specific areas. Also, rabbit vibrators are usually bulky, so it can be difficult to bring them into your travels.
Bonus Tip: When storing your vibrators, such as rabbit vibrators, make sure to put them on a satin or velvet pouch. This is to prevent dust and other contaminants from getting inside the vibrating toy.
Learn more about rabbit vibrators in this guide.
12

Vibrating Clit Sucker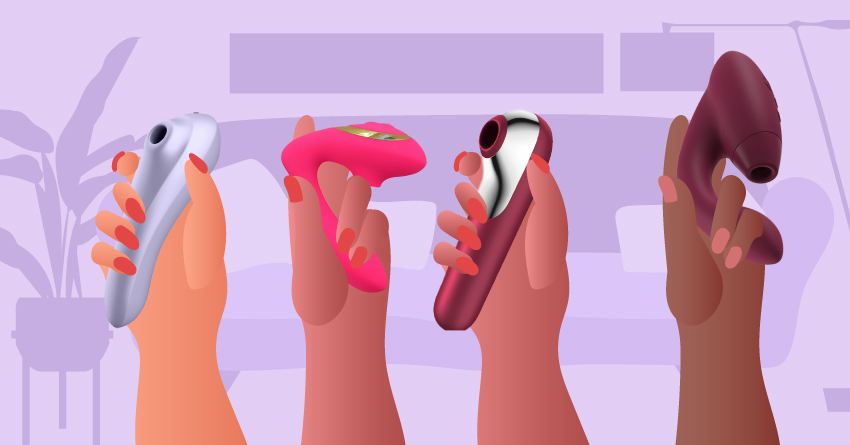 As the name suggests, a vibrating clit sucker is a vibe that provides suction and vibration effects to the clitoris and g-spot. This is great for those who loooove clit stimulation and are always on the hunt for news to tease their pleasure nub. Some variants allow you to experience clitoral suction and g-spot stimulation simultaneously-expect intense orgasms with those kinds of vibes!
Pros & Cons
Pros: Provides dual stimulation and tons of options to please your clitoris and g-spot.
Cons: Most variants are chunkier and bulkier than regular clit suckers due to the dual motors. Some also find the clit suction and g-spot stimulation overwhelming rather than pleasurable.
Bonus Tip: Want to make your clit more sensitive to pressure or suction waves? Try using a clitoral gel or stimulant! They are designed to add tingling effects to your pleasure nub, making them more sensitive to touch.
13

Vibrating Ben Wa Balls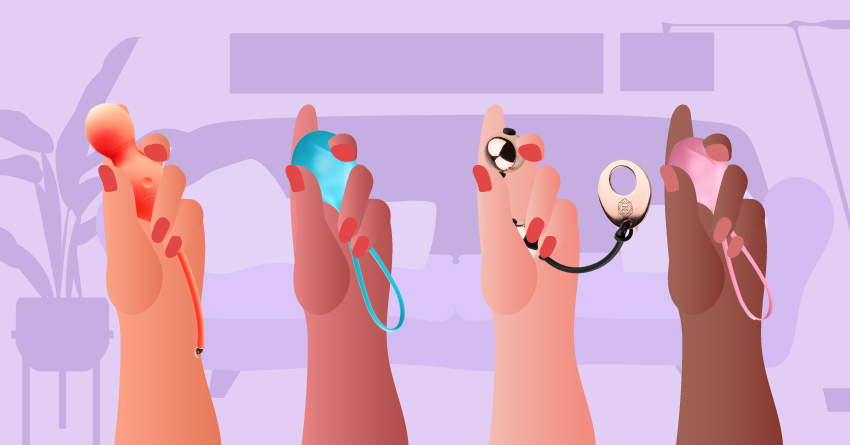 Ben Wa or Kegel balls are tiny and weighted balls used for pelvic floor exercises, a type of exercise for women to strengthen their pelvic muscles, resulting in stronger and longer orgasms. Some brands have been making new developments for this device, adding a vibrating feature to it.
This has then resulted in vibrating ben wa balls, an exercise tool, and a sex toy in one. If the vibe is turned off, you can use it as a ben wa ball and do the kegel exercises as usual. If you turn it on, you can use it as a love egg/ egg vibrator.
Pros & Cons
Pros: Provides dual function— a sexual wellness tool and love toy. You're basically getting two items for the price of one!
Cons: Using it as a love egg may be a bummer for some because of the weights.
Bonus Tip: If you're just new to kegel exercises, we highly recommend checking this guide. It comes with a full set of instructions on how to do the activity.
Learn more about ben wa balls in this guide.
14

Couple Vibrators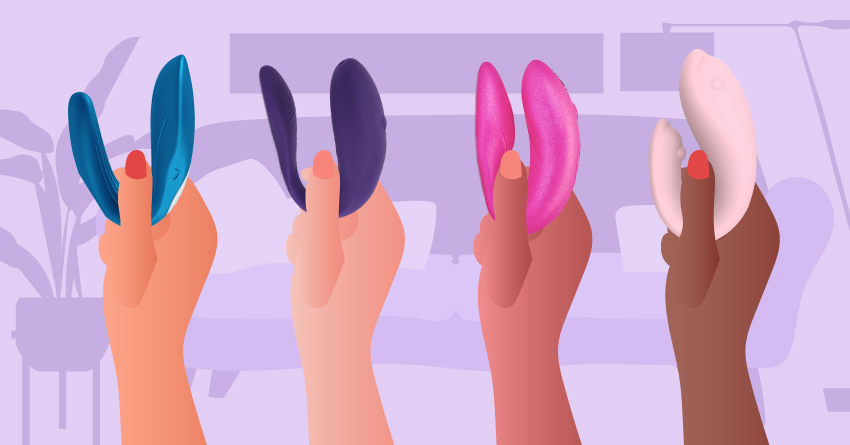 Women think of their vibrator as a pleasurable substitute when their partner isn't around or if they're living a single life at the moment. But this toy is made for couples' sex life to be more fun and exciting. This sex toy can give you the chance to try a new sensation or type of play with your partner.
Pros & Cons
Pros: Couple vibrators are usually small and portable. They're great for couples who are starting to enter the sex toy scene together. They also come with remote controls for you to enjoy hands-free fun.
Cons: They're made for couples. Some of the features that you usually get from solo-play vibrators wouldn't be here. You can still use it to masturbate, though, but it just doesn't offer the same pleasures that you'll get from solo-play vibrators.
Bonus Tip: Before using adult toys during sex, ensure clear and thorough communication with your partner. Though most people are open to erotic toys, some tend to form insecurities with them. They think that you're not pleased enough, nor they're being replaced by sex toys. If the latter is your case, make sure to explain and reassure your partner that sex toys enhance your sexual activities and not replace them in any form.
Learn more about couple vibrators in this guide.
15

Cock Ring Vibrator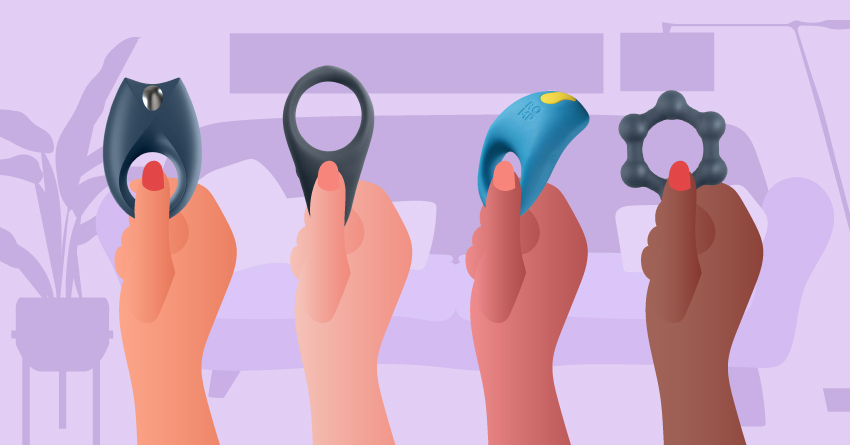 Cock ring vibrators are the type of vibrators that are built for men. A man can wear it around his penis like a ring. It wraps itself on the penis and restricts the blood flow, which creates a feeling of tightness and pressure on the veins, giving the wearer a hard and thick rod. Add the benefits of the vibrations, and you're heading straight to cloud nine.
Pros & Cons
Pros: You get longer-lasting erections while wearing cock ring vibrators. During sex, cock ring vibes give both the wearer and the partner pleasurable feelings. The vibrations send blissful tingling sensations on the guy's penis and the partner's clitoris. They're also great for solo masturbation.
Cons: Cock ring vibrators may have too much movement for the inexperienced. It can be a little disconcerting when the two of you are already getting it on hard, and then you got the cock ring vibe quaking in your way.
Bonus Tip: For our dude readers out there, you can also use vibrating cock rings when masturbating! Simply slide one over your fingers or the palm of your hand. Keep on wearing it as you give yourself a handjob. The vibrations will send extra sensations to your cock, making you reach climax in no time.
Learn more about cock rings in this guide.
16

Remote-Controlled Vibrators
Remote-controlled vibrators are, just like the name says, vibrators that can be controlled with a remote. Either by you or another willing participant (don't forget to always ask!), these vibrators work using different remotes and modes like Bluetooth, Wi-Fi, or via an app. They also work at different distances (same room or long-distance) depending on the toy and the manufacturer, which opens or limits your sexual horizons.
Pros & Cons
Pros: They come with remote controls, so you'll enjoy hands-free fun. Some of them also have advanced features wherein they can be controlled via an app or a mobile phone. There are also kinds where you can use it even when you're on the other side of the globe, which is perfect for LDR couples.
Cons: They have remotes, so they can be more expensive than the basic types. Also, you have to take good care of the remote as well. If you lose or ruin the remote (most especially if they're dedicated remotes), you essentially lose control of your vibe. You might not enjoy playing with it again. And for its price, that can be such a waste.
Bonus Tip: Spice up your cyber sex sessions with this type of vibrators. Using an app-powered vibrator, simply pop in the vibrator in your vagina or anus and let him take control of your pleasure through the app. Just a reminder, though, we suggest covering your face from the frame or use a video chatting platform that has top-notch security features.
Learn more about smart vibrators in this guide.
Frequently Asked Questions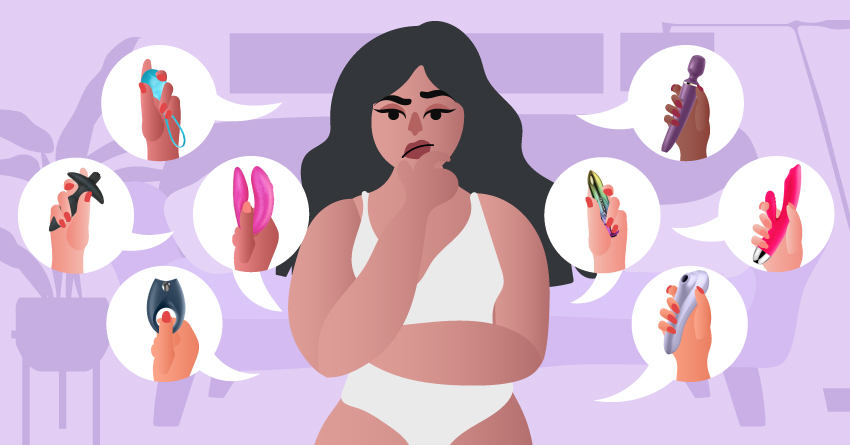 As you've learned the different types of vibrators, you're now ready to start your vibe shopping. But if you still have some doubts or questions lingering on your mind, don't worry, as we've answered some of the frequently asked questions about vibrators. Read on!
1

What are the things I should look like in a vibrator?

When shopping for a vibe, you need to check the material first. Make sure that it's made with body-safe materials such as silicone. You can also opt for toys with sustainable and biodegradable materials such as biolene.

Aside from the main material, we also suggest listing down all of your preferences in a vibrator, then filter out the vibrators based on your list; this will make your canvassing and shopping experience a lot easier.
2

What parts of your body can you stimulate with a vibrator?

All of your erogenous zones! Yup, you read that right. Even though some vibrators are designed for a particular area, such as g-spot vibrators, you can still use them on the other parts of your body, such as your clitoris, nipples, anal opening, and the like.

However, be careful with using a vibe to penetrate other parts of your body that are not your vagina; just opt for external stimulation as much as possible.
3

What type of personal lubricant can I use with a vibrator?

Most types of vibrators are made with medical-grade silicone, so a water-based lube will do. We recommend steering away from oil-based and silicone-based lubricants. These types of lubes contain ingredients that can deteriorate the surface of your vibrator.
4

Can I use a vibrator while pregnant?

It's safe to use external vibrators while pregnant. As for internal vibrators, you can use them for the initial trimesters. If you're in your last trimester and want to get penetrated with a vibrator, please consult your healthcare provider first.
5

Can a vibrator get stuck inside of my vagina or anus?

Most vibrators come with a flared base, so nope. The only rare chance that could happen is if you insert a vibrator with no flared base into your anus. With that, make sure that anything inserted in your bum has a flared base.
6

Can a vibrator hurt my genitals?

Nope! Unless you're using a super girthy and lengthy internal vibrator, you shouldn't feel any pain using this love toy. As for first-time users of internal vibes, please use water-based lube for a smoother and comfier insertion.
7

Can I use my vibrator while I'm on my period?

Yep! The only issue with using your vibrator while on your period is the mess. With that, make sure to put some towels on your bed and put condoms on the vibrator (if you're using it to penetrate your vagina) for easier cleanup.
8

How often do I need to clean my vibrator?

Before and after use! Clean it with lukewarm water and mild soap or with a sex toy cleaner. Remember, not cleaning your vibrator regularly can result in vaginal infections.
9

Where should I store my vibrator?

Once you're done using and cleaning your vibrator, make sure to store your love toy in a satin or velvet pouch. This minimizes exposure to dust and dirt. Also, never put multiple vibrators in one pouch, as it may result in cross-contamination.
10

What's the best type of vibrator for beginners?

If you're just starting out with your sex toy journey, we highly recommend mini vibrators, finger vibrators, and classic vibrators. They are pretty straightforward to use and come with a decent intensity of vibrations.
Takeaway
These are only guides on how you can decide which one is the perfect type for you. Think about your needs and preferences. Which among these types of vibrators will most likely suit you? We understand that choosing can be hard, but with proper knowledge, you can choose better! We will help you figure it out. Research is the key.