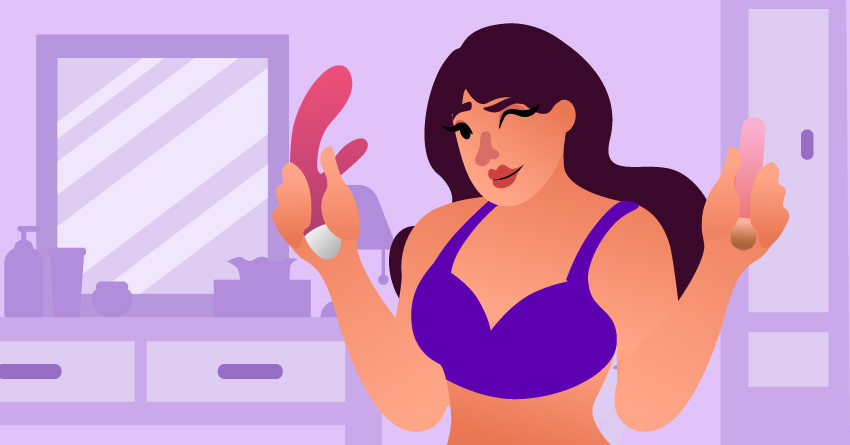 So how to choose a vibrator, huh?  It can be hard to decide. As we've said, when shopping for a vibrator, it all really depends on you. We all have our own preferences. Perhaps you want to decide based on your favorite color. Or maybe you like to vie for affordability over quality. There are options to cater to every desire you have. The key to choosing is to keep in mind the pros and cons of every choice you make. For example, you chose a cheap vibrator and normally, they're harder to clean and not durable. You need to consider things like these as they will affect your personal satisfaction of the toy.
But to save you the headache, we've compiled a list of criteria to help you along this journey.
What Are Vibrators?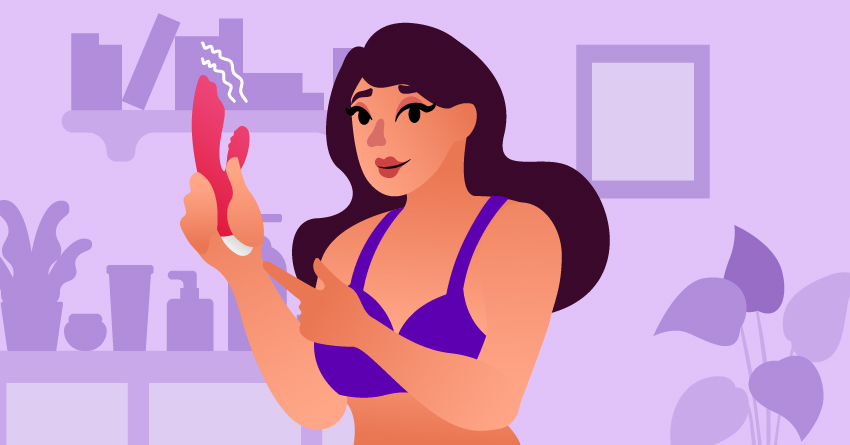 As it would already say in its name, vibrators are sex toys used on the body to create sexual stimulation. Ultimately, vibrators are used by placing it on sensitive erogenous zones, these are places in the body that increase sexual pleasure. Vibrators can be used externally on the penis, vulva, clitoris and anus, or can be used internally in the anus or vagina. Continued stimulation can create feelings of sexual pleasure, and may eventually lead to orgasm.
Vibrators are compact, mobile, and our favorite part—they vibrate. Whether you're in the mood to take charge of your own sexual needs or have your partner give you a helping hand, you can count on a vibrator to provide you with an intense orgasm after orgasm.
Why You Should Invest On a Vibrator
Self pleasure is a great way to find relaxation and using a vibrator is one of the ways to do this. There's a reason why vibrators are a great sex toy staple, and below are some of the key reasons why:
1

Having a vibrator is good for your heart.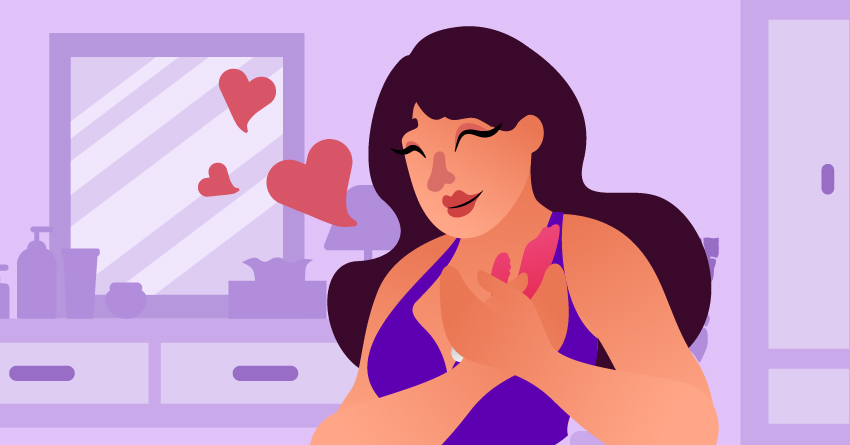 Those endorphins do more than just make you feel good – they also help to prevent heart problems by naturally neutralising your stress hormones. Research in Israel found that women who had two orgasms per week were 30% less likely to have heart disease.
2

Having a vibrator can keep your vagina healthy.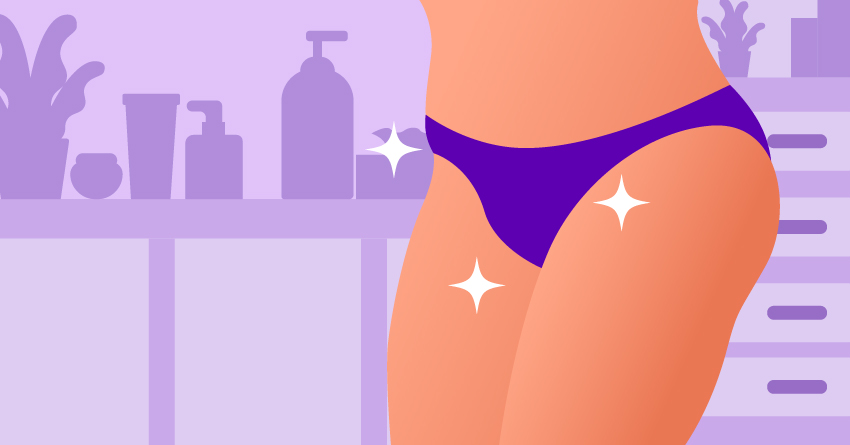 Regularly using a vibrator can help maintain the walls of the vagina. This is because, when aroused, the lining of the vagina produces secretions, which helps to provide moisture to this area. "This helps to increase vaginal elasticity, which is one of the ways our vaginas stay healthy," says Annabelle. It can also help prevent infections in the cervix and urinary tract through the process of opening the cervix, which occurs during arousal. This stretches the cervix and allows unwanted cervical fluids to be flushed out.
3
Using a vibrator can help you get sleep soundly.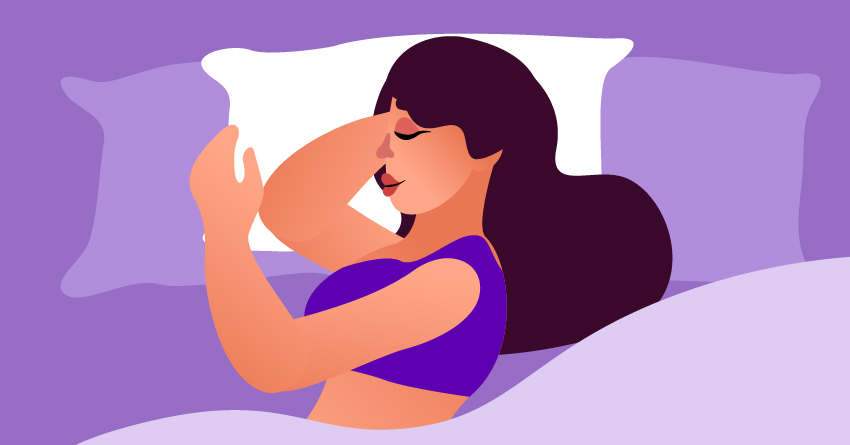 An orgasm before bed can do wonders to help you sleep. Having an orgasm can lead to sounder, better-quality sleep, thanks to the fact that when you climax you produce the sleep-inducing hormone, prolactin. And, with a good night's sleep under your belt, you'll be better equipped to face the day.
4
It can also help you beat stress.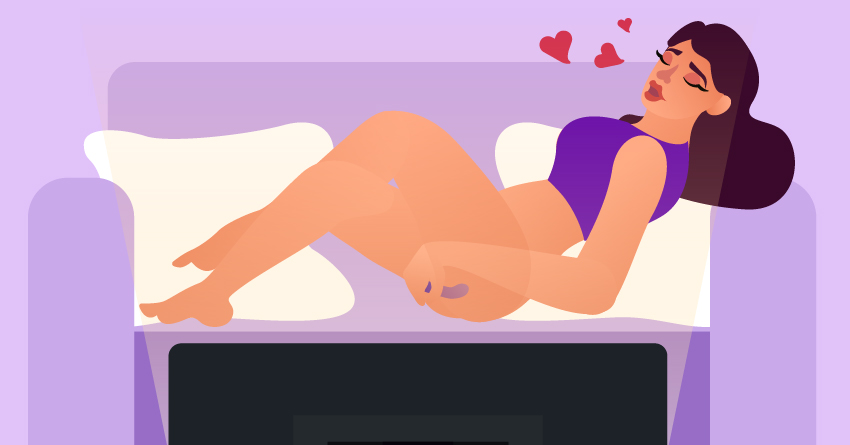 When you climax, you produce hormones called oxytocin and serotonin.These hormones are known as the 'feel-good' hormones because they are linked to happiness. Regular boosts of these hormones through orgasms with a vibrator can contribute towards feeling less stressed and more positive.
5

Vibrator can help you have better bladder control.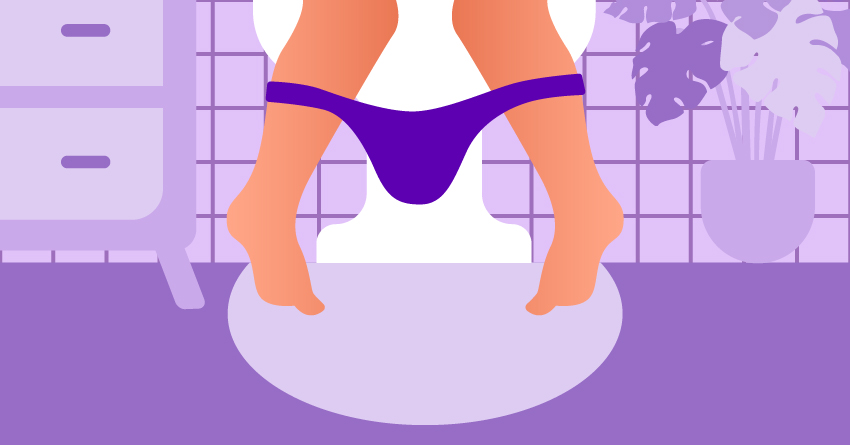 When you orgasm, your vagina contracts – think of it as a mini workout for that entire area," says Annabelle. "An orgasm exercises your pelvic floor muscles, too, meaning better bladder control. A strong pelvic floor can also lead to stronger, more intense orgasms."
How to Choose a Vibrator
It can be tricky to find a proper vibrator, especially if you're a beginner. So, here are some of the things you should consider in order to find the right vibrator:
1

Determine the size you most prefer.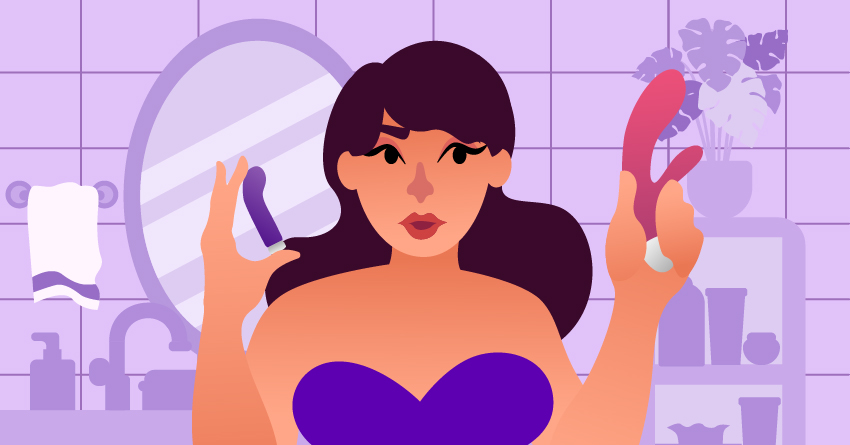 There are many sizes available for vibrators. You can go from two-inch-long toys that can give you powerful vibrations or foot-long vibrators if you like it big and pulsating. They can be less than a half-inch in width, or they can even be more than two and a half inches wide! If you have a specific size preference, start looking for a toy in that range. If you don't have a preference, try to find something with an average size: A length between 5 and 7 inches with a width between 0.75 and 1.5 inches. This will give you a good starting point, and you can increase or decrease the size of your next purchase as you figure out what works best for you.
2

Consider the material and flexibility of the vibe.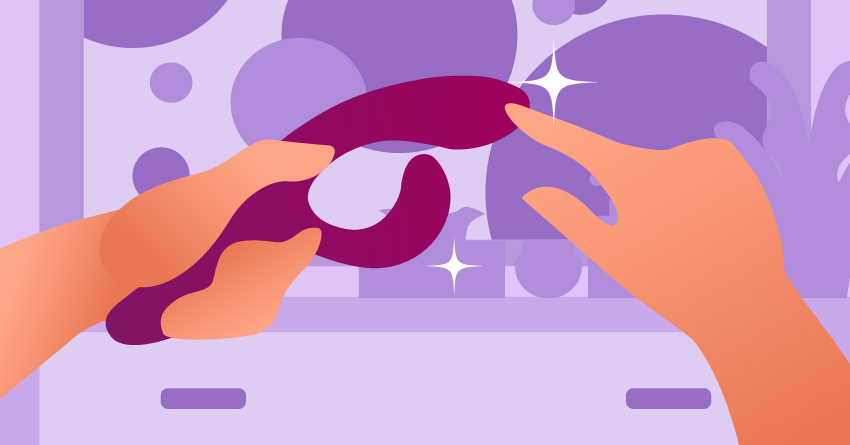 The material of a vibrator can make or break its performance and your enjoyment of the toy.  Skin-safe rubber or jelly rubber is squishy and fun. It gives a tingly, tickly feeling. Plastic vibrators are hard to the touch, but they offer more intense pulsations. They're firm and provide precise stimulation for the clit or G-spot.
Silicone, on the other hand, is a premium material. It's silky and warms to the touch quickly. Top-quality vibrators are most often coated in high-quality silicone. Aside from these, it's body-safe, non-porous, and easy to clean. Silicone may be more costly than the other materials but its safety and easy-to-clean feature warrants consideration. Just remember to use a water-based lubricant with it. You might also want to check if the material contains phthalates. You might be sensitive to it and suffer allergic reactions. There's also concern that this type of toys isn't safe for internal use. Just to be safe, make sure that they're phthalate-free.
3

Gauge the power type you like.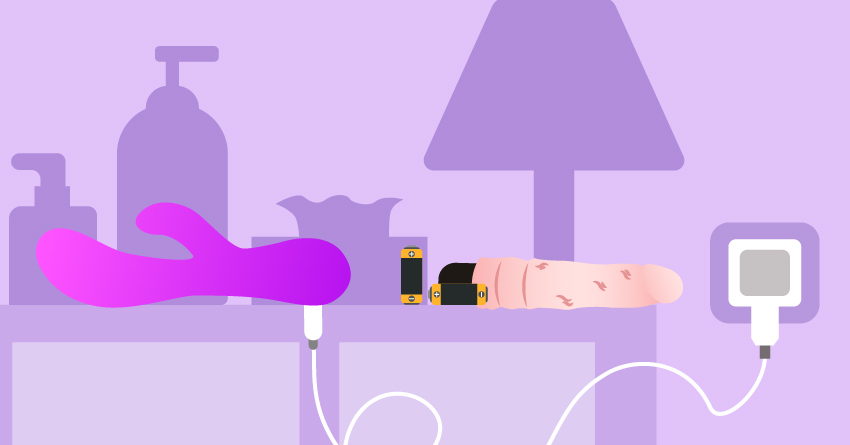 A variety of sources can power vibrators. Some vibrators are plugged into a wall outlet and run on electricity, some use batteries, and some are rechargeable. Toys that plug into wall outlets tend to be the most powerful, but a cord will also limit you. Also, they're not waterproof.
Rechargeable toys need to be recharged in-between uses, but they don't require batteries. Batteries are simple and easy to use, but some people don't like the hassle of changing them and keeping them on hand. If you choose to go with a battery-operated toy, keep in mind that battery type is a good indicator of the power that a vibrator provides. For example, a vibrator that runs on C batteries is going to be stronger than one that runs on AAA batteries. That said, rechargeable vibrators are the preferred choice these days. High-quality rechargeable vibrators are convenient, are more likely to be waterproof and offer plenty of power too.
4

Consider the shape too.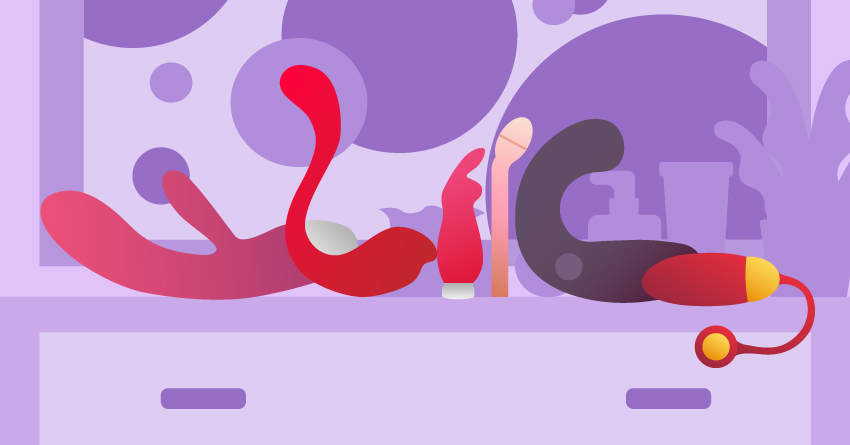 Once you've figured what size and what material you want, you can decide about the shape. Do you want your vibrator to hit the G-spot? Then your vibrator should have a curved tip. Do you want a form that goes larger to slimmer? Or do you want the shaft to be bent or straight? Figuring out what you want your vibrator to accomplish will help you decide the shape you should choose.
5

 Know the types of stimulation you enjoy.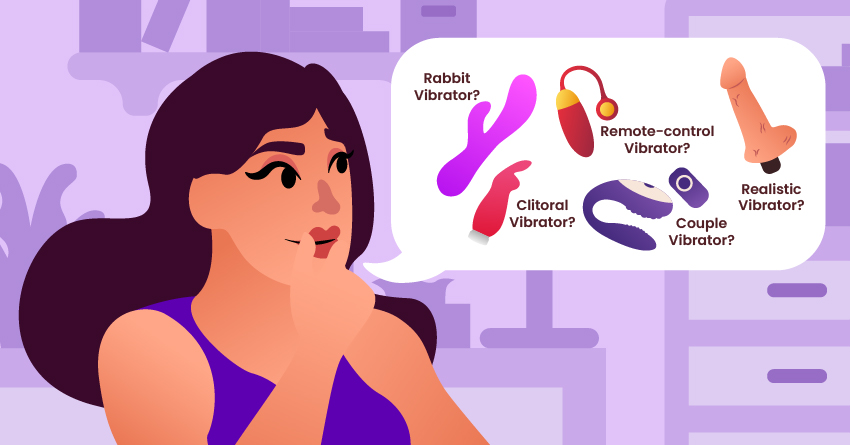 Vibrators offer different kinds of stimulation.
Internal Stimulation: Internal vibrators are much longer than external vibrators and are easy to hold during insertion.
Internal & Clitoral Stimulation: Dual stimulation or rabbit vibrators gives you lots of options. You can choose to stimulate the clitoris or the G-spot or both at the same time.
Clitoral Stimulation During Sex: If you are interested in clitoral stimulation during sex, then vibrating cock rings or couple vibrators are your best option. Couples vibrators are placed inside the woman's vagina and rest on the clitoris as well as stimulate the clitoris. The penis is also inserted into the vagina, making it a tight fit for him and an orgasmic experience for her.
Power: Not all vibrators are created equal. Some vibrators give more powerful sensations than others.
Versatility: Some vibrators are more versatile than others. Some can be used for clitoral, G-spot or anal stimulation 
6

Pinpoint the texture of your desired vibe.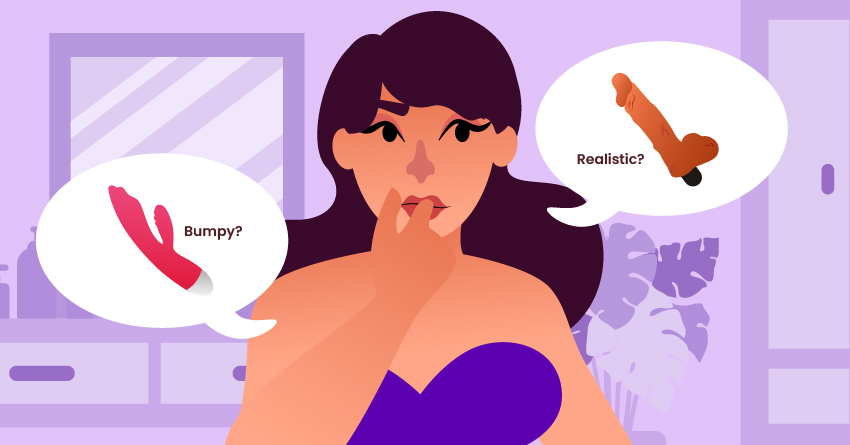 Textures can really enhance your experience with a vibrator, and quite a few vibrators come with varied textured surfaces for your pleasure. Like how you'd prefer textured condoms, the same goes for vibrators. Texture in vibes can enhance your experience with them. Some vibrators are smooth. They're easy to insert even without the help of lube. However, some people prefer vibrators with varied texture. They give off a different kind of pleasure. Textures include ripples, swirls, bumps, ridges, veins, and more. Whether smooth or textured, you'll have to figure out what will work best for you.
7

Know if you prefer them waterproof or not.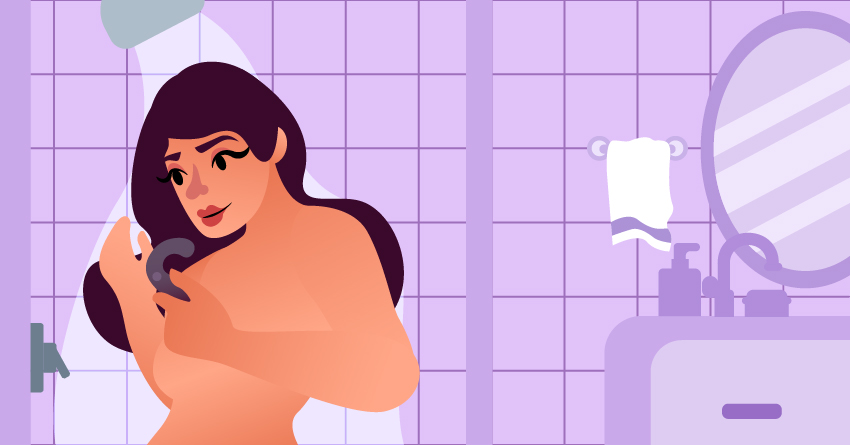 You need to think about where you want to take your play. For some shower action, you have to consider waterproof or splashproof vibrators.  It's essential to know the difference between what we call 'splashproof' and fully 'submersible' toys.
Splashproof means that your vibrator is not waterproof. However, you can clean it with a damp cloth and bring it with the shower provided that it's not going to completely immersed in water. You have to be careful that water doesn't enter its motor and battery compartment. Submersible means that the toy can be used completely underwater. Most top-quality rechargeables are waterproof. Waterproof vibrators are great for use in the bathroom and are easy to clean.
8

Familiarize with toy hygiene.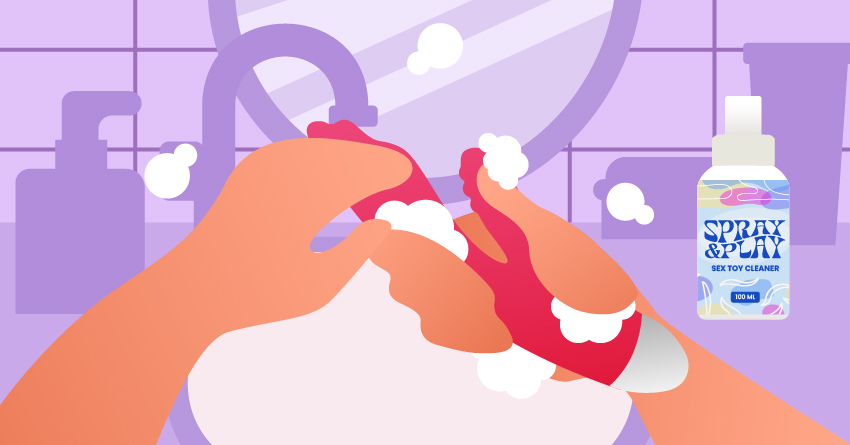 Cleaning your vibrator is important. You need to consider the material and if it's waterproof. Depending on what you choose, your toy will need to be cleaned in a specific way. If your toy is submersible, then you can be less careful when cleaning. But if you're planning to use it with multiple partners (or for both vaginal and anal use), you'll want to choose a non-porous material such as silicone so it can be cleaned and sterilized easily.
9

Research the toy's special features.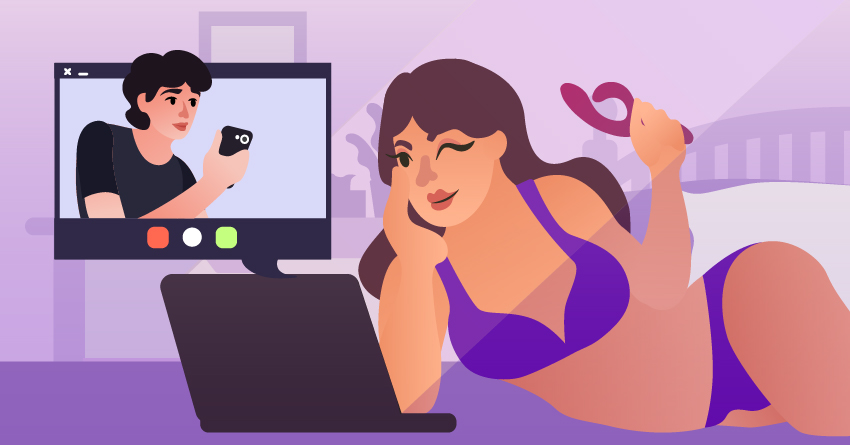 Vibrators come equipped with a wide variety of exciting features. Some are remote-controlled, or app-controlled. Some can be used even when your partner is on the other side of the planet. There are so many innovations now with vibrators. You're free to explore your options depending on your budget.
10

Consider the color of your vibe.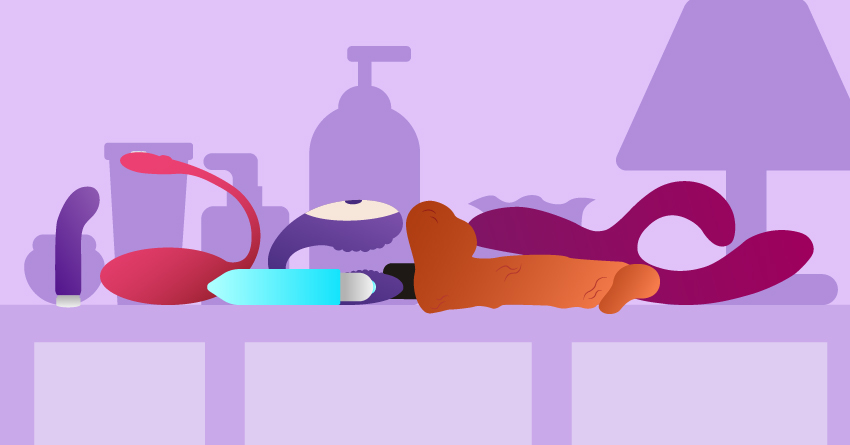 This one seems easy enough, but color can also be a consideration of yours. Pink and purple are popular vibrator colors, but there are other colors to choose from. It depends on your preference.

10 Tips To Enjoy Your Vibrator
Once you get your vibrator, we have the tips below to help you enjoy your toy and how you can make the most out of it:
1

Invest on lube!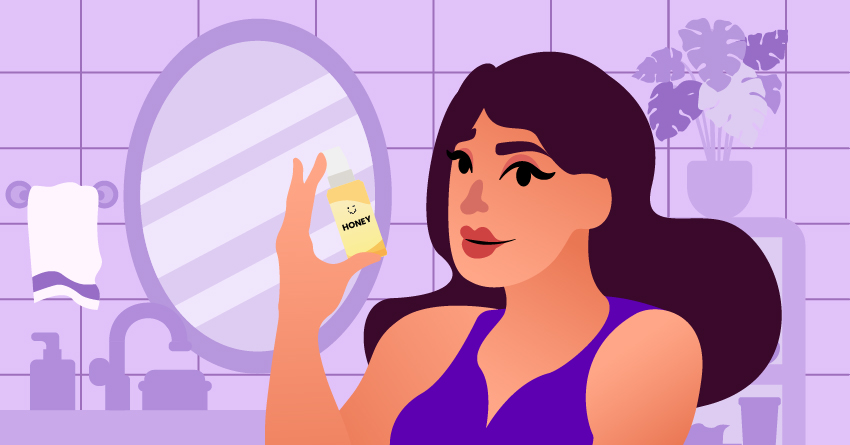 Lube cuts down on friction, which increases pleasure. And the lube disperses vibration, making them feel better helping you not get that itchy overstimulated feeling.If you're using a silicone toy, grab a water-based lube to keep the material in tact.
2

Use it on your nongenital erogenous zones!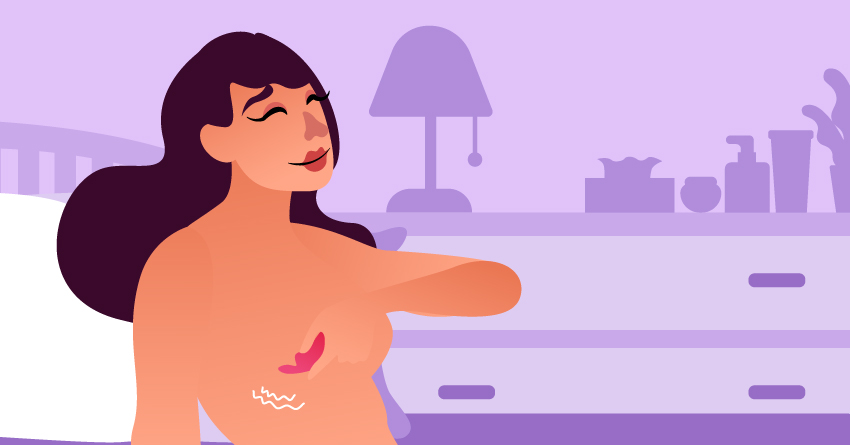 Vibes aren't just for your southern bits. They can also be used to stimulate and "turn on" your other erogenous zones, like your neck, armpits, inner thigh, and feet. You might feel silly using a vibrator on your arms and legs at first, but it's a really great way to get to know your toy and prep your whole body for play.
3

Consider the other toys and sensations you may want.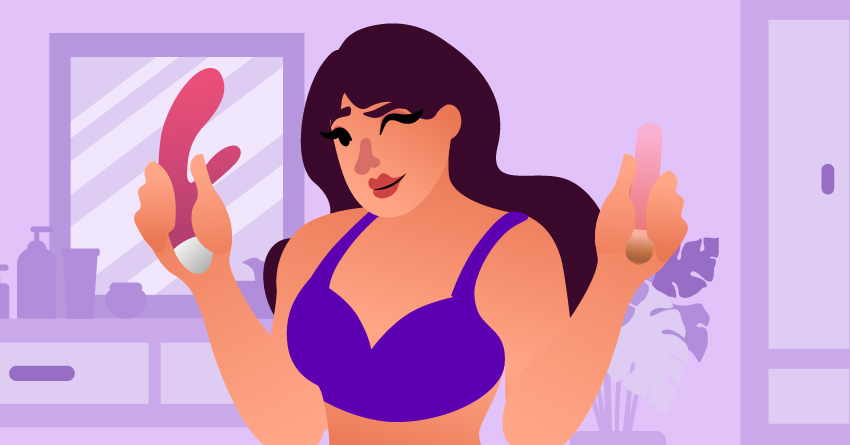 Luckily for you, if there's a feature you're looking for, there's def a sex toy on the market that has it.Think about what features you'd actually use or benefit from instead of trying to get the most-high tech vibrator out there.
4

Include a sex toy cleaner and a toy pouch.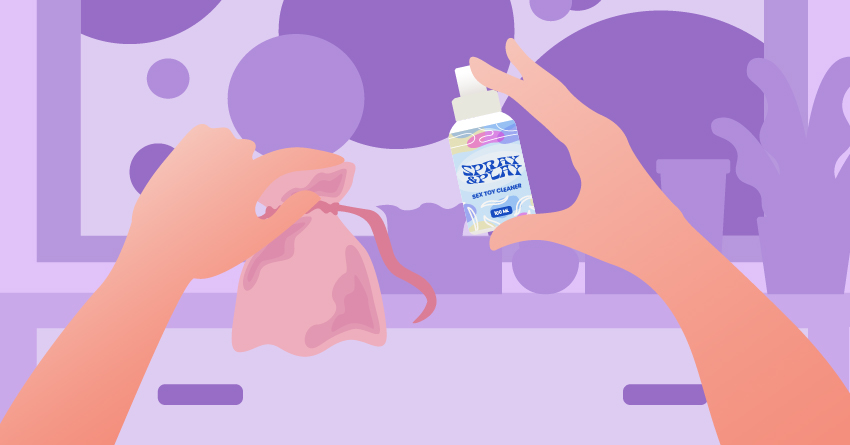 A sex toy cleaner can efficiently clean your toy post-playtime. And if you're super sensitive to soaps or lazy after masturbating, a sex toy cleaner is worth it. And a silk toy pouch is a great way to store and ensure the cleanliness of your toy because it helps keep out dust and bacteria.
5

Set the mood.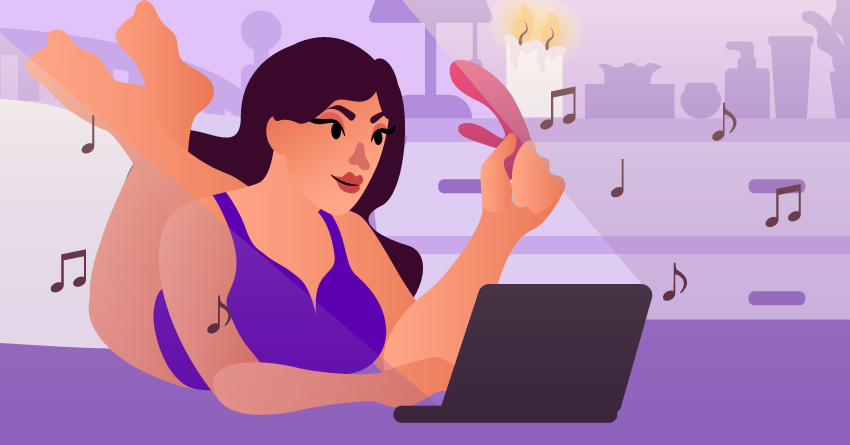 Take a bath, light some candles, and even turn on some Billie Eilish or some calming jazz. Relaxation and arousal are essential to experiencing pleasure, and if your body is prepared, [your] vibrator is charged, and your mind is at ease, pleasure will come naturally.
6

Take it slow.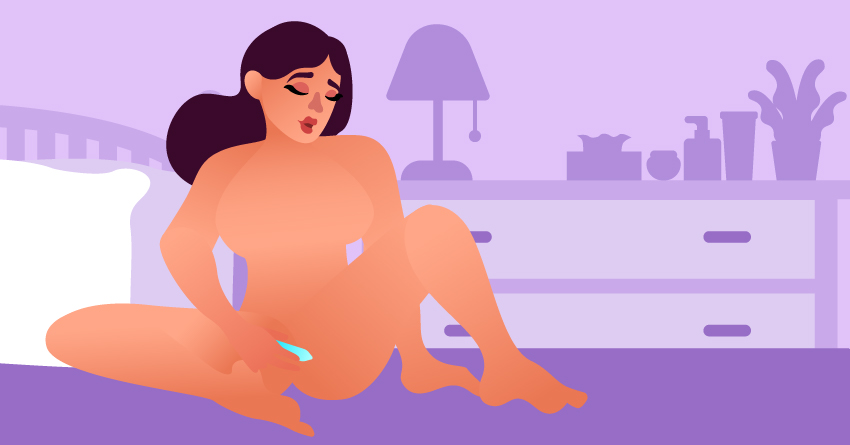 It's understandable to feel a little performance anxiety even when you're going solo, but don't be afraid to go slow and figure out what feels good to you. This ain't a race. Sometimes, when we go too quickly, especially when pleasure is involved, we miss the beauty of the process.
7

Explore your body.
Spend some time navigating the pleasure points of your body. Once you've established what feels good, whether it's internal stimulation, external stimulation, or even both, you are ready to start the process of your pleasure product purchase.
8

Remember what the real goal is.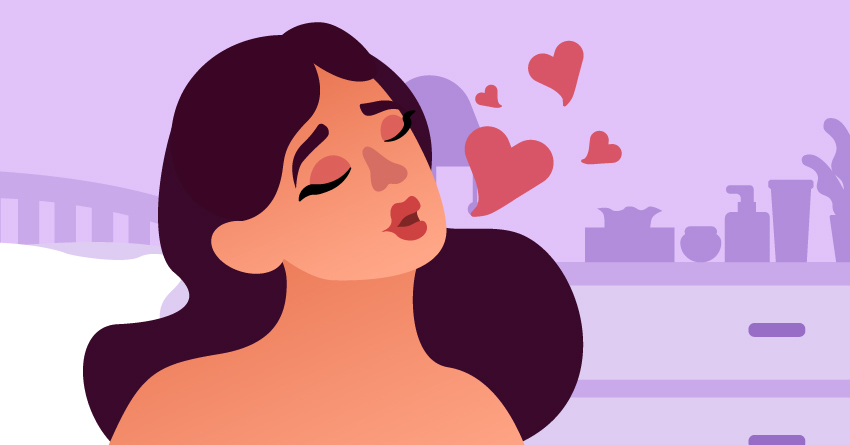 It's good to be goal-oriented, but in this case, don't get too stressed about the big O. Focus on having a good time instead, and remind yourself that there's no "right" way to do it.
9

Branch out to other toys too!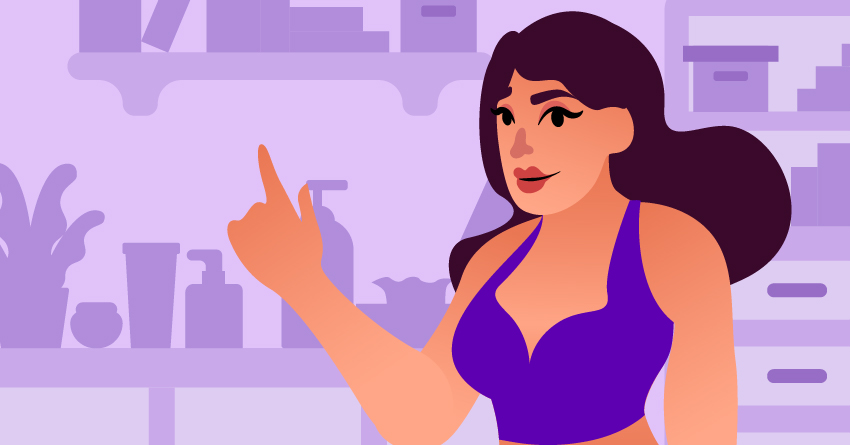 You don't have to marry your first vibrator. You might opt to buy budget versions of different styles before investing in a higher-price product. "Try multiple styles of toys!" Stubbs emphasizes. "If one toy doesn't work for you, try another type like a bullet, wand, dual motor, rabbit, pebble, or ride-on toy."
10

Experiment with different angles!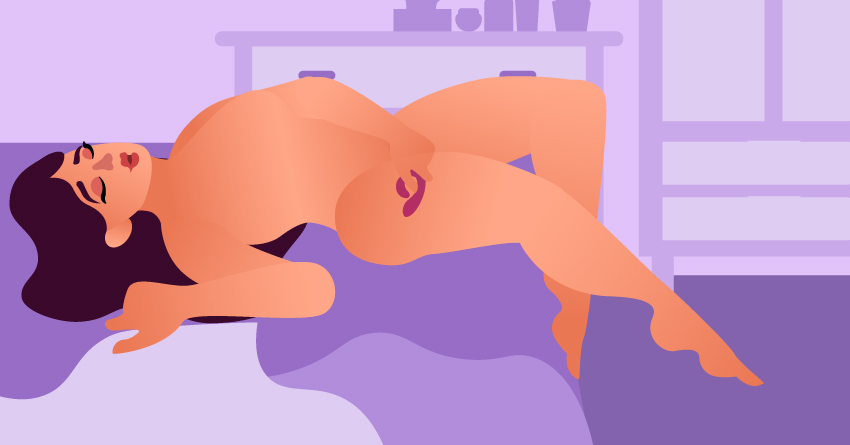 Beyond what intensity you queue the vibe up to, the pressure and angle you use to press the toy against your bits matters, too! Some sensations you can try are using it to "tickle" your genitals or tapping it against different parts of your body in a steady rhythm.
Top Lauvette Vibrators
Frequently Asked Questions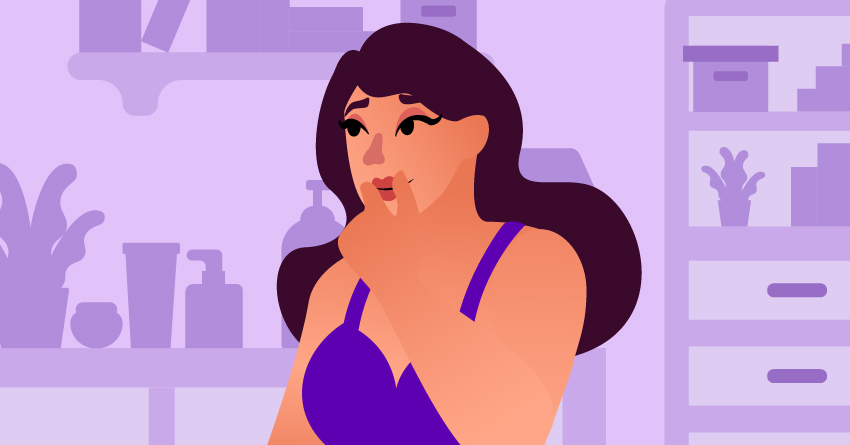 Now that you know the ins and outs of how to choose a vibrator, we understand that you may still have queries about this topic. So we've listed common questions about it below:
1

I enjoy discreet, clitoral and external stimulation, what vibe should I get?

Mini vibrators can work best for you as they deliver just the right amount of vibrations, particularly for external stimulation. Not too strong nor too weak. It's just right. Also, mini vibes are mostly used for external play, but if you'd want to mix it up, they can also be used for some "inside jobs" for variety. You can insert mini vibrators into your vagina to experience different sensations– as long as you're aware of how to use a mini vibrator, go and experiment with it!
2
What's the difference between a vibrator and a dildo? 
Simply put, dildos are insertable toys meant specifically for penetration. They can be strapped on and inserted by a partner, male or female or inserted during masturbation. Although some vibrate, their chief purpose is to penetrate, which some women find pleasurable (particularly those who enjoy that so-called G-spot). Vibrators, on the other hand, aren't limited to one body part. 
3

Is lube necessary when buying sex toys?

Aside from investing in smart vibrators, we suggest getting yourself a water-based lubricant, if you haven't done that yet. Now, even though the vagina has self-lubrication capabilities, using sexual lubricants can make penetration a lot easier. It can also offer new sensations when playing your vibe.
4
Should everyone try a vibrator?
If they're curious, definitely. You have nothing to lose and a lot to gain. Using a vibrator, as we've mentioned previously, can help one reach orgasms easily and boost someone's mind and mood. Plus there really is a vibrator out there for everyone. 
5
How do I even really go about buying a vibrator?
Figuring out how to choose a vibrator can be daunting, with more gadgets (with more fancy features) out there than ever. For vibrators, we recommend going for reputable brands such as Rocks Off, SVAKOM, Je Joue and Satisfyer. All of these brands are available in the lauvette shop. As these brands are already established and are known for their high quality toys. Next decide on what stimulation you want. Once you've determined that, go for the one that turns you on and sparks your imagination.
Takeaway
Vibrators are a staple in the amazing world of sex toys. And knowing how to choose the vibrator for you may be one of the best ways to navigate your self pleasure journey. We hope you learned a lot from today's topic!
On the surface level, vibrators may all look and function the same. But don't be fooled, not all vibrators are equal. Some types of vibrators are superior in some areas but minimal only in other parts. Doing a little bit of research about them can make sure you get your money's worth. So how to choose a vibrator? You have to keep these things in mind. Evaluate the pros and cons of every choice you make.
What are your experiences with vibrators? Do you enjoy the tingles brought by an egg vibrator or a rabbit vibrator? Post or tweet this article and share your thoughts about it! For other sex toy guides, click this page for more.