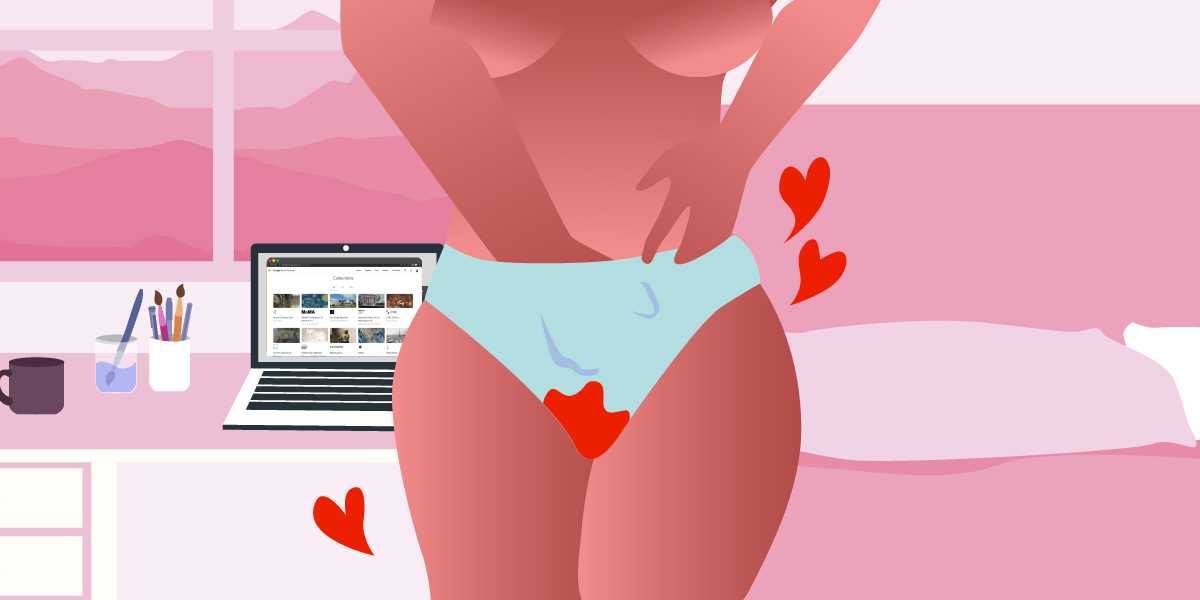 Interested in masturbating while on period but unsure if it's safe or not? Let's talk about that in this guide.
Along with the mood swings, full-on cravings, and the dreaded menstrual cramps, you're probably experiencing a surge of sexual arousal during your period. Now, if you're not into period sex, there's still a way to satisfy that indescribable itch— masturbation.
Okay, we get that you're still hesitant about doing that. There's a lot of misconceptions about masturbating while on period. Some say that it's normal to be horny during your red days. Some say that it's gross because there's blood involved. Then there are people believing that you'll get infertile from it since you're "squeezing the blood out" during masturbation.
Here's the thing, it's not inherently bad to masturbate during your period. In fact, some specialists promote this practice due to the benefits that you'll get from it.
But before we discuss how masturbating while on period can be beneficial in your body, let's talk about why cisgender women tend to have high libidos during their red days.
Why Females Get Sooo Sexually Aroused During Their Period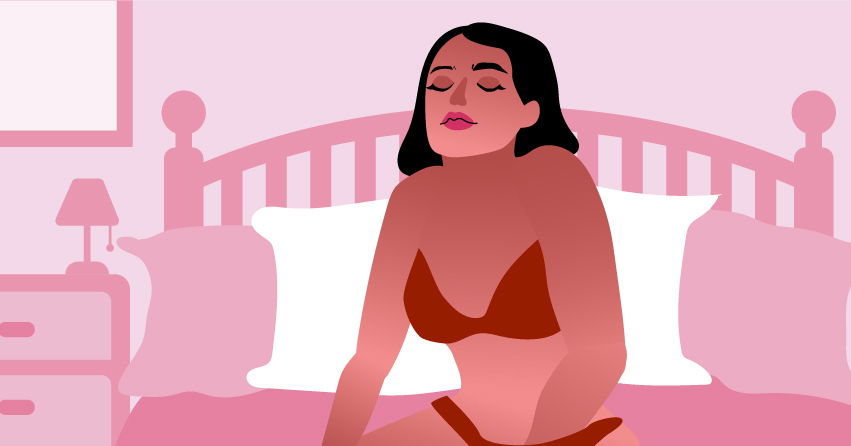 If you're looking for a study that explains the increased sexual arousal during that time of the month. Well, there's no definitive study on this topic yet. However, according to some limited studies and women health's experts, the increased libido is due to the change in hormone levels.
One of those studies is a 2013 study published in Hormones and Behavior. The researchers on the said study explored the connection of hormones and libido in a group of undergraduate women. After measuring the hormone levels over two full menstrual cycles, they've found out that the changing levels of estrogen and progesterone had serious effects on one's libido.
On the other hand, Dr. Nicole Bullock, an Ob-Gyne in Texas, stated at business insider that an uptick in testosterone levels in a cisgender woman's body during her period may cause increased libido.
Benefits of Masturbating While Menstruating
Now that you've learned that high sexual arousal during your period is considered normal in the medical space, you're probably wondering if it's safe to give in to the urge and masturbate.
The answer is yes! Masturbating while on your period is safe. There's no major effect by flicking the bean during this time. In fact, there are health benefits that you can get from self-pleasuring yourself while menstruating. Here are some of the upsides:
1

It can relieve body pain.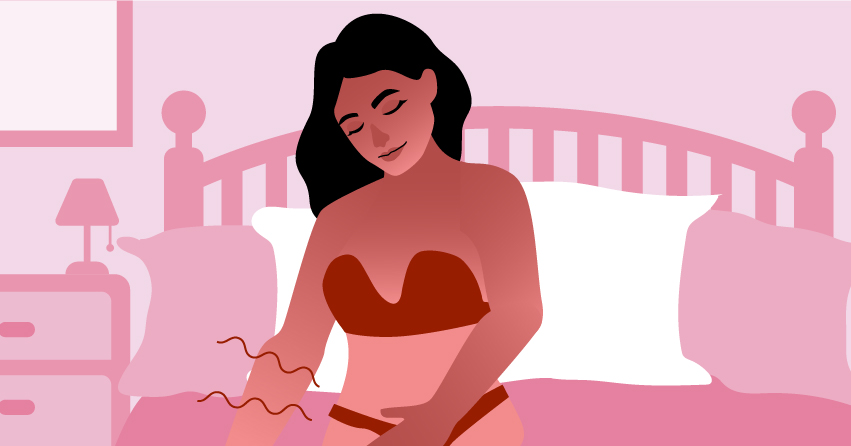 Experiencing menstrual cramps? Flicking the bean can help you with that. Numerous studies have shown that orgasm from self-pleasure releases endorphins, a group of hormones that have painkilling properties. It basically alters the perception of pain, bringing you in a zen state of mind during its release.
There are also studies showing that orgasms can relieve other types of body pain. Backaches? Migraines? The big O can help you with that.
2

It sharpens your mind.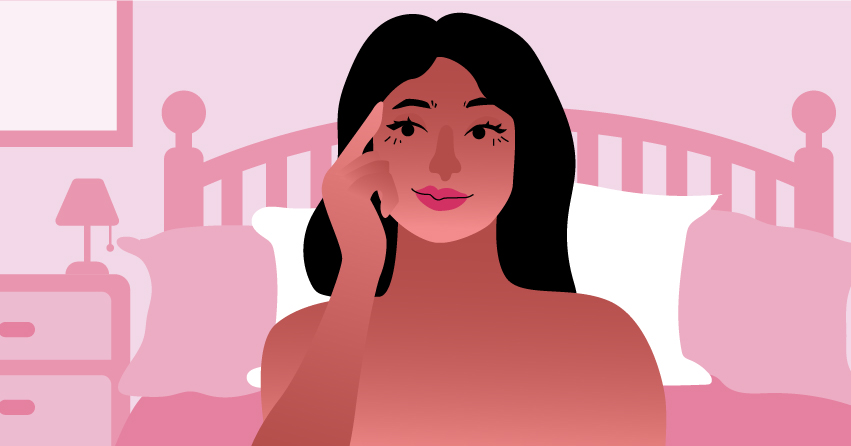 With all the menstrual symptoms looming on your body during that time of the month, it's hard to keep your focus. You're also not thinking as sharply as usual since menstrual cramps, mood swings, and even your cravings get in the way. Now, one way to combat this is by– you guessed it– masturbating while on your period.
According to Barry Komisaruk, a neuroscientist from Rutgers University who spent years studying female sexuality, the female orgasm sends a mighty surge of blood flowing to the brain. This then increases mental activity, boosting your brainpower, and even improves your memory.
3

You'll sleep better.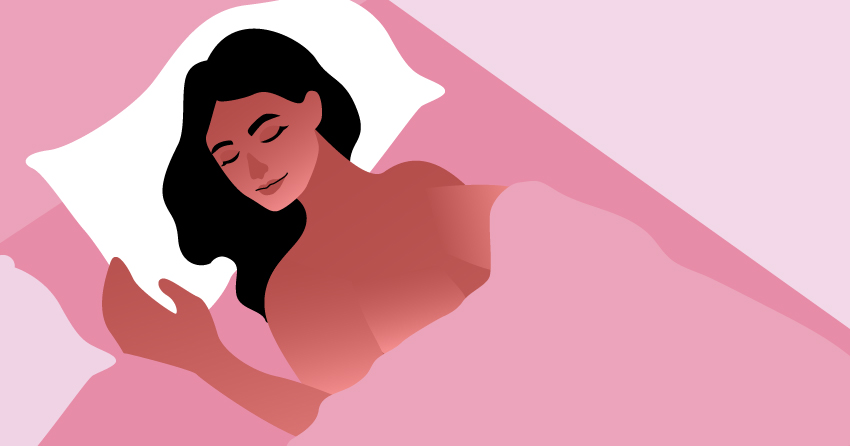 Aside from relieving body pain, masturbating while on your period also helps you have better sleep. This is due to the oxytocin that's released during an orgasm. It's a feel-good hormone that not just gives you some lovey-dovey vibes, but also acts as a sedative. Cortisol, a hormone that induces stress, decreases in production during an orgasm.
This combo lets your body go through a relaxed state, reducing the time it takes you to fall asleep. Now, this benefit has been proven in several studies, one of which is published in the Journal of Women's Health.
4

It boosts your mood.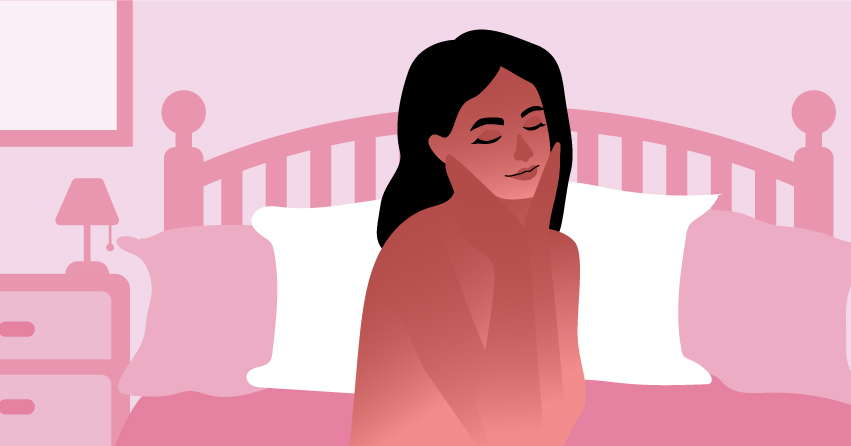 Another benefit of masturbating while on period is that it relieves stress and boosts your mood. Since orgasms release tons of feel-good hormones, you tend to be much happier than usual. This is super helpful especially at that time of the month since hormone fluctuations make females experience mood swings.
5

No need to use lube!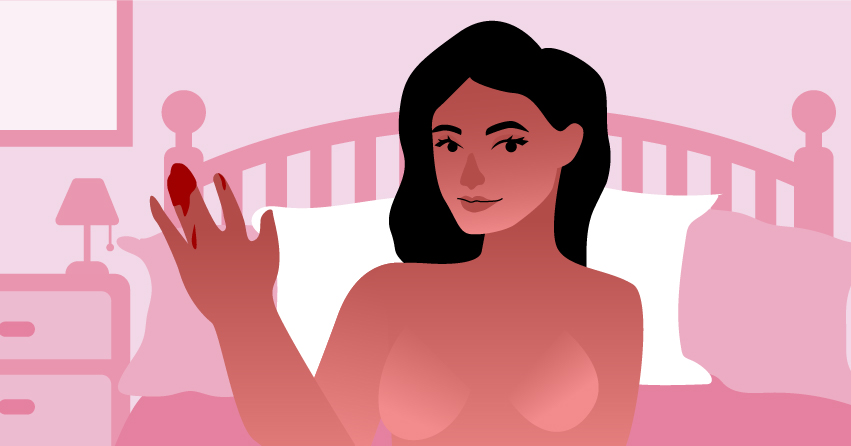 You know what's fun about masturbating while on period? You don't need that much lube. The menstrual blood can work as a natural lubricant for your sex toys.
We know some of you are probably cringing at the thought of using period blood as lube. But here's the thing, menstruation blood ain't gross. It's just a natural shedding of the uterine lining. Using that as an additional lube for your sex toys isn't harmful. Also, don't expect to be squirting tons of blood from your vag. Females only tend to release 30ml to 40ml of blood throughout their period cycle.
Tips When Masturbating While On Period
As you've read the reasons as to why you should be self-pleasuring during your period, you're most likely convinced to try this out. Now, if you're a newbie to this thing, we're here to help you out. Here are some tips when masturbating while being on period to keep things fuss-free!
1

Try masturbating while having a shower.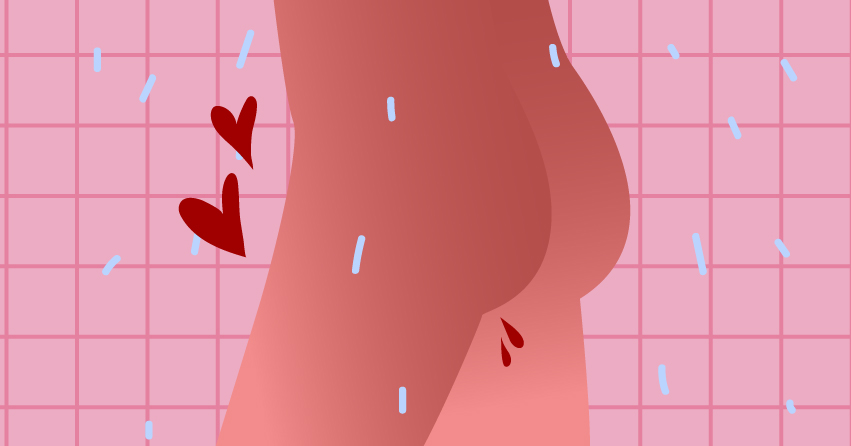 One of the main downsides of masturbating while on period is that things can get a 'lil messy. Now, if you're not ready to mess up your sheets and towels, here's a quick fix for that— masturbate in the shower! What's great about this is that after you're done flicking the bean, you can just wash it off. Now, if you're a sex-toy-play kind of gal, opt for waterproof sex toys.
2

If you're doing it in bed, don't forget the towels!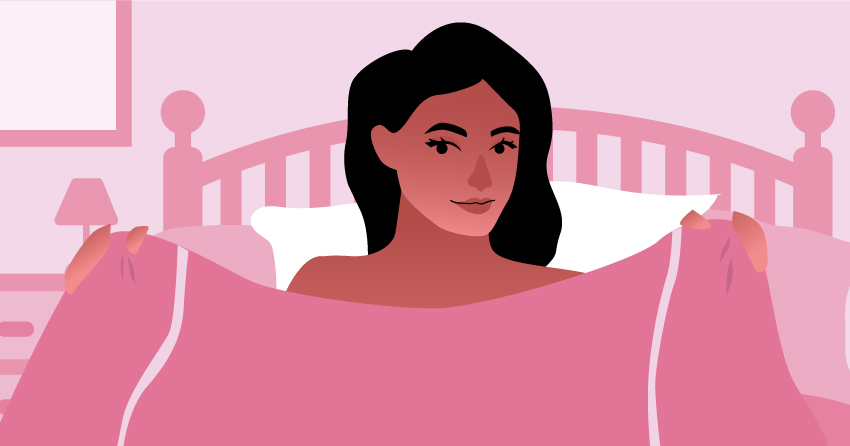 So okay, you're not really comfortable playing in the shower. Well, masturbating while on period is still possible. Just make sure that you put on some dark-colored towels before laying down on your bed.
3

Focus on clitoral stimulation.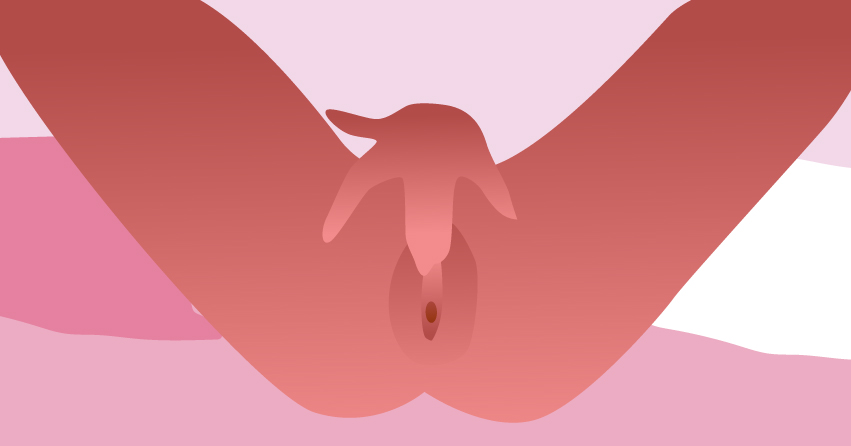 Again, menstrual blood isn't gross nor dirty. However, it's normal to feel icky about it. So for those who want to masturbate but aren't interested in having blood on their fingers, you can opt for clitoral stimulation. Just keep your menstrual cup or tampons on, then just flick your bean peacefully. You can also use clitoral toys such as clit suckers, and vibrators.
4

Try syntribation.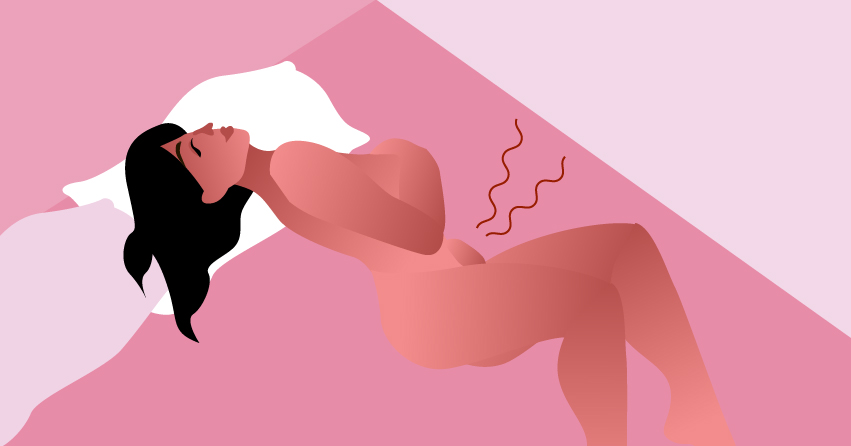 Wanted to reach the heavens as mess-free as possible? You might want to try this masturbation technique. Syntribation is a self-pleasuring method wherein you cross your legs and press your thighs together until you reach orgasm. What's good about this technique is that you don't need to get all naked just to syntribate. Just wear your fave jammies, hop on the bed, and squeeze away!
5

Using sex toys? Wrap them with condoms.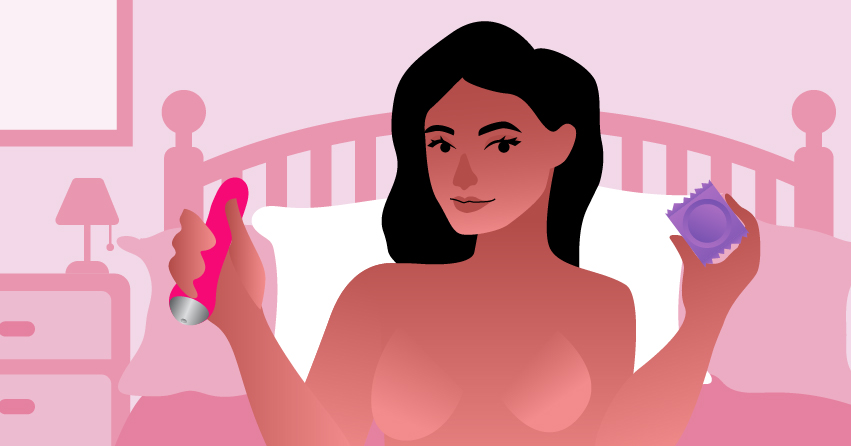 If you're going to use sex toys, such as vibrators, dildos, clit suckers, it's best to wrap them with condoms for easier cleanup. Most condoms are also pre-lubricated so you get additional lubrication from doing this too! As for the type of condoms, opt for unflavored ones.
Takeaway
Masturbating while on period is considered a form of self-care. By doing this, you're helping your body get through the period cycle with ease. Also, as the studies suggest, it's normal to feel extra horny during your period cycle. Don't let people think otherwise.
There are also no risks for masturbating while on your period. The only downside is the mess– which is something that can be easily solved. Just do it in the shower or plop up some towels on the bed and you're good to go.
As you reach the end of this guide, we hope you're enlightened from the misconceptions of the said activity. Go ahead and have fun at that time of the month!