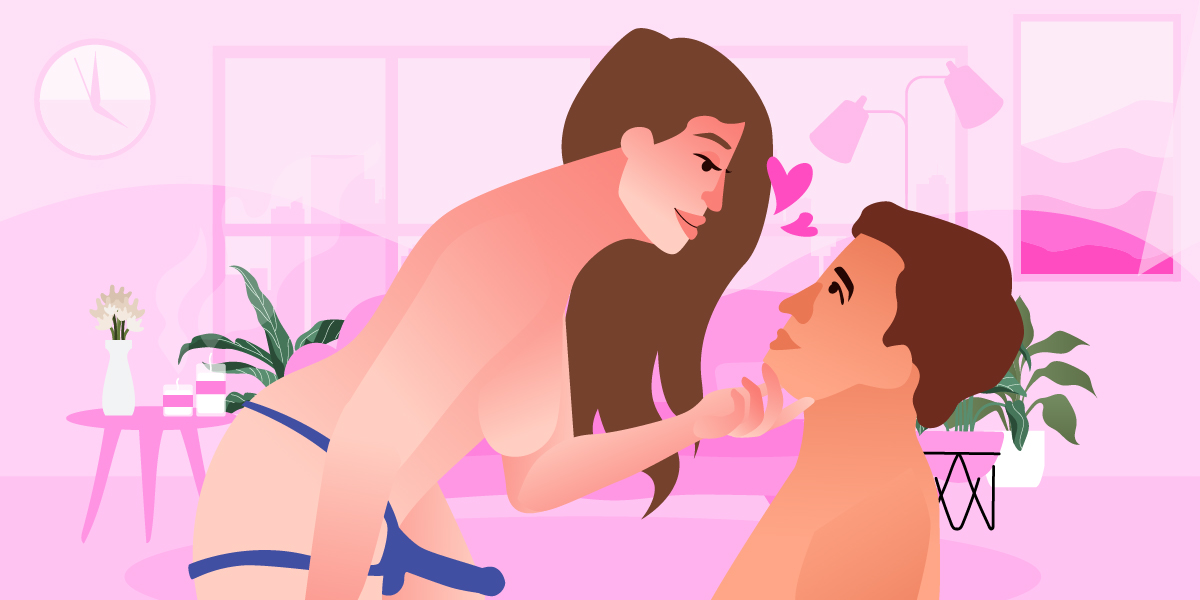 Pegging isn't mainstream yet, but its popularity has been steadily growing, along with other sexual acts such as facesitting, choking, and spanking. However, there's still limited information about this activity, resulting in numerous misconceptions such as…
"Pegging is for gay men only."
"When a woman pegs, she's only trying to control you."
"Being pegged is supposed to hurt."
No, pegging isn't gay men, nor is it supposed to hurt. It's also not used to get "more control" in the relationship. In actuality, it's simply a fun way to spice up your sexual routine. It is even known to improve communication within couples and help men reach incredibly intense Os.
For this guide, we will be discussing the ins and outs of pegging. From tips on how to do it correctly to the must-have sex-essentials, we got you covered.
What is Pegging?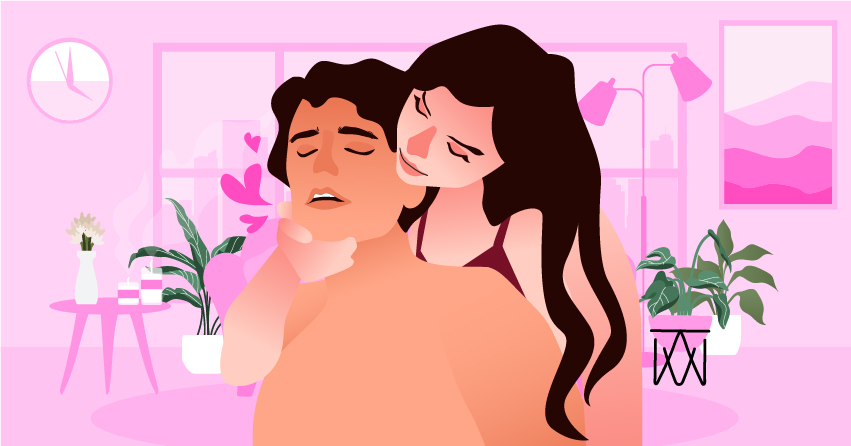 Pegging is a sexual practice wherein a person penetrates their partner's anus with a strap-on. When this term was launched in 2001 through the "Savage Love" sex advice column, it was defined as "an act wherein a cisgender female anally penetrates their cisgender male partner."
However, it has a more inclusive definition now. As long as anal penetration and strap-on are involved, it's considered pegging.
Benefits of Pegging
One of the common misconceptions about pegging is that it's all about "showing who's the boss" and that women do it to get full control of their partners. That's not the case, though, as this practice has multiple benefits for both the pegger (giver) and the peggee (receiver).
1

For the peggee, it can result in intense orgasms.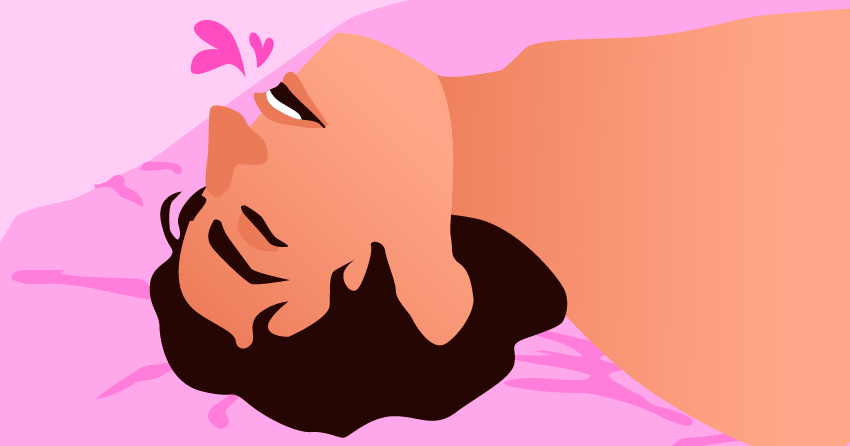 This practice is incredibly pleasurable for the male peggee. There's a special organ in a male person's anus that can unlock intense orgasms— the prostate gland.
Also known as the p-spot or male g-spot, the prostate gland is a small, chestnut-shaped organ located below the bladder, just about two inches inside the rectum. This spot actually produces seminal fluid, a significant component of semen. Aside from helping propel semen from the penis, this area is surrounded by nerve endings. When stimulated correctly, it can result in the peggee experiencing a mindblowing climax.
This is why sexual activities involving anal stimulation, such as pegging benefit guys. If your male partner is worried that they may only feel pain during a pegging sesh, you can educate them about the prostate gland and its o-inducing wonders.
2

It improves the communication within the relationship.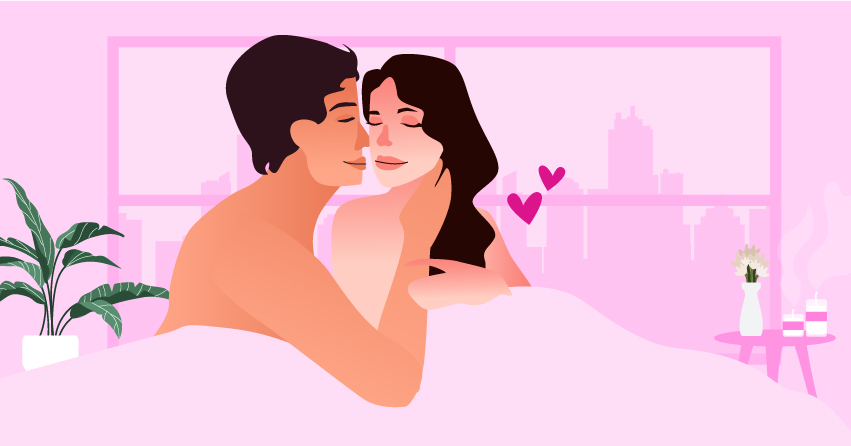 Anal plays, such as pegging, require tons of communication from both parties. With all the talking and planning you'll have with your lover, you may communicate better in and out of the bedroom.
3

You'll get to experience new pleasurable sensations.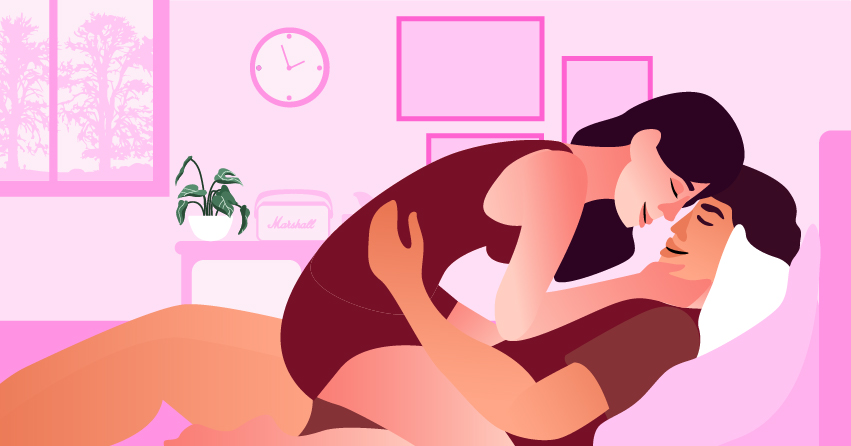 If your male partner has never experienced pegging or other anal plays, he'll be in for a treat! The great thing about pegging is that it lets you discover new sensations.
As for the giver, this act may not be as physically pleasurable (unless they wore a double-ended strap-on or a vibrating strapless strap-on). However, watching their partner whimper in pleasure can surely send their mind and body into a heated frenzy.
4

It can strengthen your bond.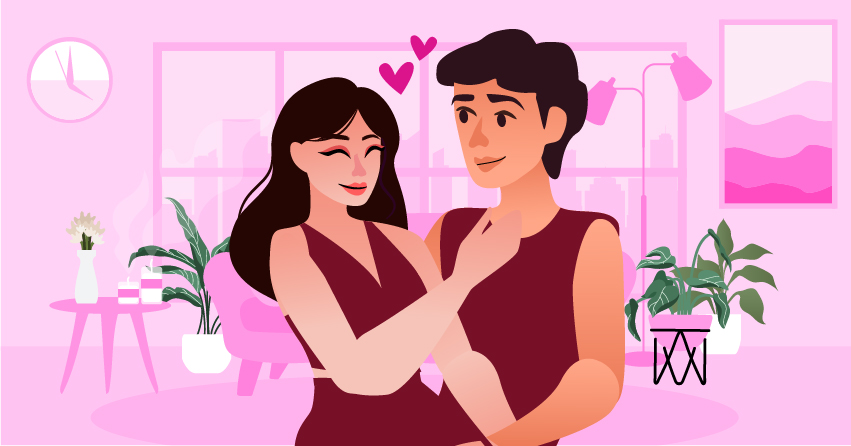 Engaging in pegging can help you and your partner have a deeper connection. If your partner allowed you to peg him, it only shows how trusting he is to you. The level of vulnerability that your partner has to show in this kind of sexual activity can make your intimate bond stronger than ever before.
5

It can unlock a lot of erotic possibilities!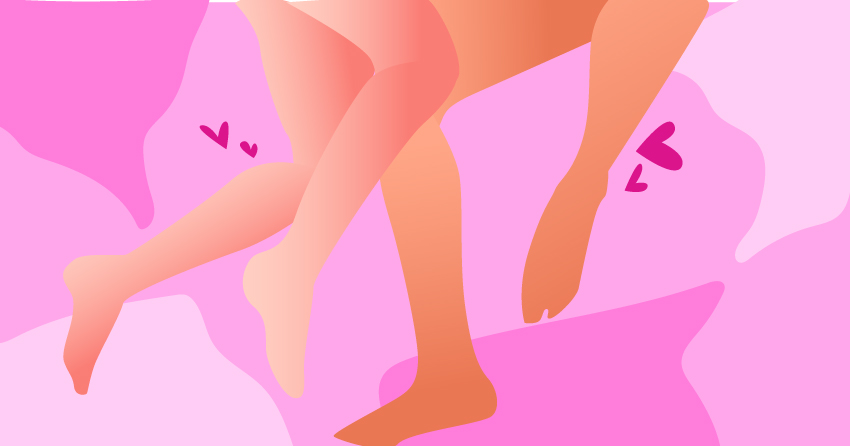 Do you know what's great about pegging and anal plays in general? It opens you and your boo to new experiences, new love toys, new kinks, new sex positions, etc. Opening to anal plays can definitely spice up the sexual routine, so we highly recommend giving it a shot.
How to Try Pegging: Tips & Tricks
Interested in trying pegging after reading the benefits above? We gotchu, sweetie! Below are some tips you should note when trying this sexual practice.
1

Talk to your partner and get their consent.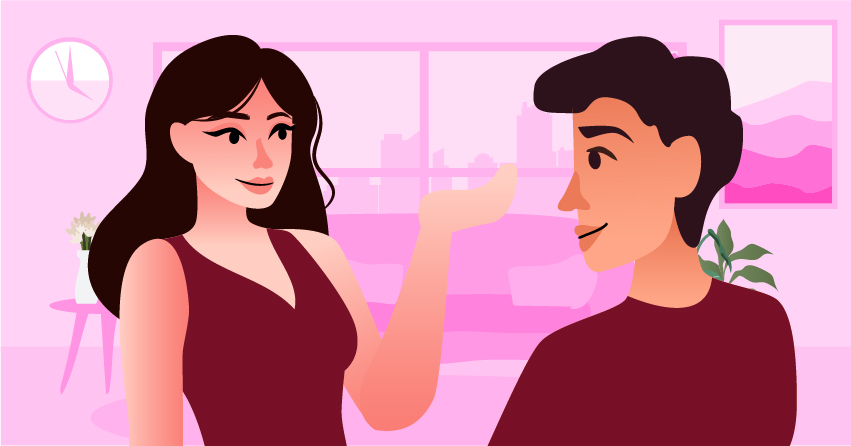 Same with other sexual acts, the first thing you should do is discuss pegging with your partner. Whether they're the pegger or peggee, they should give enthusiastic and informed consent before proceeding with the deed. If they're not ready for anal play, give them enough time to learn about it and avoid guilt-tripping them into saying yes.
2

Prep the essentials.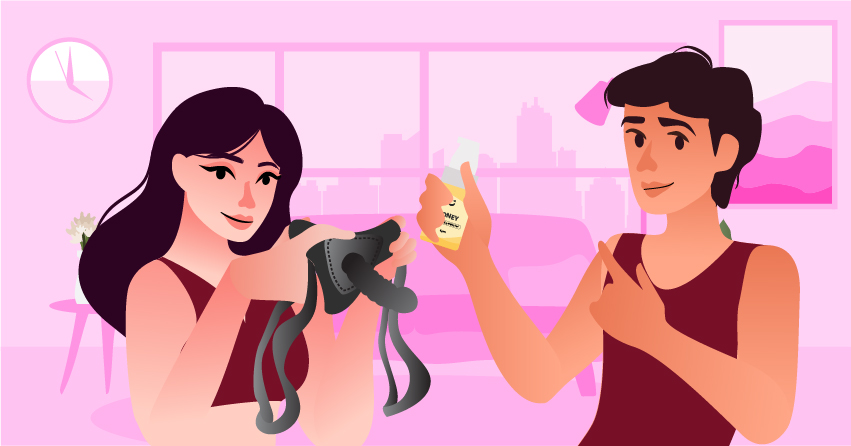 Once they've agreed on doing the activity, it's time to make preparations. First, get a bottle of water-based lubricant. Remember, the anus isn't self-lubricating, so you need a generous amount of lube when engaging in pegging plays. You also need a strap-on set. It usually consists of a harness and a dildo. Go for strap-on dildos that are below average in size, about 3-4 inches in length; this is a good starting point for pegging beginners.
If you're the peggee, research how to clean your anus; this ensures less mess in the pegging session. You may want to opt for a high-fiber diet a few days before the deed; this would keep your stools firm, which then results in fewer excrements sticking in your rectum.
Aside from dietary changes, you can also reduce the risk of mess during a pegging sesh through anal douching and enema. They both require inserting liquid in your anus and squeezing it out. While these cleaning techniques can guarantee a squeaky clean anus, they can be risky if not done properly. This is why thorough research is necessary before jumping into these anal cleansing methods.
Don't forget to have extra towels to cover up the bed, some condoms if you're planning to share dildos, and all the other stuff you think is needed in your pegging sesh.
3

Take it slow; no need to go straight into strap-on play.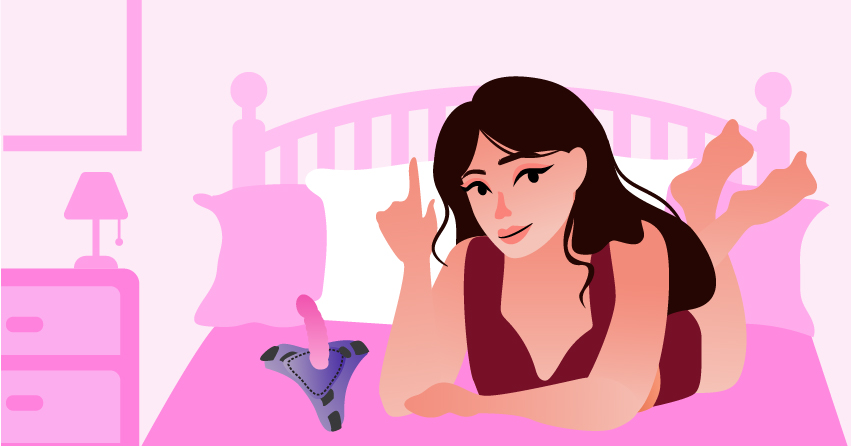 Like other sexual activities, it's important to take baby steps. If the peggee is new to the practice, pushing a 5-inch dildo may lead to a painful experience.
As the pegger, your number one priority is the peggee's comfort. You don't have to go all the way on the first session; a simple anal fingering will do. Once your partner is comfortable sticking a finger into their ass, you can upgrade to anal toys such as anal beads and butt plugs. After being used to a foreign object inserted in their bum, you can then proceed with penetrating them with a strap-on dildo.
4

Once your partner is ready to be pegged, be gentle.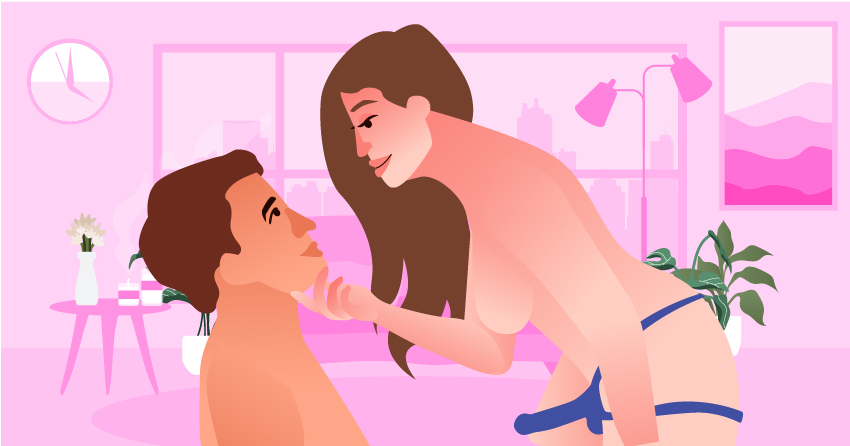 We get that you're incredibly excited to f*ck your partner with a dildo but don't do it at the expense of their comfort. Once they're ready for the strap-on dong, start with inserting the tip of the dildo (about 1-2 inches in depth). Slowly move it back and forth.
After a few minutes, increase the depth of penetration. You can also increase the pace but talk to your partner about it, which takes us to the fifth tip…
5

Communicate throughout the pegging session.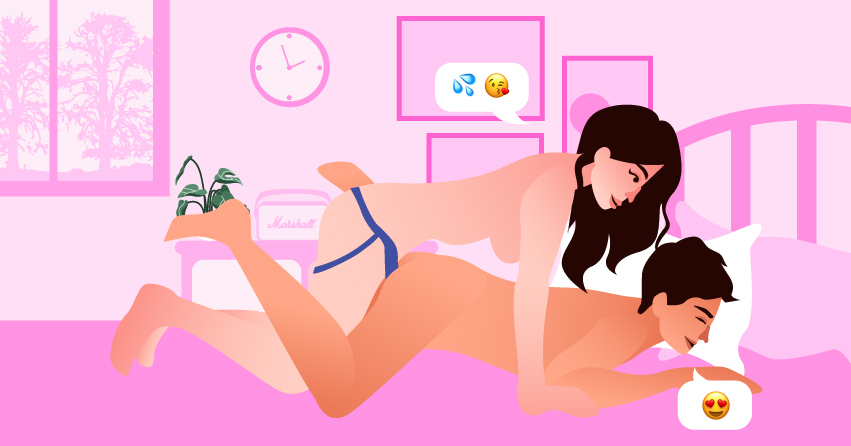 Be vocal in the bedroom… and nope, we didn't mean moaning loudly or talking dirty to your partner. Communicate with your lover throughout the sexy session.
Ask questions. Regularly check in with your partner. Update your partner on your next move. These are essential steps when having a pegging sesh. Not only will you get to ensure their comfort, but your partner will also be more trusting and vulnerable in the act since they know they're in safe hands.
6

Try different anal sex positions.
Remember, the receiver doesn't have to be on all fours in every anal sesh. To find the most convenient position for the pegger and the most pleasurable position for the peggee, we highly recommend trying different positions. It allows you to experiment with different angles, helping your partner find a position that'll hit that sweet spot. Check out our next section to learn more.
7

Experiment with love toys.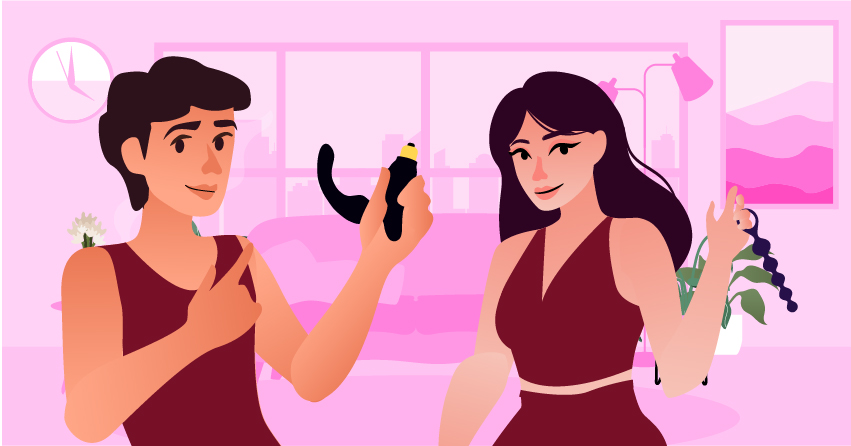 Another great way to spice up your pegging plays is by using love toys. Butt plugs, anal beads, anal vibrators, prostate massagers, paddles, whips— it's up to you and your boo!
Aside from sprucing up the act, peggers can also use sex toys to please themselves while penetrating their partner. For instance, a female pegger can wear an app-controlled love egg while thrusting their partner's bum. Their partner can control the vibration speeds and patterns via phone, bringing intense jolts of pleasure to the pegger.
8

Don't forget aftercare!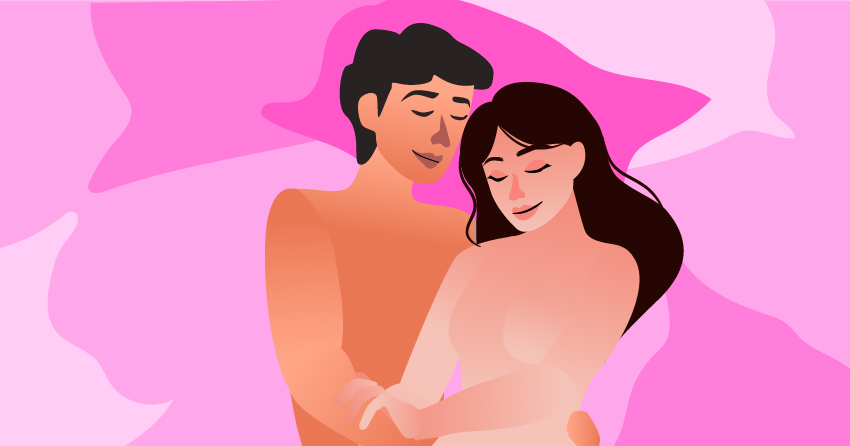 Don't forget to have a quick aftercare sesh with your partner, especially if it's their first time getting pegged. Aftercare brings reassurance and a sign of respect for your partner's vulnerability.
No need to be fancy with this step; simple cuddling + words of affirmation will do. You can also have a warm shower, get your favorite takeout, or give the peggee a sensual massage. It's up to you and your partner's preferences.
Best Pegging Positions
As you've learned the basic tips on peg your partner, you're now to venture into the booty-full world of pegging. Below are some classic and unique sex positions to try when doing this sexual practice. Good luck!
1

Classic Doggy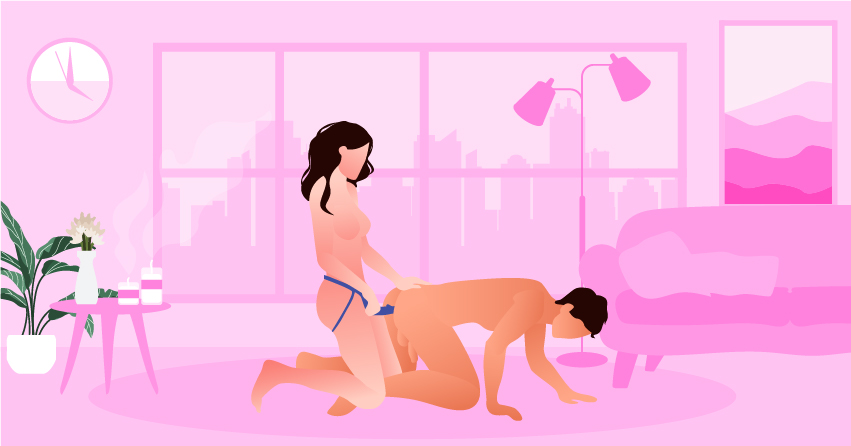 Of course, we're starting our pegging positions guide with the classic. The Doggy Style is a reliable position for beginners as it gives the pegger full access to the bum area. You don't also need to make complex moves to achieve this position.
The peggee must be on all fours, slightly raising their butt. The pegger will kneel down and hold their partner's butt or waist, with the strap-on dildo pointing right to the peggee's anus. After that, the pegger can slowly insert the dildo into their partner's anus. You can also do a variation wherein the peggee is on all fours right next to the edge of the bed, and the pegger is semi-kneeling on the edge of the bed.
2

Low Doggy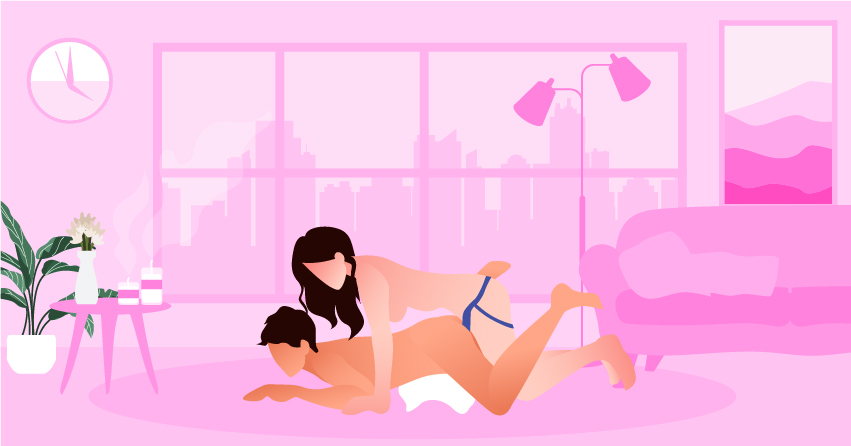 You can go for the Low Doggy if you want a more relaxed version of the doggy position. Instead of the peggee going in all fours, they will lie on their stomach, with a few pillows stacked on their crotch and their butts slightly raised. The pegger would then kneel down, leaning to their lover's body. Once positioned, they can now start pegging their partner.
3

Riverside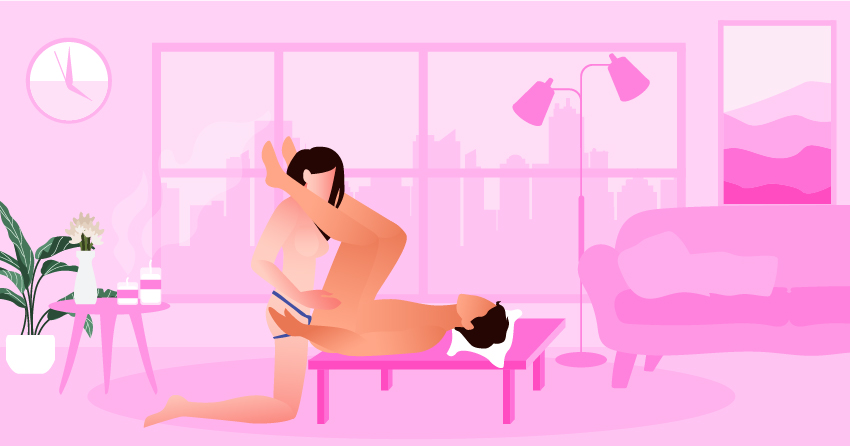 What's great about this position is you'll be able to meet each other's gaze and fully control the depth and pace of penetration.
Ask the peggee to lie on the bed, with their bed at the edge of the mattress. The pegger will have to kneel down with their strap-on dildo pointing to the peggee's anus. The pegger will gently hold the peggee's thighs. Meanwhile, the peggee will slowly raise their legs and place their ankles on both shoulders of the pegger. Once positioned, the pegger can start thrusting their dildo in.
4

Feast On Me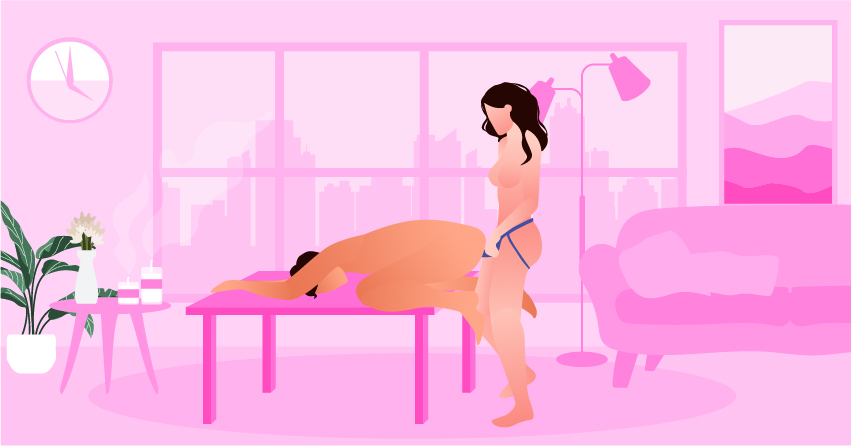 Wanna get risque at the dining table? Here's the perfect position for that. The Feast On Me is a pretty doable position for beginners. First, the peggee must get on the dining table, kneel down, stretch their arms to reach the other edge of the table, and then arch their buttocks towards the pegger. Their butt should be right at the edge of the table. Meanwhile, the pegger should stand behind the peggee, with the dildo pointing towards their partner's bum. Once you're both ready, proceed with the pegging.
5

Sofa Spooning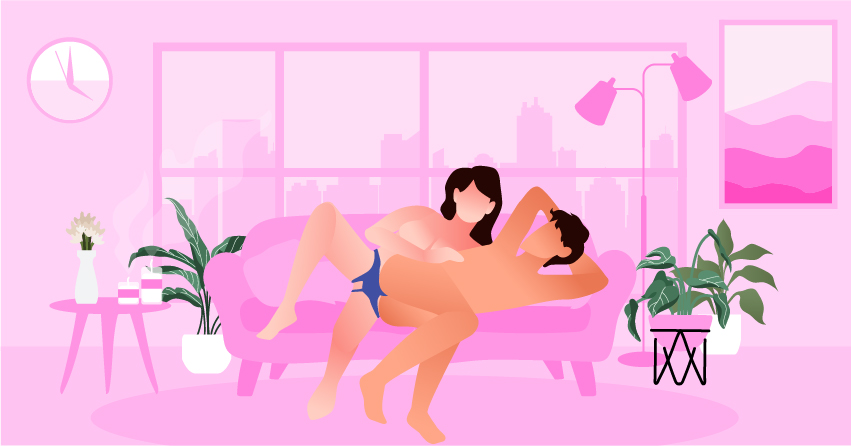 If you're looking for a chill pegging position, you'll love the Sofa Spooning. Though it has a "sofa" on the title, this position will work fine in the bedroom, love chair, or any other comfy spot. For this position, you'll both lie on your sides, facing the same direction. After that, the pegger can stick the dildo in the peggee's anus. Make the necessary adjustments based on the size and shape of the sofa or bed.
6

Lap Dance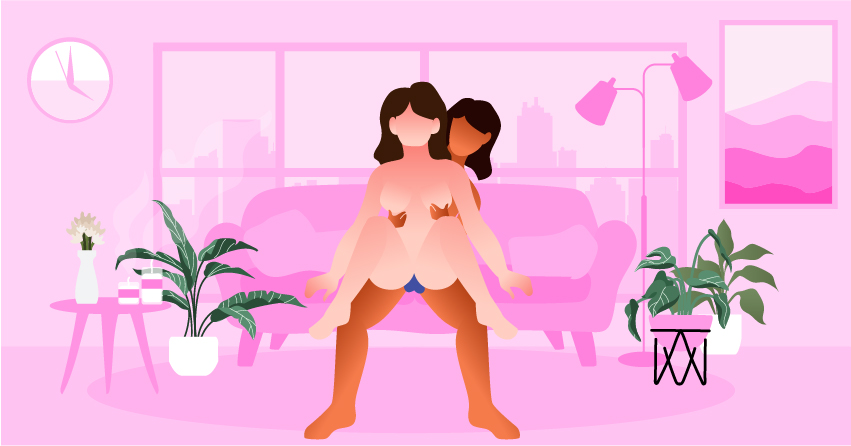 Lap Dance is a tricky pegging position, especially if there are significant body differences between you and your partner. For example, if you're on the petite range and your partner is on the chunkier side, you might feel uncomfortable with this one. But if it works for you and your lover, you'll surely have a great time. This is also one of the positions that allow the peggee to control the pace of the act.
For this one, the pegger must sit on the bed with their feet on the floor. They must slightly bend their back and bend their elbows for support. Once positioned, the peggee can climb on top of the pegger. Their anus should be on top of the pegger's crotch, and their feet should be pressed on the bed's edge. The peggee will then place their palms on the bed for support. Once the peggee is ready, they can gently push their anus into the strap-on dildo. Bonus Tip: The pegger can use the free hand to give their partner a handjob.
7

Spork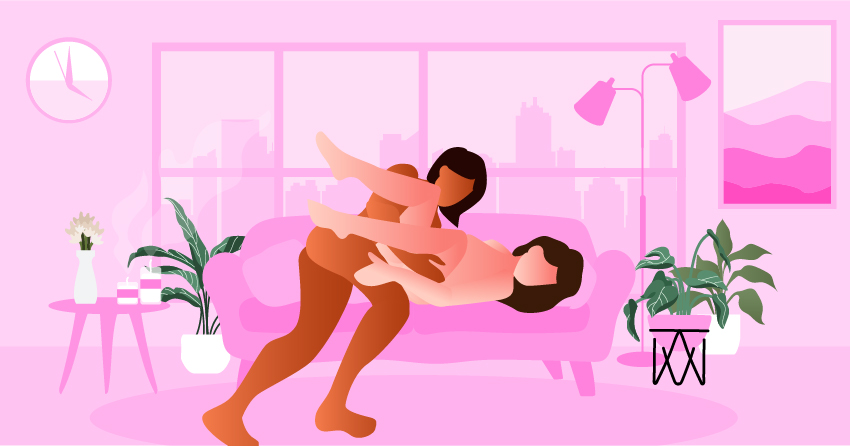 If you're looking for an unconventional pegging position, check this one out. The Spork may look complicated at first glance but is pretty doable for newbies.
First, the pegger must lie on their side, with their legs driven apart and slightly bent on the knee. The peggee will lie on their back but in a horizontal position. The peggee's buttocks must be next to their partner's crotch. The pegger should then hold the peggee's thighs for support, while the peggee can rest their knees on their partner's arms and thighs. Once positioned, they can proceed with the pegging.
8

Eiffel Tower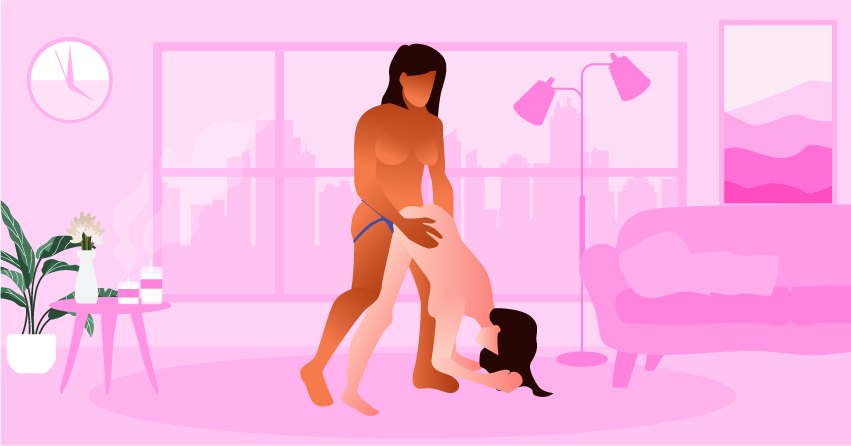 This position takes the phrase "Bend over, boyfriend" to the next level. For this one, the pegger should stand straight, with their legs wider than the width of their shoulders. The peggee should then stand in front of them, standing the same way as the pegger. After that, the peggee will fully bend their body down, with their elbows in front and resting on the floor for extra support. Once positioned, the pegger can hold their partner's buttocks and start thrusting.
9

Side Play
If you want to give sensual caresses while pegging your partner, we recommend this one. It's also a doable position for beginners. For this one, the peggee must lie on their side, while the pegger will kneel down vertically behind the peggee. Once positioned, the pegger can start penetrating their partner while their hands are busy touching the peggee's other erogenous zones.
10

Captain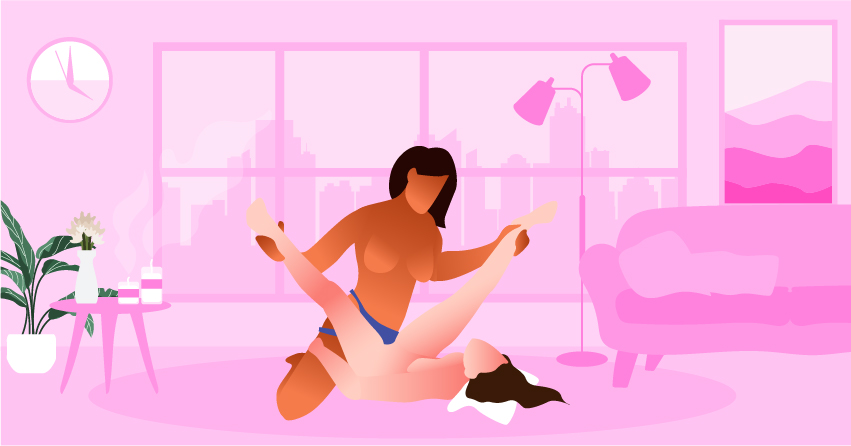 The Captain is another face-to-face position for those who want to make eye contact with their partners. It's also a pretty simple position and is similar to the classic missionary. First, the peggee must lie on their back, with their legs raised and making a "v" shape. The pegger will kneel in front of their partner, hold their ankles, and start penetrating their anus.
Pegging Essentials
Ready to explore pegging? Before you start coming up with the plan, check out these essentials first. Remember, you gotta prep on a strap-on, dildos, lubricants, and other sexual wellness products to ensure a safe and fun experience.
Frequently Asked Questions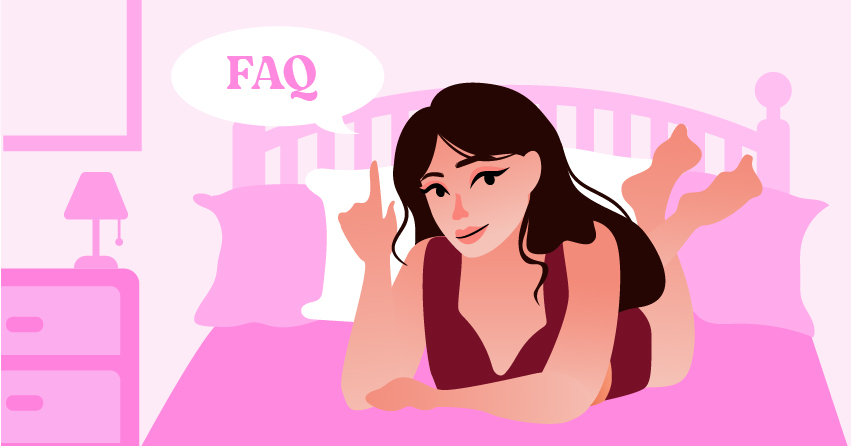 Still got questions about pegging? Whether it's about safety concerns or ways to communicate with your partner about this sexual practice, we've answered it in this section.
1

Am I gay for wanting to get pegged?

Your sexual orientation is based on the gender you're attracted to, not your preferences in the bedroom. If you're a cisgender heterosexual man interested in pegging but isn't interested in dating the same sex, then you're just a straight guy who's into anal play.
2

Is pegging safe?

This sexual practice is safe as long as you're doing it properly. This means using lube, being gentle on the insertion, and having constant communication throughout the deed.
3

My partner doesn't want to get pegged. Is there another way to convince him?

You can only educate them about the activity and reassure them that it's safe. However, if your partner is 100% not into anal penetration, respect their decision and explore other sexual activities.
4

What's the best type of lubricant for pegging sex?

If the dildo you'll use is made with silicone, go for water-based lubricant. Using silicone-based lube can deteriorate the surface of the love toy.

As for non-silicone dildos, it's best to use silicone-based lube since it has a thicker consistency and lasts longer than water-based lube. For good measure, you may ask the sex toy shop or check the packaging to see the toy's recommended type of lube.
5

What are the risks of pegging?

The common risks of this sexual practice are anal fissure and sexually transmitted infections (STIs) such as gonorrhea, chlamydia, HPV, and herpes. To prevent these risks, always use lube, use a condom on the strap-on dildo, be gentle with the pegging, and get STI tests regularly.
Takeaway
And there you have it, we've given everything a beginner should know about this sexual practice. If you have other concerns about pegging that aren't included in this guide, you can always check more anal play articles in our blog. Good luck!