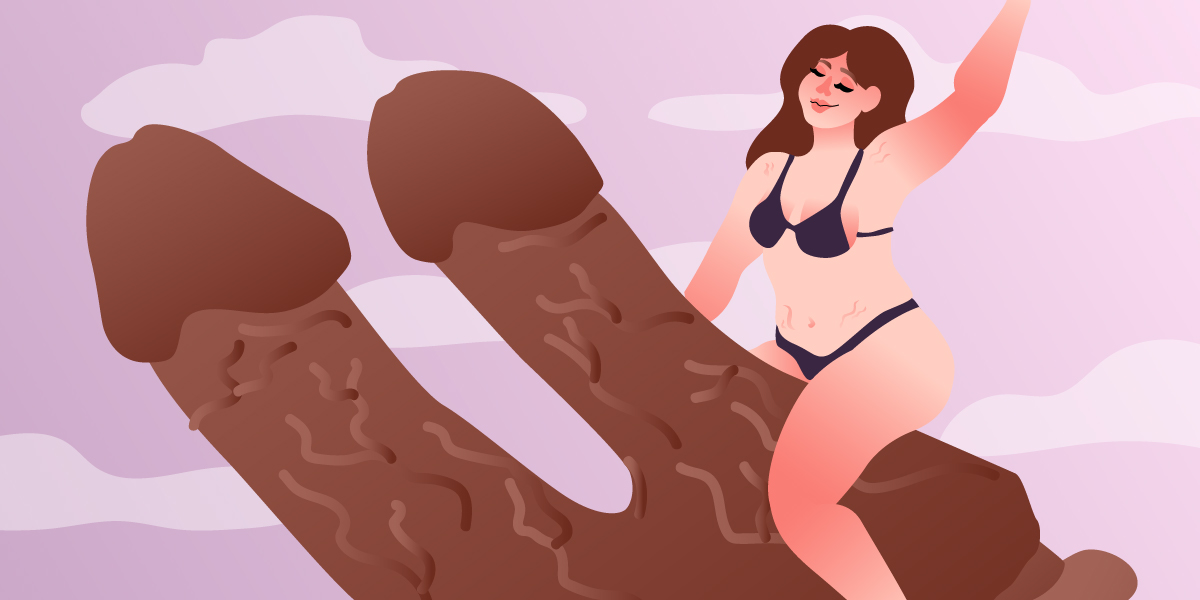 A double dildo is probably something you would see in erotic videos with tags such as "hardcore." You may think it's never meant for non-pornstars, but that's not true. Everyone can enjoy the orgasmic delights of a double dong!
All you need is familiarity and experience with regular dildos, a bottle of your trusted lube, and unparalleled curiosity. If you want some help using a double dildo, you're in the right place! This brief guide will explain the basics, plus play tips to amp up your sensual sessions.
What is a Double Dildo?
Also known as a "double penetration" dildo, a double dildo comes with a single suction base, on which two dildos are attached next to each other. Whether it's a same-sex couple seeking mutual stimulation or a person who wants to explore double penetration, it becomes a gateway to sensational experiences.
Most models are made with body-safe silicone, giving it a velvet-smooth feel. It usually comes with several variations, such as the following:
Symmetrical – The dildos attached come with the same length and girth.
Asymmetrical – The dildos attached vary in size. It's designed like this so the user can safely use the smaller, shorter dildo in their anus.
Vibrating – This is pretty uncommon in the market, but some models have a vibrating effect for extra sensations.
Double Dildo vs. Double-Ended Dildo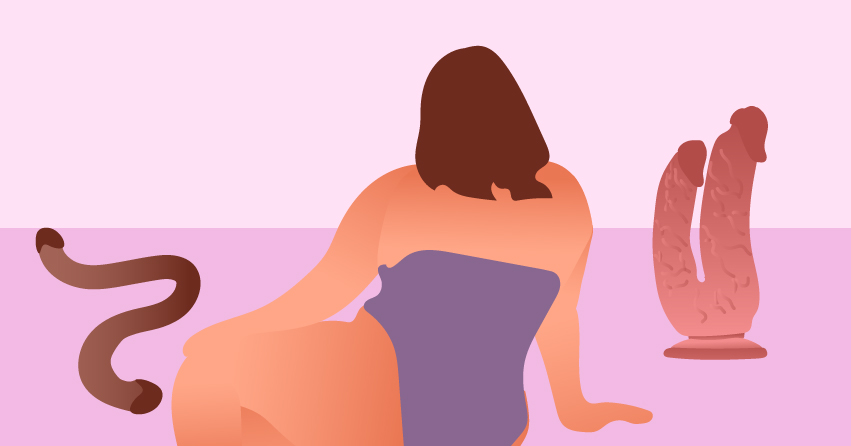 Most people use "double dildos" and "double-ended dildos" interchangeably. After all, both toys have dual heads and offer double penetration and shared pleasure. But they're waaaay different in terms of structure. Here are some of the distinct features that separate them from one another.
Double Dildo
Single base
Two separately attached dildos
Comes in a variety of shaft sizes
Bendable, but not as flexible as a double-ended dildo
Double Ended Dildo
Elongated and hyper-flexible
Has two insertable heads
The two dildo heads are usually the same in size and girth
Different Ways to Use a Double Dildo
Though this dong is mainly made for solo play, you can try different pleasure techniques with this love toy. Sprinkle in a dash of wild imagination, and you'll soon be making the most out of this dildo.
1

Use it for double penetration.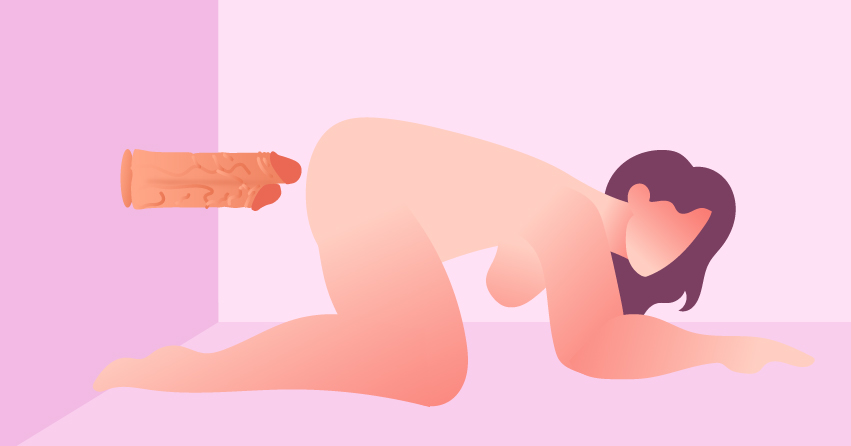 Let's start with what this toy is intended for. A double dildo is made for dual penetration, which means penetrating the vagina and anus simultaneously to achieve intense pleasure.
To do this, you'll need to lie comfortably in your bed; go with a position where you can easily access the vagina and anus. Apply water-based or silicone-based (except if the dildo is made with silicone) to both shafts, point the tips into their respective genitals, then gently push the dildos into your vagina or anus.
Don't rush it. Your genitals are incredibly sensitive, so don't just smack them inside and call it a day. Also, note that the anus doesn't self-lubricate, so you may need a lube with thicker consistency or reapply the lube throughout the deed.
Move it back and forth, and feel the shaft stimulating your vaginal and anal walls. We also recommend moving your hips, grinding as if you're banging with someone.
Once you've reached the peak or are ready to try another activity, gently remove the dildos from your body. If you want to use your double dildo in different sex positions, you can do just that; check the next section for more information.
2

Test your limits!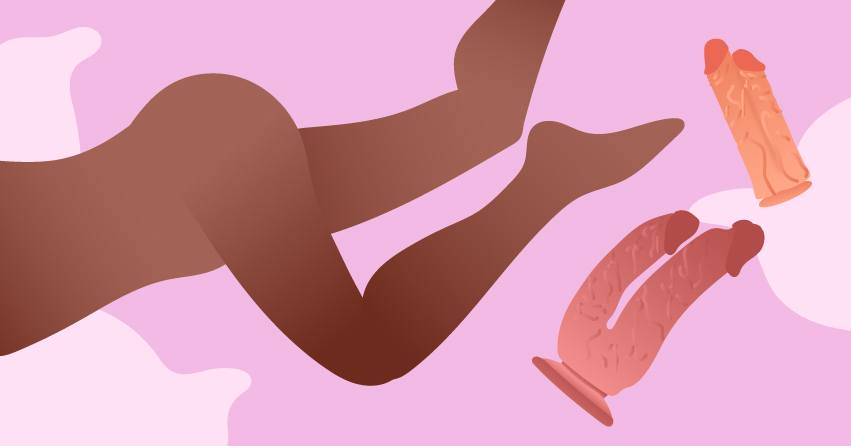 If you're getting extra raunchy, use a double dildo to see if two dicks fit in your vagina. We understand you're worried about finding yourself in the ER with two dildos stuck in your genitals, but a vagina can stretch to accommodate various sizes of objects, so with enough warm-up, you may be able to safely insert those two dongs in there.
To try it out, apply personal lubricant all over the two shafts. Start with one dildo first, and move it back and forth. This step is more likely to warm your vagina, helping the muscles relax and stretch. Next, gently insert the two dildos; use the tip only. Move it back and forth, deepening your insertion with every thrust.
If you feel pain, we don't recommend proceeding with the deed. If there's a minor discomfort, but it still feels good, go on. Move it back and forth until almost all the shaft is pushed inside you. Enjoy the new and orgasmic sensations!
As for anal play, it's possible, but the girth of both dildos may be too much for your anus to handle. We recommend sticking out with one unless you're a pro.
3

Share it with a partner.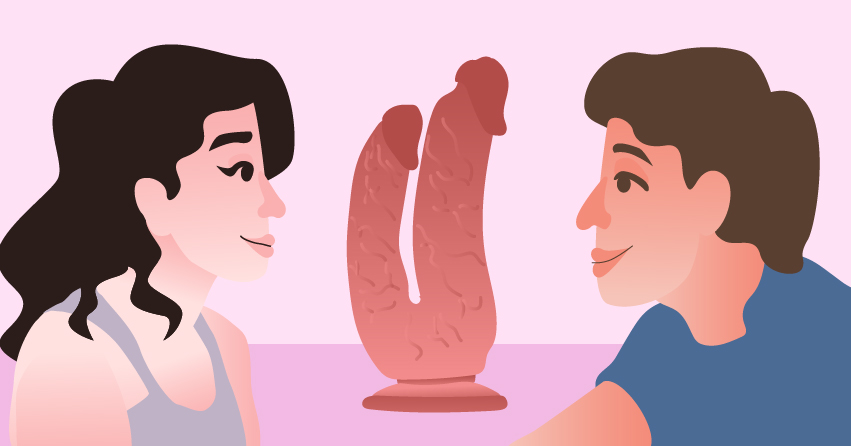 Another great way to use a double dildo is sharing it with a partner. If your partner is open to using sex toys, specifically dildos, you'll have a great time exploring this one.
There are several positions that you can try with this dong. First, you can opt for a position like reverse cowgirl. Stick the toy on a tiled surface, and both of you will kneel down, facing the opposite direction. Once you're both ready, you'll push your hips down to the lubed-up dildo. We highly recommend syncing your movement for a more harmonious experience. There are also other sex positions you can experiment with; more on that in the next section.
You can also use a double dildo for a mutual masturbation session. The visual imagery will surely leave your partner hella aroused as they watch you have a blast with your dong.
Basic Double Dildo Sex Positions
After learning the basic ways to use a double dildo, you might be enticed to try them out. In that case, you've got to keep scrolling! For this section, we'll share some of the best positions you can try with this mighty toy.
1

Double Doggy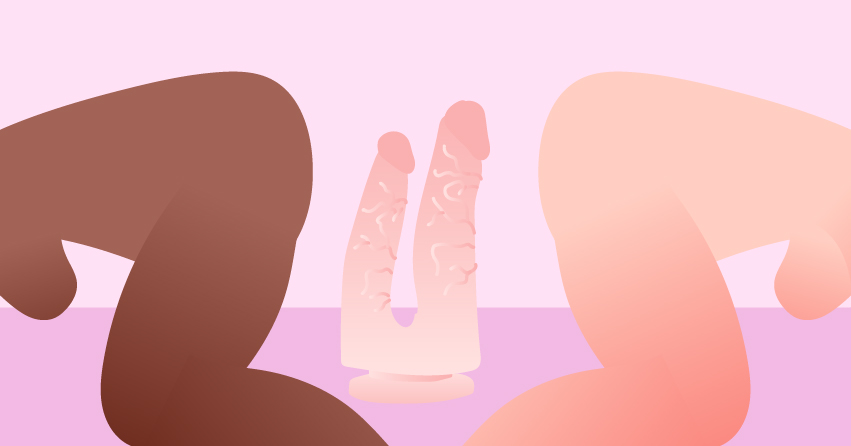 Ah, the classic doggy; there's nothing more wild and primal than being on all fours as a firm dong moves in and out of your body.
For Solo Players: Stick the dildo in a tiled wall. Make sure that the shafts are aligned with your anal and vaginal opening. Apply water-based lube at the shaft, then get into all fours, facing away from the dildo. Move your hips to thrust your body into the shafts. Move back and forth until you feel that orgasmic bliss! Take note that this may be a bit tricky to pull off, but it's all worth it.
For Couples: Stick the dildo on the floor. You and your partner must get on all fours, facing away. Once positioned, move your hips to insert the dildo in your vagina or anus. Keep moving back and forth until you reach the climax or are ready to proceed with another sex-tivity.
2

Cowgirl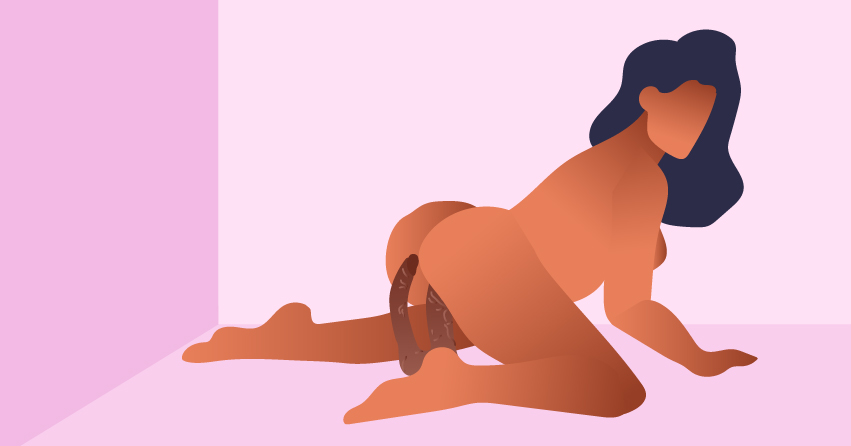 Another classic position on the list, the cowgirl, is perfect for those who want to control how deep the insertion should be.
For Solo Players: Stick the dong into a smooth or tiled floor. Get kneeling, with your vaginal and anal opening on top of the dildo's tips. Once you're ready, push your body downward to insert the lubed-up dongs. Be as deep as you can be. Move your back body back and forth.
For Couples: Stick the dildo into a tiled or smooth floor. Both of you should kneel down, designated with one dildo into your vagina or anus. Though it's possible to face each other, you'll get more space by doing a reverse cowgirl, in which both of you are facing the other way. Once positioned, push down your body to insert the dildo into your vagina or anus. Keep doing the deed until you both reach the big O or are ready to move into another sexual act.
Double Dildo Play Tips
You've learned the basic techniques. You've learned the best positions. You're very close to using a double dildo! However, before you order this love toy, note the following tips below.
1

Make sure you have prior experience with dildos.
A double dildo isn't newbie-friendly. We recommend it for peeps using regular dildos such as realistic or classic dongs. The dual-shaft design may be too overwhelming for beginners. Also, if you haven't tried anal sex or anal toys before, we recommend trying anal stimulation through fingers or anal plugs before exploring this one.
2

Only order double dildos from reputable sex toy shops.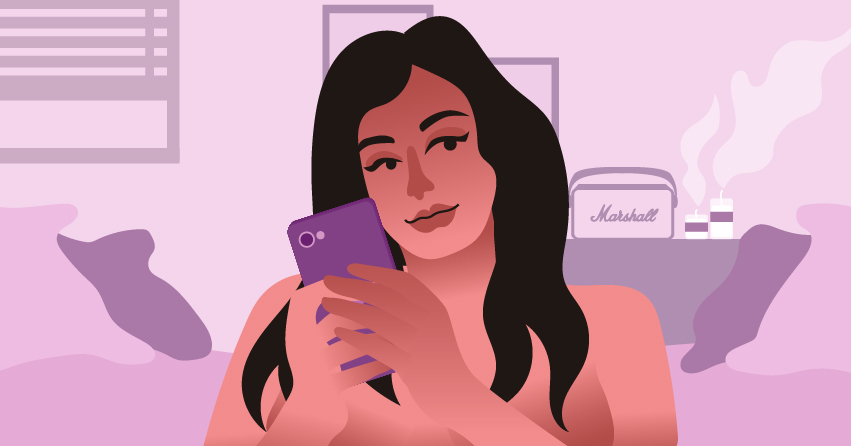 Like any sex toy, getting this love toy from reputable adult toy stores is important. Remember that when you use a double dildo, you're putting your sensitive vagina and anus at risk, especially since you'll be penetrating this toy in the said areas.
That said, only get double dongs from reputable adult stores. Their dildos are made with non-porous materials, such as silicone or borosilicate glass. When a material is non-porous, bacteria won't be able to stick to the surface as opposed to porous materials. You can also be at peace knowing your toys have met the quality manufacturing standards.
3

Keep it slow at the beginning.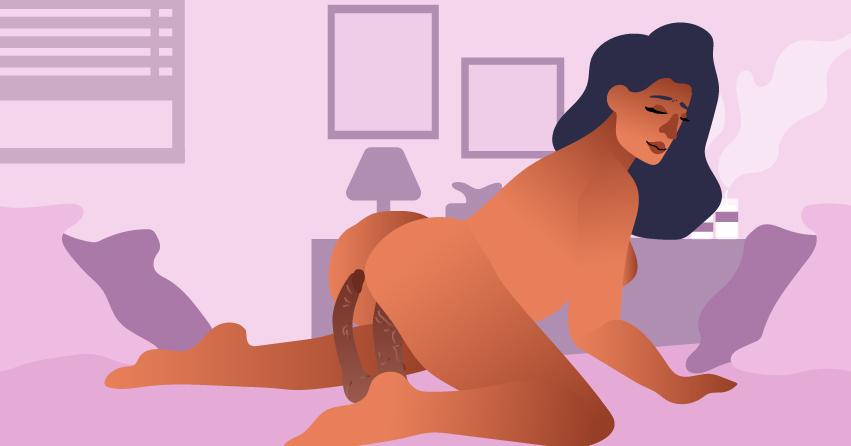 Even if you consider yourself a seasoned dildo player, a double dong can still bring some challenges. So when using this sex toy, it's important to take things slow and ease into it.
Start with gentle movements and gradually increase the intensity as you and your partner become more comfortable. Take your time to explore what feels good on your body or with your partner, focusing on building arousal and anticipation.
You also need to consider your anus in the process, as you'll need to warm it up before inserting anything into it. Whether you're going solo or duo, sufficient time for foreplay is a must.
4

Avoid double dipping!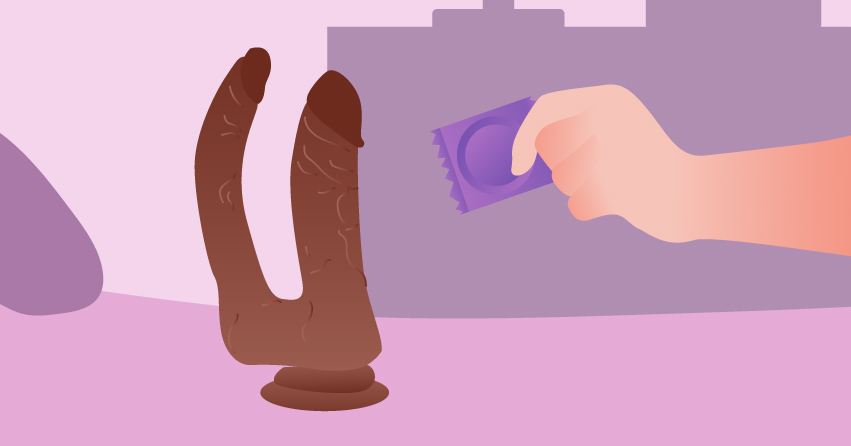 If you've just heard about this, "double dipping" refers to using the same dildo head for vaginal and anal play without cleaning it or using a condom. This harmful practice can introduce bacteria from the anus to the vagina, potentially leading to infections or other complications.
That said, avoid going this route and make sure to clean the shaft before switching them to a new hole, or use a condom so you don't have to do a lengthy cleanup; all you need to do is replace the used condom with a fresh one, and you can start playing again!
5

Clean before and after use.
As you use a double dildo for vaginal and anal penetration, maintaining proper hygiene is crucial. Proper cleaning helps prevent the spread of bacteria and extends the toy's lifespan. Use a gentle cleanser and water, then lightly scrub the dongs to remove bodily fluids and other residue.
If your dong has a vibrating feature, please check the user manual before cleaning it, as it may come with certain limitations, e.g., not allowed to be submerged in water, or you can only wipe it with a sex toy cleaner.
Before You Use a Double Dildo, Explore These Dongs First!
For those who want to explore new dimensions of pleasure of double dildos, you need to familiarize yourself with other types of dildos, such as realistic or fantasy dongs. We've shared some of our bestselling dildos in the shop. Enjoy!
Takeaway
As we reach the end of this guide, we hope you're equipped with enough deets on how to use a double dildo. They've emerged as a gateway to extraordinary pleasure, making them an invaluable addition to any bedroom adventure. With their uniqueness and ability to cater to diverse desires, double dongs will surely open your sexual horizons!
But like with any other sex toys, make sure that you and your partner follow safety measures to ensure safe and fun sexcapades. This includes taking enough time with foreplay, using personal lubricants, and cleaning the pleasure toy before and after use. This promotes hygiene, longevity, and a worry-free experience.
Communicating with your partner about using a double dildo is also a must. Make sure to get your partner's consent on every sexual activity or love toy that you'll incorporate in the deed. May you enjoy the sensational delights of double dildos, good luck!