Finally, you're entering the world of sex toys and are not looking for sex toys for beginners like you. We've all been patiently waiting for you to come to the dark side *evil laughter*. Whatever it is that got you jumping down the rabbit hole; you're very much welcome to join our empowered group of women. It may be because of your friend's review of our vibrators. Or maybe it's because you got curious about our Facebook page. Whatever it is, we aren't shy about expressing our self-love, and we take charge of our orgasms! Yes, girl. In short, we rock.
We know you can't wait to buy your first love toy. But don't jump the gun just yet. There's just waaayyy too many love toys in our sex toy shop—from vibrators, kegel balls, massagers to suckers and glass dildo—that it's easy to get overwhelmed. For beginners, it's best to take your time in choosing your first sex toy. As they say, first impressions last. We want to make sure your first-time experience with sex toys in bed is totally worth all the hype you've been hearing about.
If you're feeling nervous or excited or both, that's totally fine. Even strong independent women shake at the face of unknown territory sometimes. Look, there's no shame if you're feeling anxious. We get where you're coming from. We've been beginners before too, and we understand you got a few concerns. As such, it is with the greatest of pleasure that we're going to help you address some of those concerns of yours and help you pick the right sex toy for beginners like you.
Pack on some lube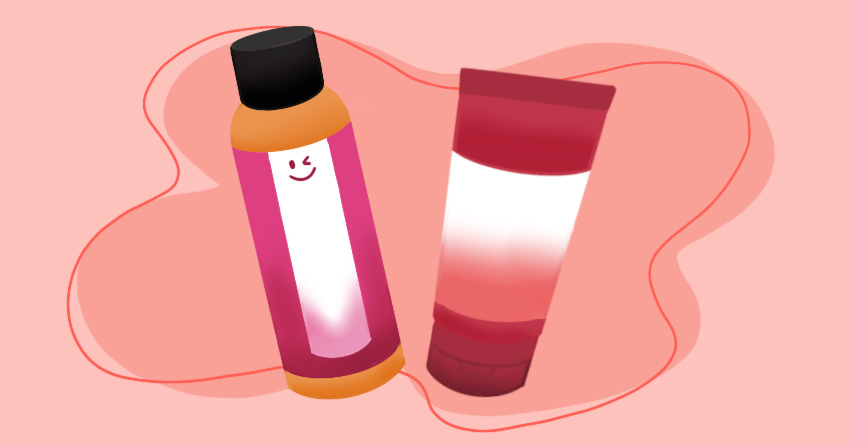 Lube is like the ice cream on your halo-halo. It just makes everything so much better in bed. If you're a beginner to sex toys, we definitely recommend that you get yourself a good quality lube. It's especially useful if you're someone who experiences vaginal dryness. And if you're into butt stuff, remember that the anus doesn't produce its own lubrication, so lathering lube on your backdoor definitely makes things slide in so much easier and faster.
Here are our recommendations:
The Lux Silk Lube has a neutral flavor, so if you prefer scentless and unflavored lubrication, this one is just the right fit for you. It makes way for a slicker insertion, letting you slip your love toys in and out of yourself without hitching or irritating your skin. If your partner is wearing a condom, you don't have to worry about damaging its material because the Lux Silk Lube's formula is gentle, even on condoms.
A multi-purpose lube, the Strawberry Shortcake Lube, provides you with that slippery feeling without being sticky. You can use it revitalize your dry leather-made sex toys and latex-made clothing. You can use it for your sensual massages. Rub it all over your body and let your sex toy glide all over you. What's really cool about the Strawberry Shortcake Lube is that it's a strawberry-flavored lube, which means you get that boost of fruity flavor in your sexual plays.
To up your lube game, get the Midnight Touch Massage Oil for deluxe lubrication. Unlike the other two lubes previously mentioned, the Midnight Touch Massage Oil is first and foremost used as a massage oil. It's 100% natural and organic with a sweet scent of ylang-ylang. It is made from the perfect blend of pure grapeseed oil, sandalwood oil, rosa rugosa flower oil, ylang-ylang flower oil, and mixed with the healthy benefits of tocopheryl acetate. Its formula is very gentle that you can use it on your genitals to serve as lubrication.
Sex toys for beginners that will give good vibes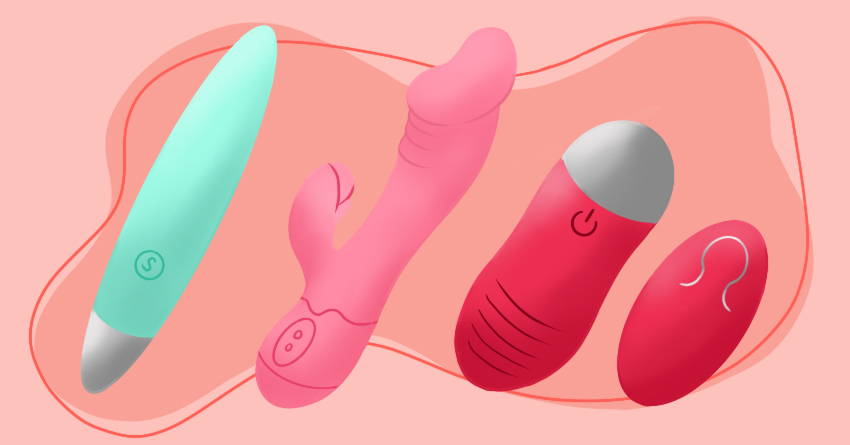 Vibrators are up there when it comes to most popular sex toys for beginner ladies. How can they not be? These bad boys are compact, mobile, and our favorite part—they vibrate. They're also very versatile. You can use them for solo masturbation and also for foreplay and double penetration during couple plays. They may come with different vibration patterns, speed, remote control, and even temperature control. They're perfect for beginners in sex toys like you.
Here are our recommendations:
Coming in with a variety of fun colors, the Sugar Baby Mini Vibrator is guaranteed to make your intimate time alone a little spicier. Made of a body-safe soft silicone exterior, this lightweight and handy vibe features ten vibration levels, all powered by just 1 AAA battery. With a tapered head designed to hit your sweet G-spot, it's sure to provide memorable moments. It's also small and perfect for traveling, for when you need that quick fix in the hotel room, or inside your handbag for a more fun sexperience with either that special someone or a special date.
Give in to sin with the Sinfully Blessed Rabbit Vibrator. Built for both size and performance, this 7.6-inch beast boasts 30 different vibration modes for any kind of sinning mood. With a USB rechargeable battery and waterproof design, you can be ready to scratch that itch any time of the day. The design also features a rugged head, ridged so you can feel every thrust as it goes in.
The Cyara Vibrator provides you with a classy way to pleasure yourself. Showing off a flashy yet sleek design, its long body and ten vibration modes will have you coming back for more. It can be recharged via USB and is quiet enough for you to enjoy yourself without having to worry about anyone hearing you. It's also waterproof. This means you can extend your masturbation session within the confines of your shower curtains.
Turn it on and shove it anywhere. The Ladylike Love Egg was designed for both vaginal and anal pleasure. With ten vibration modes to choose from, you'll be left wanting more. It also comes with a wireless remote, so you can either control it yourself or have your partner control you. Whatever your sexual urge, the Ladylike Love Egg will be sure to tap into your deepest desires in whatever hole you see fit.
Clit suckers for the virgins out there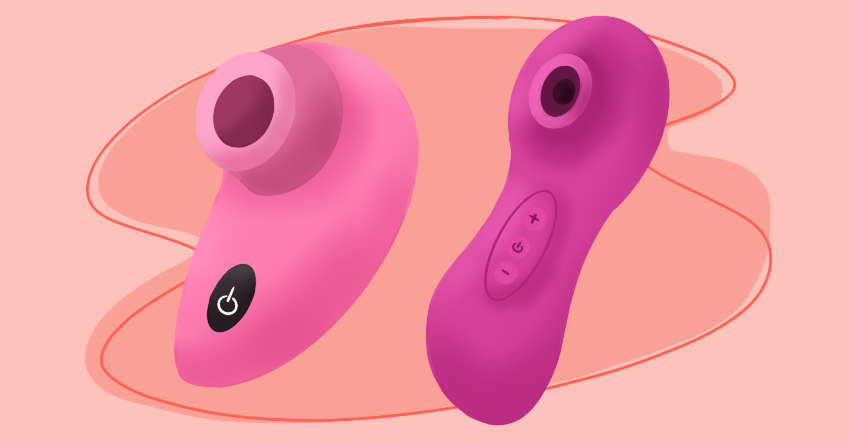 So you've never had sex before. But the adventurous soul in you wants to try out love toys. The thing is, you're scared of breaking your hymen. If that's the issue you're most scared about, then we're telling you right now to set aside your fears. Because there are actually love toys that you can use without having to insert inside your vagina – yes, definitely a sex toy for beginners. And they're just as great as your classic vibrators. These toys are commonly called clit suckers. Their job is to stimulate your clitoris till you orgasm so hard you forget your name. If you're a beginner in sex toys, you should own one of these and prepare for one of the best oral sex in your life.
Here's what we recommend:
Be ready to suck all your stress away with the Charlotte Sucker. If you have a thing for suction stimulation, the Charlotte Sucker is definitely for you. Simply place the nozzle onto your nipples or clitoris, and let the toy do its work. It even has seven suction nodes to simulate any situation, and might even suck better than a passionate night with someone else. It's so powerful but it only requires two AAA batteries to suck your juices dry. It even comes in a vibrant pink color to stimulate your eyes, aside from your sensitive areas.
Experience realistic oral sex with the Kitty Babe Clit Sucker. Designed to be used practically everywhere, even in the bathroom, this toy comes with 2 hours of battery life, as well as being quick charging via USB, so you get more pleasure time. It's also lightweight and has more than one suction mode to fully emulate the tongue of a passionate lover. The Kitty Babe Clit Sucker is also silent, so you can enjoy the feeling of pleasure without having to hear any mechanical sounds that might detract you from enjoying it.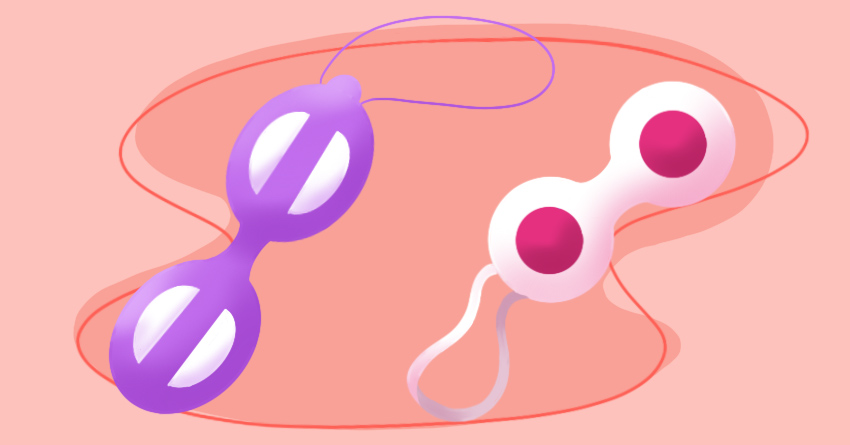 Kegel balls, or Ben Wa balls, or whatever you want to call them, have long been used to strengthen vaginal and pelvic floor muscles which may have been weakened due to aging or childbirth. But more than provide a great workout for these muscles, kegel balls are also known for enhancing sexual pleasure (thanks to 50 Shades of Grey lol). Kegel balls come in different weights and sizes, and they help you practice "contracting" and "releasing" different muscles with ease.
If you're interested in trying these bad boys but unsure of what to buy,  we have some recommendations. We understand you're only a beginner in sex toys, so don't worry. We're here to guide you.
Here's what we recommend:
Whether at home or on the go, the Oh Yes! Kegel Balls will make you scream for more. Made of a soft and smooth silicone material, these balls are designed to give maximum pleasure in a small package. As inconspicuous as it is, feel free to use it wherever you see fit. You can even leave it on while you go for a walk, as the spheres shake around inside the vagina to give you wave after wave of ecstasy. It even comes in a variety of colors, matching any outfit or mood.
If you're in the mood for something intense, the So Sensitive Ben Wa Ball is sure to provide you with the ultimate ballsy experience. Its two large balls will stretch your walls enough to provide you with intense satisfaction while being light enough to be able to handle well for beginners. You can even choose between one ball for fun, and two balls for a deeper, more pleasurable experience. As long as you're in the market for instant satisfaction, the So Sensitive Ben Wa Ball is guaranteed to curl your toes off.
Wand Massagers that get you sore and throbbing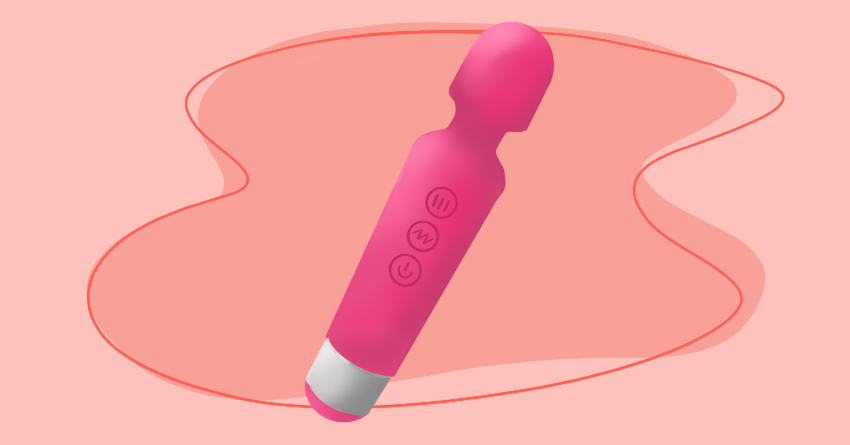 Wand massagers give your intimate parts the sensual massages you deserve after a hard day from work. They're used externally. So, just like the clit suckers, if you're concerned about your hymen breaking, wand massages are the toys for you. You can use them for solo masturbation and as part of your foreplay during couple plays. They can be battery-operated or rechargeable.
Here's what we recommend:
Unleash your inner beast with the Wild Thing Wand Massager. This lightweight and powerful vibrator was built for longer use, featuring a USB rechargeable frame and a long-lasting battery, so you spend more time pleasuring yourself than charging it. It vibrates quietly, so you can have fun whatever the circumstance. The Wild Thing Wand Massager comes in three colors, and also features a comfortable grip, so you don't lose it while you're writhing in pleasure and moaning for more.
Realistic dildos—for close to the real thing experience
For some beginners, they're more comfortable with using sex toys that closely resemble the familiar appearance of a real penis. Realistic dildos are just what you need if that's what you're into. These toys are painstakingly designed to mimic the shape and feel of a penis to make sure that the user gets the experience she wants out of the toy.
Here's what we recommend:
Stick it on and shove it in. The Big Dick Energy Dildo is built to be attached to any flat surface for you to grind or ride on to your heart's content. Coming at a whopping 6.6 inches, you'll be able to feel this dildo from tip to base with its realistic design. Its flesh-like material will make you feel like you're riding on the real deal, as well as bending to almost any angle for you to experiment with your fantasies. It's also easy to clean, so you can spend more time playing with yourself.
The Dictator Vibrating Dildo was made for realistic and hands-free fun.  At 6.5 inches from the tip to the  balls, you'll definitely feel every inch of this bad boy going in especially if you turn on its vibrating functions. You can use it as a vibrator or as a dildo. Just pack on some lube, spread it over the toy and around your vagina or anus and get ready to experience heaven! This firm and compact dildo will surely leave you huffing and puffing until you blow it all down.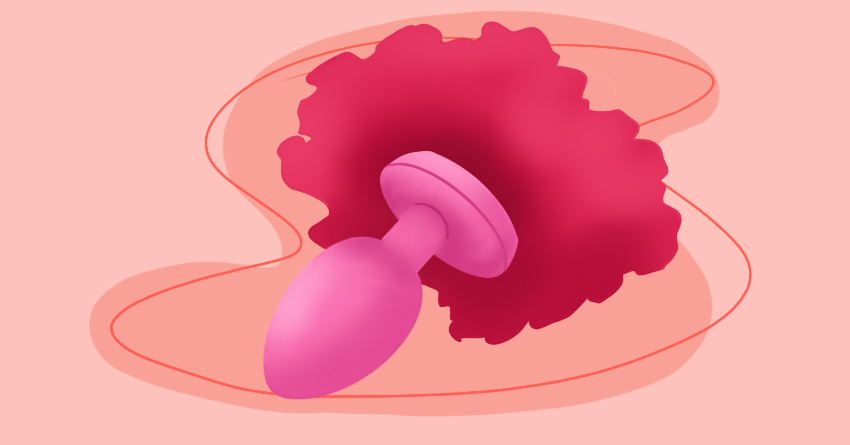 For men, the prostate is a sensitive gland that feels good when stroked, and butt plugs can help a man reach his climax by having his prostate stimulated.  These orgasms are said to be more intense than just orgasms from penile stimulation. For women, a butt plug creates more pressure on the back vaginal wall, and this pressure heightens the sensations she feels. Regardless of gender, butt plugs are a great way to start venturing some backdoor fun for beginners in sex toys like you. If you don't own one now, you should consider trying and seeing them for yourself.
Here's what we recommend:
Be the good little pet you've always wanted to be with the Bunny Tail Anal Plug. With one tender push, fill up your back door and transform into a minx in the bedroom. You can also use it to fill you up in both holes for that "holistic" feeling, or wear it to seduce your partner like the cute bunny that you are.
The bejeweled Queen of Spade Anal Plug is made to make you the queen of the bedroom. It has a crystal bottom face, so you can flash your partner with your royal hindquarters, as well as three varying sizes so everyone can join in on the fun. It also comes with a free pouch so you can bring your bling with you wherever you go.
Explore and Enjoy!
These are the sex toys we highly recommend for beginners like you. But in case there's a specific concern you want us to help you with when choosing your love toy, don't hesitate to shoot us a comment down below and we will get to you right away!