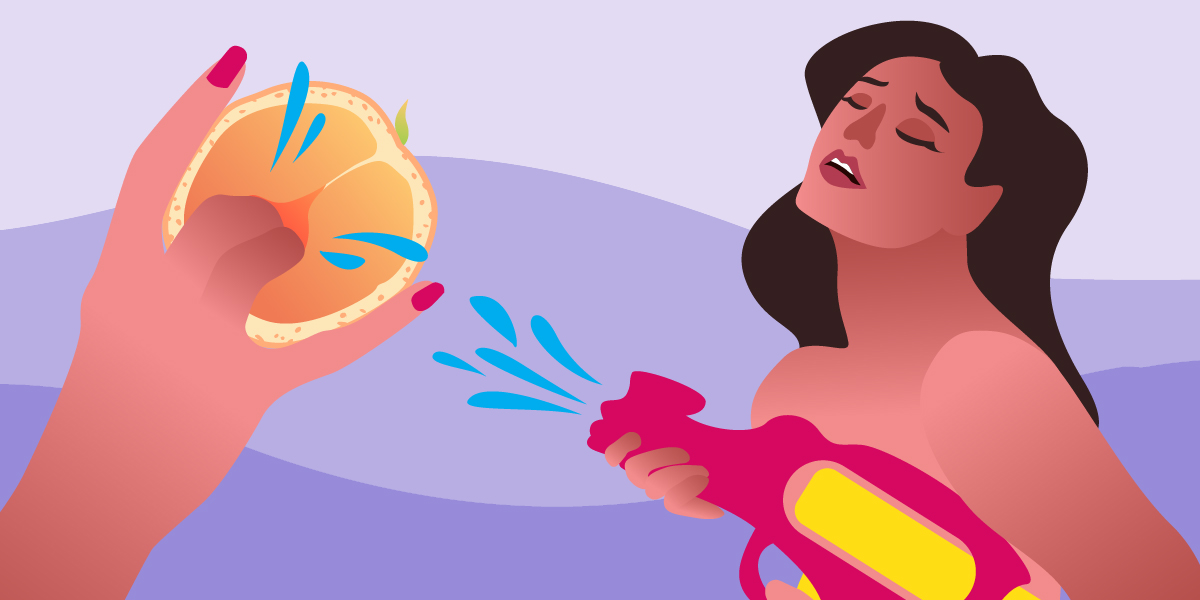 How to make yourself squirt requires a lot of patience. You don't get to 'skkrrt skkrrt' with just a few strokes (how we wish!). However, once you knew how your body works, you'll be able to replicate the steps and make yourself squirt every time.
For our lovely ladies there that want to indulge in self-love, we got you a comprehensive squirting guide. Everything you need to know how to squirt will be available here such as the female anatomy, G-spot stimulation techniques, and squirting tips. We're also going to answer your frequently asked questions about fingering and squirting, debunking and clarifying the myths surrounding it.
Learn about Female Sexual Anatomy First
Before you start trying to finger yourself down there, you must know your body first. Learning the parts of your vulva and vagina is essential so you'll be able to figure out the hot buttons you should be pushing.
External Parts (Vulva)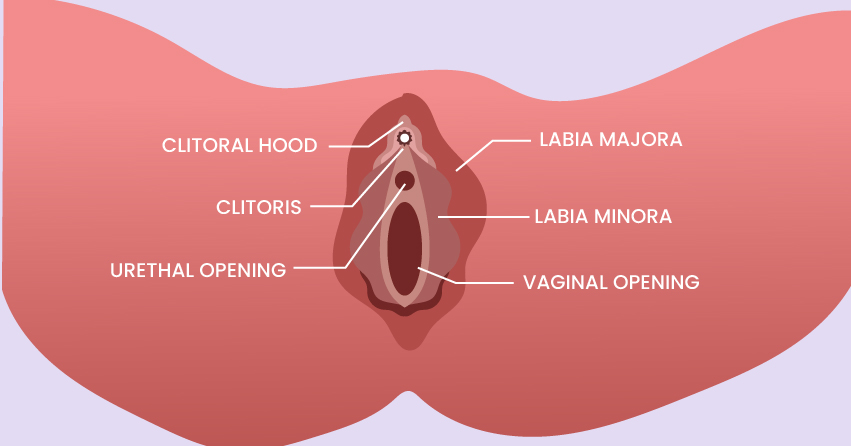 Clitoral Hood: This part is located on the top of a woman's vagina. It's a little flap of skin that protects that clitoris. Similar to a man's foreskin, it covers the clitoris from getting hurt since it's highly sensitive.
Clitoris: Just below the clitoral hood, it is a small nub that's filled with nerve endings. Due to its high sensitivity, most women get off just by clitoral stimulation alone.
Labia Majora: Translated as large lips, they're large, fleshy folds of skin that surround the other external parts of the vulva. It consists of sweat and sebaceous glands that help in producing natural lubrication for your vagina.
Labia Minora: Translated as small lips, they're about 2 inches wide and is located just inside the labia majora. Just like its large counterpart, it also protects the other external parts of the Vulva.
Urethral Opening: Located just in the middle of the clitoris and vagina, this opening is where you pee. Touching it can still bring pleasurable sensations but since you're here to learn on how to squirt, we wouldn't focus on this that much.
Vaginal Opening: Like the clitoris, this area is highly sensitive and consists of delicious spots that are essential for squirting.
Internal Parts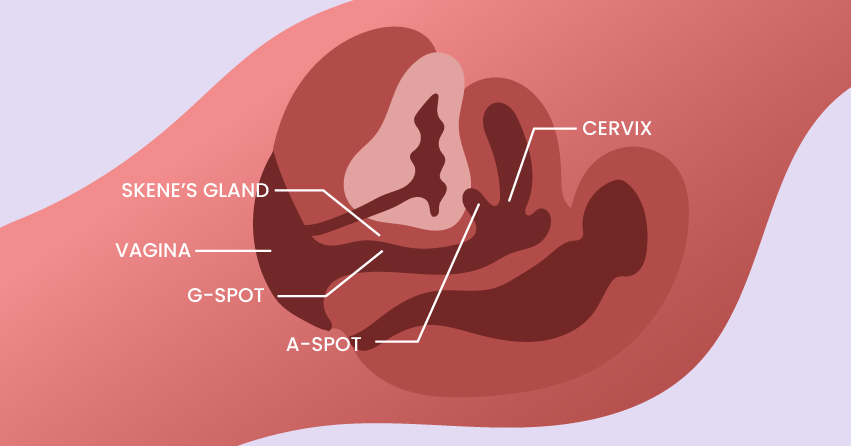 This is where the real magic happens. Once you know the internal spots that needed to be stimulated, you'll be able to "skkrrt" your way to pleasure.
Vagina: It's a tight and hollow tube that connects your vulva with your cervix and uterus. It might be tight at first but this tube is very stretchy and expands when you feel aroused.
Cervix: As seen in the diagram above, this is located deep in the vagina. It's very sensitive and may cause some pain when stimulated. On the other hand, other women find stimulating the cervix highly pleasurable.
A-Spot: If you want to reach the heavens above without a hitch, you might wanna stimulate the A-spot. As you can see in the diagram above, it's located on the anterior wall by the cervix. Because of its location, it can be pretty hard to reach with your fingers. Investing in sex toys such as or long vibrators or dildos may help you reach this spot. Also, we're teaching you how to squirt so this isn't the spot that we're going to focus on.
G-Spot: When learning how to squirt, this spot is the most important area to focus on. It's located on the upper wall of your vagina, about 2-3 inches from the vaginal opening. When you're aroused, it swells a bit, making it soft, spongy and ribbed. For easier access, engage in setting the mood first before trying to locate this delicate spot.
Skene's Gland: Also known as the female prostate, the Skene's Gland is considered the core of female ejaculation. This is where the squirting fluid cums from. If you can successfully stimulate this gland, you might successfully squirt. The only catch is you won't be able to stimulate the Skene's Gland directly. You can only indirectly stimulate through G-spot since the gland is located above it. That's why learning to locate and rub your G-spot is a must for squirting.
How To Squirt: Step-By-Step Guide
Now that you've learned the basics of female sexual anatomy, it's time to do some squirting, sis! Here are the things you should do to make yourself squirt.
Step 1: Set the mood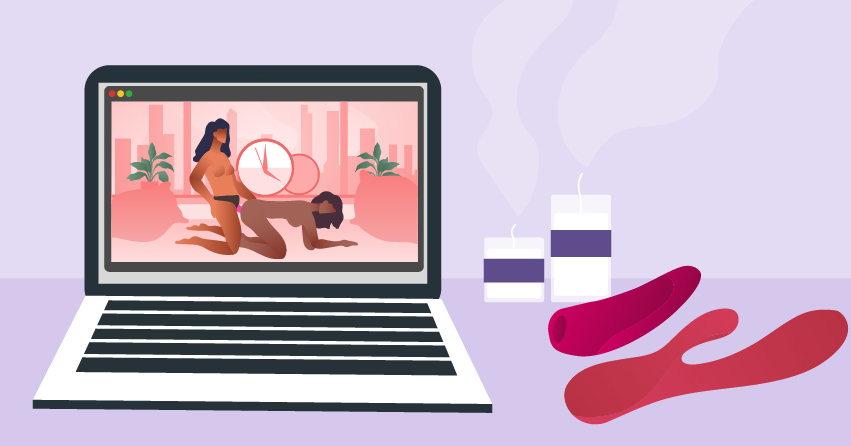 Most of you are probably asking yourselves "How to make myself squirt?" and looking up articles on the best techniques but here's the thing: If you're not fully aroused, you might not be able to squirt.
That's why you've got to set the mood first. How to squirt isn't just about learning how to stimulate certain parts, your body has to fully engage with it too. If you're aroused, certain spots and parts that will make you squirt will swell, giving you easier access.
How do you get yourself fully aroused?
Get comfortable with yourself and your surroundings.
Wear something sexy.
Read some erotic stories or audiobooks.
Watch some porn.
Massage your body, particularly your erogenous zones.
Engage with someone for phone sex.
Play with a vibrator or dildo or a clit sucker!
Step 2: Go for the hook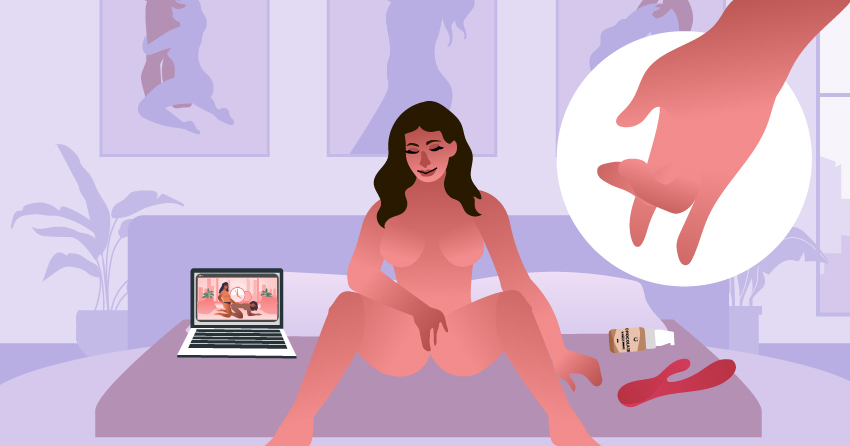 Now that you're fully turned on, go for the hook position. To do this, lie down on your back and slide your hand down to your vagina. Your palm must be facing your pussy when doing this.
Once you're positioned, insert your middle and ring finger inside your vagina. Your index ad pinky finger should just stay out, pointing down towards the bed. (See the illustration above for reference!)
Now, start looking for the G-spot. Lightly feel around your anterior walls. Are you feeling the ribbed texture? Great. Now, start massaging it.
If you're wondering what kind of rubbing should you be doing with this hoely spot, below are some G-spot stimulation techniques that you can do to make yourself squirt.
Step 3: Do these G-spot stimulation techniques
For starters, you may wanna do some light rubs on it, but if you wanna hit the home run, here are some specific techniques that you can do when massaging your G-spot.
1

Push The Button Technique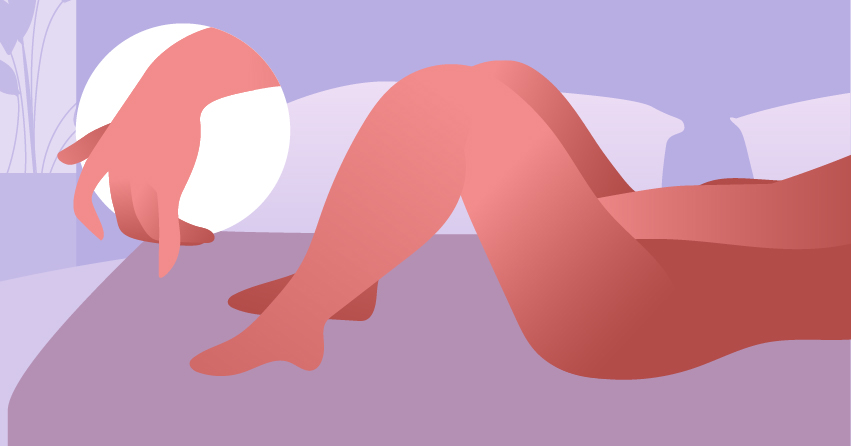 As the name implies, you can press the G-spot as you would press a button. For the pressure, you may be gentle or intense, experiment with the pressure that works best for you.
2

Cum Here Technique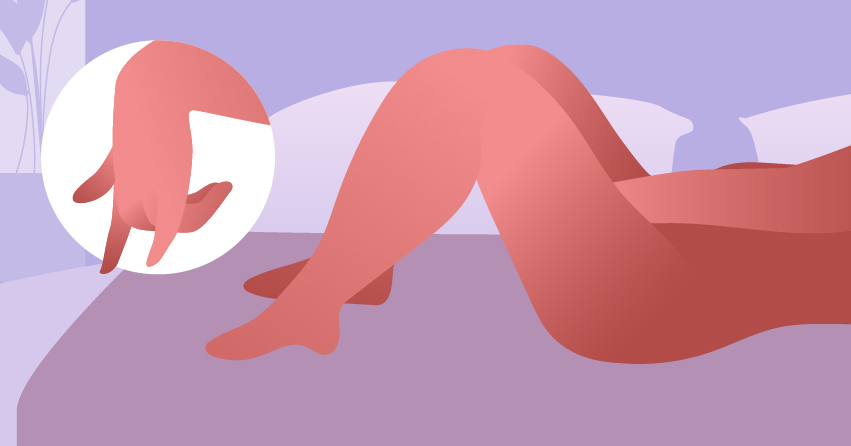 For this technique, you will make a "come hither" or "beckoning" motion when stimulating your G-spot (see illustration above for reference). This is one of the most effective ways to make yourself squirt since it provides a lot of stimulation compared to the "push the button" technique.
3

Arm Shaker Technique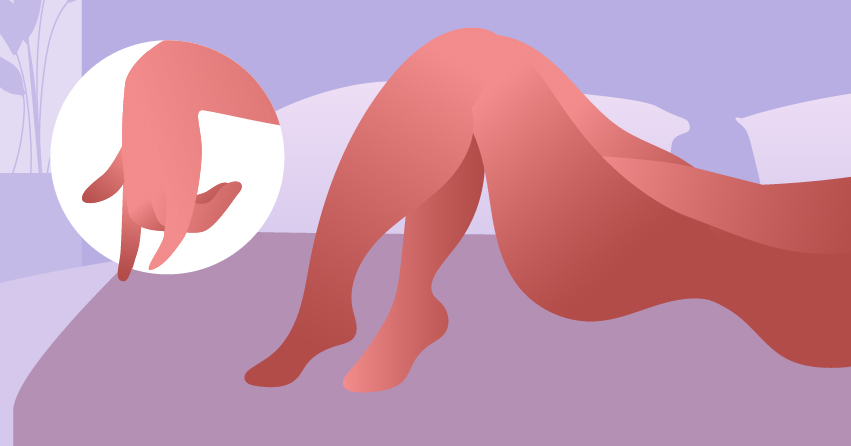 Wanna go all-in? You can combine the "Push the Button" and "Cum Here" techniques with the Arm Shaker. Instead of just using your fingers and hand, you're going to use your entire arm.
Now before you start worrying about inserting your whole arm, this technique doesn't work that way. (Is that even possible sis?)
To do this, you need to keep your fingers firmly in place, with your fingertips against your G-spot (see the photo above for reference). After that, keep your arm stiff while trying to slowly raise and lower it. By doing this, you're using your entire arm to provide pressure. You'll most likely to squirt by doing this challenging technique since it brings massive amounts of pressure to your G-spot.
Step 3.2: Get yourself some sex toys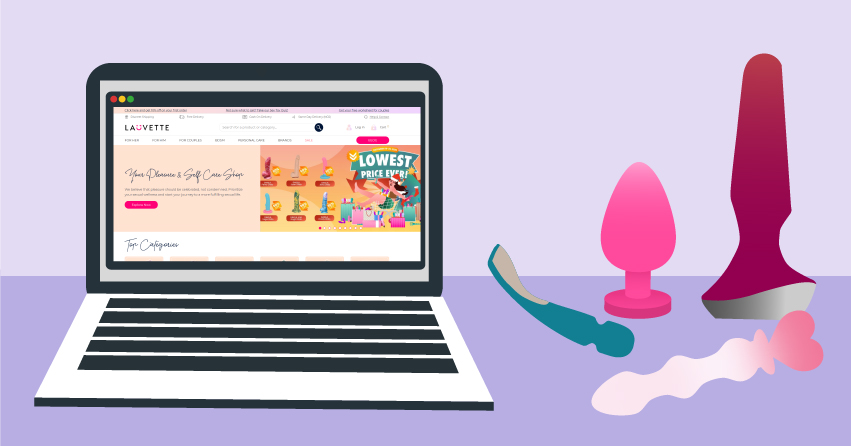 So much pressing, stroking, flicking–doing those fingering techniques above can be tiresome. Now if you want to make things a lot easier, you can use sex toys instead.
Invest in dildos , clit suckers and vibrators that are long enough to reach your G-spot. You can also go for something specific and use vibrators mainly for G-spot stimulation. 
Step 4: Follow these squirting tips
Now that you've learned about the squirting techniques, you're now ready to get wet and wild. But first, remember these squirting tips.
Clean your bed before and after: Make sure your space is clean. Once you're done, change your wet sheets. Now, if you don't want to change your sheets, lay some towels on the bed before starting. Also, for easier cleanup, invest in waterproof mattresses and sheets!
Gulp some H20: Want tons of juices flowing? Drink water regularly. If you're hydrated enough, you can squirt more fluids.
Make sure your hands and nails are clean and sanitized: Avoid getting bacterial infections, sis. Also, cut and file your nails!
Clear your mind: If you're thinking about your laundry, your business meeting, or the next season of 'Sex Education' while trying to squirt, you're most likely to fail on it. Scrap all the distractions and focus on your body.
Take your sweet time: This is not a race, sis. Go for longer foreplay if needed.
Don't be too hard on yourself: If things didn't pan out and you weren't able to squirt, don't take it too seriously. There's nothing wrong with you. Someday, you'll get there. Just be patient and continue practicing.
Frequently Asked Questions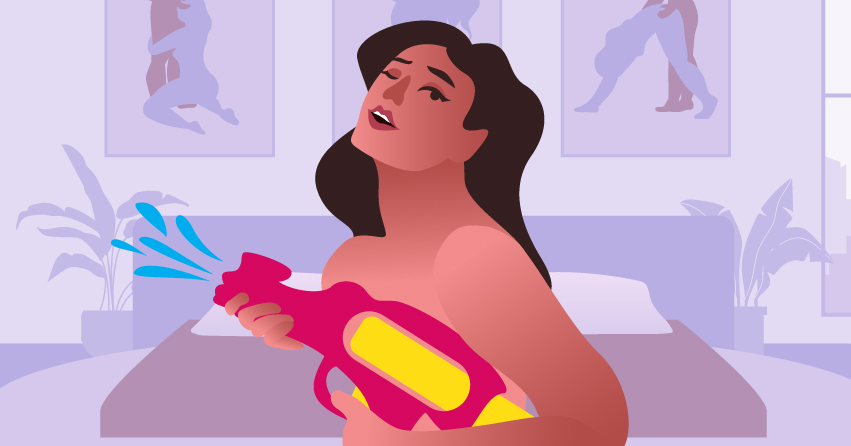 1

When I try to make myself squirt, I feel like peeing? Why?

If you feel like peeing when doing the fingering techniques above, you're actually doing it right.

The peeing feeling happens because you're applying pressure to an area near your bladder. Also, you're releasing your squirt from the same opening that lets you pee, thus the familiar feeling.
2

I never had an orgasm and wanted to squirt, what should I do?

Maybe you should reach the heavenly gates first, sis. Once you've experienced an orgasm, it will be a lot easier for you to squirt. If you don't know how an orgasm feels, you might get confused and mistook it as squirting.
3

Is the squirting liquid the same with urine?

Due to its clear and watery look, most people think that the squirted liquid is pee. That's not actually the case.

The liquid that comes out during squirting is from your Skene's Gland. It's a prostatic fluid that includes water, glucose, fructose, creatine, prostatic acid, and a tiny amount of urea.
4

Can I squirt more than once?

Yes, sis! You can do this as long as your vaginal muscles are strong enough (use kegel balls to strengthen it up). The level of hydration in your body matters too– drink water regularly!
5

Liquid gushed out– is that squirting?

Don't let porn fool you. You don't need your juices to fly across the room when squirting. Every woman squirts differently. Some are capable of shooting a steady stream in the air while some just let their juices ooze out of their vaginas.
6

I squirted but didn't orgasm. Is that okay?

Yes, boo. Squirting and orgasm are two different things. If you're lucky enough, you can experience these two at the same time. But if you weren't able to cum while squirting, that's fine too.
7

I've been doing everything, but I can't squirt! What should I do?

First, don't stress too much. It takes some time to learn your body and ace up the techniques. Take more time to masturbate and practice the techniques we've mentioned in this guide. Also, there's nothing wrong with not being able to squirt. You can still enjoy your sexcapades without squirting.
Time to get wet and wild
As for this guide's takeaway, squirting is one way of indulging in self-love. You don't have to be with someone just to fully enjoy sexual activities like squirting. Actually, it helps that you do it alone since you're more knowledgeable with your body than anyone else.
Just be patient with yourself. As we've said earlier, making yourself squirt isn't a race. It requires some time to pick up the fingering techniques your body enjoys most. So let go of all inhibitions, snuggle up in your bed, and start practicing the tips and tricks on this 'how to squirt' guide.