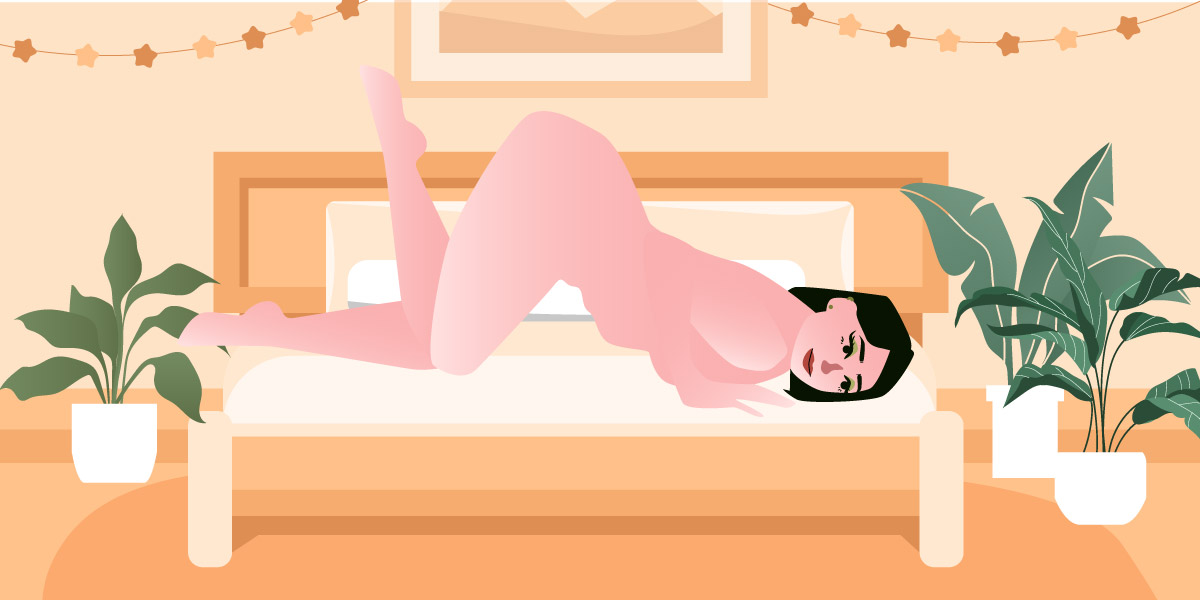 If you believe your flexibility is majestic enough, why not utilize it in the bedroom? Afterall, this list of sex positions for flexible women allows you to challenge your skills and see just how far your legs can stretch to reach those wild o's.
Oh, and tips. We prepared a few of them before you contort, twist, split, or what-not during your private time with your partner.
Sex Positions for Flexible Women
Time to level up your sex game with your partner by challenging your flexibility, gaining ultimate pleasure unlike anything before. Not only will you catch a glimpse of your partner in a different light, but you will hit novel spots that you'll never get enough of. So get your stretch on, modify if you need to, and enjoy these various wild positions.
1

Wheelbarrow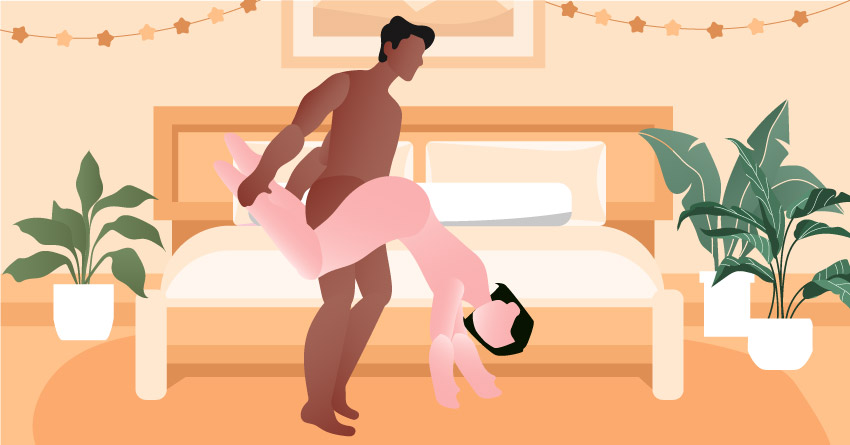 A classic, but an absolute goodie to test your flexibility. Definitely, core work holds a strong key in maintaining this position!
How To Do This
Get on all fours, then your partner walks up from behind. They should lift your lower torso with your shins or ankles. Located on the sides of their body, this should grant them easier access to your entrance. Your partner can bend their legs too, if necessary. Also, make sure to put your hair up, so they don't stick to your skin while you're having intercourse, but then again, do you!
2

Tilting Tower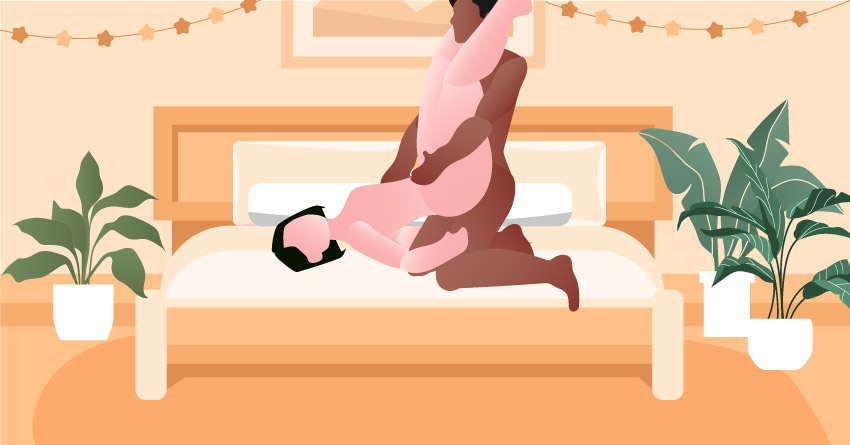 Miss traveling the world, especially Europe? Well, looks like you can travel there momentarily with this banging position. Hope your glutes and guts are ready for this one!
How To Do This
On a flat surface preferably, begin with the Missionary position but with your arms holding you up. Await your partner to slide inside you, then lift your hips in a bridge. Get extra support by letting his hands hold your buttocks. Once you feel stable, extend one leg at a time to his shoulders or whatever height your legs can handle. Perhaps push him closer to you with your ankles if your height difference is manageable because we know damn well how sore this will be! Then for extra stimulation, skirt your hand to your clitoris and rub as you please.
3

Table For Two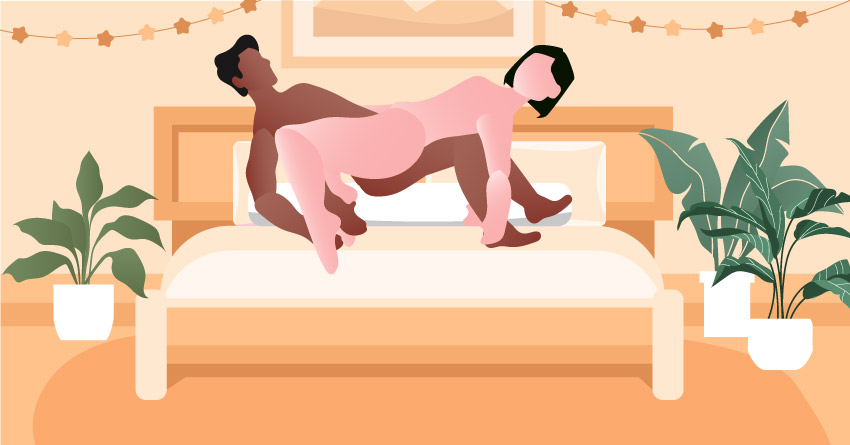 Although sex can be a solo dish, there's more spice when served on a platter. Perhaps, sharing isn't bad either. So opt to invite another person to the table and venture through your sexual desires with this yummy sex position for flexible women.
How To Do This
Envision yourself and your partner crab-walking. Facing each other, plant both your hands and feet planted on the ground. Keep your chests and stomaches facing upward to the sky, and lean back occasionally to avoid cramps. When you're settled, descend on your partner. Make sure to communicate before raising your hips and begin penetration to figure out your pace and rhythm with each other.
4

What in the Bridge?!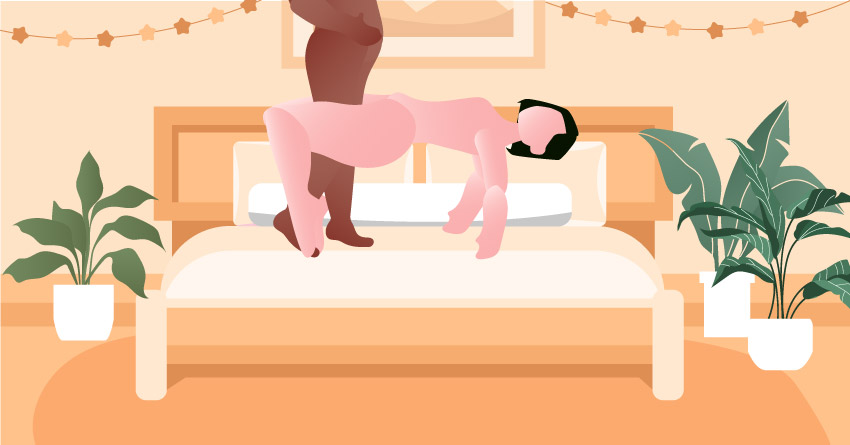 You'll want to prepare your arch for this curling position. Not only will your back be tested, but your arm strength gotta be up to par. Yet, they won't matter once you're too distracted from being penetrated by your partner.
How To Do This
Straddle your partner. Once settled, slowly bend back until your hands meet the floor. Push yourself up to straighten your arms, then part your legs further to give your partner leeway to enter you. Start slowly, then keep building the intensity. Also, don't hesitate to communicate with your partner if your arms cramp up between movements.
5

Blade Through Me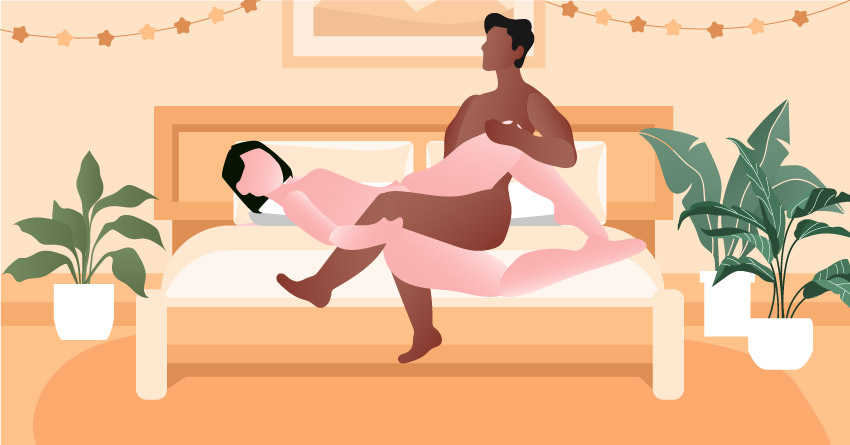 Now don't be deceived by how it looks. In fact, this is one of the easiest sex positions for flexible women! Hear us out on how to demonstrate it before cutting us off.
How To Do This
Lay on your side with your arm holding you up. Keep your pelvis open to let your partner glide inside. Let them lift your outer leg and hook it on their side for easier access. Their own legs should be situated on either side of you before penetration.
6

Arching Bush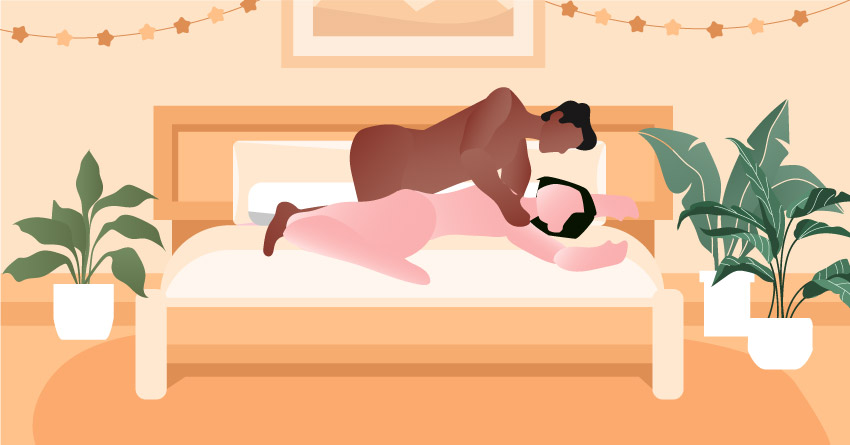 Who needs to have public sex when you can recreate a piece of nature at your home? This elastic position may channel your inner Elastigirl, aka the peak icon for flexible women.
How To Do This
Bend your knees until your butt is settled on your heels. Then melt down to the bed (or whatever flat surface you're on). Your partner shall hover on you on all fours and act as they please with you, whether they play with your breasts, grip your waist, or whatever comes to mind. Perhaps even get a perfect aim on your g-spot, plus a VIP view of your clitoris they can flick however they want.
7

Stuntman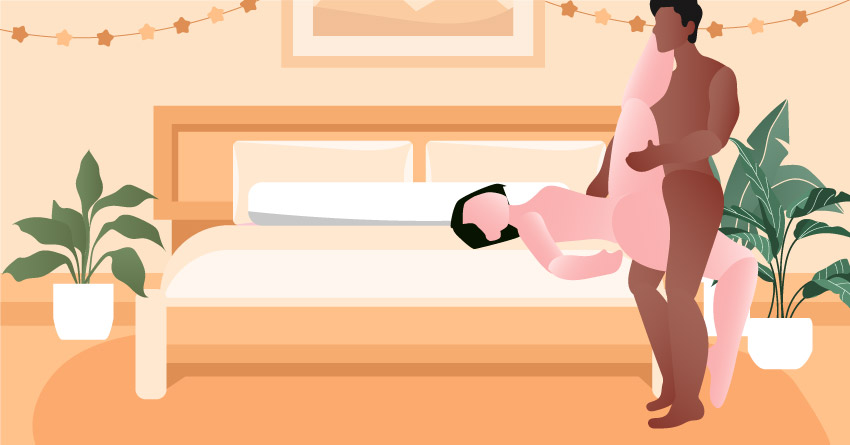 A wild take on the classic missionary position, but this makes a great starting sex position for flexible women who want to incorporate their strengths more.
How To Do This
Lie on your back, almost in a bridge position. Place your hands on your sides, and spread them apart. Keep one leg bent on its tiptoes, so it doesn't cramp up. Await your partner to get in between you as they lift your free leg up to their shoulder. Their hand placement can be along your thighs, knees, or buttocks as they thrust into you.
8

Hourglass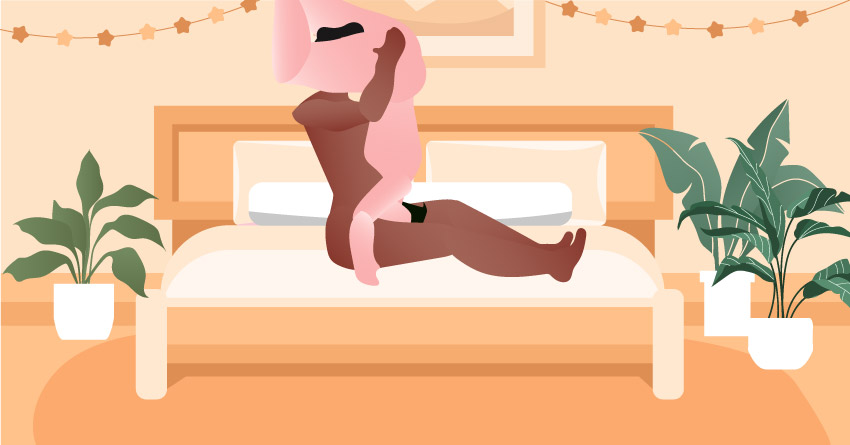 Time to get your oral fix with some 69 action, but with a twist. Imitating sex positions for flexible women is a gateway to exploring how far your body strength can go, and this position will put you on a time limit. How long can you last? The only way to know is to try and find out for yourself.
How To Do This
Your partner should be seated while you prepare to put yourself into a handstand position first. With your body fully facing them, they view all your private parts clearly and vice versa. Your partner may grasp the meat of your thighs so you can stay in position longer as they eat you out while you give them a one-of-a-kind blowjob.
9

Go Barbie Go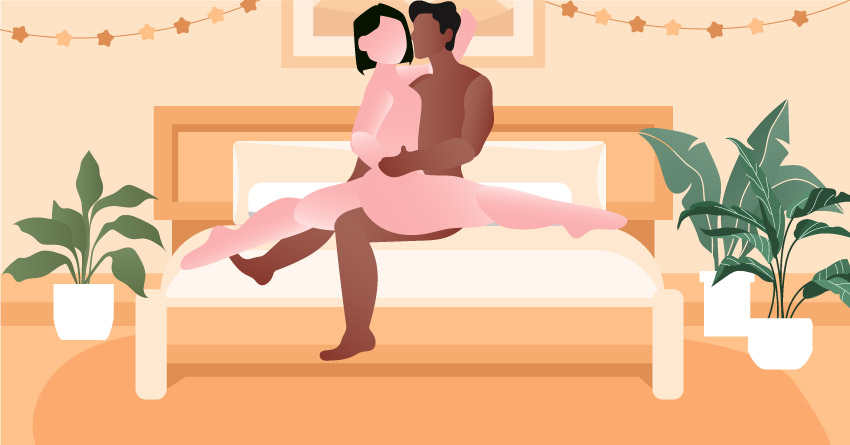 Ever tried stretching your Barbie doll's legs until they can do a split? Well, looks like you can recreate that scene with this position. A rather splendid shift on the Cowgirl position, but our resident flexible women shall not falter! Accomplishing a split is a joy in itself, so why not take it to the bedroom?
How To Do This
Your partner has sat on the edge or further in the bed with their legs apart. Carefully dig your heels to the surface and extend your legs; maybe hold on to your partner's shoulders or the surface below you to get into a split better. Remember that you're sliding down to them as you do this.
This can also be done in reverse cowgirl, but unless you crave deep intimacy with your partner, lower yourself to them facing front. Lock eyes deeply like their thrusts underneath you, or however pace you go on them since you're on top. Clutch on their shoulders, too, if you're shaking from penetration and staying in a split for too long.
10

Splitting Doggie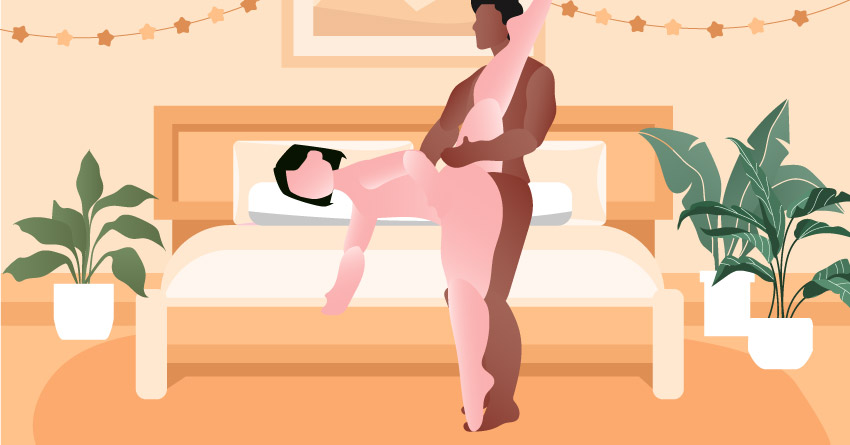 Back to back with the splits! Taking it doggie is pleasurable alone but adding a split gives more momentum and spice. Plus, it'll marvel your partner into complimenting how much of a sex icon you are. Well, you should already be one in their eyes, but the tension heightened this time.
How To Do This
Against the wall, get into doggie position. Let yourselves ease into this initial position, then communicate with your partner when you'll lower yourself down. That's so they won't be shocked if they suddenly see a flying leg they're meant to catch and hold. Depending on their height, keep your foot on their shoulder or chest as they continue to thrust into you.
11

Devilish Arabesque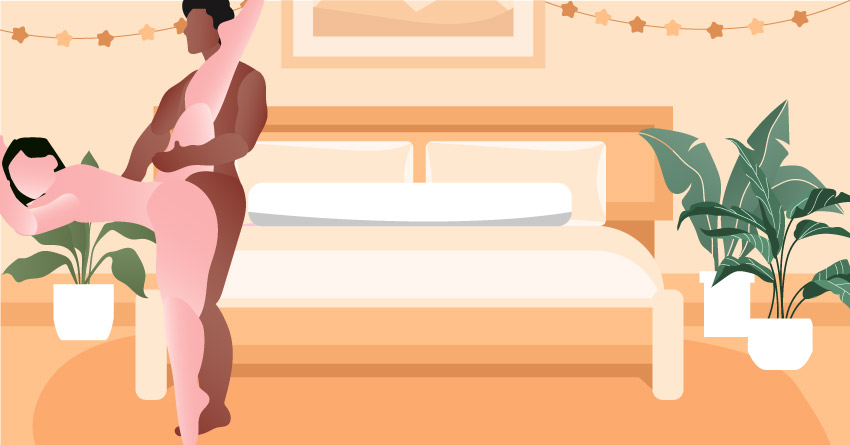 Ballerinas, active or retired, are going to love this position! Here's your time to shine and showcase the best private show for your partner without any judgment from the industry.
How To Do This
Cage yourself against the wall on your stomach. Either lift your leg at your strength or with your partner's help and lower your upper torso. Keep your back arched too, bracing yourself on the wall. Don't forget to point your toe (hopefully not because old habits die hard), and allow your partner's hands to explore your waist and inner thighs. If you want more challenge, go up on your tiptoes as if an audience is really watching you dance a dangerous pas-de-deux with your partner.
12

Butterfly Spread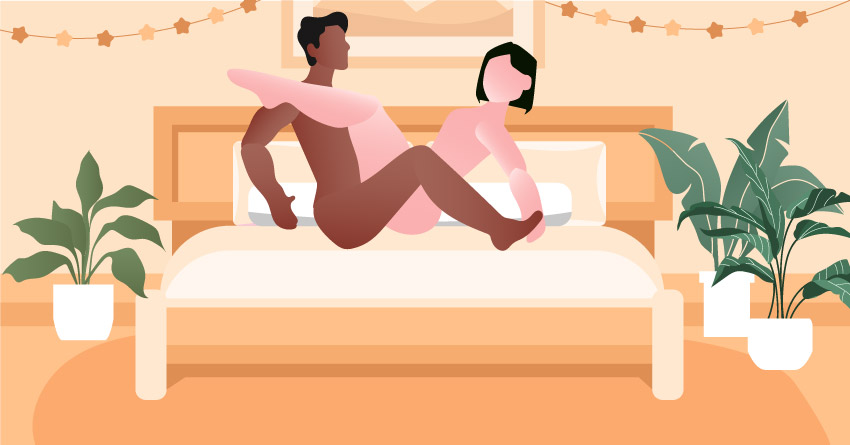 There's nothing more arousing than being fully exposed to your partner for both your pleasure. Spread out to show what you got, let your wings go free to fly, and get laid in this rather tight position!
How To Do This
Ask your partner to prop their arms behind them as they nestle their bottom to the bed or any surface. They should be leaning back too. Gently lower yourself on their lap, prop your arms behind and lean back so you can feel their length even more. Then when you're adjusted, lift one leg at a time on their shoulders. Mind you that this position is quite constricting yet a workout for your lower torso. So take what your partner can give you and enjoy riding them!
13

Rainbow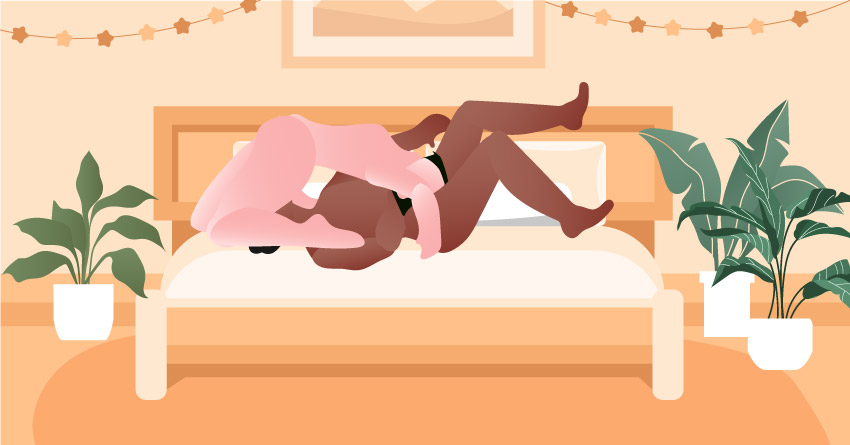 Unleash your contortionist side with this insane position for flexible women. They say there are always good things awaiting at the end of each rainbow, aka those toe-curling o's.
How To Do This
You and your partner are seated with propped, bent knees but in opposite directions. Give some space to your partner so they can lie down first. After that, contort yourself backward to form a u-shape. Grip onto your partner's thighs for leverage. Alas, face-to-face with each other's private parts. Now, getting lapping, licking, sucking, etc.!
14

Pinwheel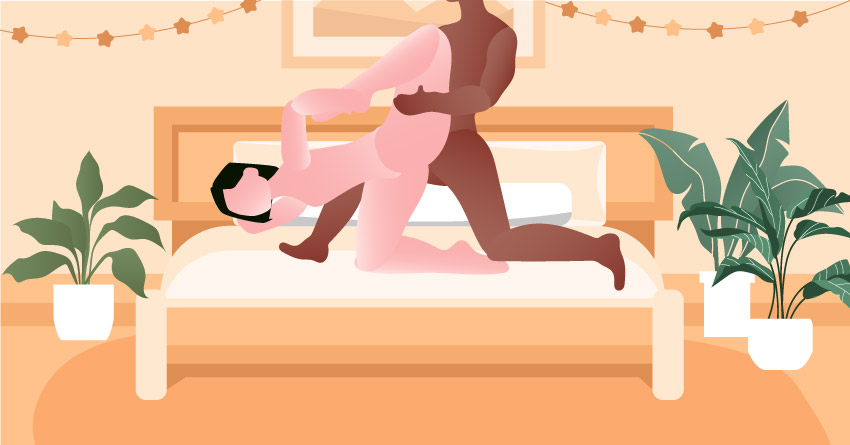 Get your limbs on a roll with this picture-perfect position that'll even get your partner stretching beyond their limits. You may not see each other enjoy it, but the sounds you'll emit will tell another story.
How To Do This
Either on the couch or bed, situate yourselves on your side. Plant one hand on the head/armrest while the other is on the cushion. Keep your legs bent momentarily, one on its side and the other hiked in the air. Your partner stays behind you with open legs, his legs near your face and your resting leg. Ladies, don't hesitate to hold your thigh midway or arch your back. Don't hesitate to mess your hair up. As for your partner, they can caress your thighs or even clutch your ankles to hit various angles inside you.
15

Spread Eagle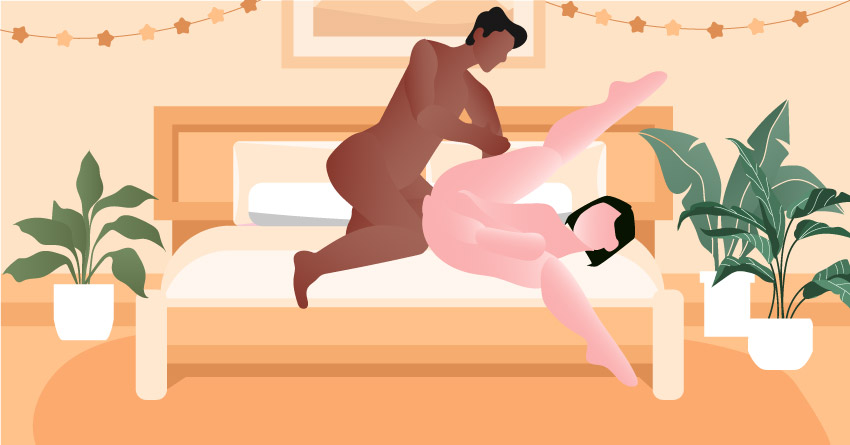 Now, don't be quick to judge how weird it may look. This avid position is not only suitable for flexible women but also perfect for hitting your front and back door. A win-win if you take it from us!
How To Do This
Your partner is in a squatting position, leaning forward a bit. You're on the floor, reaching for your partner's legs. Lifting your lower half, your hips must be aligned with your partner's. From there, open your legs wide. Your partner should then grab your thighs from more stretch, putting them in charge of how and where they'll thrust.
Tips Before Trying These Positions
Before delving into new sex positions, we have a couple of pointers you may want to keep in mind. Especially when your strength is tested, here's what we have to suggest before engaging in sex positions for flexible women.
1

Stretch beforehand.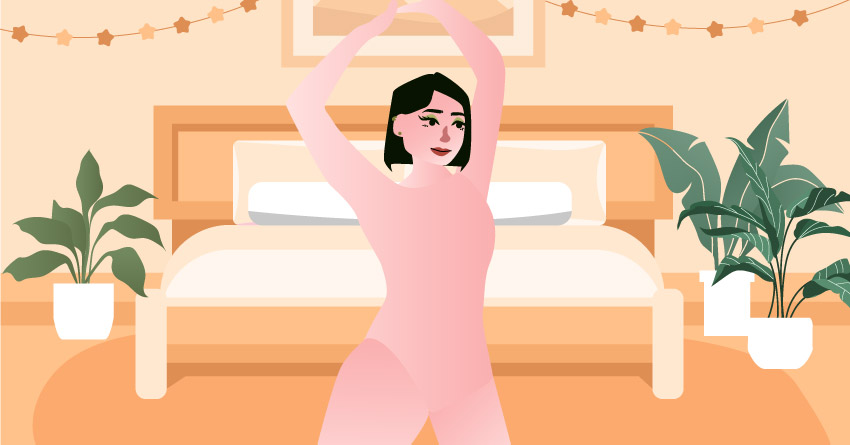 Flexibility is earned, not innate. Even if you have any dance or acrobatic background that shapes your body to be more flexible, nothing good comes from skipping your warmup. As sex can be strenuous, getting cramps or injuries aren't out of the equation. That said, stretch your body as diligently as possible before engaging in intercourse. That way, you can be more mobile and even unlock a new level of flexibility.
2

Hydrate!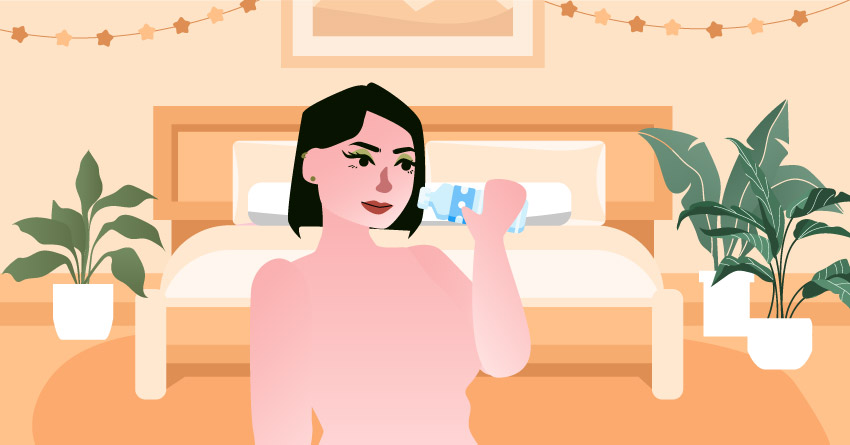 How can you rush into sex without any energy? We gain a lot of our energy from water, so fuel up before and during the act. No one wants to be dehydrated when trying new positions like a fish out of water.
3

Pick a suitable location.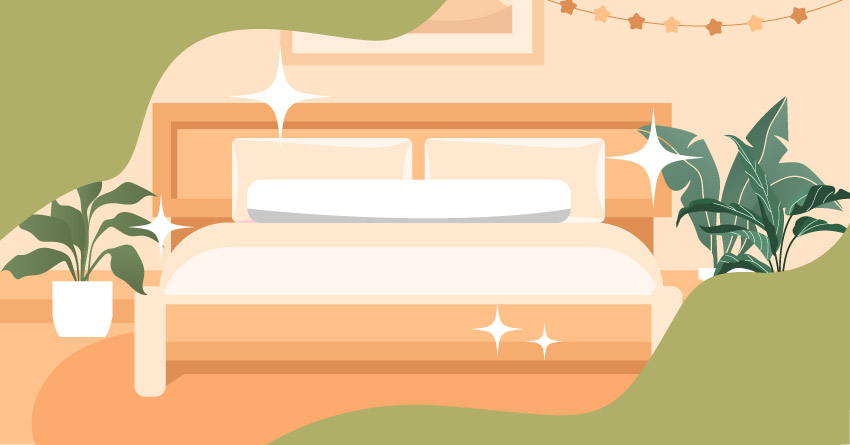 Having sex with flexible women requires a location with a lot of space. That way, no fragile items can be destroyed while getting down, and there's room to explore both your and your partner's curiosity. Some popular locations we pitch for your consideration are the bed (obviously), any wall in your home, the couch, and the floor.
4

Listen to your body.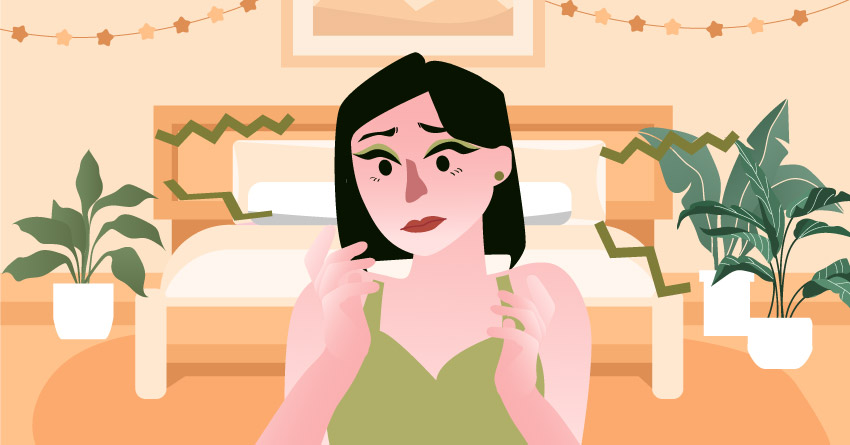 Flexibility has different ranges depending on the day and the overall build of your body. Although we didn't rank the difficulty level of each position, observe the details of each illustration per sex position. Then connect with yourself on how you feel and how far you want to go when horninesss comes knocking on your door.
5

Consider adding toys.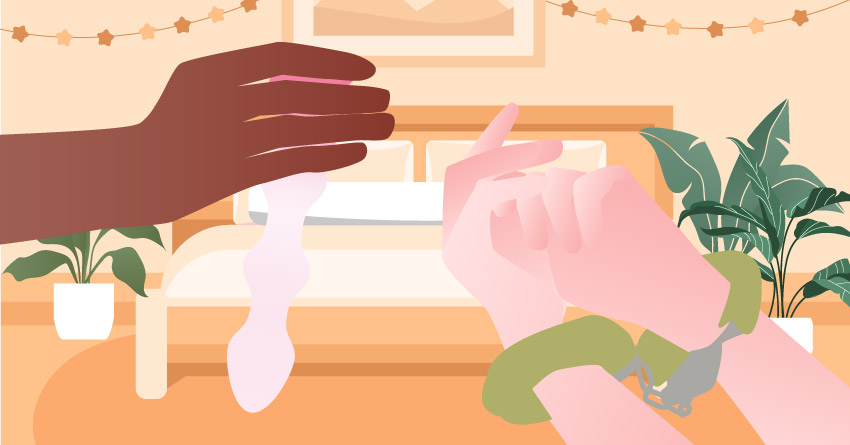 Doing rather challenging positions is fun already, but level up the sex even more by including your favorite sex toys. Add a vibrator in between your legs by your partner while doing Splitting Doggie, get handcuffed while trying the Devilish Arabesque, rope your ankles in the Motorcycle position, the world is your oyster to explore. Our suggestions alongside our curated sex positons for flexible women are just the beginning of it.
Takeaway
Trying sex positions for flexible women may be a challenge, but there's satisfaction when you accomplish at least one of them. No pressure to get them all right at once because that's the beauty of sex: you experiment and venture positions as freely as you want. Yet again, if you gained flexibility over a period of time from physical hobbies, why not bring them to the bedroom? Don't just surprise your partner, but give yourself a shock when new sensations and orgasms are achieved all thanks to your flexibility.