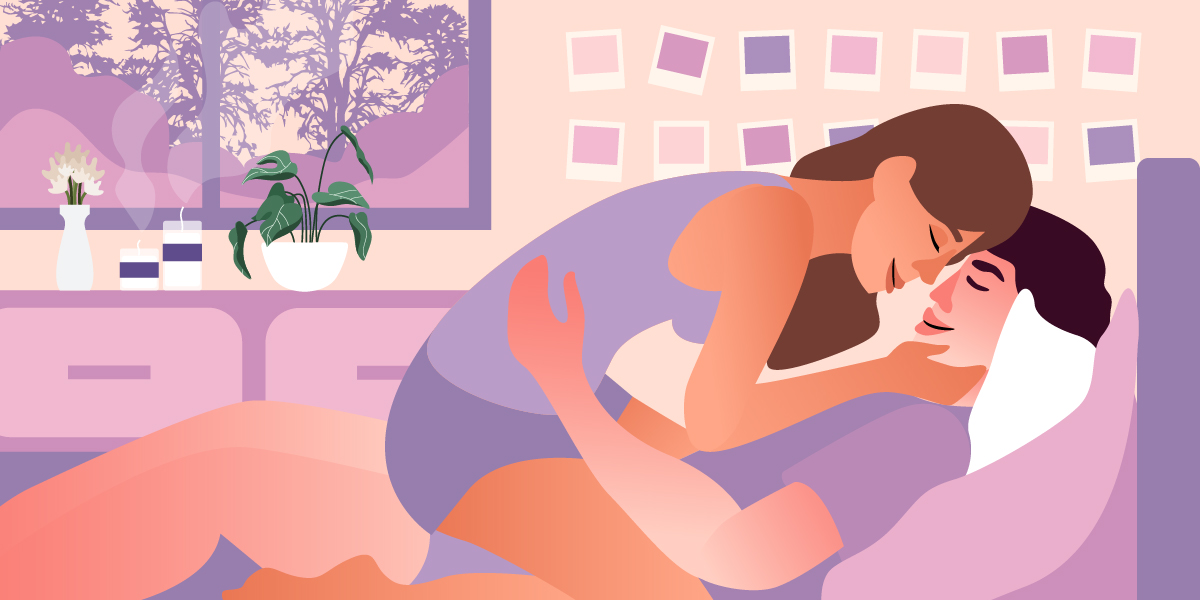 Dry humping is often perceived as a "juvenile" sexual act, something that people only do when they're not ready to have penetrative sex yet. Once the couple has "upgraded" to vaginal or anal sex, they would stop dry humping since they can engage in "real sex" now.
This kind of thinking isn't helpful nor healthy. There's no such thing as "real sex," as everyone has their own definition of what sex is. Thinking that penetrative sex, particularly penis-in-vagina intercourse, only discriminates against couples who are outside of the heterosexual setup.
Besides, dry humping can be incredibly pleasurable for everyone. So instead of dumping this activity, why don't you try to incorporate this into your sexual routine? You might not expect it, but this bumpin' and grindin' could do wonders for your sex life. We will discuss everything you need to know about dry humping in this guide. Let's get started!
What is Dry Humping?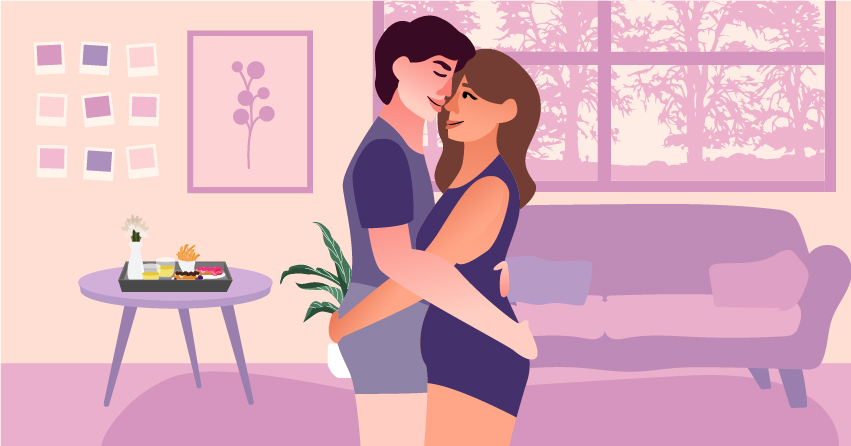 Dry humping is a sexual practice wherein a person rubs their genitals on their partner or an object for sexual stimulation. Also known as smashing and grinding, this activity doesn't involve penetration. It comes in three forms:
Dry Humping – This is the standard form wherein a person nakedly humps an object or their partner. This is the term usually used for heterosexual couples.
Tribbing – It's a sexual practice wherein a female person would rub her vulva on their female partner. This is the term used for lesbian couples.
Frotting – This kind of dry humping involves two men rubbing their penises to achieve sexual gratification. This is the term used for gay couples.
Clothed Humping – This involves a person rubbing their genitals on a person or object with their clothes on.
Benefits of Dry Humping
If you haven't tried dry humping before and think that you're already "too mature" for it, it's time to dump that idea. Don't miss out and give this activity a try! Below are some of the reasons why you shouldn't dump the hump.
1

It's safer than vaginal or anal sex.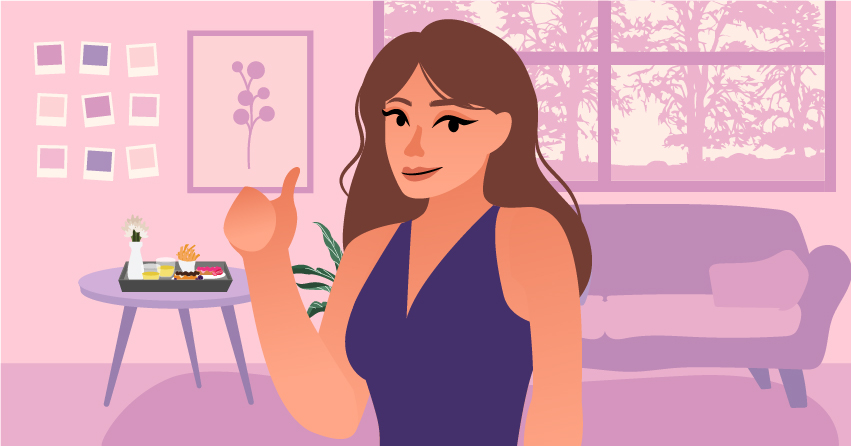 If you want a sexual practice that guarantees extremely low chances of pregnancy, then you'll enjoy the love rub. Dry humping with clothes on will 100% prevents you from getting pregnant.
If you're dry humping while naked, there's a rare chance of pregnancy; if cum drips into the vaginal opening, the sperm will get the chance to swim inside the vagina and fertilize an egg. However, the chances are slim. If you want to ensure that pregnancy wouldn't happen, we recommend doing clothed humping or using condoms or dental dams.
As for sexually transmitted infections (STIs), there's an incredibly low risk for transmission of HIV (human immunodeficiency virus) through dry humping. There are also minimal chances of getting gonorrhea and chlamydia as it requires the exchange of bodily fluids in the genital area, which occurs during vaginal or anal penetration.
But since there's a skin-to-skin contact in naked dry humping, you may still end up with STIs such as Herpes, Syphilis, HPV (human papillomavirus), Molluscum Contagiosum, Trichomoniasis, and Pubic Lice.
This is why it's essential to still ask your partner about their status before engaging in any sexual act, even if the activity doesn't involve penetration.
2

It's pleasurable AF.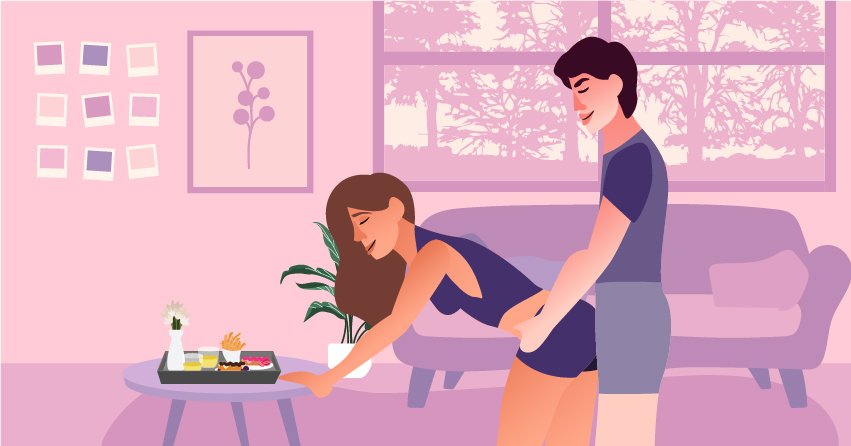 One of the common misconceptions about dry humping is that it can't make you orgasm or that it's only a foreplay activity. However, when done correctly, it can bring a pleasurable sensation that you might not even get in penetrative sex. How so? The female pleasure center (clitoris) and the male pleasure center (head of the penis) are effectively stimulated during a humping sesh.
3

It adds variation to your sensual routine.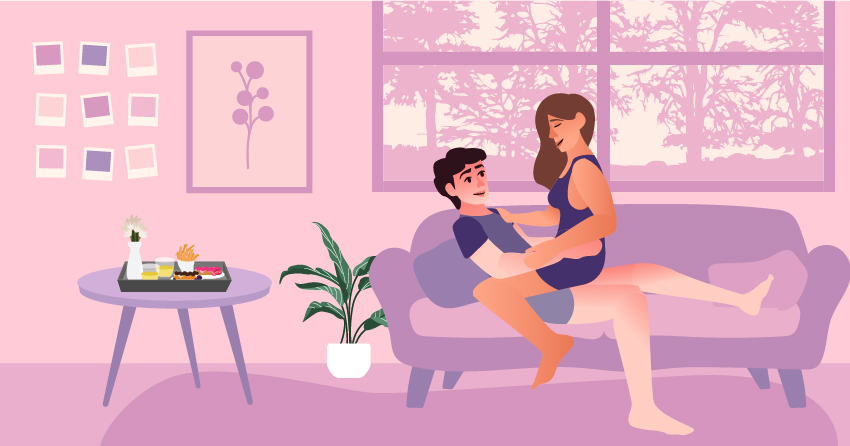 Another great thing about dry humping is that it spices up your sexual plays. Instead of going for the typical kissing-oral-penetration routine, you can include dry humping at the start or end of your sexcapades. Dry humping is also great for small spaces, as you can just sit on their lap and start grinding, unlike vaginal or anal sex, which requires more space and adjustments.
4

It's great for people who don't like penetrative sex.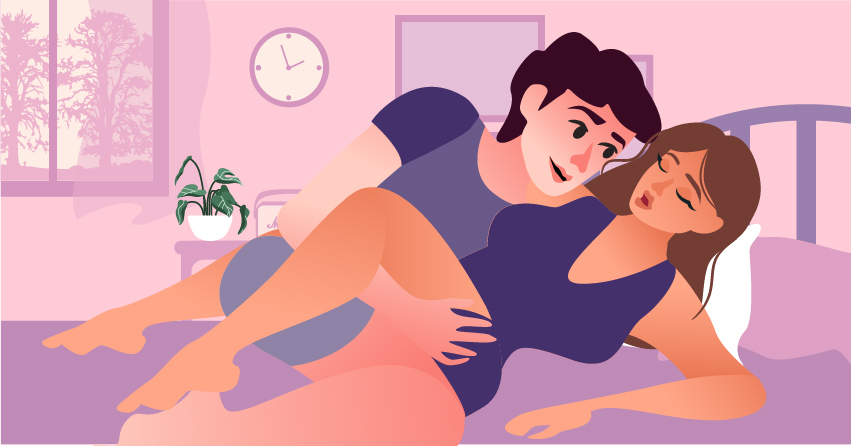 If you or your partner isn't into penetration, this practice is a great alternative. As mentioned above, smashing can be incredibly pleasurable when done right. It also lets you engage in intimate positions like you would in penetrative sex.
5

Everyone can do it!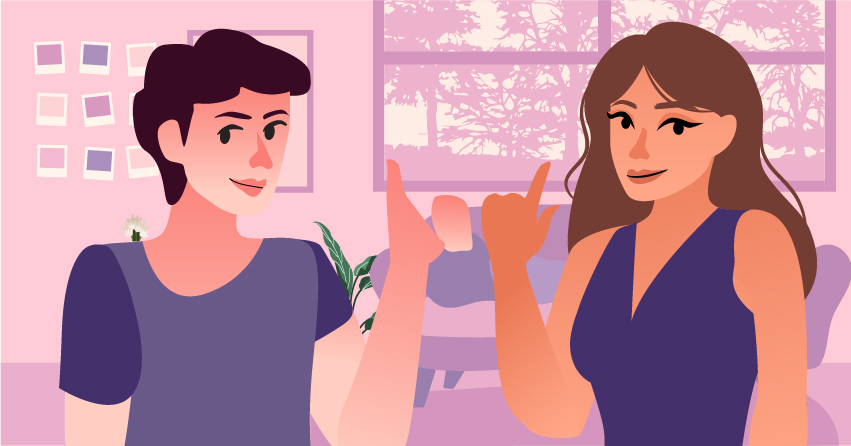 Anyone can do it! Whatever your gender identity or sexual orientation is, you can have a blast humping around with your partner. You can also go for solo dry humping, either with a soft object or sex toy.
How to Dry Hump
After learning about the benefits of humping, you might be interested in trying this activity yourself. We've got a quick guide below on how to do it.
How to Solo Dry Hump
Pick a soft object, such as the soft edge of the table, your bathroom sink, the edge of a mattress, your pillow, a stuffed toy, or a silicone dildo.
Apply water-based lube generously on your penis or clitoris.
Get yourself into a position (standing, sitting, lying on your back, straddling) and start rubbing your genitals into the item or toy.
Once you've found the perfect rhythm, keep rubbing until you orgasm or when you're ready to do another sexual act.
How to Dry Hump With a Partner
Apply a few drops of lubricant to your genitals.
Get into your preferred position. At this point, the genitals are already pressed on each other but don't move yet. Build that anticipation.
Start with a steamy makeout session, then both of you slowly grind and hump on each other's genitals.
Increase the pace until you both reach climax.
Dry Humping Tips
Now that you've learned the basics, most of you are probably excited to try this activity. But before asking your partner for a dry hump sesh, check out our tips below. This ensures a fun, safe, and orgasmic experience for you and your boo.
1

Use lube.
Using lubricant is a must because it minimizes friction between genitals. This ensures there are fewer chances of genital irritation from too much rubbing. Not only that but there are stimulating lubes (also known as stimulants) that make your clitoris or glans penis more pleasurable to touch.
2

Wear the right garment if you're dry humping with clothes on.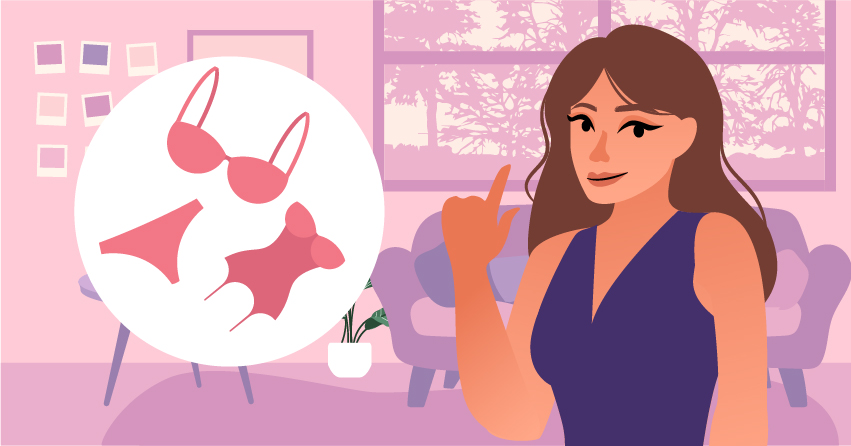 If you're doing clothed dry humping, be careful with the garment you'll be wearing. Avoid wearing anything with chunky zippers, studs, and other sharp embellishments. Also, go for softer fabrics. This prevents genital irritation or injuries during the deed.
3

Don't solo dry hump into sharp objects, pieces of furniture, or appliances.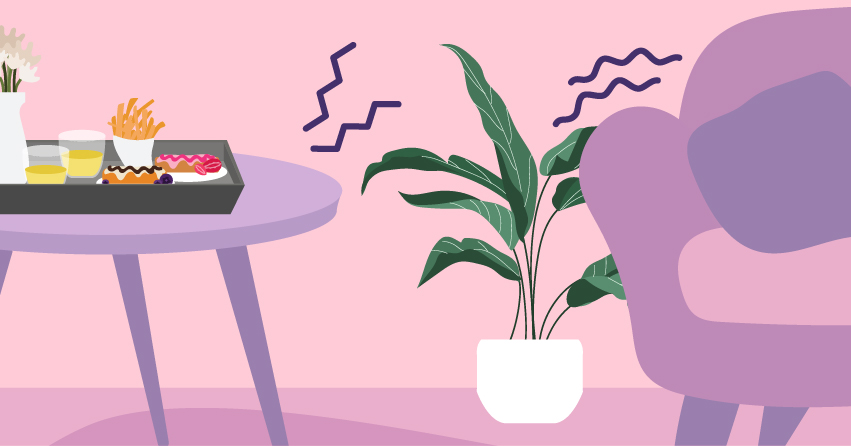 For those up for solo smashing, only use objects or pieces of furniture with soft edges, such as a couch armrest, stuffed toy, or pillow. This minimizes your risk of injury.
4

Communicate with your partner before and throughout the play.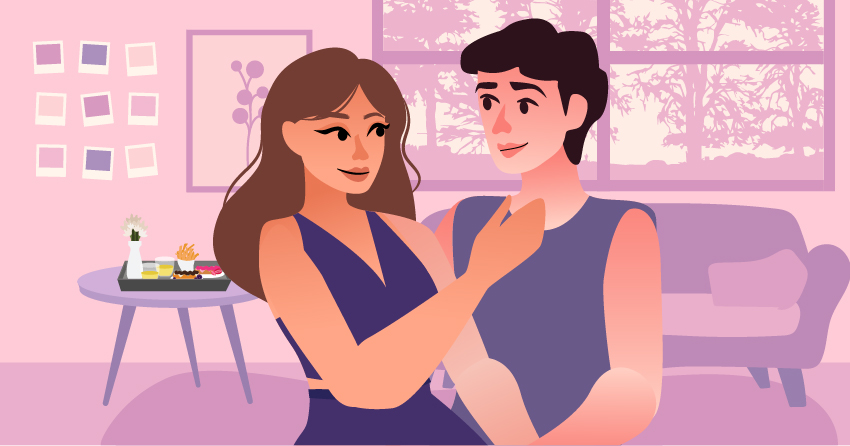 Just like any other sexual activity, you need to get your partner's consent before engaging in dry humping. Don't coerce them into doing this if they're uncomfortable with it. Also, it's important to check in with your partner throughout the deed and ask if they're okay with the pacing and position. Always prioritize your own and your partner's comfort.
5

Be gentle; too much rubbing can be uncomfortable.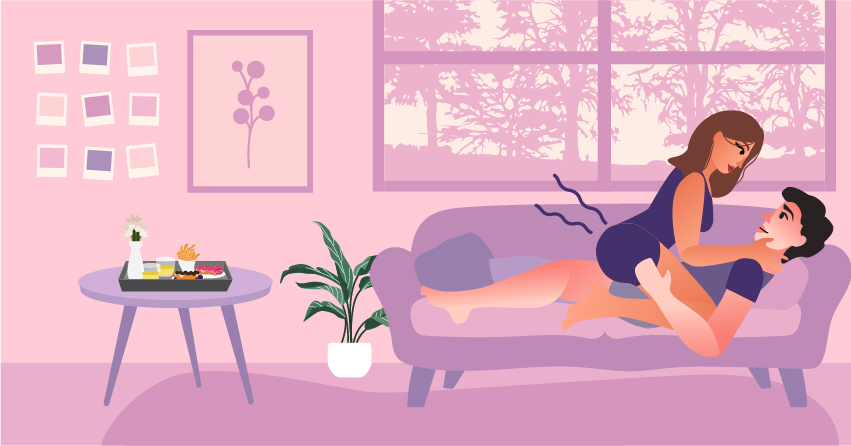 One of the common myths about dry humping, as shown in some pornographic videos, is that harder rubbing is more pleasurable. You see those couples grinding intensely on one another as if it's their last sex sesh. This might be visually pleasing, but overdoing the humping can lead to discomfort. It may lead to skin burns or other irritation, especially if you're not using lube or wearing rough fabrics. Start with a gentle rub, then gradually increase the pace if you're both into it.
6

Spice it up with roleplaying.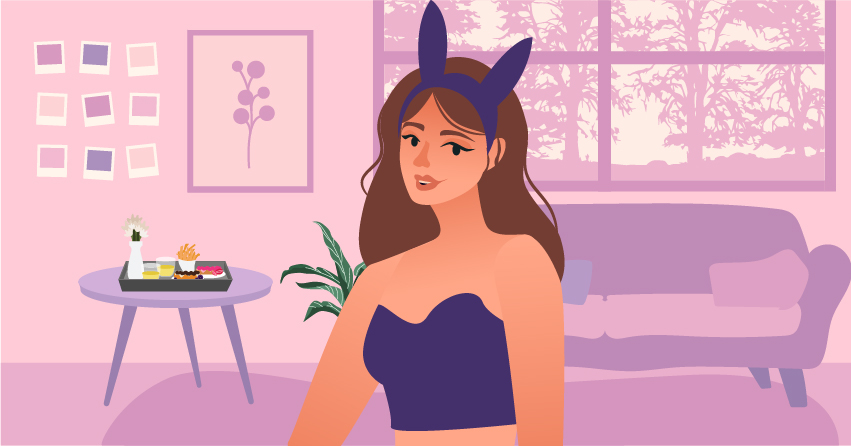 Add a dash of kinky fun to your dry humping sessions with roleplaying. For those who have just heard this, it's a sexual activity wherein you and your partner pretend to be someone else. You can experiment with sensual scenarios such as doctor-patient, teacher-college student, police-prisoner, knight-royalty, etc. Just grab a few props, wear a sexy costume, prep some lines, and you're ready to play!
7

Add sex toys to the mix.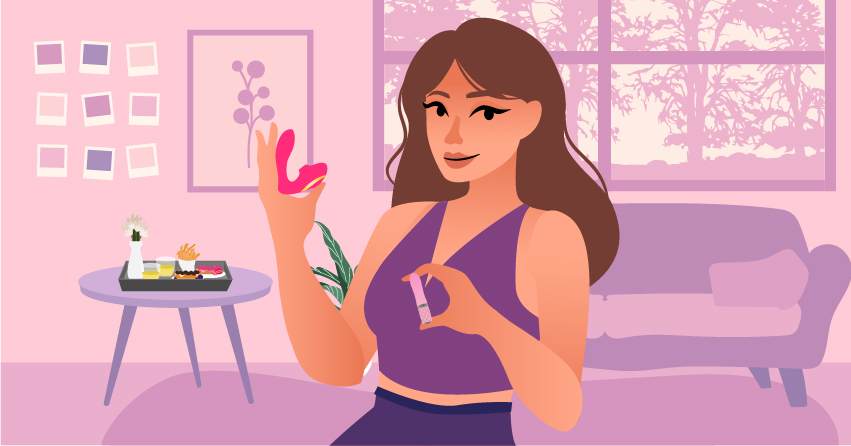 If you want to amp up the sensations, go for sex toys. They're not just designed for internal stimulation; they're good for external stimulation, too. You can use a silicone dildo or classic vibrator to hump on if you're going solo. As for partnered humping, you can use a flat or tip vibrator and run it all over your erogenous zones during the deed. You can also use pleasure toys to stimulate your other erogenous zones, such as the nipples and anus.
8

Use condoms or dental dams if needed.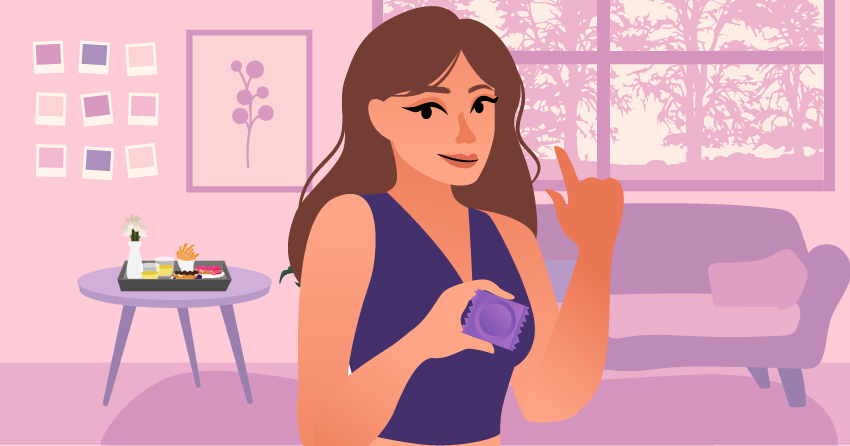 If you're humping with a stranger, it's best to use condoms and dental dams to protect yourself from skin-to-skin STIs, such as Herpes, Syphilis, and HPV. Don't risk your sexual health just for a few seconds of sensual bliss.
9

Make the most out of your hands.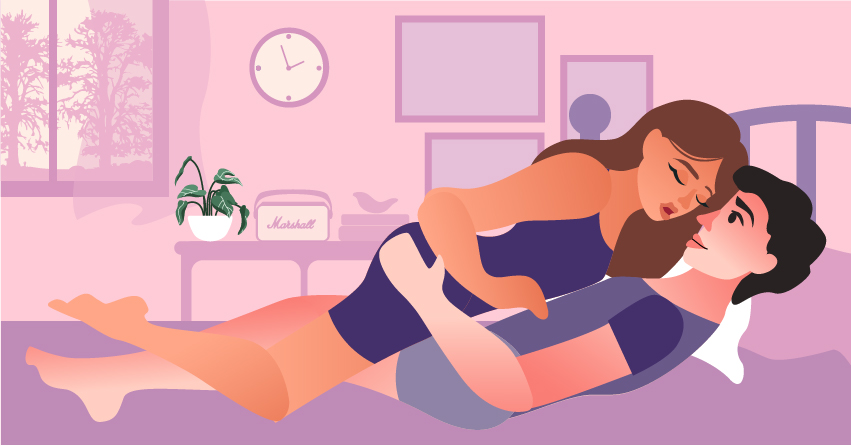 One of the best things about dry humping is that you don't necessarily need your hands for the act. Use this to your advantage and touch your own or your partner's erogenous zones. Get all handsy and explore each other's bodies like never before!
10

Try different positions!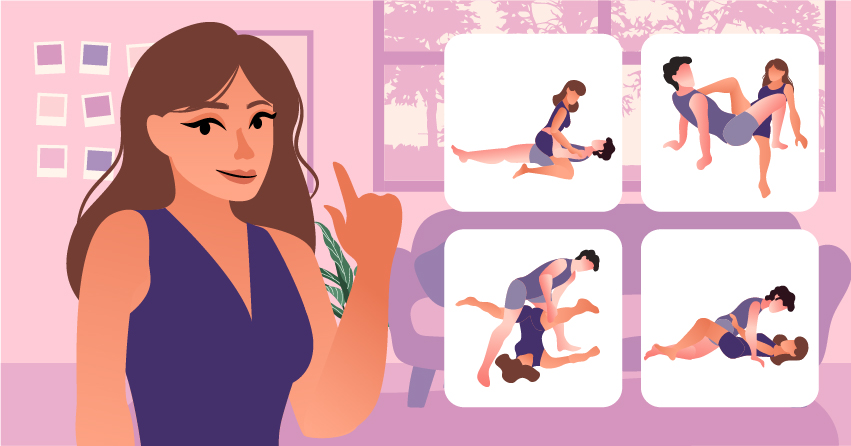 Be creative with your dry hump sessions by trying different sex positions. Different positions also help you experience different sensations. For example, some positions may enable direct stimulation on the clitoris, while others only offer stimulation on the clitoral hood. It's also fun to try out new things in the bedroom, so remember this tip! Learn more about different positions in the next section.
Best Dry Humping Positions
Wanna make your dry humping sessions fun and exciting every time? Experiment with different positions! Check our recommendations below.
1

Missionary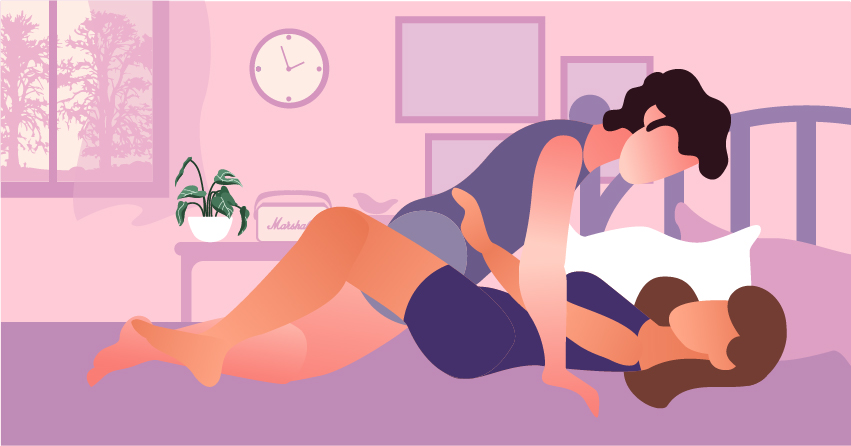 This classic position lets you dry hump with ease. It's also simple to get into this position. First, you'll need to lie down on your back, opening your legs wide. After that, your partner must position themselves on top of you, with their crotch pressing against yours.
2

Cowgirl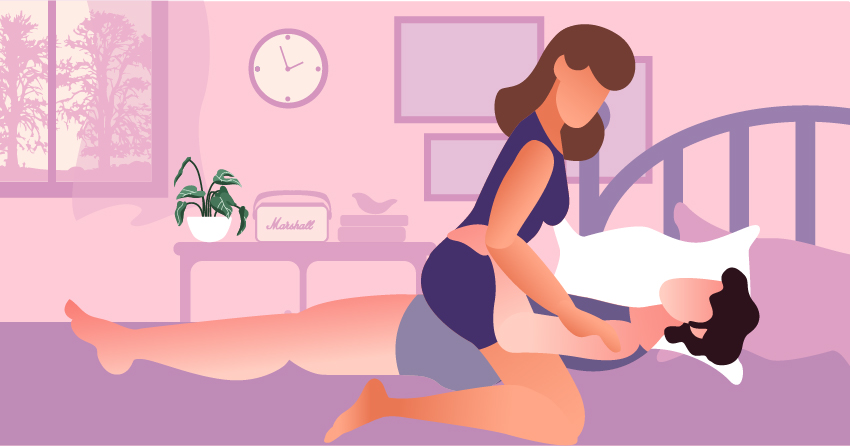 Here's another classic position on the list. If you prefer more intense rubbing and grinding, try this one out. Ask your partner to lie down on their back while you straddle them, with your genitals pressed against their crotch. Once positioned, you can start grinding and riding your lover.
3

X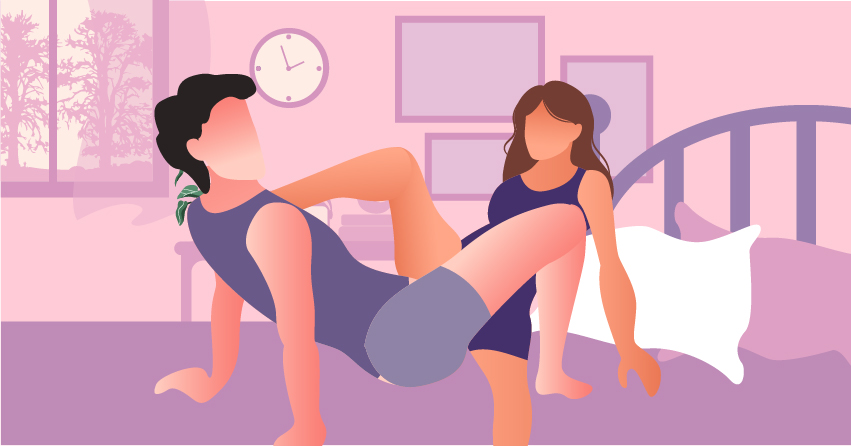 Keep your xxx plays hot and heavy with this position. Start by sitting down near the edge of the bed and arching your back; use your arms as support. Open your legs wide; the other legs must be on the bed while the other one is lowered on the floor, with your toes touching the floor's surface. After that, your partner must sit in front of you, arching their back. They must open their legs wide, with their other leg on top of their thigh while the other leg is resting straight on the bed. See the illustration as a reference. Once you've got that x-like position, start humping!
4

Wild Yoga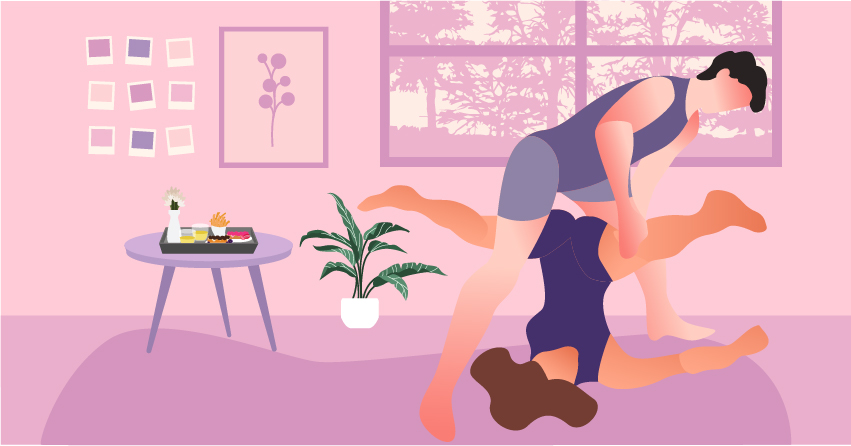 Here's a position for adventurous couples! Take your dry humping plays to the next level with the "Wild Yoga" position. Before doing this, make sure that the couple lying down must have great flexibility. If not, we recommend skipping this position as not having flexibility may only cause mishaps during the deed.
Start with lying on your back and widely spreading your arms and legs. Your partner must stand above you, with their feet next to your head and the other feet between your legs. Once you're ready, your partner must lift your pelvis high until your genitals are pressed against theirs. They can bend their legs a bit if needed.
5

Slide & Grind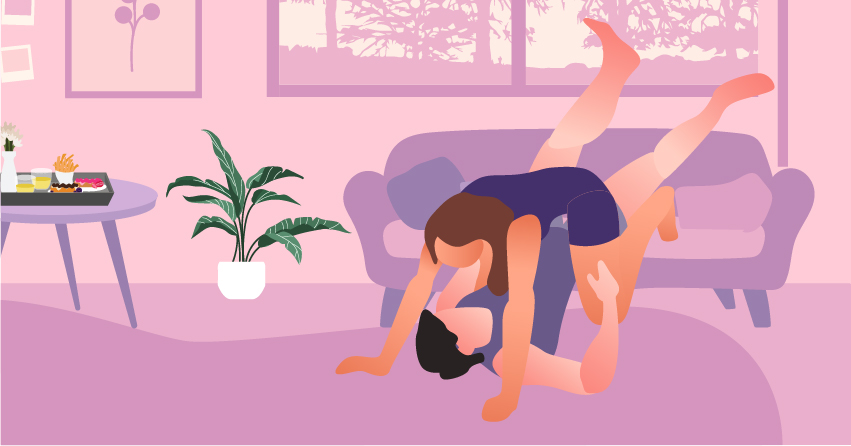 Another unconventional position on the list is the "Slide & Grind." For this one, you may need a couch or a sturdy chair.
First, you must lie on the floor, with your feet right in front of the couch. After that, gently move closer to the couch and raise your legs. Place your lower half on the couch seat. Your partner will then stand up on the couch and gently sit right on top of your crotch; they must lean over to support their weight using their hands on the floor. Once positioned, proceed with the deed.
Dry Humping Essentials
You've learned the basics, the tips, and the best positions. You're now ready to hump and grind! But before you do just that, you may want to look at our dry humping essentials.
Frequently Asked Questions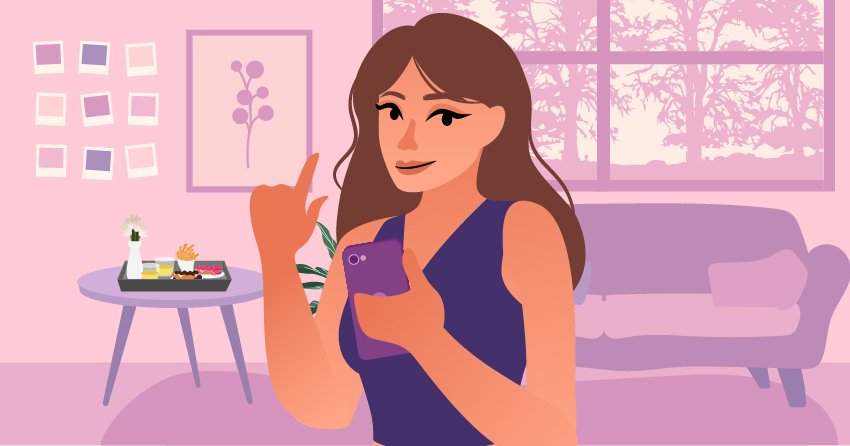 As you reach the end of this guide, you now have adequate information about this fun sexual practice. But if you've still got many questions in your mind, scroll down and see if we've answered them in this section. If not, you can always tap on our resident sexpert.
1

What are the potential risks of dry humping?

As we've mentioned above, you can still get some STIs with this practice, especially if their bodily fluids are exchanged in the deed. We recommend following our tip earlier. You need to use condoms or dental dams if you have a casual hump hook-up with a stranger. You may also end up with genital irritation if there's too much rubbing; use lube to prevent this and avoid wearing rough or textured garments.
2

How can I convince my partner to dry hump with me?

First, you can share more information about the activity; send them a link to this article. However, if they've learned about dry humping and are still not interested in trying it out, don't force them to do it. Informed consent must be obtained before engaging in any sexual act.
3

Can I get pregnant from dry humping with clothes on?

Nope! There's no way for semen to pass through clothes and reach the vagina.
4

Can dry humping make me orgasm?

Yes! Dry humping sends pleasurable sensations on both the clitoris and head of the penis, all of which are rich in nerve endings. You can reach that sweet O through the love rub as long as you do it correctly.
5

I tried dry humping and didn't enjoy it. What should I do?

It's up to you if you want to try it again. Assess the play and see if (1) you've used lube and (2) if the rubbing is too much. If you haven't used lube or your partner went overboard with the rubbing, you may want to try it again, but this time with lube and gentle rubs. However, if you've tried it again and simply don't get the pleasure in the deed, it's okay to skip it and try other activities.
Takeaway
Dry humping is a fun, safe, and inclusive sexual activity that could send orgasmic bliss to your body. As long as you follow our tips and safety reminders, you'll surely have a grand time with this one. Happy humping!