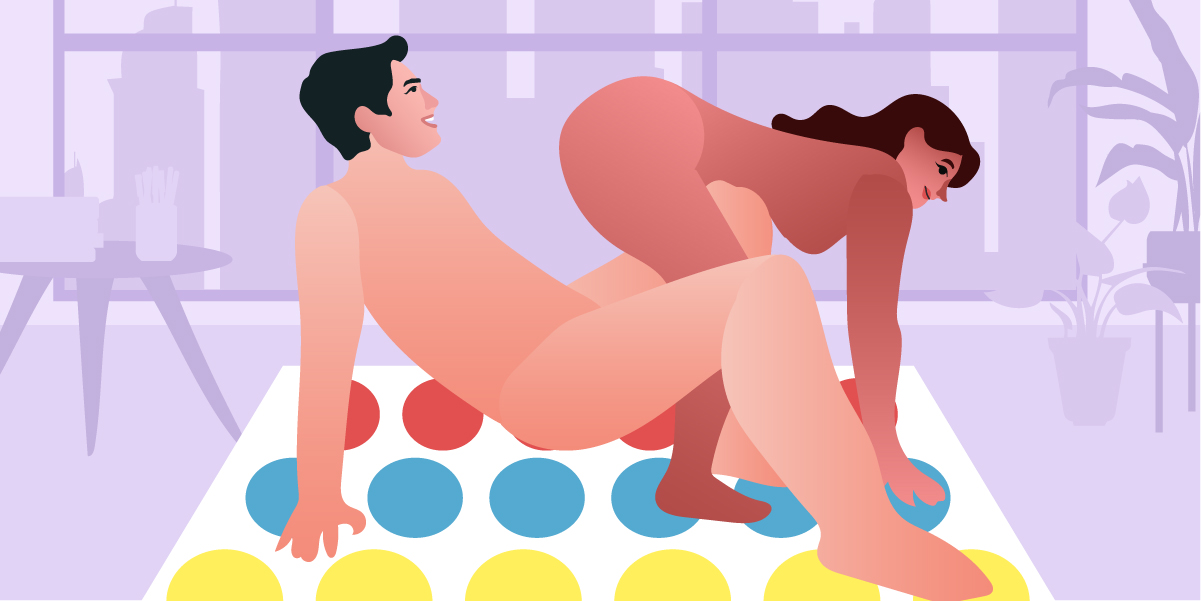 Sex is essential in healthy relationships. There are articles that document its importance, tv shows that talk about it endlessly, and podcasts that will drone on and on about sexual escapades. No matter how much you read and research about sex, your sex life will hit a rut. It'll get a little boring, repetitive, and get bumped further and further down the list of priorities. That's not to say that a sex routine is bad. It can just use a little spicing up. This calls for some bedroom games.
What are Bedroom Games?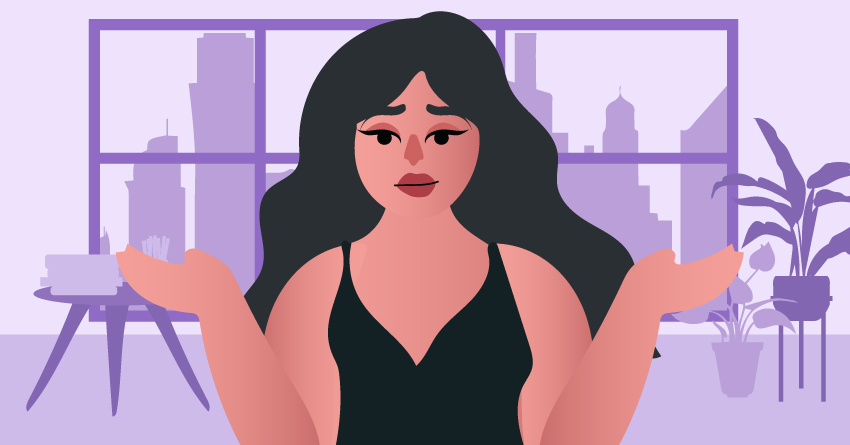 Bedroom games are any of the game you use as foreplay for your sexy times. Crack out those favorite, classic games and get creative with your bets and rewards to turn nice things naughty. Pull out a board game, a card game, or even a simple pen and paper. Any game can get be a precursor to sex if you really wanted it to be.
Best Bedroom Games
Young lovers or old lovers, there's a bedroom game that will suit your taste. All it takes is a little trial and error. Ready? Let the bedroom games begin!
1
Naked Twister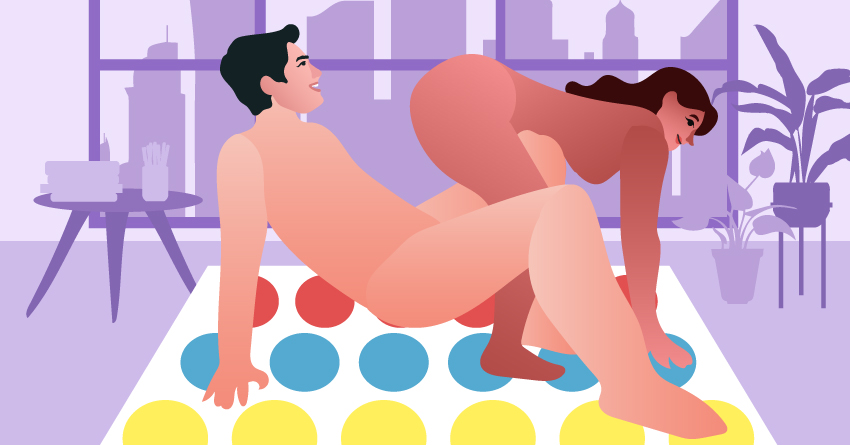 What You Need: Twister
How to Play: A game that will have you rubbing up against each other – even if sex wasn't on either of your minds. In traditional Twister, you have a mat and a spinner. The mat is covered in colored dots, and the mat is divided into quadrants with an assigned limb. You take turns spinning the wheel and placing the limb on the designated color on the mat. You aren't allowed to change positions or let any other body part touch the mat unless dictated by the wheel. The first person to fall loses. In the sexy version, every time somebody falls, a piece of clothing gets taken off. It's a fun bedroom game that will have you each doing a slow striptease that will distract you both. It's also a great way to show off your flexibility. Add to that the possibility of discovering new sex positions. 
2
Salacious Go Fish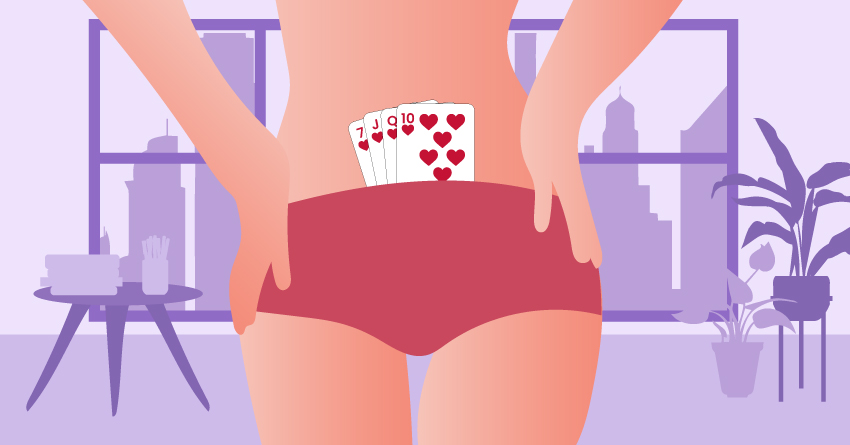 What You Need: A deck of cards
How to Play: You start with 7 cards in each of your hands, but leave enough for a 'fishing' pile. You try to make pairs out of the cards in your hand. You each take a turn asking the other for the card you need to complete a pair. If they have it, they have to hand it to you, if not, you have to 'go fish' by taking a card from the deck. If the card you pull matches a card in your deck, show your opponent and you can place it down. If not, then the card gets added to your hand.
In Salacious Go Fish, hide these cards in suggestive places like your back pocket, in your cleavage, between your thighs, or wherever else you feel like stowing them away. Whenever they need to 'go fish', you can have them take them with their fingers or their teeth. This innocent game turns into one of the handsiest bedroom games there is.
3
Fantasy Fish Bowl
What You Need: A pen, paper, and a fishbowl (or any bowl-like container)
How to Play: Write down your unfulfilled fantasies that you want to experience with your partner. It can be as simple as trying out a new sex position or having sex in a specific part of the house, or maybe it's diving further into your kinks. Drop the folded pieces of paper into the fishbowl and take turns fishing out a fantasy. Depending on how complicated or how much time it takes to complete the fantasy, you can do multiple at a time, or have the fishbowl ready on your dresser for whenever you feel like bedroom games are necessary for rekindling the flame.
4
Jenga Truth or Dare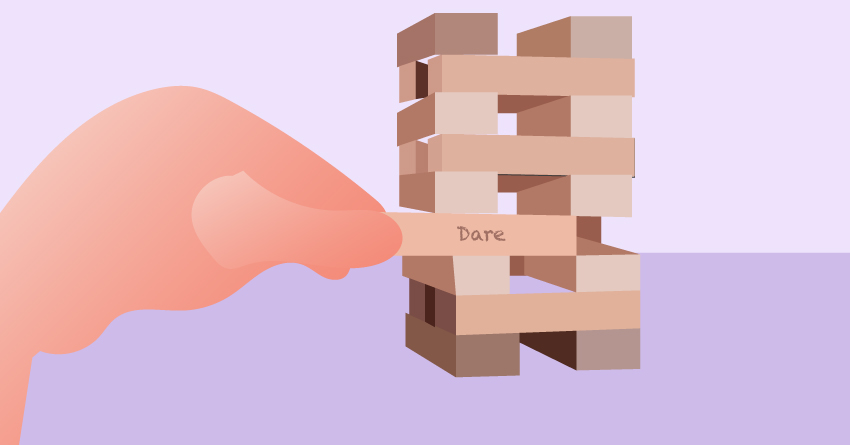 What You Need: Jenga, and markers
How to Play:  Build your tower. Each level is 3 blocks wide, the next level stacked perpendicularly to the one before. You take turns pulling out the blocks without supporting the rest of the tower and continue piling them on top – creating a more precarious build. Whoever topples the tower loses. 
In the bedroom version of Jenga, split the blocks amongst yourselves and write down sexy dares or questions on as many as you want. Proceed with the game as normal. Whatever task is written on the block that is pulled out must be completed by whoever's turn it is before being stacked. If it's a question? Answer it. If the tower falls? It's up to you and your partner what the punishment is.
5
Chocolate Checkers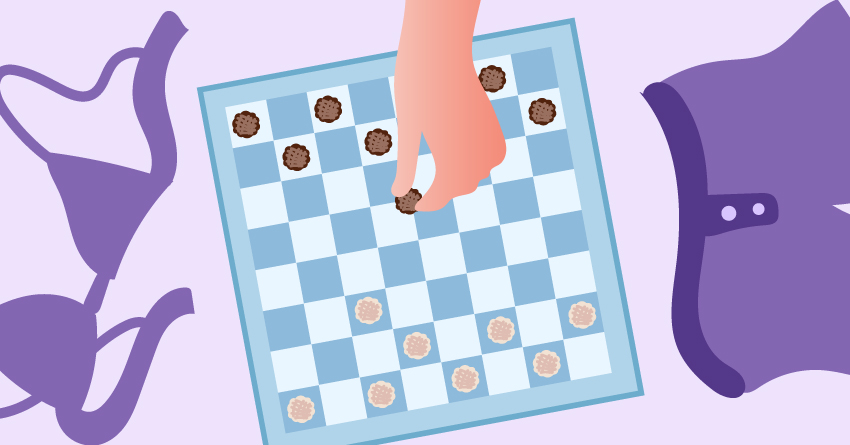 What You Need: Checkerboard, and chocolate pieces of 2 different colors.
How to Play: Checkers is a two-player game played on 8×8 checked boards with 12 pieces for each player. The pieces are placed on the black squares and then staggered by rows. You each take turns moving across the board. You can move diagonally towards your opponent. If there is an opponent's piece directly beside yours and an empty space beside that, you can 'eat' your opponent's pieces and take them off the board. If the opponent's pieces are lined up so you can eat more than one, go ahead. If you reach the opposite end of the board, the piece that reaches that row is not a King Piece and has the ability to move forward and backward. The aim of the game is to 'eat' all of your opponent's pieces. You win when your opponent has no more pieces left on the board or if they don't have any moves left.
For Chocolate Checkers? Pick your color and place the chocolate pieces on the board as you would normal checker pieces. Play as normal, but every time you eat a piece on the board, you have to eat that piece of your partner's body. Location? Eater's choice. You can be as tame as you want and drive your partner wild. Or you can go hard from the jump and purposefully lose to keep them distracted.
6
Lusty Pictionary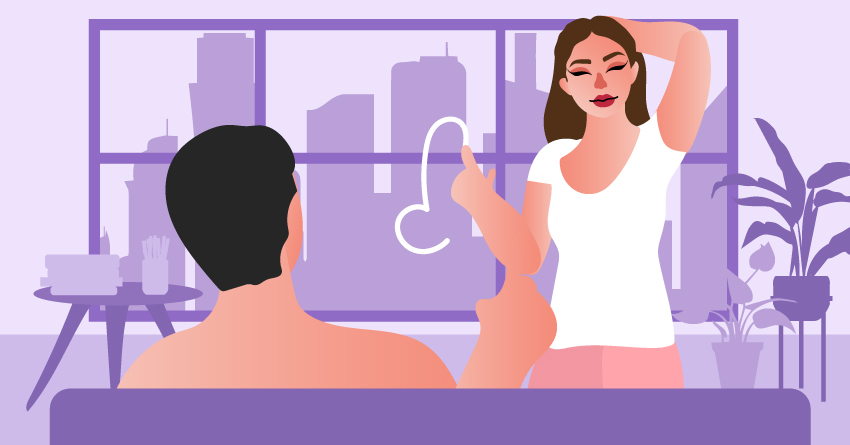 What You Need: Pictionary words
How to Play: You and your partner can write down a bunch of words on pieces of paper – whatever theme you want. Or you can make it simple and pick up a Pictionary set. Instead of drawing with pen and paper. Use your finger to draw the words on your partner's body. Level up the difficulty by using feathers, ice cubes, or your tongue to draw the images. Who cares if they guess the word at all?
7
Dress Me Up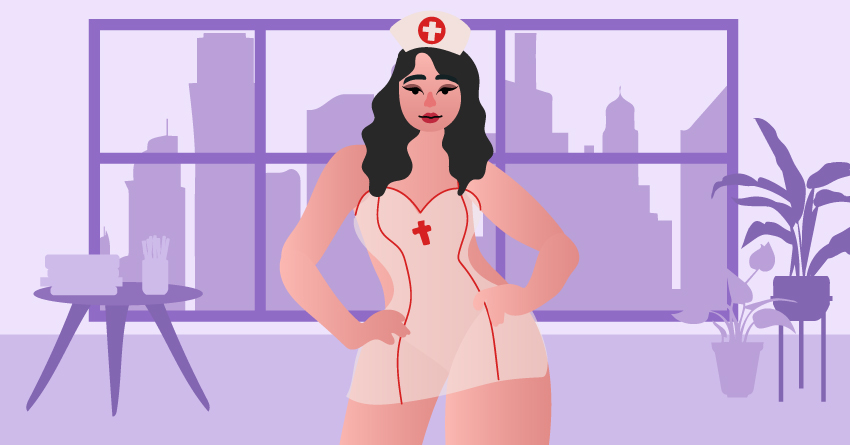 What You Need: A bag full of kinky costumes and props
How to Play: Indulge in your favorite porn stereotypes as you take turns blindly reaching into the bag and pulling out a random kinky costume or prop. You can include a fireman's helmet, cheerleader pompoms, a riding crop, stethoscopes, or whatever else suits your fantasy. Throw yourself into the role and give your partner a show to rival their favorite dirty movie. 
8
Sensual Snakes and Ladders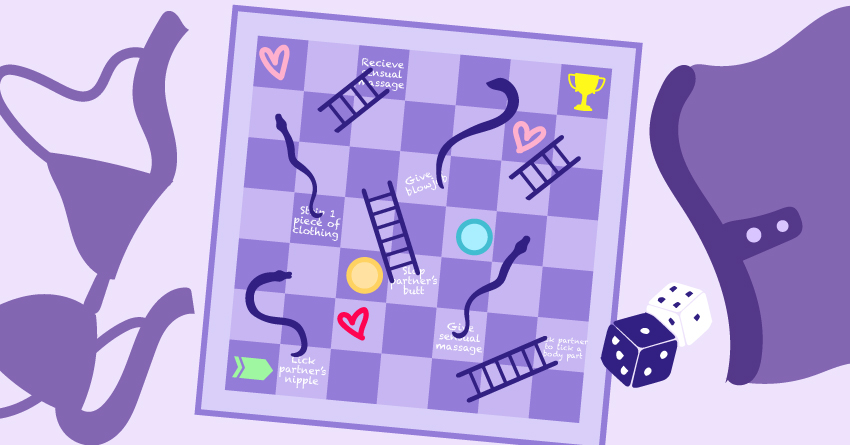 What You Need: Snakes and Ladders, a pen, and sticky notes
How to Play: A simple board game where you roll the dice and advance on the board. If you land on a ladder, you climb to the box it directs you to, and if it's a snake, you slide down. How is this sensual? Add a few foreplay ideas to each landing of the chutes and ladders and whoever lands on it performs the act. You can add more sensual squares if you so desired, the point is to get you hot and bothered. You may never even finish the game at all.
9
Guess Who by Candle Light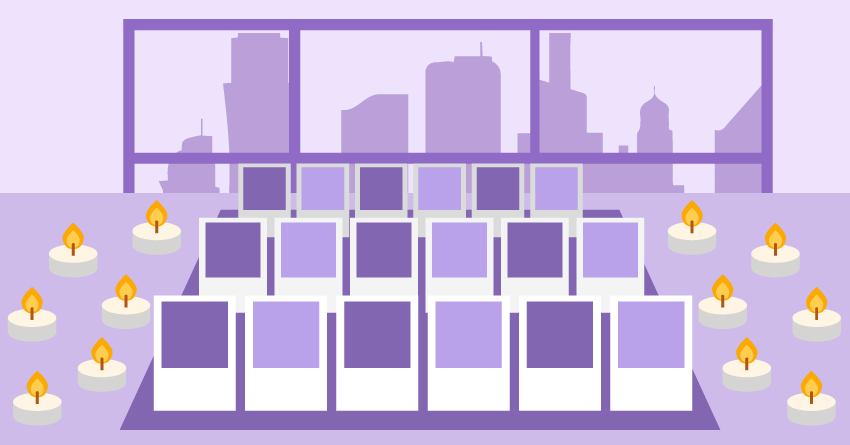 What You Need: Guess Who, and tea lights
How to Play: Traditionally, you play Guess Who with a mystery deck, two game boards, and two sets of identical cards with faces and names on them. Perfectly match the cards into the game boards. Now draw a card each from the mystery deck. You each take guesses as to who is on the opponent's mystery card by process of elimination. You can ask each other questions in turn like 'Does your person have a beard?', or 'Does your person have a hat on?', until you can identify their person.
For the bedroom game version, prepare a game of Guess Who in a room lit by tea lights, and every time you take a turn, you blow out a candle. The dimmer the room gets, the more intimate and sensual you both begin to feel. If you aren't getting sensual feelings from the characters included in the game set, swap them out with sex positions and sex toys that you want to try out at the end of the night.
10
Tick, Tick, Boom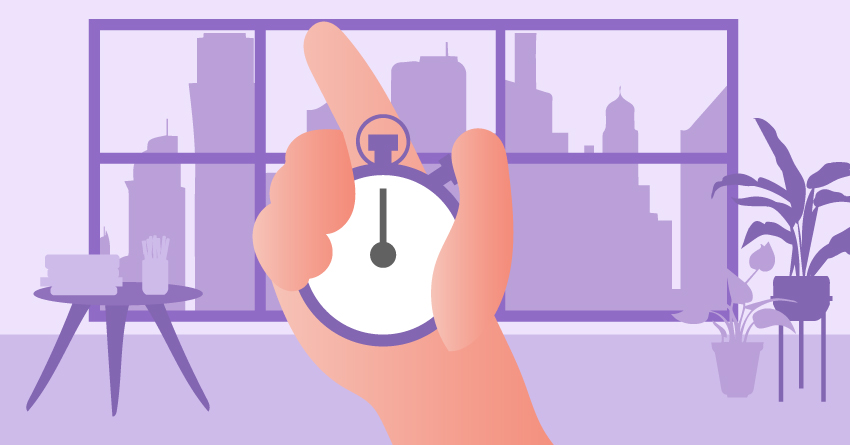 What You Need: A timer
How to Play: Sometimes the reason your sex life needs a couple of bedroom games to help it along is that you've forgotten the art of foreplay. Set the timer for any interval of your choosing. Use that time to tease each other. Kiss each other, touch each other, strip each other out of your layers of clothing. Use the time to talk dirty to one another if that's what you choose. The only rule here is this: no sex until the timer is up. This will remind you both of the times when you took your time with each other, and remind you of the fun you had exploring each other's bodies in the early stages of the relationship.
11
Naked Pillow Fight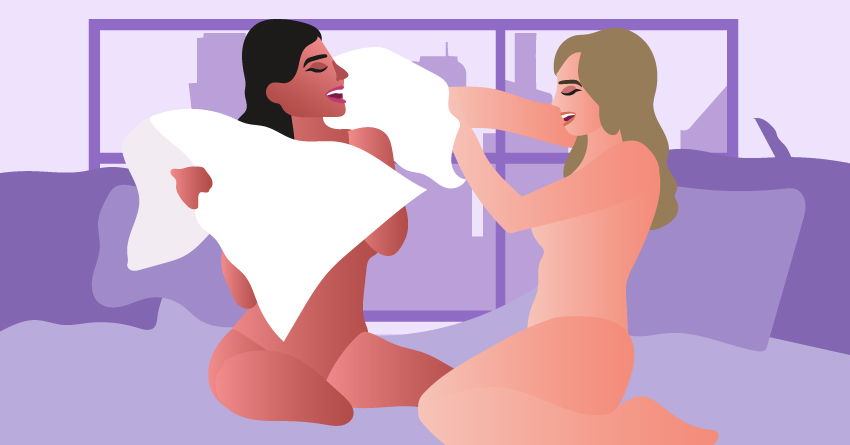 What You Need: A couple of pillows you're willing to sacrifice
How to Play: It's simple. Pick up a pillow and get to whacking your partner with it. Did we mention this is best done naked? Well, it is. Tickling is fair play in this battle. Whoever surrenders first must perform a sexual favor for the winner. Go for as many rounds as you need until you both agree that the war is over.
12
Fondue Pick Up Sticks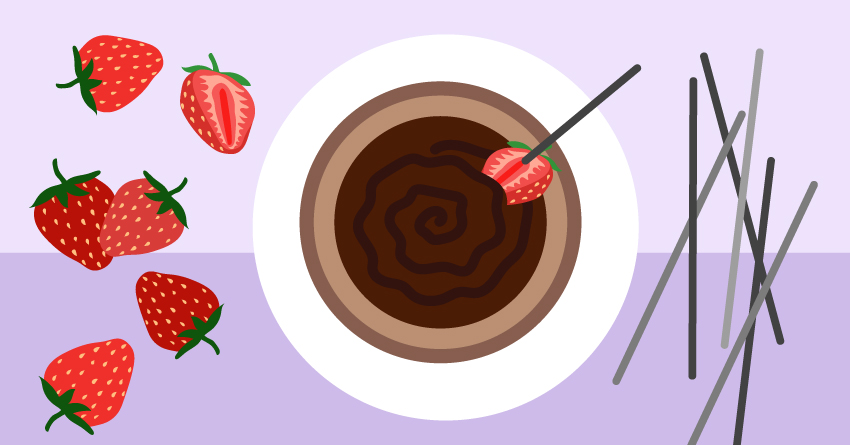 What You Need: Pick Up Sticks set, chocolate fondue, sliced fruits, and treats of your choice
How to Play: A regular game of pick up sticks is played by letting a set of Pick Up Sticks fall on a surface. You each take turns picking up sticks without moving any of the surrounding sticks. Your turn ends when you nudge a stick you did not mean to, and the game ends when there are no sticks left. The winner has the most sticks in their hand. For Fondue Pick Up Sticks, use each successfully picked up a stick to dip a treat into chocolate fondue and feed it to your partner. If a little chocolate drips onto their neck, you can help them by cleaning it up with your tongue.
13
Blindfolded and Bound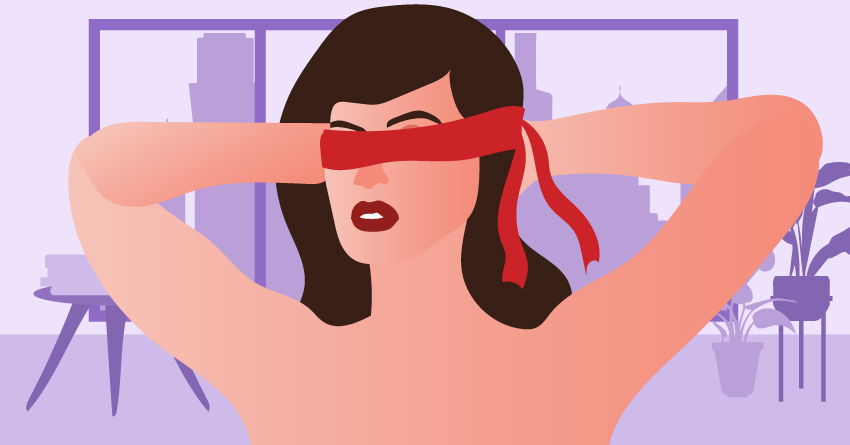 What You Need: Anything you can use as a blindfold, and whatever you can use to tie down your partner (neckties, scarves, and the like)
How to Play: Sometimes mystery is what you need to bring back spice into the relationship. What's more mysterious than being lavished with pleasure as you are bound and blindfolded. Make sure that your partner is blindfolded as you lead them to the bed or a chair or wherever you want. You have control in this situation and can give them pain or pleasure. Tying them down is completely optional, but can further heighten their senses and get them even more excited.
14
Smutty Scrabble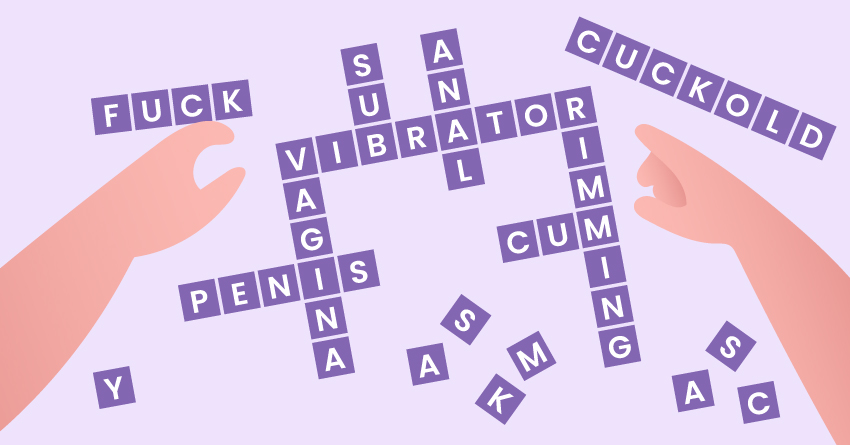 What You Need: Scrabble
How to Play: It's like classic Scrabble, wrack up points with better-placed words. Only catch? You can only use the naughty ones. Whether they're adjectives, flirty phrases, or suggestive terms, if it gets you or your partner thinking dirty thoughts, then it's fair game. This bedroom game is further proof that smart is sexy.
15
Close Shave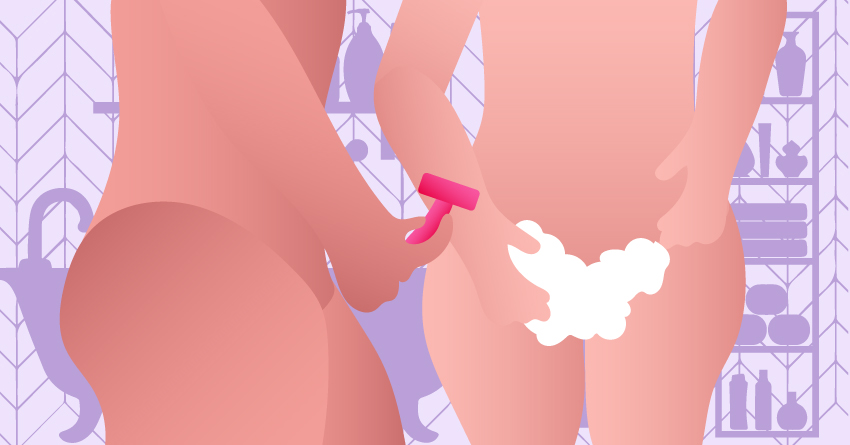 What You Need: Shaving cream, and a razor (maybe a mirror)
How to Play: This can be a bathroom game or a bedroom game, it still can help revive your sex life. Have your partner shave your pubic areas. Take a hot shower to soften up your skin and hair and trim your pubic hair to a manageable length. When you're ready, lie on a surface – it can be a bed or a table, fully exposed to your partner. This will allow them access to the areas they will be shaving. Let them foam you up and shave you bare or just trim the hedges. You can supervise with a mirror that's angled so you can see what's happening down there… or you can put complete faith in your partner's shaving abilities. This fosters trust. Besides, having your partner stare at your intimate areas for extended periods of time is sure to get at least one of you hot and bothered.
16
Orgasmic Operation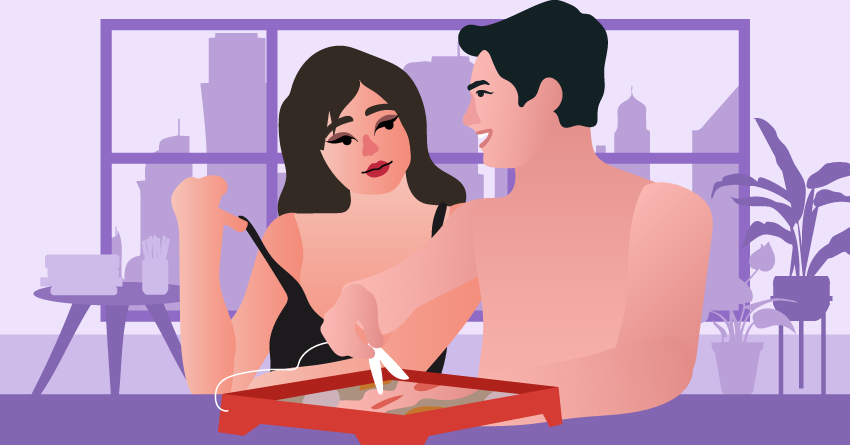 What You Need: Operation
How to Play: Operation is a classic board game where you perform surgery on a patient. You slowly pick up the organs from their tiny slots without it nudging the edges of the openings. If you hit the edge, the patient's nose will glow red and you'll hear a noise. Play Operation as you normally would, but each successfully removed body part serves as a token. You can exchange that token for one full minute of sensual attention to the corresponding part of the body. However they choose to dole out that attention is up to them.
17
Strip Game Sorry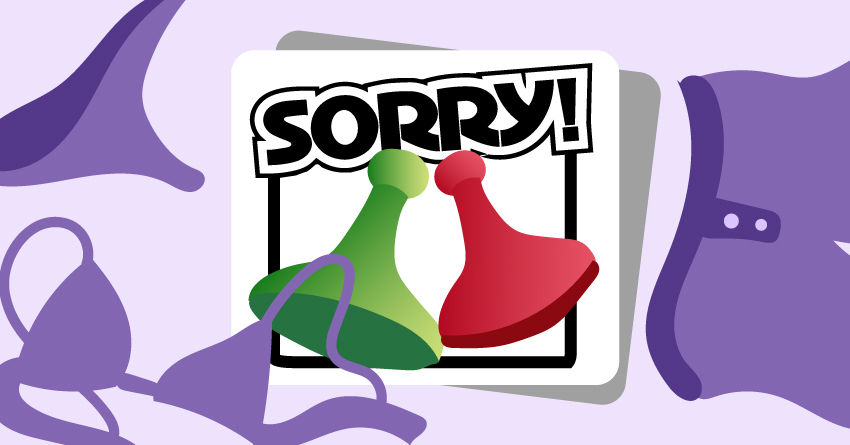 What You Need: Sorry Board Game
How to Play: To play Sorry, you each start with three pawns of one color and you place them on the matching color start area. On your turn, draw a card from the Sorry! deck and follow the instructions on the card. You may jump over anyone's pawn (including yours) if it's in your way and count it as one space, but if you land on a space that is already occupied, you can bump it back to it's start area! The goal of the game is to get all three of your pawn home first. Play the board game as normal, moving around the board and taking spaces as instructed by the cards in the draw pile. To turn this into a bedroom game, every time you take over a space occupied by your partner's piece, not only do they get knocked back to their home base, they lose a layer of clothing, too.
18

Sex Marks the Spot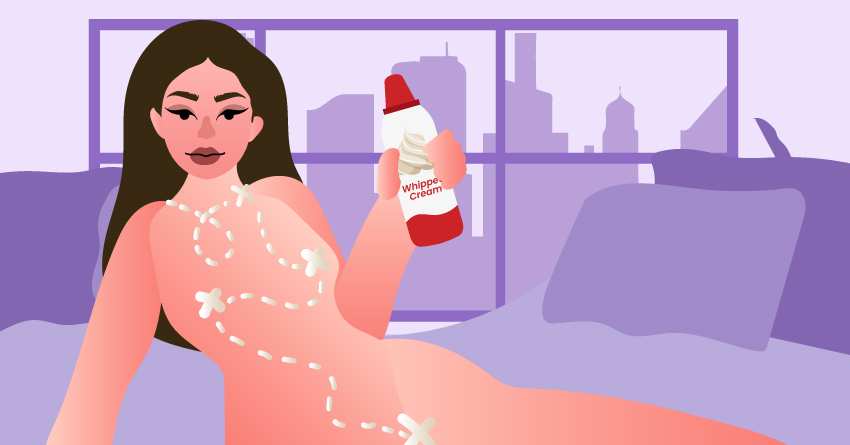 What You Need: Washable or edible marker, whip cream or chocolate
How to Play: Turn your body into a treasure map. Draw a trail on your body passing through erogenous zones or body parts you wished got more attention. Along the trail, cover the places that you'd like to receive extra attention with whipped cream or chocolate, so they'd have to clean it off to discover the hidden treasure. You can let your partner draw the map on your body instead, allowing them to spark a sensual trail as they go. They can then mark their favorite parts of your body. This will definitely become one of your favorite bedroom games because there can be so many different paths you can make and take.
19
I've Been Bad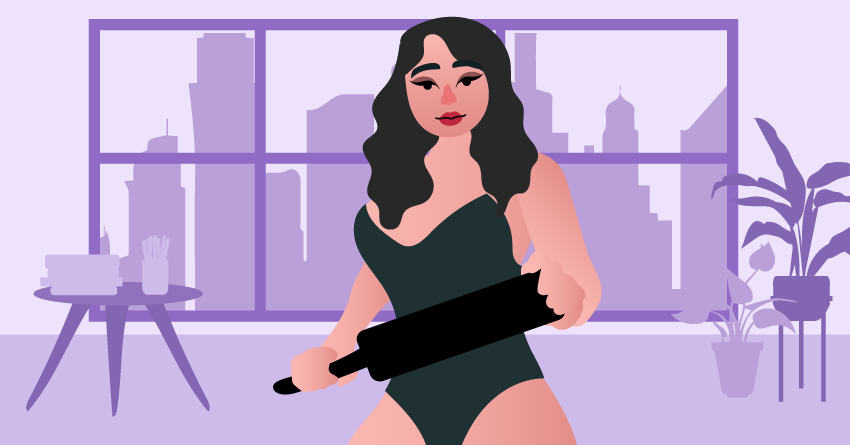 What You Need: A paddle, riding crop, a hairbrush, or even just the palm of a hand
How to Play: Being bad can be oh so exciting, and so can punishment. Tell your partner all the naughty things you've done. Maybe you forgot to dry the dishes properly, forgot the name of an acquaintance, or had too many dirty thoughts. You can kneel on the bed or bend over your partner's lap and they can spank you using the disciplinary accessory of his choosing. Add another dimension of sensation by inserting a vibrator while being spanked and try not to come.
20
Sex Toy Trivial Pursuit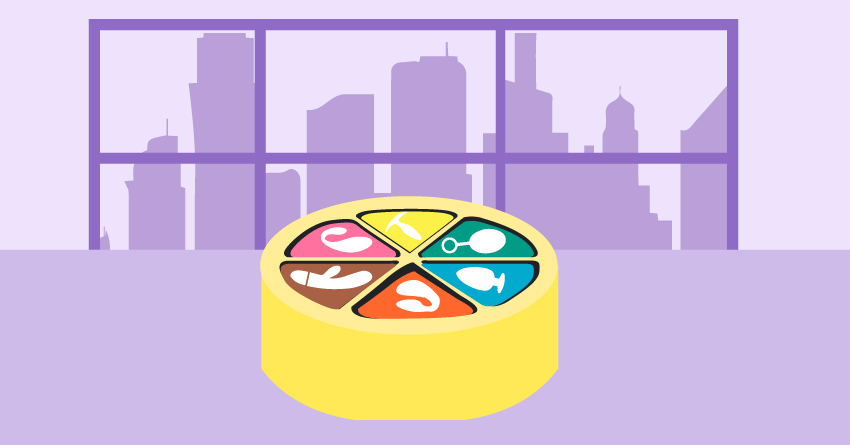 What You Need: Trivial Pursuit, and 6 sex toys
How to Play: Each game set of Trivial Pursuit comes with 1 gameboard, 432 question-and-answer cards, 6 card holders, 6 track pawns, 6 scoring tokens, 36 scoring wedges, and 1 die. Place each card set in the holder that matches, making sure the cards are all facing the same way. Each player takes an empty scoring token and place it on the center of the game board and place the cardholders around the board close to their matching colored wedge. Place all the wedges in a pile by the gameboard. Roll the die to decide who goes first. The highest number rolled goes first. Now you take a track pawn and place it on the Start space. Roll the dice and when you land on a colored space you have to correctly answer a question from the category. Your turn continues until you get an answer wrong. You earn a wedge when you land on a wedge space on the board and answer the question correctly, and can place that into your scoring token! You win by completing your scoring token and landing exactly in the center of the board – and correctly answering a question from a category of your choice.
Sex Toy Trivial Pursuit? Assign a sex toy to each color of the pie, and once you earn that piece, you earn the rights to the corresponding toy! You can wield it whenever and wherever you want. Maximizing your remote-controlled toys here could give you an advantage, especially when trying to distract your opponent.
21
Strip Poker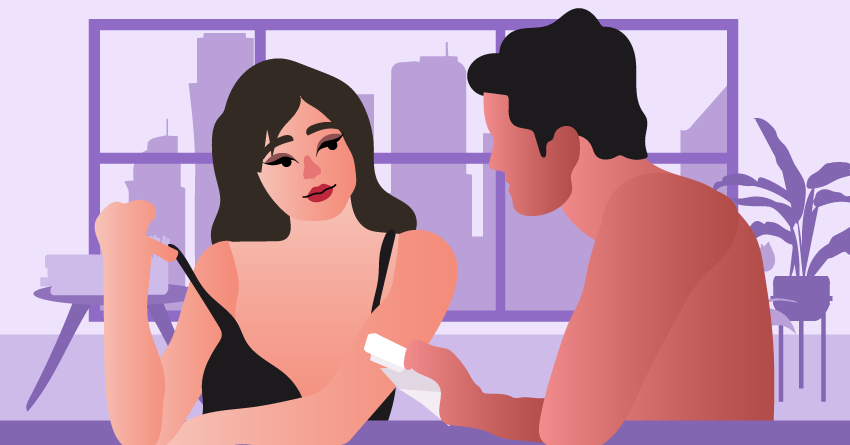 What You Need: A deck of cards
How to Play: This is definitely one of the original bedroom games. To play poker you're dealt with two cards each to start and you can choose how high or low you bet based on your card combination. After you each make bets, another hand is dealt, and so on. You are each dealt a maximum of 5 cards. Dealing can stop before that if only one person is willing to make a bet based on their cards. To win the pot, you must have a better card combination than your opponent. Diamond is the highest suit, followed by hearts, then spades, then clubs. Straight flush is the best combinations, then four of a kind, full house, flush, straight, three of a kind then, two pairs, then one pair.
Instead of poker night with the buddies, have a strip poker night with your lover. You bet articles of clothing instead of chips or money. Raise the stakes by betting sexual favors too. By the end of the night game, you'll both be naked and satisfied.
22
Dirty Darts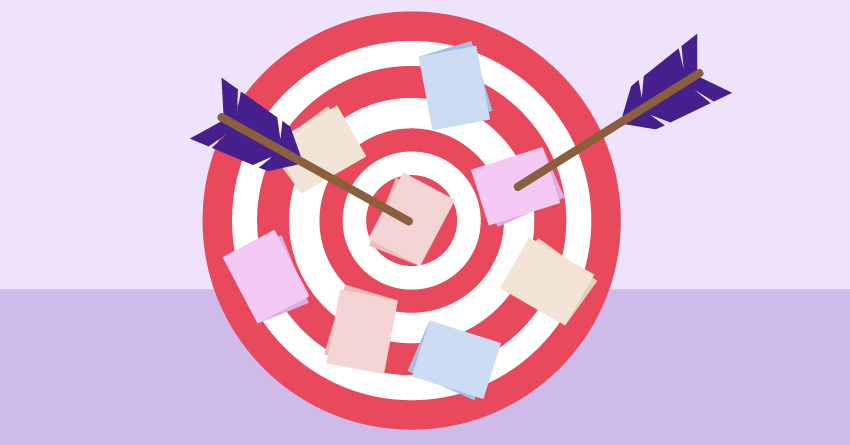 What You Need: Dartboard, darts, and sticker labels
How to Play: Place dirty phrases in the sections of the dartboard and take turns testing out your aim and precision. Whatever phrase you land on, you'll have to whisper seductively to your partner. The dirtier the phrase, the bigger the challenge, but it also makes the exchange hotter.
23

Deck of Desire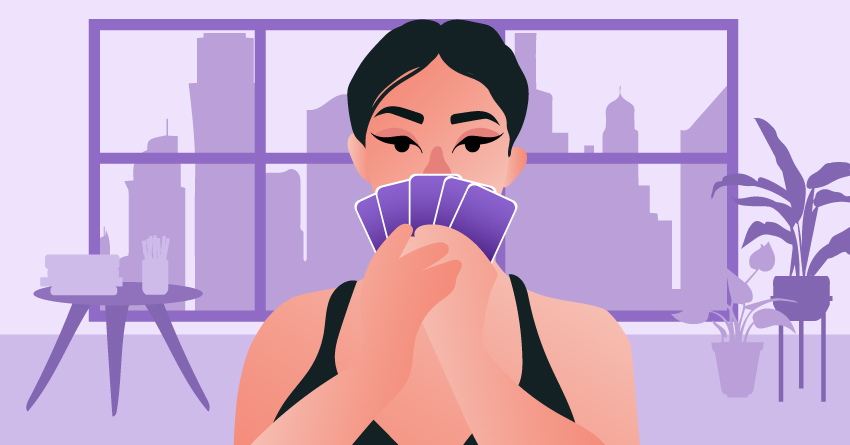 What You Need: A deck of cards
How to Play: Assign an action to each suit and a body part to each number. Pick a card and act accordingly. You can keep going for as long as you want… or at least until you both give up on the frustratingly quick sensual touches that are dictated by the cards. The game's aim is to have you both on your backs before all 52 cards have been drawn.
24
Truth or Dare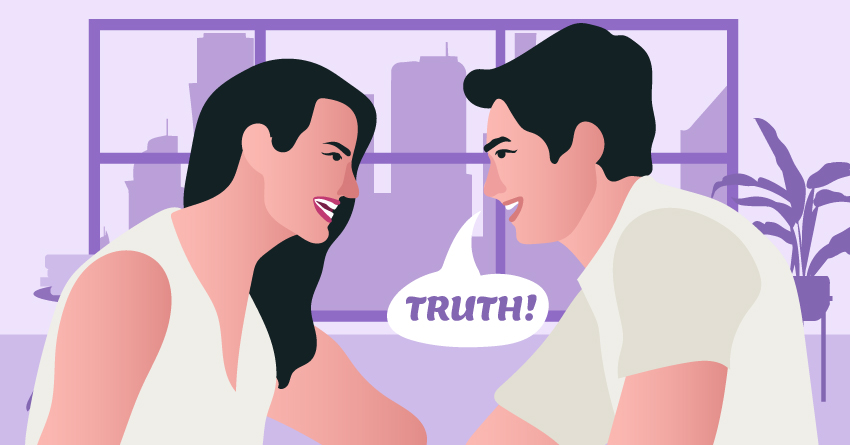 What You Need: You and your partner
How to Play: Recall all the juvenile dares and questions that were raised when you were in high school. There was a level of excitement that came no matter how simple the dare was. Kick that up a couple of notches. You are after all both consenting adults looking to spice up your sex life. Ask them about their most secret sexual fantasies, or dare them to try out sex positions or kinks neither of you has tried before.
25

Mouth Open, Eyes Closed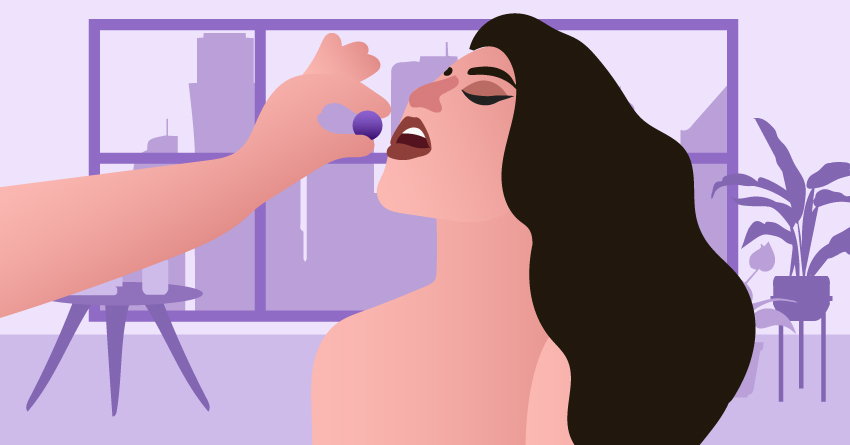 What You Need: A variety of objects and food to put in their mouth
How to Play: You and your partner take turns. One of you will have your mouth open while their eyes are closed while the other will feed them whatever they want. It can be a strawberry, or maybe it's a spoonful or your favorite soup. They might be feeling frisky and feed you a nipple. This is one of the bedroom games that can satisfy more than one type of hunger.
Frequently Asked Questions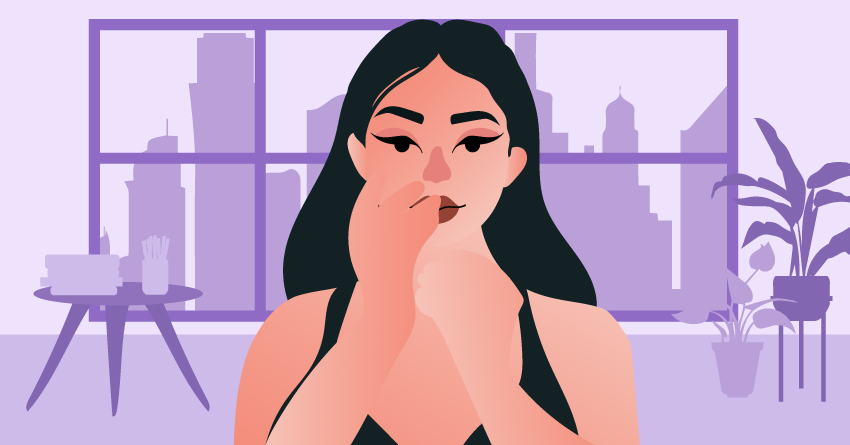 Bedroom games are all fun, but it doesn't mean it's all straightforward. You have questions and that's great. Here are a few answers that we hope can help.
1

How do I tell my partner I want to try out some bedroom games?

You simply ask them. The worst that can happen is they say no. If you're hoping that the bedroom games will help revive your sex life, maybe explain it to them and they'll be more open to the idea.
2

Should I only try bedroom games when my sex life is in jeopardy?

Nope. Enjoy bedroom games at any stage in your relationship. While they're most helpful when your sex life is in a rut, it doesn't make them any less fun when you aren't. So do whatever helps you and your partner enjoy sex.
3

Which of the bedroom games is best for beginners?

The bedroom games that are best for beginners are the games that are most comfortable for you and your partner. Find one that you can both enjoy, and will give you enough freedom to rediscover your sexualities and what turns you both on.
4

What if none of the bedroom games on the list interest me or my partner?

Make some up on your own! Bedroom games are meant to be fun and ease the pressure of sex. If you're stressing about the game you're gonna play to ease your mind about sex, you're missing the point. Refer to a game you both enjoy and add rules that can help it take a sexual turn.
5

Is it okay to try more than one of the bedroom games in one go?

Look, the ultimate rule to these bedroom games is that as long as you're enjoying what you're doing and rediscovering your attraction to each other, then it's all good. You can try out as many of the games as you want, and even combine them if you find ways.
Takeaway
Bedroom games are fun and exciting, but the main goal of them is to revive your sex life! Don't put too much pressure on having sex itself, but rather having fun and rediscovering each other in the process. If the first game doesn't end up with you both rolling in bed, it's okay. At the very least it would have reignited a spark that you can fan into a flame at a later date!