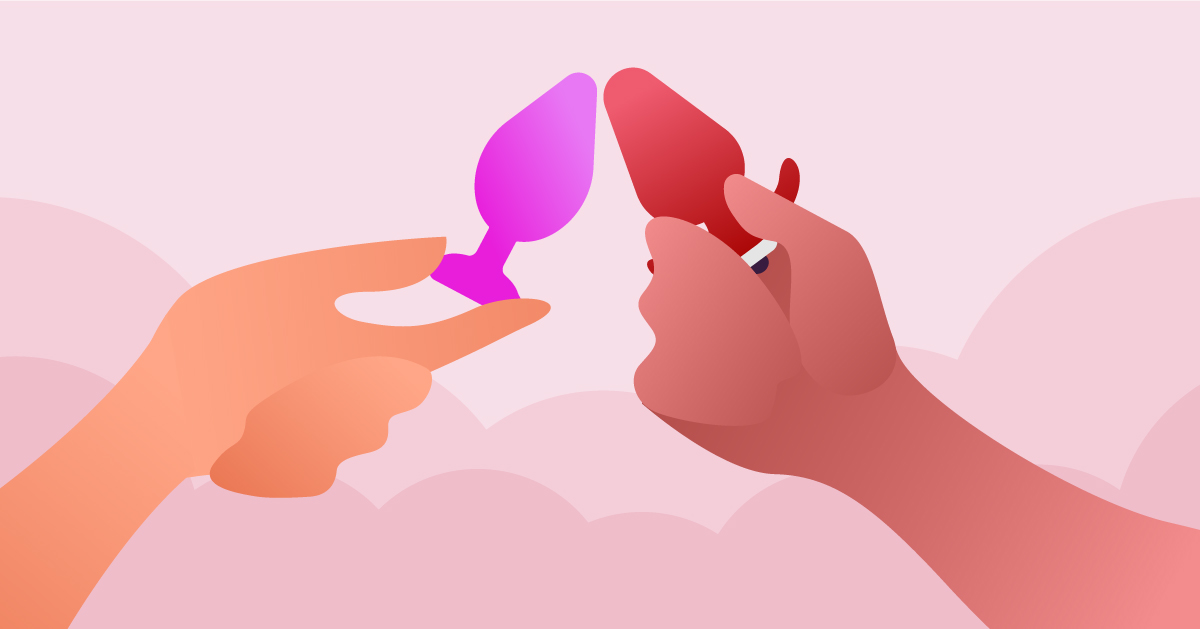 Curious about how to use a butt plug? Wanted to spice up your sexy time with some backdoor fun? Well, settle down as we're gonna spill the deets on how to use a butt plug—in a fun and safe way!
Did you know that your anus can be a great source for stronger orgasms? That little hole down there has tons of nerve endings that can send you to orgasmic heavens when stimulated. Not only that, but there are also specific spots that you can stimulate only through anal penetration, as the P-Spot.
And for our straight male readers who are thinking that anal play isn't for straight men, you got it all wrong! Buddy, there's nothing wrong with playing with your bum. Your sexuality is determined by the people you're attracted to, not with the spots that you want to stimulate. Let go of the shame and judgments and spoil your body with pleasurable sensations through anal play.
Now, to start off this guide, let's have a quick refresher on what a butt plug is.
What is a Butt Plug?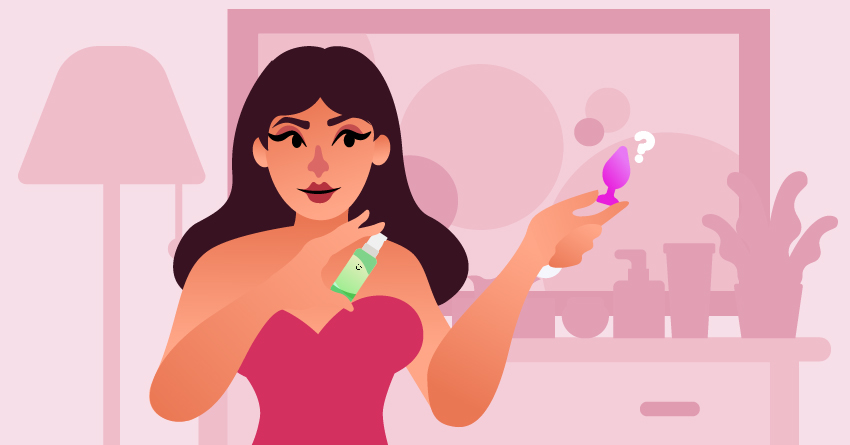 As the name implies, this sex toy is a plug for your butt. It's usually shaped like a teardrop and designed with a tapered body and a flared base. To use it, you simply dab some lube, put the butt plug in your anus, and just keep it in while having sex or masturbating. And though it's meant for your butt, you can also use it to your vagina, altering your vagina canal for better penetrative sex.
Now, if you're not familiar with this toy, you're probably wondering how this will benefit one's sex life. Well, it simply helps with stimulating the anus, which is a great source of pleasure for some—and for you too, should you start using this alluring toy.
You see, the anus is packed with nerve endings, sending delicious sensations on our bodies when stimulated. Aside from that, playing with your anus can indirectly stimulate certain hotspots that can even make you cum. For males, it's their prostate, while for females, it's their A-Spot.
Why You Should Use a Butt Plug
Using butt plugs can actually bring tons of benefits for your sex life, whether you're going for solo or couple plays. Here are some of the reasons why you should get one:
1

Perfect for all genders.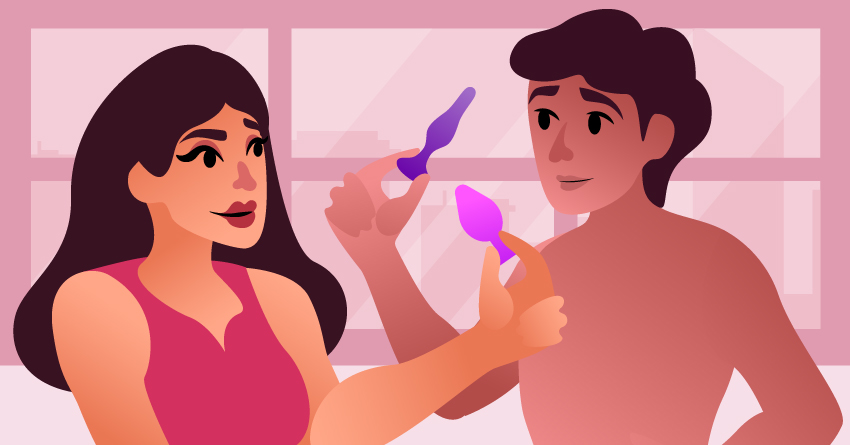 What's awesome about butt plugs is that anyone can enjoy them. It's not made for specific genitalia. You can also incorporate it on various sexual activities—whether you're into vanilla or kinky plays.
2

A good starting point to anal sex.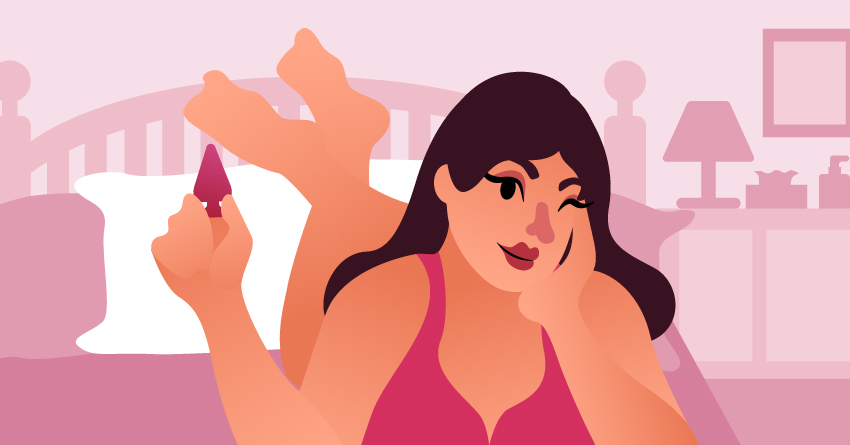 If you're interested in trying anal sex, but is not ready to take your partner's schlong, you can use a butt plug to prep your body. Using it regularly during your sexy sessions will make you more comfortable with anal stimulation.
Now, if this is the main reason why you're using butt plugs, we suggest buying butt plug sets. These usually come with at least 3 butt plugs. You will start off with the smallest one then use a bigger one as you get used to the previous size.
3

Using it can lead to better orgasms.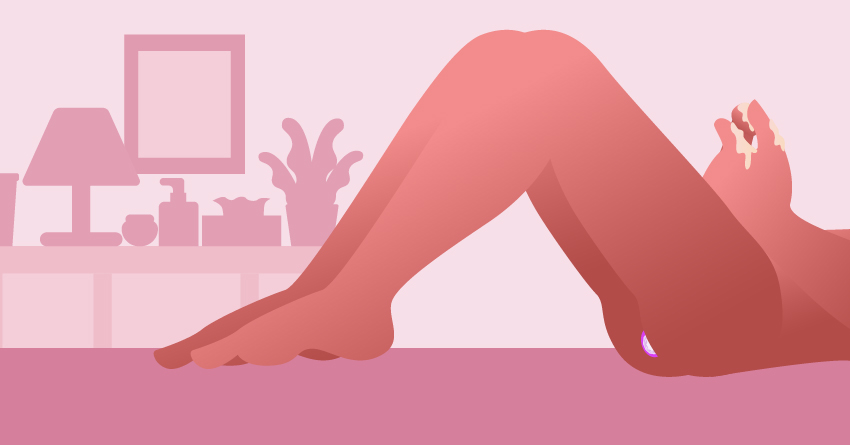 As we've mentioned above, the anus comes with delicious nerve endings. If you're playing with your anus while stimulating your other hotspots, you can expect more intense orgasms. Also for our male readers, your prostate—aka male G-Spot—is actually located in your anus. So if you want to experience body-shaking orgasms, we suggest playing with this sultry toy.
4

You can incorporate it to your kinks.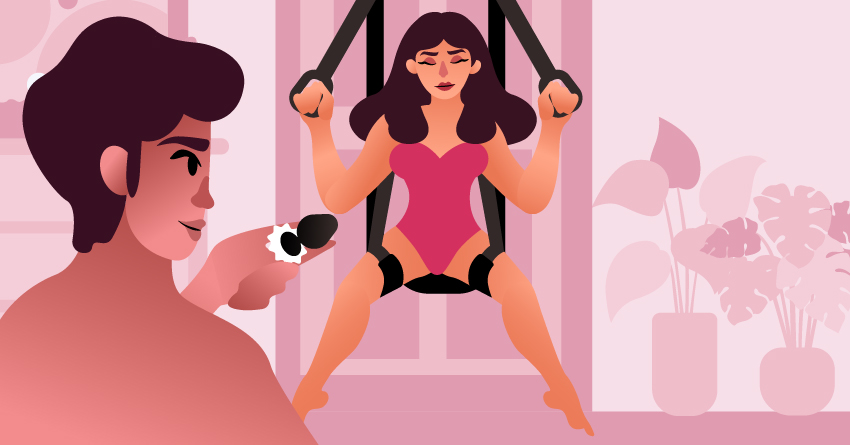 Into BDSM? You'll surely like playing with this toy. For our dom readers, you can command your lusty sub (with prior consent, of course) to wear a butt plug during your plays. You can also make you submissive wear it around the house, or to spice things up, make them wear it in public. Watch in full delight as your sub holds their squirms and moans during the whole play.
5

Discreet and easy to use.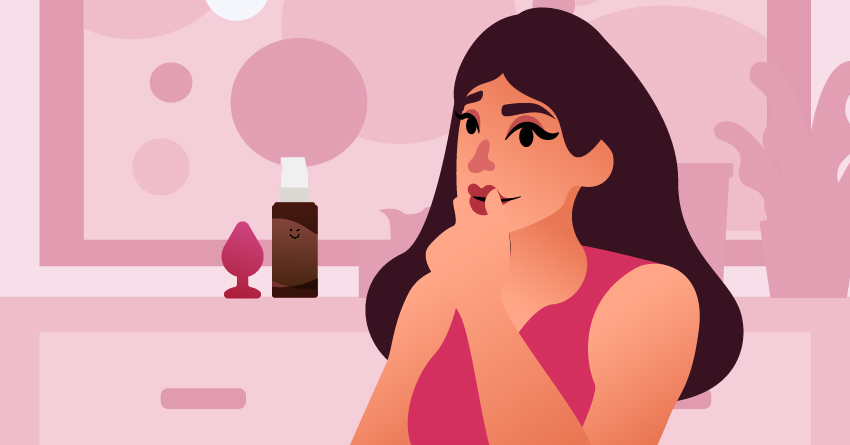 It's pretty easy to use a butt plug—just put some lube on the toy and insert it in your anus. Aside from that, it doesn't look intimidating too, as compared to other sex toys such as rabbit vibrators or realistic dildos. No one would even suspect that it's a sex toy at first glance, and is even mistaken as a makeup tool at times. Its compact size makes it easy to bring in your travels too.
Things to Consider Before Buying a Butt Plug
Now that you've learned about the benefits of using a butt plug, you're probably checking your favorite online sex toy shop right now. With that, we suggest considering the following things below before purchasing this handy toy. In that way, you're sure that you will be buying a butt plug that works for your needs and preferences.
1

Size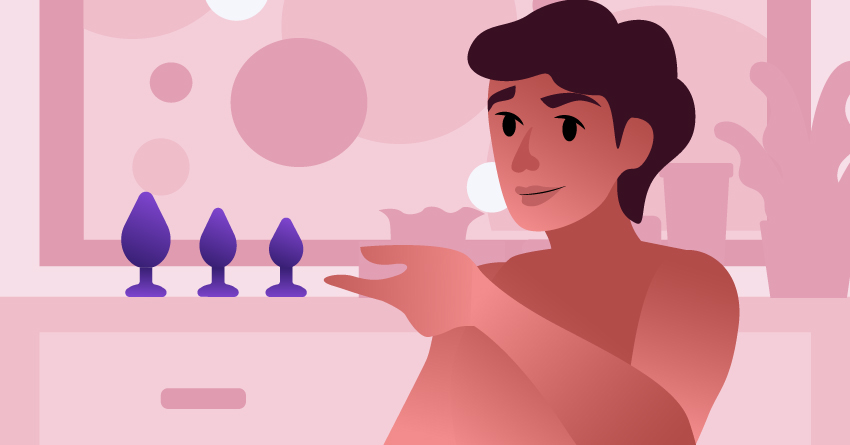 Butt plugs come in various sizes. If you're a beginner, we suggest going for a small variant first, which is about 1 inch in diameter and has an insertable length of about 2 to 3.5 inches. Once you're used to the beginner's size, you can slowly increase either the diameter or the length.
2

Shape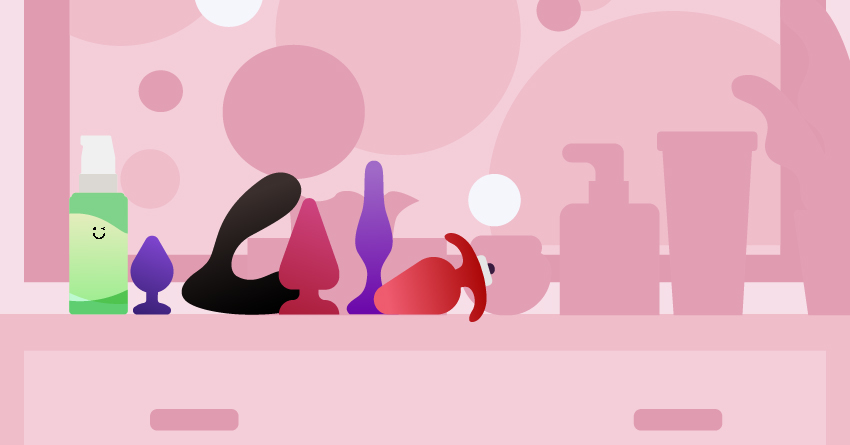 If you want to use a butt plug effectively, you need to consider its shape too. For beginners, we suggest trying the standard, which is the tear-drop shape. Once you're used on that, go for butt plugs with specific shapes that cater to your preferences:
For our male readers, buy a plug that's curved as it provides prostate stimulation.
For those who have a vagina and planning to wear this toy while having penetrative sex, go for a straight variant.
If you're planning to leave the butt plug for some time, go for a variant that has a longer neck (the part that connects the flared base and the bulb.
For the ones who are simply looking for something unique, try a butt plug that has ridged or bumpy textures in it.
3

Material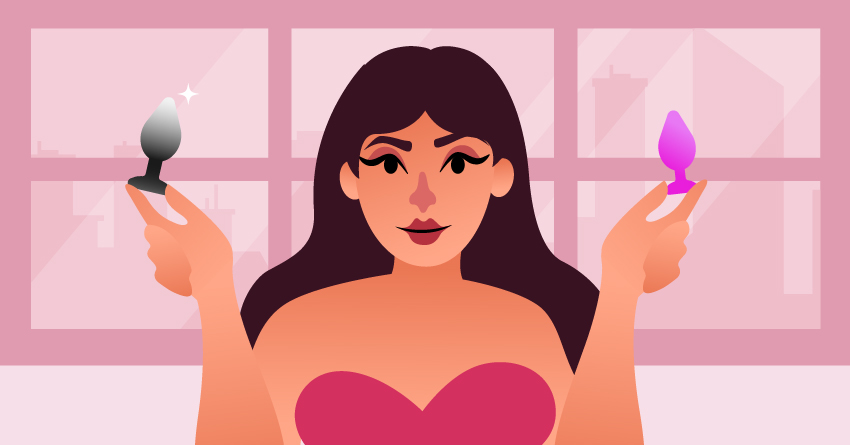 This is an essential factor as it can make or break your experience. Different materials provide different sensations, so make sure to choose an appropriate material for your preferences. If you're a beginner, go for softer materials such as silicone. Once you're used to it, you can go to harder materials such as medical-grade stainless steel. Now, for those who are into aesthetics, you can try glass or crystal butt plugs—just make sure to invest in high-quality (aka expensive) variants to ensure its durability.
Just take note though, make sure that the material of your butt plug is body-safe and non-porous—aka you can fully clean them. Examples of these types of material are medical-grade stainless steel, wood with a medical-grade finish, 100% pure silicone, aluminum, and ceramic. On the other hand, steer away from ABS plastic, jelly, rubber and other porous materials—you can't fully clean them and are prone to bacteria.
4

Special Features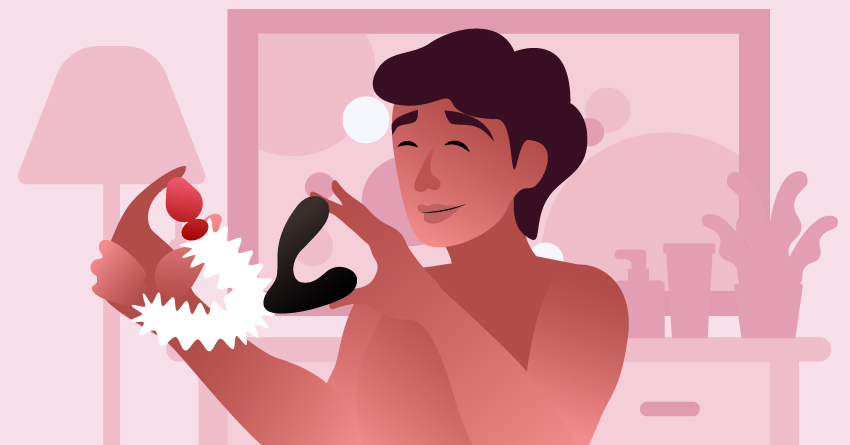 Some butt plugs have special functions in it, some can vibrate, some have extra weight in it, while others have a tail or gems attached to the flared base. When thinking of the features that you want in your butt plug, just think of your needs for it. Are you going to use just to simply stimulate your anus? Will use it for your vagina during sex? Are you going to use it for your kinky plays? Once you've figured out your needs, go for the butt plug that has features that can satisfy those needs and even amplify it.
But for those who are new in the butt plug game, we suggest going for some no-bells-and-whistles types. Then just move to the ones with special features once you're comfortable using it.
Ways to Play a Butt Plug
You've found your preferred butt plug, ordered it, and the package has arrived. Now that you have the b, it's time to play with it. Here are some ways to use and play a butt plug:
1

Wear it while masturbating.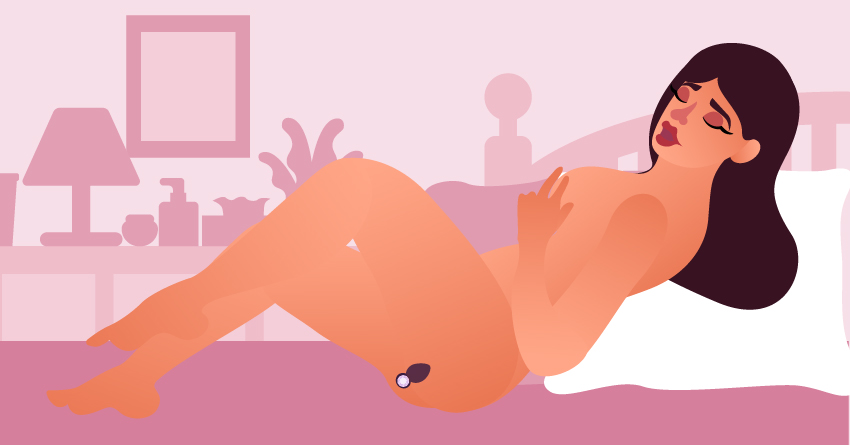 Wear the lubed-up toy while playing with your vulva, vagina, or penis. It provides extra sensations that will surely send to orgasmic heavens. You can also use it while using another toy, such as a vibrator or masturbator/fleshlight. This will fulfill your double penetration fantasies.
2

Use it while performing oral sex to your partner.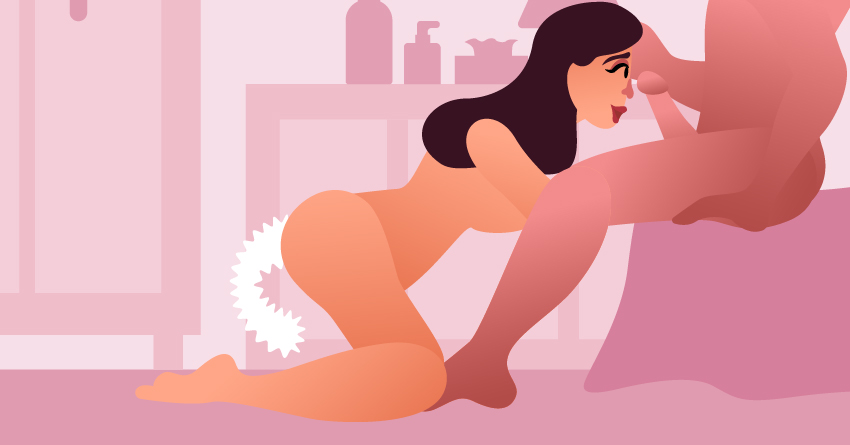 For real though, you can get pretty bored when performing oral (unless you're going for a 69 position). With that, we suggest using a butt plug  to provide pleasurable sensations and keep you in the mood. It can also amp up the experience—the more you're turned on, the more enthusiastic you are through the whole thing.
3

Wear it in your bum while receiving penetrative sex.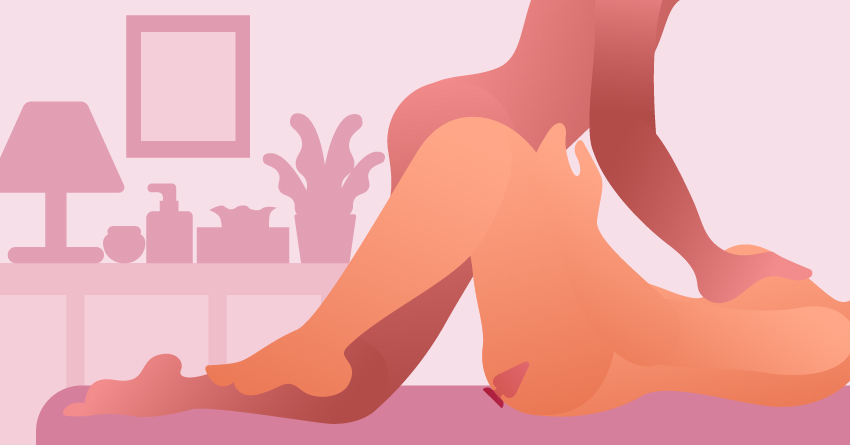 Have double penetration fantasies? If you want to experience getting banged by two guys but is not ready for player #2 yet, we suggest using a butt plug to fulfill that fantasy. You can also experience more intense orgasms in the end due to the extra sensations that you're receiving.
4

Wear it in your vagina during penetrative sex.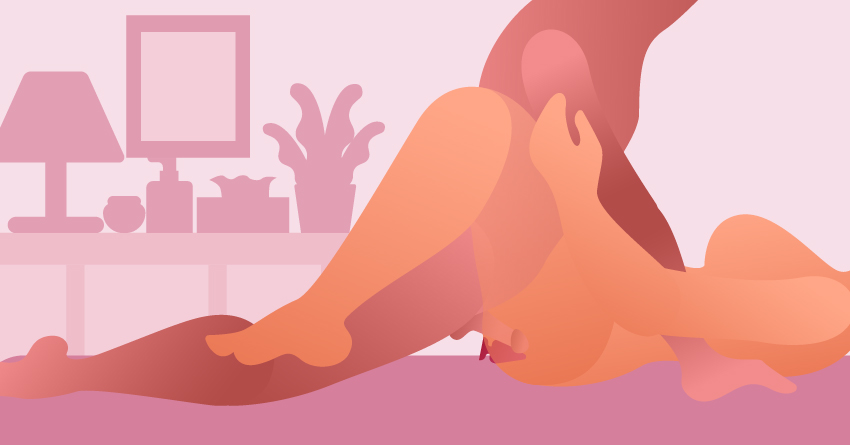 Though the name suggests that it's for butt use only, butt plugs can actually be beneficial for the vagina. Wearing it while getting pounded can alter the width of the vagina canal. This makes the penetration more pleasurable for some.
5

Use it as part of your kinky plays.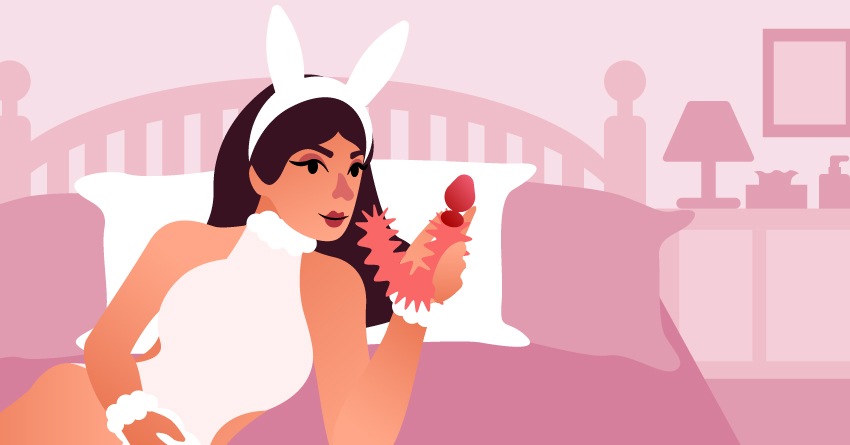 If you're into BDSM and power play, you can use this as a punishment or reward for the sub. With prior consent, make your submissive wear this in public, and even during an important event. Enjoy the subtle yet delightful squirms of your sub.
On the other hand, if you're into roleplaying, you can use butt plugs with animal tails in it, just in case you're into pony play or petting play.
Tips When Using a Butt Plug
You've got the toy. You know how to use it. Now, before indulging in some fun anal play, check these tips first. This will make your experience safer and more pleasurable.
1

Start small.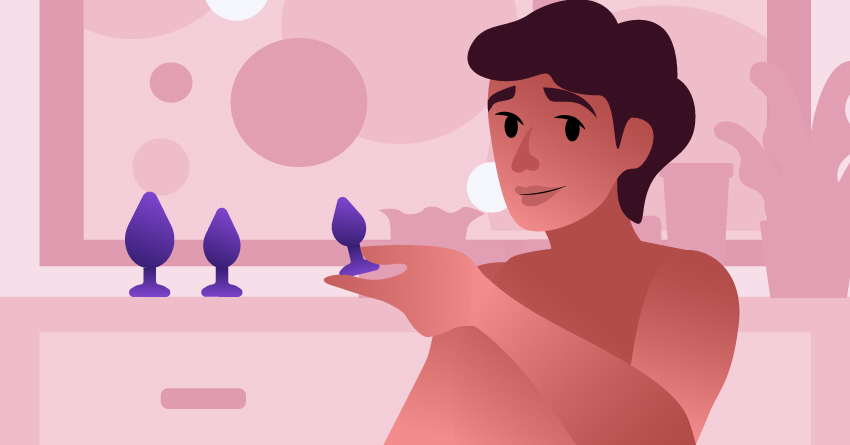 When buying a butt plug, it can be tempting to purchase the bigger variants. We get that you want to push your limits, but getting a non-beginner butt plug can lead to unnecessary discomfort. You're just getting used to stimulating your anus, don't complicate the experience by getting bigger plugs.
2

Use ample amounts of lube!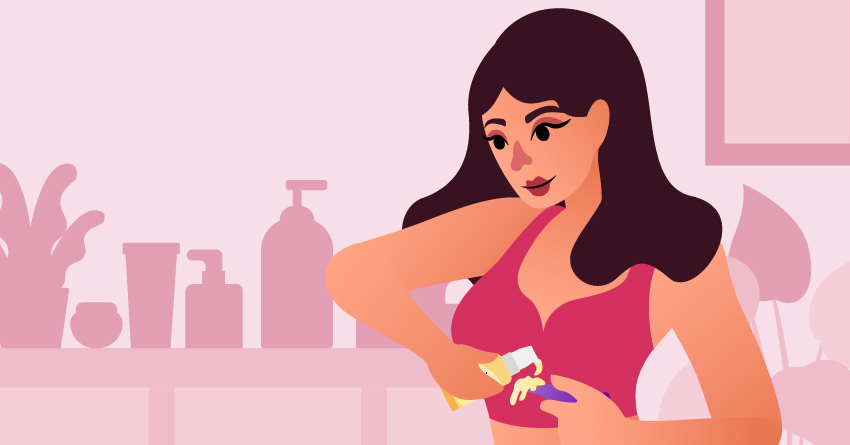 When you use a butt plug, lube isn't optional but is a requirement. The anus doesn't self-lubricate, unlike the vagina. If you're gonna insert something in there, there would be extreme discomfort due to friction. That's why using lube is a must—just go for water-based lubricant as silicone-based variants can ruin the surface of a silicone butt plug.
3

Get in the mood first.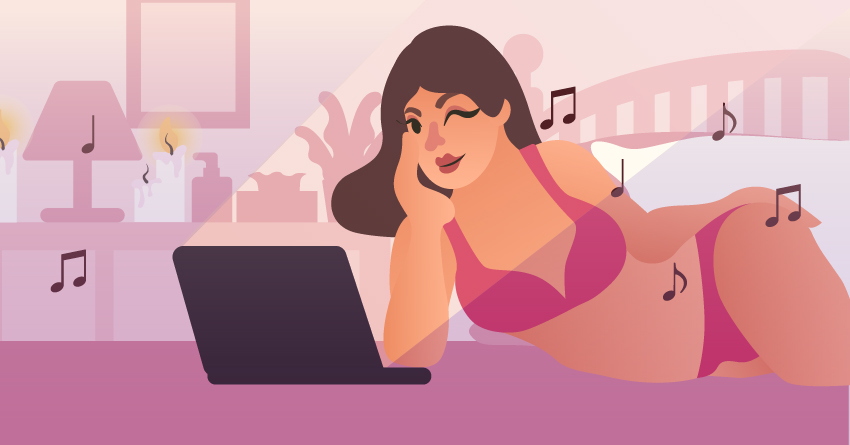 When going for anal play, it's important that your bum area is relaxed and that you're fully aroused.
To do this, we suggest altering your environment. Remove all distractions and even pop up some aroma candles for a more relaxing feel. Now to heat things up, you can either go for visual cues, fire up your imagination, or have a heavy foreplay session with your partner (for couple plays). You can also masturbate a bit and take yourself to the edge before putting the butt plug in.
4

Proper washing and storing is a must.
As with all sex toys, it's vital to clean your toy before and after use. Use warm water and mild soap and gently scrub all the residues away. Just make sure to check the cleaning instructions first as some toys can be submerged into the water while other variants, particularly the vibrating ones, cannot be submerged.
As for storage, we highly suggest putting it inside a satin or velvet pouch (if you're lucky, your butt plug already comes with a pouch). Store it away from your other sex toys to prevent contamination.
5

Consult a doctor first if you have issues in your bum area.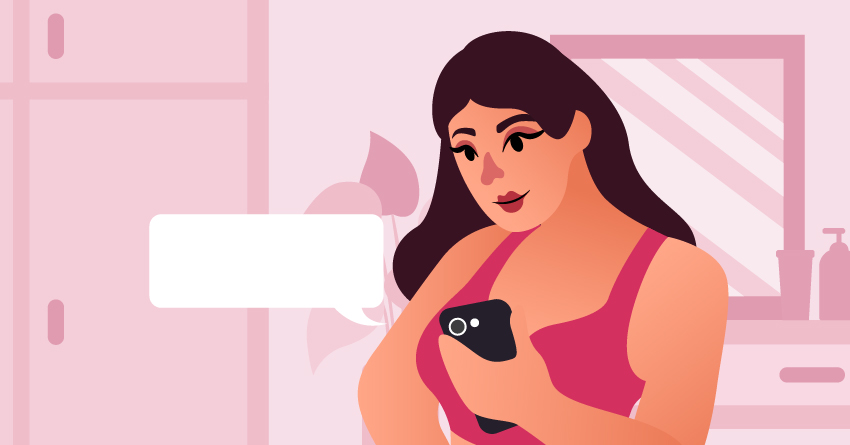 Before taking the plunge, assess your physical condition first. If you have butt issues, such as anal fissures, hemorrhoids, or a prostate condition, consult your doctor first before you use a butt plug.
Lauvette's Top Butt Plug Picks
Getting your first-ever butt plug? Already an experienced user and want something to spice up your collection? This article has covered all the bases. Surprise yourself or your partner with our quality and highly suggested butt plugs below.
1

Satisfyer Rotator Plug 1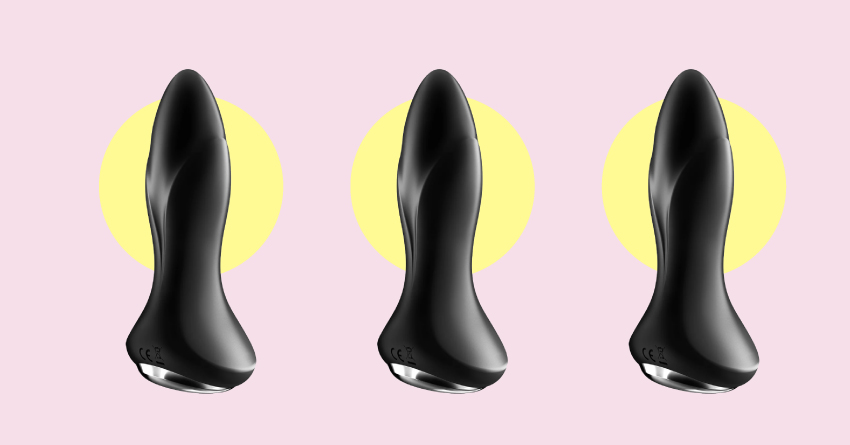 Let's start off with this unique anal toy from Satisfyer. It looks like any regular butt plug, but inside lies a sensual secret that your booty would love.
This pleasure toy has rotating beads inside its body. When vibration is added to the mix, it'll create an orgasmic sensation that you couldn't experience with other butt plugs. It's also app-controlled, so you'll get to customize vibrations, sync the vibes to music, and more.
2

Gildo No. 25 Glass Butt Plug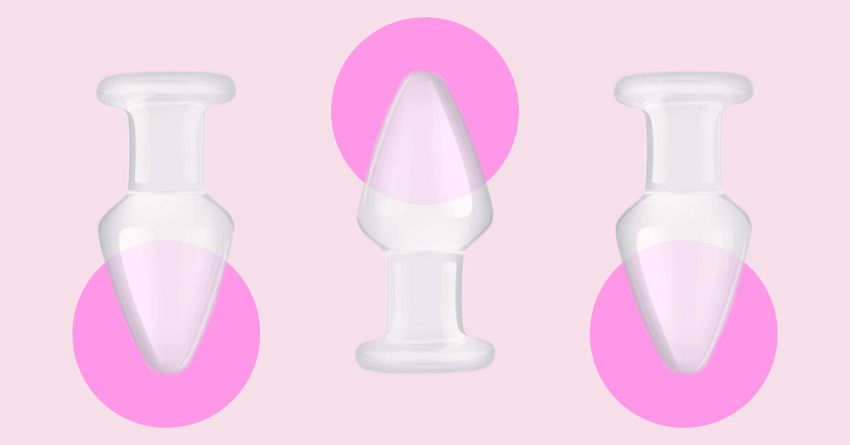 Are you into glass butt plugs? Oooooh, we got something for you. This adorable sex toy is made with shatterproof glass, so there is no need to worry about untimely mishaps. It has a simple and sleek shape, making it a good candidate for people who haven't tried butt plugs yet. This one also includes a storage pouch, saving you a few bucks!
3

Avant Fluid Silicone Anal Plug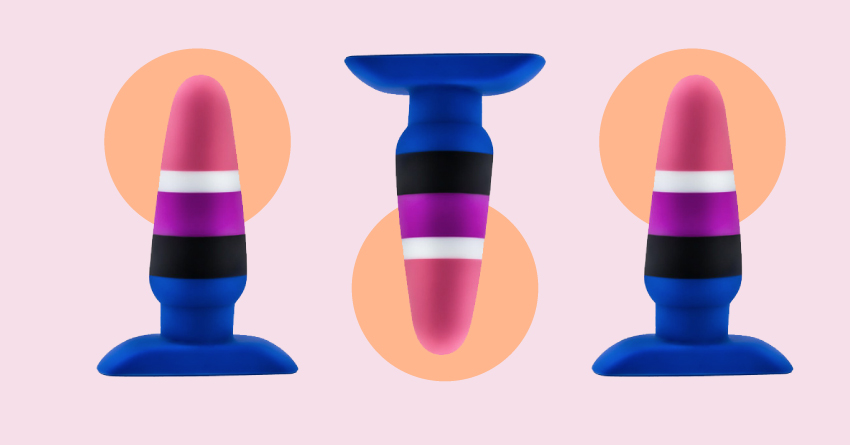 Unleash your fun and fearless self with this sleek plug! Inspired by the genderfluid pride flag,
A plug inspired by a pride flag. Whether you're part or an ally of the LGBTQ+ community, you're gonna enjoy this alluring toy. It has a slimmer body compared to the toys in this list, making it a good butt plug for beginners. Like other anal toys, it has a flared base for good measure and easy insertion.
4

Rocks Off Petite Sensations Bubbles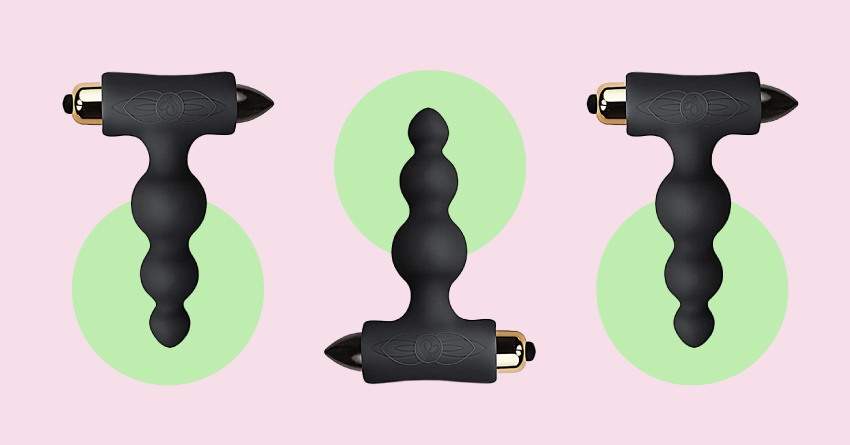 One look at this sweetheart, and you know it's gonna rock your booty. The Rocks Off Petite Sensations Bubbles has a unique three-curved design, plus a bullet vibrator that's packed with 7 settings. Trust us; these delightful stacks of spheres will blow you away!
5

Booty Rocket Slim Anal Plug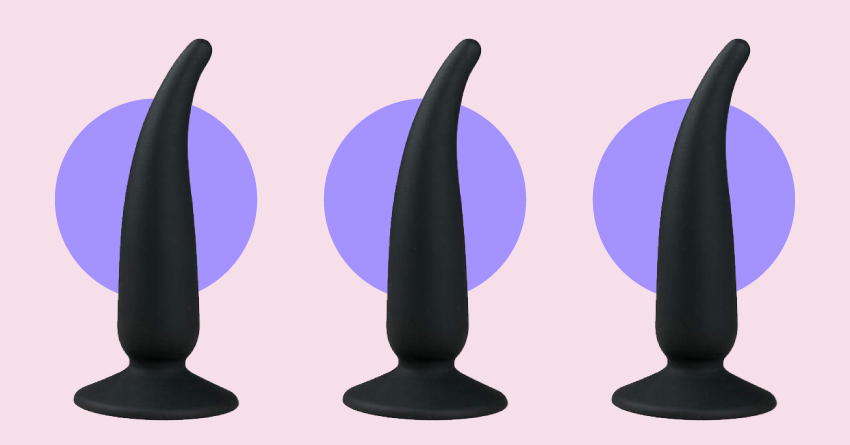 Here's another unique toy for butt plug beginners. It has a slim body and a pointed tip, ensuring easy insertion. Made with medical-grade silicone, expect it to be ultra-smooth and gentle on the skin. Plus, it even has a suction base for hands-free play.
6

SVAKOM Julie Vibrating Anal & G-spot Plug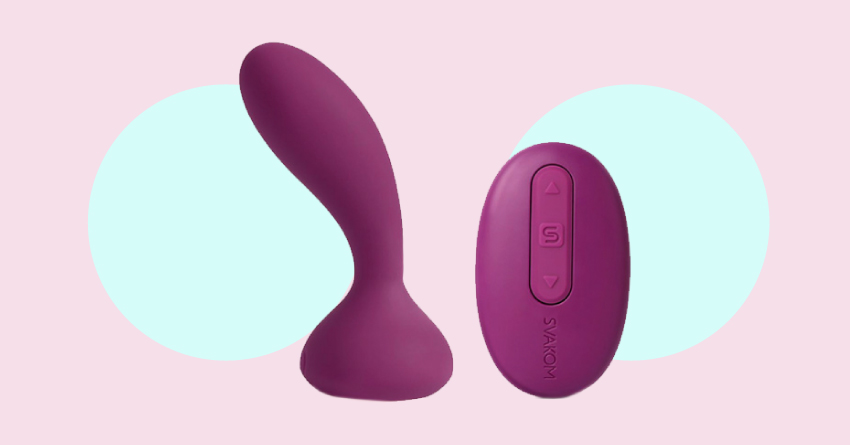 If you want a curved anal vibe, you may want to check this out. This one has a curved body, hitting your sweetest spots with ease. The head is also flexible, so you can easily adjust it based on your preferences. You can even use this with your g-spot, making it a great love toy for women who enjoy both vaginal and anal stimulation.
It's packed with 25 vibration frequencies, all of which you can control with its dainty remote. You can also rely on the vibrating power it holds, which is top-notch, as this is made by one of the leading sex toy companies in the world.
7

We-Vibe Ditto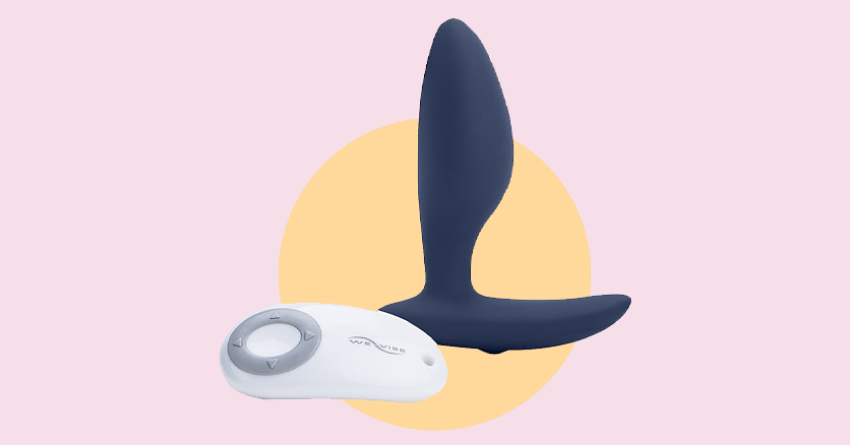 The price point may be steep, but trust us, the Ditto will make you "Ohhhhh" all night! This butt plug comes with a uniquely shaped body. It's only bumped on one side, making it a good option for those who've never tried an anal plug.
It comes with a remote control *and* can also be used with the We-Connect app, so you have so many ways to play with this vibrating plug. We-Vibe is also known for its deep and rumbly vibrators, and this alluring toy is no exception to that.
8

Satisfyer Air Pump Booty 5+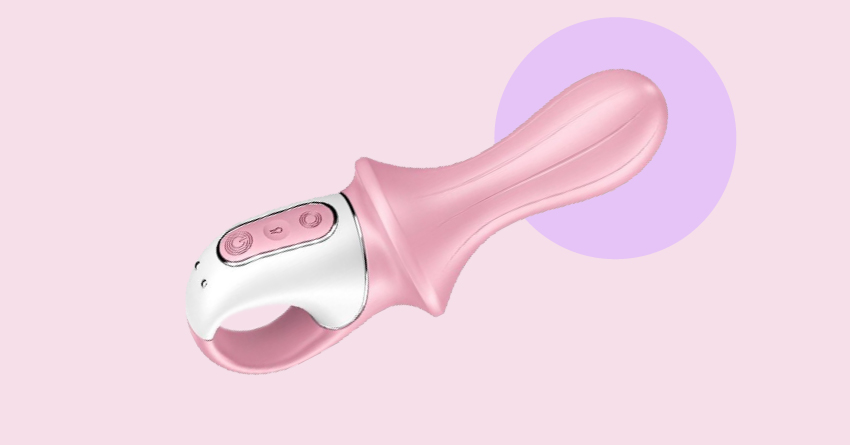 This one is a game-changer. For our experienced folks, you've got to give the Satisfyer Air Pump Booty 5+ a shot. This luscious toy can be inflated, giving you a much fuller feeling.
Imagine a bulbous toy getting slightly bigger inside your anus… We know you're getting flustered just by the thought. It's made by one of the biggest sex toy companies in the world, so you can ensure that this inflatable butt plug is incredibly safe. You can also control this via the app for easier use.
Frequently Asked Questions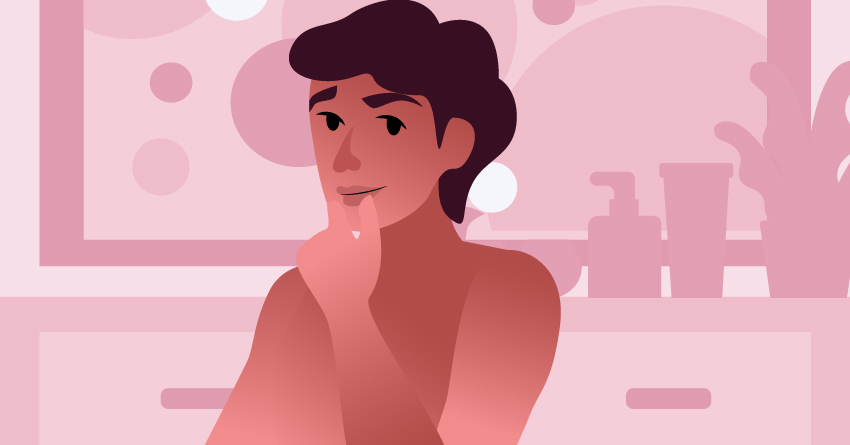 You've learned the basics. You've learned some tips. By this time, you're most likely ready to use a butt plug. But if you still have inhibitions and questions about this toy, don't worry as we've answered some of the frequently asked questions about this anal toy.
1

What's the difference between butt plugs and anal beads?

Getting confused about these toys? Here's a quick explanation.

These two are basically under the realm of anal play toys, but they are hugely different in terms of design and function. A butt plug is usually tear-shaped with a tapered body and a flared base. They're meant to stay put during the deed and are not used for thrusting. On the other hand, anal beads consist of a group of beads connected on a firm wand. They're made to move in and out of your anus.
2

Can a butt plug get stuck in my bum?

A common misconception about butt plugs is that it can get stuck in your ass. You've probably seen tons of memes over social media, talking about this one dude that had his butt plug insert all the way through.

Here's the thing, a butt plug has a flared base. You can't put it all the way through and it is designed to stay put. As long as you're using it properly, and that you're invested in high-quality plugs such as this Queen of Spades Anal Plug, you have nothing to worry about.
3

Can I just use a mini vibrator as a butt plug?

Mini vibrators can be used to externally stimulate the anal opening, but inserting it in is a big nope! They're not designed for anal penetration and can lead to awkward trips to ER if inserted on your bum. Just go for butt plugs or anal vibrators.
4

Is using a butt plug supposed to hurt?

Nope! For first-time users, you can feel minor discomfort, but it shouldn't feel painful at all. If that's the case, you're either not using lube enough or have issues in your bum area. Consult your healthcare provider as soon as possible.
5

Will I end up pooping if I use a butt plug?

Another misconception when you use a butt plug is that you will poop in the middle of the deed. No, that's not gonna happen.

What will happen though is that you will feel the urge to poop. You're stimulating the nerves in your anus that are responsible for pooping, so it's normal to feel like you're going to poop. With that, we suggest using the bathroom before playing the toy so you can take your mind off it.
Takeaway
Butt plugs are fun addition in your sex toy stash. These cleverly-designed toys are awesome for anal play and even for vaginal sex. As long as you've found the perfect variant and use it properly, you will surely have a fun plug-n-play sexperience!