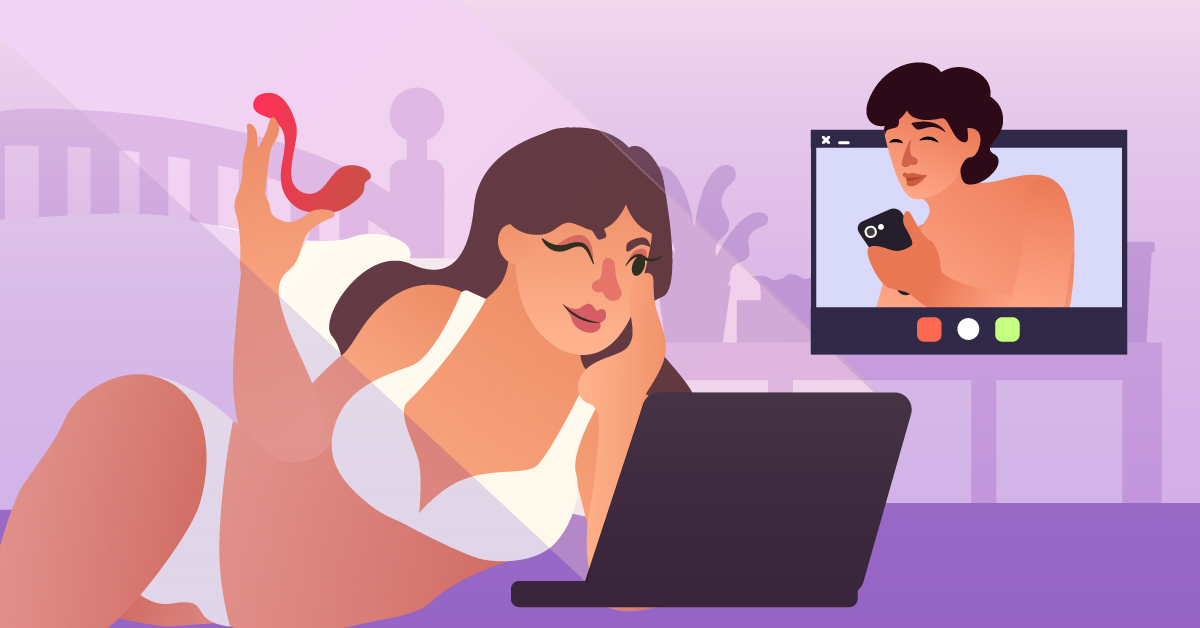 Making a long-distance relationship work is hard, as anyone who's ever tried one knows. Not seeing each other for long periods requires some creativity to maintain intimacy and stay emotionally connected. If you're in a long-distance relationship, app-controlled toys are where it's at. These are long-distance sex toys that your partner can control from 2000 miles away. You can have a fulfilling sex life with someone with long-distance toys even if you don't live in the same city.
Of course, long-distance relationships were not something new in the last year but they did become prevalent. Sex toys for long distance relationships have become more popular due to social distancing. Whether it's months or weeks apart or just a quick trip, we've got the 12 best long-distance sex toys that will surely make your next naughty call as sexy as possible. We will also do a quick FAQ to address more queries on these fantastic toys.
What are Long-Distance Sex Toys?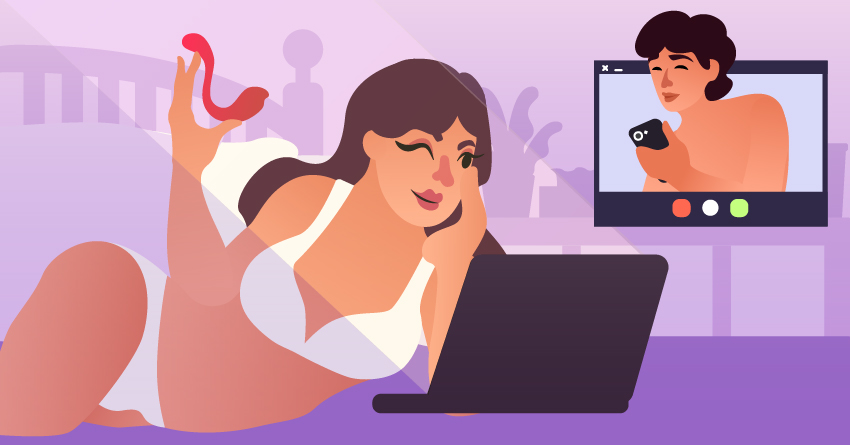 Long-Distance or App Controlled Sex Toys are alluring toys you can control on your phone. They are technology-enabled pleasure products that come in different colors, sizes, and levels of sophistication. All these factors make them an ideal sex toy for those who are into public plays or long-distance couples. Simply connect your sex toy on its designated app, finish its quick setup, invite your partner's account to control the toy, and you're good the go! 
Aside from providing a high-tech way of controlling your toys, app-controlled sex toys come with other advanced features. Some premium app-controlled sex toys can sync with interactive porn. And most apps let you create rooms wherein you can interact with people with your pleasure device. Some sex toys let you create your vibration modes, while others can sync your music. But along with the innovative features, most sex toys come with premium prices. That's why when getting a smart sex toy, make sure that it matches your preferences and desired design so you can make the most out of it.
Best Sex Toys for Long-Distance Couples
There is a wide variety of sex toys out there, and you should opt for the best ones for the best Os. If you want high-quality long-distance sex toys, there is plenty to choose from here. We've broken down our top toys from different premium brands. It's important to note that all the apps mentioned here are secured and encrypted so you'll surely have safe, intimate plays. Let's begin!
Best Long-Distance Toys from Lovense
One of the best manufacturers of smart sex toys, Lovense is a Singapore-based teledildonics sex toy manufacturer. And all their toys can be controlled via Bluetooth using the Lovense mobile app.
About the Lovense Remote App
The Lovense Remote App features include local remote control, long distance control and music based vibrations. When you're connected to the Lovense Remote app, your app-controlled toy can be controlled via Bluetooth at close range–up to 20-45 feet–or over long distance through the Internet.
The remote app also lets you create rooms where you can engage with multiple people simultaneously. You can use the Lovense app for solo play or connect with your partner, or multiple partners to spice up your love life. And in the app, you can choose between vibration levels, video chat, in-app message your partner, sync with other toys, and music. The Lovense app is available in the App Store and Google Play, making it work for most Apple and Android products. You can also download the app on most Macs or use the USB Bluetooth adapter sold by Lovense to connect to any Windows PC.
The Lovense toys, together with the app, carry all of your traditional options from vibrators to masturbators, offering items and stimulations for both men and women. The toys carried by Lovense are some of the best on the market today and made from the highest quality materials. All of the toys from Lovense come with a one-year warranty as long as they are used correctly and cared for properly. Let's take a look at some of the best long distance toys available from Lovense!
1
Lovense Lush Gen 3 App-Controlled Vibrator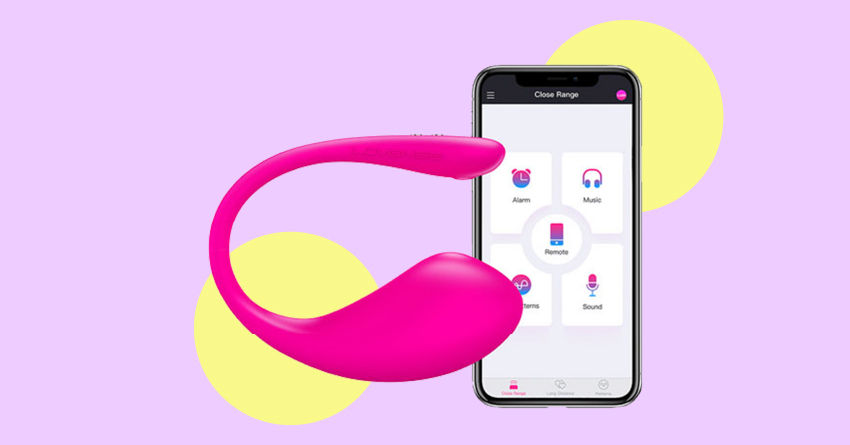 App-Controlled Egg Vibrator
Key Features: This toy is one of the top sellers in the Lauvette shop and for a good reason. It's a vibrator that features an ergonomic wearable design, highly powerful vibrations (4x more powerful than most love eggs!), and long-distance control. 
With the Lovense Lush Gen 3 App-Controlled Vibrator, you can sync the vibrations with your favorite songs through the app. Lovense Lush 3 is the latest, improved version of the Lush series with extremely strong vibrations. It is a c-shape remote-controllable egg vibrator. Lush 3 keeps all the beloved features Lush 2 has. And this new version comes with an upgraded battery and Bluetooth chip. Lush 3 is ideal for erotic cam performers, long-distance lovers, and even those who want to try something advanced for self-pleasure plays. 
Thanks to the top-notch material, it's absolutely comfortable to insert the toy. There's no problem even if you keep wearing it for long hours. The high-quality silicone material is soft (10x softer than latex) and plush to the touch, making it comfortable to use even if you have sensitive skin. And a major feature of the Lush 3 is that it is 5 times stronger than other egg vibrators.
Aside from the high-powered vibes, this luscious toy also features a fixed tail/handle to keep your vibe in place. And if you want to use it for solo plays, it can be controlled manually or via Lovense Remote App. Cam performers will also love this, not just because of its app-control feature but with its long battery life as well– you can play this vibe for up to five hours!
2
Lovense Nora App-Controlled Rotating Rabbit Vibrator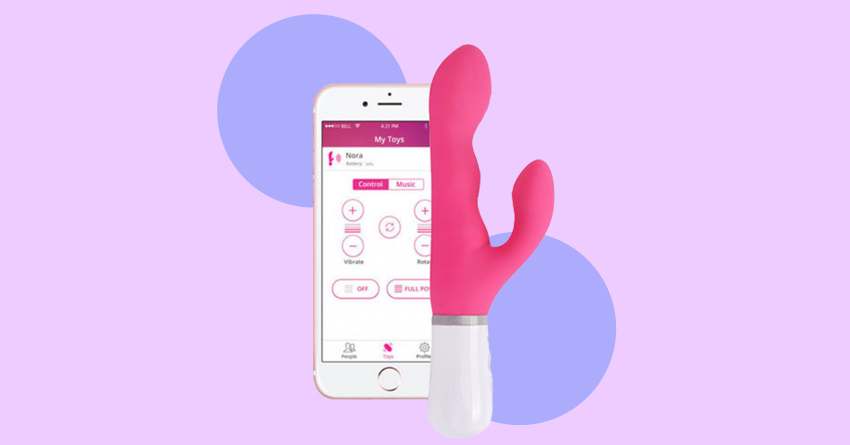 Rabbit Vibrator
Key Features: The Lovense Nora is a rabbit-style vibrator made of high-quality, body-safe silicone (and a plastic handle) with a longer arm topped with a rotating head to brush against your G-spot, and a powerful vibrating smaller arm to stimulate your clitoris.
Are you looking for the ultimate LDR toy? This is the one for you! The Lovense Nora App-Controlled Rotating Rabbit Vibrator allows you to get unlimited vibration patterns via the Lovense Remote App.
Lovense Nora has a video call feature via app; which allows you to have secure video calls while playing. And to keep your plays super discreet, it has a low-noise feature in its design Plus, it features a flexible curvy shaft, rotating head.
A true result of over 10 years of development, Nora is designed to exceed your personal needs and expectations. The hardware and software for the device have been continually perfected using past user recommendations to create the best vibrator possible. Take it from us, Lovense Nora is a powerhouse of a vibrator. It has a flexible shaft, rotating head, 3 high-powered vibration modes, and 3 rotating modes.  And if ever you want more vibration modes, you can get unlimited vibration patterns via the Lovense Remote App. You can connect Nora with Max 2 through the remote app, syncing these two will make both toys interact, giving you the most pleasurable sensations!
3
Lovense Max 2 App-Controlled Masturbator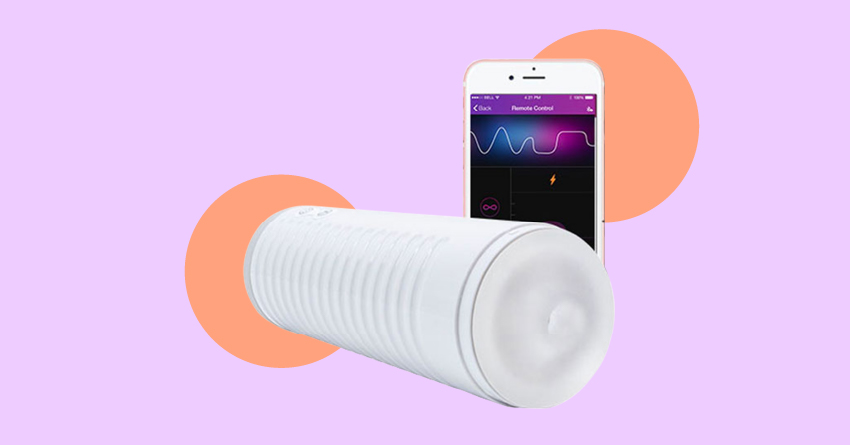 App-Controlled Masturbator
Key Features: This premium masturbator features a gender-neutral sleeve, powerful vibrations, 360-degree contractions, and long-distance control via the Lovense Remote App. 
The Lovense Max 2 App-Controlled Masturbator is one of the best masturbators in the market. It has an adjustable multiple-sensation sleeve, high-powered vibrations, and 360-degree contractions. This masturbator, unlike others on the market today, is designed to accommodate most sizes and stimulate while you stroke.
When controlled through the app, you can have multiple vibration/contraction modes, sync the vibrations with music, and have someone control the masturbator for you. It also allows you to have remote sex/in-sync play with other Lovense toys, particularly with Lovense Nora. If your partner has a penis and wants to get even more involved, they can purchase this masturbator. When you sync up this masturbator with another Lovense toy, they interact—so when you move your toy, theirs reacts to it and making you feel interactive stimulation in real time!
Best Long-Distance Toys from SVAKOM
SVAKOM is a premium sex toy brand that has been awarded by numerous organizations, such as the IF World Design Guide, Golden Pin Design Award, and XBIZ Awards. And they manufacture high-end vibrators, anal sex toys, kegel balls, and clitoral stimulators, all available in more than 100 countries.
About the SVAKOM Remote App
SVAKOM has been able to establish several branches across the globe. This ensures that every sex toy is well-produced and rigorously tested. As for their interactive toys, such as the connexion series, the SVAKOM app is always under strict development, securing all of your data on the said platforms. 
The SVAKOM app includes a Free Touch Mode, where you drag your finger all over a blank screen and that increases or decreases the vibes. This setting is the type of function that's definitely best with a partner. With the SVAKOM App, you can enjoy the endless pleasure in any place and any time to explore more thrilling sensations. Once you've downloaded the app (available in the Android or iOS app stores), it will run in seconds. As you connect with your partner in "Remote Mode" the SVAKOM app also has "Music Mode" that you can sync to play your own music with synced vibrations. And in the app's "Sound Mode", your toy will vibrate according to the current environmental decibel change. With that being said, let's check the top app-controlled SVAKOM toys!
1
SVAKOM Phoenix Neo App-Controlled Wearable Vibrator 
Wearable Egg Vibrator
Key Features: SVAKOM Phoenix Neo is a wearable egg vibrator that has an insertable length, ergonomic design and comes with 11 vibration modes. This toy can make your toes curl with every use! 
The SVAKOM Phoenix Neo App-Controlled Wearable Vibrator features an ergonomic design that will surely make you enjoy using this vibrator, as it can be remotely controlled through an app.
This vibe is also waterproof, making it a great staple for shower fun. And if you want to be super discreet in your plays, this one has whisper-quiet vibrations so you won't have to worry. SVAKOM Phoenix Neo comes with 11 different vibrations frequencies to make your toes curl. And for more added fun, this toy has illuminating LED lights on the tail of the toy, syncing to the vibrations for visual display.
2
SVAKOM Ella Neo App-Controlled Bullet Egg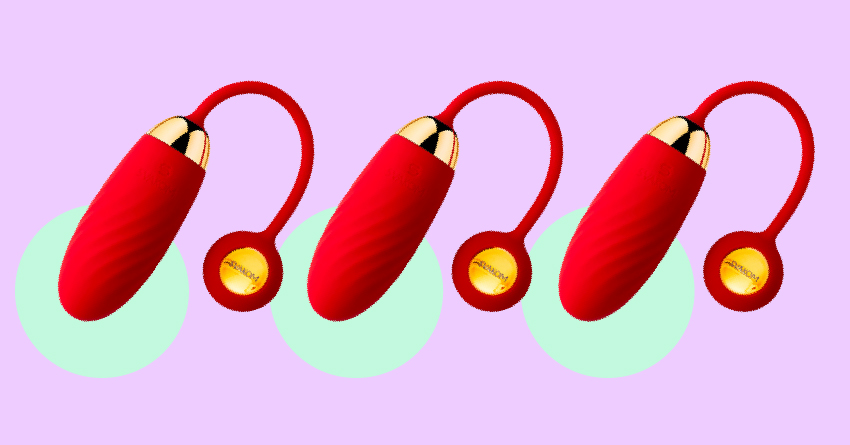 Bullet Egg
Key Features: This sophisticated app-controlled bullet egg has 11 pleasurable vibration modes and has whisper-quiet vibrations for discreet plays! And it's coated in smooth, silky silicone, making it super easy to clean.
The SVAKOM Ella Neo App-Controlled Bullet Egg, like the rest of the toys in this list, can be played remotely through an app. 
It's designed with 11 pleasurable vibration modes, letting your boo adjust the intensity levels of the vibrations, just at the touch of their fingers. What's more, you can also connect this luscious vibe to interactive 2D porn videos or through camming sites for enhanced solo play.
Ella's function-control button is at the end of the tail (it's a big circle!), rather than on the egg itself. So you don't need to dig in to change speeds, if you're wearing it vaginally for whatever reason, and want to change speeds the old-fashioned way—or if you need to power off suddenly.
SVAKOM Ella Neo is also USB rechargeable so you can enjoy an hour of playtime per charge. And it doesn't end there, this chic sex toy is designed with LED lights on its tail part, syncing to the vibrations for visual display!
3
SVAKOM Emma Neo Interactive Wand Vibrator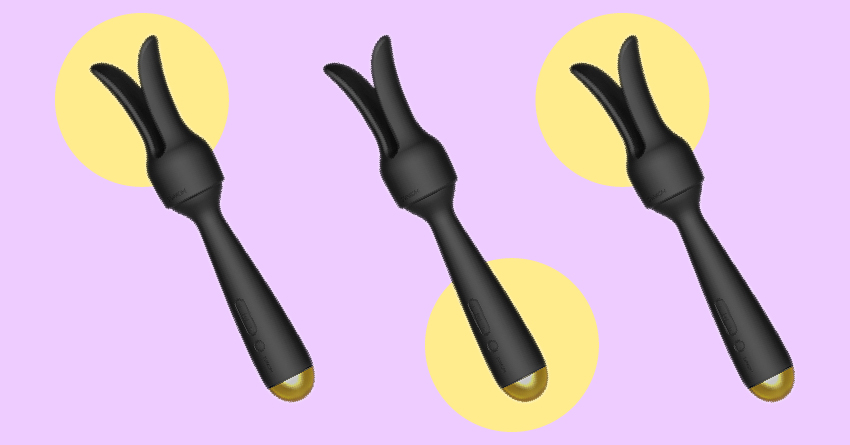 Wand Vibrator
Key Features:  This gorgeous wand massager comes in app-control capabilities and strong vibrations. Just connect this premium vibe on the SVAKOM We-Connect App, and you'll have access to other advanced features, such as long-distance control, sound-activated vibrations, interactive play to their 2D videos, and sync to music feature.
The  SVAKOM Emma Neo Interactive Wand Vibrator is designed with advanced features like a heating function that can warm up to 38℃. The bunny ears attachment serves good visuals and are for pinpointed stimulation. But the main part here is the stunning wand vibe that has a super strong motor with 5 vibration patterns with 5 intensity levels. 
This wand massager is a total treat because it also comes in app-control capabilities! Just connect this premium vibe on the SVAKOM We-Connect App, and you'll have access to other advanced features, such as long-distance control, sound-activated vibrations, interactive play to their 2D videos, and sync to music feature. 
Best Long-Distance Toys from We-Vibe
One of the leading global brands of sexual wellness products, We-Vibe uses their state-of-the-art techniques to offer ultra-premium sensual lifestyle devices for pleasure. Find out below the top LDR We-Vibe toys that we have in the shop!
About the We-Vibe Remote App
The WeVibe WeConnect App creates intimacy, even when you are miles apart from your partner. This app is used to create your own individual vibes that suit you and your desires.
In a nutshell, with the App you can connect and control We-Vibe sex toys by changing modes, intensity, turning on and off and so forth. However, what makes We-Vibe the leading brand in the market for couples vibrators is that the App allows you to pair your partner's phone giving them total control of your toy. No matter where your partner is, and by that we mean anywhere in the world – connect across the room or from a different continent, with We-Connect you can play with your lover and make it just as intimate as when you are in the same room.
The app allows you to choose modes, intensity and duration then save the playlist for later. It also allows you to chat with your lover via in-app text or video chat to make the experience more personal.
In the app, We-Vibe Sync offers two exclusive modes to create an even more intimate experience with your lover. When you pair to your Sync, the Beat and Touch mode icons will be highlighted pink, which means you are ready to go. In the Beat mode, you can vibe to the rhythm of your favourite music.  You could also use a personal playlist straight from your phone to set the mood you want, or choose to take in your surroundings by using the ambient option that picks up the sounds around you. We-Vibe Sync's Touch mode on the other hand, makes you feel closer than ever with your boo. Every action performed on screen translates instantly in the vibration.
1
We-Vibe Chorus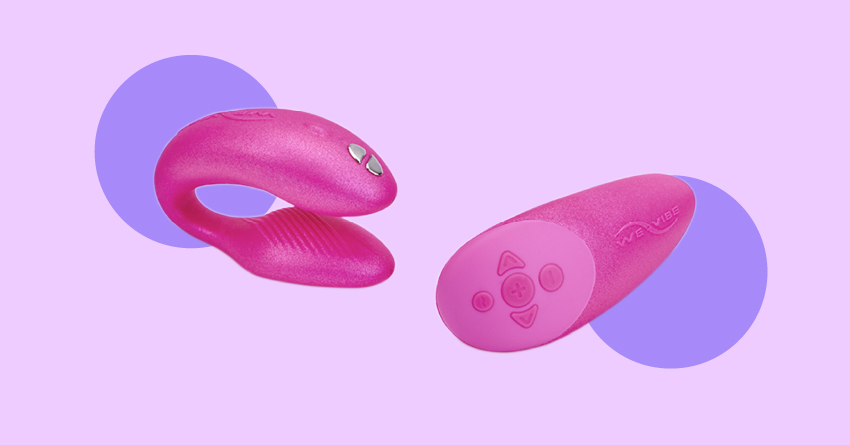 Couple Vibrator
Key Features: This is a popular couple vibrator and it has a charging case plus a remote control. The We-Vibe Chorus is an incredible, U-shaped wearable device that you can integrate into penetrative sex with a partner. It's created with a discreet and adjustable massager with 10 pulsating vibration modes, providing dual stimulation for you and your boo! 
If you're looking for a great app-controlled vibrator, let us introduce you to the We-Vibe Chorus. Especially great for penis-in-vagina penetration, the We-Vibe Chorus's slim and sleek build has an adjustable fit to your unique body, ensuring that it'll stay in position throughout the deed. While this is a couple vibrator, it can be used for solo play too. It comes in a sophisticated U-shaped design. And it features 6 pleasurable vibration modes, matching you and your boo's preferences with each sexy sesh.
It pairs easily with the We-Connect app so it can be used for long-distance or public play. It's quite a pricy piece of equipment but, when you consider it's one device that gives two people powerful pleasure, it will be super worth it.
2
Moxie Panty Vibrator by We-Vibe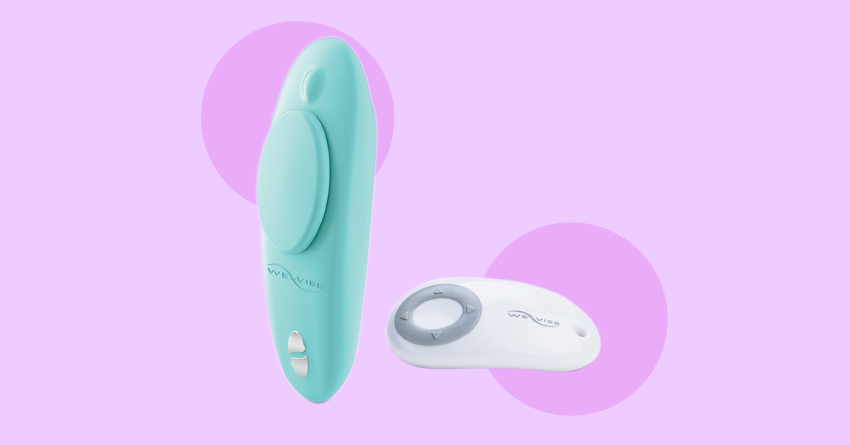 Panty Vibrator
Key Features: This is a wearable clitoral vibrator that is packed with 10 pulsating vibration modes. It also comes in a finely-contoured shape for fun plays. Moxie is a superb choice if you want some outdoor, hands-free sessions!
The Moxie Panty Vibrator by We-Vibe is a hands-free toy for your solo plays, or if you want an app-controlled vibe to play with your LDR partner, you can surely count on this premium love toy! And this panty vibe comes in a perfectly contoured design, even including a slip-proof magnet to keep the vibe in your underwear! With it's design, you can nestle it against or between your labia and against your clitoris without it being uncomfortable for longer wear!
Moxie also includes a magnet that attaches on the outside of your underwear and it stays firmly in place. And this device has a remote control for short distance use and an app that allows it to be controlled from anywhere in the world. We-Connect lets you control Moxie by turning the vibrations up and down, whether you are on the vibration mode or one of the several built-in patterns.
3
Jive by We-Vibe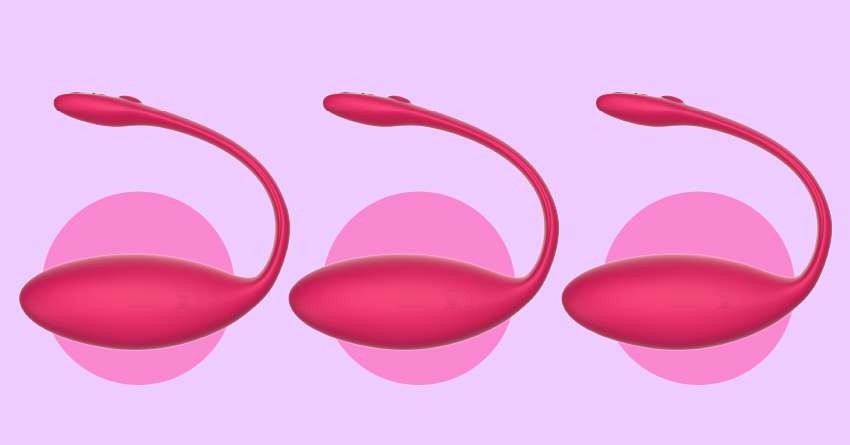 Wearable Vibrator
Key Features: It is a flexible wearable vibrator that features powerful vibrations packed in an ergonomically designed silicone casing. Jive by We-Vibe's body is oval, reasonably sized (about 1.5″ wide and 3″ long), and is attached to a flexible stem tail. 
Jive by We-Vibe features 10 deep and rumbly vibration frequencies, ensuring to match your preferences with each sexy session. It also comes in a sleek and ergonomic design, ensuring your comfort when wearing this vibe. The tail hangs outside your body (can snugly hang out in the sling of your underwear).  It's a simple no-frills design. The We-Vibe logo can be seen on the body, but otherwise there are no distracting decorative features. All these factors making this one functional and streamlined. 
The Bluetooth connects to something in the tail, so if you're having issues remember that it needs to communicate with that part of the toy. If you're in a long-distance relationship, you can still play together using the We-Connect App. In that case, the Jive will just pair to the phone closest to it.
Best Long-Distance Toys from Satisfyer
Satisfyer has an internationally-acclaimed premium line of vibrators, clit vibrators, masturbators, anal toys, cock rings, and kegel balls. The app-controlled products below, like all Satisfyer toys, are designed with the best technology available, ensuring maximum pleasure with every use.
About the Satisfyer Remote App
When you use Satisfyer Connect, you're not limited to just a few high and low vibrations presets for a few tired toys. With Satisfyer Connect, you're free to experience Satisfyer's diverse range of Bluetooth toys, using our beautifully intuitive haptic (touch) controls, or download from a constantly expanding online library of stimulation programs.
Satisfyer Connect can work with up to 12 compatible devices at any given time – and up to four simultaneously. And it's Compatible with all Android and iOS devices. Satisfyer can even connect can be your platform to connect with other open-minded, curious, and sex-positive people from all over the world.
1
Satisfyer Sexy Secret Panty Vibrator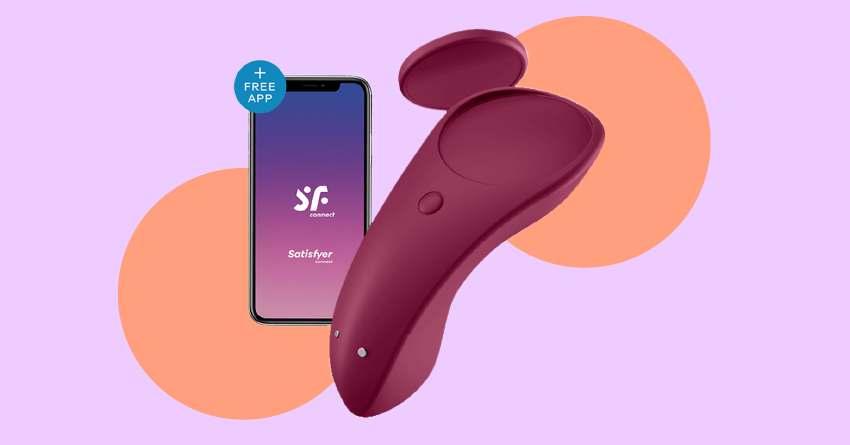 Panty Vibrator
Key Features: It is a chic rechargeable vibrator that uses a detachable magnetic disc to hold itself in place within the user's underwear, and tucks in between the user's labia to nestle against the clitoris. This makes the toy is easy to adjust and reposition, and stays in place very well.
Clit-stimulation lovers, rejoice! The Satisfyer Sexy Secret Panty Vibrator  is a clitoral vibrator that comes with an ergonomic and wearable design. The toy's silicone is smooth, squishy, and comfortable, and the toy as a whole is waterproof. Besides that, you can ensure you have discreet plays because of its whisper-quiet vibrations.
Just put the love toy in your undies and let the strong vibrations take over. You can also control this toy through the Satisfyer Connect app— perfect for long-distance or discreet public plays. The app also unlocks the following features with your toy: long-distance control, sync to music, and create your own vibration patterns. Simply install the Satisfyer Connect App on your smartphone, connect your vibrator in the app, and send yourself or your partner in a heated frenzy! 
2
Satisfyer Dual Pleasure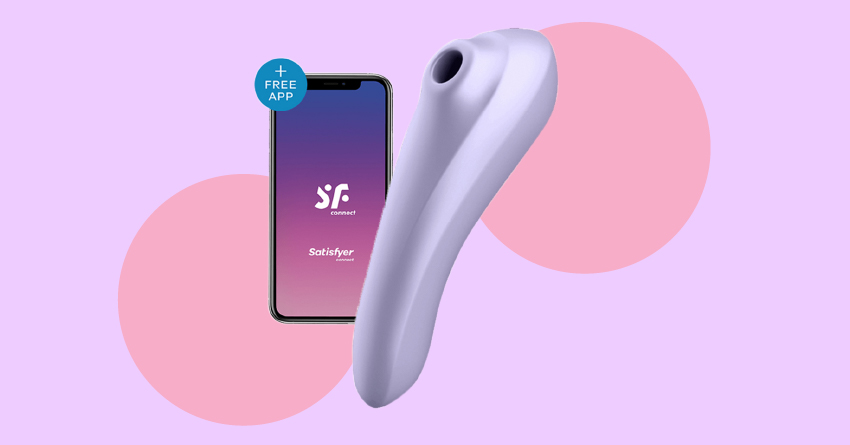 Clit Sucker & G-Spot Vibrator
Key Features: This is an elegant app-contolled clitoral sucker and g-spot vibrator in one. And it's designed with a slightly curved shaft and sleek opening hole. Plus, Satisfyer Dual Pleasure is created with Air Pulse Technology that provides touch-free clit stimulation!
Satisfyer Dual Pleasure has a slightly curved shaft and it's made of body-friendly silicone. This device can stimulate more than just the G-spot, the other end is a clit stimulator that will titillate your pearl with pulsating pressure waves. Since the Dual Pleasure is also waterproof, it can join you in the shower or bathtub and can be cleaned easily with warm water and mild soap. If your device ever runs out of steam, you can recharge the integrated batteries with the included USB charging cable.
Aside from the dual function, this sex toy also offers total control via the Satisfyer Connect App! To start, install the app on your smartphone, connect the toy, then get advanced features such as long-distance control, creating your own vibration, air-pulse programs and syncing your vibrations to the music you prefer!
3
Satisfyer Mono Flex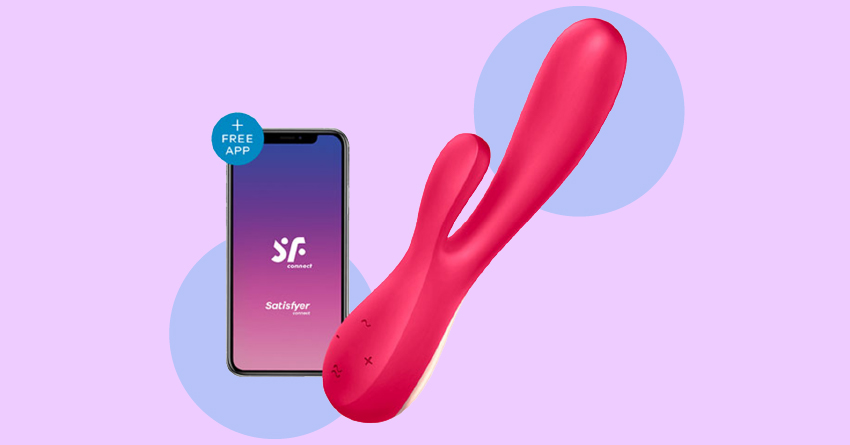 Rabbit Vibrator
Key Features: This a silky smooth rabbit vibrator. That means it has two motors — one that vibrates the insertable portion of the toy and is designed to give G-spot stimulation, and another that vibrates the rabbit ear that's meant to pleasure your clit.
Do you need a flexible low-noise toy? The Satisfyer Mono Flex is here to meet those sultry demands.The insertable portion itself is flexible, which allows for easier, smoother penetration. The rabbit ear can practically be bounced around as much as you want it to. And it features 11 vibration modes– ranging from gentle vibes up to earth-shattering vibrations. And if you want to bring this in the shower, you can also do just that as this vibe is waterproof. 
Like the rest of the toys in this list, you can connect this to your phone via bluetooth and control it through the Satisfyer app. You could let your music playlist take over and control your vibrator for you. It works really well when controlled at a distance, too. Because it's a rabbit vibrator, you can't just wear it and go about your business while your LDR partner vibes you at their whim through the Satisfyer app. But it's still lots of fun to give someone else control of the vibrations while you hold on to the actual toy.
Tips For Choosing and Using Your App-Controlled Toys
There are tons of premium toys available out there, and it can get overwhelming on which to select, especially if you're a beginner. Don't worry. In this list, we'll break down what you need to consider how to choose, use and take care of your long-distance toys.
1
Make sure you and your partner are living somewhere with a stable internet connection first.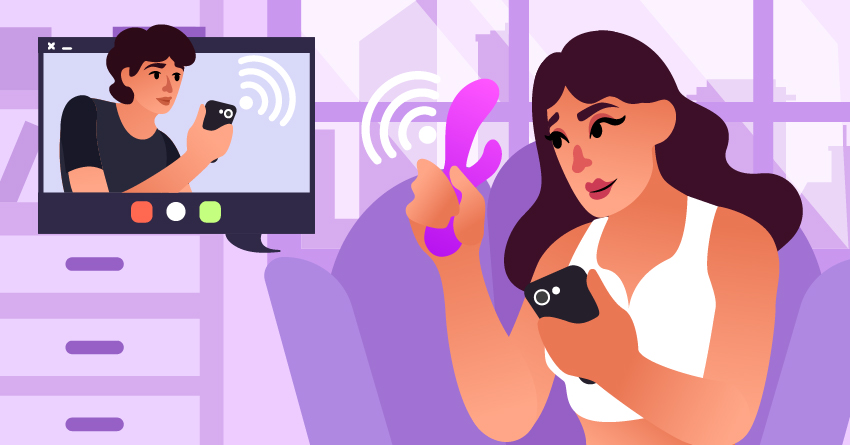 In many scenarios, people often forget this, and you don't want a bad connection to ruin your intimate moments. Many high-tech sex toys will lose their functionality if your Internet connection is poor. Do this step together with your partner too, because you may have stable connection while they don't and the whole session could be jeopardized by not taking this step. Test your connection before using the toy, and set up your play area within reach of your WiFi signal.
2
Identify your desired stimulation and the features you need in a toy.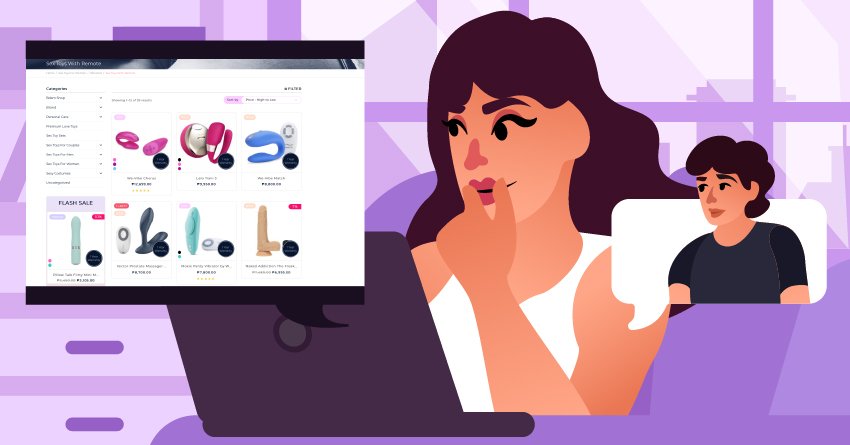 We all get our kicks differently, so it's a pretty personal choice where you want to get stimulation. Some vibrators focus on the g-spot, some the clitoris, and others on everything simultaneously, so base your choice on what you know you like. You may also want to try syncing your toy with music to fully immerse in the moment or maybe enjoy video chat with your partner as you play with a toy. There are tons of options out there so communicate with your lover and check the features both of you would enjoy.
3

Research

 the app capabilities with the toy.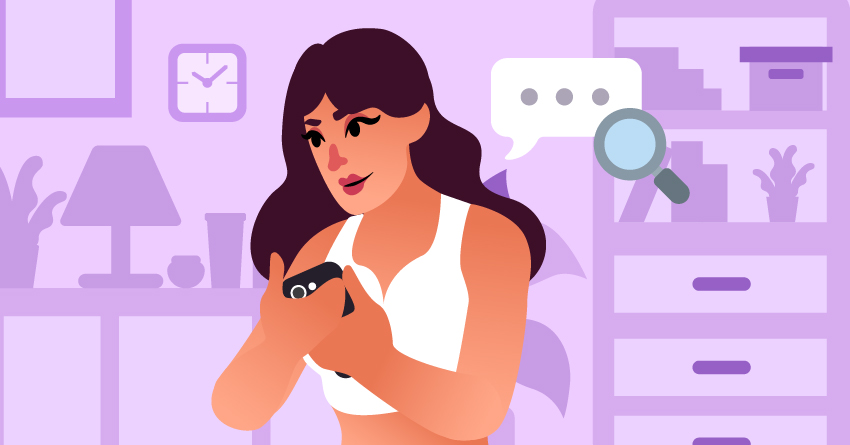 When it comes to app-controlled sex toys, the app is hugely important. There's no bigger turn-off than poorly functioning technology, especially when it means you have to pause your remote sex session because of it. Some apps can connect pulsation patterns with erotic audiobooks and music, so if that appeals, make sure you check out the extras.
Different types of vibrators vary when it comes to how many different speeds and pulsation patterns they offer. If you need variety to get off, make sure it's got plenty of options. The details on a toy is usually disclosed in the brand's or shop's site so you can find good options by doing a thorough search.
4

Get your toys from a highly reputable and reliable shop.
Opting to get toys from a reliable and sex-positive shop means you're selecting high-quality pleasure devices. Since the shop has a well-rounded selection of toys and products, you're guaranteed to find the right one for the stimulation you need. And what better place to find premium toys than in the Lauvette shop. The Lauvette shop offers the best love toys for anyone who is seeking to love themselves in different ways!
5

Research up foreplay techniques using app-contolled vibrators.
Knowing your foreplay game will help you set the mood with your partner. For LDR play, you wear an app-controlled vibrator. Then let your partner use the app to control the good vibrations that you receive.
Or if ever you and your partner meet IRL, you can use an app-controlled egg vibrator while giving your husband a blowjob or handjob so you can have fun too. Simply press the vibrator against your clit as you stimulate your boo with your hands and mouth. Give your partner the phone and let him control the intensity of the vibrations you receive.
6

Take advantage of the app's sound and music features.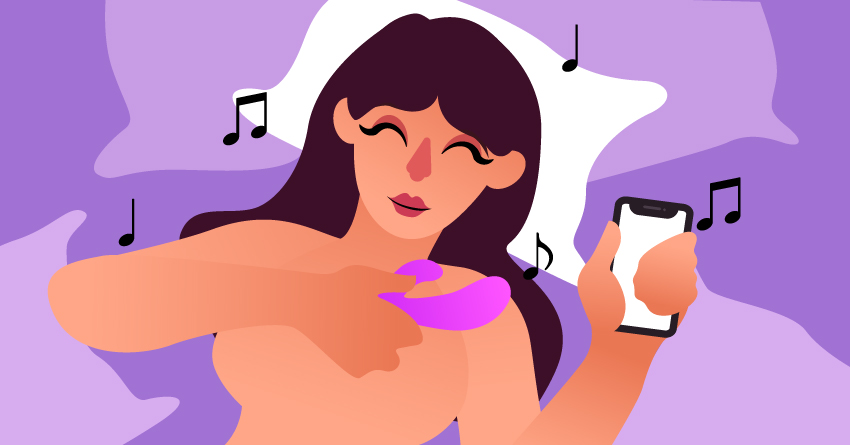 There are apps that have a music feature wherein you can play streamed music or music in your library into stimulating rhythmic beats on your toy. You can import your favorite song in the app, and the vibrations on your vibrator will play along with the music's rhythm.
This sound feature in some apps is also great because it lets noise command the vibrations of your toy. For instance, the tone and volume of your voice will impact the toy's vibration. You could talk over the phone and affect the vibrations of the toy your partner is using from faraway.
7

Use the right lube for your app-controlled silicone toys.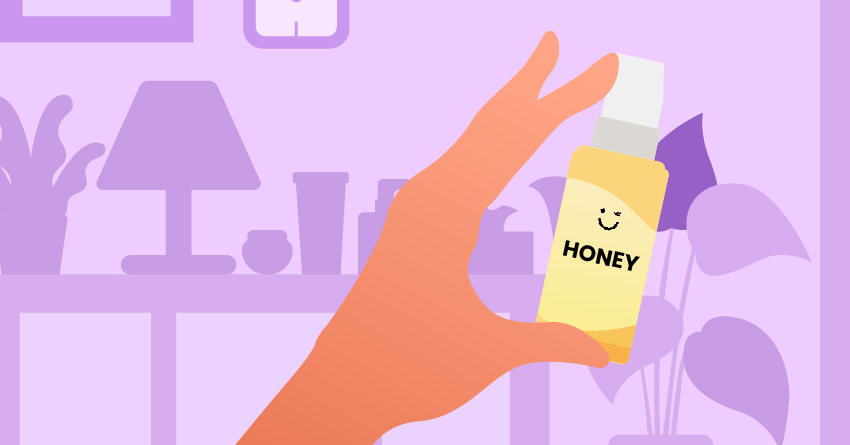 Water-based lubricants are your safest bet to start with because this type of lube can be used for all of your sexual needs: penetrative sex, masturbation, and sex toy play. Water-based lubes are also ideal together with condoms and silicone sex toys as the lube doesn't ruin the material. These types of lube are also really easy to clean out of sheets and clothes and won't leave a stain.
8
Hype it up with steamy foreplay.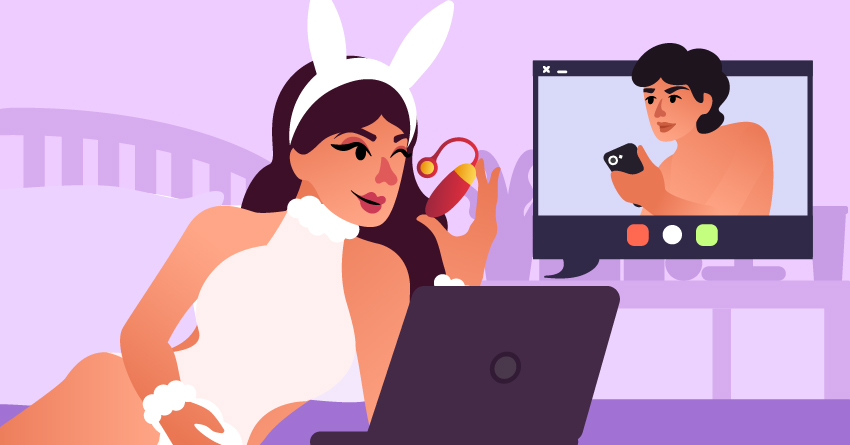 High-tech toys aren't the only way to enjoy virtual romance with your partner, and mixing old-school techniques with new ones will only enhance your long-distance sex life. Make time for virtual foreplay with sexting, sharing sexy playlists, maybe even roleplaying with some sexy costumes, and experimenting with different camera angles and positions.
9
Hand over the control to your partner.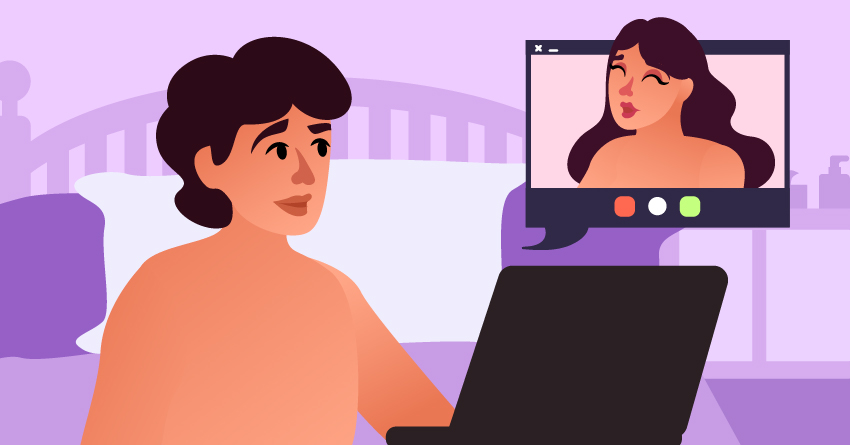 It's easy to fall into a routine when masturbating or having sex, whether it includes toys or is au natural. You know what works. You move this way or that, and your orgasm. After a while, it can get boring. By handing over control to someone else, they'll likely do something different than what you'd usually do. Sometimes it'll miss the mark, but hey, you might come across something new that feels good. It might be a new sensation, or just the experience of someone else controlling your pleasure could offer new dimensions to experience pleasure together.
10
Practice thorough toy hygiene.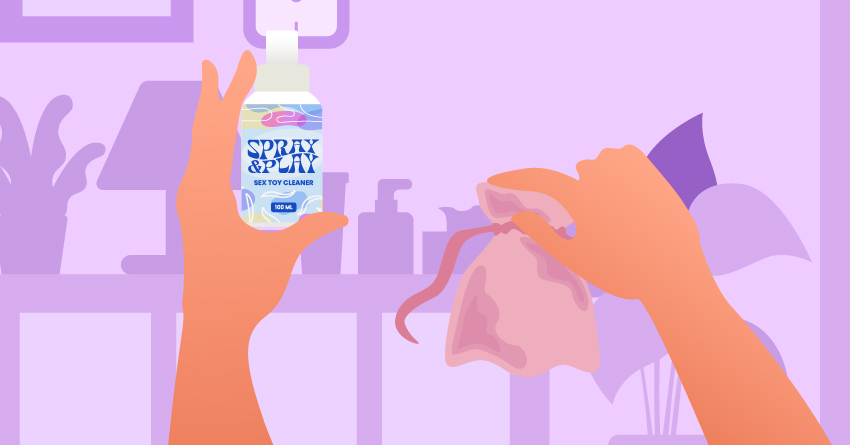 With app-controlled sex toys, you need to do these two vital steps: use the right lubricant and clean the sex toy properly. This practice keeps your love in tip-top shape. We recommend following the toy's manual to follow how to clean it properly. 
Once you finish using your long-distance toy, place it in dirt-free storage like a silk toy pouch. This way, your toy will be safe from unwanted bacteria and dust, making your adult device usable in your next sensual session.
Frequently Asked Questions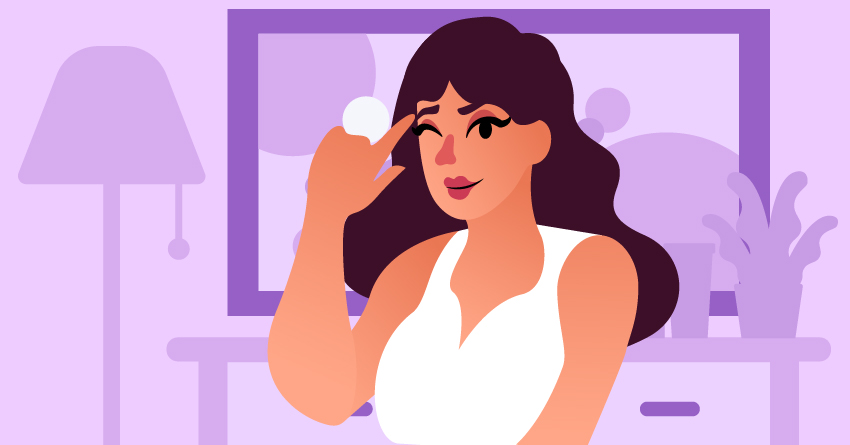 Long-distance sex toys are getting popular and for a good reason. But there are also tons of common questions about them, which we will be discussing and answering in this FAQ:
1

Is there a distance limit?

When using an app-controlled toy, the distance limit is easily one's first question. The distance is usually disclosed in the toy's features and the brand's app. For instance, with Satisfyer Connect, they feature an experience where distance has no bounds, whether your partner is in a different state or even in a different country. Or with the Lovense app, a toy can be controlled via Bluetooth at close range–up to 20-45 feet–or over long distance through the Internet. 

Do know that toy brands are always developing the features of their toys to cater to the needs of their customers. Using Satisfyer again as an example, they consistently take surveys to get feedback from their users. The current development in the Satisfyer app is that users can design their own patterns and rhythms according to their preferences with a simple stroke of their finger over the app's interface.
2

Who would enjoy app-controlled toys?

Long distance relationships can be hard because of the physical longing in couples. So app-controlled toys are a great way to keep that sensual and intimate spark alive.

With long-distance sex toys, partners can stimulate one another from a distance, usually by using an app on their phone. Sure, it's not the same as having sex IRL, but the intimacy of having a shared toy can alleviate that gap in the meantime and can be a new and satisfying experience.

Cam performers will also benefit from app-controlled sex toys because the apps let you create private rooms with your clientele. And if things go wrong, you have the option to block accounts.
3
My partner introduced long-distance sex toys to me, but I don't think I'm ready for them yet. What should I do? 
Remember that consent is still important for long-distance relationships. Being intimate online isn't for everyone. Like any regular sexual relationship, it's important to talk about respecting each other's boundaries to make sure you're both on the same page.
4

Can I still use long-distance toys for masturbation?

While some of these might be marketed as couples' toys, rest assured, you can absolutely still use them alone. Because yes, you're your own best lover. In the Lauvette shop, we have tons of pleasure devices men and women can enjoy, so surely you can find the right one in our premium selections.
5
What are the innovative features of app-controlled sex toys? 
App-controlled sex toys have tons of innovative features on their apps. You can create your vibration patterns, sync your vibration or suction effects to music, sync it with interactive porn, or even let the AI decide how to please your body.
Of course, each sex toy brand's app differs to a certain point. And there are apps like Lovense's that aims in letting users create their own patterns, syncing the stimulation to music and use video chat to make the user's intimate moments as seamless as possible. Plus, premium brands always aim to develop their app features. As Satisfyer for example, they are able to create an ecosystem of hundreds of products that give their consumers the added value at a consistent price point. All these features will surely provide endless fun for you and your boo too!
6

I'm afraid of getting my nudes and other data leaked in these apps. Are they safe?

We completely understand your concern. As we mentioned before, you won't have to worry about security and hackers, because all the apps mentioned in this article are secured and encrypted.
7

Is it okay to skip foreplay and skip to using my app-controlled toy?

The app-controlled toy is not the only thing that should be turned on to function properly. You should also be aroused enough before the vibe touches your clit, or else, it may be uncomfortable for you when you use one. Let your partner caress your nipples or tease you first by sliding the vibrating toy along your thighs and other erogenous zones.
8

How can I know which modes in the app will suit me the best?

For you to learn which sensations are most pleasurable, you have to try varying vibrations and modes. The same sex toy may feel different when you lie down your stomach versus when you lie on your back. In the process of exploration, you'll get to learn which positions and modes are most pleasurable; in turn helping you learn more about your body.
Takeaway
With advances in technology, it is far easier to be in a long-distance relationship than ever before. While intimacy IRL is irreplaceable, you can keep the spark alive with long-distance sex toys. Now, you know the info you need on these alluring pleasure devices, we hope this article has helped you become more open to new erotic sensations with your partner.
Share this article with your boo or your sex toy-loving pals, and click here for more sex-positive guides.