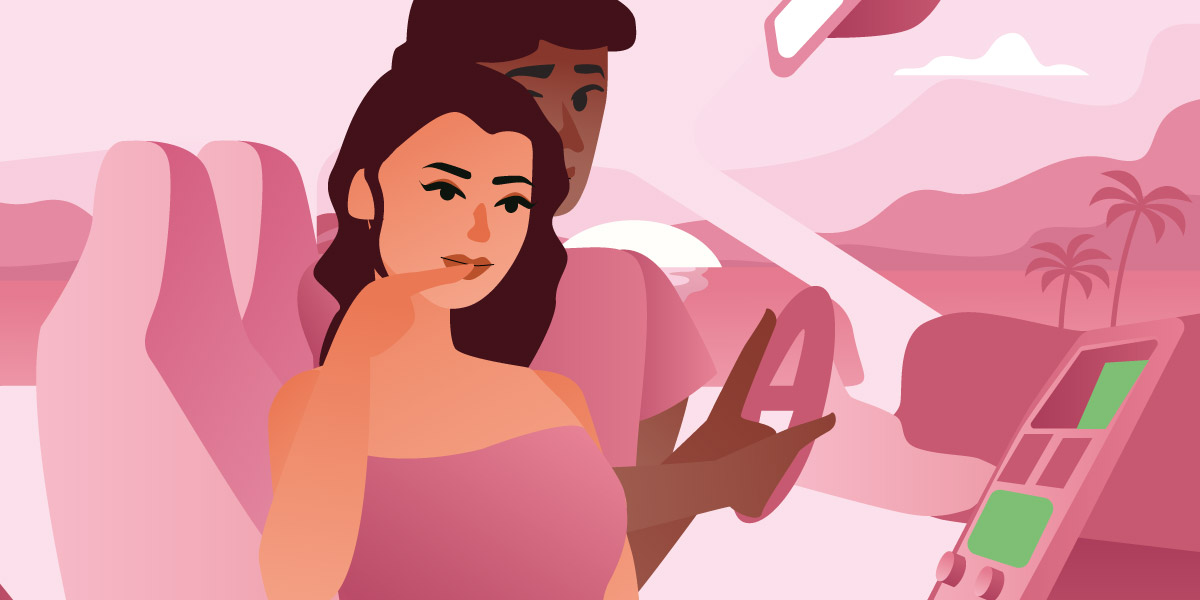 We know you've been thinking about car sex positions ever since. You've probably seen it in car porn like in FakeTaxi. Your friends have probably bragged about getting laid on a parking lot. Or maybe you've just learned it through social media. Wherever you've discovered this, welcome buddy. You're not alone with this fantasy.
So there you are, driving next to your sweetheart, trying to get through the traffic jam, listening to the latest sexy tunes in Spotify. While this is happening, your mind is lingering on dirty thoughts– you're fantasizing about parking the car you're driving right now and get some frisky action.
But alas! you're not sure where to start. Sure, you've seen certain sex positions through porn but you don't know how to navigate these positions yourself. Don't worry about that mate, we got you covered.
With this step-by-step guide, we will share you the best car sex positions that will send you to orgasmic heavens– minus the mishaps! Aside from that, we will share some tips and tricks on how to get some backseat fun without getting caught, because you know… you could get arrested from this.
So buckle up! Get ready to hail the FakeTaxi because this is gonna be a wild ride.
10 Best Car Sex Positions
There are tons of references through magazines and online blogs about the best positions to do some nasty action in the car. However, some articles present unrealistic positions that may only work through certain types of cars. With that, we'll make sure each car sex position suits most cars and is possible to pull off.
Now, let's start with something handy, shall we?
1

Roadhead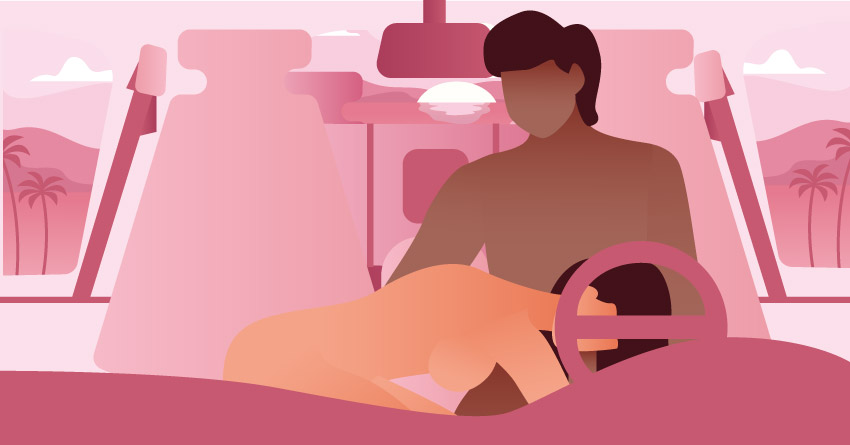 For those who are just starting with car sex, or if you just wanted an impromptu fun during a road trip, this is a must-try position.
How to do it: The receiver will sit on the front seat (or backseat) while the giver sits next to him and perform a blowjob and/or handjob to him.
How to spice it up: Get your giver some sizzling lovin'! Have your giver insert a remote-controlled vibrator. Once she starts sucking your cock, you can turn on the toy and send her to orgasmic heavens too.
2

Side Spoon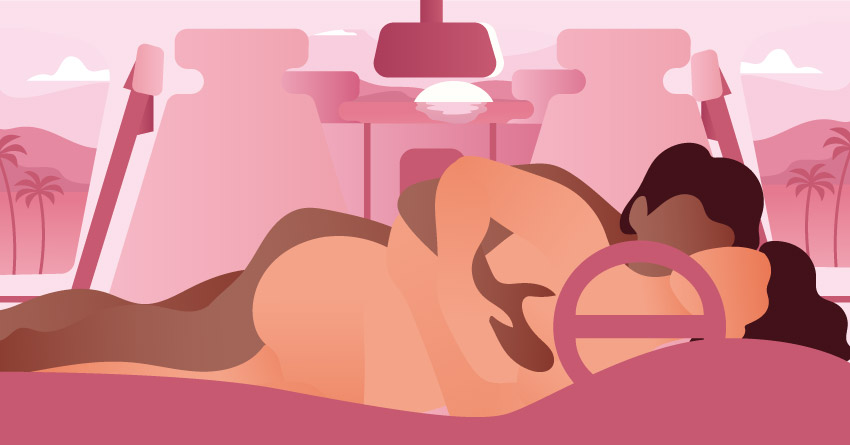 If you wanna get the job done without compromising on comfortability, you may wanna go for the side spoon position. This classic sex position is easy to pull off and is very intimate since you get all snuggly with your partner. Also, since you're both laying down, it'll be less-risky compared to other car sex positions on this list.
How to do it: On the backseat, have the couple lie on their sides. The penetrating partner must be behind with the receiver. You can also put the front seats all way down (if possible) for further support. Once you're both positioned, the penetrating partner can start thrusting his way through from behind.
How to spice it up: If you've planned on doing this, prepare some throw pillows and a comfy blanket for a more snuggly experience.
3

Backseat Treat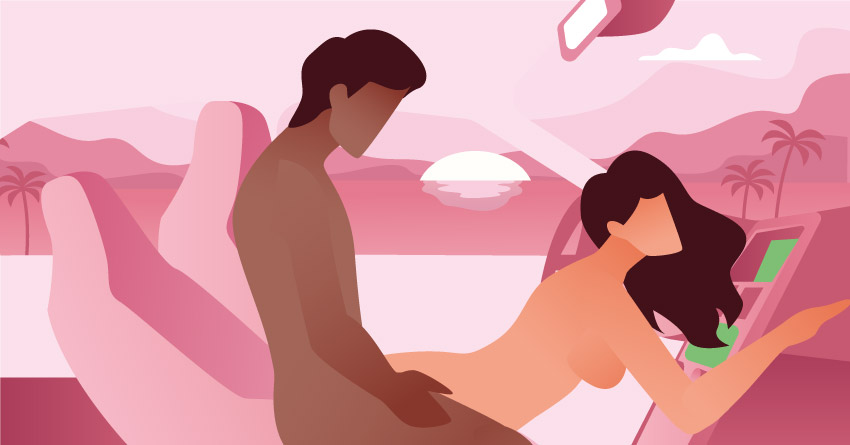 Go for some backseat fun with this car sex position. With this enticing move, there will be more space for both parties to play with. This also features the woman on top, so if you're a lass who wants to drive the pleasure, this position suits you.
How to do it: First, flip the front passenger seat forward. Push it close as possible towards the dash. Once that's all set, the penetrating partner can recline on the backseat, with his legs resting on either side of the front seat headrest. The receiver then climbs on top of him, facing away from him (similar to reverse cowgirl). The receiver can then either kneel or bend her legs so his/her legs are planted outside his hips. Once they're both positioned, the receiver can clutch the headrest for support, then start pumping in and out of her pleasured partner.
How to spice it up: Since the penetrating partner doesn't need to hold onto anything, he can use his hands to play with the receiver's erogenous zones, such as her breast, clit, and butt.
4

Reverse Cowgirl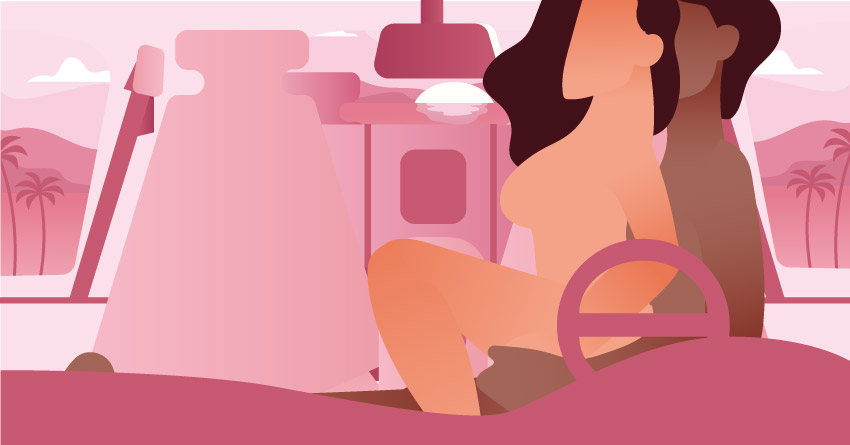 Bounce baby, bounce! Similar to Backseat Treat, this position also features the woman on top. However, there are some minor differences in this position.
How to do it: The penetrating partner must on the middle backseat, while the receiver sits on top of him, facing away. Once positioned, the receiver can start bouncing up and down into his/her partner's cock.
How to spice it up: Spank that booty! If your partner is into some frisky spanking, you can do that while she grinds in and out of your cock. You can also play with her breasts and clit.
5

Seated Rear Entry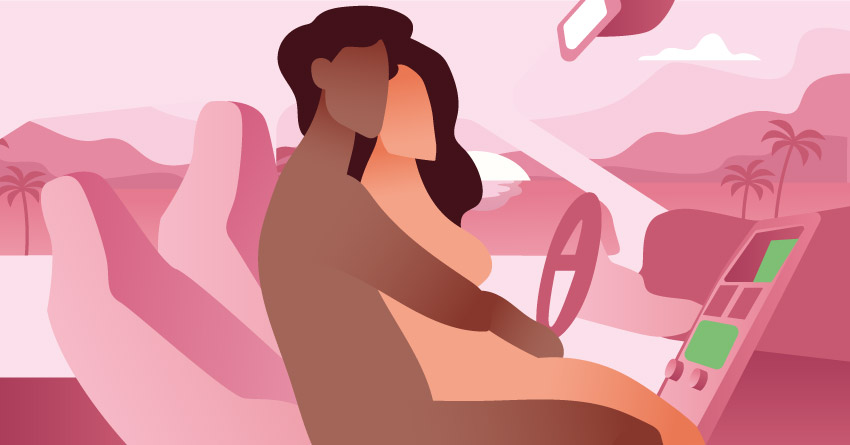 If you solely wanna play on the front seat for some thrilling fun, this is a fun and simple position that's suited for you. And since the woman is on top, she can control the pace and angle it directly to her G-spot for heavenly sensations.
How to do it: The penetrating partner will sit on the passenger front seat while on top of him is the receiver, facing away from him. Once this is set, the receiver can start grinding in and out of his/her partner's penis.
How to spice it up: Since this position is pretty similar to a lap dance, turn on some music! This will heat the mood and will surely make your partner grind to the beat.
6

Face-Off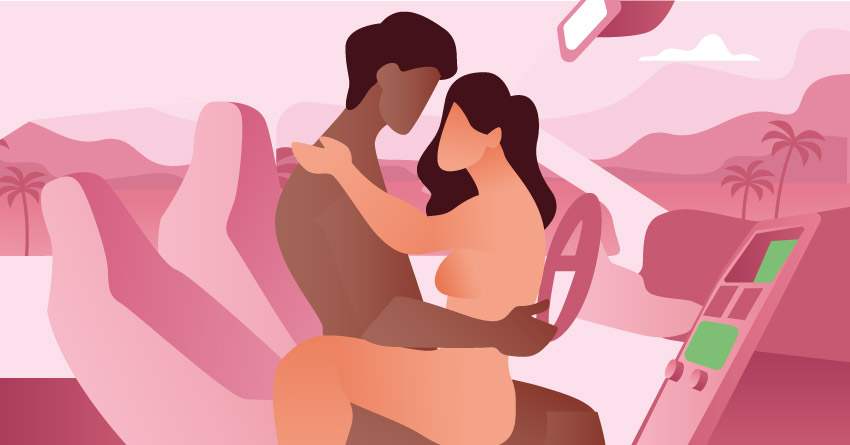 If you want to engage in a more intimate position, you might wanna try this car sex position. Unlike the Seated Rear Entry, this position makes the partners face off each other, which is great if you find eye-contact sexy.
How to do it: Have the penetrating partner sit on the passenger front seat while the receiver is on top of the penetrating partner, facing him. Once positioned, the receiver can start humping in and out of his/her partner's penis.
How to spice it up: Reverse the roles! The penetrating partner can also lead this position by grabbing the receiver on his/her thighs and guiding him/her up and down to his cock.
7

Legs Up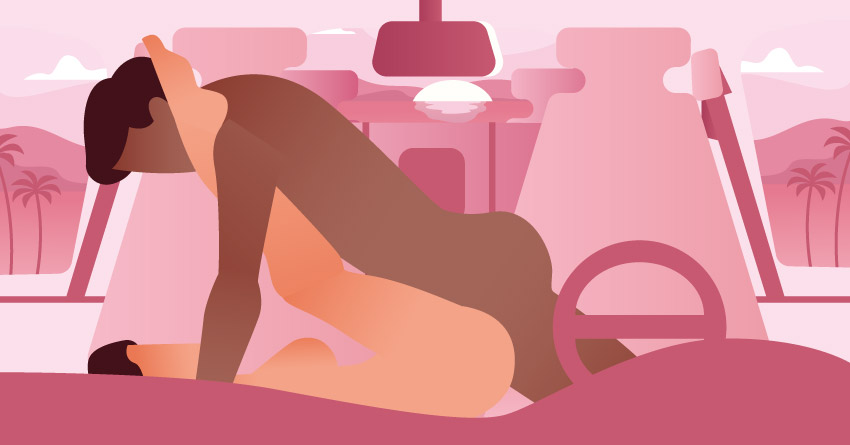 If you wanna further play on the backseat, this is one of the car sex positions that provide that. This space-efficient car sex position is also fun to get enthralling orgasms with since the penetrating partner has enough space to kneel and thrust deep into the receiver.
How to do it: Have the receiver lie in the middle of the backseat, with his/her legs up in the air. The penetrating partner can then set his partner's leg aside. While his arm holds his partner's legs, he can use the other hand for support as he thrusts in and out of the receiver.
How to spice it up: Since the penetrating partner's hands are busy with this position. The receiver can either play with her breasts or use nipple clamps for hands-free nipple play.
8

Trunk Space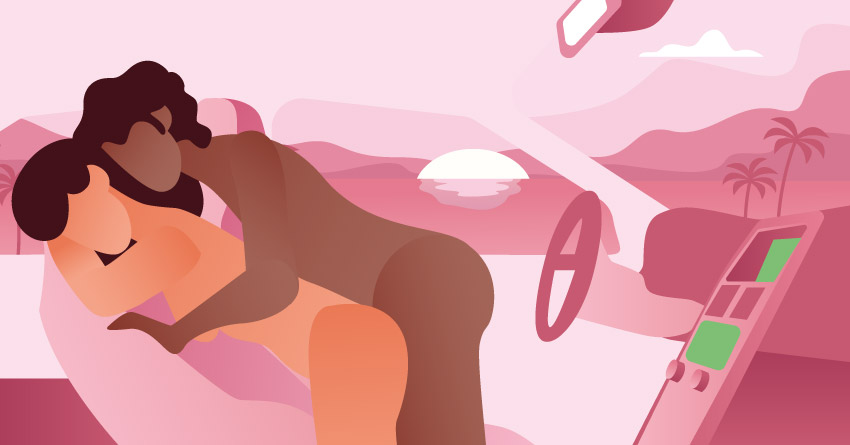 Wanna do some backdoor action? Well for couples who are into anal penetration, this position might serve up that craving. This may look acrobatic but with the right positioning, you can surely have some anal fun with this car sex position.
How to do it: Recline the passenger seat up to the angle shown on the illustration. Once the seat is positioned, the receiver can climb first on the seat, facing the headrest. After that, the penetrating partner can climb on top of him/her and start thrusting into him/her from behind.
How to spice it up: With doggie-style positions such as this one, position straps are handy! It gives further support to your partner.
9

Belt Bondage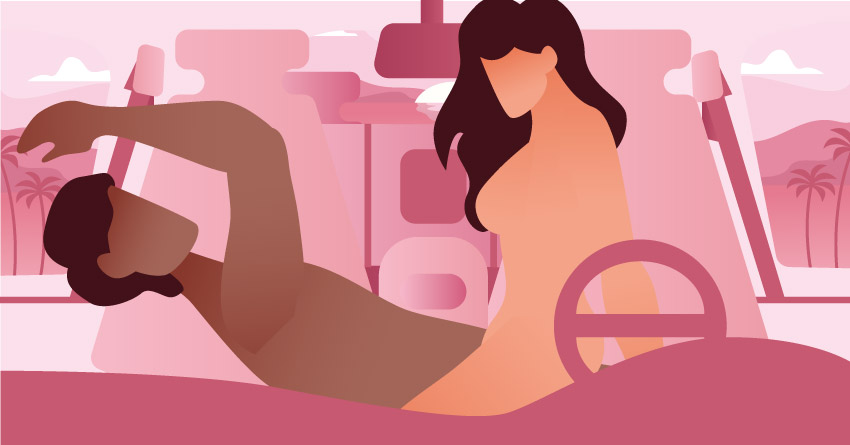 Things are about to get kinky! If you wanna unleash each other's dominant and submissive side, this is the perfect car sex position for that.
How to do it: Have the submissive partner lie on his/her back across the back seat. The dominant then ties the submissive's hand above his/her head using the seatbelt. Once the sub's all tied up, the dom can start straddling the sub.
How to spice it up: Instead of the seatbelt, you can also use BDSM restrainers such as handcuffs or ropes. Also, use other bondage toys in the mix for a kinkier experience.
10

Kneeling Lunge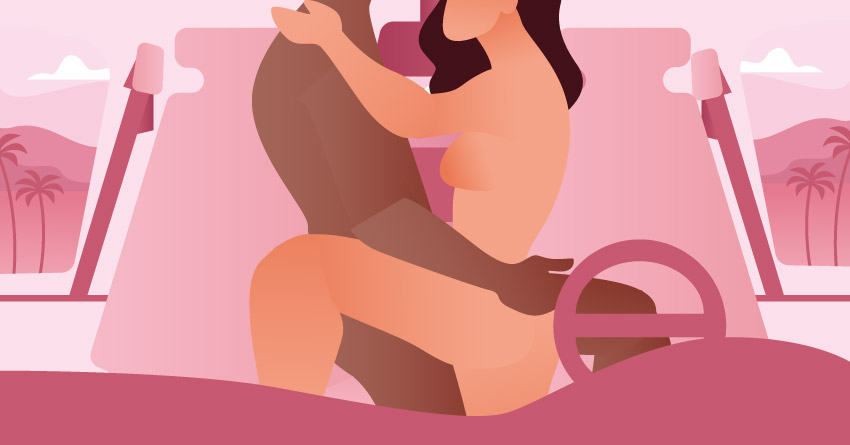 This may be a challenging position but you'll surely experience irresistible sensations from this position. This will work on most car types, but be wary with your height as well as how high is the ceiling.
How to do it: Both of you must get down on one knee in a lunge position (see illustration for reference), facing each other. Once positioned, the penetrating partner can start thrusting into the receiver. For further support, grab onto each other's backs and use the kneeling leg as a push-off point during the steamy ride.
How to spice it up: Since this position allows you to be very close with each other's face, you can go for some passionate kissing while doing this position.
Car Sex Tips for Safe "Driving"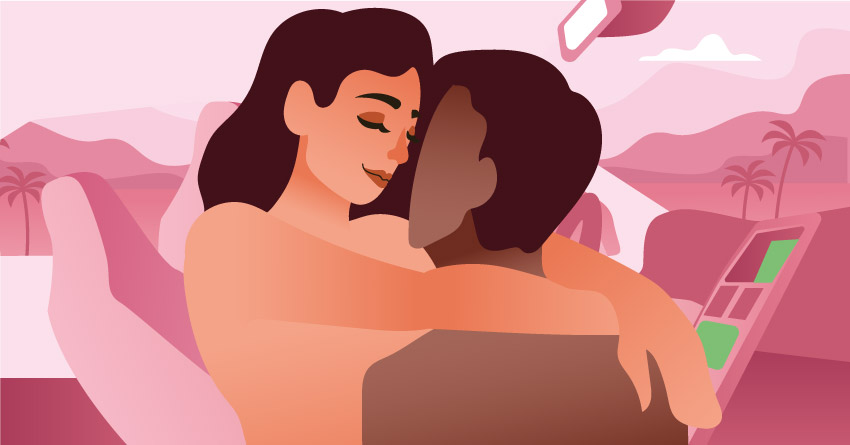 Now that you've learned about the different car sex positions, we can feel your excitement. But wait a sec there, champ– before you indulge yourself to car sex, you must be aware of these tips:
Don't sex and drive. Never forget to turn off the engine before you start frolicking!
Secure a safe spot. Even though public spots are more exciting, it's better to choose isolated spaces. You could get arrested with Public Indecency when caught!
Wear the right attire. For women, choose skirts and dresses. As for men, just go for shirts and simple to unzip pants or shorts.
Invest for comfort. Have blankets and throw pillows ready.
Add sex toys in the mix. Aside from comfort, invest in more fun too! Sex toys will spice up your car sexperience and make things more convenient.
Hush, hush. You don't want to get anyone's attention, so keep those moans to your mind.
Keep your lube ready. It will make the penetration a lot easier.
Try mutual masturbation. If you're not ready to go all the way, you can masturbate next to each other. It might not be as exciting as going all-in but hey, at least both of you will surely cum!
Cum on the right spots. Speaking of cum, make sure you cum on spots that are easy to clean. If your seats are not wipeable, prepare a towel beforehand.
Clean up ASAP. Once the deed is done, wear your clothes and start driving away. Once home, clean up the stained spots to prevent infections.
Takeaway
We all have deviant fantasies, one of which is car sex. What's great about this fantasy compared to other kinks or fetishes is that it's achievable. To successfully do this, you must prepare thoroughly. You need to check the spot where you want to do the deed, the type of car that you own, as well the best car sex positions for you and your partner.
You also need to ask your partner first if he/she is comfortable with this. Get proper consent first– and no, don't even think of pressuring him/her into this!
With enough preparation and communication, you'll surely make your car sex fantasy come true. Have a safe and wild trip!