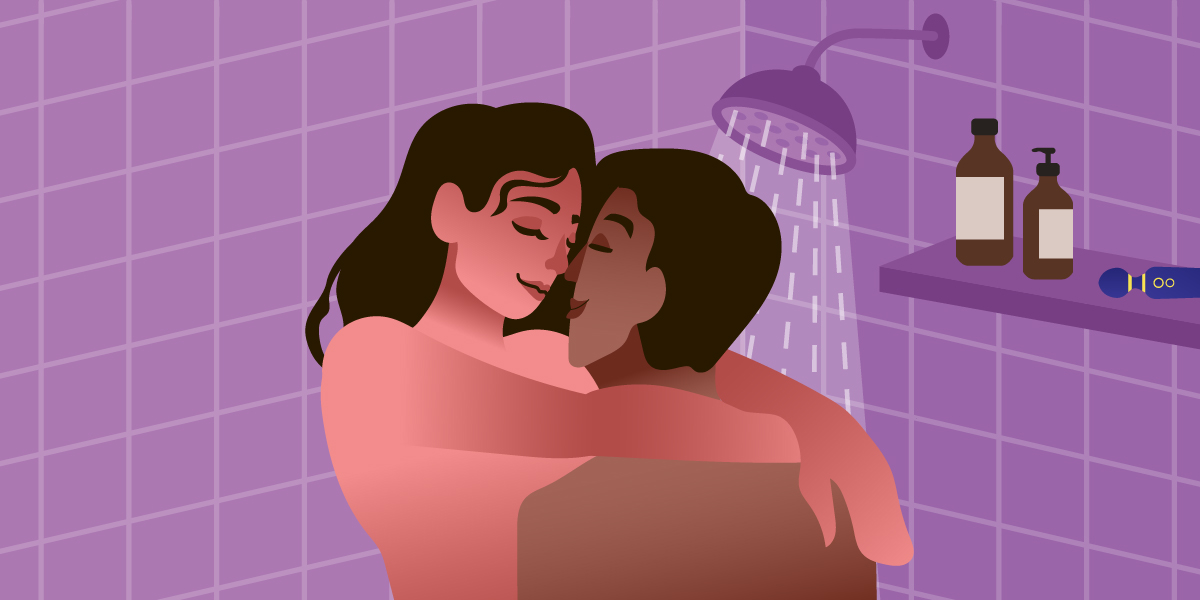 It's pretty common for romantic films and novels to include love scenes in the shower because let's admit it – the steam, the water, the bubbles and the naked bodies are indeed a sight to behold. You might have wondered how smooth and sexy they do it in the movies because honestly, you don't even know how to start in real life. First of all, the shower space can get a bit crowded when two people are in it – more so, when the shower sex positions you know require legs to be extended or arms reaching high. Second, the floor tiles and walls get so cold and slippery you can't help but think that shower sex is an extreme sport.
If you're one who's sex bucketlist for the new decade includes having shower sex with your partner, worry not! We have tips and tricks to make this experience enjoyable and memorable for you and your partner. We got you a list of every shower sex position that has ever been discovered and tips and tricks to keep you and your partner clean, safe and satisfied. As they say, conserve water, shower together!
First things first!
Shower sex is a whole different sexual experience because one, you will not be doing the traditional missionary  as you and your partner will not be lying down in a  comfy couch or bed. You'll have to master shower sex positions where you are either standing up or sitting down or head down, butt up or leg to the side, other leg pointing up – no, just kidding!
Two, safety has to be taken seriously! You can't just grab the shower curtain to support your weight because giiiiirl, that will not give you and your partner a happy ending at all in case that shower curtain decides to give up and tear itself down. If you're in a bath tub, bubble bath with bae sounds very romantic but you might want to slow down with all the bubbles as you don't want those to get into your mouths while you kiss or deep into your vagina during penetration – and the list goes on…
Here are more tips and tricks you want to keep in mind before you get into action with bae:
1

 Make sure that you have a non-slip mat to be able to do any shower sex position correctly and safely.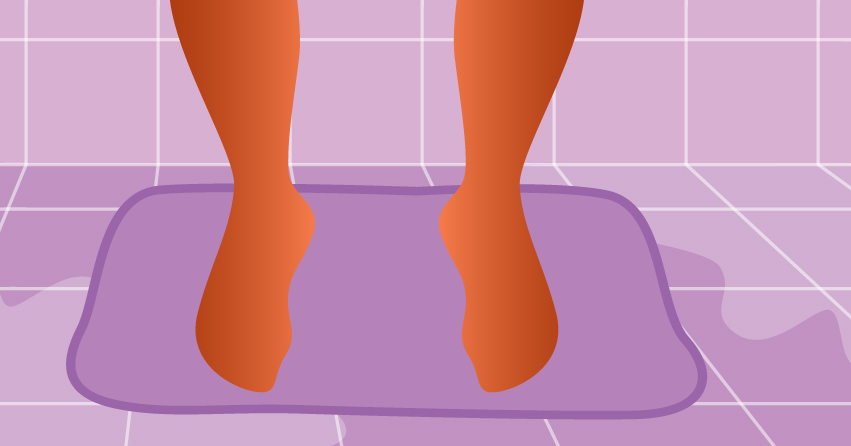 Several shower sex positions will require both you and your partner to be standing up while keeping your balance. If you're in a bathtub, you might want to move by the sink counter to continue your lovemaking in a different position. With these, a non-slip mat which covers the entire shower floor is a must to prevent unnecessary injuries with all the thrusting and humping. If you're gonna start it in the bathtub, make sure there's a non-slip mat right beside the tub to help you move swiftly when stepping out.
2

 If you're gonna use sex toys, make sure they're 100% waterproof.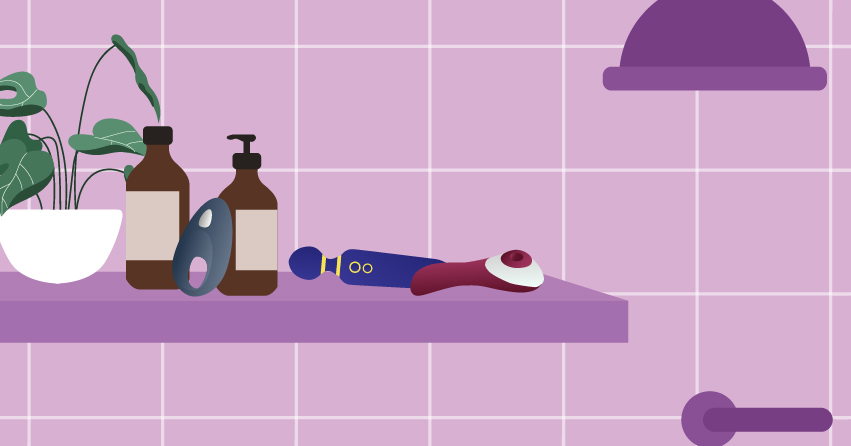 As in sex in the bed, sex toys can spice up your foreplay underwater. Just make those vibrators and clit suckers are 100% waterproof! We don't really want our beloved sex toys to get damaged just cos we forgot to check if they can be fully submerged in water. Also, we want to prevent minor electric shocks in case water gets inside the machines of our sex toys. To guide you, sex toys that are IPX6, IPX7 and IPX8 waterproof are safe to use with water. IPX6 means that the sex toy is protected against high pressure water stream from any angle so these sex toys can be used while in the shower but not inside the tub as these are not submersible. IPX7 waterproof rating is for sex toys that submersible in water for a maximum of 30 minutes. Lastly, IPX8 waterproof (a.k.a. 100% waterproof) means that the sex toy is protected from continuous water submersion.
3

Lube is still important.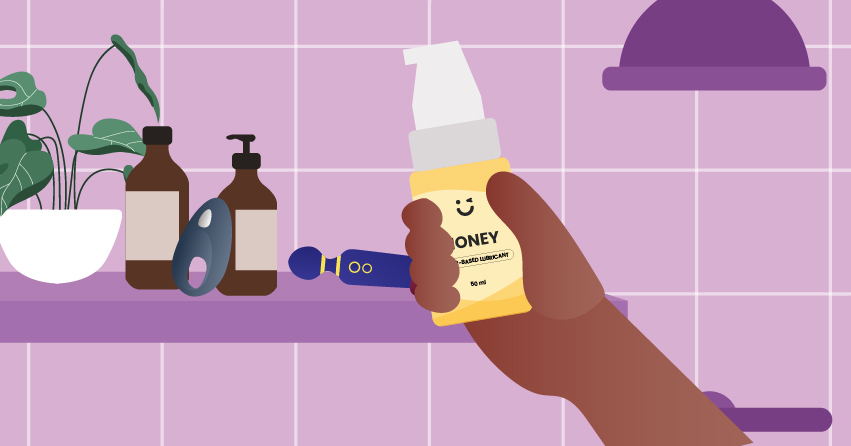 Yes, it can get reeeeaaally wet and slippery down there so people sometimes think lube is not necessary anymore. However, water may not totally make the ride as smooth as when lube is applied or natural vaginal fluids are produced. Trust me. You don't wanna be in the middle of hot shower sex session and realize that you will have to pause, run and get your water-based lube from the bedroom. As I said,  water mixed with all the bodily-fluids may be enough to lubricate the penis, vagina and anus but that might not work at all times. So, I suggest to grab a second bottle of your trusted water-based lube and keep it within arm's reach together with your shampoo bottles. You'll thank me later.
4

 Get two showerheads.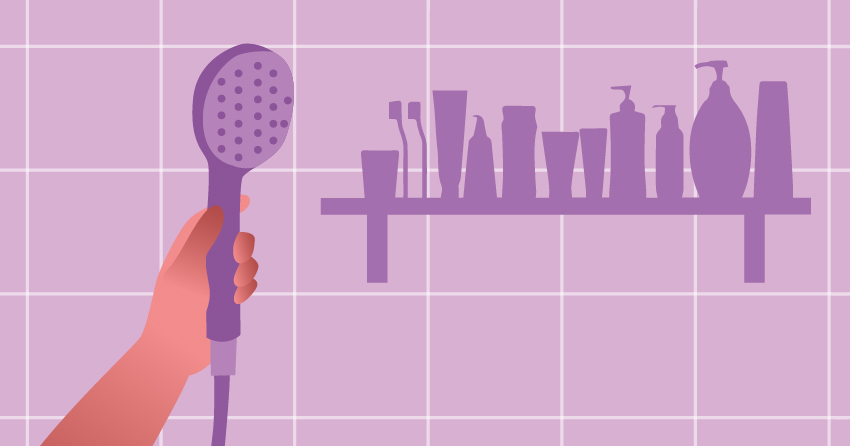 This advise is mostly for the comfort of you and your partner. One showerhead just cannot accommodate two people even if you are literally tangled with each other. Getting two showerheads that can be turned used at the same time is a cheap investment but is a real game-changer. Can you just imagine how nice it is for the both of you to be under the warm shower at the same time, looking eye to eye, water dripping from her head, down to your neck and then all the way to her nipples? Hnnng!!
The tiled walls can be cold and you don't wanna ruin the vibe by pushing your partner against the cold wall away from the single showerhead. And no, you're not Elsa – the cold would really bother you! With two showerheads, the both of you can get consistent warm water running down your bodies whichever shower sex positions you are doing.
5

 Stay away from objects that can be moved easily.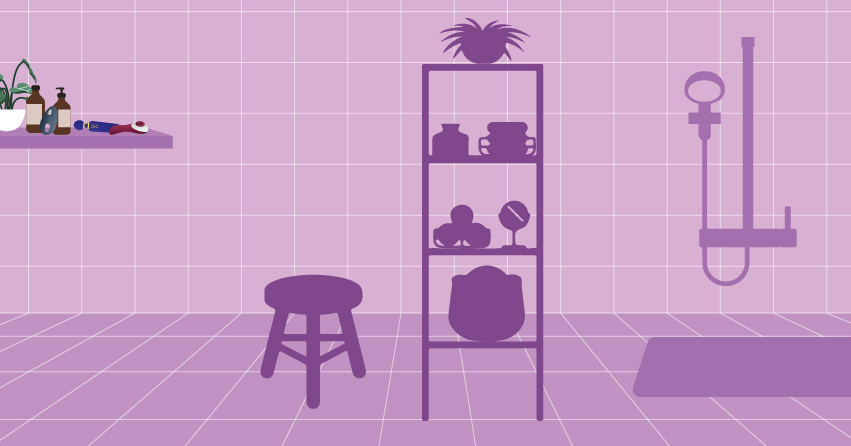 Usually, we put a stool inside the shower where we can sit while we shave our legs or we have a rolling toiletry rack for all our tubs of body scrub. You might wanna put away all those when it's already time for shower sex. Some shower sex positions are a bit tricky and will require you and your partner to move around to find the perfect angle and position. Also, most shower sex positions would require you to carry your own body weight such as when both of you are standing and he would have to lower down a bit to penetrate you while you tiptoe a bit so your vagina can be angled perfectly. You'll get what I mean when we get to the step by step guides of these.
Never ever make the mistake of holding onto a light stool or a moving rack while balancing yourself. The same is true with shower curtains. They might look attached perfectly to their handles but these things rip easily. You're in the shower to have some fun – not end up in a wheelchair, okay?
17 Shower Sex Positions – A Step-by-Step Guide
Now that we've covered the essentials in making your first shower sex experience safe and clean, we will now get into the most exciting part of it.  Here are shower sex positions that are intense, pleasurable and very easy to follow. To help you decide which shower sex position to try first, we rated each of them according to difficulty.💧 means easy-peasy, 💧💧💧 means difficult at first but not really, and 💧💧💧💧💧 means extreme sport level.
1

Leg Side Up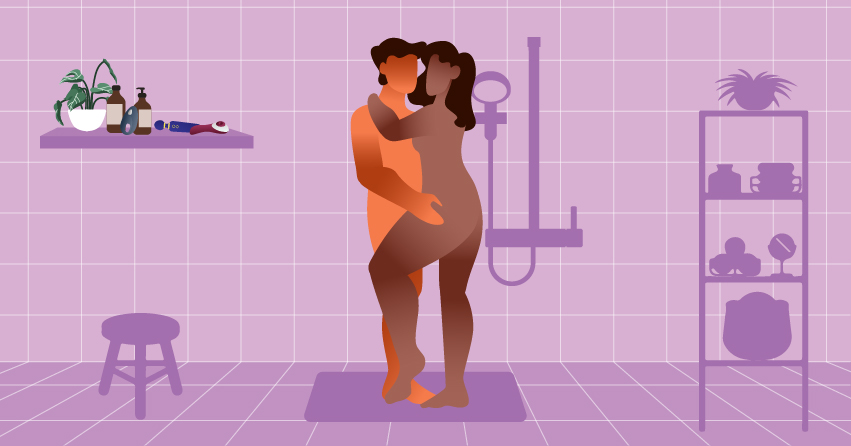 First, rest your back against the wall and have your man stand in front of you. Raise one leg sideways about less than a meter just to open up the hips and make way for the penis to penetrate you. You can either step on a STURDY stool or on the edge of the tub. If your legs are strong enough, you can just lift it and keep it like that while he enters you and thrusts back and forth. He should  put his arms around you or reach the wall for full support as he continues to do in and out movements into your vagina. When you get comfortable to that, spread the raised leg a little bit more so he can go deeper. Don't forget to move your hands, caress his back and his butt, plant kisses on his neck and bring his hands to your breasts.
Difficulty 💧💧💧  . This shower sex position can put a slight strain on the raised leg especially when it is not fully supported. You might also have to tiptoe the other leg so you can accommodate his penis more and he can hit the right spot. I recommend to mix and match this with other positions cos aint no lady deserves aching legs after the shower sex.
2

Shower Time is Play Time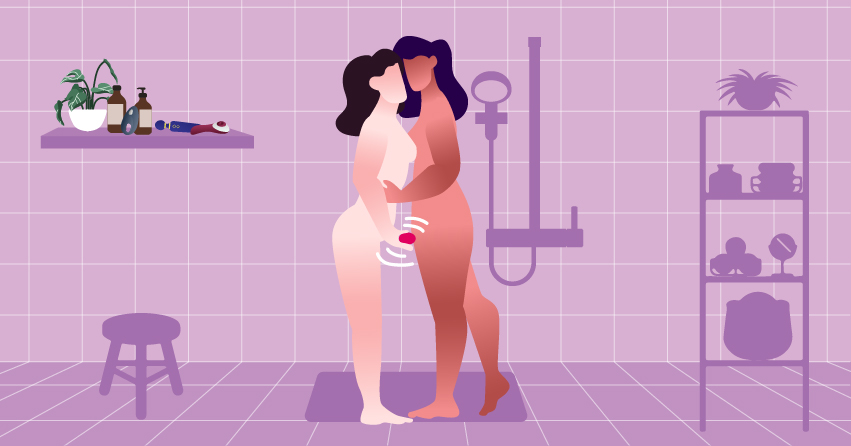 Set up the mood by turning on a hot shower and gently caress each other's naked and wet bodies. To add spice to your foreplay, whip out your waterproof vibrator or your man's fleshlight. Turn the vibrator on and let your partner run it over your nipples, increasing its strength as the mood intensifies. Let him touch your labia and clitoris and have the vibrator stimulate your vagina on the outside. You may slip the vibrator in the vagina if you choose to do so.
On the other hand, you can caress his penis and his balls and do your hand job techniques while he kisses your breasts. Use his fleshlight on him as an advanced hand job trick. Continue playing with each other and with your sex toys because hey, adults deserves to have some playtime too. You can do this shower sex position standing up, sitting down or lying down in the bathtub.
Difficulty 💧 . For me, this is the easiest and safest shower sex position. You can be in whatever position you're most comfortable with and just focus on giving pleasure to each other. Just make sure that the sex toys are completely waterproof as I discussed above to avoid breaking them or hurting yourself if the sex toys malfunction. Also, if you're both of the same gender, I don't recommend sharing the same sex toy to avoid the risk of spreading sexually transmitted diseases.
3

Water U Up To?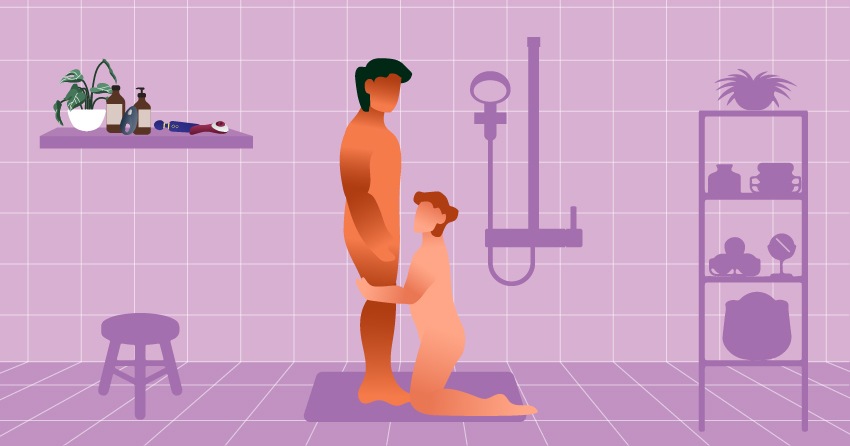 This is basically your all-time favourite blowjob but this time, it's in the shower and everything is wet and sexier. Let your guy be comfortable standing up and slowly go down on him and start with your trusty blowjob tricks. The tricky part here is preventing water from streaming down straight to your face. Nobody want to drown in that position! Make sure the water is streaming down his back and that the water pressure is not too hard as it hits your back or his penis. While you're at it, touch yourself and moan as he caresses and massages your head and hair. Ohhhh how sexy is that.
Difficulty 💧💧💧.  As I said, this shower sex position is practically blowjob with a twist. You might find it easy at first but as water streams down your bodies, you have to make sure you can still breathe freely through your nose while doing the blowjob. This might be also hard to do in a bath tub as he will be sitting down and you can only give him a head if you dive into the penis which is impossible if the bath tub is full of water. You might wanna incorporate this in foreplay instead before water fills the bathtub.
4

The Love Chair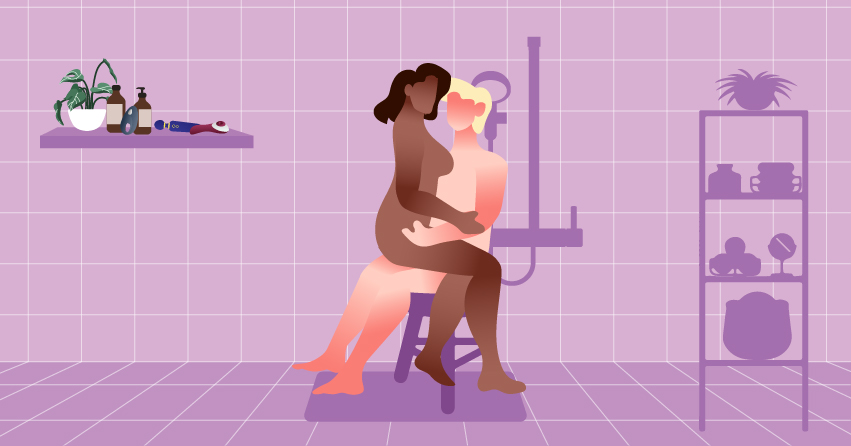 I know that standing up while having sex can be so tiring especially when you're a woman who needs to spread her legs the whole time. This shower sex position shows us that shower sex can be comfy too despite the lack of a soft bed. To do this position, first, grab a sturdy and steady chair and bring the same into the shower. Put the chair against the wall so it doesn't move around. Let your man sit and begin with your favourite foreplay. When his penis is already erect, slowly sit down his lap, wrap his hips with your legs and feel every inch of that penis in your vaginal walls.
This is perfect for vaginal or anal penetration because you can adjust each movement and how deep you want that penis to go inside you.  Lastly, make slow thrusting movements while he kisses and sucks your nipples and while you slightly bite his ears. This is a really intimate shower sex position as this will allow you to hug each other's naked bodies. To add spice into it, go get on some dirty talking!
Difficulty 💧 . This is pretty doable for beginners. Just make sure to communicate with each other so he can hit the right spot with his movements and you get the pleasure you always deserved. I would not recommend doing this on the edge of the bathtub as he might not be able to completely support himself especially when sitting on a very thin surface. Again, safety is our priority!
5

Under the Sea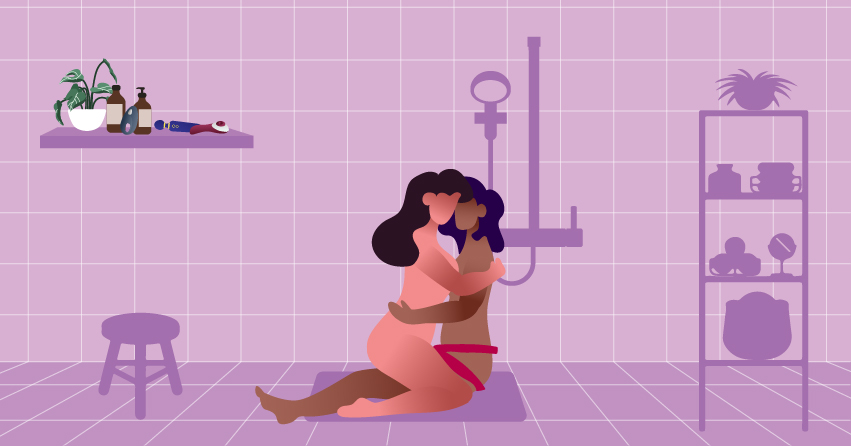 If you're doing this in the bathtub, then this is just the same concept as The Love Chair. Have him sit on the tub and sit in front of him, over his lap, spreading your legs wide as you are both on the surface of the bathtub. Ride him any way you want, however fast you prefer. The right amount of water will greatly help the penetration as the water will be your natural lubricant. Trust me, this feels waaaaayyy better in the vagina than your typical cowgirl sex position in bed. Make sure to use mild soap if you're doing a bubble bath as you know ordinary soap might affect your vagina's natural pH level.
If you don't have a bathtub, you can easily do this shower sex position as well on your clean (!!!) bathroom floor while water streams down your bodies. Don't forget to caress each other's sensitive parts while you're at it.
Difficulty 💧.  This is like your cowgirl sex position but 100x better! This will not require much effort as you are both sitting comfortably inside the bathtub or on the floor. Just make sure these surfaces are squeaky clean before you attempt to do this shower sex position!
6

Wet Doggy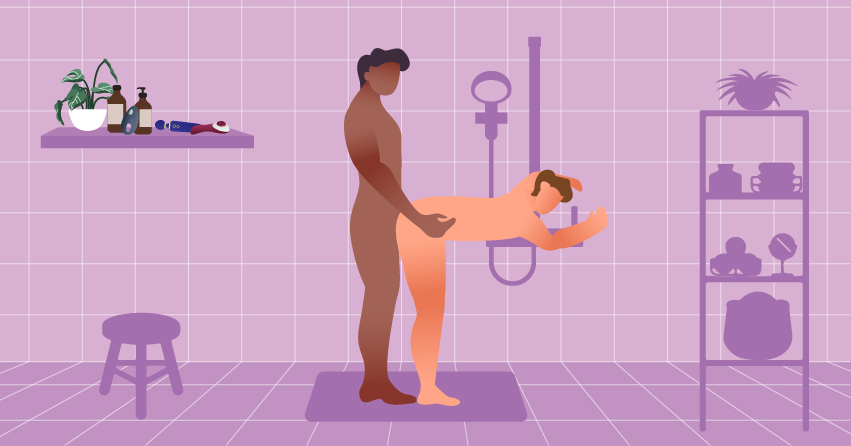 As the name implies, yes this is your doggy position under the shower. To do this, first, face the wall, bend over and grab on the walls or any sturdy thing for support. Slightly spread your legs so he can penetrate you while he's standing up. The water should stream down to where the vagina and penis are as the stream will add some hotness into this shower sex position. Because of the shower, you'll hear squeaky sounds  and water will splash as he thrusts in and out which is an ultimate turn on for the both of you especially when you are both visual and stimulated by sounds. Guaranteed it's the same satisfaction when you are on all fours. While you're at it, let your man grab your breasts and spank those buttcheeks.
Difficulty 💧💧💧 . Although this is a popular sex position, this is kinda hard to do in the bathroom. Let's admit it. This will cause lower back pain for the ladies especially when done so long. Moreover, you have to make sure both of you are standing on a non-slip mat to avoid accidents. He should also be careful with the thrusting to not push you too much as you might hit your head on the wall in front of you. Ladies, just hold on for dear life.
7

The Waterfall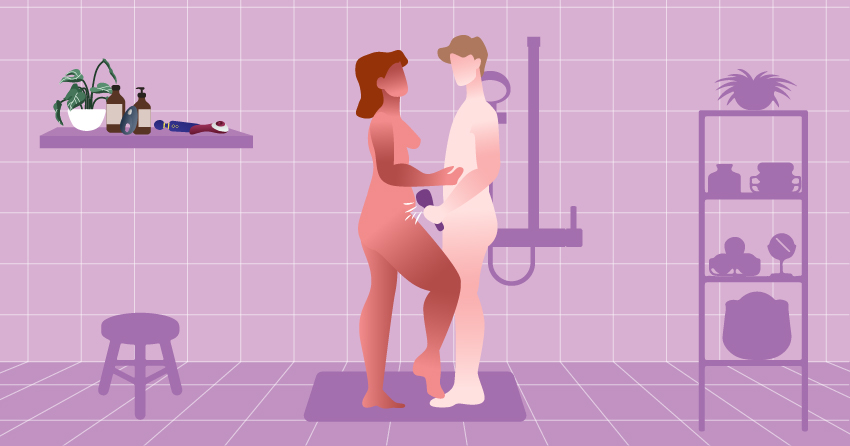 This time, you will combine the Leg Side Up shower sex position with the water stream from your hand-held shower. First, you and your partner should be standing on a non-slip mat while your back is leaned against the wall for support. Raise your leg sideways as in Leg Side Up and point the hand-held shower to your vagina to feel the relaxing warm water streaming to your vagina down your legs. Increase the strength of the water just enough for it to give pleasure down there. While you do this, let your partner penetrate you finding the right angle to hit your G-spot. Let him thrust harder or slower, whichever you enjoy more while still enjoying the feel of the flow of water from the shower.
Difficulty 💧💧💧 . Since this shower sex position is similar to the Leg Side Up but with the added bonus of the shower directly pointed to your clitoris and vagina, same safety precautions should be followed. Make sure both of you are steadily standing while doing your thrusting movements to avoid accidents. Jus a tip: try to gradually increase the strength of the shower for more excitement!
8

The Scuba Diver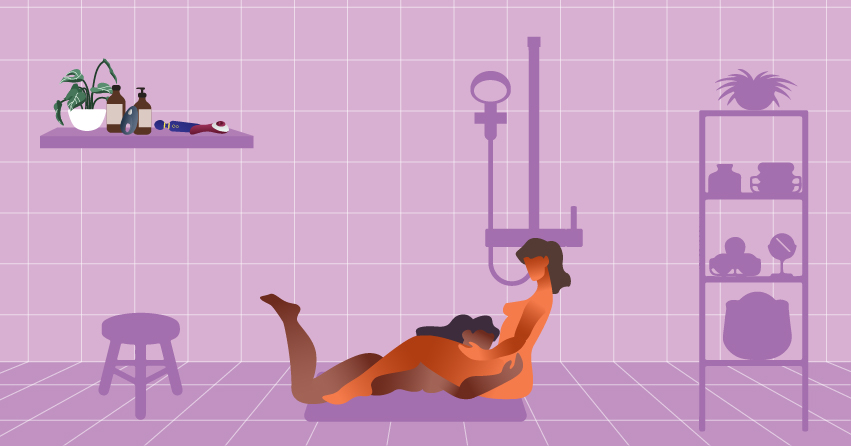 Oral sex is way easier in the bathtub or in the shower. Let's be honest, when it comes to oral sex – the wetter, the better! Oral sex in the bathroom requires you to deliberately produce and spit saliva for a more enjoyable experience for both the giver and receiver. In the shower or in the bath tub, lubrication is not a problem at all! Also, if you are someone who is quite sensitive with the taste of vagina or the penis, then oral sex under flowing water is your oral sex hack. Not only will it keep you both cleaner as the vagina and penis will be cleaned simultaneously, it will also not create saliva mess all over the place.
To start, let your partner (the receiver) sit comfortable in the bath tub or he or she may elevate himself or herself a bit by sitting on the edge of the bathtub. If he or she wishes to sit on the bathtub, make sure your head will still be above water when you perform cunnilingus or blowjob so as to not drown yourself. If you don't have a bathtub, have your partner kneel down on a non-slip mat while you position yourself lower to give him or her some tongue action.
Difficulty 💧 .  This shower sex position is so much easier than the usual blowjob int he bedroom as the water helps in making oral sex more slippery and pleasurable. You can also grab and massage his balls while you're giving him a head as the wetness of the balls will also feel really good for him. Touching his wet balls feel as if you're caressing the clouds. Amazing, right?
9

Rub-A-Dub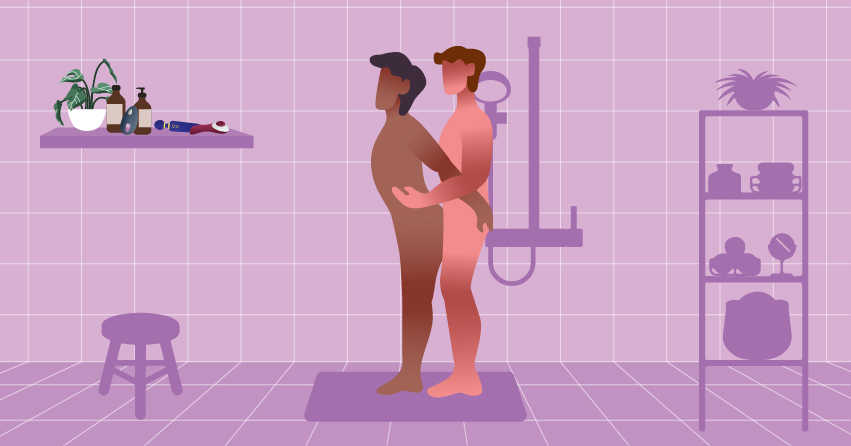 This shower sex position does not require penetration but still feels really intense because you guys will be naked and wet under the shower. Your bodies will be very slippery as if you've applied massage oil all over your bodies so gentle caresses will feel twice as good. To do this, you ad your partner should be standing on a non-slip mat as you will be supporting each other's weights. Turn your back against your partner so your butt feels his hard penis. He can hump in between your butt cheeks – sorta like tit fuck but this time, with your cheeky butt. Guide his hand to your clitoris and labia and let him do his magic tricks with his fingers.
While he does this, massage your breasts or grab and spank his butt to turn both of you on even more. Continue rubbing your slippery bodies against each other while pleasuring each other.
Difficulty 💧. This shower sex position looks like spooning just that you're standing up. It's pretty easy to recreate and you can add variations to how you should touch each other's private parts. As his mouth is near your ears, he can whisper some dirty talk to turn up the heat even more. Pro-tip: You can also do this shower sex position in front of a mirror so you can watch each other move and moan. Hot AF!
10

Hold and Dive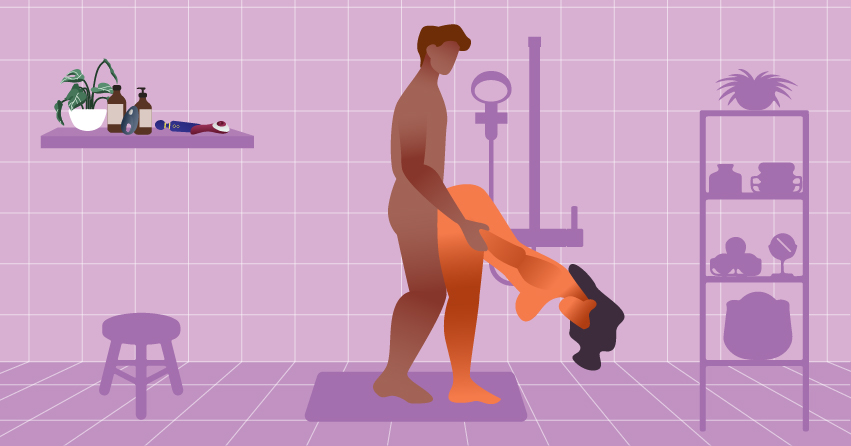 This shower sex position requires you and your partner's strength as you will be supporting each other for balance. Fist you and your partner should be standing firmly on a non-slip mat while your back is against your partner. He should be leaning in the wall so he can be fully supported when it's time for some action. Lower your head down and reach the floor with your palms while your butt stays up. This might look like a downward dog yoga position but of course, the V shape is not wide as the shower space can be limited. Have your partner hold your hips as he slowly penetrates you from behind. Continue the thrusting motion while his hands move around your clit, nipples and butt cheeks.
Difficulty 💧💧💧💧💧. This shower sex position is, to be honest, hard to maintain. First, your head is really low so the blood will come rushing to your head and you might get dizzy after a few minutes of thrusting. It might also be hard to balance yourself unless your partner holds your wrists to prevent you from falling. This shower sex position really hits the right spot though and would be worth it to try even for a few minutes. But since, as I said, this position would create the perfect angle to hit that G-spot, it might also help you orgasm fast!
11

The Tree Hugger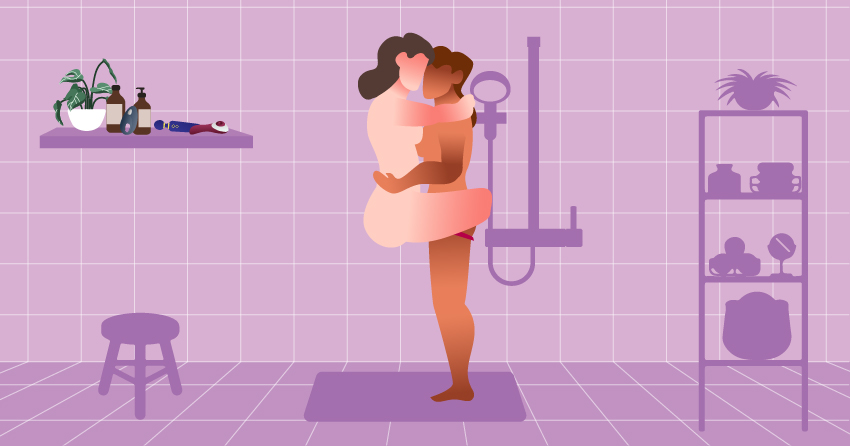 This shower sex position will again require your partner's strength to be able to lift you as he enters your vagina and thrust back and forth. This is a really good finale sex position though so it's worth a try! To start off, make sure your partner is standing firmly on a non-slip mat. Have him carry you while you strangle his hips with both of your legs to make yourself put. Let him push you against the wall so he doesn't have to carry the whole of your body weight.
This shower sex position is very intimate as your naked wet bodies are pressed against each other and you can embrace him as tight as you want while his penis enters your vagina. If it gets too tiring for him, drop one leg onto the floor and continue with your steamy shower sex.
Difficulty 💧💧💧💧💧. This shower sex position is really intimate and hot as your man would show how strong he is while carrying and penetrating you like his queen. With this, it can also get a bit dangerous especially when you don't have a trusty non-slip mat in the shower. Just try to do this shower sex position for five seconds and see if the both of you can hold it and can remain comfortable while performing the act.
12

The Criss-Cross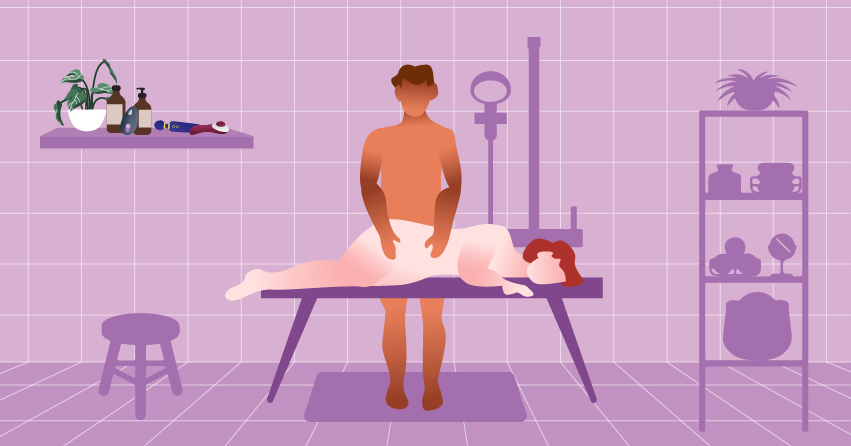 If you've already tried all the standing and sitting shower sex position, then perhaps you're thinking if you can have sex in the shower while lying down. The answer to that will be yes! Just bring a bench that's strong enough and sturdy into the shower. Lie on your side while your man remains standing up on a non-slip mat. You can rest on your hand on your cheeks or head on top of the bench. Have your man enter you from behind as you sit pretty and sexy. Keep your legs closed at all times to provide him a tighter entryway.
Difficulty 💧💧💧. The only difficult part here is finding a bench that fits perfectly inside the shower. As to the other steps on how to perform this shower sex position, it's pretty easy to follow. You'll feel a different kind of penetration as his penis is entering your vagina sideways unlike your usual missionary or doggy sex position. Take advantage of the comfortable bench and touch yourself and your clitoris while he penetrates you from behind.
13

The Love Chair 2.0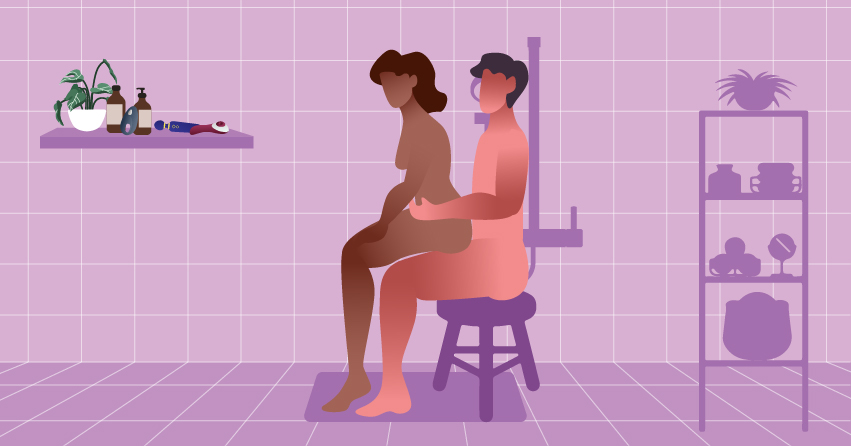 This shower sex position is a variation to the Love Chair I discussed above. This is like Love Chair and Rub-A-Dub combined. That said, your partner just needs to find a comfortable seat where he can fully support his weight as you slightly move and thrust along the way. When his penis starts to harden, sit on his lap moving up until his penis touches the opening of your vagina. Slowly slide that penis into your vagina and make tiny circular movements to stimulate the both of you. Guide his hand onto your breast and nipples. Grab and play with his hair as you please.
Difficulty 💧. This shower sex position can be pretty chill for the both of you as you will be sitting comfortably while experiencing pleasure. Take a break from wet kisses and sit on top of your man as he enters you from behind. To add spice to this simple shower sex position, do this in front of a mirror to watch your very own love scenes.
14

Go Down the Slide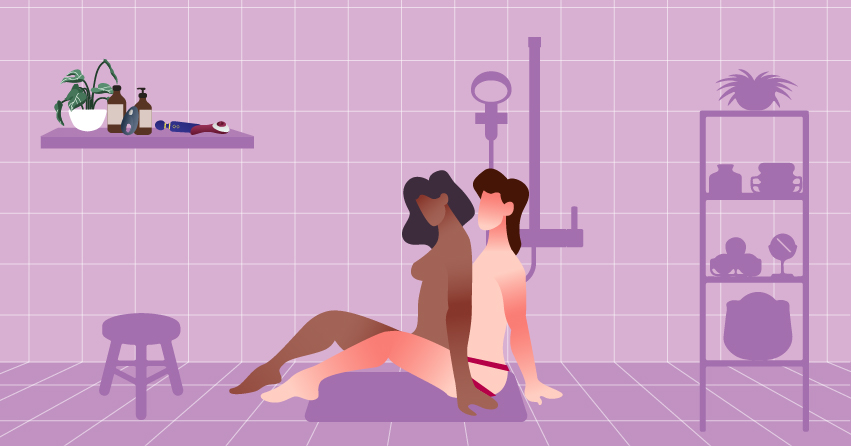 If you are paranoid of falling down while having shower sex then positions that will require you to sit are for you! The Go Down the Slide would look like you and your partner are lining up to get on the pool slide. First, make sure your shower floor is squeaky clean as no one wants itchy skin and rashes due to dirty surfaces. Sit down on the floor, your back pressed against the chest of your partner. Have the showered pointing at you as if you're under a waterfall. Make him sit in a 135 degree angle so you can sit on his erect penis. Let his hands travel around your wet, slippery body while you grab and massage his wet balls.
Difficulty 💧💧💧. This can be a bit tricky as your man had to make sure his body is angled at the right position so you can comfortably sit on him. It might also be hard to feel the thrusting with this position so touching the clitoris, the nipples and the balls are important to turn each other on even more. Pro-tip: Do this in front of a full length mirror and delight your eyes with some hot shower sex scenes.
15

Captain My Captain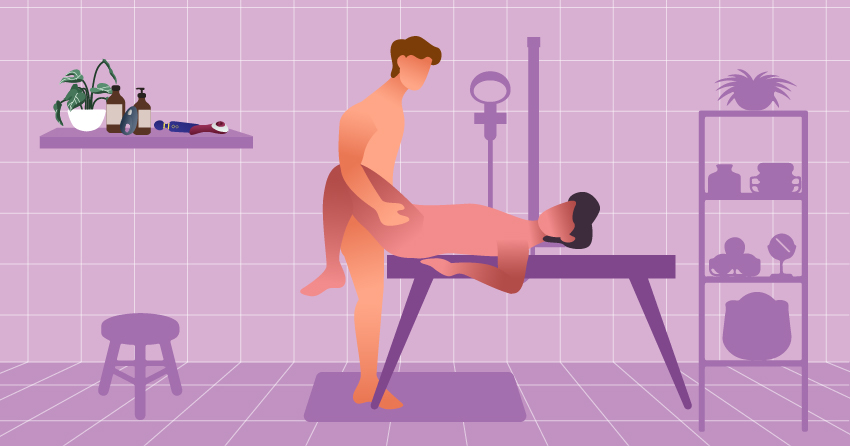 This shower sex position is the perfect sequel to the Criss-Cross position. As in that position, you will also need a bench where you can lie comfortably on your back. Let your man stand up on the edge of the table while you open your legs in front of him. The bench should be the same height as your man's hips so he can enter you smoothly and freely. As your bodies are wet, he will not have a hard time sliding down your wet vagina. Lastly, to feel him deeper and closer, wrap your legs around his hips. Pull yourself closely to give him the perfect angle for a deeper thrust.
Difficulty 💧💧💧. Honestly, I'd do this shower sex position only if I have the luxury of time to ingress and egress a bench inside the shower. I think of shower sex as a quickie or foreplay and later on, transfer to the bedroom. With this shower sex position,  you and your partner would spend a lot of time in the shower to take advantage of the bench. Just be careful as the bench will be slippery and all the thrusting might push you too hard to the edges. Please don't fall!
16

The Wet Wheelbarrow 
If you and your partner are feeling a little adventurous, then you would wanna try The Wet Wheelbarrow. To do this, make sure you have a non-slip mat inside the shower. Go down on all fours and let your partner pick you up by the pelvis or hips. He would have to carry you so you can strangle your legs around his hips to lock your bodies together. When you're feeling stable already, let your partner enter you from behind while holding your upper legs just like pushing a wheelbarrow.. Make him thrust but not too much to not share your head as this might get you dizzy because you're upside down.
Also, make sure the shower head is not directly pointing at your head so you can breathe freely. This shower sex position allows your partner to do a deeper penetration than usual.
Difficulty 💧💧💧💧💧. As I said, this is for when you're feeling adventurous and energetic as this would require hardwork and grit. It might take a little bit of adjusting here and there together yourselves stable and to let him hit the right spot without hurting you. This would also require arms strength as you will almost be in a push up position to support your lifted body. Would recommend this to the pros already but not when you're still starting to get familiarized with shower sex.
17

The Ballerina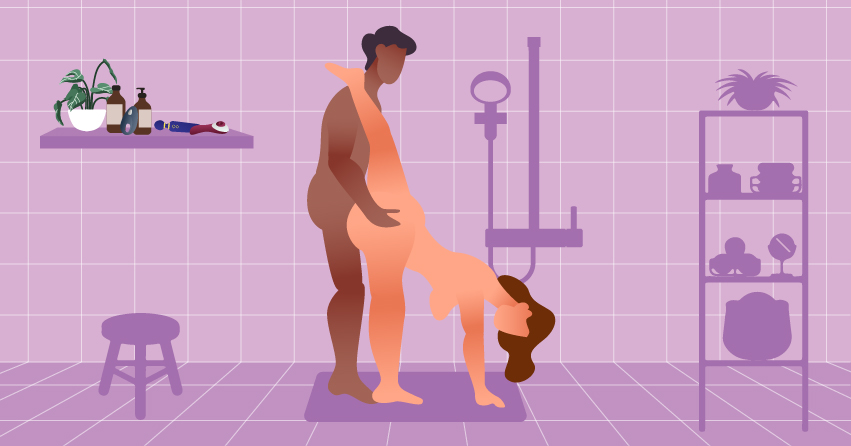 Our last shower sex position is The Ballerina which as the name implies would take a lot of stretching and flexibility.  I'm afraid this is not for everyone as the woman would literally do a standing split – just like in yoga or in your ballet class. But if you have the skill to do it then I'll guide you along the way.
First, have your partner stay behind you while you bend over. Drop your head towards your toes and slowly lift one leg to do a standing split. Your leg on the floor must be firm and on top of a non-skid mat to make sure accidents don't happen. Your raised leg must be resting on your partner's chest to provide you support. Then, your partner can penetrate you with their hands, penis or a waterproof sex toy. This shower sex position is really unique so it would be fun try it at least once.
Difficulty 💧💧💧💧💧. This shower sex position would require you to proceed with extreme caution. You must be able to trust your partner as he would be making less effort while you do all the spreading and stretching. He has to make sure you're both stable. Also, that you have something to hold onto in case someone slips since water will be continuously flowing.
The Takeaway
Taking a refreshing shower is one of the most relaxing things we can reward ourselves with. Just imagine the stream of warm water flowing down your body after a long day of being out and about.  Want to know what's better than a hot shower on a particularly tiring day?  A hot shower sex! Aside from the warm water all over your body, your partner's hands caressing your curves is not at all bad. With all the safety precautions and exciting shower sex positions, it's always gonna be a fun bath time for you and your bae. Shower sex is indeed a great addition to all your intimate and sexy moments.