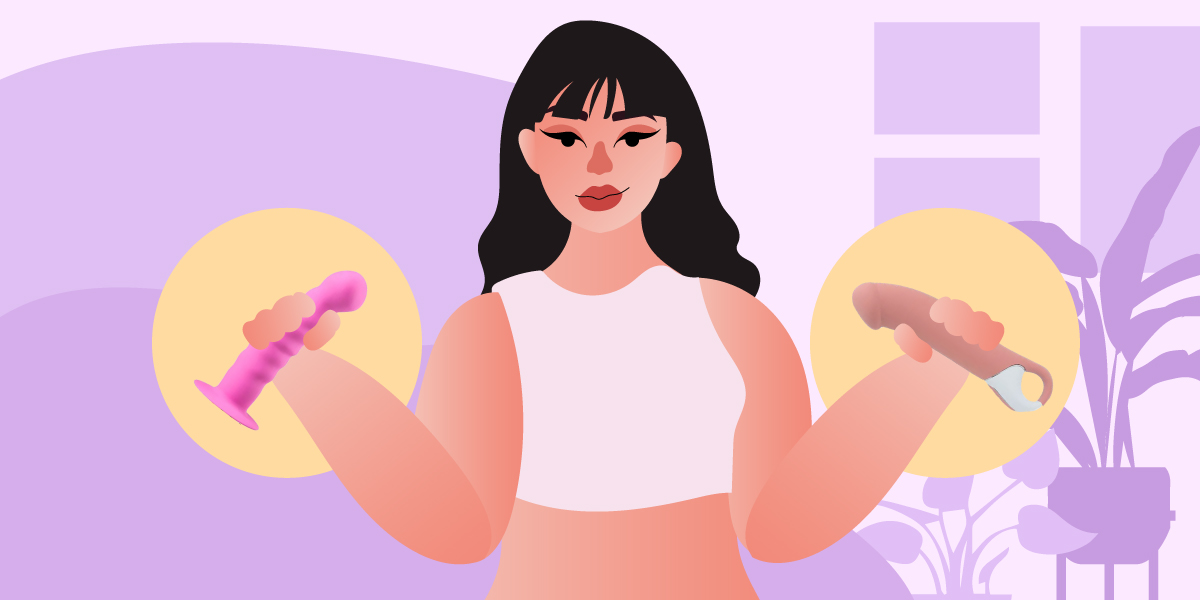 Dildos. They're shaped like a penis, feel like a penis, and are used as a penis, specifically for penetration. But despite being a straightforward toy, newbies can still have difficulty using a dildo for vaginal play. Some people also tend to forget some vital steps when using a dong, such as using lube.
With that, we've created this brief guide that'll help you learn the ins and outs of dildos. We're going to teach you how to use dildos for vaginal play— from prepping to thrusting.
But before we proceed with the best techniques and tips when using your dildo for vaginal stimulation, let's discuss what a dildo is and its common types.
What is a Dildo?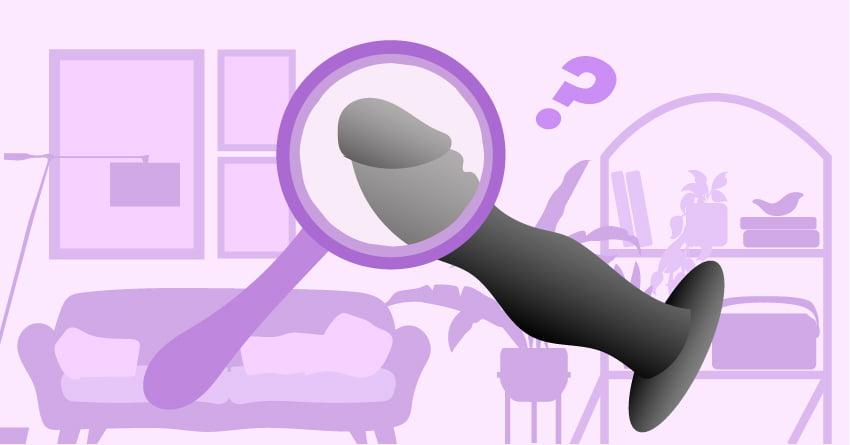 A dildo is a sex toy that resembles a penis intended for vaginal, anal, and oral penetration. It can be used for solo or couple plays and comes in different sizes, shapes, designs, and features. Some dildos can be mounted on the bathroom wall, while others can vibrate.
Common Types of Dildo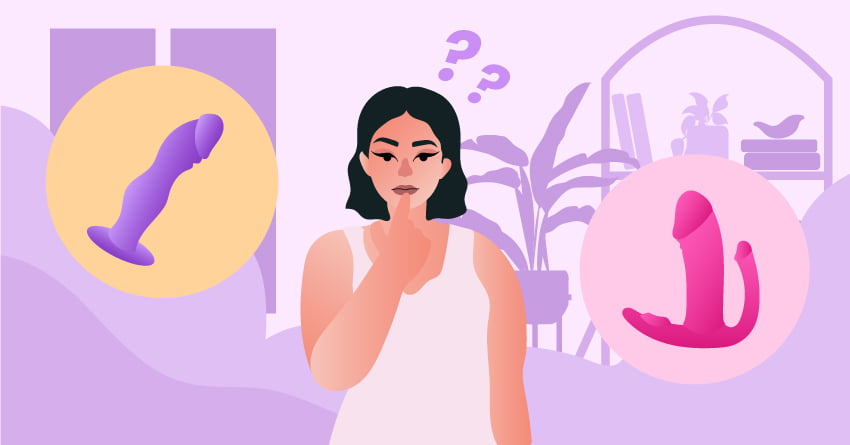 Aside from knowing how to use a dildo, it's also essential to know the common types of dildos. This ensures that you're getting the type that fits your preferences. Because when you have a dildo that works for your needs, you'll be able to make the most out of it compared to getting a dong that doesn't match your desires.
This is a quick list only, so we recommend clicking here to see the full guide about the different types of dildos.
Realistic Dildos – The most popular type of dildo. It has an appearance and texture similar to a penis. Most dildos under this type come with a suction cup base, which means you can stick them on the floor or any tiled wall.
Vibrating Dildos – Most dongs of this type have a realistic appearance, same with realistic dildos. The difference is they vibrate.
Glass Dildos – They're made of hardened glass and can be heated up (by submerging them in hot water) or chilled up (by putting them in the refrigerator).
Double-Ended Dildo – They're longer than the usual dildo and have glans penis-like heads on both ends. If you want to use a dildo with your partner or stimulate your cervix, go for this one.
How to Prepare Your Dildo for Vaginal Play
New to the world of dildos? Unsure with how to start? Don't worry, as we're going to help you figure everything out. Have a fun and comfortable experience when using a dildo for vaginal play in this guide.
1

Check all the features, especially if you're using a motorized dildo.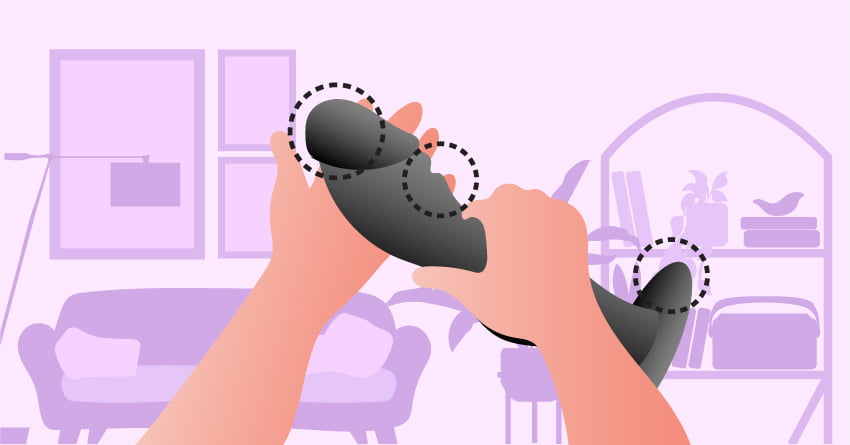 One of the common mistakes that people make when using a sex toy is that they skip over the manual and start playing. However, it's essential to read the user guide before doing anything with your dong. Some dildos may require special cleaning agents, while some vibrating dildos have different features that you need to unlock. To prevent future mishaps, it's best to check everything first.
2

Clean your dildo before use.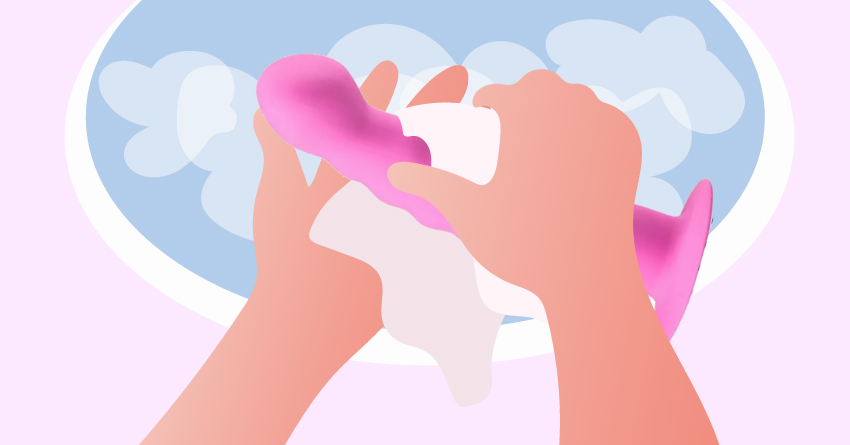 We know that you're excited to try out your sultry toy, but for the love of your vag, clean it first. Use lukewarm water and mild soap or a sex toy cleaner. However, some materials (such as Cyberskin) have a specific cleaning process. So before dousing your dildo in soapy water, make sure to check the included manual first.
You might also feel more comfortable letting go if you've laid down a clean towel on the bed (or wherever you want to do it). Always follow CLAYGO (Clean As You Go). You might also want to use a condom on your dildo for easier cleaning later on.
3

Get yourself in the mood.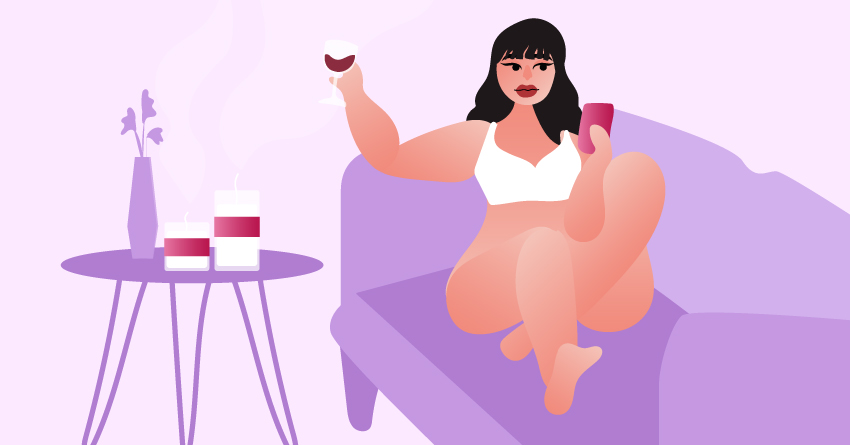 If you want to have while using your dildo for vaginal play, make sure to set the mood. The environment plays a big role in your climax. Don't underestimate the power of a few rose petals or scented candles in your room. Dim the lights and make sure the door is locked to avoid interruptions during your sexy time.
Aside from amping up the environment, you also need to "amp yourself." Get yourself in the mood by picking up your favorite erotica book or watching your favorite porn star kick things off. You have to make sure you're wet or properly lubed up before the party starts.
Don't just go straight to the act. Whether you're going solo or with a partner, foreplay is the key! You can start by caressing your own or your partner's body, rubbing the velvet-soft dildo on your/your partner's pleasure points. We also recommend rubbing the dildo over your/your partner's vulva, specifically the clitoris— it'll surely excite you/your partner's senses!
4

Keep a bottle of lubricant within reach.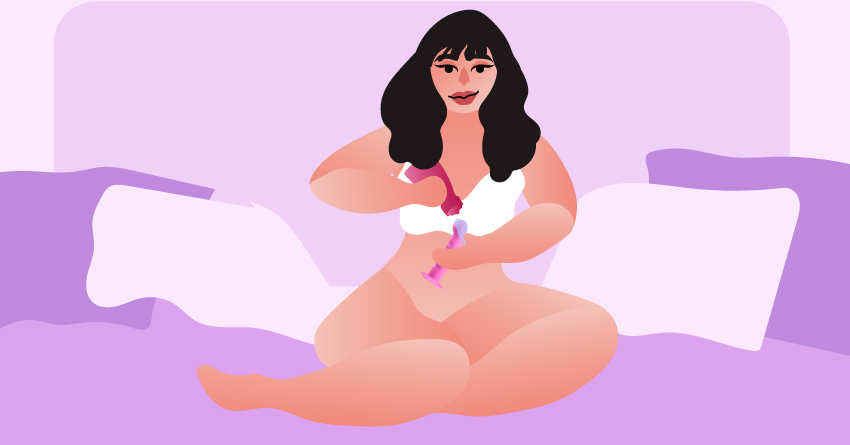 We can never emphasize enough the importance of proper lubrication. Make sure you are wet before inserting your dildo, or you might hurt yourself. You're not Niagara Falls; you're not wet all the time. So if you want to have a comfy time using a dildo for vaginal play, make sure that you're wet enough.
If you have trouble inserting it, arouse yourself first. Porn, erotica novels, and audiobooks might be handy at this stage. If those don't work, keep a bottle of lube handy for extra comfort. Just make sure that lube is compatible with the material of the dildo and with condoms, or else you might risk ruining your toy.
5

Have condoms ready if using this dildo with a partner.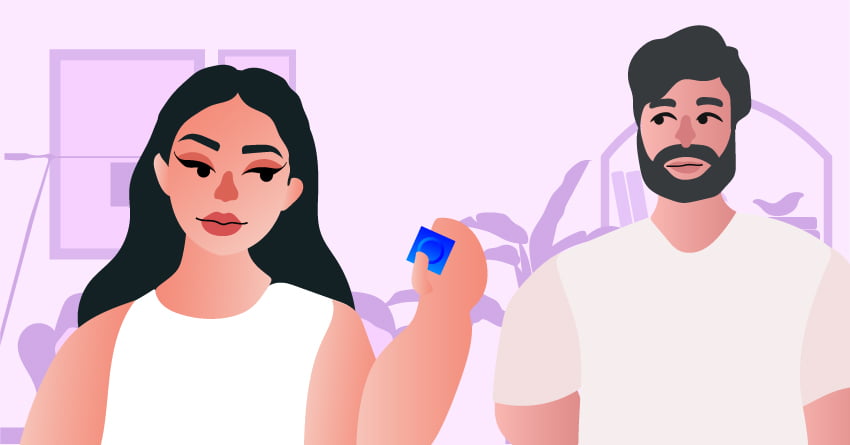 If you're planning to use a dildo for vaginal play with a partner, it's best to wrap it in condoms. This is to prevent bacterial infections and other genital irritations.
We also discourage double-dipping, which means inserting a dildo into the vagina and anus subsequently and vice versa. Remember, your anus has tons of bacteria. Even if you're using condoms, there's a chance it'll still reach your vagina when you insert a dildo in your anus. You need to deep clean the dildo before inserting it in another opening.
How to Use a Dildo: Techniques for Vaginal Play
As they say, to each his own. Everyone has their own kind of penetration that they enjoy. Do you like it rough and fast? Or maybe you like to take it slow? Whichever way you prefer, you're free to do so. Move the dildo in and out of the vagina in whatever way you enjoy most. Listen to your body and go with the flow. Give it what it wants.
But since you're a beginner, here are our favorite dildo techniques if you still haven't found your own.
1

Rotation Play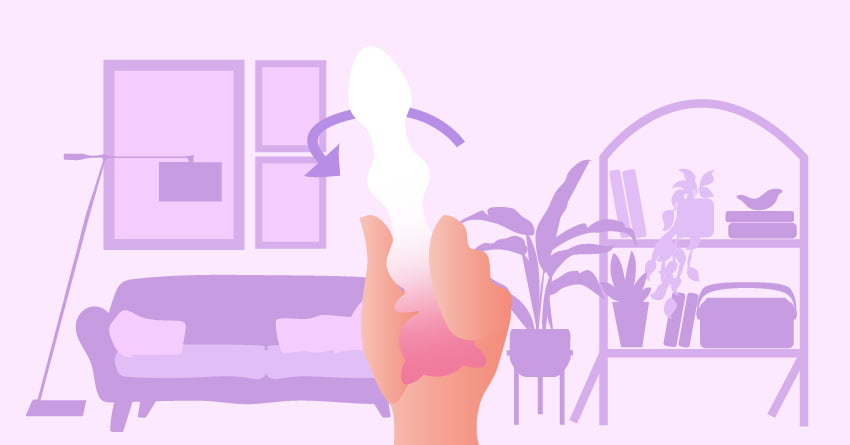 We suggest trying this one if you're looking for a "pre-game" technique. Rotation Play is pretty simple. Just insert the lubed-up dildo as you usually do; you can go as deep or shallow as possible. After that, start rotating the dildo using the base of the toy. It's a great teaser before delving into the deeper techniques, so check this one out before going for the other methods on the list.
2

Deep Thrusting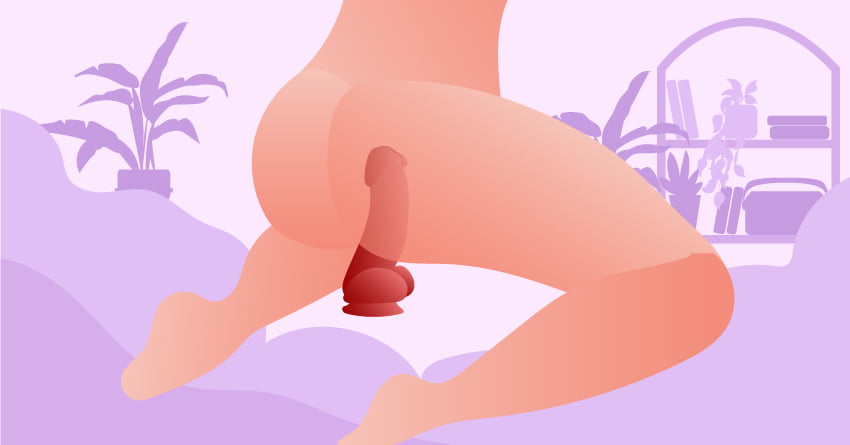 If you have a dildo that's textured, thrusting your dildo along the entire length of your vagina can provide intense stimulation. But even if you don't like textured dildos and prefer smoother ones, this will feel good and comfortable.
If you want to try this technique, you have to consider the material of your dildo. Serious thrusting requires a toy that's firm enough not to bend. It doesn't have to be rigid, but it will be hard to perform this action if you have a soft, jelly-like dildo.
3

Short & Quick Thrusts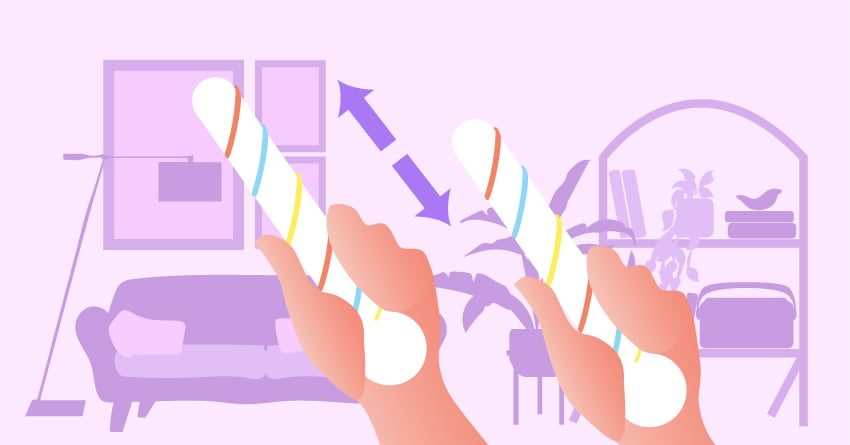 Have you heard the saying, "it's not the size; it's the performance that matters?" This is because most of the sensitive nerve endings of the vagina exist in the first one-third of the region. This means you really don't have to thrust deeply to reach climax. Even with short and rapid strokes, you can still make the most out of your masturbation session with your dildo. It will be easier on the wrists too.
Remember: Just because you have a nine-inch dildo doesn't mean you have to insert the entirety of the dildo in your vagina. Instead, you can just use the extra shaft length to better grasp the dildo.
4

Hit that G-Spot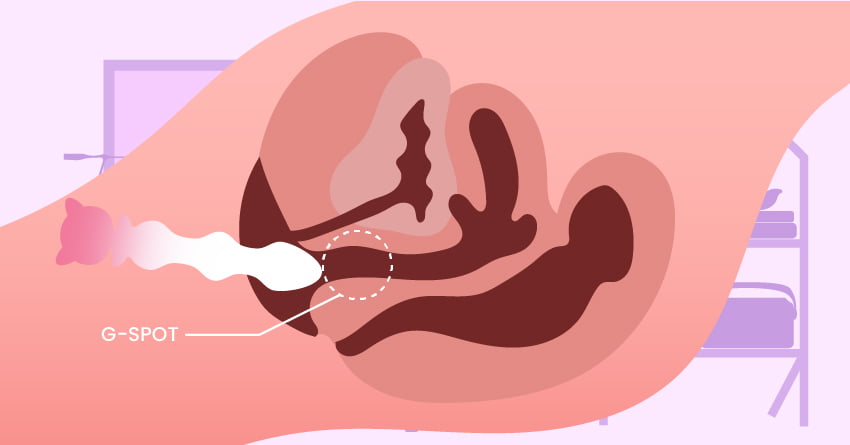 Been using a dildo for vaginal play to hit that sweet spot? If you want to hit that love spot, it will be easier to use a dildo that's curled at the end. Some dildos have a curved end, and they're specially intended for G-spot stimulation.
When you want to hit your G-spot using your dildo, drag the top part of the dildo across your G-spot as you pull outward. You can then push the dildo against the top part of your vagina (anterior wall) as you slide it back inside.
5

Feel The Fill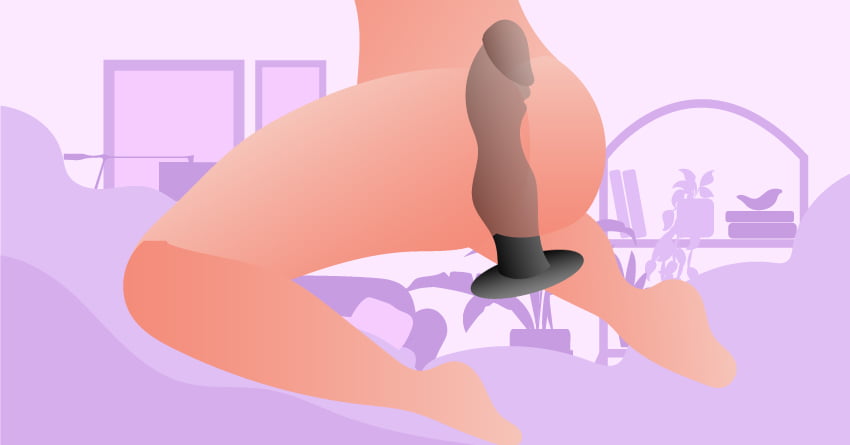 If you love the feeling of fullness from penises and sex toys, this technique is for you. Aside from the fact that too much thrusting can be painful for your wrists and vagina, you don't need to do all sorts of complex actions to enjoy your dildo.
You can try this technique instead. Basically, you just use the dildo where you feel comfortable when inserted. Then, you just keep it inside and stimulate your clit until you orgasm. Dildos are magical sex toys that can enhance your orgasm even if it stays in one place.
Dildo Vaginal Play Tips
Playing with your dildo and correctly hitting your G-Spot can lead to some mindblowing orgasm. This is why it's important to do it well and to do it right! But, if you're a beginner in using a dildo for vaginal play, don't worry. We're here to guide you on the tips and tricks of this game.
1

Find the right dildo for your needs and preferences.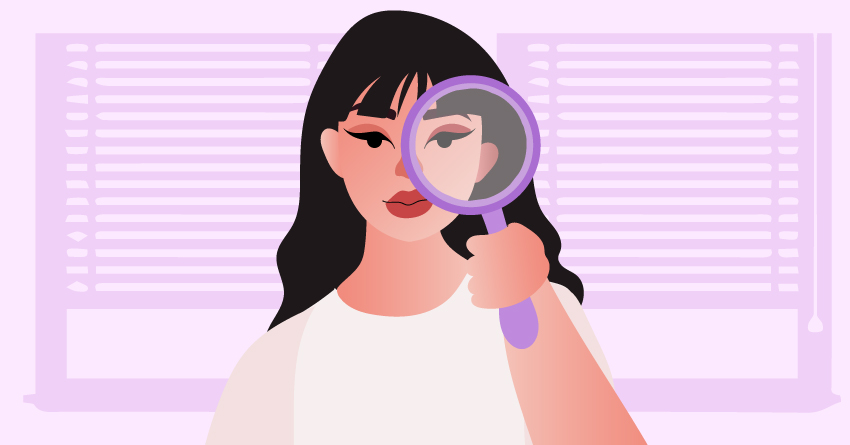 Choose something you think is suitable for your needs. If you're single, you're free to choose whatever you want to put inside you. If you want a nine-inch long and wide realistic dildo, then go ahead. That's your body and your choice. Get wrecked. No judgment here! Just make sure you use tons of lube.
But if you have a partner, maybe you'd like to ask for their opinion if you're gonna use it together— you can opt for double-ended or double-headed dildos.
2

Use condoms for easier clean-up.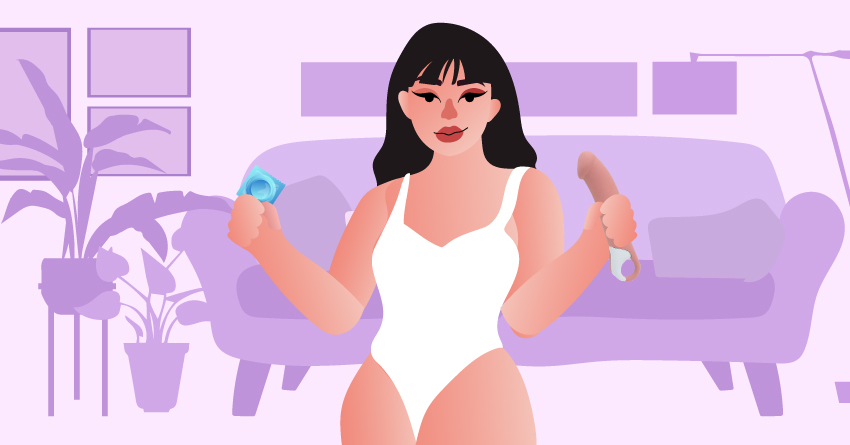 Even if you trust the material of your toy, we still recommend using condoms. Cleaning up will be easier if you use a condom on your toy. It's also lubricated, to begin with, so you can save on your lube. More than this, condoms are necessary if you plan on sharing your toy with a partner in the future.
3

Take your time…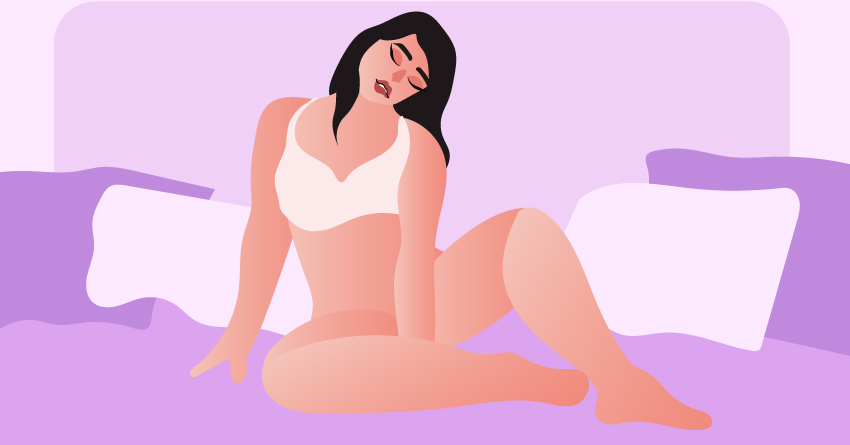 No one is rushing you, so start slowly. Before inserting, see what it feels like when you rub it on the outside of your body. Use it to massage and stimulate your external genitalia first. Think of it as if you're teasing yourself, building up to the penetration. Observe the sensations. Does it feel good? Notice how different it is from using your own hands or somebody else's. Revel in the feeling.
4

Experiment!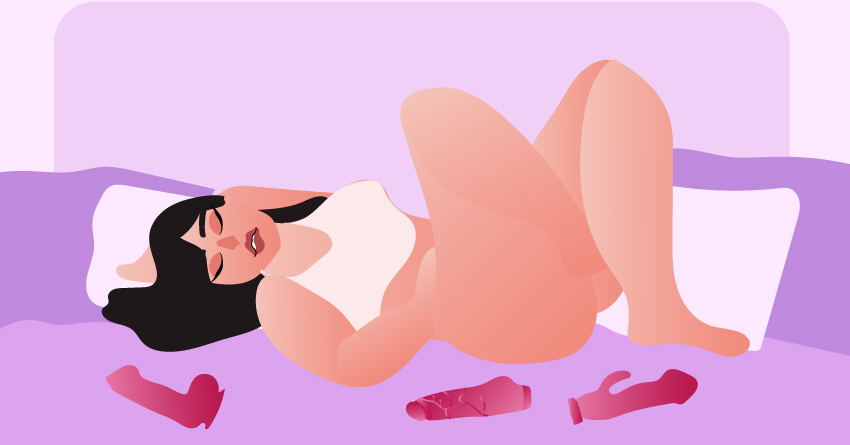 Experimenting is the key to fulfilling sexplorations! Don't just stick to one type of dildo— try glass dildos, metal dildos, or even wooden ones! Adult toy manufacturers have come up with different ways to take your dildo plays to the next level.
And if you want to amp it up, you can also use stimulating lubricants (lubes with heating or cooling effect). You can also try mixing other toys in the mix, such as butt plugs, clitoral vibrators, clit suckers, and other love toys. They'll surely bring new sensations in the deed.
5

Try it with different positions.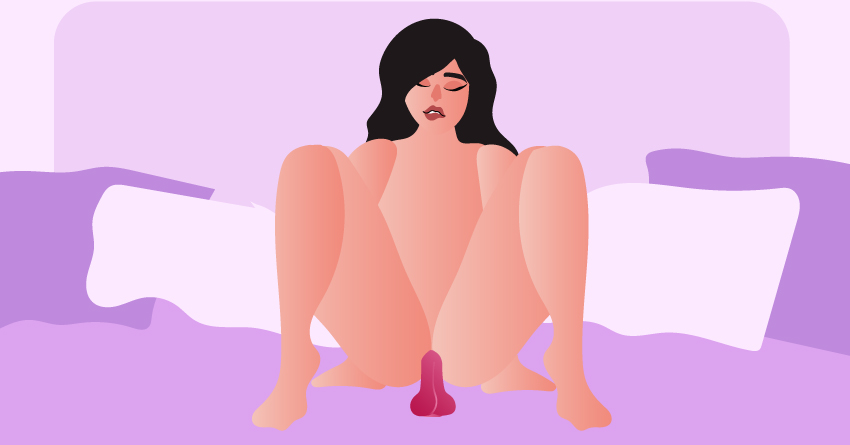 You're free to please yourself the way you want to, so you might also explore different positions to do that. Rather than the usual masturbatory position wherein you just reach down and insert the toy between your legs, try alternative positions. Maybe you can try using your dildo on your hands and knees. Or try sitting upright to see what really hits your spot. Be creative, and you just might discover your next best orgasm.
Positions for Vaginal Dildo Play
Just because you're single doesn't mean you can't have your fun with dildos. To get the most out of using a dildo for vaginal play, you have to be smart about your positions. First, you need to figure out which one suits you the most.
Different dildos can have different feels and positions that will suit them. So don't be afraid to explore and experiment with which position you'll be more comfortable getting more pleasure.
1

Classic Missionary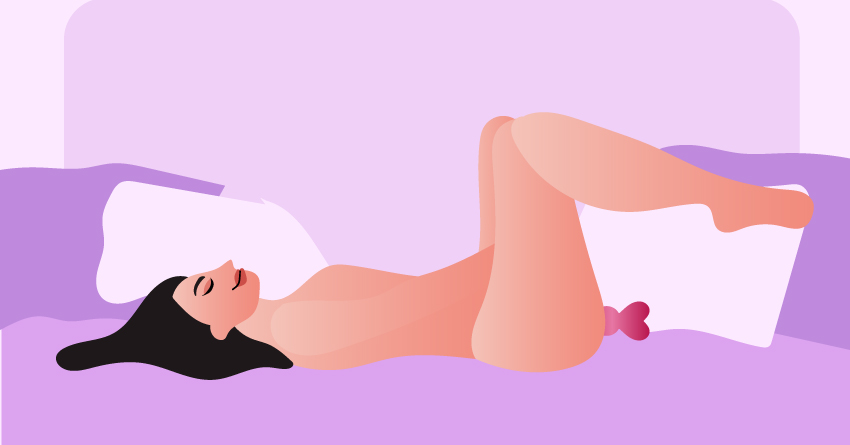 If you're just starting out with dildos, we recommend the good 'old classic. You don't need to twist your body up or make complicated movements. Just lie in there, keep your lubricant ready, and let the dildo give those pulsating sensations.
How to do it: Lie down on your bed or couch or wherever you prefer. Bend your legs up in the air. Lean forward to give you more reach and better control. Then, thrust the dildo inside of your vagina while you're on your back. Find the motion and rhythm that will suit you. You can also twist to one side and insert the dildo while you are on your side to add variety. This makes your pussy tighter, and you'll feel the dildo even more. The feeling of fullness is very satisfying.
2

Cowgirl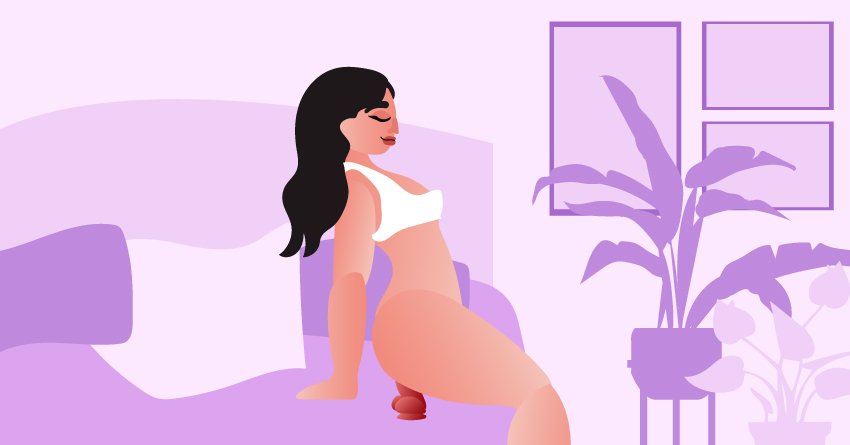 Want to improve your dick-riding skills? Practice using a dildo! Just make sure you're getting a dildo with a strong suction cup, and you're good to go.
How to do it: You can do it lying down, so you can most definitely do it sitting down. Sit in an upright position. You can do this at the edge of the bed or on a chair, anywhere. Then, slightly bend your legs to allow for a deep filling sensation. This is also for you to easily reach your G-spot in this position.
3

Doggy Play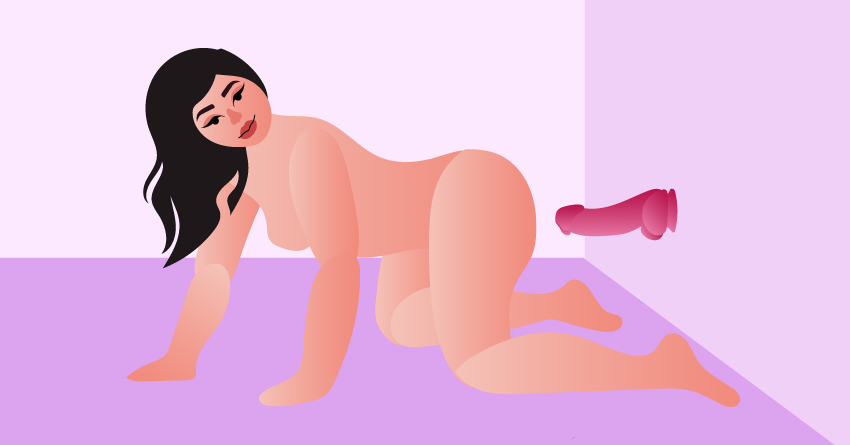 If you're playing alone and have a suction cup dildo, you can be on your all fours. Just secure your dildo to your headboard, then back up against it. Or, even if you're not using a suction cup dildo, it will be easier to reach your clit in this position. So you can do it all yourself and practice what you want when you do it with a partner later.
How to do it: Stick your suction cup dildo on a smooth surface, preferably on the same level as your vagina would be. Apply lube on the shaft, get on all fours, and start pressing your hips towards the dildo. Keep on thrusting the dildo in and out of your vagina until you've reached the peak or once you're ready to try other positions/types of play.
4

Blow & Bounce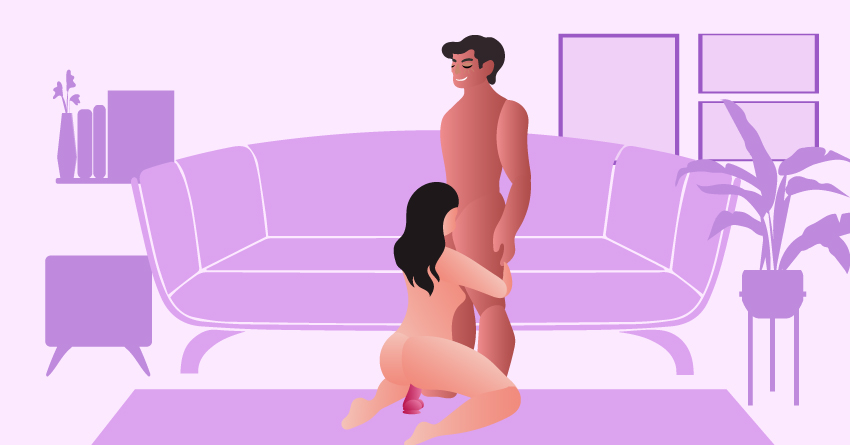 Looking for a dildo position that works well with couple play? You should definitely check this one out. It's pretty similar to cowgirl, so no need to worry about the difficulty.
How to do it: Stick the suction cup dildo in your preferred spot. Have your partner stand up straight while you put yourself in a kneeling position. Make sure the lubed-up dildo is just right below your vagina. As you start giving oral to your partner, insert the dildo in your vag. Keep on thrusting until you've reached the climax or once you're ready to get filled in with your partner's penis/strap-on.
5

Gagged & Shagged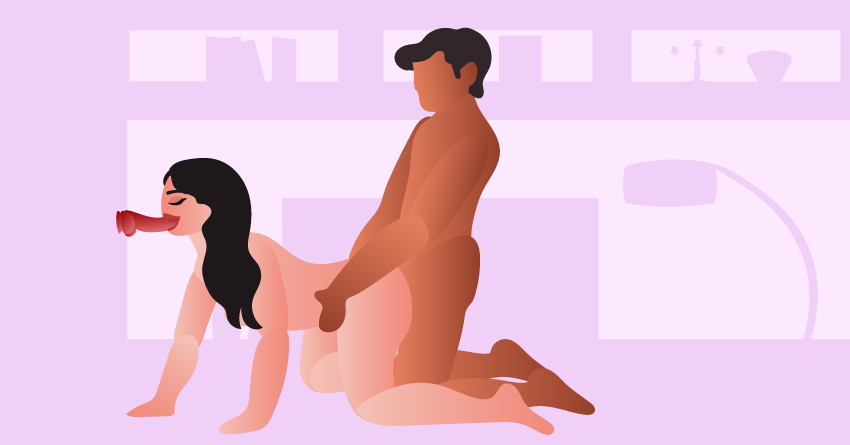 If you want to fulfill that threesome fantasy but don't plan to find an actual thirdy, you can try this one. All you need is a suction cup dildo, flavored lubricant, and a willing partner!
How to do it: Stick the dildo on your preferred surface as long as your mouth can reach it. Once the toy is mounted, you can go for the Doggy Position. As your partner penetrates you from behind, start blowing your dildo. Close your eyes and imagine that it's another person's cock to amplify the sensations.
Best Dildos for Vaginal Play
You've learned the basics, and you've checked the tips. By this time, we can sense that you're ready to use a dildo for vaginal play. With that, we've recommended some beginner and advanced dongs to play with.
1

Tiana Silicone Dildo 5-Inch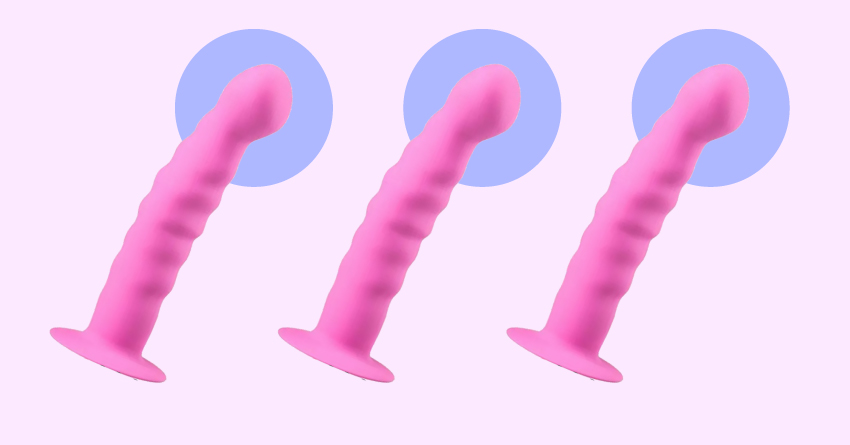 Want a simple starter dildo for your sexcapades? Then, rock your world with the Tiana Silicone Dildo! It comes with an average-sized shaft with pleasure ridges, delighting your anal nerves with pulsating sensations. It also comes with a plump head for targeted stimulation and a strong suction cup base. So if you want to dry the dildo vaginal play positions that we've mentioned above, you can never go wrong with this one.
2

Satisfyer Master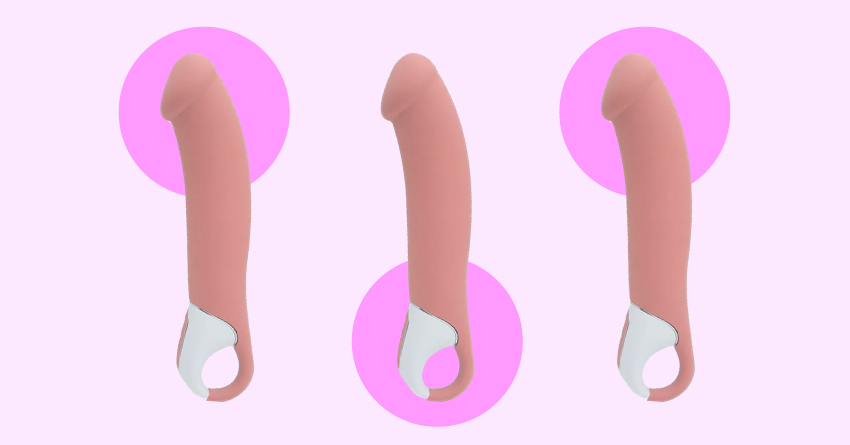 Looking for a dildo with a vibrating feature? Maybe this exquisite toy will become the source of your sexual awakening. The Satisfyer Master is a vibrating dildo with an above-average shaft, flexible structure, plump head, and deep vibrations. With its sleek shape, bulbous head, and super-strong vibrations, expect to be gasping and moaning all night with this one.
3

Daxon 8-Inch Dildo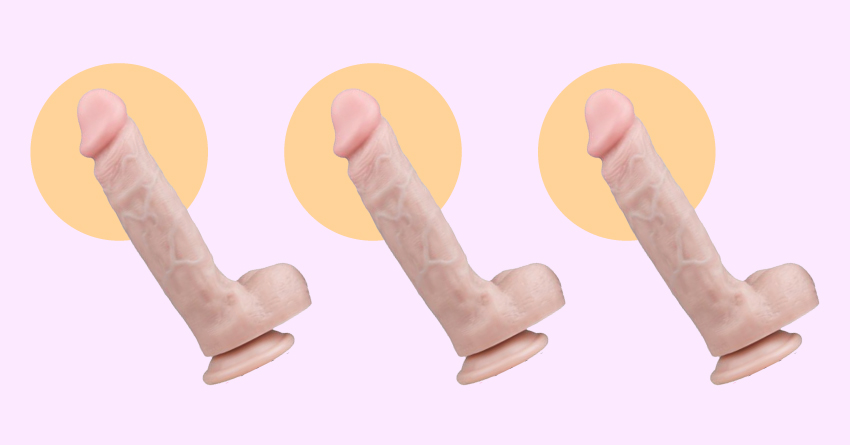 If you've tried the beginner dildos for vaginal play and wanted something longer and harder, then opt for this one— Daxon is ready to give it all! The Daxon 8-Inch Dildo is designed to look and feel like the real thing. It features a lengthy shaft, plump head, firm balls, and a strong suction cup base. This mighty toy cock is great for deep penetration; just use tons of water-based lube, and you're good to go!
4

Rainbow Dildo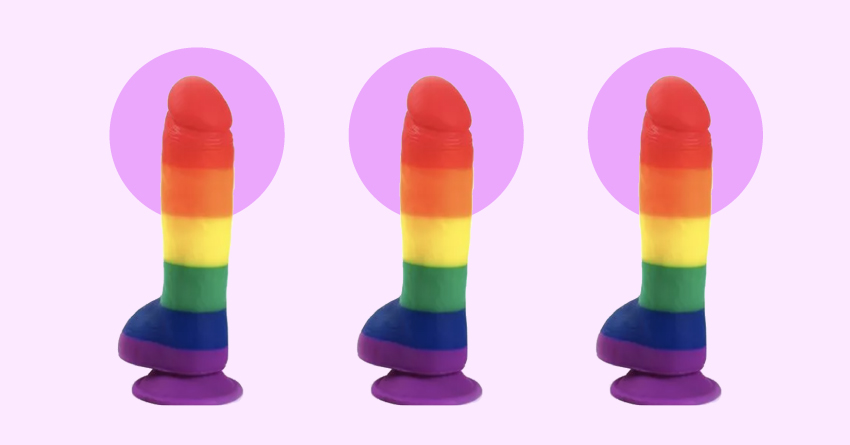 Tired of seeing skin-colored dildos? Wanted something vibrant? We gotchu! Make your sexcapades more colorful with the Rainbow Dildo. It has a strong suction cup that lets you stick it to any flat surface for hands-free playtime.
5

Magical Sakura Glass Dildo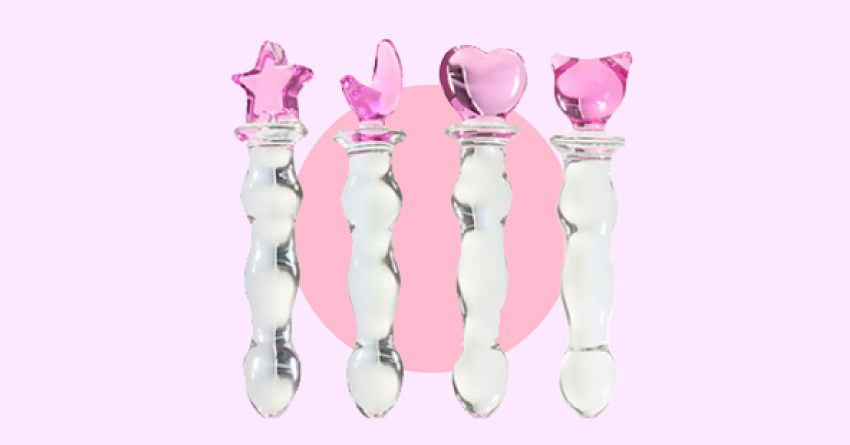 If you're looking for a dildo that's made from glass, here's something worth checking out. The Magical Sakura Glass Dildo is ready to bring magic into your sex life. It's made from Pyrex, making it more durable and stronger than your ordinary glass love toys. In addition, it comes with a stunning three-curved body with a pink-tinted handle. You can also chill it up in the ref or apply warm water to add additional cooling and heating effects during the play.
6

Gildo No. 10 Glass Dildo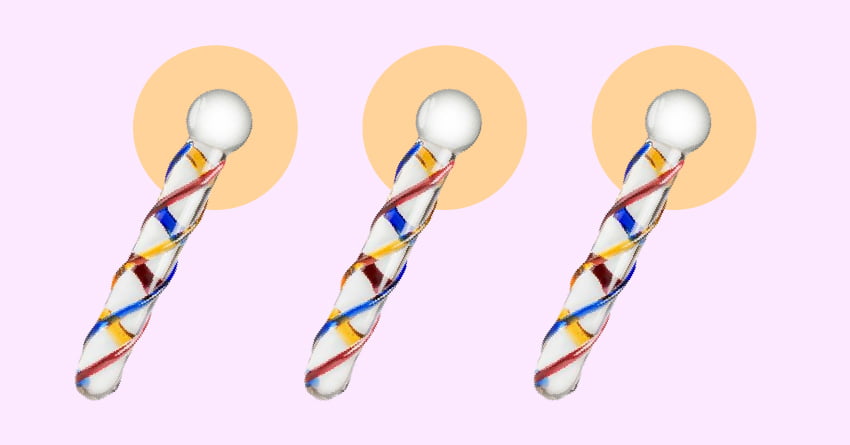 This stunning dildo is the perfect pleasure toy for vaginal play. The Gildo No. 10 Glass Dildo features transparent hardened glass decorated with elegant swirls. You can heat it up or chill it in the fridge. Not only that, but this dildo can also work with different kinds of lubricant. So if you have a bottle of a silicone-based lube, you can safely use that in this dong.
7

Avant Heart of Gold Silicone Dildo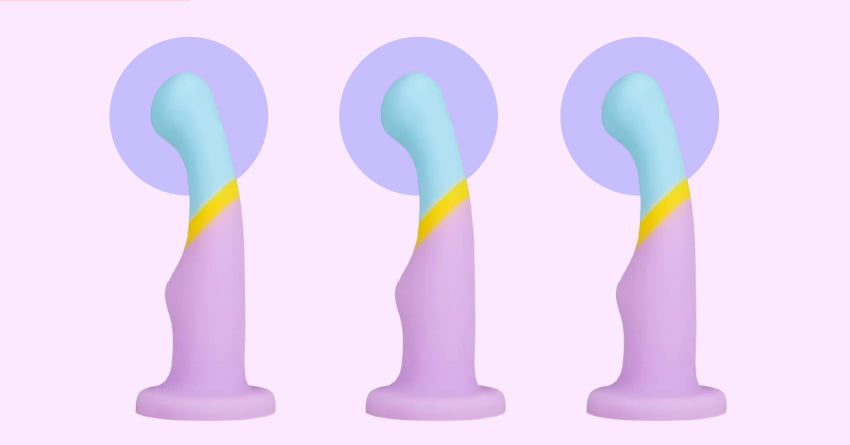 If you want a dildo that doesn't look like a penis and is optimally designed for your pleasure, you need to check this one out. The Avant Heart of Gold Silicone Dildo is the gold standard for discreetly designed sex toys. It has a curved shaft and plump tip that perfectly works with g-spot stimulation. It also comes with a harness-suitable suction cup base, which can work for solo or strap-on play.
8

Avant Vision of Love Silicone Dildo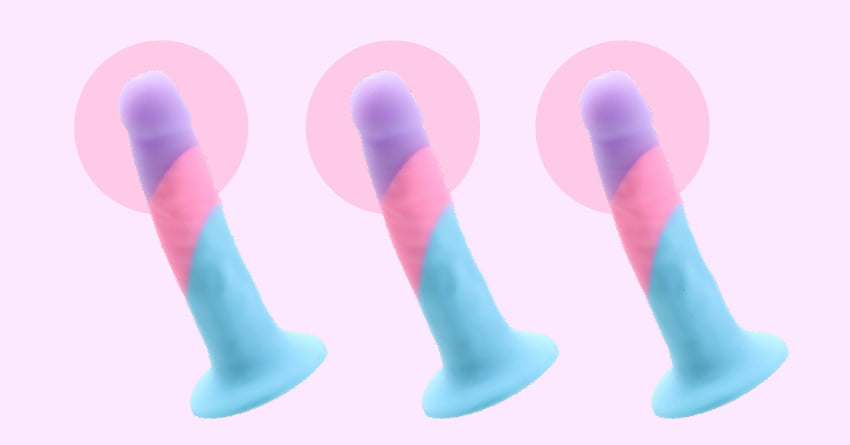 If you're new to dildos for vaginal play and want something in the 4-inch category, the Avant Vision of Love Silicone Dildo is your best bet. It has a discreet design, slender shaft, and strong suction cup base.
9

Jayden 7-Inch Dildo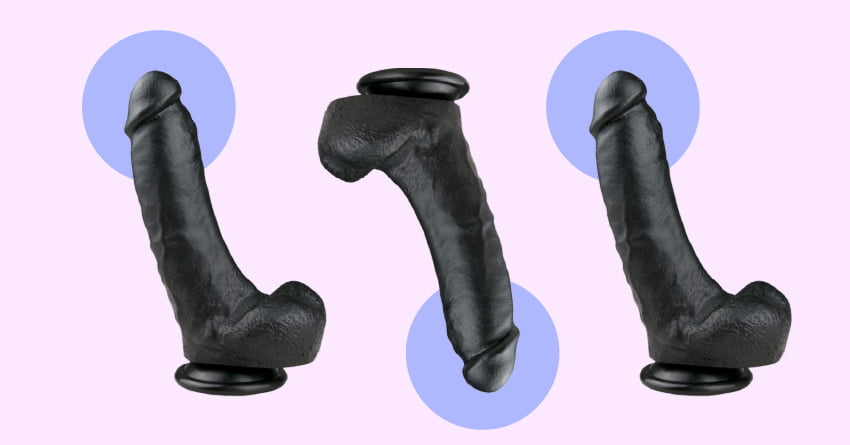 If you want a realistic dildo mounted on the wall or on the floor, you can surely count on the Jayden 7-Inch Dildo. It has an insertable length of 5.9 inches, a good length for those who are new to dildos. It also has a realistic design, plump tip, and strong suction cup base.
10

Avant Suko Silicone Dildo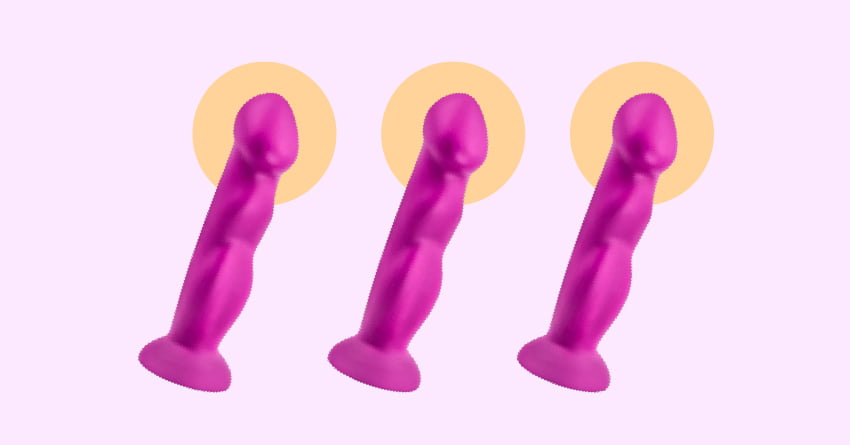 If you already have experience with dildos and want something that would challenge you, this is a must-have! The Avant Suko Silicone Dildo comes with a dual-density shaft which provides a realistic texture; it's like you're playing with the real thing! It has an insertable length of 7 inches, perfect for experienced baddies who want to explore their limits.
Dildo Play Essentials
Along with the sophisticated dildos, we're also recommending some essentials that you should try when you use a dildo for vaginal play. These lubricants will surely keep your vagina hydrated, moisturized, and ready for some steamy playing!
1

Unflavored Lube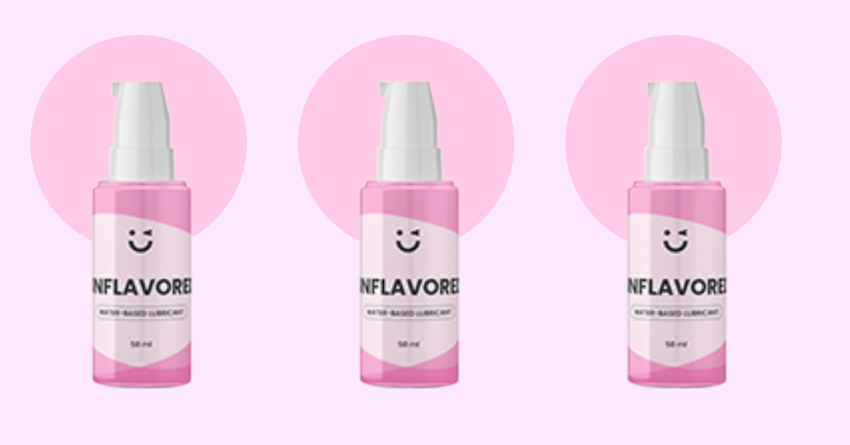 It's important to keep yourself wet down there during any sexual activity, especially when you use a dildo for vaginal play. That's why if you're not as lubricated as much, don't just try to push it in and have an uncomfortable experience. Use a water-based lubricant instead!
The Lauvette Unflavored Lube reduces friction during vaginal penetration, ensuring that you don't experience pain during dildo play. It has a water-based, hypoallergenic, non-sticky, and non-greasy formula, emulating your body's own natural lubrication.
2

Orgie Lube Tube XTRA MOISTURIZING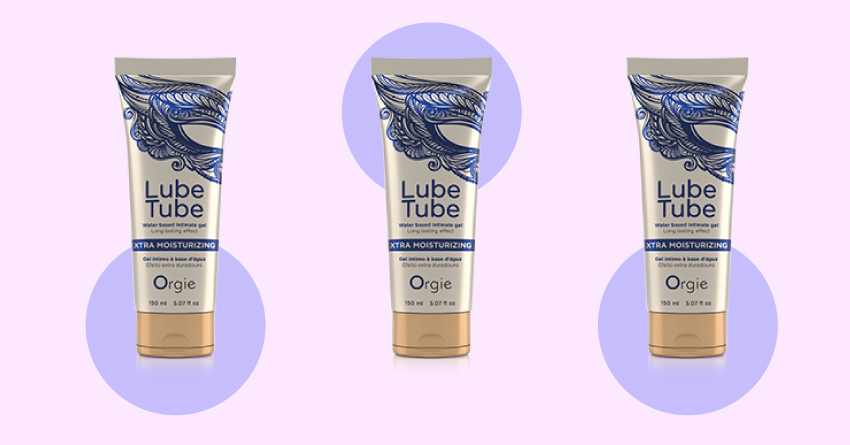 If you're looking for a longer-lasting lube, check this one out. The Orgie Lube Tube XTRA MOISTURIZING comes with long-lasting superior grade lubrication— you don't have to reapply as often as you would do with regular water-based lube! It also gives hydrating effects to your intimate area.
3

Lelo Personal Moisturizer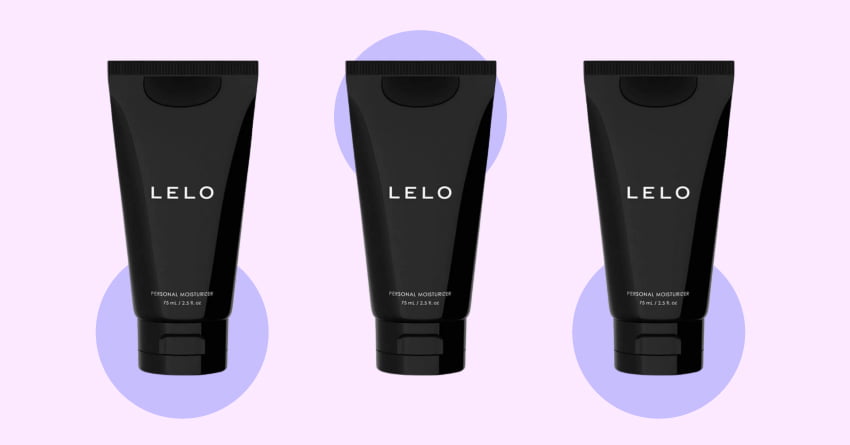 The Lelo Personal Moisturizer is formulated for your pleasure. It has a smooth, velvety feel, making it an ideal option for dildo plays. It's also crafted by one of the leading sex toy brands in the world, LELO— you can ensure top-notch formulation with this one.
4

Intimate Earth Hydra Lube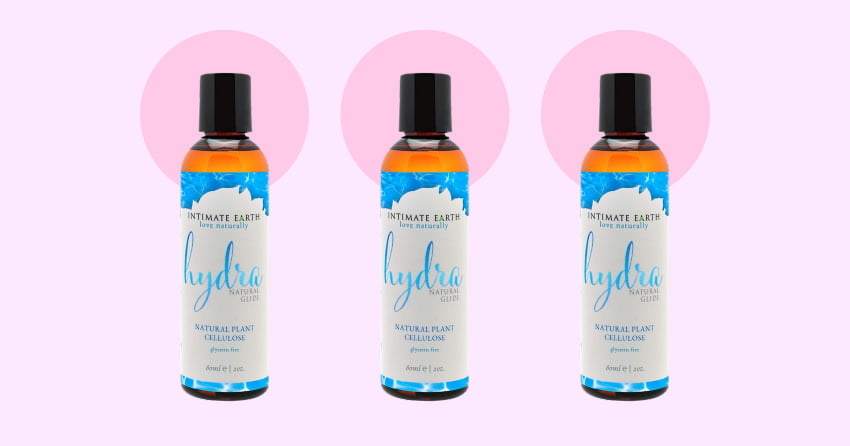 Make your intimate vaginal plays more pleasurable with the Intimate Earth Hydra Lube. Made with organic ingredients, it's neutral-scented, unflavored, and non-staining.
5

Lelo F1L Lubricant – Advanced Performance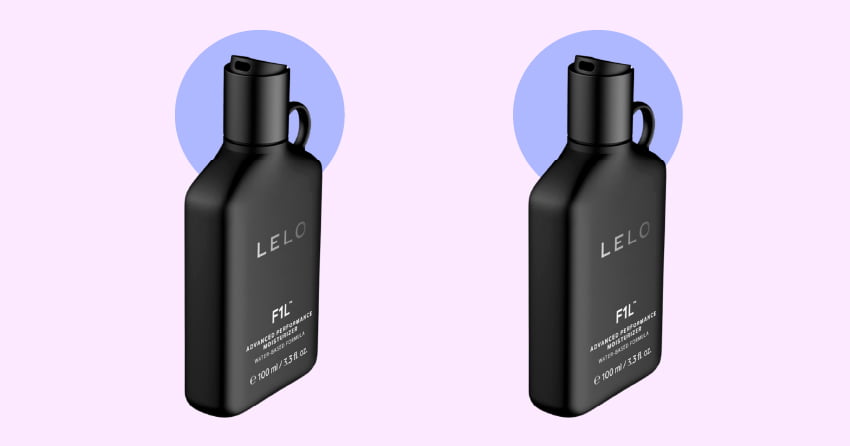 If you want long-lasting lubrication and superior glide, look no further. The Lelo F1L Lubricant – Advanced Performance is the perfect lube for you. It has a paraben-free and glycerin-free formula, making it an easy pick for those with sensitive skin.
6

Intimate Earth Defense Lube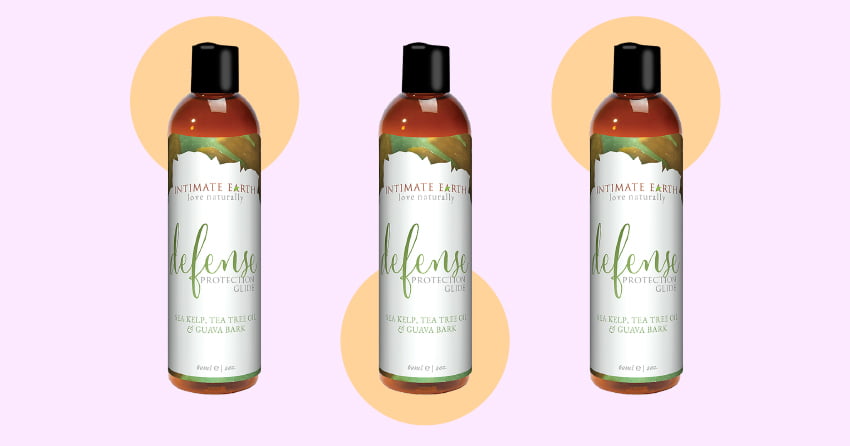 The Intimate Earth Defense Lube is formulated to maintain a healthy microflora and protect you from yeast infection. With its organic and nourishing properties, this is one of the best lubes for vaginal stimulation. Not only that, but it's safe to ingest!
7

Orgie Lube Tube Nature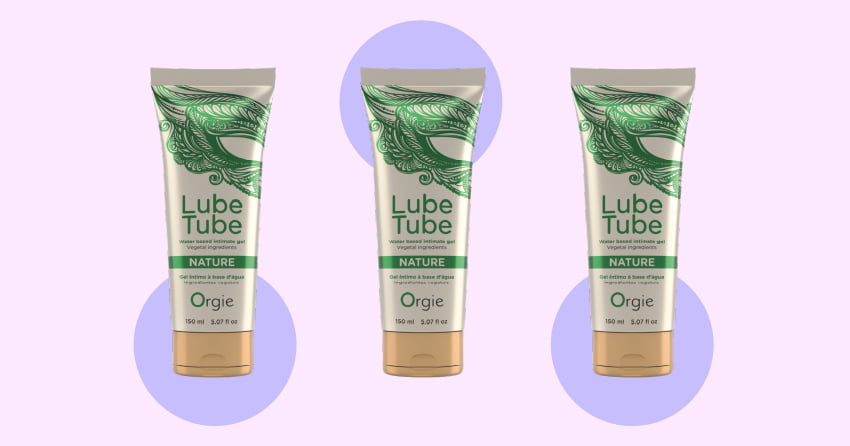 If you're looking for a water-based lubricant formulated with organic ingredients, you should add the Orgie Lube Tube Nature to your cart. It has a sleek feel, making it an ideal lube for vaginal play. It's also odorless, non-sticky, and easy to clean.
Frequently Asked Questions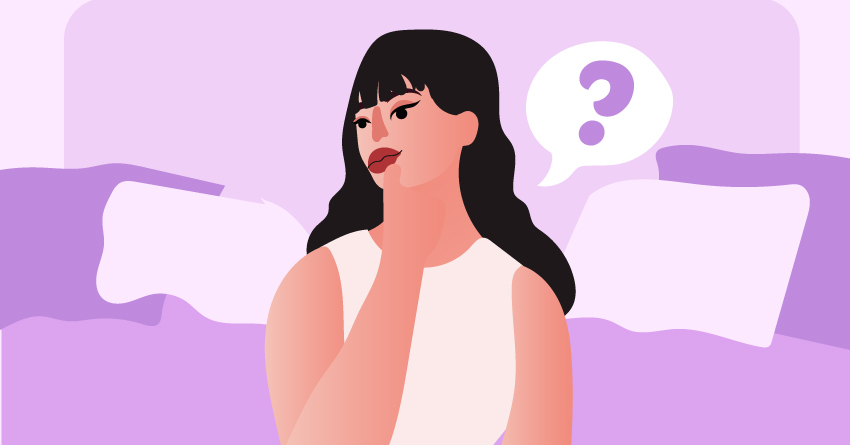 As you've learned the ins and outs of dildos, you're now ready to use a dildo for vaginal play. But before you proceed to our dildo product page, we recommend reading our answers to some of the frequently asked questions about this love toy. This will clarify some misconceptions and even help you to make the most out of your dong.
1

What's the best type of lubricant for dildos?

It depends on the material of your dildo. But if you want a type of lube that can generally work on most dildo materials, just for a water-based one. We've already shared some recommendations above, so make sure to check those lubes out!
2

How can I convince my partner to use a dildo during our sexcapades?

We get that your partner, especially if he's a guy, can be intimidated by a dildo. He may think that you're replacing him with a silicone schlong, so he's not open to the idea of using it in the deed.

With that, we suggest that you should be patient and reassure him that he wouldn't get replaced with a sex toy. It's up to you to communicate this message; after all, no one knows your partner better than you do.
3

I'm a virgin. Will I get devirginized by using a dildo?

Virginity is a social construct, so you can actually define "losing one's virginity" on your own terms. For instance, if you think you can only lose your virginity through an actual sexual encounter, you haven't lost it by using a dildo for vaginal play. But, on the other hand, if you think that virginity can be lost through vaginal penetration, whether it's with a penis or not, then yes, you can get devirginized with a dildo.

However, we highly suggest unlearning the notion of virginity. As we've mentioned, it's a concept that was the result of human interaction. You don't lose anything from using a dong or by having sex— just keep your sexplorations going without fear nor shame.
4

Is there a difference between a dildo for vaginal play and a dildo for anal play?

Most anal and vaginal dildos have the same shape, curve, and designs. They only differ in size as anal dildos tend to be smaller than vaginal dildos. All anal dildos also have a flared base, unlike the vaginal ones.
5

I feel discomfort or pain while inserting the dildo. What should I do?

We recommend using the suggested lubricants in the previous section, as it'll help you ease the discomfort when using the dong. It's also important to keep yourself relaxed during the play, so the insertion will go smoothly. Now, if you still keep on having issues with vaginal penetration, we recommend getting yourself checked, as there may be an underlying condition that keeps you from having painful penetration.
Takeaway
Whether you're single or in an LDR, dildos are for you. Dildos are the ultimate do-it-your-own-way sex toy. Your pleasure is literally right at your hands with dildos. So it's really up to you how you'll please yourself.
A dildo wouldn't move on its own, so you're free to decide how you'll ride one to heaven. You can go rough. You can go slow. It depends on you and you alone! Now that you know how to use a dildo for vaginal play, it's up to you how you'll enjoy it!