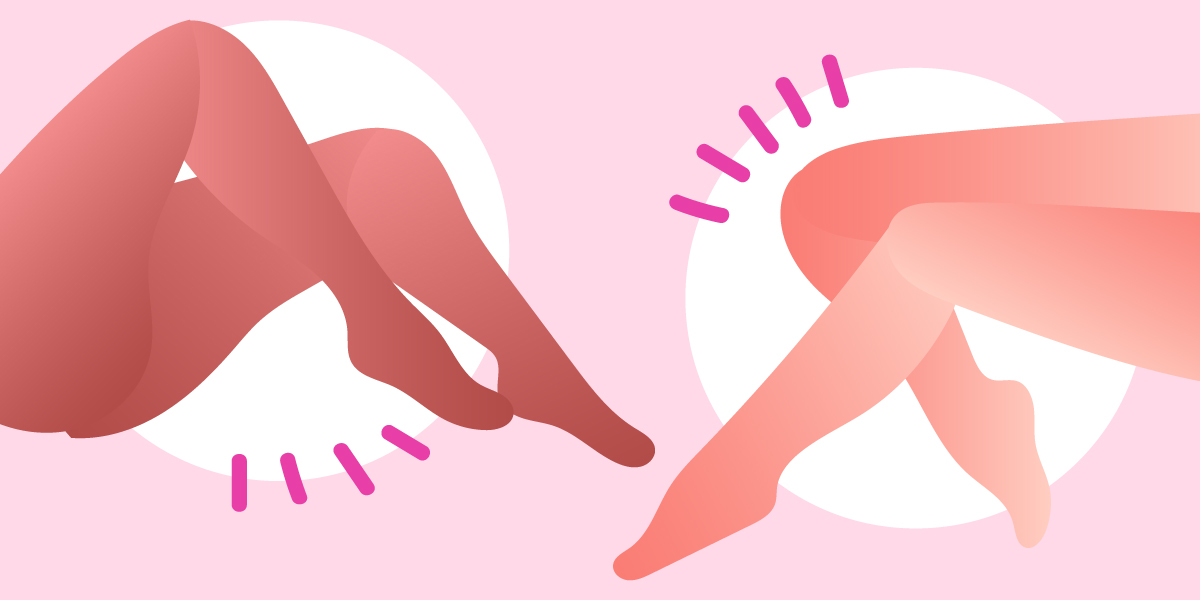 Want to give a footjob to your partner? Curious about how this kinky act usually goes? You've come to the right place, pal. For this guide, we will discuss what a footjob is, how to do it, the best techniques, and some tips and tricks to make it extra special.
A footjob is pretty similar to handjob and fingering. The only difference is instead of using your hands to stimulate your partner's genitals, you're using your feet to that job. Though men are the ones who usually love to receive this type of play, some women are also into this.
This might sound fun and easy, but keep in mind that this is a specialty act. Aside from learning the right maneuvers to give the best footjob, you'll also need to have to be connected with the person you're giving it to– or else things will be hella awkward.
With that being said, we suggest not doing this the first time you're intimate with someone– communicate your desires first! We also recommend checking out resources on how to do this properly, such as this guide, to prevent further mishaps on the act.
How to Give a Footjob
Ready to spice up sexual plays with this frisky act? Here are the essential steps on giving the best handjob to your boo, so make sure that you have your notes ready. Let's get started!
1

Communicate first.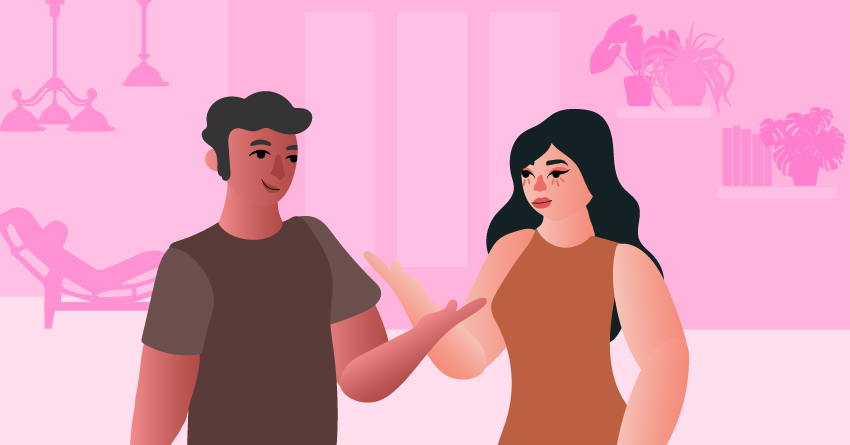 Before you start pampering your feet and practicing footjob techniques, it's vital to do this step first. You need to communicate this desire to your partner and listen to their thoughts about it. Remember, people have individual preferences. Some people may not mind partaking in this kind of play, but some may have issues.
Let's say your partner agreed to try this out; great for you! Now you need to talk about their expectations and boundaries. Would they want to receive a massage? Are they interested in having their toes sucked? Is vaginal penetration okay? List down all the things that you can and can't do as you give the footjob.
However, if your partner didn't agree to this activity, it's best to respect their decision. Don't coerce them into saying yes to your kinks.
2

Prepare your feet.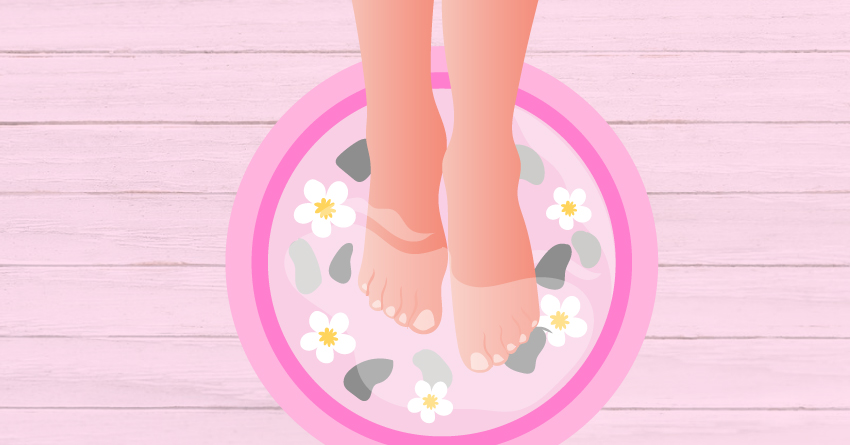 If your partner gave an enthusiastic yes to this frisky act, it's time to prepare your feet for some sexual action. First things first, you need to trim your toenails. This reduces the risk of accidentally scratching your partner's intimate area. Next, you need to clean your feet, ensuring that they are free from dirt and strong odors. Before the play, you can either go to a salon, have a foot spa, or have a lengthy foot scrub at home. Don't forget to apply a lotion afterward!
Though most people do the preparation alone, you may want to try this process with your partner. Let your boo do the pampering– from scrubbing your foot up to putting lotion to it. This can solidify your connection between you and your partner.
As for the nail polish, you can still put some– just make sure it's all dried up before the deed. With that, go for a nail polish that's opaque and dries very quickly.
3

Set the mood.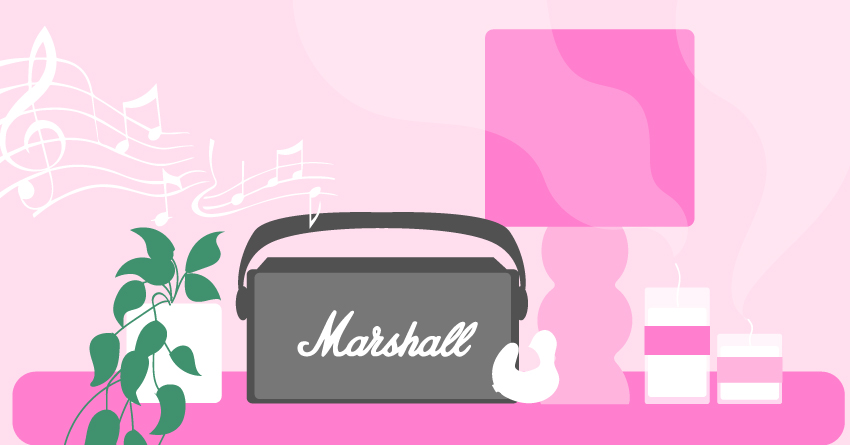 Most people skip this step, but seriously, setting the mood during sex is essential! You can't just do the footjob part if you or your partner aren't relaxed enough. That's why putting some mood lighting, and scented candles can do wonders.
Besides adding some quirks to your room, it's also best to set the mood through sexting. Imagine teasing your partner a day before the deed with a sexy photo or kinky texts– they'll be more excited for the act!
Not only that, but your clothing can set the mood too. Wearing luscious lingerie can heat things up quicker than your regular get up. But hey, go for what's comfy and what works for your boo.
4

Use lube!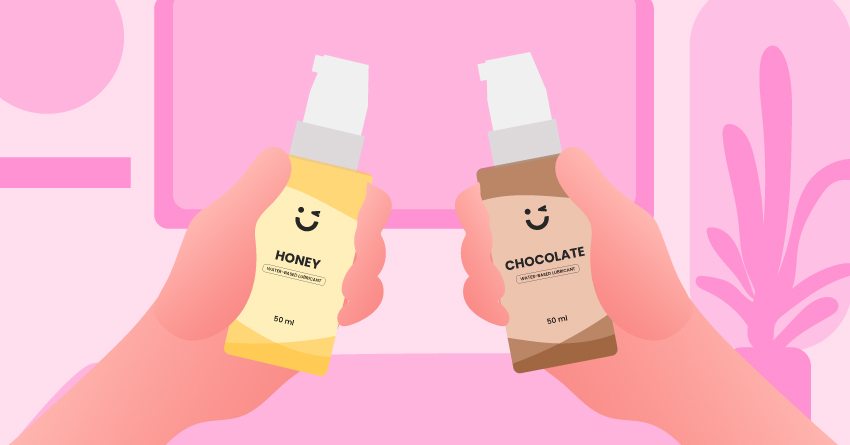 Imagine massaging your partner's penis without any lube; it'll just be uncomfortable for him. That's why it's essential to prepare a water-based or silicone-based lubricant. Go for flavored ones or even the stimulating ones (with cooling or heating effect). That will surely spice up the play!
Now, if you have an oil-based lubricant, it's pretty safe to use when massaging your partner's penis or your partner's breasts. However, we suggest steering away from it if you're going to give a footjob to a woman since it can negatively affect her vag.
5

Start slow and with simple techniques.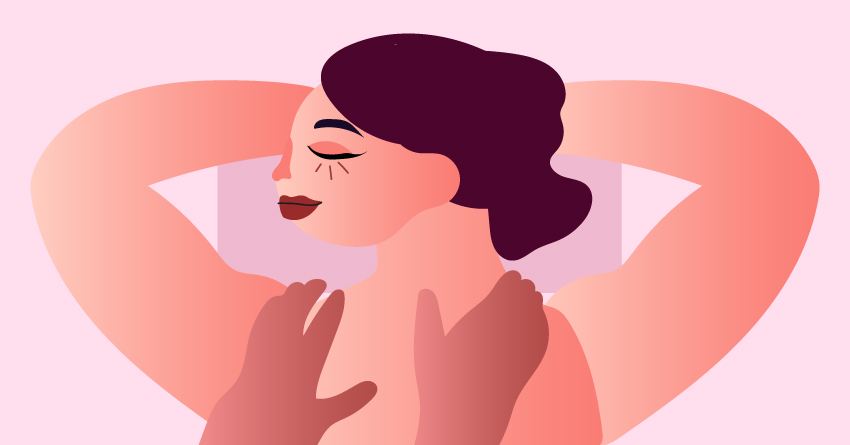 We know you're soooo excited to give a footjob, but don't go directly at it. Start with a long steamy makeout session. While doing this, put some massage oil on your hand and start massaging your partner's body. This will make your boo more relaxed and ready.
Once you and your partner are all heated up, you can start positioning yourself and performing simple footjob techniques. Observe your partner for the first few minutes and see if they're enjoying the play. If they're feeling it, you can slowly increase the pace, then switch up on other techniques. To learn more about the best footjob techniques for men and women, check the next section below!
Footjob Techniques for Males
Now that you've learned about the four essential steps on giving a footjob, let's now move to the different footjob techniques you can do for your deserving lover. Now, most of these techniques for men can be achieved by beginners; you just need a few tweaks on how you position on the bed. Read on!
1

Up and Down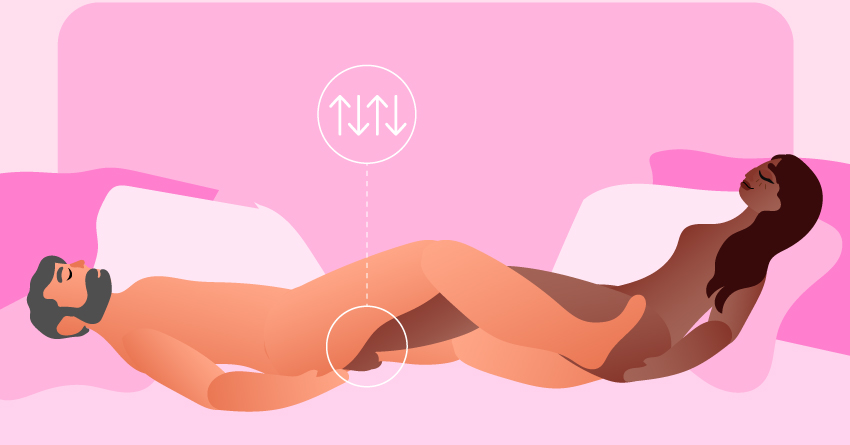 If you're just starting out this kinky play, you can never go wrong with this basic technique. It's easy to replicate and gets the job done!
How to do it: Have your man lie down on the bed. Sit on the opposite side of the bed, facing him. Put some lubricant on your feet and start running your toes on his penis. Use your big toe and circle it around the head of his cock. Once you're done with the teasing, slowly use your feet to grab his penis between both soles. The position is similar to the "praying hand," but with his penis sandwiched in it. Once positioned, slowly move your feet up and down to his cock. Gradually increase the pace until they cum.
2

Suck and Stroke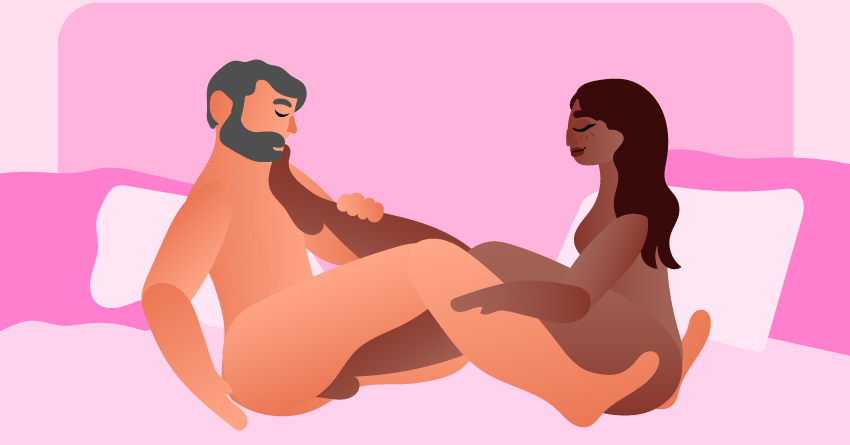 This is a great footjob technique for men that like to suck their partner's toes (also known as shrimping). It's also beneficial for the giver since they get to experience pleasurable sensations while pleasing their man.
How to do it: Have your man sit down on the bed and sit on the opposite side of the bed, facing him. Put some edible flavored lubricant on your feet. Place your foot on this schlong while having your partner grab the other foot. Gently massage his cock in an up-and-down motion. Meanwhile, let your man suck the life out of your sensitive toes.
3

Perineum Pleasure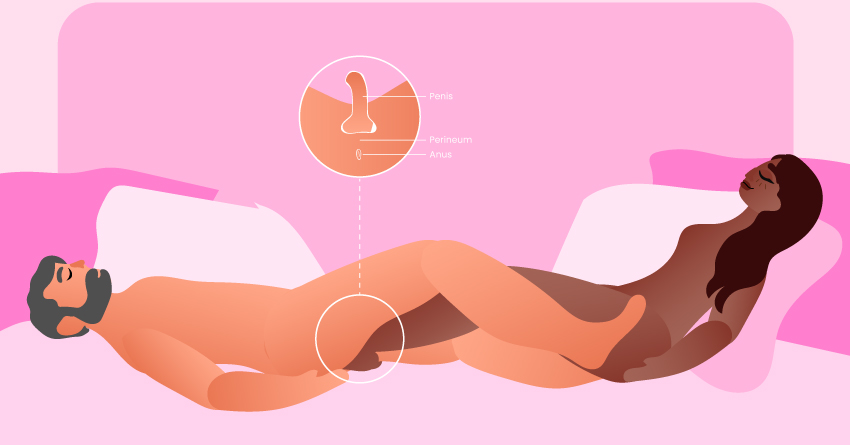 Did you know that the perineum, the area between his penis and anus, is rich with sensitive nerve endings? That's why when you give a footjob to your man, make sure to not neglect this spot. Here's a technique that can help you provide that pleasurable perineum massage.
How to do it: Have your man lie down on the bed and have his legs open wider than usual. Sit on the opposite side of the bed, facing him. After dabbing some lube on your feet, place your foot on your partner's penis while the other foot is on the perineum. As you start stroking your partner's cock, gently massage (emphasis on gently) his perineum with your big toe. You can rub up and down, put circular motions in it, or tap in and out of that spot.
4

Slidin' and Ballin'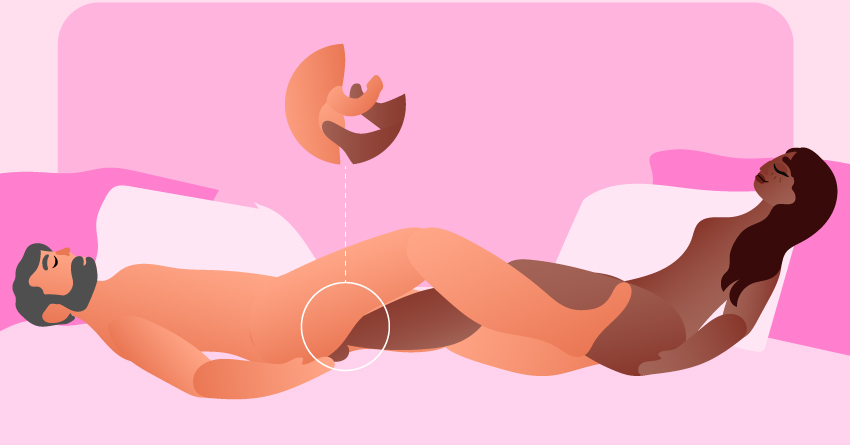 Same with the perineum, your partner's balls have a ridiculously high number of sensory nerve endings. Pleasing it as you give a footjob can spice up the deed. Be careful, though– one wrong move with this technique can bring so much pain to your partner's groin.
How to do it: Have your partner lie down on the bed while you're sitting down on the opposite side, facing him. Once your feet are all lubed up, place your foot on his schlong, and the other in his balls. Gently massage his balls as you stroke up and down against his penis.
5

Pinch and Play
This position is for a partner that doesn't mind getting it rough. This also works for a giver that has excellent foot control and dexterity. So if you want to mix pain and pleasure in the deed, go for this one!
How to do it: Let your man lie down or sit down on the bed. Just put a small amount of lube on your feet, then place it on his cock. After that, start pinching, pulling, and twisting your partner's penis skin. To amp up this technique, we suggest restraining your man with handcuffs or hemp rope.
Footjob Techniques for Females
One of the common misconceptions about footjobs is that women prefer to be the giver and not the recipient. That's not necessarily the case, as some women love experiencing this frisky act too. Here are the best female footjob techniques that you should try with your boo!
1

Clit Play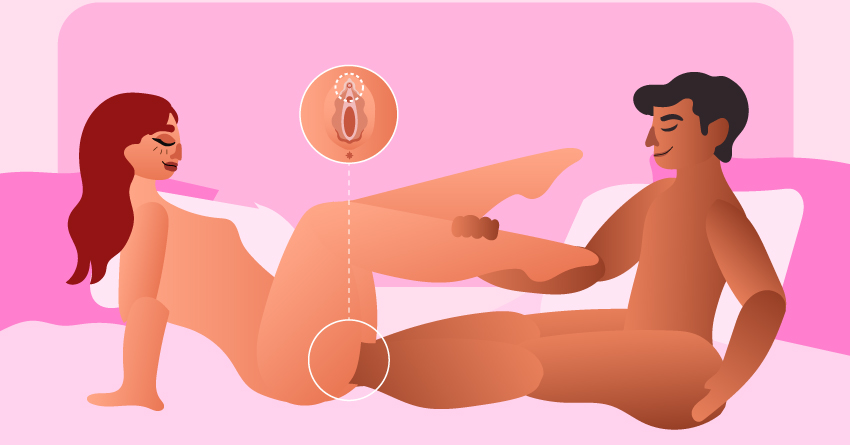 If you're just a beginner on this kinky activity, we suggest opting for this method. What's great about this technique is that this alone can bring your partner to orgasmic heavens since the clitoris has thousands of delicious nerve endings.
How to do it: Have your partner lie down on the bed and open her legs wide. Sit on the opposite side of the bed, facing her. If you're not familiar with the clitoris, it's a tiny nub of flesh located on the upper part of the vulva. Once you've found this part, rub the clit with your big toe or with your sole. You can do an up-and-down rub, gentle press, or circular rubs. Make sure the foot you're using to stimulate her clitoris is lubed-up! Keep the pace consistent until she cums.
2

Up and Down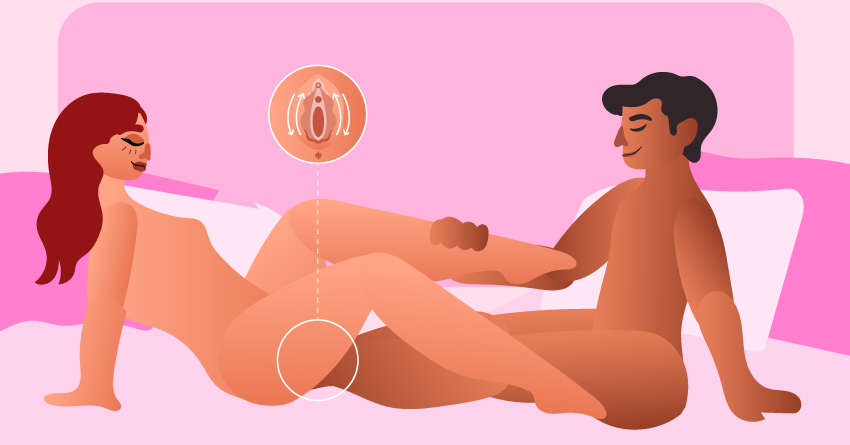 If you're just new to the play, we suggest using this technique when you give her a footjob. This is similar to the previous method, but instead of the clit, you're stimulating the whole vulva.
How to do it: Have your partner lie down on the bed and open her legs wide. After putting an ample amount of lube on your big toe, gently rub your partner's vulva in an up-and-down motion. Start with her clitoris, move downwards up to her perineum, then go upwards.
3

Rubbin' and Vibin'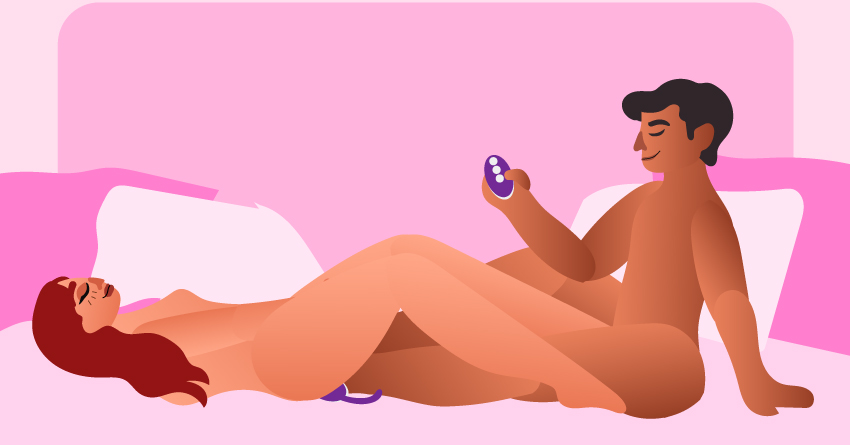 Want to incorporate sex toys in this kind of play? You'll surely like this technique! All you need is a remote-controlled vibrator or love egg, and you're good to go.
How to do it: Have your partner lie down on the bed, with legs wide open. You will sit on the opposite side, facing her. Put some lube on the vibe/love egg, then gently insert it in her vagina. You must then put your lubed-up foot on her clitoral area, gently rubbing her clitoris with your sole or big toe. As you stimulate her clitoris, you will turn on the vibrator/love egg, controlling the pulsating vibrations.
4

The Toe O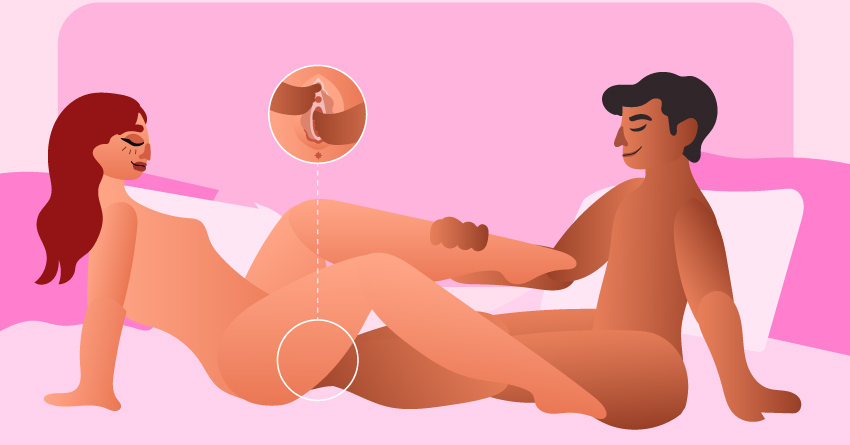 Wanna give your partner the big O? You should definitely try this position out. What's great about this technique is that you're providing both clitoral and vaginal stimulation. The only downside is it may take some time to get used to this and figure the right position. But trust us, it's all worth it!
How to do it: Have your partner lie on the bed, spreading her legs wide. Sit on the opposite side of the bed, facing her. Dab an ample amount of water-based lubricant on your feet. After that, use your foot to stimulate her clitoris (either with your big toe or sole). The other foot then goes to the vaginal opening. Use your big toe to gently penetrate her vagina. Start slow, then increase the pace until she reaches climax.
Footjob Tips
As you've learned the different male and female foot play techniques, you're slowly mastering to give a footjob. However, before you start doing the deed, we suggest checking out these tips first.
1

Use stimulants to enhance the sensations.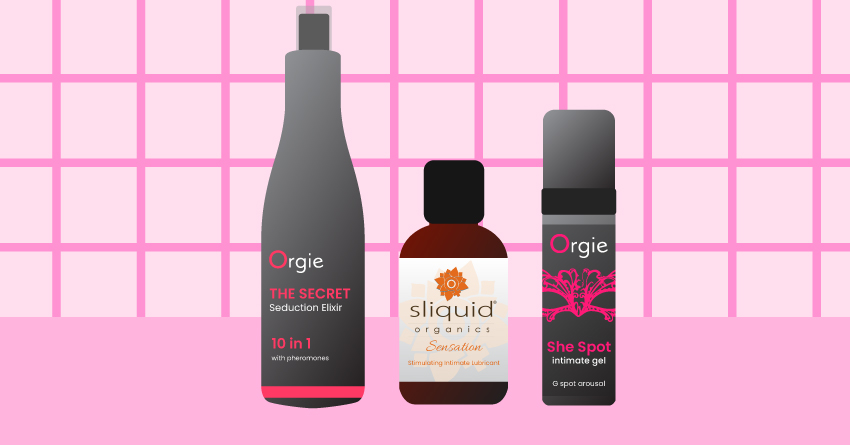 Want to level up your footjob game? Try out sexual stimulants! If you're not familiar with this, it's basically a form of lubricant with a cooling or healing effect on the skin. Using these stimulants, you're not just providing a smoother glide on the play but also giving your partner extra pleasurable sensations.
2

Try it with sensory deprivation and light bondage.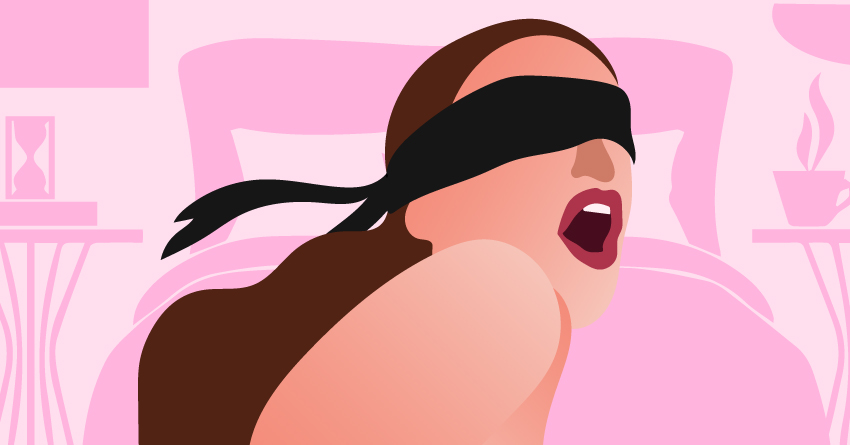 If you and your boo are into bondage, you might want to incorporate BDSM plays into this. You can put your partner on a blindfold or tie him up using handcuffs or restraints.
By taking off your partner's sense of sight, they will experience heightened sensations during the deed. Just make sure to ask your partner for consent first– they may prefer seeing your feet during the play.
As for the restraints, your partner may like the idea of surrendering their control, especially if they're on the submissive side. But same with sensory deprivation, it's best to ask your partner first before introducing restraints on the play.
3

Use sex toys for mutual pleasure.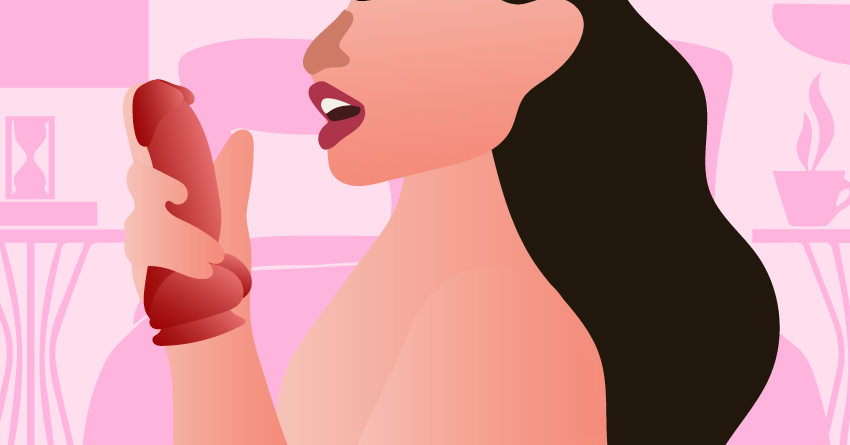 Who says you can't reach the big O while you give a footjob? With the help of sex toys, you can still receive pleasure while performing foot play with your partner. For females, they can use mini vibrators, vibrating panties, vibrating butt plugs, love eggs, or even dildos (though you will need a suction cup one and you have to be on the floor). For males, they can opt for thrusting masturbators or prostate massagers.
4

Talk dirty to each other during the deed.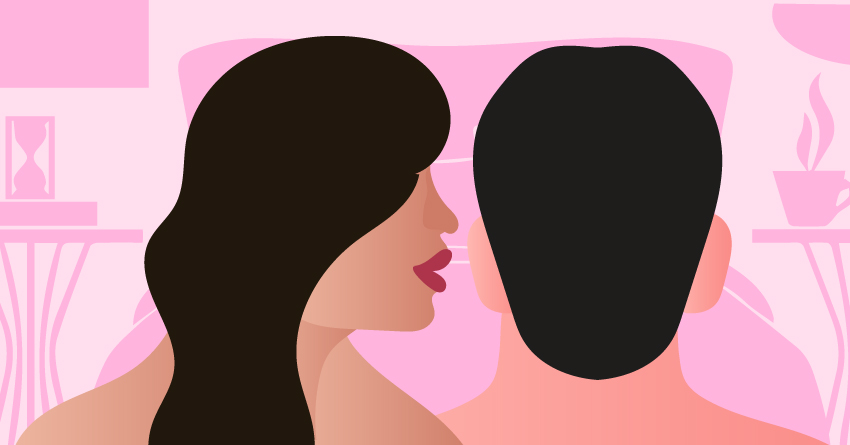 You sure don't want to sit in awkward silence while you give a footjob, amirite? So with this, we suggest going for some dirty talk during the play. Prepare some phrases beforehand, but it's also to go impromptu at times and say sensual things based on how your partner reacts to the footjob. This will surely make the deed extra special!
5

Enjoy the play!
If you're a beginner on this, please don't get pressured on perfecting the play. If there are minor mishaps here and there, just chuckle it off. Also, don't get embarrassed about your feet. Your partner isn't focused on how it looks but more on how it would stimulate their sweetest spots. Just take off the pressure and enjoy the deed.
Frequently Asked Questions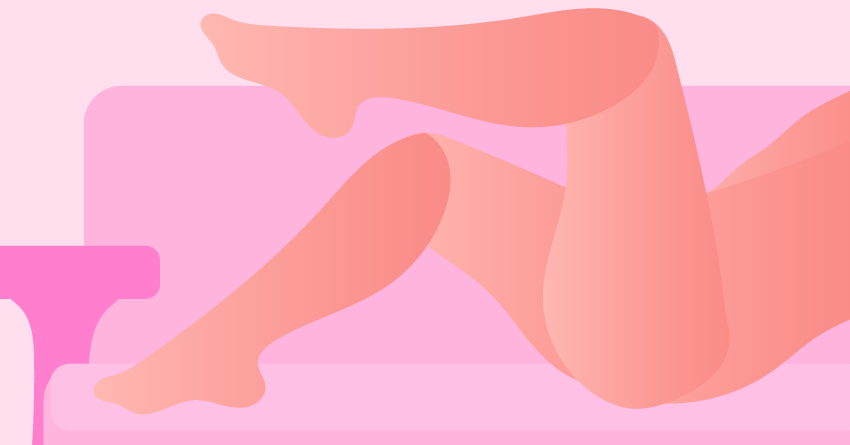 Now that you're knowledgeable enough on how to give a footjob, you're now ready to partake in this sexploration! But if you still have some questions regarding this sultry act, no worries. We've answered some of the frequently asked questions regarding footjobs.
1

Do I need to have a foot fetish to enjoy this activity?

Not necessarily! Though most people engaging in this frisky act have a foot fetish, some people just love to be out-of-the-box when it comes to sex. They may just enjoy the sensations they get from the footjob but not necessarily fetishizing their partner's feet.
2

Can I give a footjob with shoes on?

Your partner might love receiving a footjob with shoes on, especially if you're wearing high-heels or leather boots. However, it's still best to discuss this with your partner first. If they're into this kind of footjob, make sure to pick sleek shoes that are spotlessly clean.
3

Can I incorporate public play with this activity?

You've probably seen this scenario in movies: Man and woman are on a meeting or date, sitting across from each other. The lady starts moving her feet into the man's groin, indirectly giving him a footjob. Now, you can achieve this kind of play. However, you need to be very careful with this one– you sure don't want to be reported for public indecency!
Takeaway
Giving a footjob is an exceptional skill to have. There's a lot of muscle control involved. It's not also easy to stay in the same position for long periods. But once you've mastered the art of how to give a footjob, it's all worth it.
So if you and your partner are into this kinky play, go ahead and make the most out of it! Read more resources and check out some video guides. Get the best sex toys for this play. Invest in quality lube. And don't forget to have multiple sessions with your boo. Trust us, it'll be all worth it!