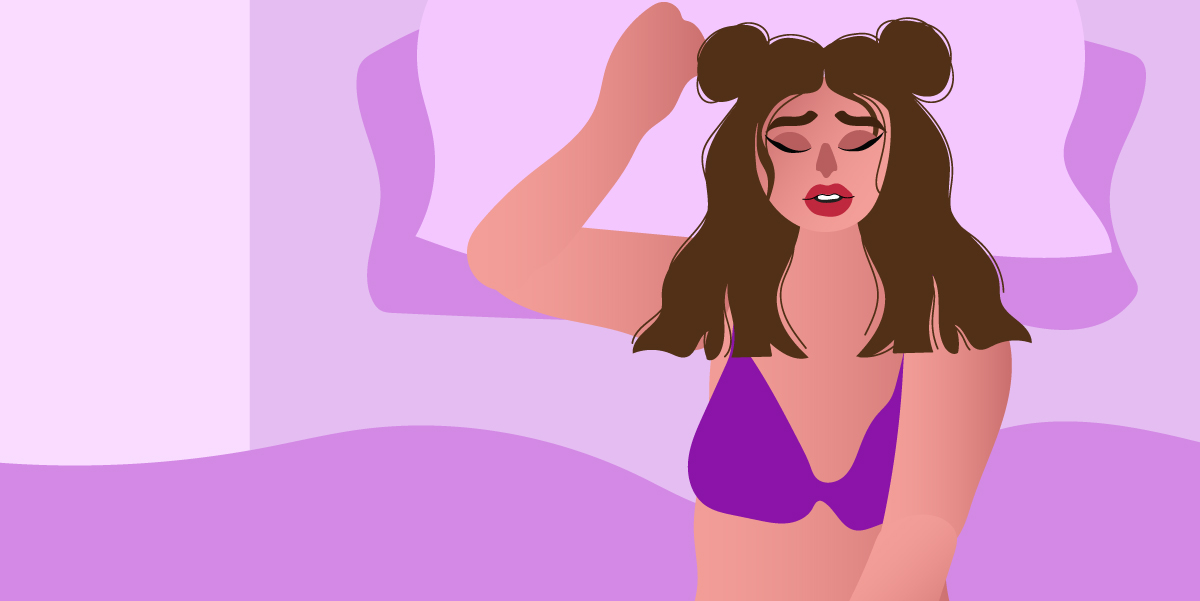 Sometimes you need to get off — even when you don't have someone there to help out. Your sole most dependable sex partner will be yourself in your life, which is great because masturbating or solo play is a chance to figure out what you like. It's a time to try things that you don't normally do—plus, it's a fuss-free relationship throughout. In this article, we'll be listing the top masturbation positions for vulva-owners so you can enjoy the most pleasing orgasms. 
There's some outdated yet still prevalent cultural stigmatization when it comes to female orgasm and masturbation. This can translate into many people with vaginas often feeling ashamed of their own sexuality. A large benefit of female masturbation boils down to doing away with that shame. One of the most enduring facts about human nature is that we are sexual beings, and there's absolutely nothing wrong with that. In fact, it's wonderful.
Trying various masturbation positions will help you spice up your usual routines and enjoy your body at a more intimate level. Getting to orgasm often requires removing any stressful thoughts from your mind, and then the wave of pleasure compounds that effect. Sure, you can never go wrong with the classic positions, but it's also great to spice things up and try something new. As you go through the list of masturbation positions, we'll also discuss tips to help you enjoy them. Let's start!
Hot Masturbation Positions for Mind-Blowing Os!
Before you do any solo play, remember to be in a comfy, private space and bring a lubricant with you for a smooth groove along the way. Whether it's setting up some sensual music or lighting up a candle, do whatever you need to be calm and get aroused. 
If you're using a love toy, make sure to charge up or have batteries and that it's properly washed with mild soap and water or a sex toy cleaner. With all that prepared, enjoy any of these steamy masturbation positions:
1
Squat Thrusts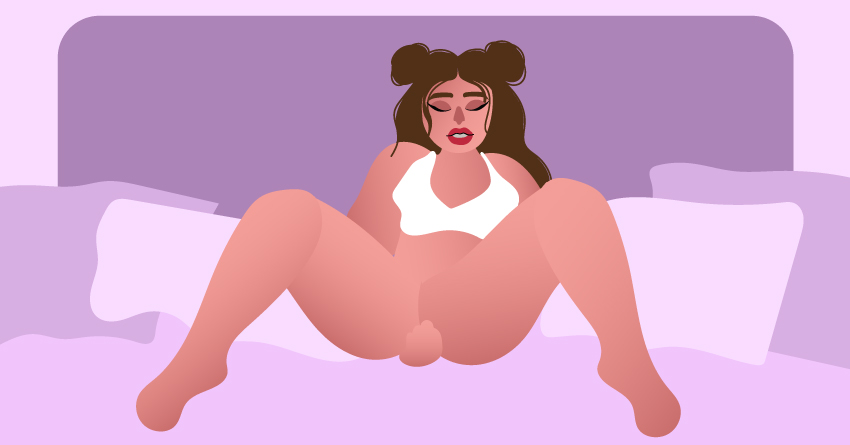 Squatting helps with internal stimulation so that you can aim for those hard-to-reach spots much more easily. If your thighs start burning, go ahead and kneel instead. Saddle up and ride pillows, neck rolls, furniture, rolled-up towels, stuffed animals, yoga balls, or insert love toys like dildos and vibrators.
2
Selfie Sticks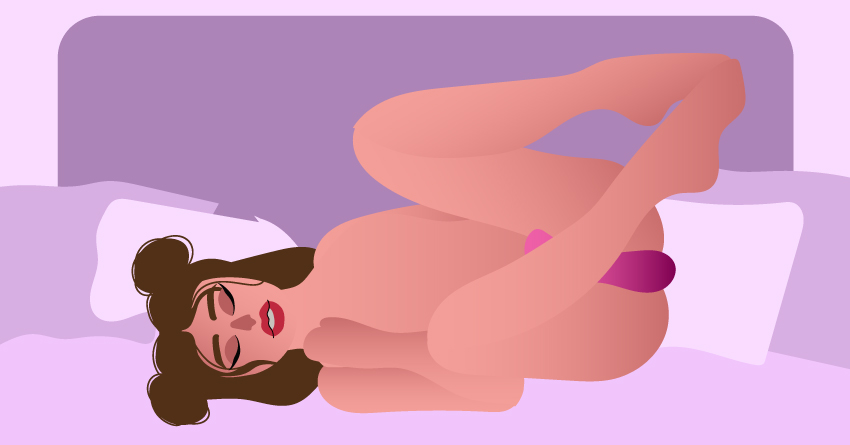 If one vibrating toy is great, why not use two at the same time? Get you a buzzy rabbit vibrator and a rumbly anal vibrator and use both to stimulate you in your G-Spot, your clit, and your bum. Get toys that stay put in your bum and vagina so you can attend to your clit as needed. If things are sliding out, keep them in place with some consenting pillows as you play.
3
Couch Grind
Just because you have solo play doesn't mean you won't have to enjoy the girl-on-top rides. Straddle the arm of a stuffed couch or chair with a thick blanket or towel draped over it. Begin by riding it with small hip movements, and slowly build momentum until you find a pace that works for you. If you like solid, steady pressure on your clitoris, this move will drive you wild. 
4
Belly Down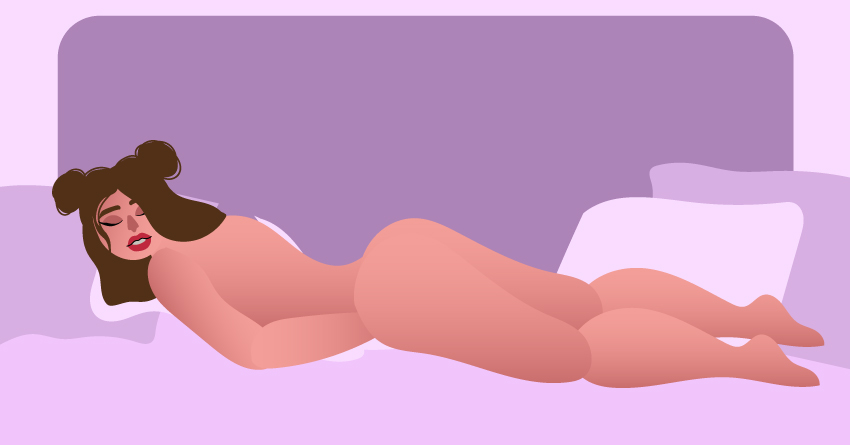 This super simple move makes it easy to grind your way to an intense orgasm. Lie on your stomach with your hand firmly between your legs. Stimulate your clitoris and pubic mound by grinding your legs together and moving your hips up and down. If you're feeling it, try both hands at once, using the weight of your body to put more pressure on your clit. If you would like more discreet and quiet plays in this position, the pillow is right there to muffle any sound you might make.
5
Fumble it Up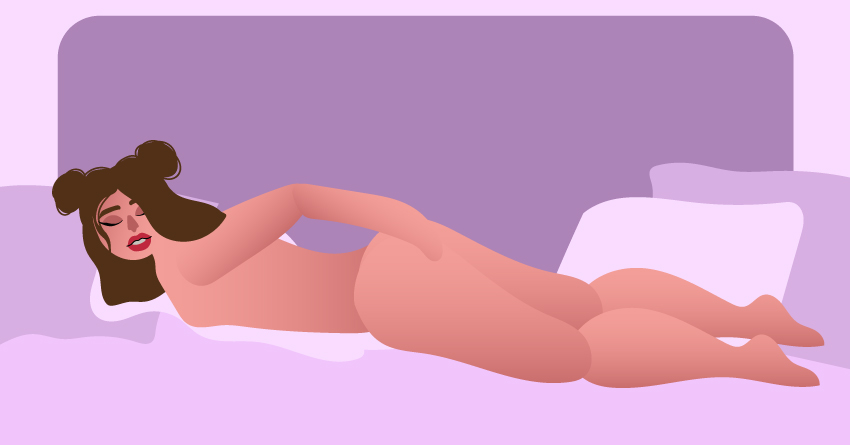 This is similar to belly down, but your hand goes behind you. Lie on your tummy, and angle your hand, touching your clitoris from behind you. The new angle will make it feel new like someone else is touching you. Close your eyes, bring back your dirtiest fantasy and muffle your moans into the pillow.
6
Opposite Day

Say hi to your new lover—your other hand or your non-dominant hand at that. Simply by using your other hand, you'll be more focused and attentive and a bit charmingly awkward, just like an entirely new hook-up.
7
Let it Flow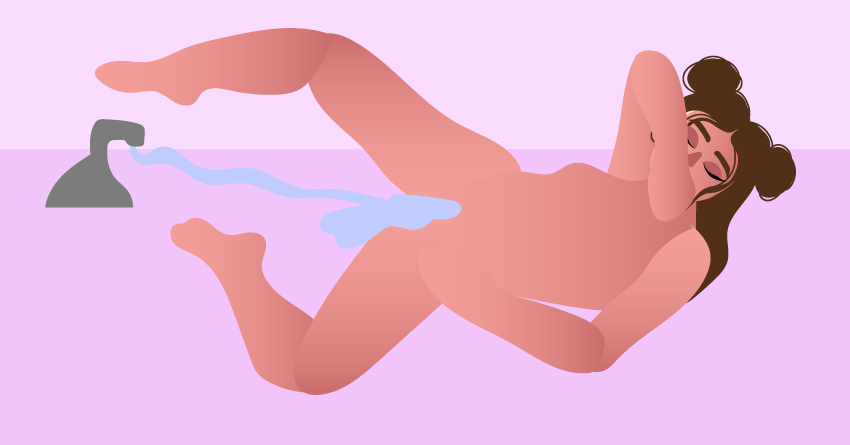 If you haven't mastered the tub yoga required to angle yourself way down by the bathtub faucet, try a spout or slide device that attaches to the faucet to get the water where it needs to go. Test the water for temperature, strike a balance between hot and cold, lie back and open your legs to receive the glory. Adjust the flow or scootch around for more/less intense stimulation.
8
Tap Dance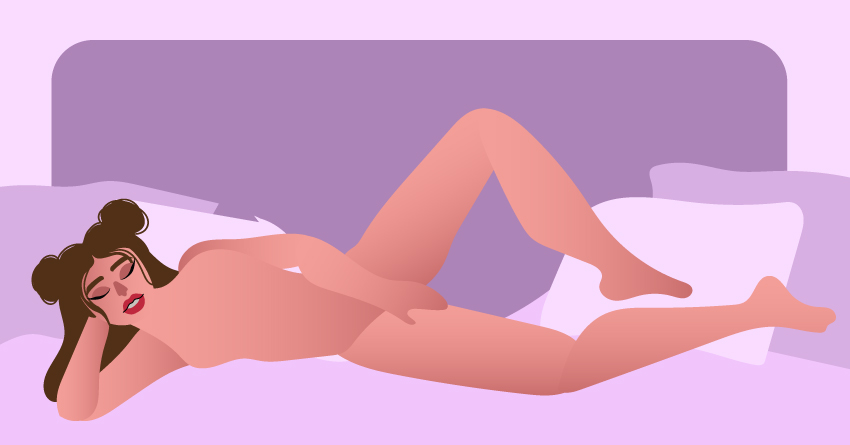 If rubbing your clitoris is your go-to position, switch it up with tapping instead. The intense and quick sensation will be a welcome change, and it's easy to vary the speed and pressure. To do this, the tap dance position lay on one side with one leg extended and the other bent. Gently separate and hold your labia to the sides, and apply a tiny drop of lube to your clitoris. With your other hand, begin tapping gently on it—then tap harder or faster for a whole new experience.
9
Minimalist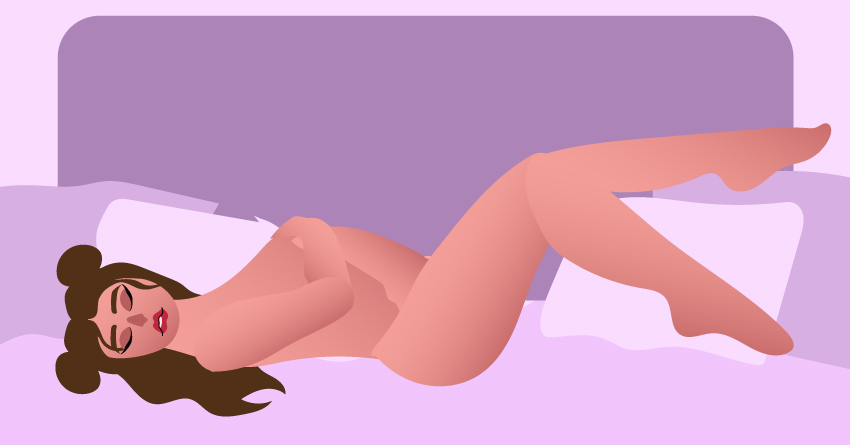 If you take the time to explore, you can get super attuned to even the subtlest touch. Lean back on a comfortable pillow since you're going to be doing some experiments. Tap your clit slowly, make tiny circles around it with a single lubed finger, cup your hand over your whole vulva, and rub. Or try what you normally do, but super slowly. Slide a finger inside of your V and slowly pulse onto it by squeezing your Kegels. Don't race towards the climax but let yourself savor what's happening.
10
Standing Pillar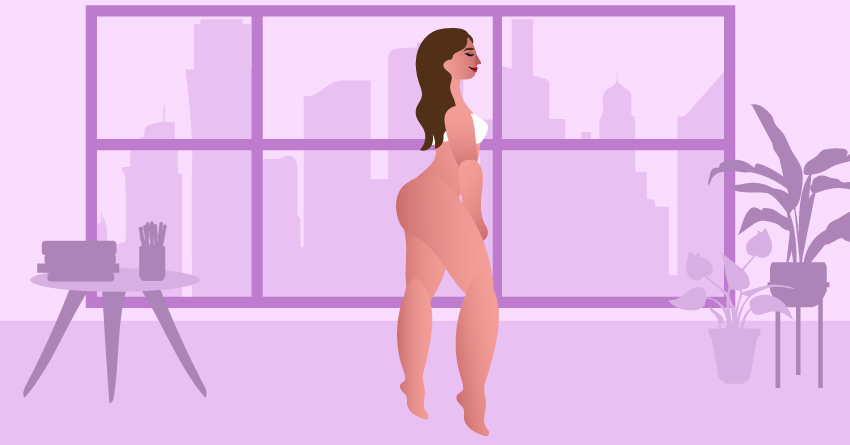 ​​It's quite a self-explanatory position, really: While standing upright against a wall, close your eyes, reach down and go in for the play. This position is best for a midday quickie when daily stressors make you want to blow off some major steam. Plus, since you're standing, it's easy to stop quickly once you're done because you're just standing as you play.
11
Easy O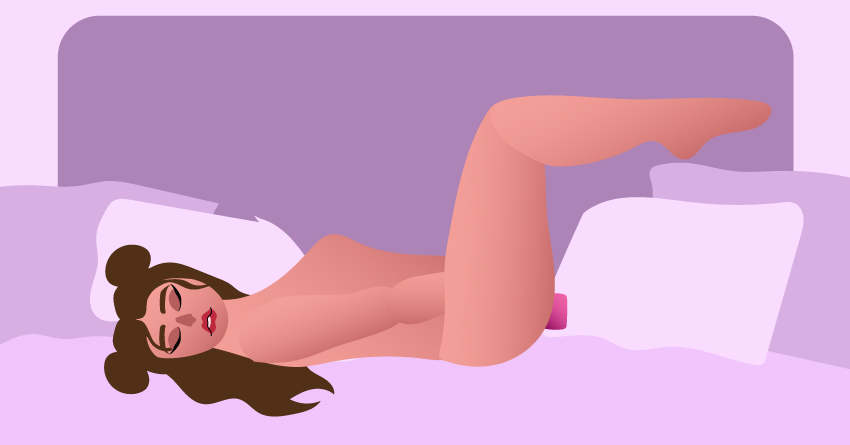 Some love toys are just super-efficient. All you can do is succumb to the glory of a fully-automated, hands-free stimulation. Lie back on the couch or your bed with a toy that either thrusts or massages you internally while buzzing your clit, while you watch the best energy-saving device ever attend to its duties. 
12
Slide Dish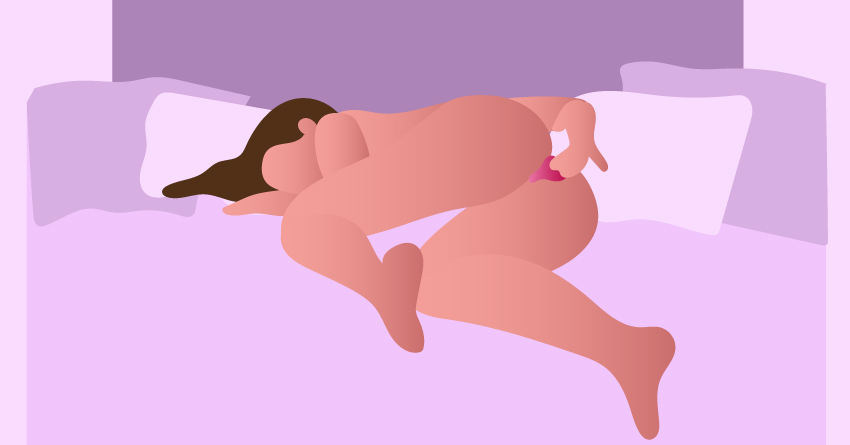 Leave no hole unfilled by exploring with some butt stuff. Lie on your side like the one-person spoon you presently are, lube up two fingers and slide them up and down along either side of your clit. As you near orgasm, hold back, then add in a dildo or finger inside of your vagina. When that is about to do you in, slide a butt plug back and see if that does anything for you. If it doesn't, slide it out, no harm done. If it does, well, enjoy!
13
Double Circle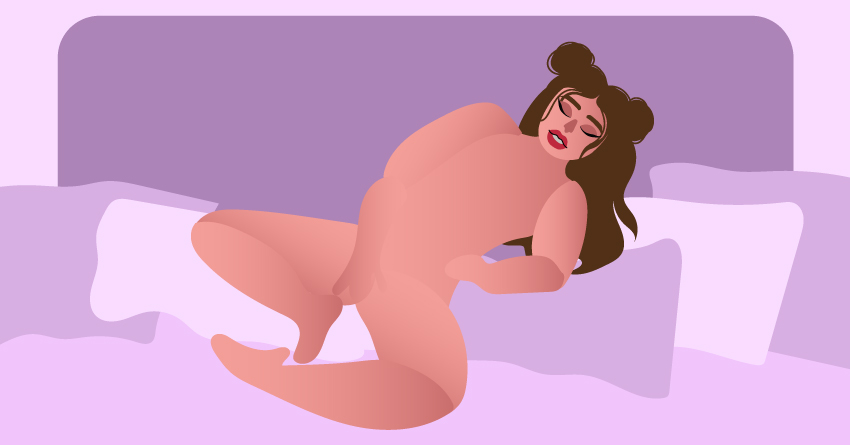 Use one finger to circle your clit and, at the same time, use a finger from the other hand to circle the entrance to your vagina. The lower hand circles at a slower tempo, so there's a coordination learning curve, but once you get the hang of it, you'll be quite grateful for your new skill.
14
Pretend Lover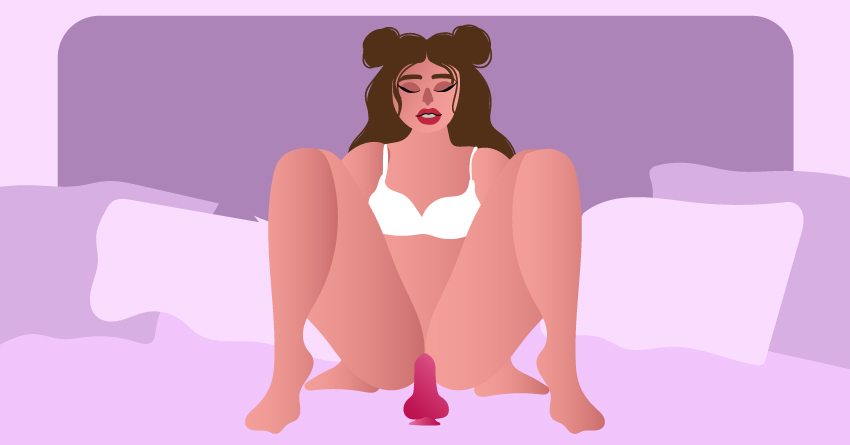 Place a dildo on your bed or a chair and have it penetrate you wildly, rubbing yourself as you go. Get into it and let yourself go—rock your hips against that love sexily and moan loudly (close your windows first). Even if you can't come with penetration, it can feel super good to be penetrated.
15
Not-So-Dirty Shower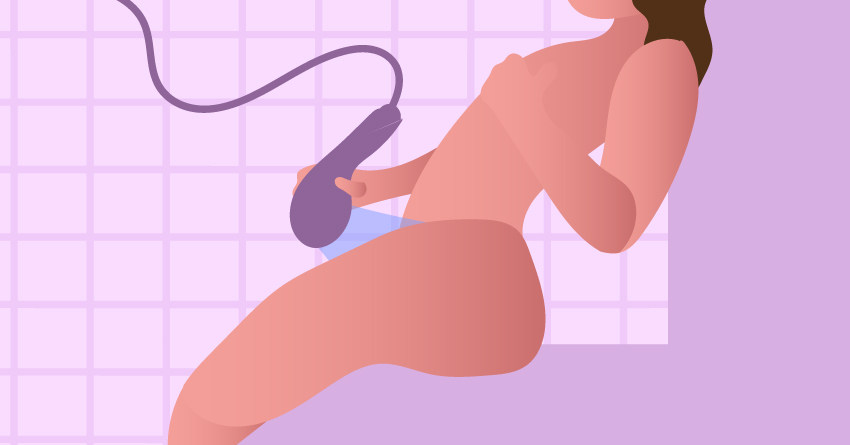 This is quite the classic solo play position, and you should try it if you haven't. Open yourself up with your fingers, aim the showerhead straight at your clitoris, and tease your nipple with your other hand, feeling yourself as the flowing water stimulates you down there. 
16
Mirror to Thee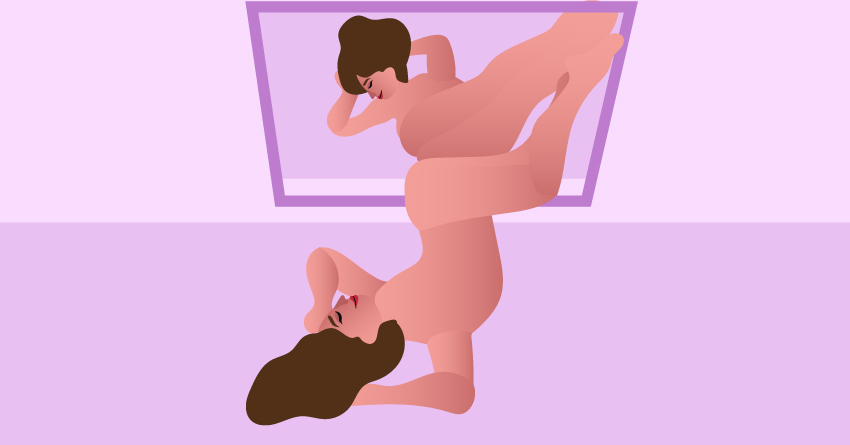 Among all masturbation positions, this is the one that lets you appreciate each corner of your body visually. Grab your bottle of lube and seat yourself in front of a full-length mirror.
Drizzle lube over your nipples and play with your nipples, sliding your hands over them, squeezing, pinching—just generally figuring out what you like. Get more lube and slather it over your belly, inner thighs, and gradually on your vulva. Open wide and take time to see yourself. Watch how you get wet and flushed when you're turned on. Instead of thinking anything even remotely judgmental, become fascinated by how completely sexy you look.
17
Two is Better than One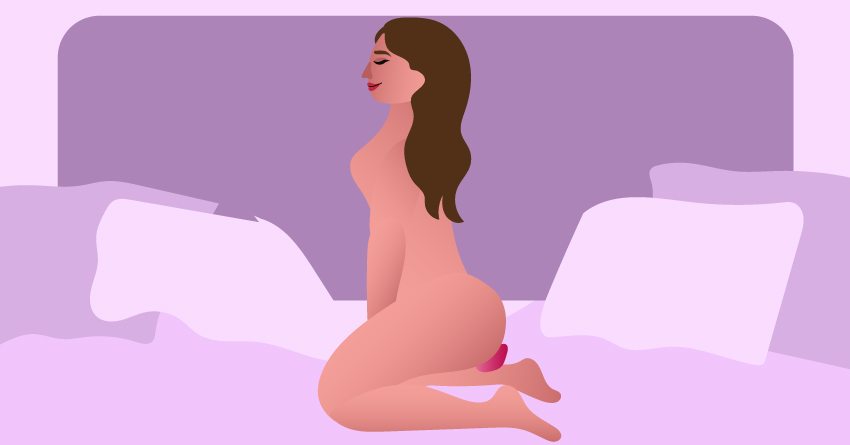 Get down on your knees, and open them up till it feels comfortable. Support yourself with one arm, use your dominant hand to touch yourself, and use your favorite sex toy. The angle of your hips and the possibility of using different sex toys (like an anal vibrator and a rabbit vibrator) take things to the next level. This is one of the best masturbation positions for those who want different stimulations at once.
18
Lazy Solo Lover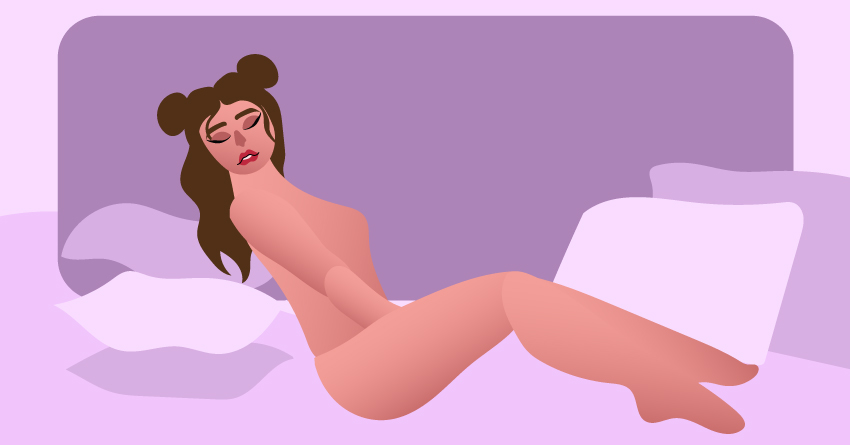 This is one of the best female masturbation positions for g-spot stimulation. It entails laying back against a comfortable stack of pillows allowing you to stimulate your vulva at a very close distance. Or if you want to do close-up clitoral play, this position is also great for it. With your spare hand, either stimulate your clit with your fingers or an external clitoral vibrator.
19
Flick & Fly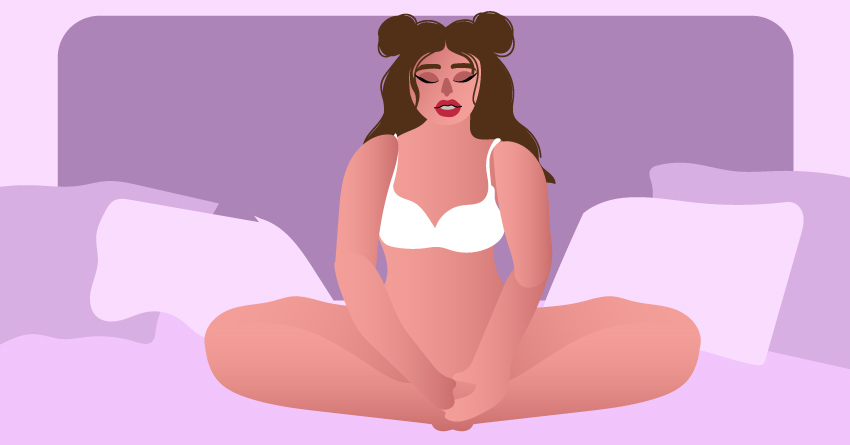 This masturbation position may be familiar for yogis out there. From a seated position, press the pads of your feet together, spreading your knees. Reach your clit with your fingers or a clit vibrator. G-spot is fair play here too. We suggest tightening and relieving your pelvic floor from this position while you apply pressure to your g-spot with either a g-spot toy or your fingers.
20
Squat & Rock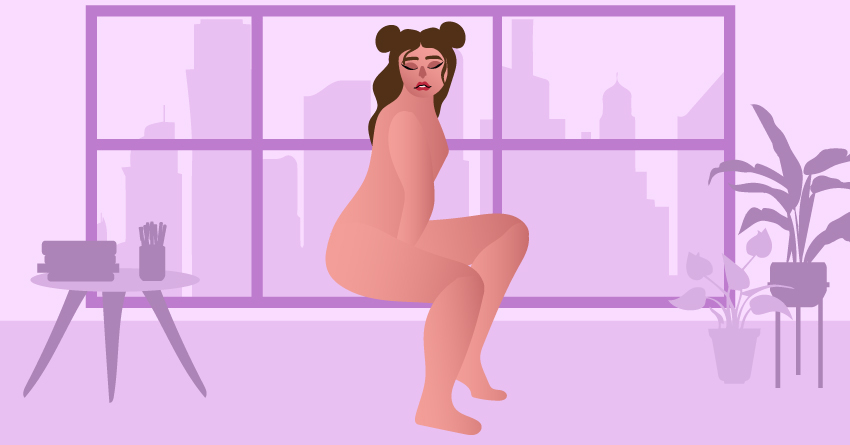 This may sound like a gym position, and it certainly does because you'll also be exercising your thigh muscles as you do it. Get in a squat position (the same way you'd hover over a pee-splattered toilet seat), and rock your hips from side to side as you touch yourself with your vibrator or your hand. The rocking, back-and-forth motion will make you feel like you're a cowgirl and encourages your body to move as freely as ever.
21
Opening Up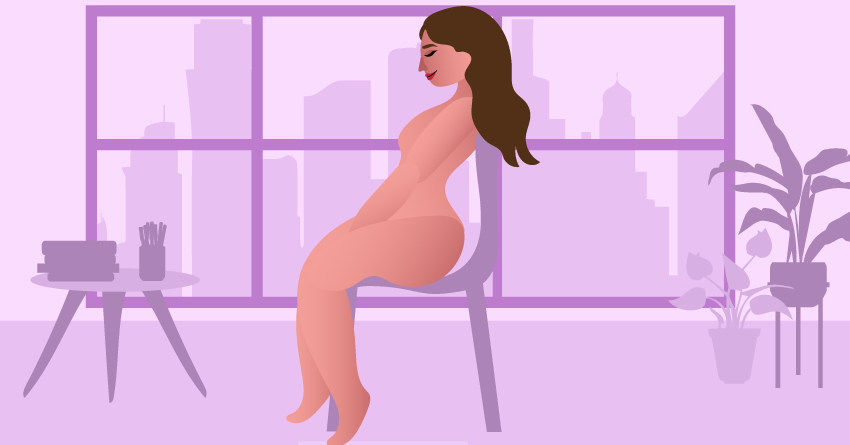 Opening up is one of those masturbation positions that provide much more access to all of the delicious bits between your legs. When you climax, you can brace your legs against the chair legs. By exposing more parts of your vulva, you will experience some new — and sometimes even more intense — sensations than you usually do.
To do this position, sit on a chair that doesn't have arms, like a dining room or folding chair. Then, tuck your feet and ankles around the chair legs, leaving your legs open as you touch yourself.
22
Solo Snake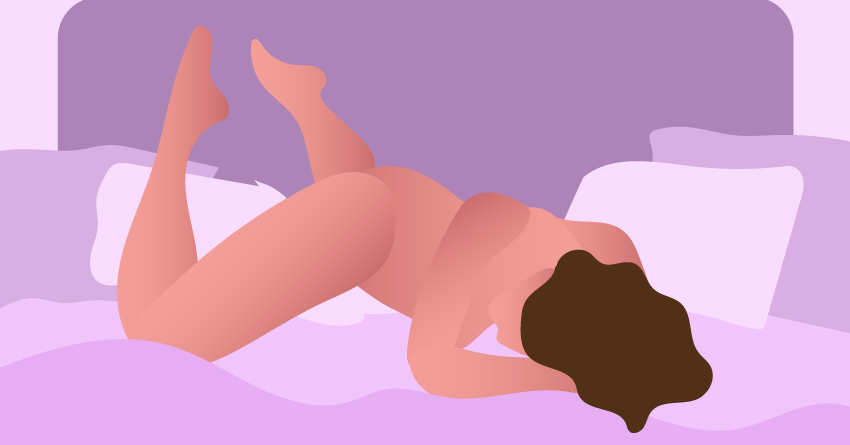 The solo snake is like the belly down but with your legs bent to your back. Lie on your stomach and grind your pelvic bone and clitoris against a hand or a vibrating toy beneath you. What makes this position great is the weight of your body adds extra friction against the hood of your clitoris, and the back-and-forth grinding strokes the shaft of your clitoris as it becomes erect.
23
Solo Spoon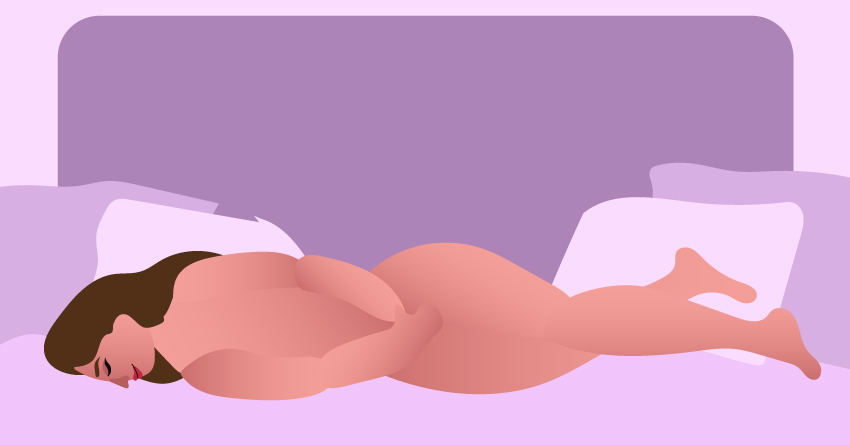 Lie on one side, and use both hands or using a dildo or vibrator to stimulate your clit. This position is particularly great while watching porn while you get off, and the weight of your top leg pressing down on your hands or toy can help add extra friction that can be the vital element to reaching orgasm.
24
One-Handed Wonder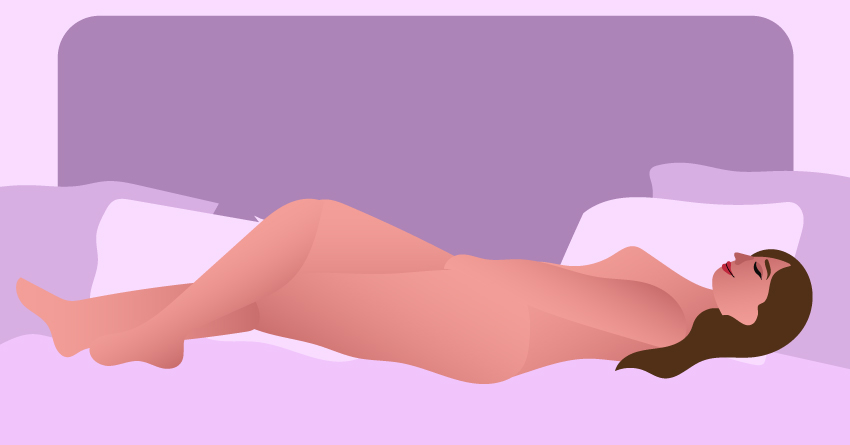 To do the one-handed wander masturbation position, lie back, cross your legs, reach down and touch yourself to see what feels good.
This position is great for beginners exploring what works best for their bodies—it's not too complicated or intimidating. The crossed legs can help your hands or vibrator stay in place once you've found the spot that feels good, and having one arm thrown over your head can help you arch your back to put your pelvis at a more orgasm-friendly angle.
25
Solo Corner
If you want to venture only a short bit outside the comfort zone of your go-to routine, consider the solo corner position. It is a small departure from the tried-and-true laying-on-your-back position. To practice it, sit up on the corner of your bed. You can lean back on one hand, if that's comfortable, and use the other to, ahem, explore. You can also experiment with slowly spreading your legs wider as you play and notice different sensations you may experience.
Tips to Enjoy New Masturbation Positions
Trying new masturbation positions can be daunting since you're using new muscles and you're figuring out new moves to get you going. Don't worry; we've also made a list of tips to help you ease into these new positions:
1

Set the scene.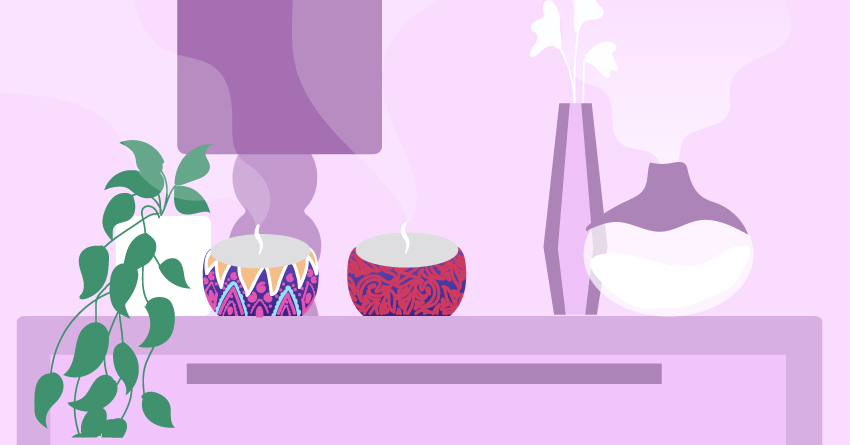 Just as with partnered sex, masturbation is more enjoyable if you're in the right place physically and mentally. Create an experience that you find erotic, whether it's drawing a bubble bath and lighting some candles or listening to audio porn. Make it a romantic experience to help your sensual fantasies run wild.
2

Wear your favorite lingerie, costume, or underwear.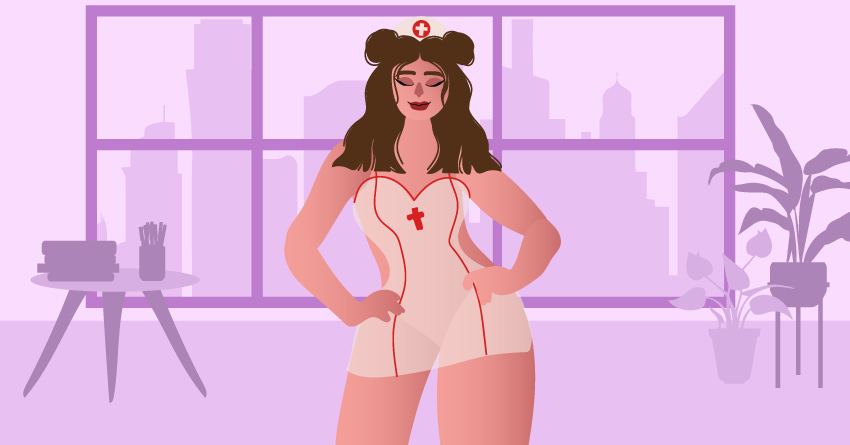 Being in garments that make you feel super sensual can add to the hot mood you're going for. If the black lace bra you haven't worn since Valentine's day makes you feel super hot, or that hot nurse costume you had for Halloween, put them on! Taking them off can be part of the scene too, as each article comes off, think about what you love most about your body to get all kinds of arousal.
3

Stretch before trying any new masturbation position.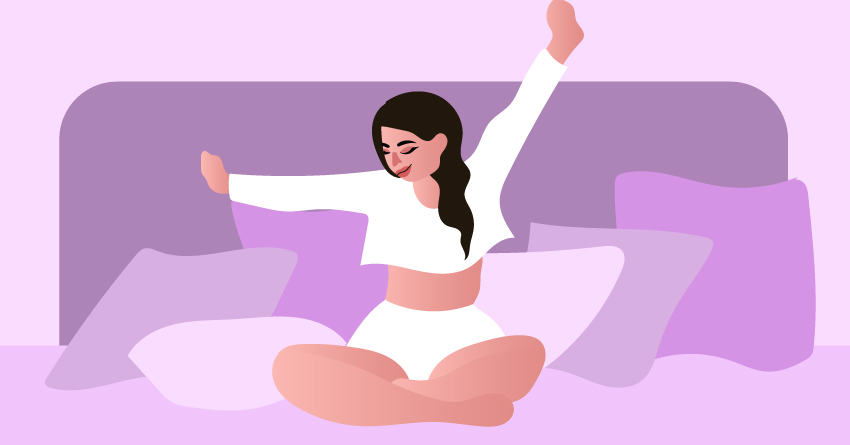 Any new movement is beneficial for physical health for sure. Since you're trying new positions, your body may be tense beforehand. Stretching can urge tense, tight muscles to chill out. Stretching can also help relax the body and amplify blood flow, improving arousal and orgasm.
4

Watch some ethical porn.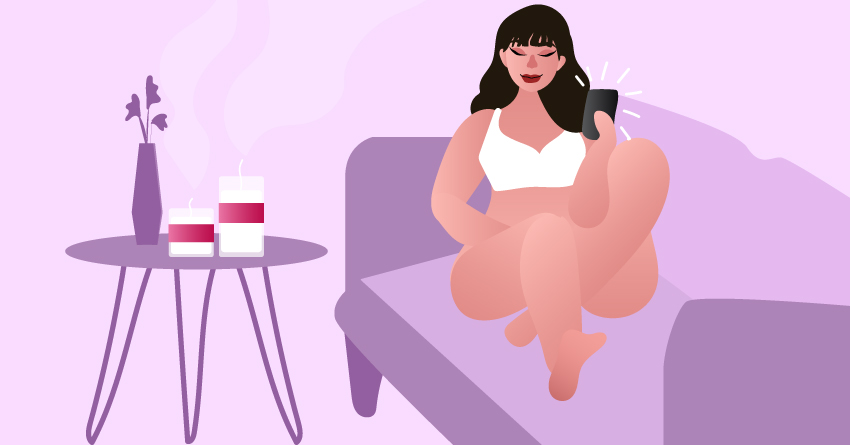 If your imagination is just not cutting it, there's no reason not to watch some ethical porn. Rather than going for the free and sadly misogynistic stuff, invest in some ethical porn. Another option is to re-watch the scene in a sexy film over and over again. Heck, if you have an old video of you and your partner stashed somewhere safe on your phone, go ahead and enjoy that!
5

Take advantage of your bathtub or a removable showerhead.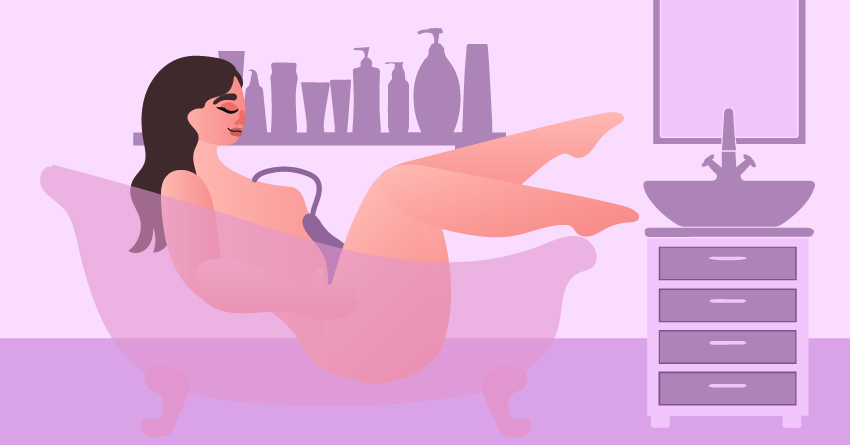 If your showerhead detaches from the wall, directing the propulsion of water to your clitoral area can be very arousing, like with the "not-so-dirty shower" position mentioned in the prior list. Experiment with different amounts of pressure with the showerhead, starting softer and building your way up to a more intense stream.
6

Attend to your non-genital erogenous zones.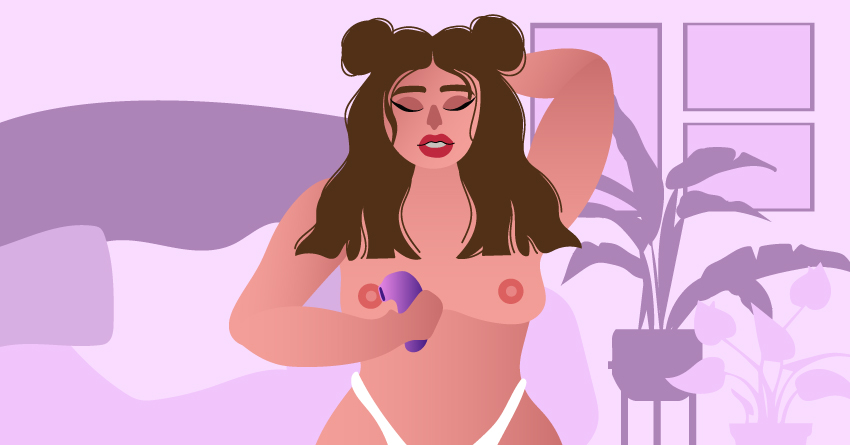 Instead of going from zero to the vagina, spend time romancing your non-genital erogenous zones, like your neck, ears, breasts, hips, and more. You can start from your head and work your way down, running your hands through your hair, massaging your shoulders, caressing your ears, gently massaging your breasts and belly, and massing your inner thighs.
From there, you might begin to touch your genitals through your clothing or underwear or use your palm to massage the pubic mound, the fleshy tissue above the top of the vulva area, or give your clitoris a sensual massage. Don't hold back from making noises if you're so inspired. Moaning can signal to the brain that you are aroused and increase sensations in the body.
7

Have your sensual touches flow with your breathing.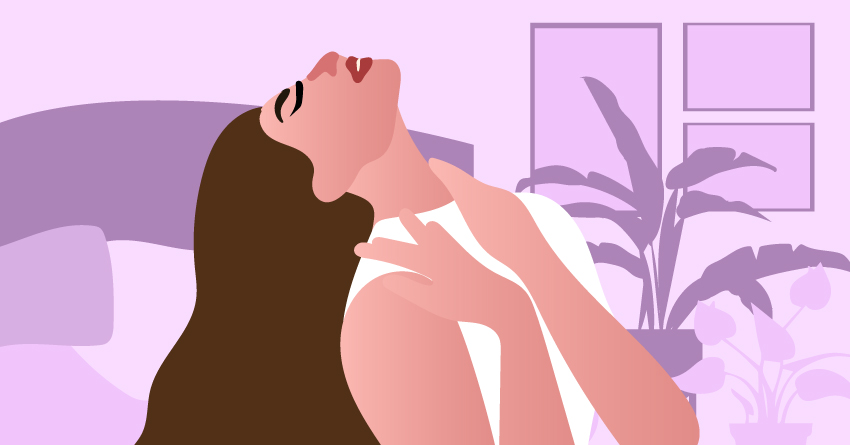 When you feel aroused enough to start massaging your clitoris, go slowly and gently to start, and pay attention to your breathing. Touch your clitoris with light strokes at first, and breathe deeply into your abdomen. Many women stop mindful breathing during stimulation, which then limits their sensation. You need oxygen for blood to flow in your body and to stimulate the clit thoroughly.
8

Use plenty of lube.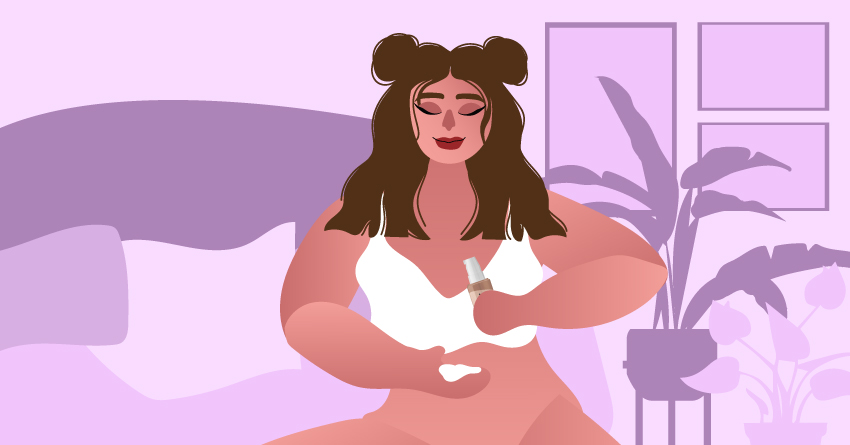 Lubricants can make your solo session smoother and simply better! Adding lube to masturbation can increase pleasure. You can use a drop at the beginning and reapply as needed. Using lube can help you ease into penetration, especially if you experience dryness in your vagina and anus. If you're using a silicone love toy, use water-based lube since it won't damage the toy's material.

​​
9

Include toys in your sensual play.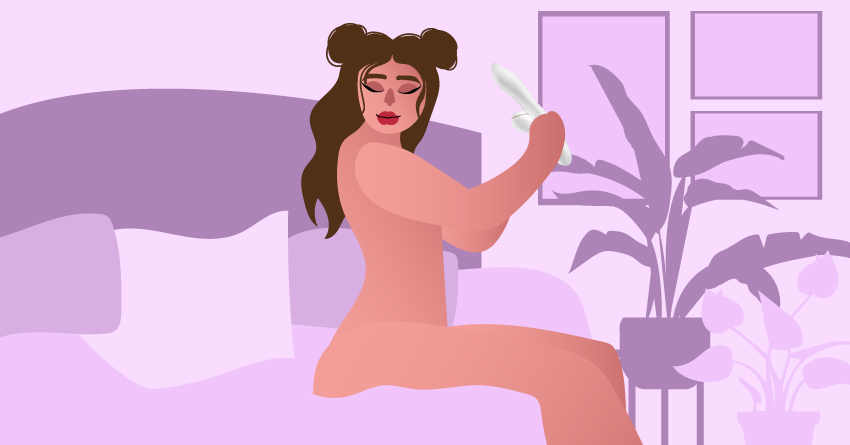 If you have been using one love toy for a while, why not try using something new? Or, if you haven't tried them yet, try giving them a shot. Love toys can provide the most stimulating and unique sensations. If you're into clitoral play, try bullet vibrators, or if you enjoy internal stimulation, we suggest a g-spot vibrator. There are plenty of love toys for women out there with hi-tech features that you'll surely find one right up your alley.
10

Make it last with edging.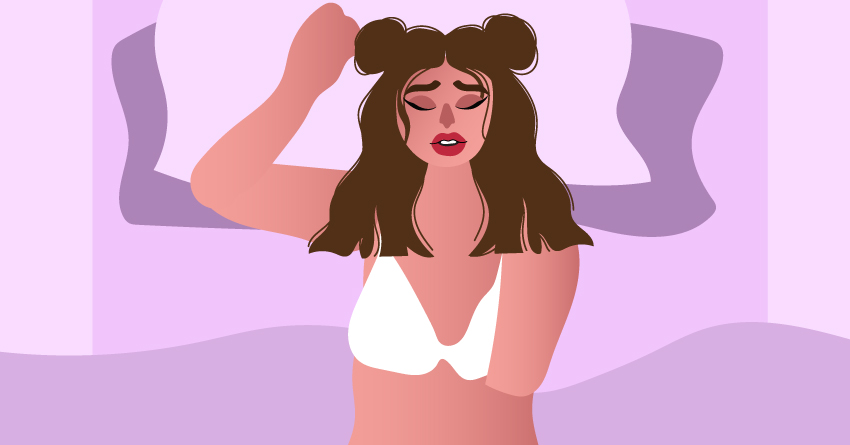 Getting yourself to orgasm during masturbation doesn't mean you always have to go full throttle. There's a technique known as "edging," which involves masturbating to build up sexual tension in your erogenous zones, then backing off just before you're about to climax.
Takeaway
Masturbation is a fun and sensual way to explore your desires and learn which sensations turn you on. Whether you're new or experienced with solo play, we hope this guide of masturbation positions helped you explore new erotic possibilities for your personal pleasure. Know that there's no right or wrong way to masturbate, so take the time to discover your body.