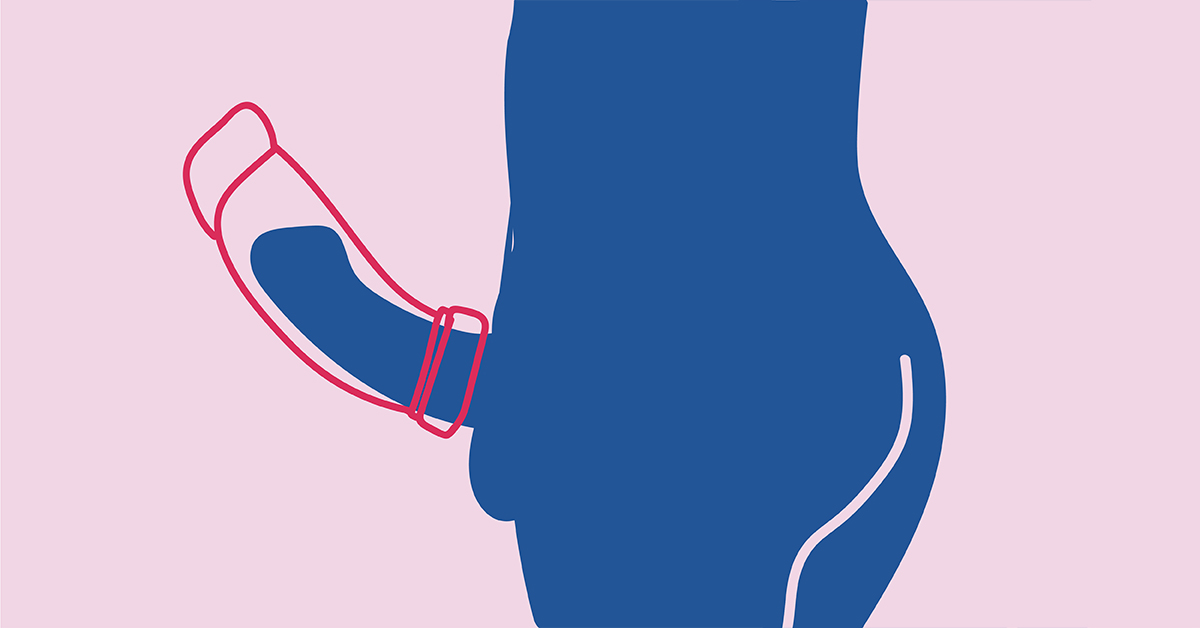 Babe is coming over. The bed's ready. Condoms are in place. Lube's chillin' on your bedside table. All is well… or is it?
But then, something starts to bother you. You can't pinpoint it at first but as you look down there, you realized the thing that's making you anxious.
Is your schlong gonna be firm enough, or is it going to let you down (literally) again?
Sometimes, the penis might not 'cooperate' during sex– and that's okay. It's normal to have those moments, so if it has happened to you once or twice, don't get too bothered.
But if you want to improve your sex life by lasting longer in bed or making your dick bigger, you can get help from simple yet reliable sex tools– such as a penis pump.
What is a Penis Pump?
A penis pump is a sex toy that can bring longer and thicker erections. Also known as a vacuum pump or vacuum erection pump, it consists of the following parts:
Plastic tube that fits over the penis.
Hand or battery-powered pump connected to the tube.
Band or ring that fits around the base of the penis once it is erect.
What are the things you can do with a penis pump?
Make you last longer in bed. It isn't just mainly used to make bigger schlongs. It can give you longer erections, making it more helpful to men suffering from mild Erectile Dysfunction. But if you don't want ED and simply want to last longer on the bed, you can try out this sex toy too.
Gives you that big dick energy. A penis pump can temporarily enlarge your penis, increasing the girth a few inches during usage. Once the erection's done, your penis will return in its normal size. However, there are testimonials that permanent enlargement is possible. So when it comes to penis enlargement, the results still vary per person.
Get intenser ooooh-rgasms. Whether you're going solo or coupled up, it can bring better orgasms in the bedroom. Since a penis pump 'holds' your cum, you'll blow your load with more power.
Lets you fulfill your Kinky Sexcapades. If you're engaging in BDSM activities, you might wanna try this toy for that. You can let your partner control the pressure and pumping for orgasm control.
Benefits of a Penis Pump
Now, you might be thinking, why is this sex toy better than pills or other ED medications? Is it effective enough? Here are the reasons why you should invest in a penis pump:
Affordable. With penis pumps, the cost is lower. You can also reuse this sex toy so if you've invested in a high-quality penis pump, you can surely use it for a long time.
Less Risky. Unlike pills or surgery, using a penis pump has lower complications and side effects.
No surgery needed. What's nice about a penis pump is that you don't need to have a surgery just to get a bigger schlong. It's safer compared to penile implants, suppositories or injections.
Works with other ED treatments. Since a penis pump doesn't pose any major complications, you can use this tool with other Erectile Dysfunction Treatments.
How to use a Penis Pump: Step-by-Step Guide
Wondering how to use penis pump? We got you. Here's a simple guide on using this exquisite sex toy. By following our instructions, ensure to get a pleasurable pumping experience, mess-free!
Note: These are general instructions. For a more specific guide, check the instructions printed on your pump's manual/box.
Before: Preparations before using a Penis Pump
Before you dive in, prepare the following first:
If you're going to use this during intercourse, let the other party know first about it to lessen the awkwardness.
Check first if it fits properly. It should be tight enough but not too tight that it's painful to use.
Shave off some pubic hair for comfortable use.
Prepare a water-based lube.
During: How to use a Penis Pump
1

Apply Lubricant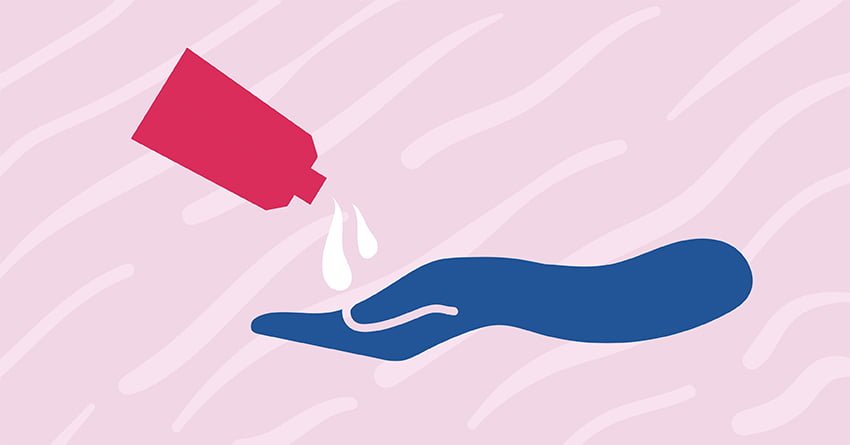 Apply lubricant around the open end of the cylinder, head of the penis, and 2 inches inside the cylinder.
Note: Only use a quality water-based lube. Using a silicone-based lube may damage the penis pump.
2

Slide your penis into the tube
Is the penis supposed to be erect? Flaccid or semi-erect is okay, but for easier use, put it in while the penis is erect.
3

Start Pumping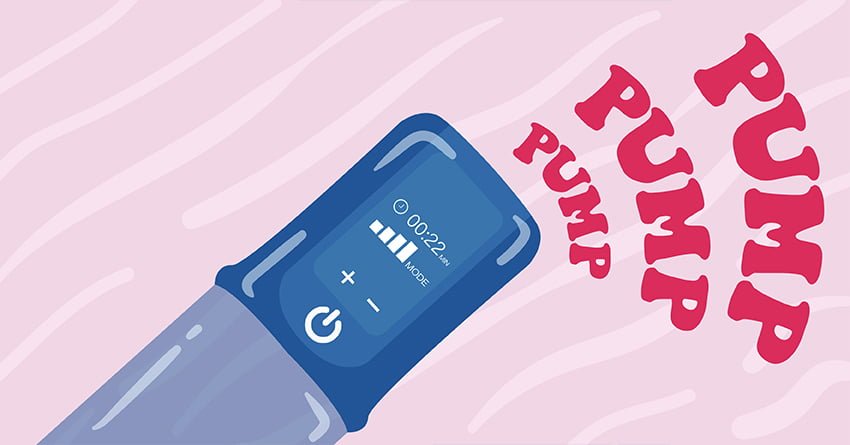 Once your penis is fully inserted on the cylinder, start pumping using the hand pump or electric motor.
How does it feel? You'll feel a pulling sensation as the vacuum pulls blood into the penis.
4

Pump until desired pressure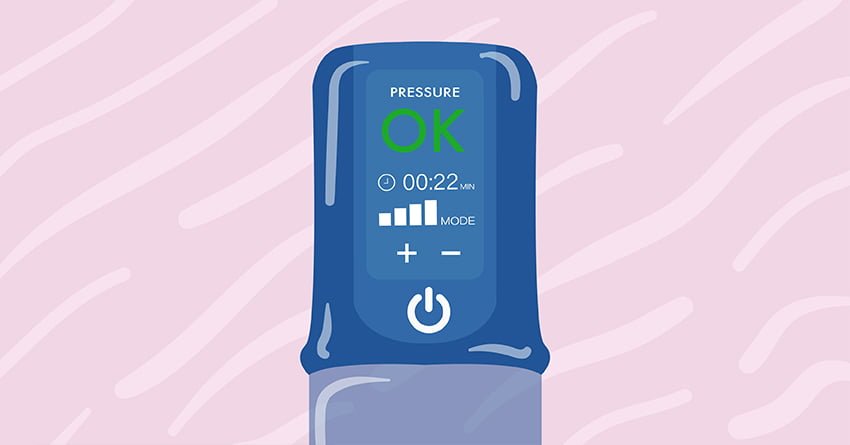 Keep on pumping until you get your desired pressure. Do not keep the tube for more than 15 minutes. It can affect the blood flow any may bring harm to your penis.
5

Remove the tube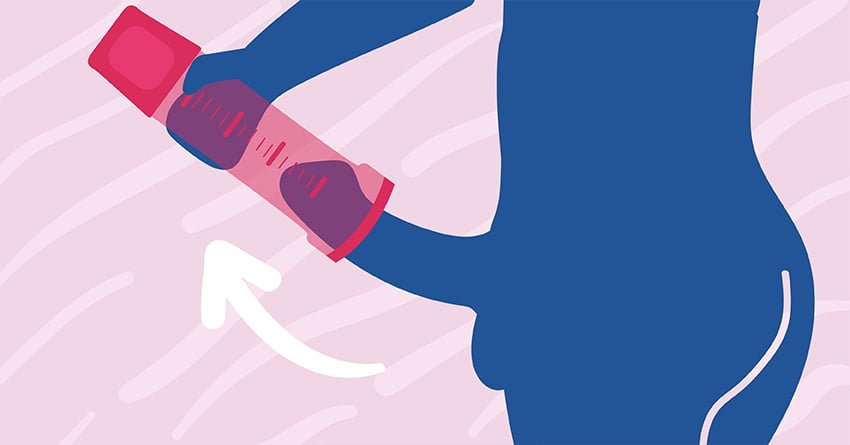 Before removing the pressure, hold the fully engorged erection without movement inside the cylinder for 3-5 minutes. After that, remove the pressure and slip your dick out to let sexytime begin.
Note: It's going to be awkward at first, but once you and your partner got used to it, a penis pump can be a great sex toy for foreplay.
6

Use a cock ring to maintain the erection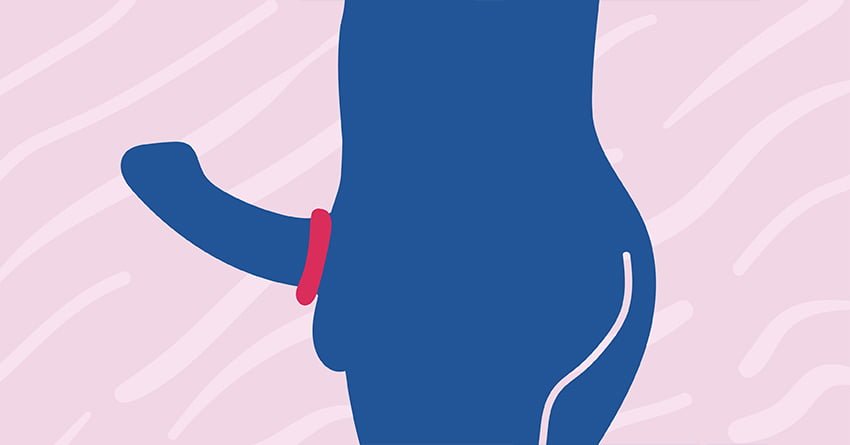 If your penis pump set has a cock ring or constriction ring you can slide down over the penis and roll it until it hits the base.
What's the cock ring for? It helps the penis to maintain its firm erection. It constricts the blood flow and keeps the blood in penile tissue, keeping the erection firm enough.
Note: Only keep the penis ring in place for no more than 30 minutes. Keeping it in for a longer time could harm your penis.
After: How to clean and store a Penis Pump
Most of the parts of a pump can be cleaned from the outside. However, certain parts require you to disassemble the pump first. These parts include the penile tube, the loading cone, and the bushing adapter.
Each of these parts can be cleaned with a combination of water and very mild soap. Use the water as well as gentle scrubbing.
After cleaning all the parts, let it dry before storing it. Only store it in a place separate from your other sex toys to avoid contamination.
Possible risks and side effects of a Penis Pump
Using a penis pump isn't scary as one might think. Most healthcare professionals consider it as a safe and effective sex toy for those who have ED. However, there are still risks and side effects that you can get from this sex tool:
You might get some "Ouchie!" moments. How you use a penis pump matters a lot. If you're not following the instructions, you could feel some minor pain.
Red dots may appear on your schlong. Petechiae are tiny, circular, rash-like patches that may appear under the skin of your penis. No worries about this though, as it will fade after using this toy.
It's awkward to use (at first!). A penis pump can either sizzle or fizzle the mood. That's why before using this love tool, let the other person know. In this way, the person will be able to expect what's about to cum, making you less awkward when using it.
Risks are still present when using this toy. That's why knowing how to use a penis pump is essential.
Frequently Asked Questions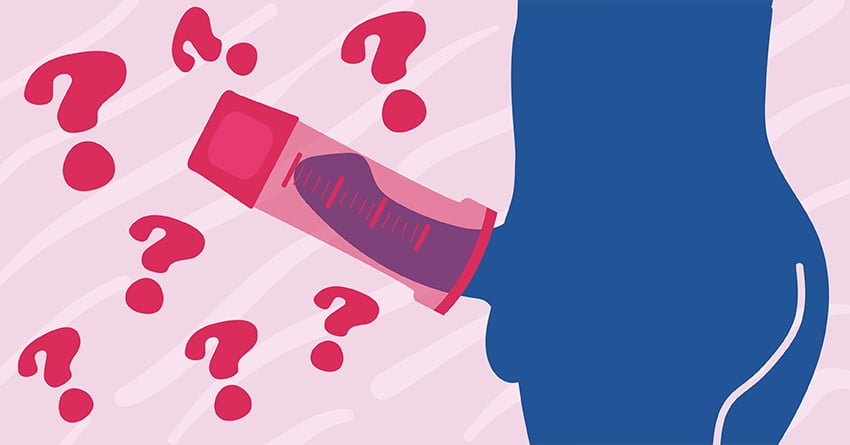 1

How many times can I pump in a day?

It's up to you! If you're the type that likes to get some pumping a couple times a day, you can do it. Some men prefer to do it a couple times since they love the sensations it brings, but for some, once a day (or even a week!) is enough.
2

Do I need a Doctor's prescription to use a this toy?

Save yourself from the awkwardness. Your doctor doesn't need to know about that you're using a penis pump. Unless you have blood clotting disorders or taking blood thinners, it's okay to be discreet about it.
3

Does it enhance the size of your penis?

Yes! If you want to get bigger schlongs, you can surely rely on this trusty toy. If you aim for a permanent result, you just have to be patient and use this toy everyday.  But if you just want to get firmer erections during sexy time, you can also use this to get longer and thicker erections.
4

Can my dick get stuck in a penis pump?

Chill there, buddy. Just like you, most men are anxious to use a penis pump because of they're afraid their dicks might get stuck ala Final Destination. 

But you don't have to worry about that. Your dick wouldn't get stuck in a penis pump. The main reason why the penis is 'locked' in the pump is because of the pressure. So if you want to remove your cock from the device, you can simply stop powering the pump. After that, the pressure will be released without a hitch, letting you smoothly slide your cock out.
5

What should you look for when choosing a pump?

When buying a penis pump, go for your preferences. For some, they prefer using a manual pump since they can take full control with the pace, while others go for a battery-powered one for some quick pumping.

Also, safety first! Always go for a penis pump that has a vacuum limiter. This will ensure that the air pressure doesn't get too strong.
6

Can I have an orgasm while using a penis pump?

Yes, orgasms are possible with penis pumps! If you like the intense sucking sensation this toy brings, you might find yourself reaching intense climaxes.
7

How long will my erection last when using a penis pump?

Since a penis pump aims to make longer erections, your mighty schlong can stand up longer than usual.
8

Can my partner use a penis pump on me?

The answer is yes. The penis pump may look machine-ish to some, but it can definitely spice up your sexy time. Just discuss about it thoroughly with your partner first. Make sure he/she knows how to use it. Once you're all set up, you can start using the toy for foreplay or use it for intenser erotic activities such as Orgasm Control.
9

How long can I use a penis pump at a time?

It depends on you. Only maintain the vacuum at your comfort level. Just don't use it up to 15 minutes or if it starts to get uncomfortable. When satisfied, release the vacuum by removing the penis pump. If you feel any pain, please press the air release valve to decrease the pressure.
10

Can I use my penis pump together with other sex toys?

Wanna go all out? You can definitely incorporate a penis pump with other sex toys. Cock rings, vibrators, nipple clamps, whips– the choice is yours.
11

Can I use a penis pump if my dick is uncircumcised?

Penis pumps are open for dicks of all sizes and forms. Whether you're circumcised or not, you can use this sex toy easily and safely. Just try using the penis pump both with and without your foreskin pulled back to know which one feels better for you.
Takeaway
If you want a reliable sex toy to make you or your man last longer during sex, look no further and try a penis pump. Aside from bringing firmer erections, you can also use this to slightly enlarge your dick. However, take note that it can only increase the size of your cock temporarily.
As long as you and your partner are open to using it, you can definitely get the most out of this sex toy. With that, grab your trusted toy, follow the instructions properly, and pump the shame away.