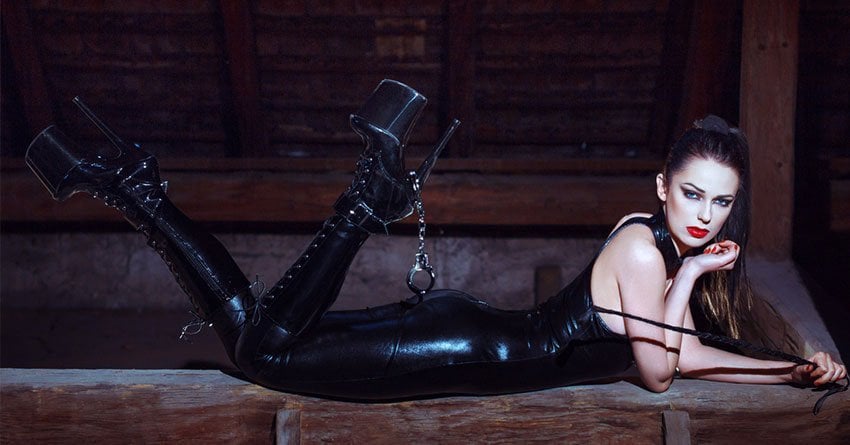 So you want to learn how to dominate your bae like a professional whip-cracking dominatrix? You're a daring woman and you're finally ready to call the shots. Whether this decision is influenced by watching the Fifty Shades movie or coming across a BDSM article on your Facebook newsfeed, whatever it is, we want to congratulate you for taking your sexcapades to a whole new level. We support you, 100 percent. That's why we prepared a guide for you on how to become a badass woman in the bedroom. Empowering your sex life is what we're here for after all.
But just in case you stumbled on this article accidentally and have no idea what the heck a dominatrix is and all this mumble jumble, let's give you a brief description of what it means.
The Dominatrix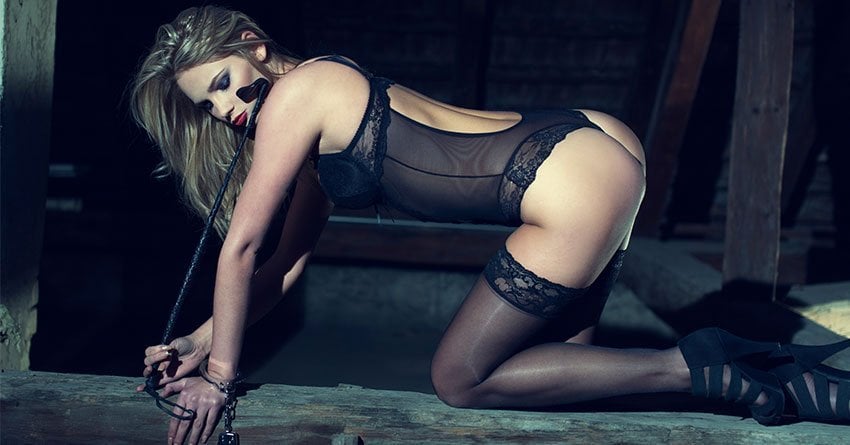 Basically, a dominatrix is a female who takes on the dominant role in BDSM play scenes. She's a boss bitch (as Cardi B politely calls it) sending out orders and giving punishments and rewards. Her partner is the sub who does her every command and willingly receives the punishment or reward she gives out. Sounds exciting? Keep reading. By the end of this article, we're gonna make an outstanding dominatrix out of you.
Before we really get into it, we just want to make a quick disclaimer. Prostitution is illegal in the Philippines. We're not here to encourage you to use whatever you learned here to open up your own sex dungeon business. Sure, we want you to have fun. But we want to keep everything legal. So please, only try this out with your loved one. And another thing. This goes without saying, but before you bring out the paddle and the handcuffs, make sure you're actually doing this with someone who has given their sane, revocable, and mutual consent.
All right, with that out of the way, prepare yourself because some really kinky shit is about to go down.
Have the right attitude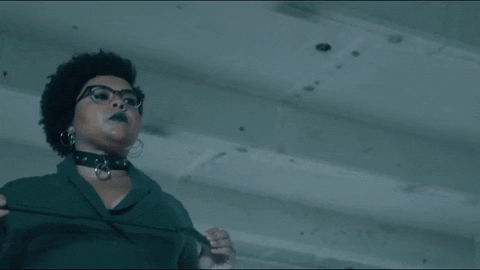 It's all just an act, sure. But the best way to get into your role is by preparing for it mentally and emotionally. Start with the right attitude. To be a dominatrix, you need to be assertive and confident. If you're used to being the one who's thrown around and spanked in bed, that's fine. The best subs can make the best doms. What you need to do now is use your perspective as a submissive to understand what can feel good if you were in his position. You're going to put your bae at the back seat while you take the car keys and drive him for a wild, wild ride.
When you're doing your BDSM play scenes, embrace the fact that you're a woman who deserves to be worshipped. Don't shy away from that thought. Your sub wants to please you and you're going to let him. Just don't forget that while you may have the power to make him do all sorts of things for you, your sub is only as submissive as he allows himself to be.
Research is key—Google that shit up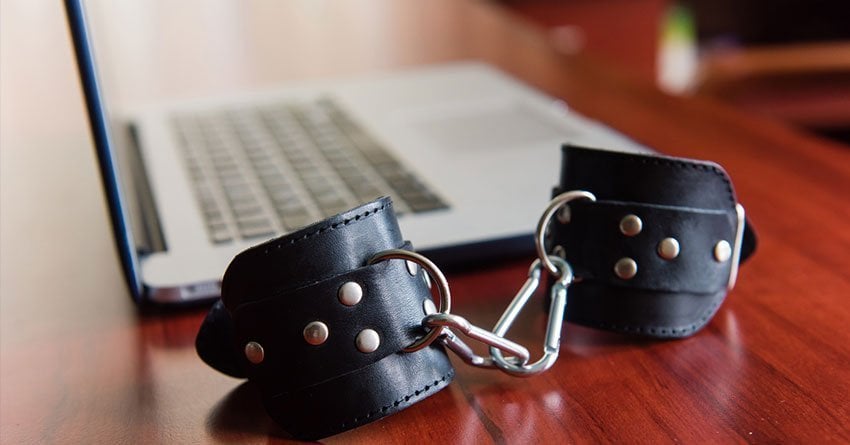 Do your homework. A dominatrix worth her salt knows that she actually needs to do some research on BDSM. Being a dominatrix isn't just about you wearing a leather bodysuit and whipping your submissive with a paddle. There's more to it than simply inflicting pain physically. Your punishments and rewards can also be in sexual, psychological and verbal forms.
You're the one taking the lead so you're liable for a lot of things. Uncle Ben from Spiderman already said it, "With a lot of power comes a lot of responsibility." Be a responsible dom-to-be and read up about what it really means to be in a BDSM relationship, its accompanying risks and how you can avoid them. You don't want anything to turn into something that you're going to regret later by causing some serious physical and emotional trauma.
Words are powerful, use them wisely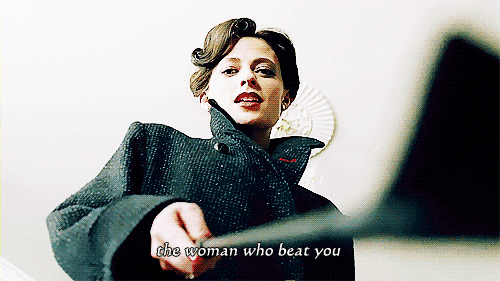 Once you psyched yourself up to be an assertive and confident woman, it's time for you to express that attitude into words.
Your sub may have his free will in the real world, but once your BDSM play scene is on, you are the highest authority he has to answer to. And the best way to let him know that you're in charge is by establishing a proper way for him to address you. Usually, Mistress, Miss, or Madame, are preferred.
But you can choose whatever name you like as long as it's something that immediately lets your sub know that you're the dominant one and he's at your sweet mercy. Establishing an honorific is not just for your sub though. Having someone call you "Mistress" can also give you a sort of high and excitement that can really get you in the mood.
Don't hesitate to use the most demeaning words when addressing your sub, provided of course, that he agreed to be verbally humiliated. You can say something like, "You are a brain-dead insect.", or "You are nothing but a lowly slave." Or maybe even something like, "You're a useless piece of shit." They may sound really degrading, but that's the whole point. Your sub gets off on you calling him all those nasty things. If you ever reach a point where he gets uncomfortable, he can always say the safe word and you can ease up a little.
Don't be shy with your commands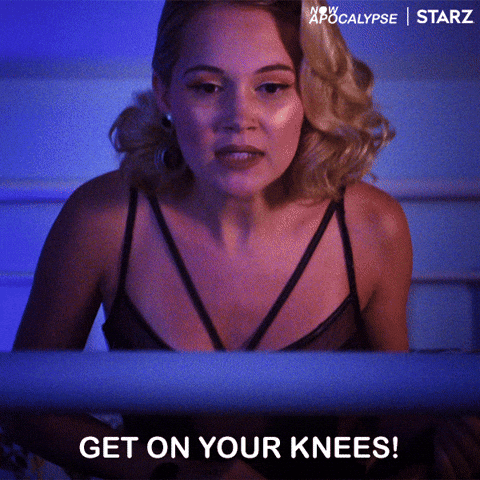 When it comes to commands, you need to say them with conviction to be an effective dominatrix. Again, your words are going to play a big part in this. If you're issuing the command in person, say each word loud and clear. Try not to stutter because that really ruins the effect. If your command is passed on through text, feel free to be as dirty as you want with your words, just as long as you construct your sentence properly. It's hard to appear authoritative when you're texting like a teenage high school girl gossiping with her friends about the rerun of Pretty Little Liars.
You also don't need to hold back with your commands. You established a safe word for the very reason that if he's at his limit, he can always put things to a stop. So go all out and give your sub the torture he craves for. To give you an idea of the different commands that can get your sub hot and horny for you, here are a few examples.
"Your tiny penis is not allowed to cum unless I tell you so. Do you understand, slave?"
"Once you arrive, immediately strip off all your clothes. Wear these handcuffs and lay naked on the floor.
"I own you. Every part of your body is mine. Now use your tongue to eat my pussy."
Saying it in person can be a little nerve-wracking at first. You can totally do a rehearsal just to get you warmed up. Face the mirror and say them out loud until you get comfortable enough.
Punish that bad boy and reward him if he's a good boy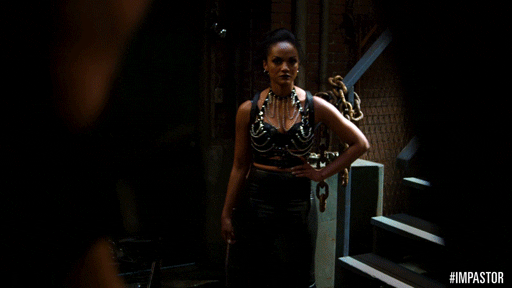 In true BDSM relationships, every order and rule you make is accompanied by punishments and rewards. This is a way for you as the dominatrix to discipline your sub. You don't stop at just giving a threat of punishment if the sub doesn't do as you say. You deliver them, in a maybe painful, but erotic way. The rewards you promise are not just empty words. You hold true to what you say and your sub eagerly awaits the punishment or the reward he's about to get.
The punishments can take many forms. The most common in BDSM are impact play where you hit your sub with an object, electrical play where you send current to your sub's body, tickle play where you stimulate the sub's sensitive parts, or tease and denial play where you send your sub close to orgasm then stop them before they cum. As for the reward, it can be anything. Even something like you're going to let your sub kiss your feet, or brush your hair, or even smell your underwear. This carrot and stick method can be really arousing for your sub. Sometimes a sub purposely breaks a rule or disobeys a command you issued just so you can punish him for being such a bad boy.
Bring the fantasy to life by wearing the right clothes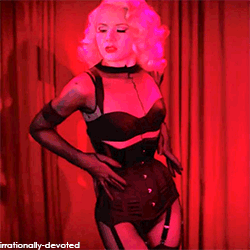 Your clothes help with the visuals. If you look the part, it's so much easier to act the part. It's better if you come to an agreement on what clothes you're going to wear. Bring both of your fantasies to life and experiment with leather body suits, strict librarian costume, a high school principal, a crazy clown, or a goth queen. Wear heels, fishnet stockings, and even put on makeup to look like you just popped out of your sub's fantasy land and appeared in his real world. The possibilities can keep going. It's even better if these clothes are revealing enough to tease his senses.
Gear up with your BDSM sex toys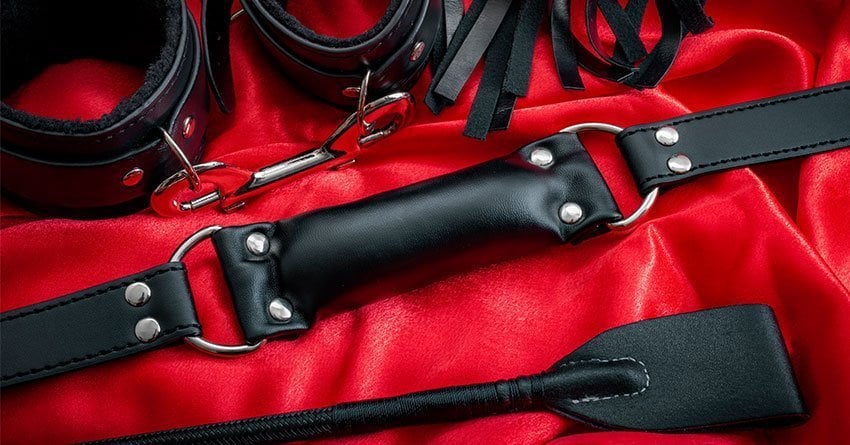 You got the right mindset, you know what to say and how to act, and you're also dressed like you're trouble. Now you need to gear yourself up with some BDSM tools. There's the mouth gag to stop your sub from making any sounds when he's being punished. It also looks hot and intense when he's drooling all over the mouth gag, heavy with lust. There are also handcuffs, shackles, and rope bondage to restrain his movements. A whip or flogger, or a paddle are also great for impact play when giving out punishments. As you watch your sub squirm and writhe, you feel so powerful and aroused looking at him in a helpless yet erotic state.
Aftercare is a must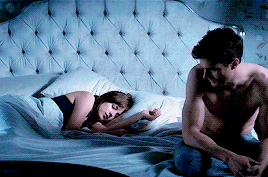 When everything is said and done, you need to tend to your sub's aftercare. Yes, you're responsible for that too. As we've said before, this is something that you do with a person whom you share a good amount of trust with. Make sure to honor that trust and make him feel cared for even after all the things and words that you said to him.
Learning how to be an effective dominatrix can take some practice. You're probably going to be an awkward git at first. But that's fine. Just follow what you've read here, practice it, and we're sure your BDSM kinky activities are going to be mind-blowing in no time.