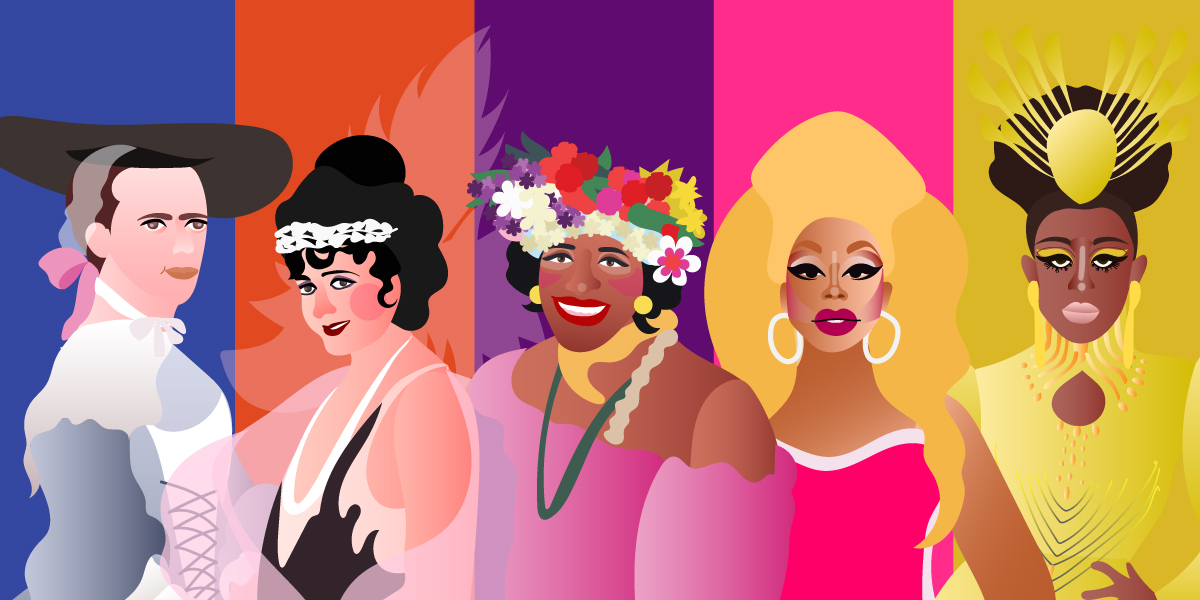 Drag Queens have made their way to the main stage and mass media. In fact, more than being accepted and welcome in the entertainment space, drag has been influential in popular culture! We've adapted makeup techniques and fashion trends. We have even integrated vocabulary that was previously only used by drag queens.
And while it's difficult to believe that these impeccably made-up individuals clad in big wigs, bigger costumes, sporting the biggest personalities were anything less than loved, their acceptance in society has been hard-fought. Even in this modern day and age, drag queens can be shunned and misunderstood.
While many people see drag as a performance, it can be forgotten that drag is also used as a form of self-expression and self-affirmation. But that's not how drag originated.
The Birth of Drag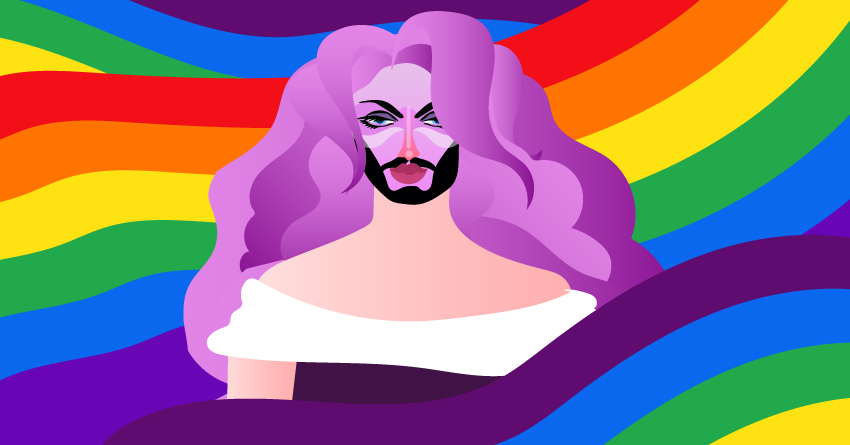 The concept of drag can be traced back to the late 16th and early 17th centuries. In those days, women were not allowed to perform onstage so who played the female roles? The men did – clad in women's costumes and mimicking traditionally feminine mannerisms. The term 'drag' is believed to have theatrical origins, too! It would refer to the dresses the men wore while portraying the female characters that would drag along the floor. There are, however other sources that claim that the term 'drag' was a more recent phenomenon that's meant to be a conjunction of 'grand rags' synonymous with the balls that we'll be discussing later.
While men playing women on stage because women couldn't is vastly different from what drag has evolved into, it was a start.
It slowly became a way for men (often gay men, although heterosexual men would do drag, as well) to express different sides of themselves. They would over-exaggerate feminine features, change their style, and use cushions and fabrics to make their bodies look more womanly.
Long Live Princess Seraphina!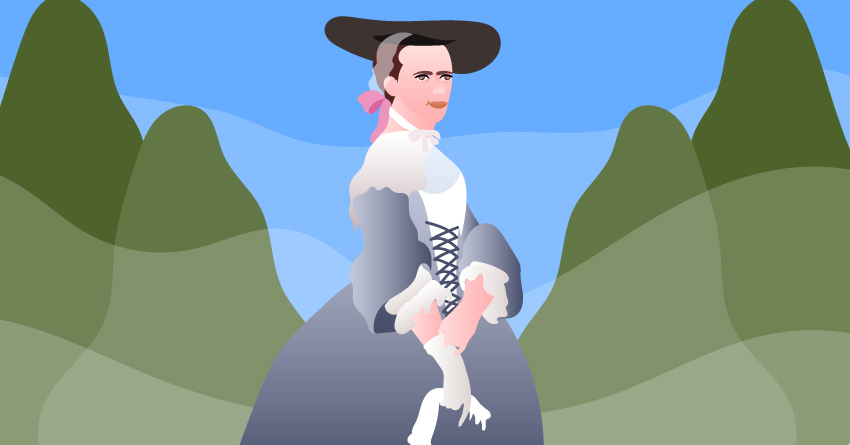 While we're still fighting for LGBT equality today, someone who fought valiantly and enlightened the people around him during the 18th-century was Princess Seraphina.
Princess Seraphina was otherwise known as a gentleman's servant, John Copper. She is believed to be England's first drag queen in that she was more than just an acting role to John – she was part of his daily life.
Princess Seraphina was a staple at molly houses – old-time gay bars. Homosexual acts are punishable by hanging at the time – there were three hangings in 1726 following a raid on a molly house – there are no reports of Seraphina being arrested or treated with any wariness. It should also be noted that the only time Princess Seraphina ever appeared in court was as a victim that involved an incident of theft of her clothes in 1732.
Viva Vaudeville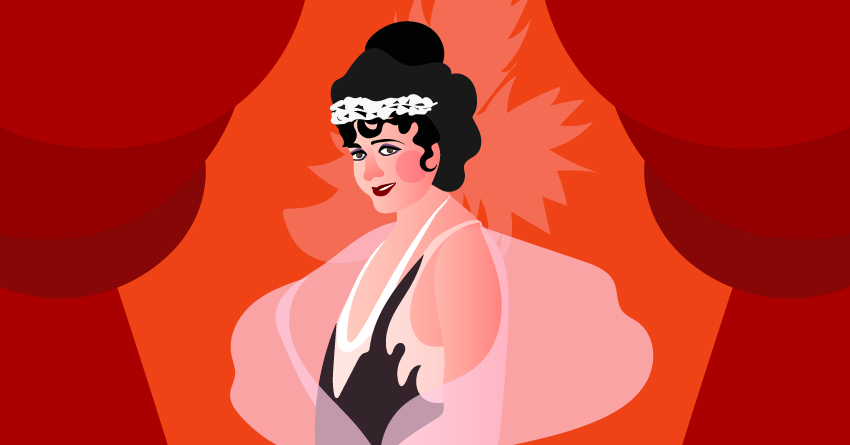 Time went on and drag evolved. Drag queens began to build up individual fan bases and one of the biggest stars of the earliest 20th century was Julian Eltinge. While many drag queens of that era emphasized that they were men in women's clothing, many of Eltinge's fans were convinced that she was not just a character, but an actual actress.
Vaudeville, also known as the variety theatre in the UK, is the world from which Julian Eltinge emerged. After every performance, he would remove his wig to reveal himself to the crowd, and they would often gasp and wonder in disbelief.
Eltinge's career was going strong and her star rose quickly and consistently for more than 20 years, but in the 1930s variety acts like the ones that she starred in fell out of favor.
Despite the tolerance, and in some instances even celebration, of the LGBT community in the USA during the 1920s and 1930s, fears surrounding sex crimes which then negatively impacted the perception of drag created a more reactionary response in Western society.
The Second World War did not curry the homosexual community any favor. Society frowned upon same-sex relations, and in some cases, it was even illegal. There were still a few drag performers that were able to break through and have successful careers. A few notable queens who made it were Danny La Rue in the UK made his name in the 1950s, the flamboyant drag alter-ego of Barry Humpries: Dame Edna Everage, who first appeared in the 1960s.
Life's a Drag, Have a Ball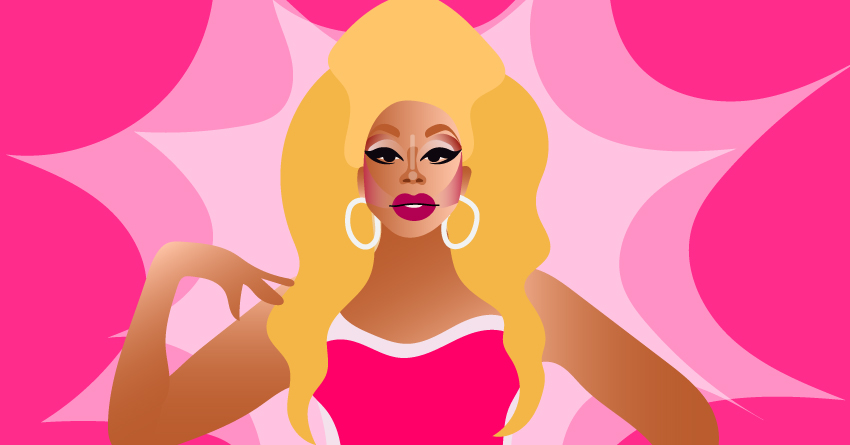 If you've seen the Netflix series Pose, you may have some idea of what a drag ball is. These are events for the drag community that originated in parts of New York in the 70s. Drag queens from all corners of the burrows would strut their stuff on the runway to impress the judges and bring home trophies.
This is where the concept of drag mothers was born. Experienced, wisened queens would take drag diamonds in the rough under their wing to help polish their performances and their looks. Drag mothers became safe havens and sanctuaries for lost and troubled youths, whether or not they intended to enter the drag world.
Drag mothers then became the matriarchs of their own 'House', as they cared for and took responsibility for their entire drag family. Everyone who belonged in the house was allowed to adopt their drag mother's surname, and could even have their stage name chosen for them by their mother.
Shantay, You Stay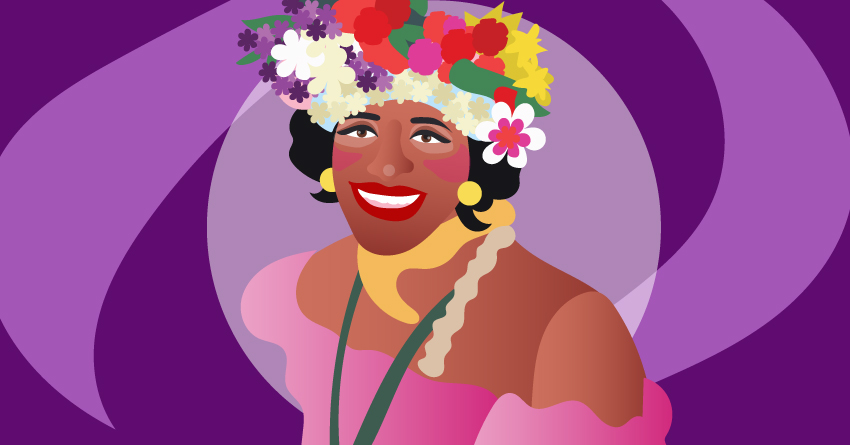 In 1969, the Stonewall Riot saw LGBT individuals from all walks of life protest against police raids on gay bars in New York City. These protesters included drag queens – the most notable of which, Marsha P Johnson. These acts of dissent against oppression lead to the creation of the Gay Liberation Front.
The fight for LGBT equality and acceptance grew during the 1970s and the 1980s. It was an incredibly high-profile movement, thanks to Harvey Milk becoming the first openly gay man to be voted into public office in San Francisco in 1977.
This gave the LGBT community the positive representation they needed to allow them to strut into the mainstream. Drag queens started making appearances in movies. Divine played Edna Turnblad in the original version of Hairspray and continued to appear in many movies directed by John Waters. She also influenced the design of Disney's Ursula. We also see the gender-bending experimentation in artists like Boy George and Pete Burns.
By the 1990s, RuPaul, just at the edge of becoming known across the globe, combined a drag persona with a music career that featured a duet with Elton John.
In 2009, Drag Race made its television debut. It involved challenges, costumes, skits, and impersonations that captured the attention and hearts of a diverse audience. RuPaul's Drag Race became so popular that a lot of drag slang has become integrated into our lives and language. Here are a couple of popular terms that have been adapted into the daily vernacular:
Shade: an insult. It can be expressed through verbal or non-verbal communication. 'Throwing shade' is when you openly belittle someone. Whether or not they are within earshot is a non-issue.
Read: lightheartedly insult. Drag queens will meet up at a metaphorical arena known as the 'library' and lightheartedly exchange insults at each other. It's a playful sport where the aim is to come up with the wittiest, most ingenious piece of verbal chastening at your target. Reads are meant to end with everyone involved still being on good terms with each other.
Realness: when you fulfill a theme or genre so seamlessly it appears as though you were born from it. If you are able to accomplish this fete, you are said to be 'serving realness'.
Sickening: so fabulous other people are sick with envy. When someone or something is so unbelievably great that they have no other option but to be in awe and gobsmacked at the sight. Being sickening is a good thing.
Snatched: perfectly styled or on point. When your makeup, outfit, or body looks so good it's snatched the weave right off of the viewer's head. Similar to 'sickening'.
T: the latest gossip or news. There's some debate as to whether it's 'T' to stand for truth or talk, or if it's 'tea' because you spill the tea. But just remember that tea is meant to be served hot, so don't be showing up to the party with old news.
The Evolution of Drag is a Revolution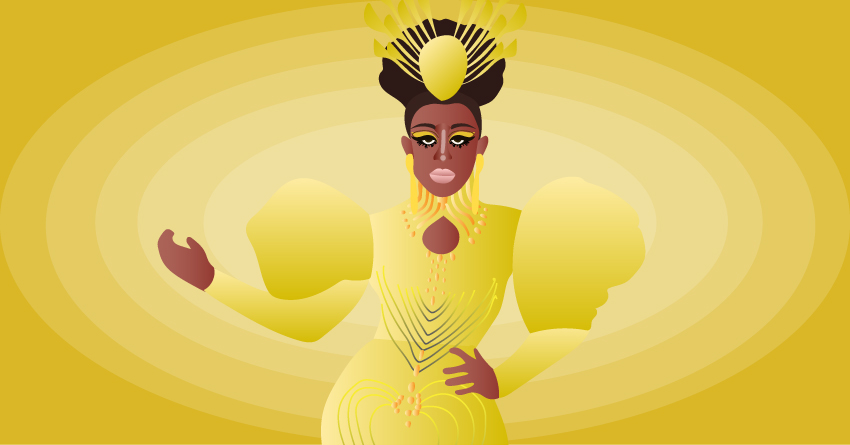 20th and 21st-century drag queens use drag as a means of political liberation where the LGBTQ community still has battles to fight. They've used it to shed light on not only LGBTQ rights but other political issues, too.
Even on Drag Race, numbers like "Shady Politics", talks about gay conversion therapy while applying their makeup, Bob the Drag Queen detailing his arrest at a marriage equality protest in 2011, and many other moments get featured. These show how these drag queens use their influence to affect change or at least have their voices heard in the political space.
But even before Drag Race, drag queens fought on the front lines for equality. The art of drag itself was already an explicit act of rebellion against gendered societal norms. They still fight for gay rights, AIDS awareness, anti-racism, and gender equality.
Snatched to Perfection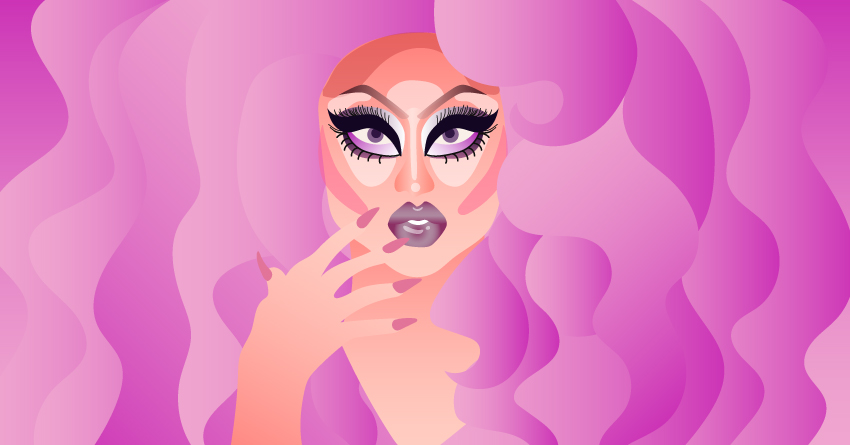 Drag queen makeup methods have made their way to the beauty guru and makeup fanatic arsenal, often without them even realizing it. Cut creases, contouring, and even baking are techniques that originated in the drag sphere to transform their faces into their characters. The signature heavy and dramatic application is based on the origin of drag itself. Because men would play women's roles they needed to completely change their features to appear more dainty and feminine. Add to that the fact that drag queens perform under harsh lights that require their makeup to be snatched.
Kim Kardashian, who is known for her contouring. Her sister, Kylie Jenner is famous for her plump lips. They achieve these looks thanks to tricks they learned from the drag community. Joyce Bonelli, who used to be the resident Kardashian makeup artist, preciously mentioned that her techniques are inspired by "drag anything and everything".
Many makeup artists note that the drag community deserves more credit for the impact they've had in the beauty space.
Fashion has also been impacted by drag. People in fashion – high fashion – understand drag and all its extremes. Winners and contestants of RuPaul's Drag Race have been invited to high fashion shows, appeared in magazines, and have ad campaigns.
Fashion designers are inspired and encouraged by the extreme designs that drag queens create and their limitless creative space. Drag queens can design anything and everything they want. Bianca Del Rio even notes "The only difference with a fashion show is it's 15 minutes. For us, it's usually two hours."
Frequently Asked Questions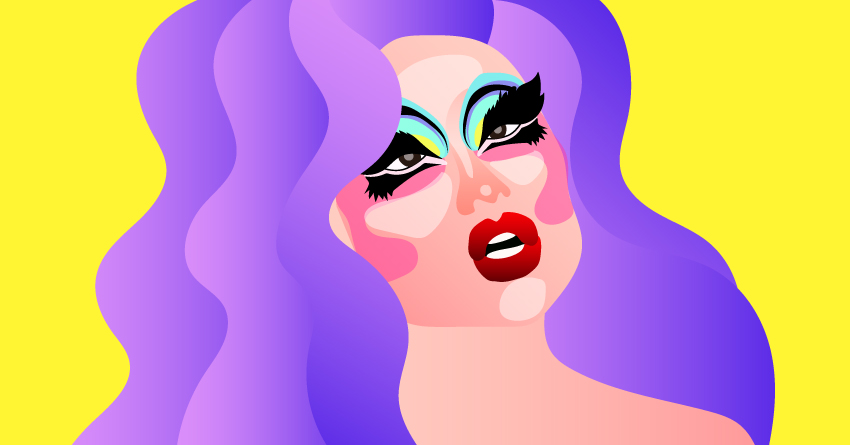 The world of drag can be mystical and magical, but it can also leave you with a couple of questions. Here are a couple of questions a lot of people still ask, and hope we can clear up for you.
1
Are drag queens gay men?
Some drag queens are gay, some drag queens aren't. Drag isn't necessarily an expression of sexual orientation, but rather a way to express themselves. Drag is an available means of celebrating the self! It can also help in figuring out how you want to present yourself to the world. Cisgender and heterosexual individuals can be drag queens, too!
2
Do all drag performers want to transition?
Again, not necessarily. Just like some drag queens are not gay, some of them also are uninterested in transitioning. They may just enjoy existing or performing as a caricature of a woman.
3
Are transitioning trans women considered drag queens?
No. Transitioning trans women are trans women. Drag is a performance that can be done by persons of any sexual identity and orientation. Transness is a permanent identity that is an integral part of someone's identity. While some trans people enjoy dressing up in exotic outfits to entertain others, the act of dressing up in clothes that match one's gender identity reflects only one part of what it means to be trans.
4
Is there a women's equivalent for drag?
Yes! Drag Kings exist. Drag kings are women that dress up as men for entertainment. But also, women who dress up as drag queens have also been making appearances on the scene. There is some debate as to whether or not they can be considered drag queens, so we all may need to have more conversations about this specific realm of drag.
5
Is it rude to ask drag queens about drag culture?
As long as you approach your chosen drag queen with respect and with pure and honest want to understand or gain more knowledge, no it isn't rude at all. It should be noted that they do not owe you answers or their time. While some may respond with warmth and eagerness to teach, there may be some that shut you down. So be eager to learn, and always be respectful!
Takeaway
Drag is such a wonderful, colorful world to explore and enjoy. Whether you're a drag artist or a fascinated member of the audience, always respect the history. Despite the celebration that drag inspires, always remember the origins and how drag queens through history have actively fought for LGBT rights and equality. They still continue the fight to this day.