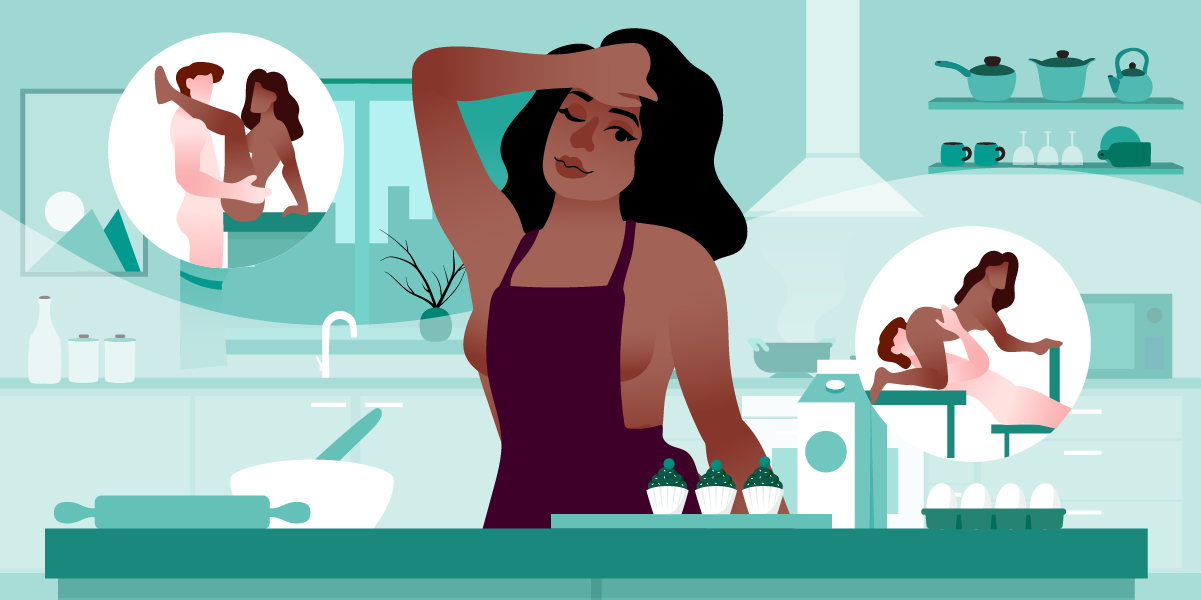 Getting bored of your sex lifestyle being limited in the confines of your bedroom? Well, that's our biggest fear as the sexual beings we can be. However, you can always go exploring at your home and perhaps take your heated intentions to a place where lots of heating (literally) happen — the kitchen.
If you're ever so eager to learn tricks and tips for kitchen sex, keep reading through this deliciously filled guide for your brain consumption.
Advantages of Kitchen Sex
So what makes people so intrigued to bring out their sexual needs to this room? We've listed the popular reasons behind people's interest in having kitchen sex during their private time.
1
It's a great quick sexual fix.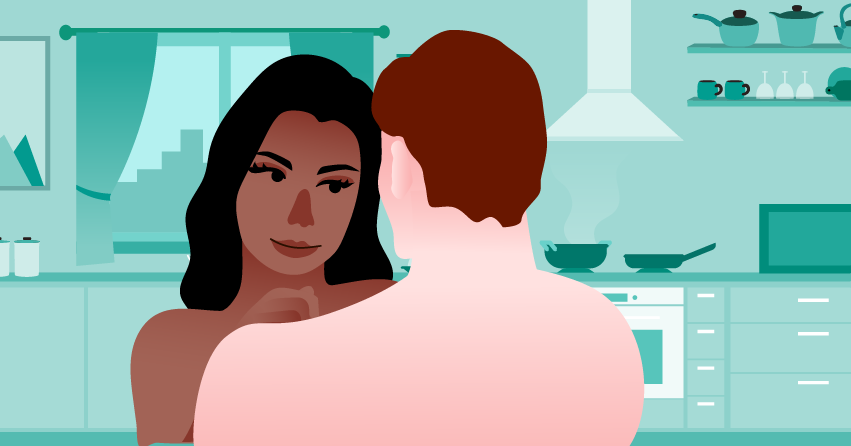 In other words, it makes for an amazing quickie! If you're always on the run, from work or a busy lifestyle, you'd think sex would be out of the equation. But not to worry, if you and your significant other need a much-needed release before going along with your days, there's no harm in having your butt up in the air with your chest planted on the counter. At the same time, your partner thrusts you from behind hastily yet pleasurably.
2
It brings out the exhibitionist in you.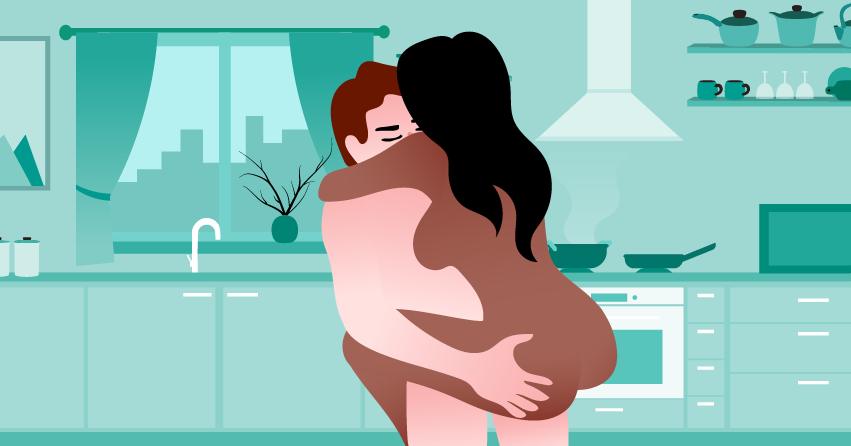 If you think about it, the kitchen is a public location in your home if other people live with you. Excluding your partner, there are roommates or family members around you. And the thing with exhibitionism is that you thrive on getting caught. Day or night, you wouldn't mind where your horniness takes you just as long as you can release it with your partner.
3
You have easier access to hydration.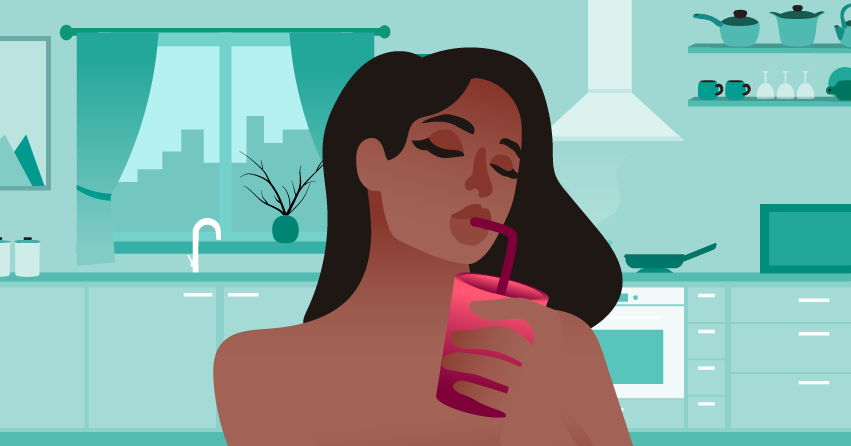 The kitchen has all the amenities needed for nourishment. That's where the pantry and the refrigerator are located. So when you and your partner get parched from all the moaning, groaning, and physical movement, getting water is less than a minute away from you. Wherever you'd do it, at the counter or table, hydrating helps regain your energy for the succeeding rounds.
4
There are different spots you can do the deed at.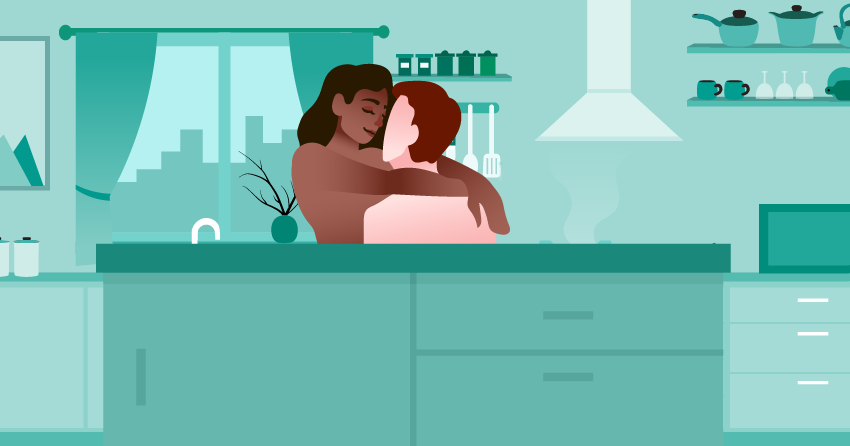 Regardless of space, the kitchen has a vast range of spots where you can have sex. It all depends on your and your partner's moods and physical states that day. Some spots include the counter (a crowd favorite), island table, chair, and even against the refrigerator/freezer doors.
5
There are tools there that can be makeshift sex toys.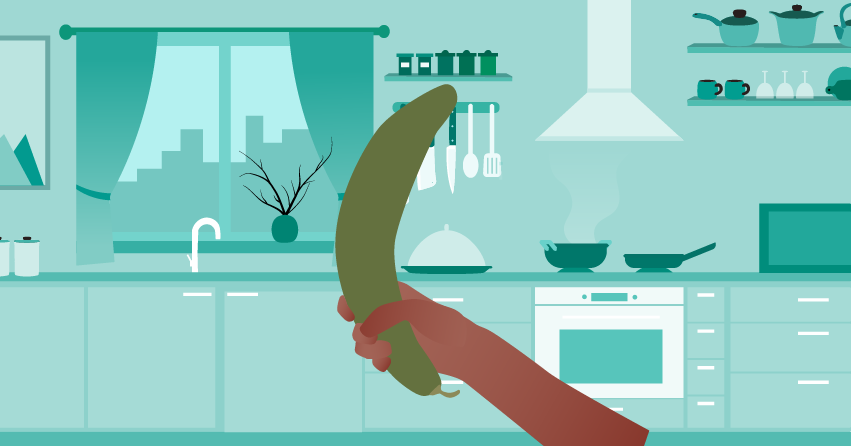 Like the spices stored in your cupboards, you use them to make a dish more flavorful. You can say the same thing with sex toys, spicing up your sex life as it unlocks new and different sensations within you. But for a change, you can opt to use simple tools in the kitchen as toys! It's all about how you use your creativity.
Examples include:
Spatula (impact play)

Wooden spoons (also impact play)

Apron (roleplay)

Towel (bondage or blindfold)

Actual food (for food play)
Disadvantages of Kitchen Sex
When something has its good side, there are also some cons to keep an eye on. Here are a few common disadvantages when it comes to kitchen sex.
1
There are sharp objects in sight.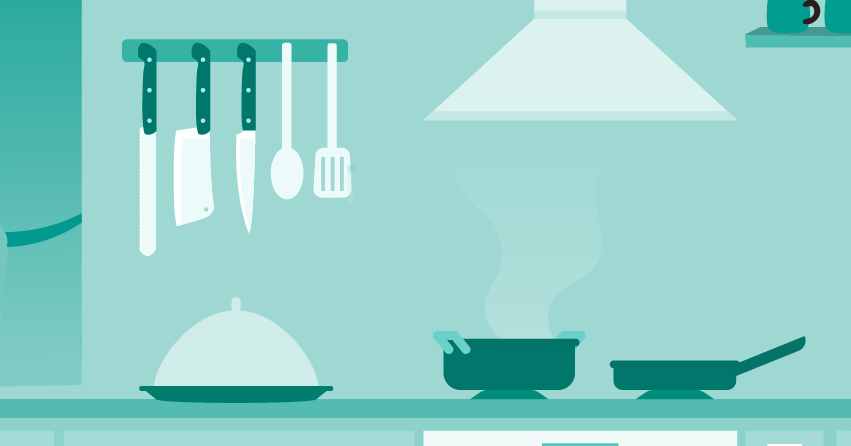 Whether cooking or baking, sharp tools like knives and scissors are needed to chop up important ingredients. So even if you're meant to keep them in safe areas, it doesn't erase the fact that they're stored in the kitchen, and we may be mindless to pack up after washing them. So when you have sexual urges toward your partner, you may forget to return them and get hurt.
2
It can be unsanitary.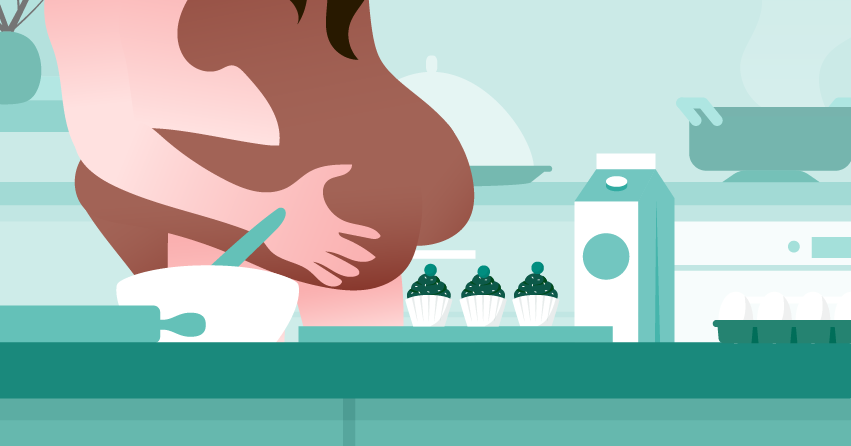 You are what you eat, but don't take it literally in the kitchen. It's a place where you cook and dine often. Even if we clean up after doing the deed, the fact your discharges and sweat were splattered over the space isn't something nice to ponder over. Plus, think of the germs that can spread elsewhere.
3
You're prone to possible accidents.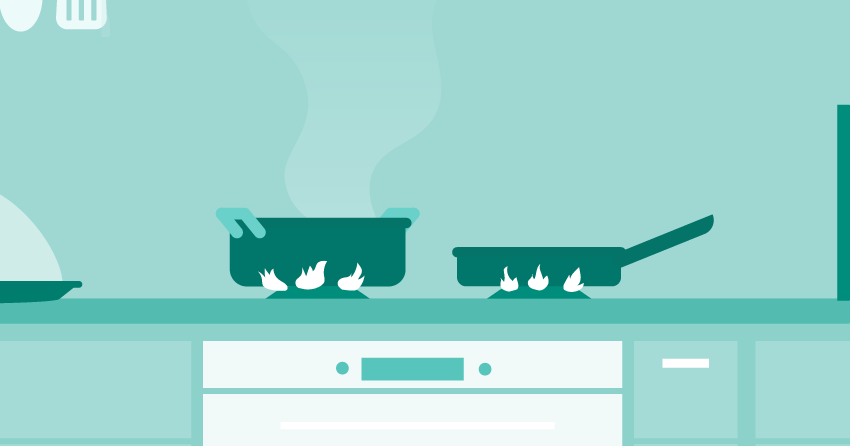 It's sexy to do it in the kitchen when your partner greets you from behind while you're cooking, kissing you not a second later when you turn around to see them. However, we can unintentionally leave the dish unattended to partake in sexual activities. For that, accidents like burning the stove, leaving the oven on for too long, and overcooking can occur.
4
It can be a public disturbance.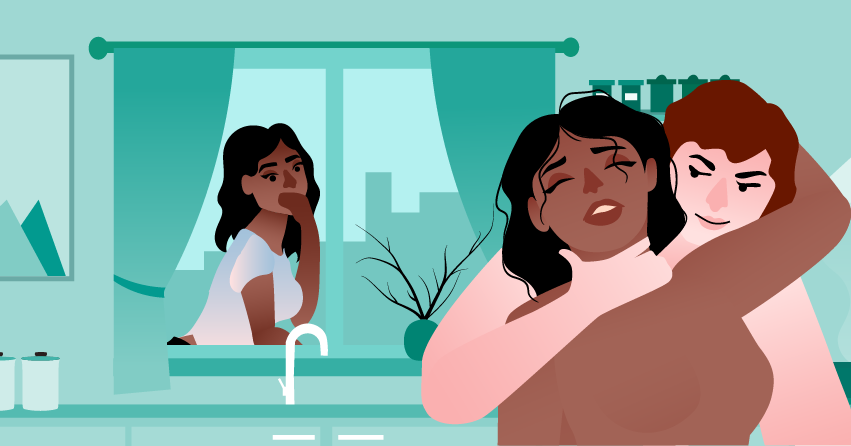 The kitchen is a public space. If you're not the only one living in the same space, whether you have a roommate, kids, or other family members, getting caught is the last thing you want to happen. Yes, even if you have exhibitionist tendencies, you must be wise about this outcome because it's the last thing for your other companions to see you and your partner in a vulnerable position. Especially with kids, don't scar them! That would make you irresponsible adults.
5
The space may not be big enough.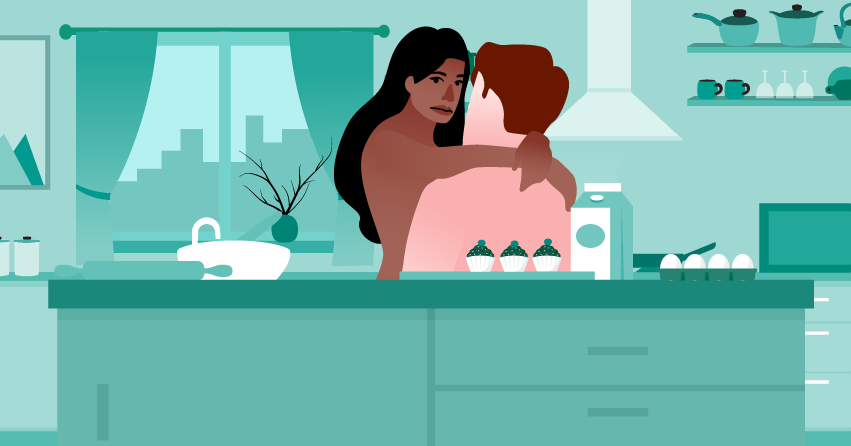 Not all kitchens are constructed the same. It all depends on your home, from an apartment, cottage, penthouse, condominium, townhouse, to an actual house with x stories. With that said, some kitchens may not have room for an island table or limited space between the countertop and the stove, among many other conditions. In other words, having kitchen sex may not maximize all your sexual energy and fulfill your desires.
Kitchen Sex Positions
As you're aware of the advantages and disadvantages of this type of sex, it's only right to bring your steamy imaginations to life! Scroll below our suggested kitchen sex positions for your tasty viewing.
1
Fine Dining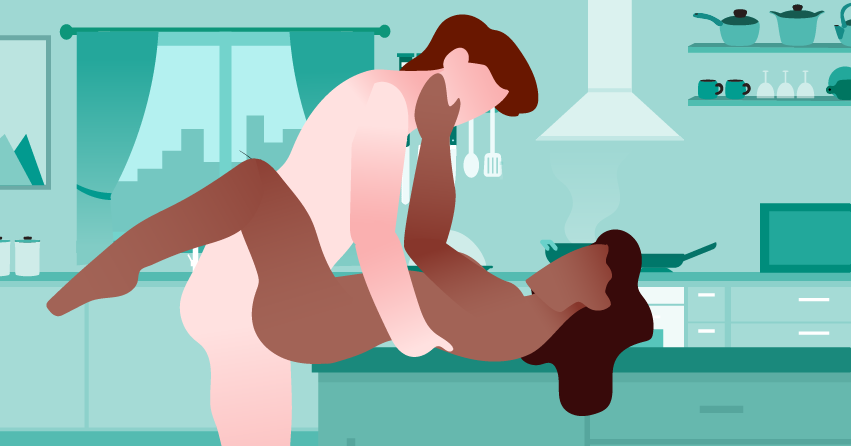 Mind your manners, but don't hesitate to ravage and savor every meal offered to you. Or in other words, your lust-driven partner and an equally needy you.
Where to do this: Countertop or Island Table
How to do this position: Lay your back on the countertop or island table. Or if you want a sexy buildup, be laid down by your partner as they lift you up. Bend your knees and open them wide for your partner's hips. They shall also lean forward a bit, then situate each hand on your sides. Feel free to place your hands behind their neck as they move inside you.
2
Thanksgiving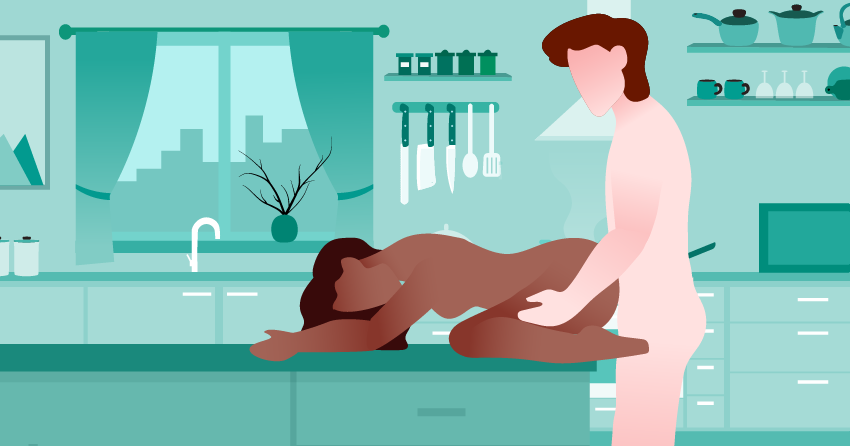 It's a must always to express gratitude for the sweeter things in life. Especially when your sex life brings you to the heavens, it's also great to give back by taking things back with your butt high up on display.
Where to do this: Countertop or Island Table
How to do this position: Climb and kneel onto the surface in a child's pose with wide open legs. Raise your butt a little bit in the air while your partner stands and puts their feet shoulder-width apart. Depending on the height of the surface, he can tiptoe to reach you. They can enter your vaginal or anal areas for either slow or fast rhythms.
3
Bon Appetit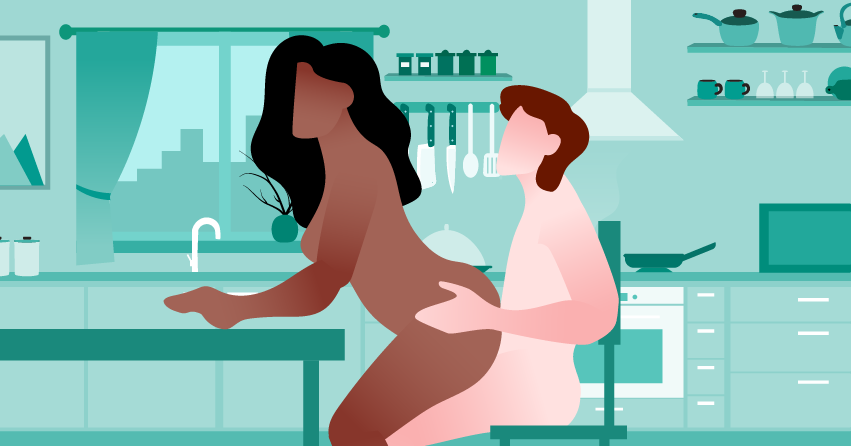 If your appetite for sex is strong, maybe you'd like to stay seated and take a good ride for it.
Where to do this: Chair
How to do this position: Let your partner sit on the chair with spread legs, then settle in between their legs. Specifically, on their cock with your legs apart and their hands on your waist. You can either keep your hands touching them while you lean back or rest them in front of the countertop/table to further grind yourself on them. And if you're extra wild, make your partner tug your hair back!
4
Sweet Popsicle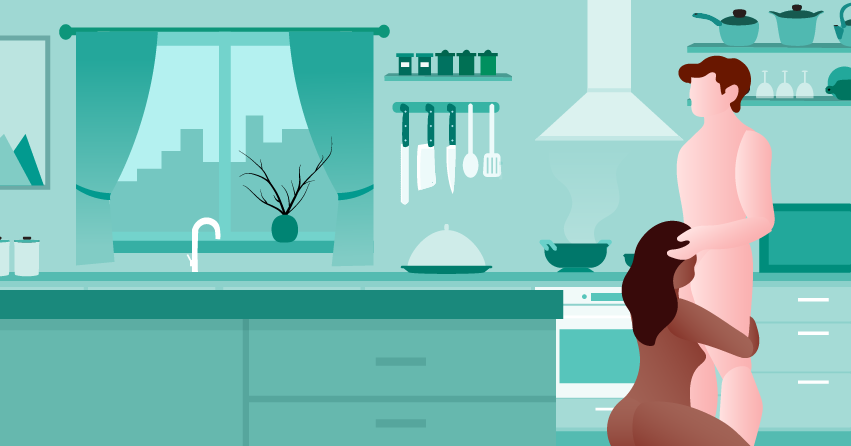 Who doesn't love a popsicle on a hot day? Lick and suck as if your life depends on it with this never-ending treat (aka your partner's schlong).
Where to do this: Against the refrigerator/freezer
How to do this position: Your partner shall lean back against the cold surface while you lower to your knees, face level with their crotch. Start with licking the tip, then slowly take them whole with your mouth. Play with their balls for extra sensations and continue trailing your mouth up and down their sensitive shaft.
5
Keep Frozen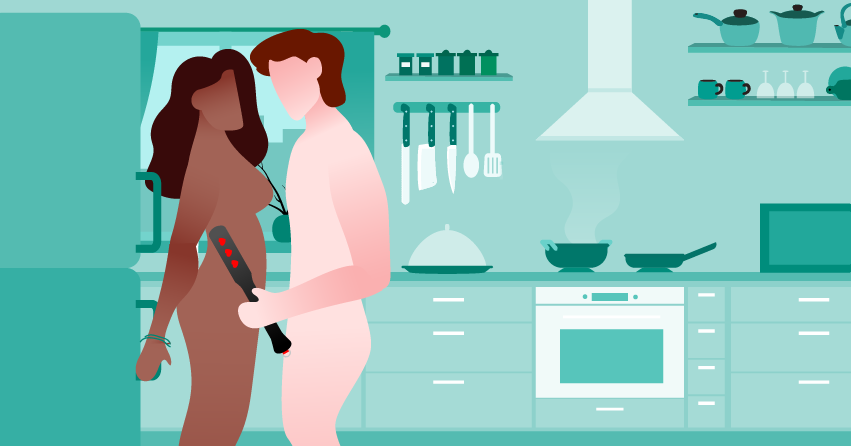 Prepare to be a kind of dish that's kept frozen because you're not going to be able to move when your partner has their way of cuffing and spanking you. And yet, you'll love it so much.
Where to do this: Against the refrigerator/freezer (in the middle)
How to do this position: This position works if you have an interconnected refrigerator and freezer. Stand still and place your wrists by the handles of the refrigerator, awaiting your partner to cuff you. Your partner hovers over you and gets kinky with the makeshift sex toys we mentioned above, then lifts a leg to their hip as they piston inside you.
6
TLC (Tender Licking on the Clit)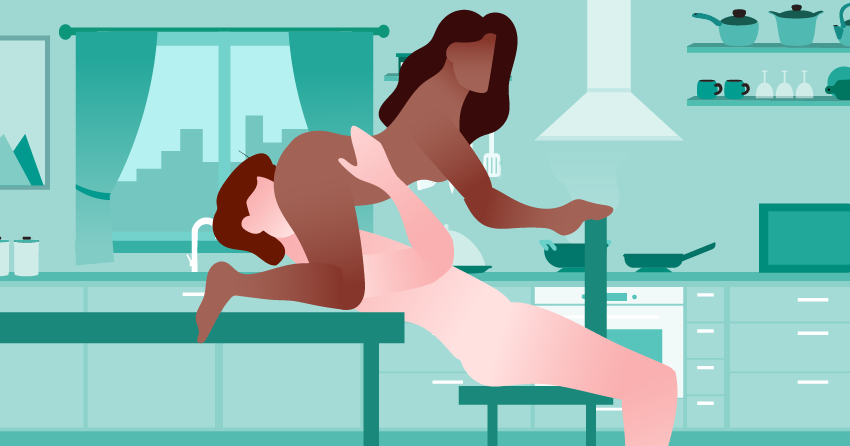 Breakfast is the important meal of the day, especially for your partner with their faces plastered between your thighs.
Where to do this: Island Table + Chair
How to do this position: Your partner shall lie backward on the island table, then you go on fours on said island table. Rest your legs in between your partner's face and lower yourself on them. Your partner shall wrap their arms around your pried thighs (but closed feet), finger you, or play with your clit first before diving tongue into your drenching crotch. If you must, hold on to the chair in front of you if their actions get too overwhelming (but in the best way).
7
Legs Encounter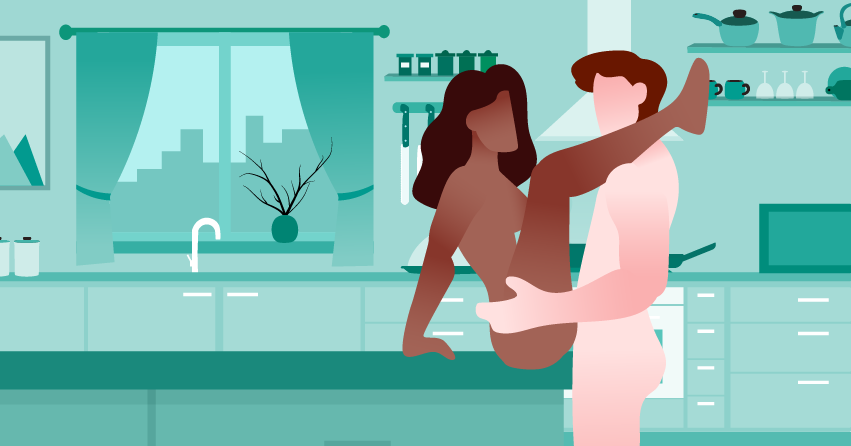 After throwing the trash, why not throw your legs over your partner's shoulders after?
Where to do this: Countertop, Island Table
How to do this position: Rest your butt on the surface with your hands planted behind you or on the edges. With open legs, your partner moves in between them, then lift your legs on each shoulder or even near their neck. Bend your legs too so they don't cramp up. Their hands on your waist, having a makeout session first builds up the mood before they slide inside you.
8
Room for Dessert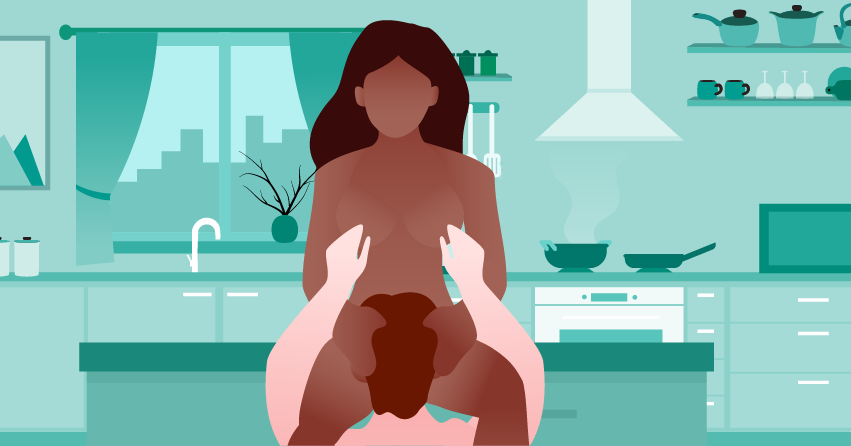 Sometimes, dessert is tangible and sweet. But it can also be the paradise between your legs while your partner devours you like you're their last meal.
Where to do this: Countertop, Island Table
How to do this position: Sit on the edge of the countertop and island with open legs. Your partner shall be down on their knees between your legs, placing them behind their shoulders. They lean forward and can situate their arms around your legs or behind your waist. They can start off with gentle licks before suctioning your mound to fulfill their sexual hunger.
9
Iron Chef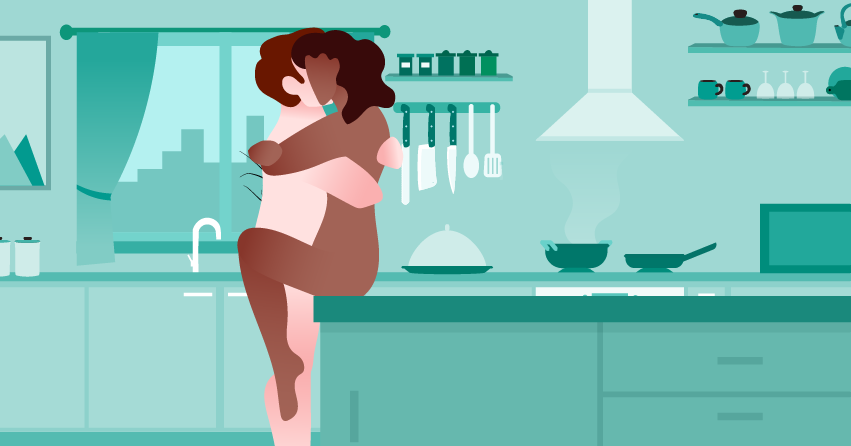 The best cooking can be between two bodies creating heat and friction until they are completely well done with their crazy orgasms and after-sex glow.
Where to do this: Countertop, Island Table
How to do this position: Settle on the edge of the countertop or island table. Your partner inserts themselves in between your legs with a slight bend. Let them get as close and tight to you, and entangle your legs around their waist or near the butt. Their hands can stay behind your butt or your waist. They can also rest their head between your chest while your arms cradle their head like a baby as they pound into you.
10
Silver Platter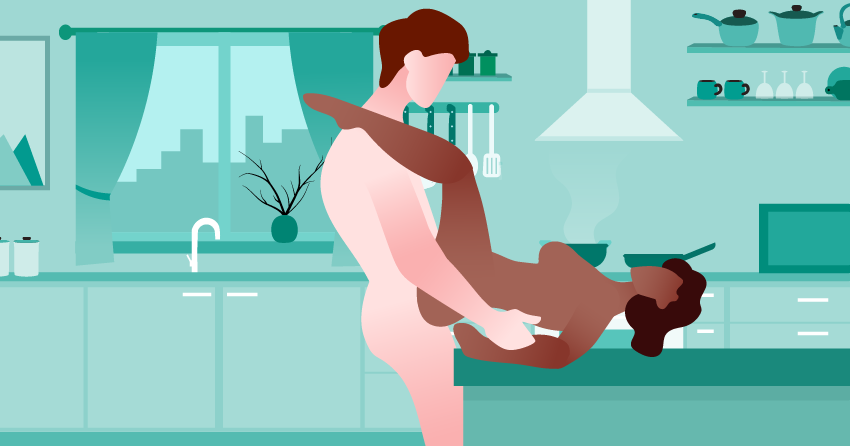 Good, tasty things are often served on an elegant platter. Perhaps this time, it'll be you as the high-rated meal while your partner above fully feasts on your body.
Where to do this: Island Table
How to do this position: Lay down on the table with open legs and anticipate your partner to spread you further. They'll lean forward a bit and put your ankles on their shoulders. With their palms, they'll lift your lower body up to angle with their cock. Hold on tight, on the edges if you can because they'll give you some powerful penetration you'll enjoy!
11
Peaches of Their Eyes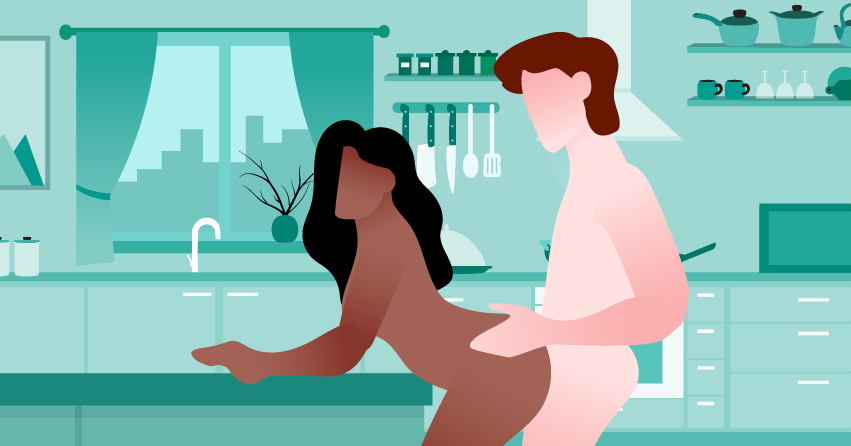 To be the apple of one's eye is one thing. But having your peaches exposed to everyone, especially your partner, is another sexy concept you may want to bring to life in the kitchen.
Where to do this: Countertop, Island Table
How to do this position: Bend over the counter or island table with your butt perked up. Plant your arms as far as you please to hold you down, although you may tiptoe a bit. Meanwhile, your partner stands behind you, and they're in control of how they want to do the deed with you. They can piston themselves roughly into you or penetrate you sweetly with soft caresses from your hips to the side of your butt.
12
Twist and Churn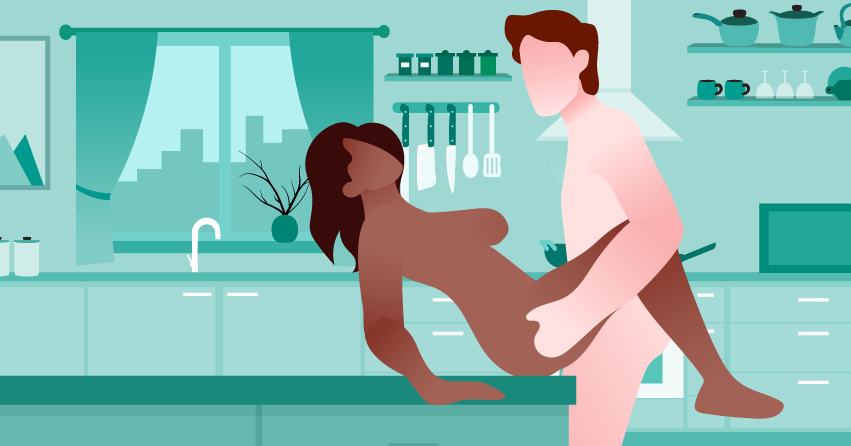 Spice up your sex routine with this twisty position that proves how simple switches can churn your insides with an unforgettable orgasm.
Where to do this: Island Table
How to do this position: You're leaning back and seated on the edge of the table with your palms behind your back to support your upper body. Your partner moves between your hips with a bent stance and throws your legs over their torso. Envelop your ankles together from behind as your partner holds you by your knee, and throw your head back once you feel their tip slide in.
13
Melt in My Mouth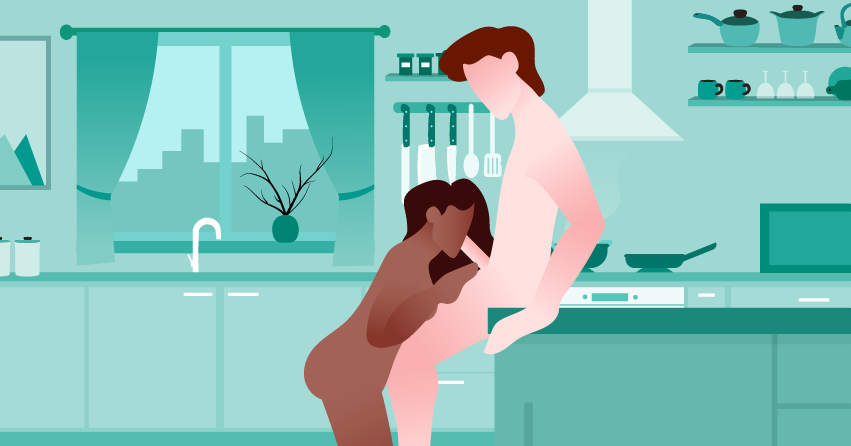 Reward your partner with a good sucking that'll have their release dripping and melting effortlessly on your lips, and maybe swallow it up if you're into that!
Where to do this: Chair (or Stool)
How to do this position: Your partner is settled on the chair or stool from your kitchen, manspreading for your satisfying viewing. Meanwhile, you're on your knees nestled between theirs with an open, wet mouth as you take in their length. Inch by inch, your hands can stroke their balls or shaft or even squeeze their inner thighs. Pay attention to the noises they make, especially if they're the pleasurable kind. That means you should keep going at whatever pace you're moving.
14
Available for Pick Up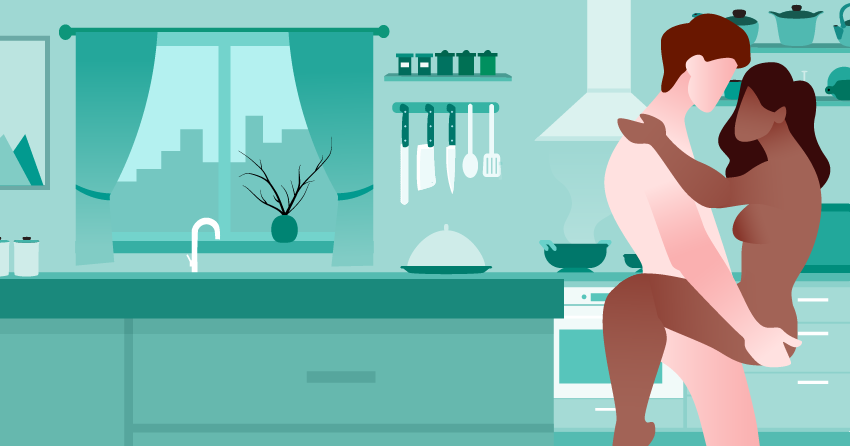 If you're not dining in for food, chances are you're taking them to go by picking them up at the resto. But this type of pickup is different, wherein you'll be at your partner's liege when they pick you up and cuddle you close for a delicious f***king. So they better be strong to carry you for a long time, reader!
Where to do this: Against the refrigerator/freezer/wall in the kitchen
How to do this position: Start off with kissing and loads of physical touch in between, then await your partner to lift you up in their arms. They'll press you against whatever surface we mentioned, so brace yourselves behind their neck once they slide inside of you. You can also play with their hair as they can opt to suckle your neck or nipples in between.
15
The Hidden, Forbidden Fruit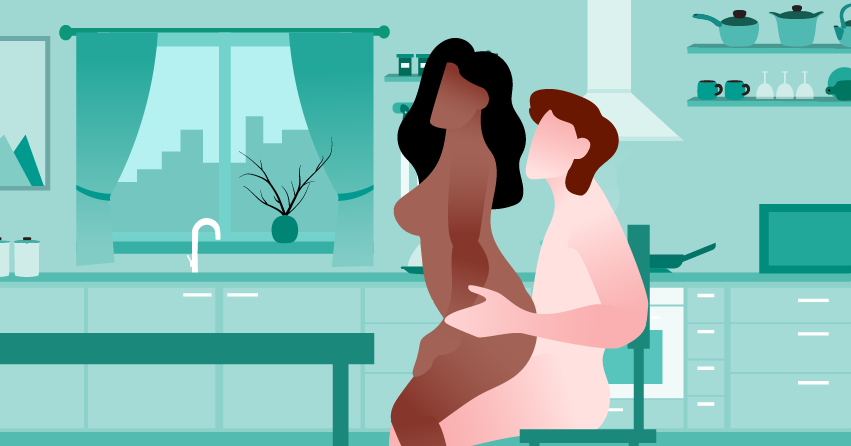 Others might think you're being a cute partner sitting on their partner's lap. However, they won't know what lies under the table when you're grinding along their cock. This is no means of encouragement to practice this position in mere public, but it's proof of how you get hot and heavy with this seated version of the common reverse cowgirl when eager for some kitchen sex.
Where to do this: Chair (or Stool)
How to do this position: Your partner is seated on their surface of choice with their legs apart. On the other hand, you have your back on their chest as their cock enters you. You can arch your back as much as you want while your partner plays with your breast or clitoris when rocking back and forth for that feel-good penetration.
Kitchen Sex Tips
At this point, you're definitely giddy to rush to your kitchen and have some sexy fun ASAP! But halt for a moment — we have some crucial tips to remember before going bananas for kitchen sex.
1
Communicate with your partner.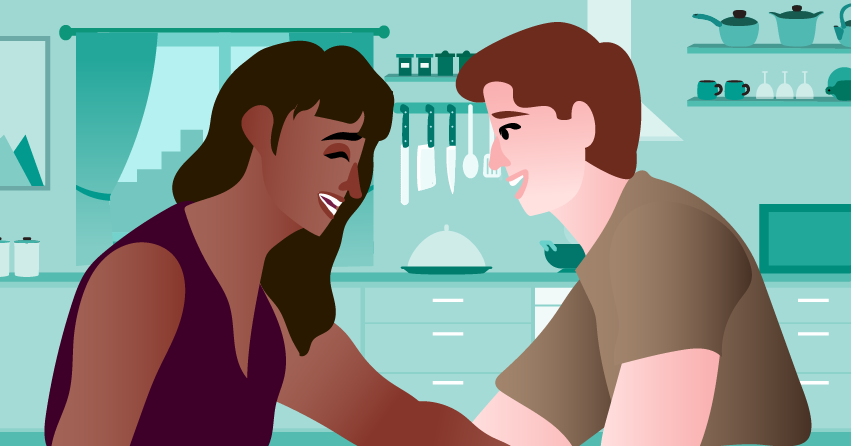 This tip is important to get across whatever it is you want to improve or add to any aspect of your relationship, including sex! Since kitchen sex may be a stretch even if it's not so far from the bedroom, you need to discuss certain ground rules and establish key boundaries. Some rules include only trying it once at night or using the countertop to get railed. With boundaries, it would be to muffle your moans or keep away from anywhere with utensils present.
2
Observe your surroundings.
Kitchen sex tends to be spontaneous and intense, which is quite understandable when either one of you is bent over to cook or unintentionally peeked under their skirt or shirt. Plus, it's a gateway to have a quickie when you're needy. However, it's always better to be safe than sorry to fall into such temptations when a kitchen has possible hazards you can face. So before acting on your needs, inspect the kitchen beforehand. Check if there's no running stove or oven, clear out sharp objects or anything fragile, and wipe out any wet surfaces near you.
3
Incorporate other sexual activities.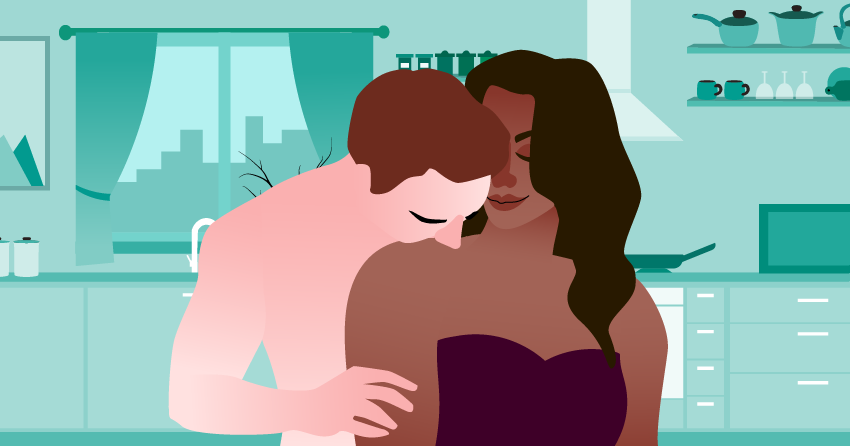 Kitchen sex is hot from the thought of it, so why not add more fuel to the flame? As mentioned earlier, you can utilize numerous makeshift sex toys or even bring your actual sex toys to this location while trying the positions we suggested. You can also insert activities, especially food play because you're already in the kitchen. Stick to sweet items like honey, chocolate, and even ice cream to place them all over yourself or your partner as a type of foreplay.
There's also sensation play that is perfect with using a blindfold and utensils to caress your body. But don't forget about temperature play through ice cubes that you can slither around one's body while you and your partner are getting handsy.
4
Make use of lube.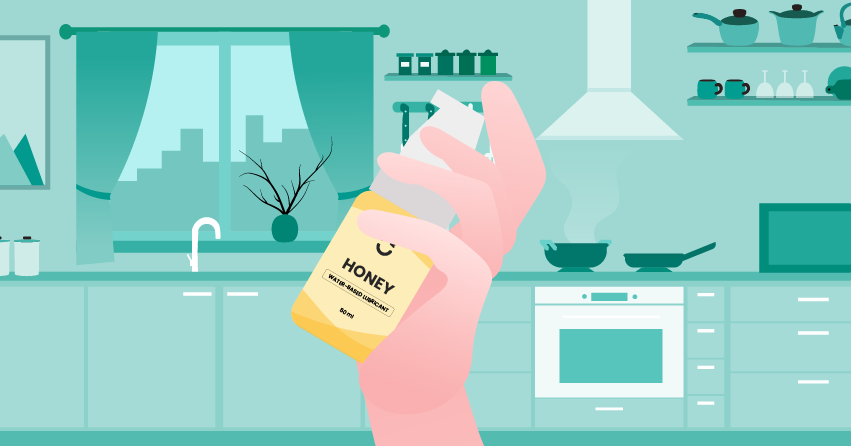 If kitchen sex is your quickie default, reach those orgasms in an instant yet absolutely toe-curling through using lube. Applying this product on your vaginal opening, the tip of your penis, or even sex toys makes things more fluid and pleasurable if your natural wetness isn't enough. It can also be flavored, which is ideal for oral sex, and protect a vulva owner from tearing.
For sex toys, use water-based lube. Then for your private parts, silicone-based lube will make you last longer during the deed. Learn more about the importance and benefits of lube here.
5
Clean up!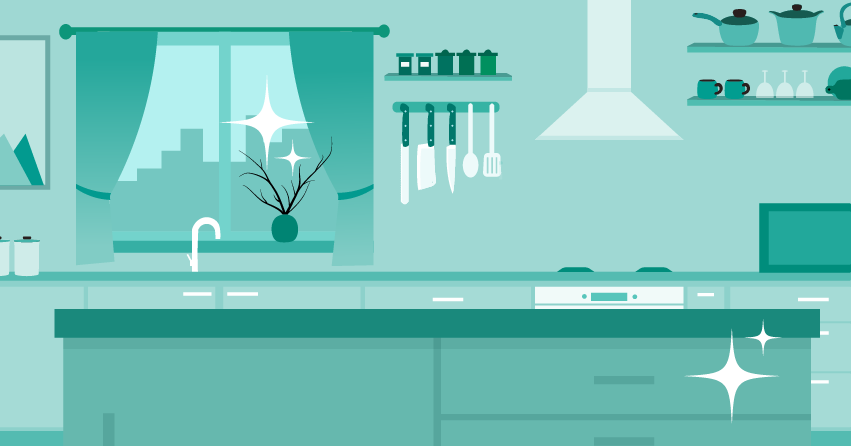 After every sex session, cleaning up after yourselves is only proper. In the bedroom, you may change the sheets while changing clothes or head to the shower to wash the sweat away. But cleanliness is more crucial post-kitchen sex, especially when it's a space you cook and dine daily. It's only hygienic to ensure no discharges are ignored, or possible tools left unwashed. Especially there's food, you're still going to use the kitchen the following day. Plus, cleaning up your surroundings and yourselves is a type of aftercare.
Aftercare of yourselves and for the kitchen.
Takeaway
Kitchen sex is a type of sex you wouldn't want to try at least once in your life. Because not only can you have some quick fun, but you can also have slow, sensual moments with your partner from such an exciting sexcapade. The only crucial thing you must do to make kitchen sex truly work is to practice proper hygiene and aftercare so that your kitchen can maintain its purpose while also being an avenue for new sex adventures.